The Best Watches for Hiking: Never Lose your Way
Looking for the Best Watch for Hiking?
You're in the right place! In this guide, we will be covering the following:
Why you need a hiking watch on every outdoor adventure
What are the common features found on the best trekking watches?
What's the best smartwatch for hiking?
Reviews of the 7 best hiking watches, camping watches, and mountaineering watches
Our unbiased view on the best hiking GPS watch overall
If you're a serious hiker or backpacker, then you may want a little more bang on your wrist than the current time and something to remind you that it's Saturday.
While timekeeping is important out on the trail, knowing your bearing, altitude, upcoming storms with an ABC watch (a watch with Altimeter, Barometer, Compass, and thermometer) is the next step up. With a little more outlay, you could even plump for a fancy GPS navigation watch displaying color topographic maps on your wrist.
The options abound — all you have to do is choose the model most compatible with your needs and budget.
To help you along, we've done the grunt work for you. We tested a range of watches and settled on 7 of the top models, covering a range of price points and models best suited to different activity types, from the best gps watches for hiking through to the best hiking watches with touch-screen capabilities.
Best Hikers Watch
Suunto Traverse
It was tricky, but we ended up plumping for the Suunto Traverse as our top pick for best hiking watch. With its sleek design, reasonable pricing yet easy-to-navigate range of features, it was always going to finish on the podium. It wins our top award for getting its full range of features on point across the board.
We found the FusedAlti/barometer and compass functions a delight to use, and accurate to a dime. Exactly what you need from a watch out on the trail. The GPS function loses out to the Garmin Fenix, but it's not far behind, and allows you to plan/create routes, locate your position, track your route and sync it all wirelessly via Bluetooth.
Bottom line: With a full range of features specially designed to aid mountaineers and hikers, the Suunto Traverse is one of the best hiking watches and one of the best mountaineering watches your money can buy.
The Best Watches for Hikers – What is important?
With an incredible array of makes and models to choose from, narrowing down to the perfect hiking smartwatch for you can be a tricky undertaking. To help you make a decision, we recommend you familiarize yourself with the common features below, and from there decide:
What is the primary purpose you'll use the watch for?
Which watch features are a necessity?
Which extra features are 'nice-to-haves'?
Does the style matter to you?
What are you willing to pay for all the above?
Mentally running through these questions should help you to quickly whittle down through the chaff until you find the perfect hiking watch for your adventure in the great outdoors.
Hiking Features/Enhanced Functionality
To state the blindingly obvious, you're looking for a watch that goes beyond a need to simply tell the time. The "enhanced" functionality of hiking or backpacking watches gives you a wider breadth of data to allow you to make decisions that will hopefully make your trip into the backcountry safer and more enjoyable.

Here is a rundown of the common enhanced functions and what you use them for.
Altimeter
Altitude, derived from the Latin for "height" (altitudo), is a measure of your absolute position vertically above sea level.
Knowing your elevation is an extremely useful way of determining (or double-checking) your position in combination with a map. This is particularly valuable in areas where taking sightings with a compass for triangulation is tricky e.g. in dense forest or barren wilderness with few discernable landmarks/rock cairns or if navigating at night.
A watch with hiking altimeter will determine this in one of two ways:
Barometric Pressure
An altimeter barometer watch uses the atmospheric pressure of your surroundings to calculate your approximate location above sea level. This is based on a simple observation of the natural world – that atmospheric pressure decreases as altitude increases.
Barometric altimeter watches will only give you an approximate elevation however, temperature variations and local weather conditions also influence atmospheric pressure, resulting in some uncertainty on your precise altitude.
To ensure accurate readings, an altimeter barometric watch needs to be calibrated often, with some of the more advanced models doing this automatically. Although, we would caution that you should also learn to do this manually, as technology can (and does) fail.
Hiking Watches with GPS
Most everyone is familiar with the Global Positioning System (GPS) as it has gradually been incorporated into more and more 'everyday' devices over the last 20 years. GPS-based altimeters use the same principles to identify your height as your lateral (x/y) position i.e. multiple satellites are used to pinpoint your location on the earth's surface.
GPS altimeters suffer from the fact that you need to be in line of sight of at least 4 geo-orbiting satellites to gain an accurate location, which can be problematic if you are in the mountains, canyons, or valleys of the backcountry.
As a result, for use in the backcountry, we would recommend picking a non-gps barometric altimeter over a GPS altimeter due to their (typically) greater accuracy in the locations in which we outdoors folk normally find ourselves. However, if you want something that doesn't require calibration and you can live with the uncertainty, then don't rule out a watch with a GPS altimeter.
Lastly, a cute feature of some watches is the ability to download the altitude data to your computer or web application and make a topographic profile of your hike.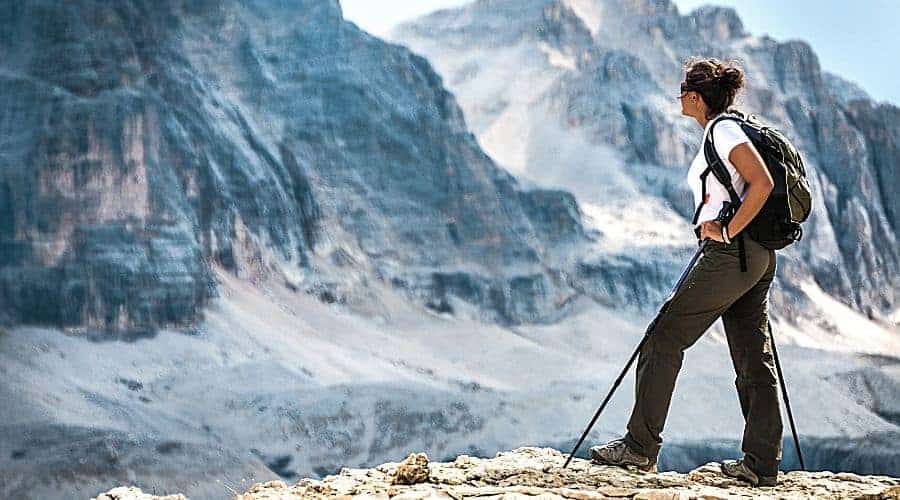 Barometer
Your hiking watch's barometer function measures the atmospheric pressure and tracks how it is changing over time. It is this variation over time (typically the previous few hours) it is interested in, as is this a means of predicting the upcoming weather conditions that are reveal by changes in air pressure.
Increasing atmospheric pressure means that weather conditions are improving and conversely decreasing atmospheric pressure suggests that less than stellar hiking conditions are on the way (think precipitation: rain, fog, snow).
A sharp decrease in pressure usually indicates a storm is on its way, and many of the hiking smartwatches below will alert you with an alarm, thus giving you time to get your rain gear on, or to seek shelter.
Having some advanced warning of the likely weather forecast can be a massive help in staying dry(er) and more comfortable, and in extreme cases, staying safe by seeking shelter.
Compass
Any watch without this feature isn't really a watch for hiking in our opinion. A compass is your principal means of finding your way and will show you the four cardinal directions (North, South, East, and West) in addition to your current bearing (which way you are facing). A compass works by measuring the earth's magnetic field, allowing it to accurately determine which way is north.
While a compass on your watch is useful for getting a sense of general direction, we would again caution that it should not entirely replace your traditional compass for two simple reasons. First, you'll quickly find sighting and triangulation with a map much easier with your handheld compass, and secondly, and more importantly, technology can fail.
GPS
A feature of more advanced (and expensive) hiking watches is GPS functions, as mentioned above GPS watches use orbiting satellites to pinpoint your location on earth. This information allows you to instantly access your current coordinates, speed, distance traveled (from the previous waymark), ascent/descent and where you are relative to various landmarks on the GPS map system.
Probably, most usefully, GPS watches can import your chosen route, allowing you to see your current position relative to where you should be. In addition, subsequent to making it safely home again, you can download all this data to relive your trip in digital form.
The biggest downside to GPS watches for hiking is they all suffer from short battery lives – I've yet to see a watch that can survive more than a day or two with the GPS tracking turned on.
Thus, if you are going on a longer trip, your options are likely restricted to only having the GPS signal turned on for limited periods and/or to bring along some form of charging, either a battery pack or solar charger.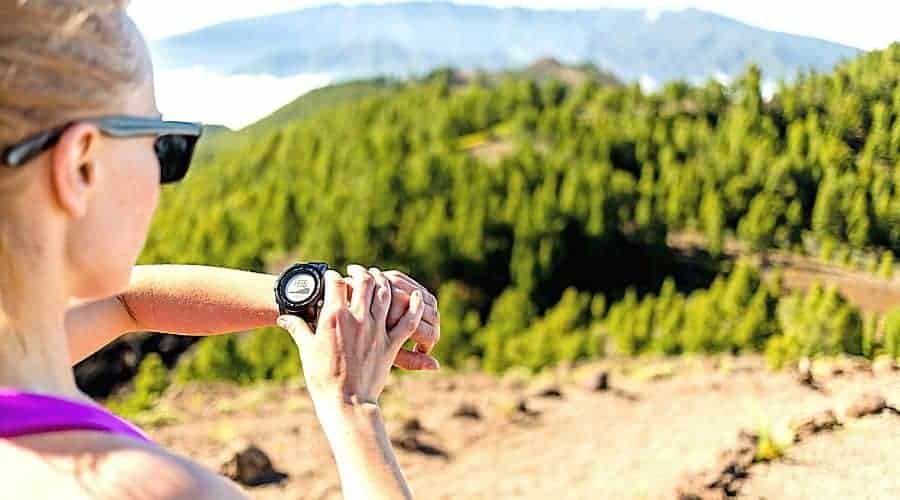 Thermometer
Thermometers are a feature that pops up on some watch models, giving you an idea of how hot (or cold) the air temperature is.
We've yet to be convinced as to how useful such a feature is, as your own internal sense of the external temperature will let you know if it's time to throw on your jacket or peel off a layer. Additionally, as the temperature sensor sits next to your wrist, these temperature readings tend to be skewed a bit by your own body heat.
As far as we are concerned, a nice to have, but certainly not a must-have feature.
Heart Rate Monitors
A large number of hiking watches can also record and show your heart rate. As with the thermometer, this isn't a particularly necessary feature but does allow you to keep an eye on how well you are pacing yourself and gives you an overview of your fitness levels.
This feature is most useful for those who are using hiking to improve their fitness (as you'll be able to monitor your improvement over time by referring to your heart rate) or those "metric geeks" (such as myself) who love nothing more than poring over data/trends.
Watches that have a heart rate monitor work by measuring your body's electrical pulses (generated by your heart pumping), either through a transmitter/receiver built into your watch (measuring through the wrist) or by using a transmitter chest strap and a receiver built into your watch.
A word of caution – even the most sophisticated wearable heart rate monitor isn't particularly accurate.
Durability, Weight & Comfort
Trips, slips, and falls. Everyone who's spent sufficient time hiking or backpacking knows that their body will take the occasional beating due to a wet rock or misplaced foot. As such, your equipment needs to be sturdy enough to survive such misadventures also.
Many of the good hiking watches are protected with sapphire glass lenses, which offer increased protection from scratches compared to the traditional mineral crystal glasses you'll find on regular watches. Expect to find a higher price tag for that protection though.
While getting wet is generally something to be avoided while out in the wilderness, staying dry is often something that isn't feasible. To that end, all (good) hiking watches are water-resistant, often marked up to 100m (10 ATM), which seems like a little bit of overkill (even if you're trekking through the Amazon and decide to go for a dip every evening).
Suffice to say, anything above roughly water-resistant to 30m should be sufficient to weather even extreme downpours and the occasional bit of skinny dipping along the route.
Because your watch may be the only item you will wear continuously for days on end (we hope you change your underwear occasionally), it should also be comfortable to wear. When buying, look for softer materials in the wrist band and read user reviews to get a feel for how comfortable the watch is after repeated all-day use.
Also, durable and rugged straps and added features may result in bulk that makes it awkward, particularly for those of us blessed with slender wrists. Does it fit snuggly, or does it chafe like hell after only 2km?
Don't underestimate how important comfort is, and ultimately, if you forget you are wearing your watch, then comfort-wise, you have chosen well.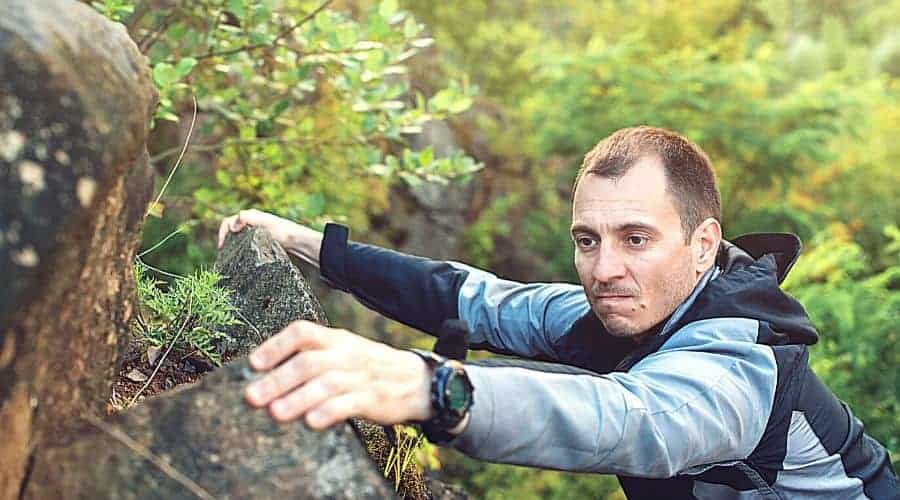 Style & Design
As someone who has often heard the question "are you really wearing that?" pass my wife's lips, this is an area that isn't a personal priority. However, I am keenly aware that others may want something that looks stylish, particularly if you plan to wear it around town as well as on the trails.
My take is that if it's solely for the trail, then function always beats fashion. If it's for wearing bushwhacking off the trail also, then function still beats fashion…but that's not to say that you can't find something that pulls off both.
Battery Life
Depending on the duration of your typical trip into the backcountry this may (or may not) be an important consideration in an outdoor watch. All the hiking watches reviewed here should see you through a one (or two) day adventure without the need to look for your nearest electrical socket.
However, for those of us who expect to be out for multiple days, weeks or even months, then longevity from your mountain watches battery is something you may wish to prioritize. Certainly, hauling a spare battery pack is a possibility, but that's extra weight on your back.
Generally, there are two broad-brush correlations here, 1) more features = less battery life and 2) higher price (for a similar number of features) = longer battery life. This is why we would typically recommend a simpler watch for those more advanced backpackers who expect to be out for weeks on end.
Budget
Purchasing a new hillwalking watch doesn't have to be an expensive endeavor dependent on what features you feel are a 'must-have' versus 'nice-to-have'. Unsurprisingly, the increase in cost comes with more features, greater durability and sleeker, more stylish designs. It's possible to break the market into three rough price ranges.
Less than $200 will get you a simple, yet functional ABC watch. If you are on a budget or want to spend your money on other pieces of kit and/or don't require enhanced functionality like GPS then this may well be the range for you.
Between $200-$500 will see more stylish, sleek designs with enhanced functionality – particularly features such as thermometers, atomic time-keeping, HRM, and GPS (in some models).
Greater than $500, and you are into the high-end models that will do practically everything bar cook your food upon reaching camp. These hiking watches are for serious outdoors folks and are often designed as multi-use, such as ski touring, thru-hiking, triathletes, among others.
In an effort to save money, it's wise, to be honest with yourself and figure out which features you really need. Do this prior to falling in love with the Garmin Fenix 5X Plus to save yourself some cash.
Top 7 Best Hiking GPS Watches: The Results
Suunto Traverse
Best Hiking Watch
The Suunto Traverse picks up our top watch for hiking award thanks to its sleek style, advanced yet easy to navigate range of features, and all coming in at a reasonable price.
Any hiking watch needs to get its ABCs on point, and the Suunto Traverse nails this. We found the FusedAlti/barometer and compass functions to consistently be very accurate, and in our opinion, out in front of its competitors.
The GPS combined with the Movescount phone app, creates a seamless one, two – allowing you to plan and create routes, easily locate your position, track your route and sync it all wirelessly via Bluetooth.
Constructed with scratch-resistant sapphire crystal glass, stainless steel bezel and a nylon textile strap, the Traverse is hardy as it is sleek and stylish. Having passed no less than 19 tests, and meeting military standards in the process, it won't let you down in the wilderness.
Key Features:
GPS and GLONASS navigation systems
Wireless syncing with Bluetooth to your computer, tablet or smartphone
Digital compass that tilt-compensates and can be calibrated for declination.
FusedAlti function provides accurate altimeter readings.
Weather/Storm Alarms
PROs

GPS/GLONASS bearings were very accurate
Navigation is a snip with the Movescount App
Stay ahead of the storm with weather warnings
Very straightforward to configure and use

CONs

Battery dwindles to ~8 hours in GPS mode
Bottom-Line: If you are looking for the best GPS watch for hiking, then the Suunto Traverse watch deserves your undivided attention.
Garmin Fenix 5X Plus
Best GPS Hiking Watch
The Garmin Fenix 5X Plus is next up on our list and is our pick for the top GPS hiking watch. With the capability to connect to GPS, GLONASS and Galileo satellites systems, plus full-color topographic maps it is (in our opinion) the #1 GPS watch currently on the market.
Thanks to hundreds of thousands of user data points, the Fenix 5X is able to select the optimum route to take when you sync it with Garmin Connect. This feature is great for finding new hiking, cycling or running routes.
In addition to its superb navigational functions, this Garmin hiking watch has all the usual features you would expect in a high-end smartwatch, with compass, barometer, etc, along with a couple of more unusual ones. Connect to your bank, and you can now pay contactlessly with the Fenix, while also simultaneously listening to your favorite tracks on Spotify. Not bad, right?
It narrowly failed to take our overall top spot, losing out to the Suunto Traverse in its ease of use (it's a bit clunky), its stylishness (again a tad clunky) and its price tag. However, we feel the full-color maps make it the better watch purely looking at the GPS function in isolation.
While a newer version of this watch exists (The Fenix 6x), the added functionality it offers doesn't really merit the extra cost.
Key Features:
Multisport GPS watch ideal for multiple outdoor sports
GPS, GLONASS & Galileo enabled
Full-Color Topo maps that connect with Garmin data to help find the best routes.
Garmin Pay allows you to leave your credit cards at home
3-axis compass, gyroscope and barometric altimeter
PROs

Impressive GPS accuracy
Full-color topographic maps & ability to find user-created routes
Spotify and contactless enabled makes it useful around town as well as the trail

CONs

GPS mode is very draining on the battery
Function navigation can make it tricky to use
Bottom-Line: If you are looking for the best hiking watch with GPS on the market, you'll be hard-pressed to do better than the Garmin Fenix 5X Plus
Casio Pathfinder PAG240-1
Best Backpacking Watch
Having been on the market for nearly a decade, the Casio Pathfinder PAG240-1 shows no sign of going out of fashion. Some may find it not the most stylish of watches, being a little clunky, but it's big buttons and a straightforward menu structure make it a cinch to use.
The outstanding feature of the Pathfinder watch is its solar-powered battery, which once fully charged lasts an incredible 6 months. It may be a little stripped down compared to some of the other models in this review, as it has no GPS, but it's ABC functions are pretty accurate, making it a solid watch if you don't need/want the GPS functionality.
Key Features:
Large-capacity solar storage battery which can keep the watch charged for up to 6 months
All your ABCs and the ability to track weather changes
Easy to read dual-layer LCD screens & easy to navigate menus
Great backlight with afterglow for night vision
PROs

Easy to use
Solar-powered battery keeps it going for months
Easy to read display
Light weight and ruggedness make it ideal for multi-day backpacking trips

CONs

Very chunky, particularly for slimmer wrists
No GPS
Bottom-Line: It does the ABCs well, and as it can last a full AT thru-hike on one charge, the Casio Pathfinder wins our award as the best watch for backpacking.
Suunto Core
Best Altimeter Watch
Our overall top prize for the best GPS altimeter watch has to go to the Suunto Core. The Core's altimeter is accurate up to 29,500ft and measures in 3ft increments (compared to 10-20ft for all other hiking watches we've tested). As you'd expect, the core logs your altitude for up to 7 days meaning you can download and see all your stats once you're off the trail (or ski slope).
A super cool feature is its ability to automatically switch between altimeter and barometer based on your movement – if you are ascending/descending it attributes barometric air pressure changes to this. If you are stationary, on the other hand, then it will associate barometric changes to weather fluctuations.
To top it all off, it will sound a storm alarm when it notes a substantial air pressure drop.
One of our favorite hiking watches in terms of its design, and would be happy to wear this one out on the town. It's let down a little bit, however, when it comes to viewing the display in either low light or extremely bright conditions.
Key Features:
Barometric alt. accurate to 29,500ft and displays in 3ft intervals.
Records and displays elevation loss/gain for the session in addition to the current elevation
Storm alarm feature when bad weather is approaching
Digital compass can be locked into destinations bearing
Sunrise/sunset times
Heart rate monitor
PROs

Great accuracy
Very stylish looking, even off the trail
Simple but easy-to-read graphs

CONs

Need to navigate through 3-4 menus to get to certain features (no advanced training required, but a touch annoying nonetheless)
The display is a little dark, particularly in poor light
Watches with altimeter, barometer, compass, thermometer, and GPS functionality are rarely cheap, but this one's pricier than most
Bottom-Line: If you're specifically after the top altimeter watch, then plump for the Suunto Core.
Casio ProTrek PRW-2500
Best Mountaineering Watch
With its simple and straightforward design, we put forward the Casio ProTrek PRW-2500 as our top pick for best watch for mountaineering and, possibly, the best ABC watch to boot.
Like it's cousin the Casio Pathfinder, the ProTrek has a solar-powered battery that will allow it to function for five to six months without the need for recharging. Although, I doubt you'll let it sit in your drawer for six months at a time.
As you would expect, it has all the altimeter barometer compass functions needed in a good hiking or mountaineering watch, but we feel it outperforms the other ABC watches (watches with a compass and altimeter and barometer) in our review when it comes to mountaineering due to its overall accuracy.
Keeping track of your timings being hugely important, the ProTrek is auto-calibrated with atomic signals to keep it in perfect time. In addition, its alt. is good to 32,800ft and will naturally track your total ascent/descent progress.
As with most Casio watches, they certainly ain't the prettiest to look at, although the plastic look is almost synonymous with the brand now (at least in my head).
Key Features:
Solar powered battery which can last up to 6 months on a single charge
Automatically receives atomic clock time calibration signals for accurate timekeeping.
All your ABCs and will record your elevation gain/loss
Several alarms and countdown functions
Water resistant
PROs

Solar charging – no batteries/cable charging required
Altimeter accurate up to 32,800 ft
Great accuracy and ease of use

CONs
Bottom-Line: Summit safe in the knowledge that the Casio ProTrek won't let you down.
Suunto Spartan Sport HR Baro
Best Outdoors Watch
The best outdoor smart watch has to go to the Suunto Spartan Sport HR Baro, primarily for its impressive range of 80 sports and activities that the device has been preloaded with. It goes far beyond the features you would expect of a normal fitness watch with GPS, altimeter, barometer, and compass.
Like its cousin, the Suunto Traverse, you can download all your workout/trip data to the movescope app and relive your adventures, and/or set new goals.
This watch has a sleek, simple design which in our opinion makes it look very stylish. In addition, it's pretty rugged and will survive the usual backcountry clattering that happens to all our equipment from time to time.
Key Features:
Conquer the outdoors with over 80 possible sport/activity modes
Great durability with steel bezel and mineral crystal glass
GPS/GLONASS navigational systems work with Movescount App
Barometer, compass & altimeter let you know where you are and what's happening with the weather
Water resistant
PROs

Preloaded with over 80 sports/activities
Sleek, lightweight design makes it ideal for trail running, swimming, and even climbing
Good battery life

CONs

Don't lose or forget the power cord, it's proprietary so you may struggle to borrow one.
Bottom-Line: If you are looking for a fitness tracker that you can use for a wide variety of activities such as running, hiking, cycling, swimming, then the Suunto Spartan Sport HR Baro watch is our pick for the overall best outdoors watch.
Garmin Fenix 5S Plus
Best Women's Hiking Watch
Our pick for the best womens hiking watch is the Garmin Fenix 5S Plus, which, with all of its various size options, has a smaller, 42mm screen that suits slimmer wrists. Despite it's small(er) size it still packs an incredible amount of features.
With a full-color display, you can upload your favorite trails and follow them on GPS topo maps, alternatively, if you want to save battery life, you can navigate using the compass/alt. functions and stay on top of changing weather conditions with the barometer.
For use in town, the Fenix 5S watch also stores up to 500 songs and can be synced with your bank details to allow you to pay contactless while leaving your cards at home.
Key Features:
Full-color Topo maps which sync with Garmin Connect to help find the best routes to take.
The navigation system's features include a 3-axis compass, barometric altimeter & several satellite systems (GPS, GLONASS, and Galileo).
Garmin Pay allows you to leave your credit cards at home and pay contactlessly
Rugged design can take scrapes and falls
PROs

>Small (42mm) face well suited to smaller wrists
High accuracy of the GPS systems
Full-color topographic maps & ability to find user-created routes
Spotify and contactless enabled makes it useful around town as well as the trail

CONs

Function navigation can make it tricky to use
GPS mode is very draining on the battery
Bottom-Line: All the features you would expect from a high-end sports watch, with all the style and comfort of a dressware piece. The best female gps watch for hikers by a longshot. 
Last update on 2021-12-02 / Affiliate links / Images from Amazon Product Advertising API