Outdoor adventures come in many forms, but whatever they are, we always need to prepare well to have a good time. From scuba diving to tearing down ski slopes, the right gear is essential.
If you suffer from cold hands during the winter, like most people, a high-quality liner can make all the difference if you're hiking, backpacking, camping, or skiing. To help you find the best ones for you, we've compiled a list of the best models out there along with a detailed buyer's guide to help you choose.
Editor's Choice
Icebreaker Oasis Merino Glove Liners
The Icebreaker Oasis Merino Glove Liners win our vote as the best liners in the business. They're light, high-wicking, breathable, and as warm as any other liners we know.
The Oasis are made with 200gm merino wool, which is the best material you can use in a liner. They dry fast, have a natural moisture-wicking capability, and are also odor-resistant.
To supplement the wool, the producers enhance it with Lycra. Lycra decreases the glove's drying time even more and also makes them a more comfortable fit for most. The design is thoughtful, with an extended and fitted cuff to keep cold air from reaching under your outer layer. They are also easy to maintain and can be machine-washed on a cold cycle.
Bottom line: The combination of wool and Lycra makes these the best gloves for warmth, fit, breathability, dexterity, and moisture-wicking.
Why Pack a Pair of Glove Liners?
Using a glove liner used only to be popular when worn under ski gloves. But liners serve many purposes, even if many people think that they are primarily meant for warmth. Adding another layer, of course, will automatically increase insulation and help keep your hands warm. However, they also do so much more.
Using a liner under a ski mitt or any other kind of glove will allow you more agility when you take off the beefier "shell" ski or hiking gloves.
If you can't use your winter gloves for something requiring minute movements, having these allows you to keep your hands warm and gain mobility. It can help you if you want to take a photo, take a leak, pitch a tent, or tie a knot.
What's more, if you lose your top-layer winter gloves, then your glove liners can act as a temporary replacement.
Certain types, especially ski glove liners, will increase water resistance around your hands.
Depending on what material they are made from, they also provide you with an enhanced moisture-management system. This is especially helpful in freezing weather since saturated fabrics will end up drawing heat away from your skin.
Now that we have you convinced that these should be something you always wear along with your gloves for winter, take a look through the buyer's guide below to find the best pair for your paws.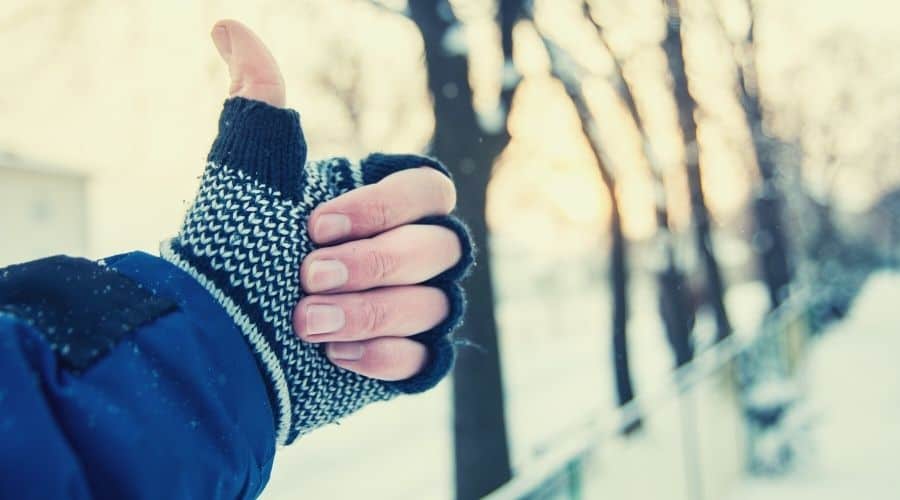 What to Consider When Buying Glove Liners
A liner might be relatively straightforward. However, there are a few essential aspects you should consider if you want to choose the best base layer for your hands.
Materials
Merino Wool Liners
A merino wool liner is one of the best options available as long as you are not sensitive to wool. The material is highly breathable and even moisture-wicking. The natural fibers in merino wool are also odor-resistant.
You don't have to worry about your hands getting cold either, since it is warm without being heavy, meaning a high warmth-to-weight ratio.
All of this comes at a price, though, and it's generally a pretty steep one.
Silk Liners
Silk gloves are not typically considered when participating in outdoor sports because they are not very durable. However, if they stay protected under your top glove, then they should hold up well enough.
Pure silk glove liners are typically pricey. It's best to find a mixture of silk with another material for your liner. The positive aspects of silk include its breathability, with its uber-skinny threads making for very thin glove liners. On the other hand (pun intended), it also means they are not one of the warmest glove liners out there.
Synthetic Liners
Products made from synthetic materials are often almost as good as merino wool and silk without costing as much.
The two most common choices are polyester and nylon.
Polyester is very breathable, moisture-wicking, and durable. It functions similarly to merino wool without causing as much itchiness.
Nylon offers comparable durability to polyester and has good moisture-wicking capabilities. It isn't, however, quite as breathable.
The only significant downside to liner gloves made from synthetics is that they are not as cozy as natural fibers.
Other Materials
Another option you might come across is cotton, which we recommend you avoid. It is not a material fit for outdoor use, including in a liner.
It is breathable but not moisture-wicking at all, not water-resistant, and doesn't insulate when damp but actively draws heat away from your hands.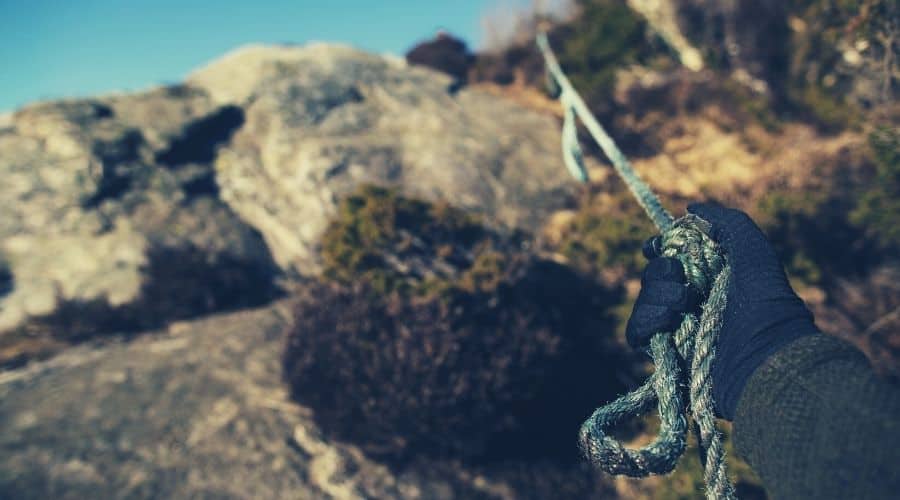 How to Choose the Best Fit
Trying on the product is the best way to test for fit. Note how it fits across the back and palm of your hand. It shouldn't stretch tightly over the palm, or it will restrict movement. Across the back and at the cuff, it should be fitted tight enough to avoid letting in cold air but not so tight that it restricts circulation.
Breathability & Wicking
Sweaty hands are sure to become cold hands if you have to stop moving or the temperature drops. That's why breathability and moisture-wicking are essential for liner gloves.
Merino wool and polyester are the most breathable and moisture-wicking fabrics. They give you a cheaper option and a more expensive one, depending on the quality you want under your regular paw-protector.
Water Resistance
Gloves that wick moisture away underneath but are not water-resistant might not be very useful in cold weather. While searching for your best glove liner, find out if they have a PU-coating. They might also be made from naturally water-resistant material (as some synthetics are) or use a DWR coating.
Insulation
Insulation is mostly dependent on the thickness and material type. For this reason, fleece and wool options are usually the best insulators out there. Thickness is not often mentioned, but can usually be determined by the liner's weight.
Battery-Powered Heating
If you really need to increase the heat on your hands, you might want to consider battery-powered heating. It can be expensive, and the jury's still out on its effectiveness. However, if you have Raynaud's syndrome or are hiking in extremely frigid temperatures, a pair of battery-headed liners may be worth investing in.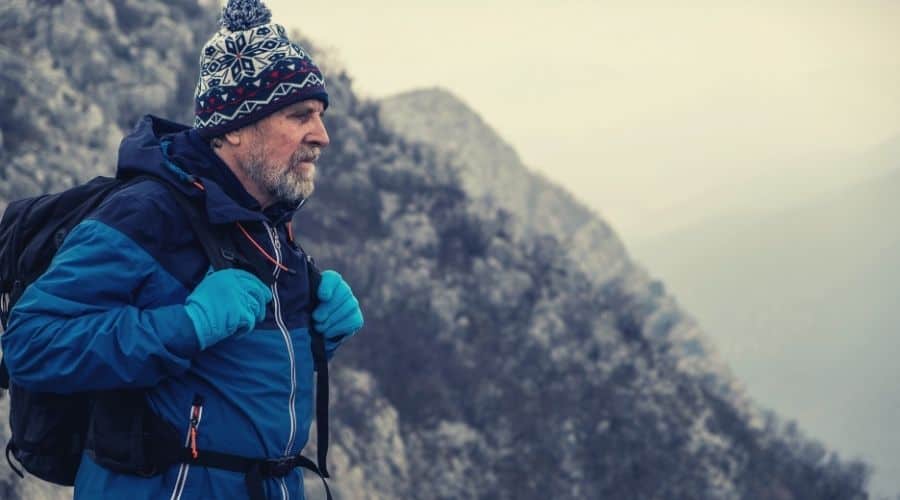 Touchscreen Capability
Even though the best glove liners can increase your dexterity, they might not allow you to use your phone. Some products will have touchscreen tabs in the fingertips, which look like leather or rubberized pads. Others have "hooded" tips that you can pull back for easy access to your tips.
Versatility
Some liners are versatile enough to be used as stand-alone gloves in warmer conditions and as a liner glove for winter. These gloves are typically a little chunkier, have padded palms, and in many cases are made with softshell materials or have a water-resistant coating.
Reviews of the Best Liner Gloves in 2023
Icebreaker Oasis Merino Glove Liners
Best Glove Overall
Icebreaker's Oasis Merino is the warmest, highest-performing liner we've ever had the pleasure of pulling over our paws. They are made from 200gm merino wool with Lycra enhancements to make them better suited for outdoor use. The Lycra makes them a more comfortable fit and decreases the glove's drying time.
Even though they're made with wool, they're safe to wash in a machine on a cold and gentle cycle. Thermal protection is integrated into the design and increases their ability to insulate. The company also has a precise sizing guide to find your best fit.
As a liner, many previous customers rated them as warmer than a typical liner. The seams have been a source of complaint from some people as they are somewhat uncomfortable or cause bunching.
PROs

Lycra enhancements
Machine-washable
Warmer than similar products

CONs

Pricey
Not touchscreen compatible
Terramar Thermasilk
Best Silk Gloves
Terramar Thermasilk are 100% silk, meaning they are thin and easily slide under your glove. The silk material makes them moisture-wicking, very breathable, and a perfect fit for wearing under top-layer gloves of all kinds
The Thermasilk are highly unlikely to keep your hands warm as a standalone glove, but they are useful as a base layer and a great option for buyers who aren't too keen on the cost of merino.
They have pull-on closures and can be washed in a machine for an easy clean. This glove liner also comes in four sizes and two colors.
PROs

Thin material
Pull-on closures stop cold air
Machine-washable

CONs

Silk is not as warm as wool
Not at all rugged
Smartwool Merino 150 Glove
Best Wool Gloves
We had to include merino wool products to have a complete list of the best glove liners. Smartwool produces, to our mind, among the best of these gloves.
The Merino 150 use a lightweight knit pattern that makes them super cozy. They are 46% merino, 46% acrylic, and 8% elastane. This blend prevents them from being so itchy for those with wool allergies.
They also have an extended ribbed cuff so that they will slide under your bulkier gloves but extend beyond their end, and have knitted-in finger pads for touchscreen compatibility.
These gloves come in four sizes and two different colors. Unfortunately, no sizing guide is provided to aid buyers, but we recommend going a size down when buying because they run a little large.
PROs

A mix of materials decreases sensitivity
Knit-in touchscreen compatibility
Extended ribbed cuff

CONs

No sizing chart
Expensive for mixed materials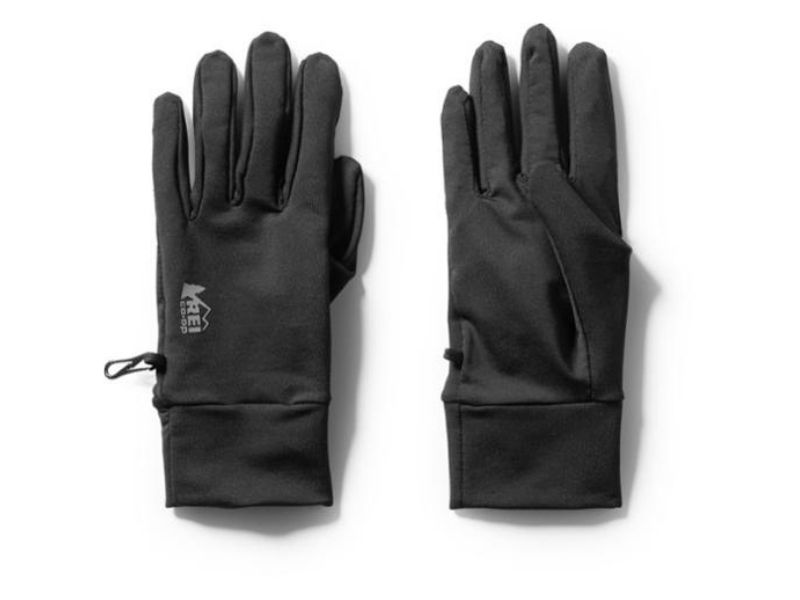 REI Glove Liner
Best Budget Glove
These glove liners from REI are rated to function well as standalone gloves in cool weather and as a liner during temperatures under 40°F. They're made with soft, stretchy twill fabric (64% Nylon, 22% polyester, 14% spandex) which keeps the liner thin and lets it slide easily under thicker gloves.
If you intend to use them for rugged activities like hiking or skiing, they function well due to minimal seaming. It keeps them from bunching and reduces itchy pressure points. Both the palm and fingers have a specific design for touchscreen compatibility.
These liners also have integrated tabs that allow you to pull them on and off easily. Because they are unisex, some women will find they run large.
PROs

Stretch fabric enables mobility
Minimal seams
Touchscreen compatible

CONs

Not the most breathable
Run large for many women
MERIWOOL Merino Wool Glove Liners
Best Low-Cost Merino Glove
These glove liners from Meriwool are constructed with 65% 340g/m2 merino wool, 28% nylon to make them more durable, and 7% elastic to enhance mobility. Unfortunately, the seams are again a downside for these gloves, causing the fingers to twist around a little, particularly when using trekking poles.
Nevertheless, they are a useful extra layer that offers insulation, plenty of stretch, and above-average breathability. They are also machine-washable and have finger surfaces that allow for touchscreen use.
Meriwool offers the best customer care of all the glove-makers in our review, offering 90-day returns with proof of purchase. If unhappy, you'll receive a refund or can get a replacement glove if desired. They also come with a 1-year warranty.
PROs

Elastic allows them to stretch
Touchscreen compatible
Best customer care policy

CONs

Slightly irritating seams
Fingers are often too long
Dakine Rambler
Best Glove for Women
The Dakine Rambler ski glove liner is made specifically for women, but buying a larger size can work for men.
They're made with a 220g blend of stretchy, moisture-wicking polyester, nylon, and elastane. There are four sizes and various patterns on offer.
Durability is the number one priority for these gloves. Unfortunately, this seems to have taken the focus off keeping your hands warm, because the Dakine fall far short of their competitors as regards insulations. However, these still rank on the list for their durability and are ideal for three-season hiking and backpacking.
PROs

Environmentally friendly
Durable
Four sizes and patterns

CONs

Not very insulating
Made specifically for women
Outdoor Research Woolly Sensor Liners
Best Ski Glove Liners
Toasty warm, touchscreen-compatible, and breathable to boot, the OR Wooly Sensor are ideal for wanders in wintry weather.
The Woolly Sensor are made with 100% merino wool, making them soft to the touch, quick-drying, highly breathable, and super cozy. They have a pull-on closure tab to seal the cold weather outside and, despite their light weight, are surprisingly warm.
The Sensor are also versatile, being warm enough to be worn as a standalone glove in fall or spring and among the best out there for wearing under a mitt on freezing winter adventures.
PROs

Quick-drying
The pull-on closure tab seals them
Fabric is moisture-wicking

CONs

Have to be hand-washed
Quite pricey