Best Portable Solar Charger by Category
Budget: BEARTWO Portable Solar Charger and OEUUDD Portable Solar Charger
Integrated Battery: BioLite SolarPanel 5+ and OEUUDD Portable Solar Charger
Compact: BigBlue 3, BEARTWO Portable Solar Charger, and Goal Zero Nomad 10
Best Backpacking Solar Charger: Our Top 8 Picks
What Is A Solar Charger?
Solar chargers for backpacking are compact, portable solutions for charging small, USB-powered electronic devices.
These chargers use solar panels that source the "juice" needed to charge your devices from the sun. Most models won't be able to charge your cell phone as fast as a phone charger that you plug into a wall outlet. However, you should be able to fully charge most small devices in around 3-6 hours.
Why Buy A Solar Charger For Backpacking?
The smartphones of today are miraculous devices. This tiny gadget can have multiple uses on your backpacking trip: communication, GPS, flashlight, weather forecaster, and SOS-sender in emergencies. 
A portable charger is an investment that will make sure that if your phone goes dead on you on a multi-day backpacking trip, as long as you have the sun, you'll have enough power to charge it back up. Ideally, you should have your phone fully charged before setting off and use your charger as a backup.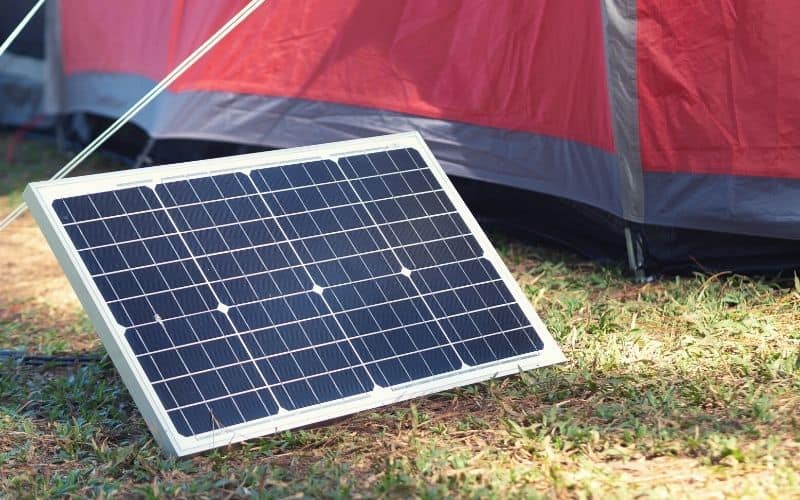 And it ain't all about cell phones…
A portable solar panel and charger can also be used to power up GPS devices, e-readers, tablets, some headlamps, and many other small devices that can be charged by USB.
Another option is to combine the charger with a portable power bank for additional power. We believe a sun-powered charging device shouldn't be viewed as an afterthought but a piece of essential emergency backup kit for your backpack.
What To Consider When Buying A Solar Charger For Backpacking?
There are a few things to keep in mind before deciding on the product that will match your needs. Let's briefly take a look at what to consider before you buy.
Weight And Size
Typically, the more power you require, the bigger the panel surface area you will need. For backpackers, size and weight are considerations that have to be addressed; every ounce counts.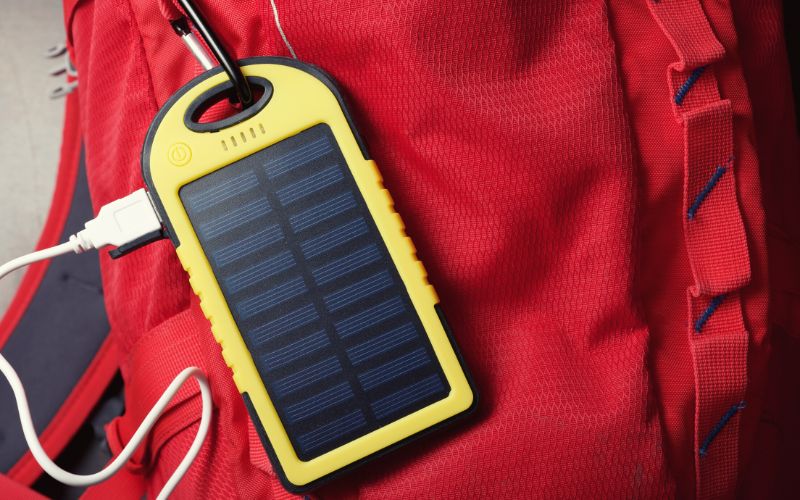 The chargers that we have reviewed are designed for portability and are all compact enough to easily fit into even a small backpack and keep weight to a minimum. However, they still vary in weight depending on their functionality.
If you are only bringing one or two devices on your trip, then you likely won't need a lot of power or additional battery packs. However, if you plan on bringing multiple electronic gadgets that will need charging, you'll need a more powerful charger and probably a separate battery pack. This, of course, will add to the overall weight.
If you carry a lot of gadgets, a foldable solar panel like the BigBlue 3 or Anker PowerPort Lite is a good option. These devices will let you charge everything you need on a daily basis (the larger surface area lets them charge quicker) and take up surprisingly little space.
The BEARTWO, which weighs a tiny 7.4 oz and can just about fit in your pants pocket, can also charge several (4) devices at once. However, it takes a long time to charge on sunlight alone and won't power up your devices nearly as quickly.
Wattage
As mentioned above, solar panels' size correlates to the wattage. As a general rule, 5W will be enough to power a smartphone, small USB device, or headlamp battery. The more wattage, the faster and more effective the charging will be.
USB Ports
How many devices do you need to charge?
The chargers we've reviewed here have one to three USB ports, with the exception of the Riapow Power Bank which can charge up to four devices at once thanks to its wireless charging capability.
One port should suffice unless you plan to charge multiple devices at the same time. But keep in mind it will take longer for them to become fully charged when you charge many devices at once.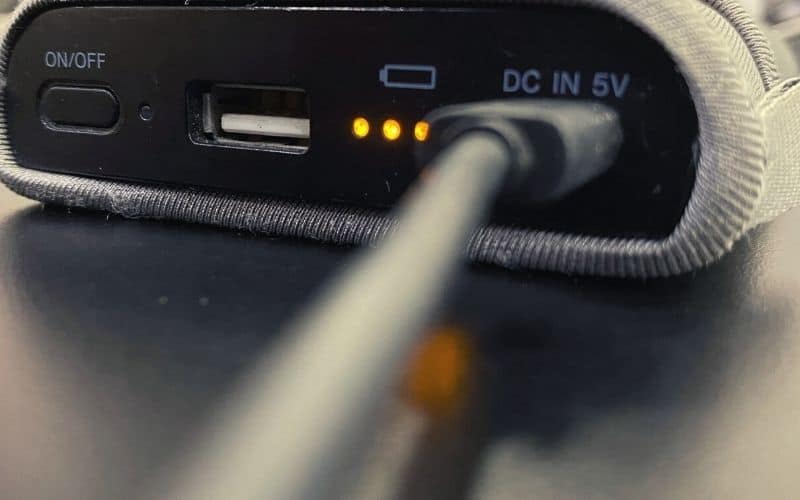 Integrated Battery
If you want to have power stored so that you can charge your devices later, you'll either require a charger that comes with an included integrated battery pack or a separate power bank with at least 10,000 mAh of juice. An integrated or internal battery will add a lot of weight to the charger but, importantly, will give you the ability to store power.
Devices with a built-in battery on our list are the BEARTWO, OEUUDD, Riapow Power Bank, and the BioLite SolarPanel 5+.
Best Solar Charger for Backpacking: The Verdict
Just in case you're still undecided, let's have a little recap to help you out.
If you're looking for the most reliable and powerful power source out there for backcountry travel, our top pick is the BigBlue 3. This solar panel charger is, simply put, a beast of a device. It charges quickly, can power up multiple devices at once, and continues producing juice even when it's cloudy.
If you're looking for a low-cost alternative, we recommend the BEARTWO and OEUUDD solar power banks. These devices take a little longer to charge multiple devices but are compact, robust, and will keep your phone powered up for the duration of any trip in clear weather.
So, how did you like our article? If we missed anything or you have any questions, let us know! And if you'd like to share this post with your friends, please do!