Editor's Choice
BigBlue 28W with Digital Ammeter
The BigBlue 28W is our choice for the best solar charger for backpacking. Its four panels give it enough power and efficiency to power up your devices fast, and its two USB ports allow you to charge multiple devices.
At the same time, it folds up to the size of a magazine and weighs only 21 ounces, so it can fit in your pack without taking up too much space or impacting too much on the overall weight.
It's also easy to use. All you have to do is unfold the panels and plug your device into the port in direct sunlight. You can attach it to your backpack while on-the-go or to a tree or tent using the four clip hooks.
The BigBlue 28W protects the solar panel with industrial-strength PET polymer material. This makes it capable of withstanding light rain. In addition to its durability and high efficiency, it comes with a built-in digital ammeter. This shows the charging amps and also uses SmartIC Technology to provide the best charging speed for your device.
Bottom line: With its compact size, foldable design, high-quality components, speedy charge time, and wealth of additional features, the BigBlue 28W offers the best value for money out there.
Wattage for Wanderers: The Best Solar Charger for Backpacking
Keen to keep your gadgets powered up?
You're in the right place! In this guide, we will be covering the following:
Why you need a solar charger
The best solar charger for hiking in 2022
A total of eight trail-worthy and practical backpacking solar panels
In 1907, boy scouts founder Baden Powell came up with the motto 'Be Prepared.' And while the contents of our backpacking kit might have changed since then, these words are still relevant today. Investing in the best solar charger for backpacking is a way to ensure that you are prepared for your next trip.
From cell phones and GoPros to Kindles and power banks, these days backpackers are carrying more power-hungry gadgets in their packs than ever before. While running out of juice on some of these items might cause a minor inconvenience, with others it could spell disaster.
To help ensure your backpacking trips are both inconvenience- and disaster-free, we're here to help. We've identified 8 of the best backpacking solar chargers to help keep your gadgets juiced up and ready to go no matter where your backpacking trips take you.
What Is a Solar Charger?
Solar chargers for backpacking are compact, portable solutions for charging small, USB-powered electronic devices.
The charger uses portable solar panels that take the "juice" needed to charge your devices from the sun. Most models won't be able to charge your cell phone as fast as a phone charger that you plug into a wall outlet. However, you should be able to fully charge most small devices in around 3-6 hours.
Why Purchase a Solar Charger for Backpacking?
The smartphones of today are miraculous devices. This tiny gadget can have multiple uses on your backpacking trip: communication, GPS, flashlight, weather forecaster, and SOS-sender in emergency situations.
A portable charger is an investment that will make sure that if your phone goes dead on you on a multi-day backpacking trip, as long as you have the sun, you'll have enough power to charge it. Ideally, you should have your phone fully charged before setting off and use your charger as a backup.
And it ain't all about cell phones…
These chargers can also be used to power up GPS devices, e-readers, tablets, some headlamps, and many other small devices that can be charged by USB.
Another option is to combine the charger with a portable power bank for additional power. We believe a solar charger shouldn't be viewed as an afterthought but a piece of essential emergency backup kit for your backpack.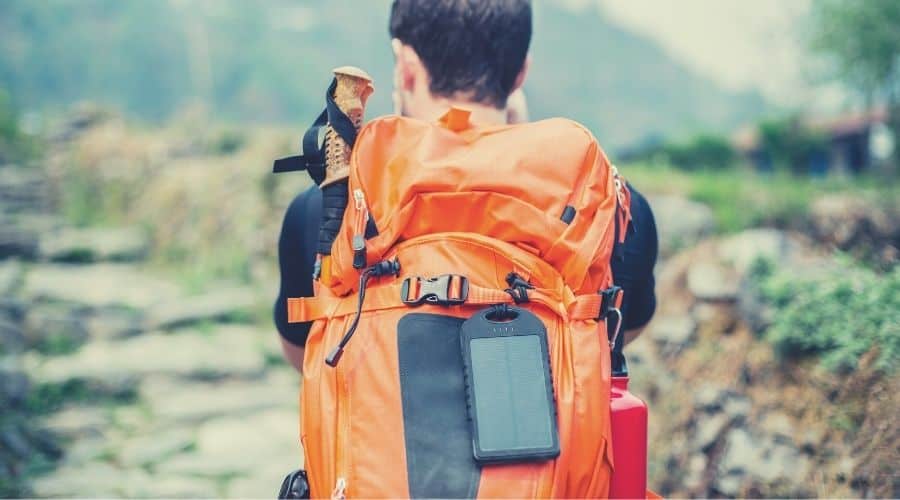 What to Consider When Buying a Solar Charger for Backpacking?
There are few things to keep in mind before deciding on the product that will match your needs. Before we share our selection of the best solar chargers, let's briefly look at what to consider before you buy.
Weight and Size
Typically, the more power you will require, the bigger the solar panels' surface area you will need. For backpackers, size and weight are considerations that have to be addressed; every ounce counts.
The chargers that we are going to review are designed for portability and are all compact enough to easily fit into even a small backpack and keep weight to a minimum. However, they still vary in weight depending on their functionality.
If you are only bringing one or two devices on your trip, then you likely won't need a lot of power or additional battery packs. However, if you plan on bringing multiple electronic gadgets that will need charging, you'll need a more powerful charger and probably a separate battery pack. This, of course, will add to the overall weight.
Wattage
As mentioned above, the solar panels' size correlates to the wattage. As a general rule, 5W will be enough to power a smartphone, small USB device, or headlamp battery. The more wattage, the faster and more effective the charging will be.
USB Ports
The chargers we've reviewed here have either one or two USB ports. One port should suffice unless you are planning to charge two devices simultaneously. But keep in mind that it will take longer for them to become fully charged when you charge multiple devices at once.
Integrated Battery
If you want to store power to charge your devices later, you'll either require a charger that comes with an included integrated battery or a separate power bank with at least 10 000 mAh of juice. An integrated or internal battery will add a lot of weight to the charger but, importantly, will give you the ability to store power.
The 8 Best Solar Chargers for Backpacking
Goal Zero Nomad 10 Foldable Portable Solar Charger
Best for Fast Charging
The Goal Zero Nomad is a relatively powerful, highly portable, and fast-charging device that's maybe a little too heavy for thru-hikes but is ideal for shorter, overnight trips in the backcountry.
Goal Zero is a US-based company that is renowned for its high-quality portable power solutions. They are constantly updating and reengineering their product line to ensure that customers get the best value for their money.
The Goal Zero Nomad 10 is a 10-watt solar charger designed for outdoor adventures. It's both durable and waterproof. It comprises a fold-up solar panel and an integrated USB port. It's a simple design, granted. But while many other folding solar panels often have patchy solar charging abilities, the Goal Zero Nomad 10 is quick and highly efficient.
It can be used to power small devices such as phones, GPS units, fitness trackers, and power banks. The Nomad 10 compactly folds away for comfortable storage in your backpack when not in use. You can use carabiners or lanyards to attach it to the exterior of your pack, using the four eyelets on each corner of the panel.
While on the surface, it might look like similar folding portable solar chargers, there is more to it than initially meets the eye. At the back of the solar panel is a 180° detachable kickstand that provides additional stability. This also allows it to be propped up and angled so that it can be positioned to where the sun is at its strongest for optimum performance.
Though it has to be just about the best solar panel for backpacking we've looked at for efficiency and the quality of its design, the Goal Zero's not the lightest. At 1.2 lbs Goal Zero, it's one of the heftiest models in our review and, thus, not ideal for buyers who prioritize weight savings.
PROs

High-quality device
Adjustable kickstand
USA-engineered product
1-year warranty
Charges quicker than competitors

CONs

It doesn't come with any extras such as cables or carabiners
A little heavy
Bottom-Line: An efficient, fast-charging, and practical device that loses a few points on account of its ponderous weight.
Renogy Portable E.Flex
Best Budget Model
The Renogy E.Flex is a frill-free and low-cost charger that's ideal for buyers who like to keep things simple.
Renogy is a well-known renewable energy company with a wide range of portable power solutions. The Renogy E.Flex5 is one of the company's smallest and most lightweight products. However, regardless of its size, it still functions well to charge a small device such as a smartphone, iPhone, or battery pack.
It's sleek, minimalist design means that it not only looks good but, combined with its lack of easily breakable parts, ensures resilience. Basic in design, it consists of a solar panel on one side and a USB port on the other. This pared-down design makes it super lightweight at only 6.7 ounces and extremely affordable to boot.
Unlike some larger chargers, this one consists of a single panel that doesn't fold up, meaning it's slightly less portable. That panel, however, is both waterproof and coated to protect against scratches, meaning it's more than equipped to deal with the ravages of outdoor life.
The charger's slim profile and lightness make it perfect for slipping into a backpack and carrying around at all times with little effort. This makes it ideal as an emergency backup solution.
You also have the option to attach it to the exterior of your backpack with two included carabiners or to a tent while camping.
If you are in an urban environment or vehicle and want to attach your Renogy E.Flex5 to the window, you're good to go. It comes with four suction cups for this purpose. The simple oblong design also makes it easy to prop up in the best position to point directly at the sun around your campsite.
Despite its low price, it also includes additional functionality such as overcharging protection and auto-optimization charging, which will establish your charging needs and recover the decreased power resulting from shading.
While it only has an output of 5 watts and just one USB port, if all you require is to keep a small battery pack or phone charged, then for lightweight portability, the E.Flex5 can't be beaten. If you are a backpacker who likes their gadgets and needs a bit more power or wants to charge multiple devices at the same time, then we'd suggest looking at the other products in our review.
PROs

Affordable
Lightweight
Simple design

CONs

Only 1 USB port
No storage pockets
Bottom-Line: A low-cost, perfectly portable little power provider that's slower to charge but otherwise a backpacking and hiking solar panel par excellence.
BioLite SolarPanel5 with Battery Charger
Most Portable
The BioLite SolarPanel5 is backpack-friendly and one of the best portable solar chargers around. It charges devices a little more slowly but is well-equipped to deal with the rigors of backcountry travel.
BioLite is an innovative outdoor products company that provides ways to charge, cook, and light off-grid. You can choose from the SolarPanel5 or the SolarPanel5+, which comes with an integrated 2200 mAh battery. The battery gives you the option to power your device directly when the sun is shining or charge the battery pack to store power for later to charge your device when you camp up at night.
The SolarPanel5+ consists of a single rigid 5-watt monocrystalline solar panel that can charge your smartphone in around two hours in peak sun. It has one charge-out port with a 5-watt output and a micro charge-in port so you can top up before leaving home.
This charger is excellent for backpacking as it is ultrathin and weighs just under 14 oz. It is also water-resistant enough to handle light rain. It can power electrical devices such as smartphones but it is also compatible with other BioLite products such as their cookstoves and power light.
As well as its minimalist compact design, it has a few other well-thought-out features that make it stand out from some of the other generic portable chargers on the market.
It comes with a useful auto-reconnect feature that will make sure that the charger and your device re-engage when the weather turns from cloudy to sunny. Also, it comes with a 360-degree kickstand allowing you to angle it easily on uneven ground. The final feature of note is the inbuilt sundial that helps align the solar charger with the sun for maximum output.
The main downside to this charger is that, because of its compact design and 5 watts output, it's fine for charging smaller devices but might struggle a little with devices with larger batteries.
PROs

Integrated, high-capacity battery
Ultralight & ultraslim Design
360-degree kickstand
Sundial

CONs
Bottom-Line: If you are looking for a robust, lightweight charger with an integrated battery, the BioLite SolarPanel5+ comes highly recommended.
Nekteck 21W
Best for Multiple Devices
The Nekteck 21W hits that perfect sweet spot for a backpacking solar-power charger, providing enough power to keep essential devices charged for a multi-day hiking trip combined with lightweight portability. It weighs just 18 oz and folds up to a compact 6.3 x 11x 1 inch in size.
It comprises three solar panels made by SunPower with a 21%-24% power conversion efficiency rate, which is comparable or better than similar portable products. It boasts dual USB ports so two devices can be charged simultaneously.
The two ports provide up to 2 amps per port or 3 amps maximum overall. You can easily charge your Samsung and a Kindle Fire or a tablet and an iPhone at the same time or use it to charge an external power bank.
The Nekteck 21W is nicely constructed from IPX4 level waterproof Industrial-strength PET polymer material, making it rain and dust-proof. It also includes a handy pocket to store the included 2.6 feet micro USB cable and other items.
The Nekteck 21W is also durable enough to survive any damage when packed in your backpack, while the two included carabiner hooks and five eyelets make it easy to attach it to the outside. Of course, you aren't limited to hanging it from your backpack; it can easily be attached to a camping tent, a tree, or the roof of your vehicle when stationary.
Another nice feature of the Nekteck 21W is that it offers Smart IC technology. It identifies the specific device plugged in and provides details of its charging speed.
The Nekteck does have compatibility issues with some brands of phone. However, Nekteck does point out that if it shows 'accessory is not supported', it's due to insufficient sunlight, and the charger needs to be placed in direct sunlight outdoors.
If you factor in the 12 months worry-free warranty, all in all, you have a great value-for-money, take-anywhere charger.
PROs

High-quality solar panels
Dual USB ports
Durable and waterproof

CONs

It needs an external battery to store power
Slow to charge when cloudy
Bottom-Line: A powerful charger that's ideal for backpackers with multiple devices who plan on hitting the trail for multi-day adventures.
Solio Bolt Battery Pack and Solar Charger
Best Lightweight Solar Charger
The Solio Bolt is a superbly lightweight and portable power solution that's a little short on power but comes with a super-handy integrated battery.
The Solio Bolt can be charged in three different ways: using the included Micro USB to charge from a PC or laptop; using a wall adapter; or by sunlight.
For portability, the Solio Bolt is ideal, it weighs just 5.3 ounces, and its dimensions are a tiny 3.5 x 3.5 x 1 inches. This means it is compact enough to fit in the palm of your hand. It might be a little bulky for a pocket in your pants, especially if hiking, but it would easily fit into a side pocket of a backpack.
The design is simple and effective. On one side, you'll find a solar panel that rotates outwards to expose a second panel. At the back of the charger is an LED on/off button. You also have a full-size and a Micro USB port.
It offers 5 watts maximum wattage, and the internal 2000mAh Li-Poly battery will take 8 to 10 hours to fully charge in direct sunlight. It will charge pretty much any small device such as phones, MP3 players, Kindle, GPS units, Bluetooth headsets, and more. It also has specific charging options for Apple devices.
Included with the Solio Bolt is a pencil, which may, at first, seem a bit odd. The pencil is inserted into a hole in the center of the Solio Bolt and works similarly to a sundial so that the panels can be angled in the direction of the sun. If you lose the pencil that comes provided, it is easy to replace, though you might want to pack a spare if you're taking it on a backpacking trip.
While it is a great design if you are camping or stationary and can orientate the solar panel in the sun's direction with the pencil, it's not so easy to attach to the outside of a backpack to catch the sun's rays. You could, of course, hook up something with paracord and carabiners using the hole in the center of the device, but we are not sure how practical this would be.
PROs

Innovative design
Compact
Simple to use

CONs

Case not included
Not easy to attach to the outside of a backpack
5W max output
Bottom-Line: An impressively portable little device that lacks power and versatility but offsets these flaws with its tiny footprint and easy-to-use design. Possible the best ultralight backpacking solar charger out there.
BigBlue 28W Solar Charger
Editors Choice
The Big Blue 28W is a punch-packing charger that's absolutely ideal for buyers with multiple power-hungry devices.
This is the most powerful product in our review, with an actual output of 20 watts max. It comes with four IPX4 rated water-resistant solar panels that fold out. The benefit of having four panels is that it makes charging your devices faster. However, it also means that the BB is quite heavy. At 21 oz., this is no lightweight, but the added power you get in return makes it well worth it.
We are particularly impressed with the high-efficiency rating of the panels, which ranges from 21.5 to 23.5%. With most solar panels hovering somewhere between 15 to 20%, the BB's represent a significant upgrade.
When folded, the Big Blue 28W has similar measurements to a magazine at 11.23 x 6.3 x 0.71 inches. This makes it compact enough to squeeze into most backpacks. The included hooks allow you to attach it to your backpack or anywhere else suitable to catch the sun's rays. For a hiking solar charger of this size, the 21 oz. weight is reasonable.
It comes with dual USB ports so you can charge two devices simultaneously. The solar panel is compatible with the usual small devices and has enough output to charge most DSLR cameras. It also comes with a micro USB cable, but you'll need to use the original cable if you want to charge Apple devices.
One standout feature of this solar charger is that it comes with an integrated digital ammeter. Given that it already offers good value without the ammeter, this gives it the edge over many of its competitors. The digital ammeter measures and displays the number of amps, which allows you to find the ideal position to place your solar panels to get the best results.
To top things off, this solar charger uses SmartIC Technology to identify the connected device and deliver the fastest charging speed possible.
However, the Big Blue 28W isn't entirely flawless. It comes with a zippered pouch that, at first glance, seems like a useful addition for holding your devices. But the sun-facing black pocket will get super-hot, and any device you put inside it is liable to overheat.
PROs

High-efficiency rating
Fast charging
Can charge DSLR cameras
24 months warranty
Inbuilt Digital ammeter
SmartIC Technology

CONs
Bottom-Line: A slightly heavy but otherwise outstanding charger that packs plenty of features and nigh-on peerless power.
Anker 15W PowerPort Lite
The Anker 15W is a tough, trail-ready charger that's ideal for backpackers who need plenty of power without compromising on portability.
Anker is renowned globally for its charging technology products, including this one, the Anker PowerPort 15. This charger has dual USB charging ports, comes with a three-foot charge cable, and uses a two-panel system.
This might look similar to other folding portable solar panels for backpacking, but it's the quality of the product that puts it head and shoulders above much of the competition.
When folded, the Anker PowerPort measures 15W is 11 × 6.3 inches. Weighing in at just 12.5 oz and measuring a super-thin 0.7 inches thick, it's an excellent choice for backpacking. It also uses industrial-strength PET, plastic-faced solar panels. These are sewn into hard-wearing polyester canvas and have nylon loops on each corner to attach to your backpack.
The Anker PowerPort 15W uses PowerIQ fast charging technology so that you can charge two devices at the same time as fast as possible. It boasts speeds up to 2.4 amp per charging port or 3 amps overall if there is adequate direct sunlight.
This charger is compatible with Android smartphones and tablets and most Apple devices, but, sadly, cannot charge Asus tablets, HP TouchPads, the iPod Classic, iPod Nano, or iPod Shuffle.
As long as you don't want to use the devices mentioned above, this is an excellent pick. If you invest in this charger, you are backed by an industry-leading brand in charging devices and get a reassuring 18-month guarantee.
PROs

High-quality brand
Dual USB
Fast charging

CONs

Not compatible with certain devices
Carabiners and hanging hooks not included
Bottom-Line: Thanks to its backpack-friendly size, light weight, and robust design, this is one of the most durable and trail-worthy power solutions on the market.
Panergy 26800mAh Solar Charger with Portable Power Bank
Best for Added Features
The Panergy 26800 mAh solar charger is a fantastic option for backpacking, camping, or any other outdoor activity, as well as for emergency preparedness, power outages, or to keep in your vehicle.
This charger-power-bank combo is an all-in-one power solution. This charger comes with two standard USB-A ports and a C port that allows for direct wall charging. It also has the capacity to charge your iPhone 11 or Galaxy S10 over 6 times.
The solar battery charger is made out of rugged ABS plastic and polycarbonate, which will protect it when dropped and from dust, so it's durable enough for the more adventurous (or clumsier!) backpacker. However, given its lowly IPX1 rating, it's best to keep it well clear of water.
The unique selling point for the Panergy solar charger is its additional lighting features. The LED flashlight can be set to bright, dimmed, or an SOS flashing light for emergencies. It also included a bright or dimmable panel light consisting of 30 LED's and what we really love is the special orange-hued mosquito repellent light.
There are, moreover, very few downsides. The only real issue with this model is that it might be too heavy for some people's requirements, especially if you prefer ultralight backpacking. At 1.11 lb, it's no behemoth, but if you're a gram-counting minimalist, you might want to explore one of our lightweight picks.
PROs

All-in-one solar charger and power bank
Rugged and durable
Flashlight and LED panel
Mosquito repelling light

CONs
Bottom-Line: A solar charger with a power bank, flashlight, and mosquito repellent that is both durable and affordable—what's not to like?!
Last update on 2022-01-25 / Affiliate links / Images from Amazon Product Advertising API