If you want to take your camping to the next level, you need a portable tent for showering in that will allow you to do your business and get fresh for the next day. Not all camp shower shelters are created equal, which is why we put together a comprehensive list of the best models on the market to help you out.
Editors Choice
G4Free Portable Shower Tent
If you're looking for a cleaner camping experience there are plenty of fantastic options out there, but our title of best shower tent has to go to the G4 Free Shower Tent.
Its large interior dimensions, and great internal features like storage pockets and a shower bag hook mean you can shower or change without feeling awkwardly cramped. The special mesh floor allows for easy drainage while keeping your feet up off the dirt, making it one of the most interesting designs we've seen.
As one of the heavier choices (at 10.5 lbs) it's not a great option for hauling to the beach or if you know you're campsite is a bit of a walk from the parking lot. If your pitch is a short distance tho it's a great option for your next outdoor shower.
Bottom line: the size, versatility, and unique easy-drain floor design of the G4Free shower tent make this one a winner in our book and the best camping shower tent on the market!
How To Choose a Portable Outdoor Camping Shower Tent
What qualities make up the best shower tent for camping? Like anything else in the world, it's really up to individual preference and what you're looking to get out of your pop-up toilet tents or pop-up shower tent. Before even considering a purchase, it's essential to ask yourself some key questions.
Will I need my privacy shelter to have more than one purpose?
How important is budget to me?
How many people will need to use the outdoor shower tent at any given time?
How adept am I at setting up and taking down tents?
Keep these questions in mind as you peruse available options, and they will help you determine the best shower tent for you!
Easy To Set Up
This is especially important if you are planning to move from campsite to campsite. You don't want a camping shower tent that you need to wrestle with, especially when you're tired from a day of outdoor adventure.
Some of the best camping shower tents are ones that spring into action, ready to be used. You don't need to play around with tethering it to the ground or wrestling with support poles. The setup can be done in a matter of minutes.
Privacy
We all know that the shower and bathroom are private places, which is why some of the best shower tents are made out of opaque material that ensures that you can do your business without flashing the world. Privacy is especially important if you want your tent to double as a porta-potty tent.
Most tents are built for privacy, with opaque material and windows that can zip closed for the ultimate showering experience. The only caveat is that you should make sure that your shower tent is adequately ventilated to avoid overheating or trapping unpleasant smells within its confines.
Ventilation
If you want to make sure that your camping shower enclosure is the most comfortable it can be, make sure that you choose a shower tent that is adequately ventilated. These tents can get reasonably steamy, so having a window that zips open is a definite must, especially if multiple people are using the tent.
As necessary as ventilation is for pop-up shower tents, it's even more critical if your tent is going to double as a bathroom. Without proper ventilation, your tent can soak up toilet smells and become a stinky hot box that nobody wants to use. Just like at home, you need to crack a window!
Removable Floors
If you want your shower tent to do double-duty as a camp shower tent, you should look for one with removable floors. The floor will keep your feet nice and clean while you are taking your morning shower but can come out when you need to do your intimate business.
Most of these tents have floors that will easily unzip, so you can use the shelter as a shower during the morning and convert it to a toilet later on. These types of tents alleviate the problem of having to use the bathroom in the woods, provide privacy, and act as a multi-use area that covers all of the bases.
A Larger Size For Multiple People
Some of the best shower tents come in larger sizes, which is appropriate if you have multiple people showering. With larger sizes, people of all builds can get the hot shower that they crave in the morning without needing to stoop or squeeze in.
Some pop-up shower tents are even large enough for two people to shower at the same time (we are not judging!), so you can minimize your water usage while still having your morning shower time.
Multi-Room Shower Tents
Welcome to the BMW of shower tents! Multi-room shower tents are ideal for those who don't want their towel or clothes to get wet while they are cleaning themselves off. These tents come with two separate rooms, one for showering and one for changing.
There's another advantage to having a multi-room shower tent as well. If you want to use your tent to quickly get changed, it's nice to have a dry spot to do so without having to step on the wet floor where someone previously took a shower. Additionally, these types of tents offer the option of allowing one person to shower while the other changes, both in total privacy!
Tents With Hooks To Hang Your Towel Or Clothes
It might seem like a small thing, but anyone who has ever had to "dry off" with a soaking wet towel knows the importance of a hook to hang up your clothes and towel. Many of the shower tents have this feature built right into them, allowing you to keep your things high and dry as you shower off.
The hooks can also be used to dry clothes, like wet bathing suits, without having to expose them to nature. There are a ton of ways that they can come in handy.
Budget
There are a plethora of available shower tents out there for just about every budget, but it's certainly something that you should still keep in mind. What you are logically able to spend will narrow down your choices.
Think about what's important to you, and go from there. Your top attributes will shape the sort of tent you'll look for, and you should be able to find one that fits right into your budget. Shower tents can start around $30 and work their way up to several hundred.
Best Shower Tent Reviews
WolfWise Camping Privacy Shelter
This WolfWise tent is super easy to assemble, and you don't have to play around with any poles or tethers to make it work. All you need to do is pull on the top of the folded tent, then fan it out, so it pops open. To close the tent, you'll need to refold it neatly into its original shape. Since the framework is already inside, you don't need to fold or stuff the tent into shape. It does it naturally.
This model is also lightweight and portable, with an adequately ventilated area that makes it the best budget product in our book! Even though it's lightweight and compact, it's still very durable, and the anti-tear polyester is designed to last.
There's not much we can say about the cons of the WolfWise Pop-up Shower Tent. It is easily one of the best options out there if you are looking to save a little bit of money. It's not as roomy as some of the other options, and it does not come with shower hooks, although there is a waterproof bag for your clothes.
PROs

It is straightforward to set up.
Exceptionally lightweight.
This model is both durable and waterproof.

CONs

It is on the smaller side.
There are no hooks for your clothes.
Bottom-Line: this is the best budget option on the market, and since it's easy to assemble, just about anyone to set it up.
KingCamp Oversize Outdoor Camping Shower Tent
KingCamp is known for its excellent products, and their Oversize privacy tent is no exception. This model is exceptionally roomy and made out of sturdy polyester. It's easy to install and is reasonably portable. If you are looking for a portable camping shower tent that does exactly what it advertises, KingCamp Oversize Pop-Up Privacy Tent is the one for you.
Although the tent is sturdy, the material is slightly see-through if you're doing your business at night with a light on. It can also be a little unstable in the face of inclement weather. Still, this pop-up changing tent is a reliable option for most campers and will not let you down.
PROs

This model is straightforward to set up.
It is made out of sturdy polyester.
It's roomy for you to go in comfort.

CONs

The material is not entirely opaque.
It might not stand up to bad weather.
Bottom-Line: this tent will allow you to get the job done in a roomy, waterproof place that is relatively private and safe from the elements.
GREEN ELEPHANT Camping Shower Tent
The Green Elephant privacy tent does a good job of striking a balance between portability, usability, and ease of set-up. All at a pretty reasonable price point.
As a multi-function tent, there are several handy features from toilet paper, lantern, and clothes hangers, to various storage pockets to help hold onto various items while you go about your morning routine. One minor flaw in our opinion, however, is that while there is an external tube feed for a shower bag there is no internal hook at the center peak.
This shower tent is easy to set up – take it out of the carry bag, and it'll pop up in a second leaving you to use the provided guys and tent stakes to secure it. At a weight of 5.5 lbs and a packed size of 2 feet x 2 inches, it's not going to be hogging a lot of trunk space either. This makes it a great option if you're going to have to haul your gear a distance from you vehicle.
As you would expect, with a lighter weight comes to the drawback of it being a less sturdy and substantial tent than some other options on our list. However, it's a great pick if you're looking for something a little more portable.
PROs

Easy set-up
Lightweight
Great multi-functional useful features like toilet paper holder

CONs

Not the sturdiest
Lack of shower hook internally
Bottom-Line: A great multi-functional tent that is super portable and easy to set-up.
G4Free Privacy Shelter
Best Overall
The G4Free portable privacy shelter has the best solution to showering in the outdoors, with its rip-stop polyethylene floor design. This mesh floor allows for easy drainage, no pooling of water (like some solid floor designs) while keeping your feet off the dirt. Thanks to the velcro anchors, the floor is also easily removable if the terrain allows it.
With a center height of around 6 feet 8 inches and just shy of 4 feet across its width and depth, you'll get a roomy privacy tent for your camping showers. Thanks to the anti-light fabric your changing room or shower will not suffer from any privacy issues.
The mesh top and removable rain cover along with the mesh window will keep bugs out, and allow this portable shower tent to breathe. In addition, the ceiling hook can support up to a 4-gallon solar shower bag (roughly equivalent to 15kg).
The main issues with the G4Free are its portability and its ease of set-up. Both of these suffer at the expense of sturdy construction. Weighing in at 10.5 lbs this privacy tent is not one you'll want to haul for extended distances to your campsite. Secondly, it takes a little more work to get the G4Free up and running.
PROs

Great floor design allows drainage while keeping your feet clean
Sturdy & durable construction
Special silver coating on the fabric helps prevent silhouettes
Can hold a 15kg shower bag

CONs

Not the easiest set-up
Relatively heavy
Bottom-Line: Overall, the G4Free privacy shelter wins our top award as the best shower tent thanks to its spaciousness and clever design features such as the easy drain floor.
Kelty Blockhouse Portable Shower Tent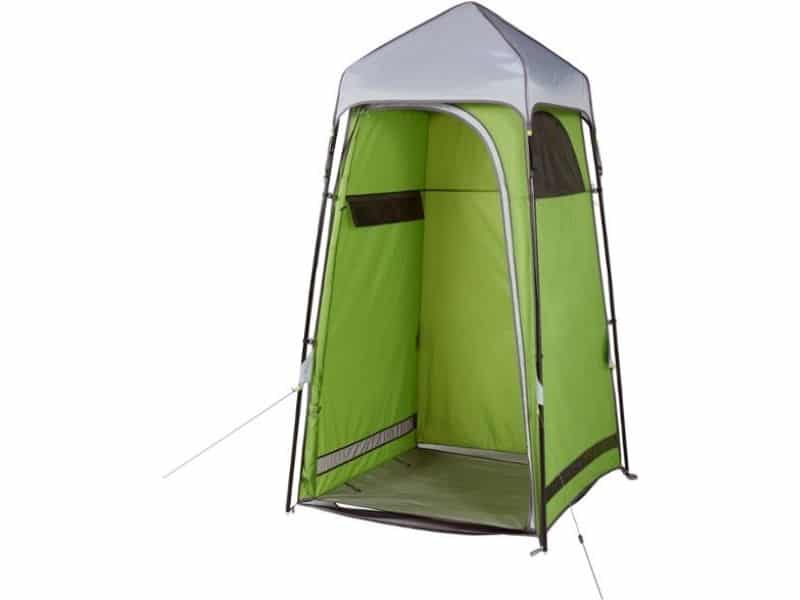 The Kelty Blockhouse Privacy Shelter is a large and sturdy portable shower tent – at just under 4 feet square, and standing over 7 feet at its center height even the tallest campers will have ample space to freshen up. To make life easier (cleaner?) the Blockhouse has multiple additional features such as a steel hook for hanging a shower bag, external entry for a solar shower bag tube, and various storage pockets secreted around the tent.
A removable floor with a built-in mesh drain and a mesh roof and window help keep this privacy tent clean and well ventilated. The tent fabric is thick, and high quality meaning unwelcome sunlit silhouettes aren't an issue.
With the 4 rust-resistant steel frame poles, this changing room is as rock-solid as any of the other privacy shelters on our list, making it a handy pick for windy conditions. The big downside is that the tent weighs a whopping 13 lbs 10 oz – even with the sling style carry bag, it's an unwelcome burden if you've got to walk any sort of distance to your pitch.
While sturdier than many of the pop-up options we've reviewed, this also does translate into a more protracted/difficult set-up & take-down.
PROs

Very spacious with plenty of head height
Thick blocking tent fabric
Useful additional features such as hooks & storage pockets
Sturdy & durable

CONs

One of the heaviest portable shower tents
Not the most straightforward to assemble
Bottom-Line: The Kelty Blockhouse is a spacious outdoor shower & privacy tent, perfect for the bigger camper & offers multiple handy features to make keeping clean in the wild easier.
GigaTent The Stinky Pete Popup Toilet Tent
This versatile product is budget-friendly and doubles as a shower and toilet. It is self-draining, so no water pools at the bottom after the showering, and there's a ventilated ceiling so it won't live up to its name, Stinky Pete, after either a hot shower or a session in the toilet.
At four-feet by four-feet & 90-inches of headroom, this tent is not the largest one on the market, but it will do the job. It also comes with a rain fly to protect against inclement weather and keep you nice and dry while you're doing your business inside.
Although the GigaTent is undoubtedly portable and comfortable enough to set up, some users have experienced problems with the fiberglass poles used to secure the tent in place. They can be finicky, break, or lead to other malfunctions. The shelter can also be a bit on the cramped side.
PROs

Thanks to proper ventilation, this tent doesn't smell.
The floor is self-draining.
It is light and portable.

CONs

Poles can be tricky and may occasionally break.
Some users might find it cramped.
Bottom-Line: budget campers with experience setting up tents will love this one for its low cost and ease of transport.
Ozark Trail 2-Room 7′ x 3.5′ Privacy Pop-Up Tent
The Ozark Trail 2-Room Instant Shelter delivers on a lot of fronts. It doubles as both a shower and changing room/porta-potty area and is exceptionally roomy. At seven feet long by three and a half feet deep, with a seven-foot ceiling, this model is spacious and comfortable. There are places to hang up your towel and clothes, and set-up only takes a matter of seconds. It's also highly ventilated, so it won't get stinky or over-heated while you're running the water.
Its walls are coated in silver aluminum, designed to resist smelly microbes, and the shower itself holds up to five gallons of water, making this model a family-friendly choice that will ensure that everyone gets a refreshing scrubdown.
On the other hand, this model is a deluxe model, so it's not as easy to carry around as some of the others, and it must be fully staked down to avoid blowing away. Other than that, the Ozark Trail is a gem. It's great for family camping and surprisingly easy to set up.
PROs

It is effortless to set up.
Two people can change and shower simultaneously.
Ample ventilation means that this shower tent won't get stinky.

CONs

It needs to be tethered, or it will become unstable.
Some pooling might occur.
Bottom-Line: this roomy model is great for families or big groups of people, and it provides you with all of the comforts of home right from your campsite.