The Only Camp Chili Recipe You'll Ever Need
Wondering how to make a tasty chili when camping?
You're in the right place! In this guide, we will be covering the following:
All the ingredients you'll need to make a great campfire chili
Step-by-step instructions on how to make one of our favorite chili recipes
A campfire recipe for chili you'll want to share with all your friends!
Is there anything better than gathering around the campfire for a bowl of warm chili? Whilst this dish was born in the American southwest, it's become a camping staple enjoyed by campers everywhere. No matter which campground you find yourself at, you can bet there's a pot of chili stewing somewhere!
Chili recipes are wide and varied and every outdoor enthusiast has a recipe they swear by. We're sharing the ultimate, hearty campfire dutch oven chili recipe to help those still on the hunt for the perfect one. Our recipe has the perfect mix of tasty ground beef and sausage, nutritious beans, and medium-heat spices.
This hearty chili is great for camping, bonfire nights, or curling up on a cold winter night. Give it a try and we're sure it's going to become your go-to dinner recipe!
Camp Classic Chilli: Overview
Prep Time: 15 minutes
Cook Time: 2 hours
Servings: 6 – 8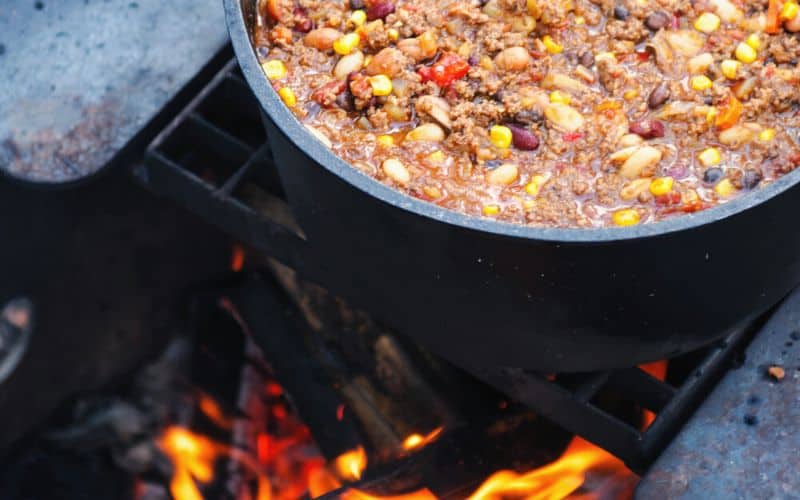 What You'll Need: Ingredients and Implements
A large dutch oven (or a large saucepan or large pot with lid)
Wooden spoon
A sharp knife
1 pound ground beef
1 pound ground pork sausage
2 (6 oz) cans of fire-roasted tomatoes or diced tomatoes
1 (15 oz) can of pinto beans
1 (15 oz) can of kidney beans (or any other canned beans like black beans, spicy chili beans, or navy beans)
1 or 2 Jalapeno peppers
1 large onion, finely chopped
2 cloves minced garlic
1 ½ tsp ground cumin
¼ cup chili powder
½ tbs oregano
Salt and black pepper
Olive oil
Optional
Sour cream
Lime
Tortilla chips
Liquid Smoke
Tomato paste or tomato sauce
Red bell pepper
Hot sauce
Avocado
Adobo sauce
Chipotle peppers
Cayenne pepper
Chicken stock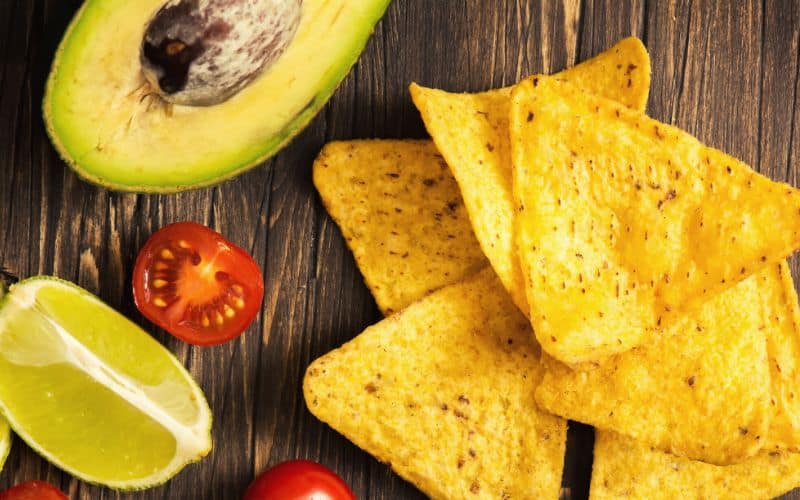 How to Make Campfire Chili: Step-by-Step Instructions
1. Prep Your Pan
Heat two tablespoons of olive oil in your dutch oven or cast iron pan over hot coals. If you're using a camp stove, you can also use a large saucepan.
2. Brown Your Meat
Heat your ground beef and ground sausage in batches until well-browned, making sure not to overcrowd the pan.
3. Add Spices and Seasoning
Return the brown ground beef and sausage to the pot and add onion, jalapeno, chili powder, cumin, and oregano. Season with kosher salt and pepper. Cook, stirring frequently, for about 4 minutes or until onions have softened.
4. Bring in the Beans!
Add your drained beans and diced or fire-roasted tomatoes to the pot. We prefer pinto beans and kidney beans, but feel free to use any mix of your favorites like black beans or navy beans.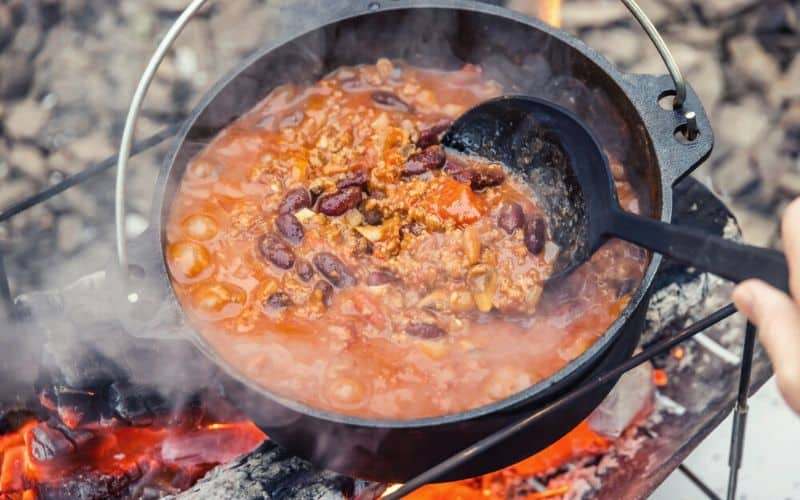 5. Boil and Simmer
Bring to a boil, reduce heat to low, and then cover. Simmer for about 2 hours, stirring occasionally, until you achieve your desired thickness.
6. Time for Toppings!
When your chili is ready, add all your favorite toppings like sour cream, sliced scallions, fresh cilantro, or cheddar cheese.
7. Serve!
Serve immediately with tortilla chips and enjoy!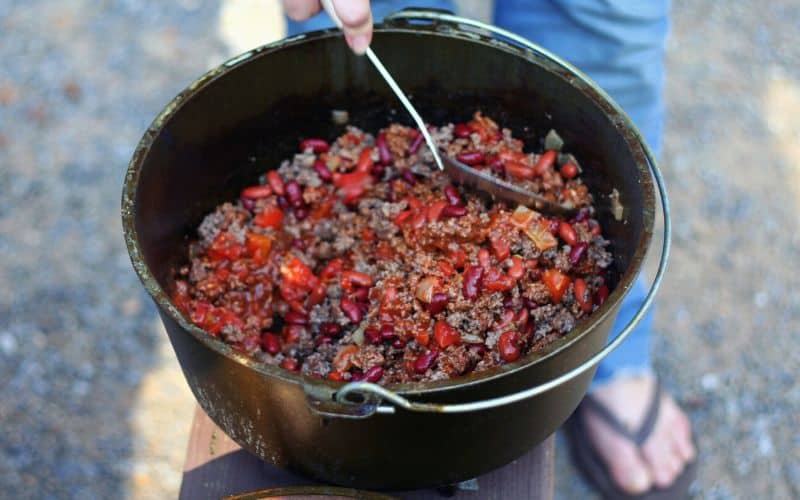 Cooking Tips
This recipe can be easily prepared at home and just heated up at your camp!
Using dried beans will make this recipe taste even better. If you don't want to cook them at camp, you can always prepare them at home and freeze them.
Try freezing the meat for your recipe before arriving at your campsite. Not only will the meat last longer if you don't plan on cooking it the first day, but it will also help keep the temperatures down in your cooler.
A longer cooking time absolutely makes a difference in terms of taste and flavor. Recipes like this need time for the flavors to develop and meld together. Keep it simmering for at least 2 hours!
You can measure out your ingredients beforehand, pack them in ziplock bags, and label them accordingly.
If your chili isn't reaching your desired thickness, don't worry! Try adding some mashed beans or corn flour. Even a handful of crushed corn or tortilla chips will absorb excess liquid and add some nice texture.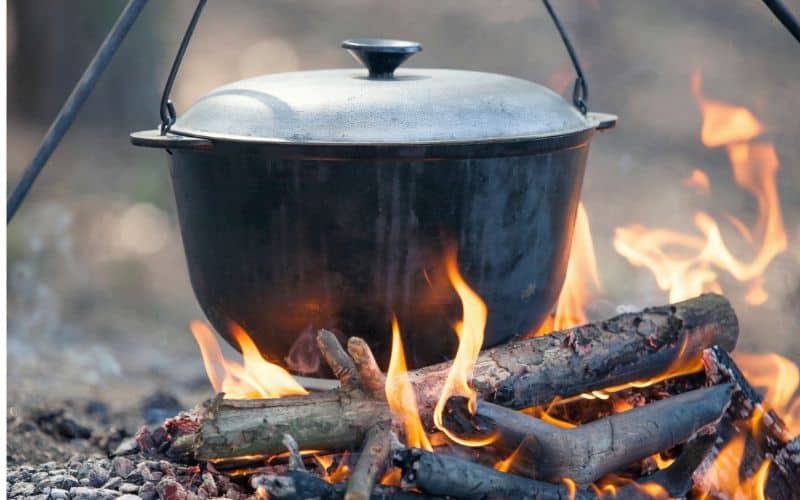 Alternatives
This recipe is designed to be the perfect starter recipe that everyone from novice cooks to seasoned chefs can whip up at their campsite easily. Thanks to this recipe's simplicity, there are a few easy ways to ramp up the spice and flavor or even turn it vegetarian.
Want More Flavor?
Use dried peppers to create homemade chili paste. It's a lot of work but it adds an amazing depth of flavor to this recipe.
Creating your own paste is a three-step process: cleaning the chilis, toasting them, and then pureeing them. You can even make your own paste at home and bring it along to your campsite. It will keep for about 1 week in the refrigerator.
For the best step-by-step guide to making a homemade paste, we recommend this guide from Serious Eats.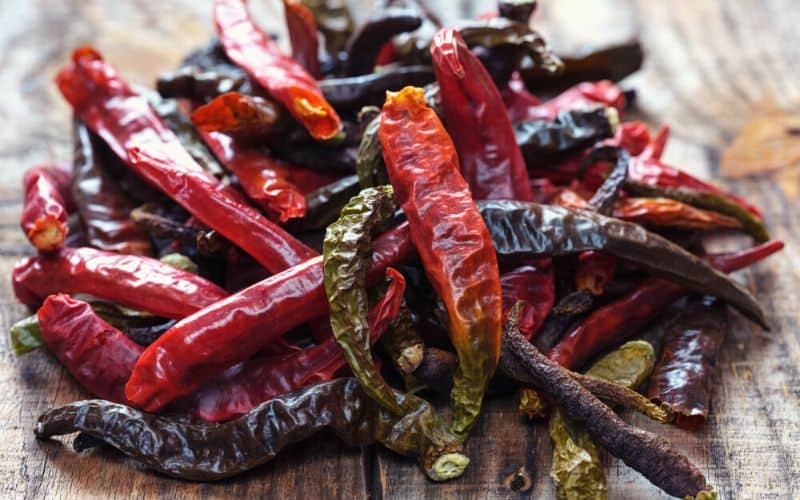 Want Extra Spice?
Try adding a can of chilis in adobo sauce with your other beans. It will add a rich depth of flavor and some scorching hot heat! If you're looking for a milder version, you can just use the adobe sauce and remove the chilis or try adding the chilis with the ribs and seeds removed.
Want to Make It Vegetarian?
It's easy to transform our recipe into a vegetarian chili! Start by leaving out the ground meat and replacing it with an equal weight in beans. White beans are a great choice!
Try adding some other flavor boosters like a teaspoon of liquid smoke or the ultimate secret ingredient: 2 tablespoons of vodka or bourbon. The alcohol will cook off, leaving behind a nice, rich flavor that stacks up well with the other smokey and spicy ingredients.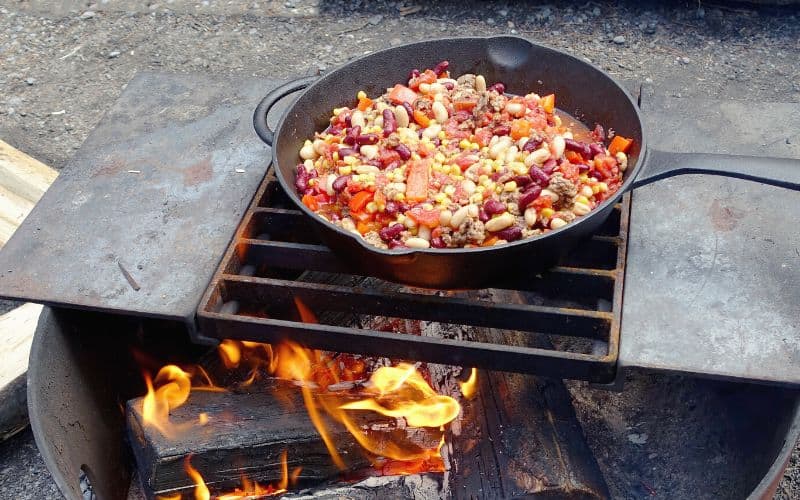 Need Serving Suggestions?
The options are endless! Start by topping your chili with your favorite ingredients. Classics include lime wedges, sour cream, avocado, cilantro, chives, and shredded cheese.
If you want to try something new, top off your bowl with some honey for a sweet and spicy combo or some fresh pico de gallo for a refreshing contrast.
You can serve your chili hot directly in a bowl, with over-baked potatoes, or even in a bag of Fritos! If you want to add a side dish, this recipe pairs well with cornbread, coleslaw, or buttery garlic bread.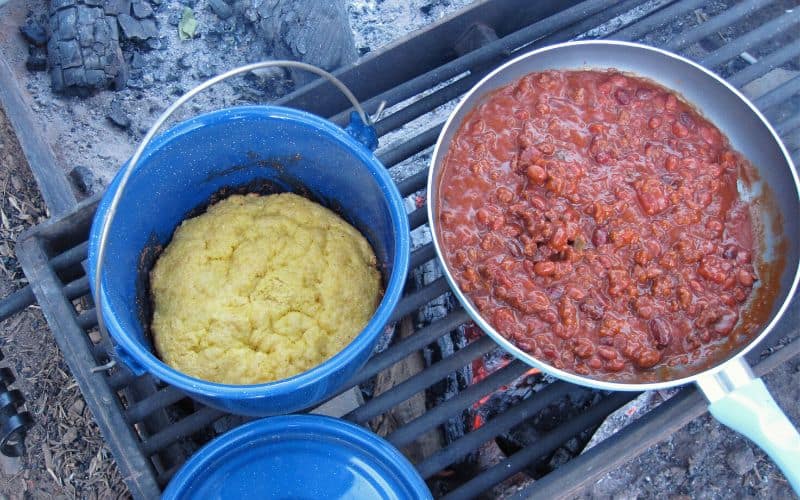 Happy Camping!
When it comes to feeding hungry campers, nothing quite hits the spot like classic chili. Give our recipe a try and we're sure it will impress everyone from amateur cooks to hardcore campfire chefs.
We hope our campfire chili recipe has inspired you to get out there and cook a big batch of cowboy stew for all your camping crew.
If you've got any tips for making the perfect bowl of easy chili, be sure to let us know in the comments below. And if you want to share this with all your family and friends, go right ahead!