Car camping opens up a world of cooking possibilities! Since you're not limited to carrying your cooking gear and ingredients on your back, you can get a little more creative with your camping meals.
With the right car kitchen setup, you can prepare delicious and nutritious food on your next camping trip that's as good as anything you'd prepare at home. Since you don't have to pack light, you can also bring lots of cool cooking gadgets like fancy camp stoves, bulky coolers, and heavy cast-iron pans.
Whether you're planning on cooking over a fire or camping stove, these 21 car camping food ideas are easy to prepare and, if we say so ourselves, darn delicious! We've also sprinkled lots of cooking, storing, and serving advice throughout this guide, so keep reading to get inspired.
Camping Breakfast Ideas
1. Pancakes
Pancakes are a classic camping breakfast and with good reason! Much of the prep work can be done at home and then easily assembled around your camp.
For make-ahead pancakes, assemble your pancake mix at home by mixing your dry ingredients (flour, baking powder, sugar, and salt) in a large resealable bag or container. You can also jazz it up with mulling spices, cinnamon, or dried fruits and nuts.
At your campsite, just add the wet ingredients (eggs, milk, and melted butter) to the dry mixture to create the batter. Cook the pancakes on a griddle or camp stove. You can even make the actual pancakes ahead of time at home and simply reheat them at camp.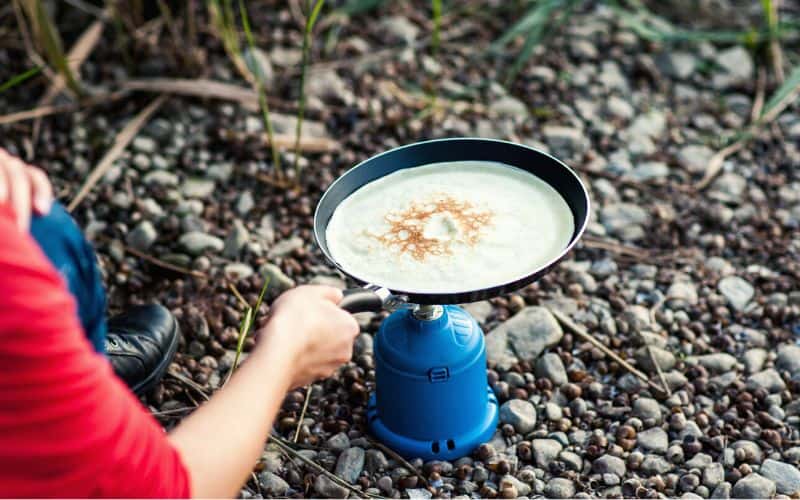 2. Breakfast Burrito
When it comes to camping breakfast ideas, few meals are as convenient, cost-effective, and filling as breakfast burritos. Burritos make the true breakfast of champions that can easily be customized to suit different tastes and dietary needs.
If you follow the basic formula of a tortilla stuffed with protein + veggies + condiments for flavor, then you can't go wrong! Feel free to prep all your ingredients at home and assemble them around camp or cook any portion of them fresh at your campsite.
Need some inspiration? Filling protein options include scrambled eggs, sausage, bacon, black beans, or tofu. You can use any mix of cooked or raw veggies like sweet potatoes, tomatoes, peppers, and onions.
Then all you need is something to boost the flavor– try salsa, pico de gallo, cheddar cheese, hot sauce, avocado, or sour cream.
To heat your burritos, all you need to do is wrap them in aluminum foil and heat them right over your coals.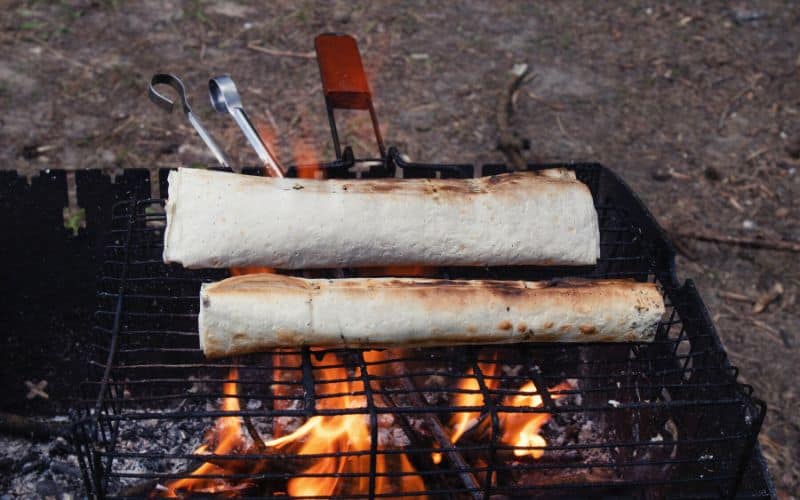 3. Scrambled Eggs
No camping menu would be complete without some classic scrambled eggs. Eggs are nutritional powerhouses filled with protein, iron, vitamins, and minerals. Start your day with scrambled eggs and you'll have all the energy you need to fuel your outdoor adventures!
The only problem with scrambled eggs is getting the eggs to your campsite. Even if you're car camping, nothing will make a bigger mess in your cooler than a dozen broken eggs.
To save yourself the hassle, crack the eggs into a bottle or container beforehand. When you're ready to cook, you can just pour your eggs directly from the bottle! Learn more about mess-avoidance methods in this guide on packing eggs for camping.
You don't have to settle for just basic scrambled eggs either. Upgrade your eggs by adding cheese, fresh herbs, vegetables, and seasoning. Kick it up a notch with dried or fresh chilis, leftover potatoes, or whisk in some Worcestershire sauce.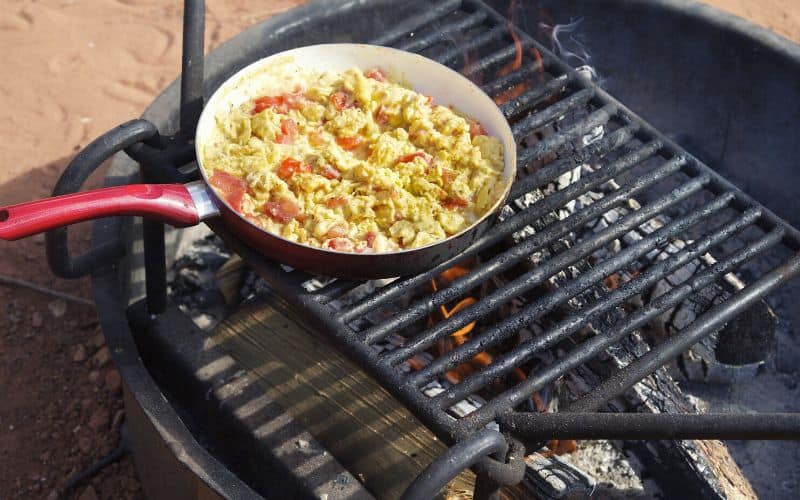 4. Overnight Oats
To ensure you have the energy to tackle a busy morning, make sure to start with a filling and nutritious breakfast.
Overnight oats make an excellent choice for campsite breakfasts because of their portability and long shelf life. With the addition of a little sugar and dried fruit, overnight oats can be transformed into a delicious and satisfying meal!
Start by filling a small container like a mason jar with rolled oats and equal parts liquid like milk or plant-based milk. Add in all your favorite fixings like fresh or dried fruit, nut butter, nuts, seeds, or brown sugar. If you want to boost the protein, try adding some chia seeds or pre-cooked quinoa.
Let them sit in the fridge overnight. Pack your jars into a cold cooler and they'll last 2–3 days.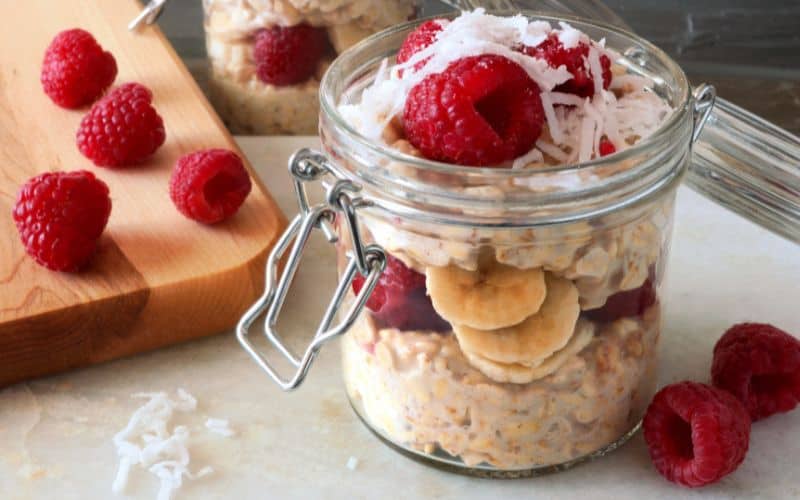 5. Campfire Hash Browns with Potatoes and Sausage
Potatoes and sausage are always a winning combination! With the fluffy texture of the potatoes complementing the smoky flavor of the sausage, this combo creates a rich and satisfying dish that is sure to please.
Start by boiling potatoes until they are just about done. You don't want to fully cook them as they'll continue cooking in the pan. To make it quicker and easier, you can use leftover potatoes.
Add some oil to a dutch oven, cast-iron skillet, or frying pan, and cook your sausage in batches until browned. Once fully cooked, return the sausage to your pan and some garlic and onion until cooked, about 3-4 minutes. Add your potatoes, corn, and your favorite Southwest-style seasonings like smoked paprika or chili powder.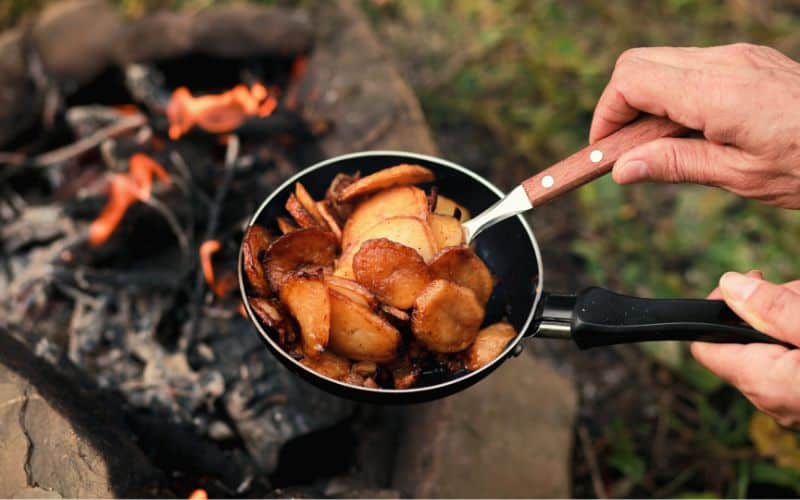 6. Breakfast Sandwich with Avocado and Eggs
Looking for an easy camping recipe that has it all: plenty of protein, packed with veggies and just darn good? Try a breakfast sandwich with avocado and eggs! If you love traditional avocado toast, you're going to love this recipe.
Start by cooking bacon in a skillet. This will render the fat which enhances the flavors of the entire sandwich. Once the bacon is cooked to your liking, remove it from the skillet and place it on a paper towel to remove excess grease. You can use some leftover grease to toast your bread.
Once your bread is toasted, use the same skillet to cook an egg. Finish your sandwich by layering your egg, bacon, and some mashed avocado. Season with salt and pepper and enjoy!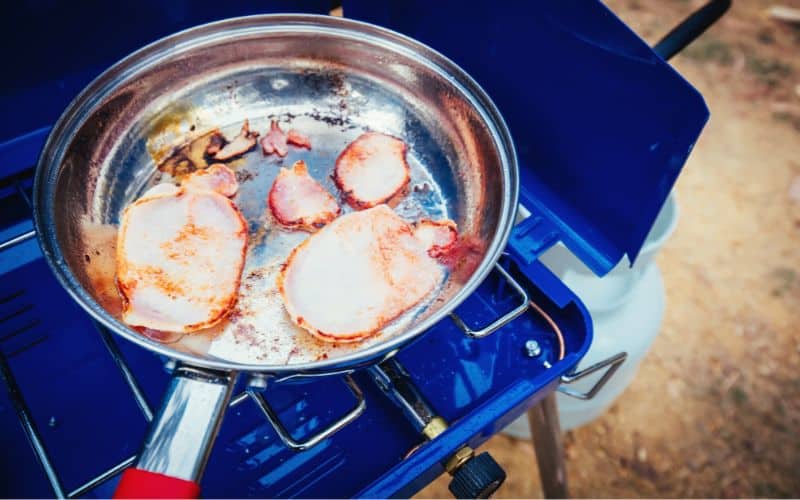 Camping Lunch Ideas
1. Grilled Cheese Sandwiches
Grilled cheese sandwiches make an easy camping meal that's adored by kids and adults alike.
We all know the basic recipe: slap some cheese between two slices of sandwich bread and toast in a cast-iron skillet or frying pan until golden brown. But there are some easy ways that you can take a basic grilled cheese sandwich to the next level!
Consider adding optional fillings like smoked salmon, grilled eggplant, or prosciutto. Experimenting with different cheeses like blue cheese or feta can also up your grilled cheese game. Pantry staples like tomato or bacon jams are delicious in grilled cheese, too.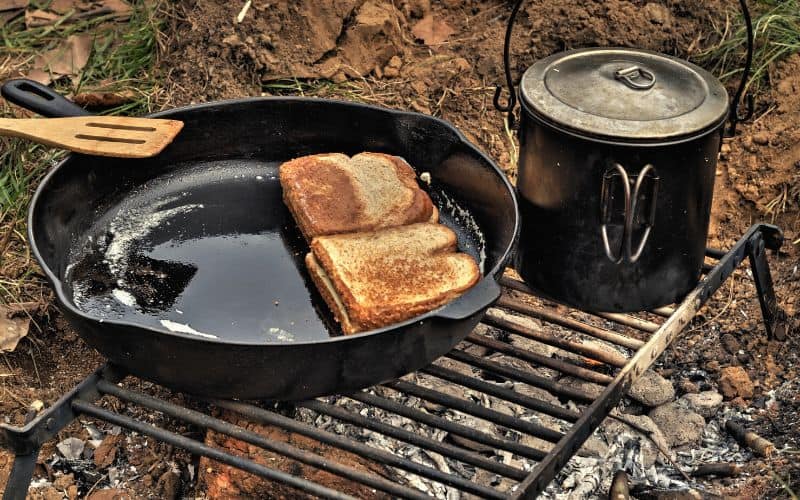 2. Hot Dogs
When it comes to camping recipes, there's nothing quite as classic as hot dogs. They're cheap, widely available, and since they come precooked, there's practically no risk of undercooking them.
But if you're tired of grilled hotdogs on a plain bun, here are some tips for elevating them to the next level.
Make buffalo-style hot dogs by adding some blue cheese crumbles, sliced green onions, and wing sauce onto your bun.
Got some leftover chili? Make chili dogs by adding chili, cheddar cheese, and caramelized onions.
Enjoy 'nacho' hot dogs by layering salsa, pickled red onions, cheddar cheese, and some jalapenos.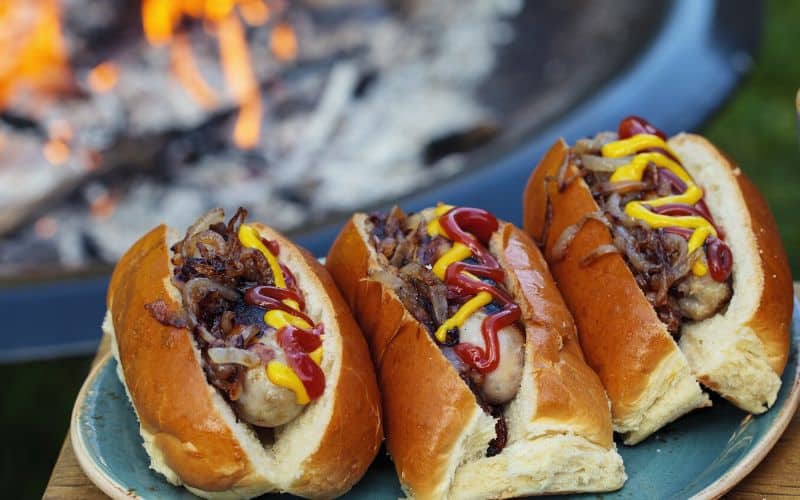 3. Baked Beans on Toast
Looking for an easy lunch idea you can recreate on all your camping trips? Try the British classic, baked beans on toast. When camping, the easiest way to make this meal is to use a can of premade baked beans.
Start by heating a frying pan or skillet. While the traditional British recipe calls for nothing but beans and toast, we suggest adding a bit of bacon and onion to your pan first for extra flavor.
Once they're cooked, add your beans to your pan and let them simmer for about 10–15 minutes. A bit of whole-grain mustard and molasses is also delicious to add here. Serve your beans warm on thick, toasted bread.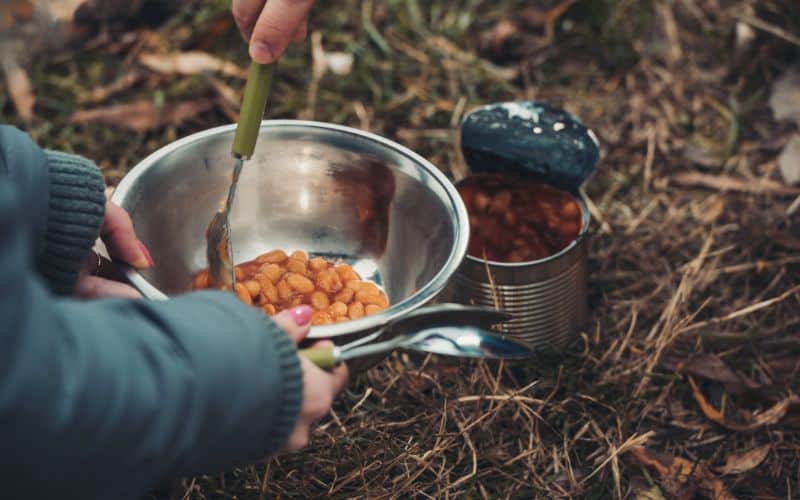 4. Mozzarella, Tomato, and Pesto Salad
This salad is a cool and refreshing treat that's especially enjoyable during the summer months and one of the healthiest options you can add to your meal plan. If you're car camping with a cooler, whip up a batch at home and eat it around camp as a light lunch or as a side dish.
This salad may seem simple but it allows the quality of the ingredients to shine through. Simply mix halved cherry tomatoes, cubed fresh mozzarella, basil, and a bit of pesto. Pesto is a bold flavor, so remember to add little bits at a time to avoid overwhelming your dish.
Let your salad sit for a few hours to allow the flavors to meld. Serve cold with fresh bread.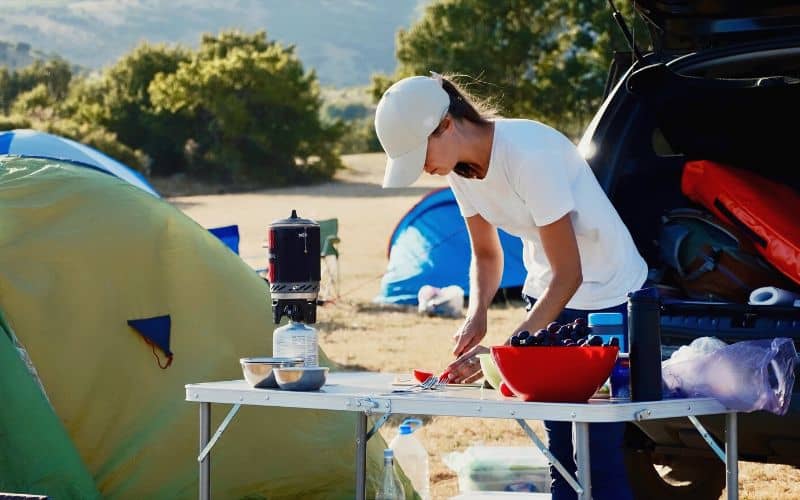 5. Greek Pasta Salad
Take advantage of all the room you have while car camping to make a tasty lunch at home you can then enjoy around camp. This is especially helpful for camping meals that need a bit of time to let the flavors marinate.
Greek pasta salad is the perfect example of a make-at-home meal you can bring camping. While you can cook it fresh at your campsite, it's best enjoyed the next day when all the sweet and tangy flavors have had time to meld.
To make this hearty and delicious dish, start by cooking your pasta. Let it cool and then add olive oil, red wine vinegar, cherry tomatoes, kalamata olives, and feta. Don't worry about exact measurements, you can add a little of this and a little of that until the flavor is to your liking. Cover and chill until it's time to enjoy.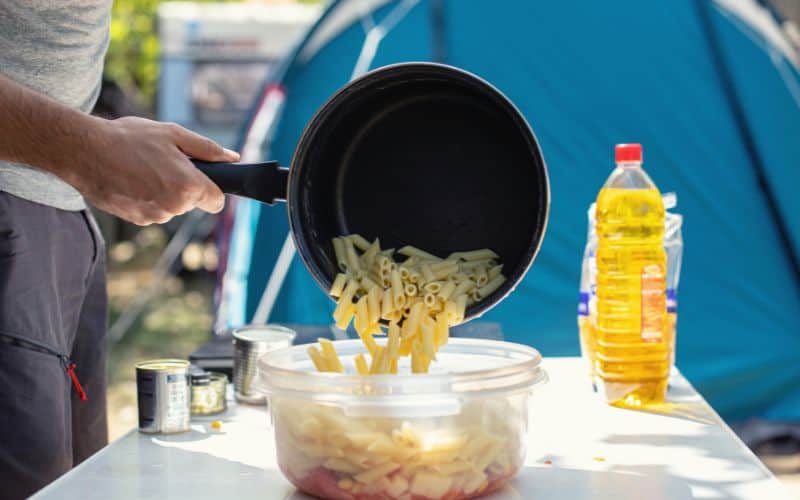 6. Chicken Salad Sandwich
Campfire cooking doesn't have to be about complicated recipes. Sometimes you just need meals that whip up in a breeze to feed hungry campers.
Chicken salad is one of those recipes. You don't even have to cook chicken at your campsite. You can use chicken pouches to create this recipe in minutes. Plus, chicken pouches make some pretty darn good hiking snacks, too!
Just combine the chicken, with boiled eggs, pickles, onion, and mustard. Season to taste with salt and pepper. You can even replace the chicken with chickpeas, tuna, or salmon. Serve as a sandwich filling or on crackers.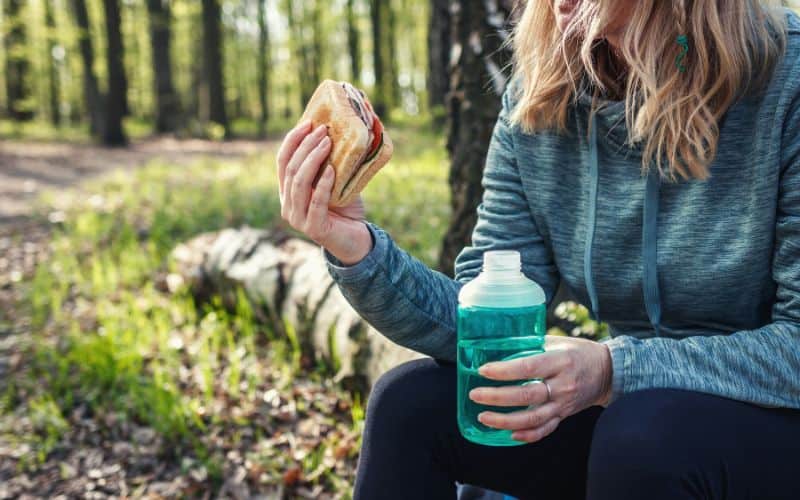 Camping Dinner Ideas
1. Sausage, Potato, and Green Bean Foil Packets
Cooking your camping meals in foil is about as easy as it gets. It's amazingly convenient since you can just throw the packet on the grill and the foil will trap in all the delicious flavors.
For this easy foil packet meal, start by adding cubed sausage, green beans, and potatoes to a large bowl. Make sure all your pieces are roughly the same size. Add some oil and seasonings/spices and toss to coat well.
Spray several large pieces of aluminum foil with cooking spray. Divide your sausage and potato mixture between the sheets and seal them up tightly into a packet. Cook these packets over a hot grill for about 18-20 minutes, flipping once halfway until the contents are cooked through.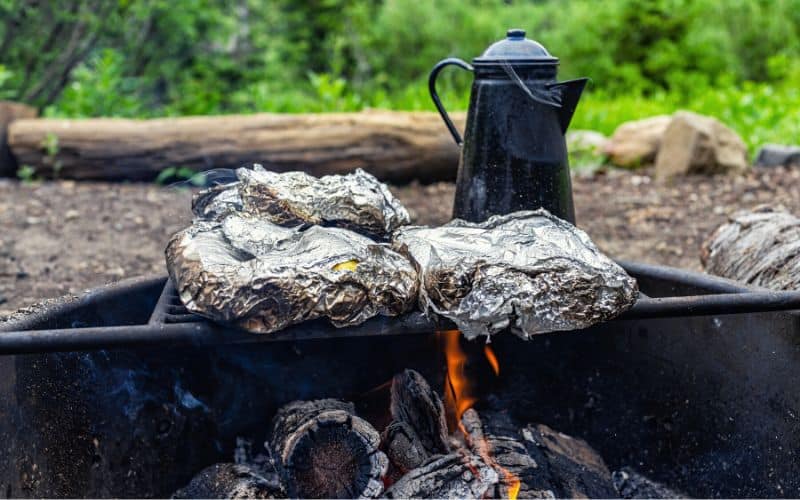 2. Extra Cheesy Mac and Cheese
Need a camping dinner that you can whip up in just 10 minutes with one pot? You can take a box of Mac and Cheese and turn it into a scrumptious dinner with just a few tweaks.
The easiest way to amp up the flavor is to add another cup of cheese. Try cheddar, Swiss, Parmesan, Monterey Jack, or Gruyère to up the creaminess.
You can also add some extra seasoning. To really add some extra kick, try cayenne, smoked paprika, dry mustard powder, or mushroom powder.
Finally, you can get some extra veggies in by adding some canned pumpkin or pureed winter squash. Roasted broccoli or cauliflower will also perk up your boxed pasta in no time!
3. Campfire Nachos
What better way to end a day of fun at camp than sitting around the fire or picnic table and enjoying a big plate full of cheesy nachos? All you need is a dutch oven with a lid.
Start by lightly oiling the bottom of your dutch oven. Layer your nachos with your favorite cheese and toppings like fresh veggies, cheese, black beans, and avocado. Place the lid on and cook for about 10 minutes or until the cheese has melted. Serve with salsa, sour cream, or lime wedges.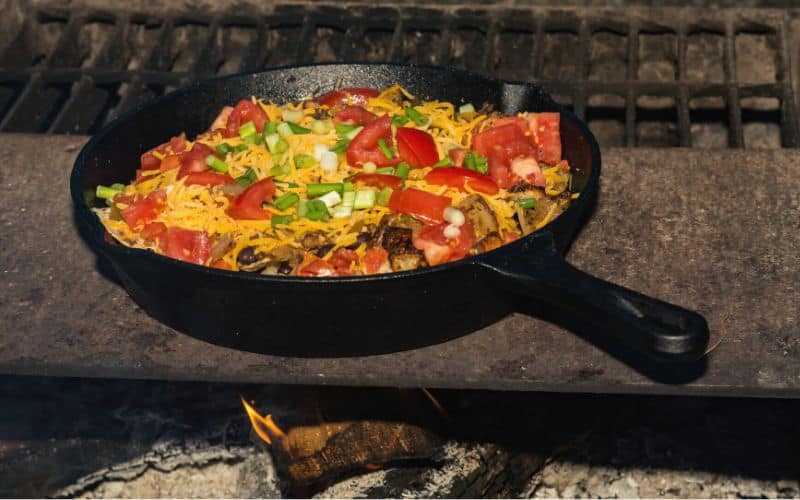 4. Chicken Pineapple Kebabs
Kebabs are a nutritious and tasty dinner idea you can easily enjoy on all your future camping trips in the great outdoors. While there are many ways to make kebabs, Hawaiian style offers a delicious mix of sweet and salty flavors.
Get started by threading your ingredients onto skewers. Alternate between red onion, bell pepper, pineapple, and chicken.
In a mixing bowl, combine ketchup, brown sugar, soy sauce, pineapple juice, olive oil, rice vinegar, garlic, and ginger. Whisk together until well mixed. Season the mixture with salt and pepper to taste.
Cook your kebabs on a grill making sure you brush some marinade on each side. They should take about 7–9 minutes to cook.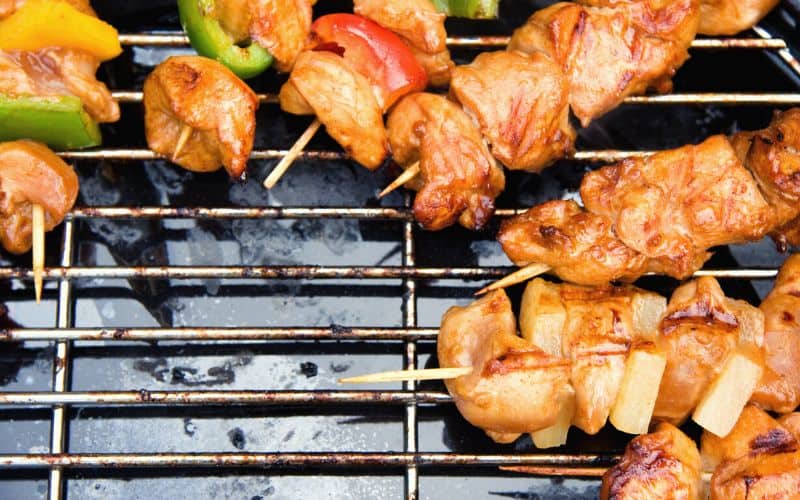 5. Campfire Potatoes
Campfire potatoes are irresistibly cheesy and make the perfect complement to other meals on our list like hot dogs and chicken pineapple kebabs. These potatoes cook up fast and throwing everything into a foil pack makes this recipe ridiculously easy.
Start by heating your grill to medium-high. In a large bowl, toss cubed potatoes with olive oil, garlic powder, and oregano and season with salt and pepper. Close up your packets and grill until just about cooked through, which should take around 10–15 minutes.
Carefully open up the packets (paper towels recommended!) and sprinkle in mozzarella, parmesan cheese, and parsley. Fold the packet close and finish cooking until cheesy, about 3 -5 minutes.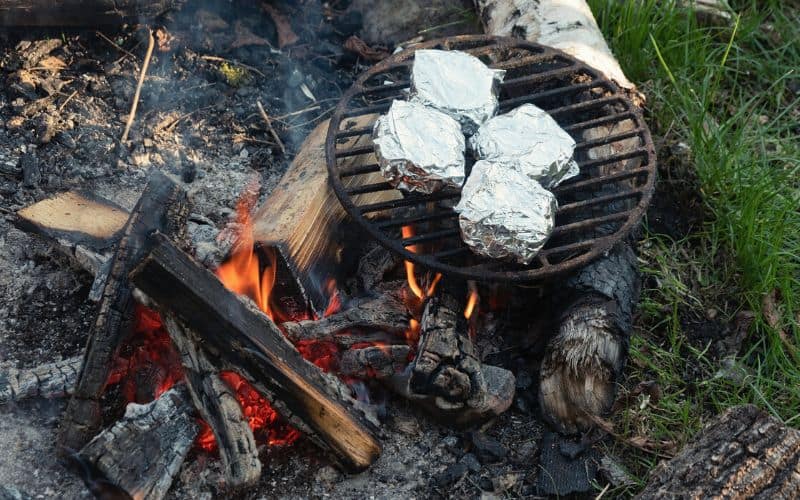 Camping Dessert Ideas
1. S'Mores
No camping trip would be complete without sweet and sticky s'mores! Making these delicious treats is a rite of passage for any new camper. In terms of ingredients, s'mores are seriously easy to make. All you need is marshmallows, chocolate bars, and graham crackers.

Start by roasting your marshmallows. You can use a green twig or a telescoping fork. The easiest method to get an even char is to slowly turn your stick as you roast to toast it evenly all the way around.
Once your marshmallow is cooked, place it between two graham crackers with a piece of chocolate. Remember to let it sit for a minute to allow the chocolate to melt before enjoying.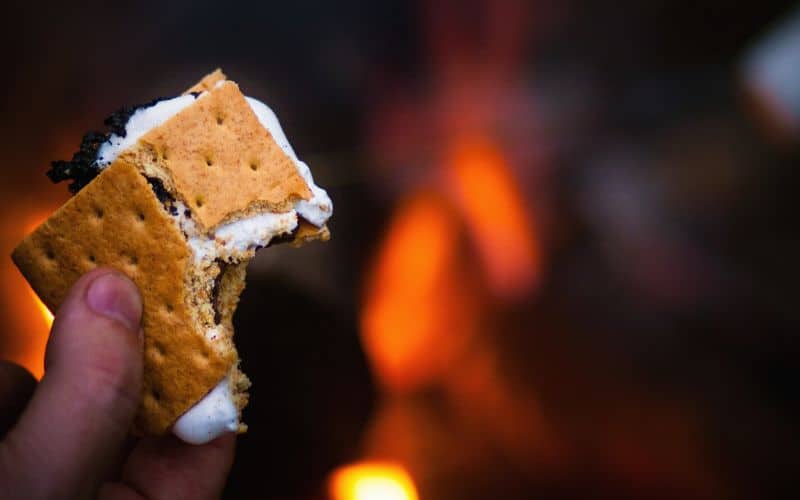 2. Cinnamon Rolls
Yes, you can make cinnamon rolls at your camp without an oven! Camping-friendly rolls are just as tasty, soft, and gooey as traditional ones, with the added bonus that they are simple to prepare. They make a hearty breakfast or delicious dessert.
The secret? Buy pre-made cinnamon rolls and either cook them slowly in a dutch oven or use skewers to roast them right over your campfire.
Cook your cinnamon rolls over moderate heat for 11 to 16 minutes, turning every 2 to 3 minutes. Be sure to rotate the pan if necessary to evenly cook them. Bake your rolls until they are golden brown and cooked through.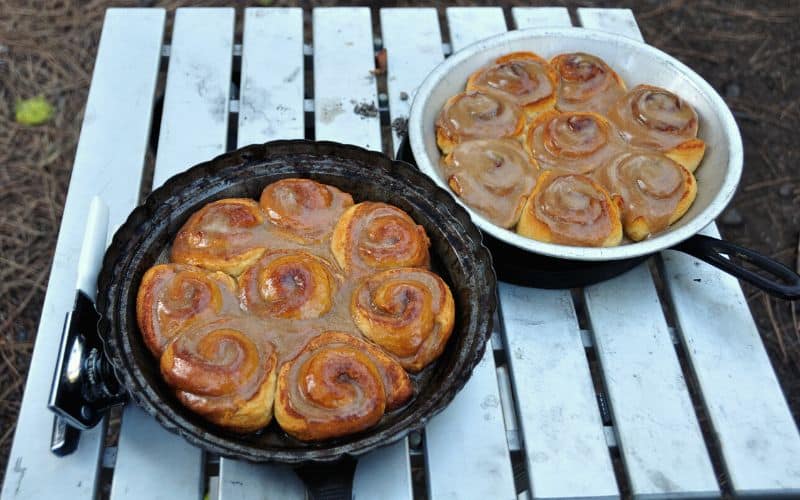 3. Campfire Banana Boats
Banana boats make a simple and delicious camping dessert that combines elements of s'mores and banana splits.
Start by taking a banana that still has its peel on and make a cut down the middle along the concave side, being careful not to cut through the other side of the peel.
Gently pull the peel and banana apart and fill it with your desired toppings. Include a variety of fillings like chocolate chips, coconut flakes, chocolate sauce, nuts, or whatever your heart desires!
Wrap your stuffed banana in tin foil and heat it on top of a grill grate. The goal is to just heat your toppings to the point that they melt. Don't overheat or you risk turning your banana into a mushy mess.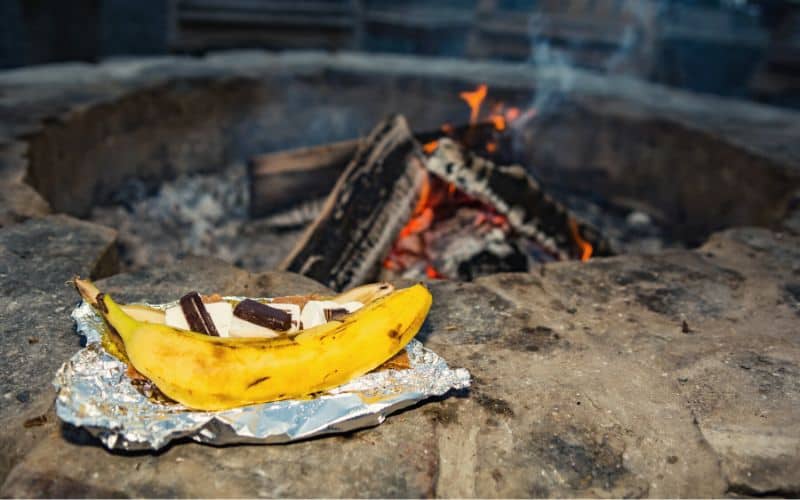 4. Campfire Cones
If you haven't tried campfire cones, you don't know what you're missing! Campfire cones are a s'mores-like treat that you can make without the risk of someone poking your eye out with a skewer.
They're so easy to make, too. Start with an ice cream cone (we prefer waffle cones) and layer a mix of different toppings like chocolate chips, fresh fruit, coconut, nuts, and anything else you can think of!
Wrap your cones in tin foil and place them directly into your campfire coals for 5–7 minutes.
Car Camping Meals: Happy Cooking!
If you're camping with a car, your options for tasty, hearty, and nutritious camp meals are practically endless!
We hope this guide to the 21 best car camping meals has inspired you to get out there and prepare some great food at your camp. All the food on our list can be prepared with your favorite cooking method – whether you like to cook right over the fire or on a camp stove.
Did we miss any of your favorite camping recipes? Go ahead and share them with us in the comments below! And don't forget to share this list with all your pals!