If you think camping means eating hot dogs and freeze-dried meals, think again. A whole world of nutritious and delicious cuisine is waiting to be cooked over a campfire in some cast-iron cookware.
Cast-iron skillets, cast-iron pans, and dutch ovens are perfect for the campfire because they hold and distribute heat across the entire surface of the pan.
Use this guide to create unforgettable campground meals that will satiate even the biggest appetites and impress the pickiest eaters.
What You Need to Cook With Cast-Iron Cookware at Camp
A cast-iron pan, cast-iron skillet, and/or a cast-iron dutch oven
Fire-resistant tongs
Oven mitts
Butter, cooking oil, vegetable oil, or spray
A good appetite!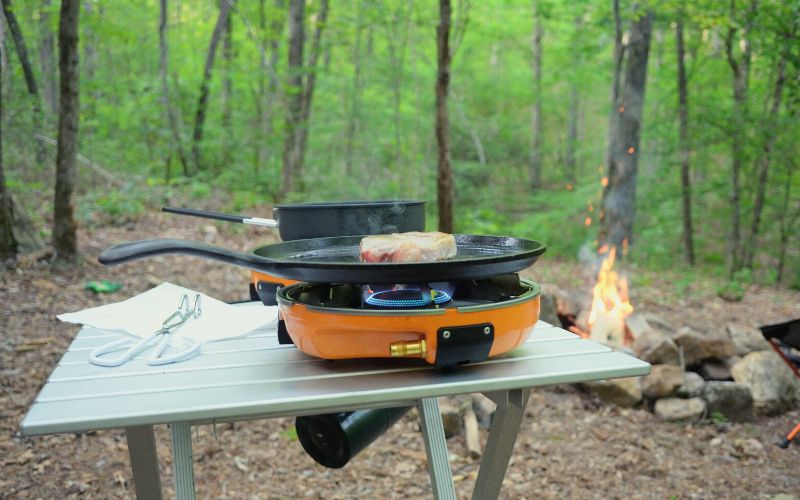 Cast-Iron Campfire Cooking Recipes & Instructions
1. Frittata
For a convenient, high-protein breakfast, try cast-iron frittata. This recipe is incredibly easy. All you need is eggs, cheese, and a few veggies. Tomatoes and onions are popular, but you can also use bell peppers, shallots, or mushrooms. Talk with your group and get a vegetable consensus.
First, sauté your veggies for a few minutes while you whisk up the eggs. Add salt, pepper, and milk to the egg mixture. When your vegetables are soft, add the egg mixture and the cheese. Then, cover and bake. After about 15 minutes, you'll have a delicious, fluffy frittata and only one pan to clean.
Heat your lid over the fire or your second burner. The warmth from the lid will help evenly cook the eggs. You can cover the pan with tinfoil if you don't have a lid.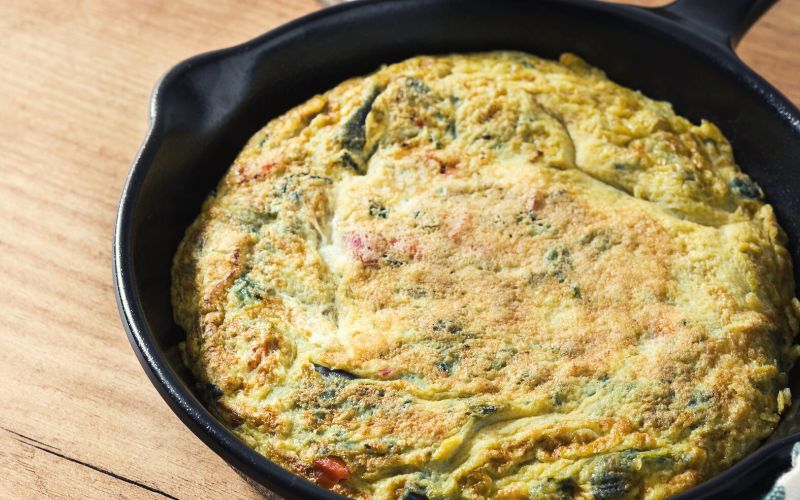 2. Cheesy Sausage Pull-Apart Breakfast Bake
Cooking biscuits in a skillet or dutch oven is as easy as baking them at home. Add sausage and cheese, and you've got a breakfast favorite.
For this recipe, you can use pre-cooked sausage or cook your sausage at home before your camping trips. This recipe works best with large buttermilk biscuits.
Fold the breakfast sausage into each biscuit and roll it into a ball. Place them in your buttered skillet. Cover the rolls in shredded cheese. Then cover the skillet and place it over the fire. Bake for 30 minutes or until the edges are golden brown.
Serve immediately, but be careful; the melty cheese will be very hot.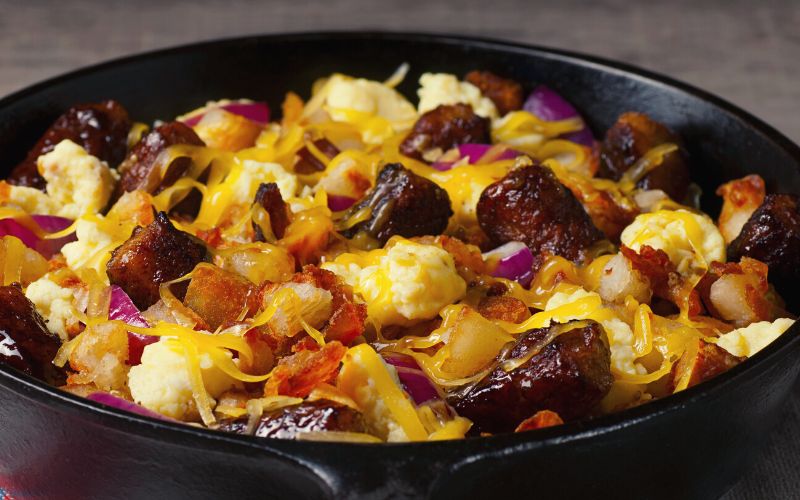 3. Campfire Nachos
Nachos are completely customizable, making them a fan favorite. If you have picky eaters, use only chips and cheese. For more sophisticated palates, add olives, diced tomatoes, beans, jalapenos, green onions, or anything you like. And they're a breeze to make.
Layer chips, cheese, and toppings into your pan or dutch oven. Cover with tin foil or the lid and cook over the campfire for 10-15 minutes or until the cheese is melted. Nachos cook best over the coals. Open flame might burn your chips. Serve with sour cream, guacamole, and salsa.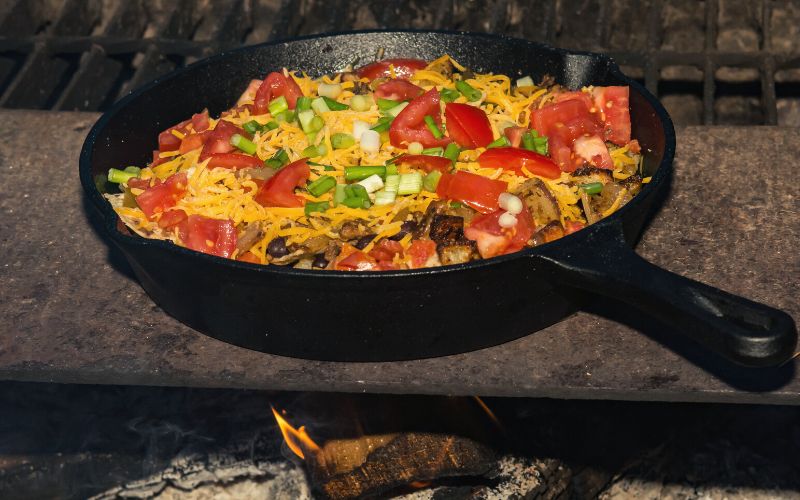 4. Pizza Sandwiches
Who doesn't love pizza? Using a pie iron and English muffins as the crust, you can have hot pizza sandwiches right at camp. Pie irons are easy to use and safe for kids.
Oil the outside of the English muffins before you add your cheese and toppings. You can use butter or spray. Olive oil also works well. Then open the muffin and put sauce on both sides. Sprinkle your cheese, pepperoni, and other pizza toppings onto the open English muffin. Carefully close the muffin into a pie iron.
Grill your campfire pizza sandwich right over the fire. In just a few minutes, you'll have a crispy on the outside, gooey on the inside pizza sandwich.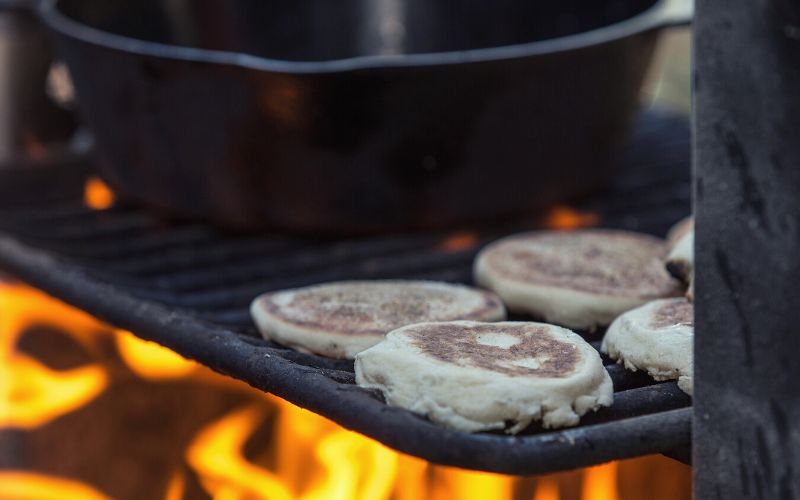 5. Steak and Sweet Potato Hash
Big adventures require hearty breakfasts. Follow this campfire cooking cast-iron recipe for steak and sweet potato hash for fuel that will last you all day long.
Peel and slice all your potatoes and vegetables, and prep your meat at home before you leave for camp. Keep them in a storage container in your cooler. Then all you have to do in the morning is heat your cast-iron skillet over hot coals and cook.
On high heat, cook your steak for three and half minutes or to 145°F. Let it rest. Then, combine diced sweet potato, onion, and red bell pepper in the same pan. Don't mix the hash! Instead, let one side cook for about 10 minutes.
Then flip the hash in sections and let the other side cook. You can cube the steak and mix it in or slice it for the top. You can add an egg or two for even more protein.
You will have a true breakfast of champions in less than a half hour.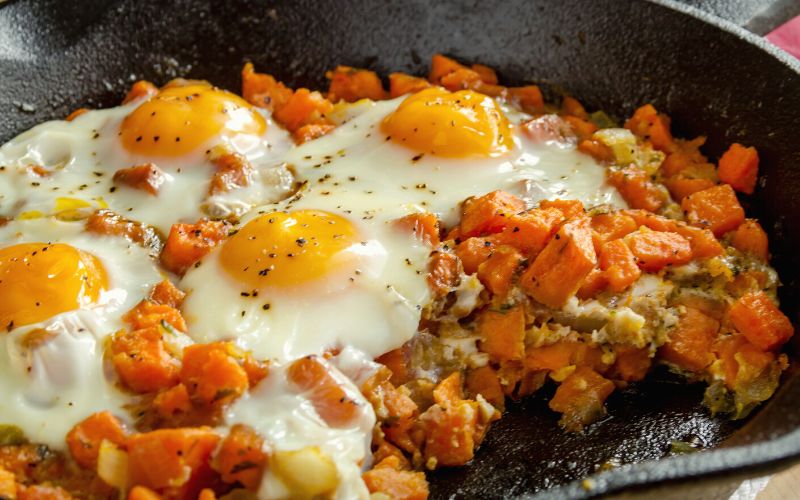 6. Cheesy Skillet Spaghetti
Cheesy spaghetti is just what everyone needs after a long day in the great outdoors. You can make this recipe, including the spaghetti, all in the same skillet. There are vegetarian and meat options for this meal.
If you want to make it meaty, start by browning your meat in the cast-iron skillet. Then add spaghetti sauce straight from the jar. Break your spaghetti right into the pan with the sauce and meat. Boil until the pasta meets your preferences. Sprinkle the whole thing with cheese; the more, the better! Give the cheese a couple of minutes to melt, and voila, dinner is served.
You can serve this one straight out of the skillet and save on dishes.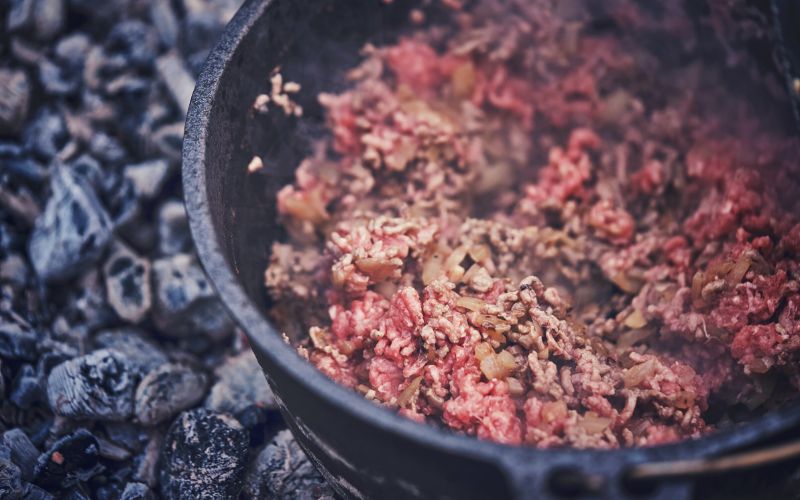 7. Chicken Fajitas
If you're looking for a mouth-watering campsite dinner, try this cast-iron campfire recipe for chicken fajitas. Not only are they filling and delicious, but they are also easy to make.
Combine taco seasoning, lime juice, and olive oil in a Ziploc food bag, mix your chicken breasts in the bag, and let it marinate overnight.
Over the fire or a camp stove, grill the chicken for 6-8 minutes, slice, and set aside. Re-oil the pan and add your bell pepper and onions. Cook until the vegetables are tender, and stir the chicken slices back into the pan.
You can heat a stack of tortillas by wrapping them in tinfoil and putting them in a dutch oven or next to the fire. Serve your chicken fajitas with toppings such as sour cream, pico de gallo, guacamole, or cheese.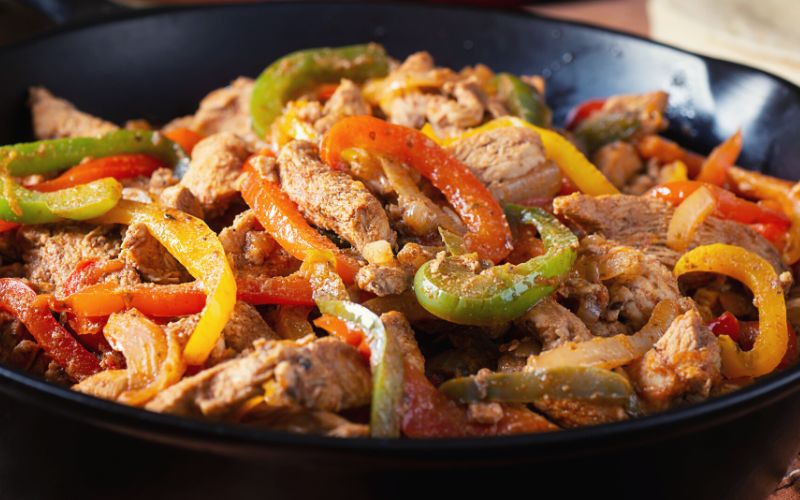 8. Cowboy Sausages and Beans
For centuries, cowboys have not only survived on sausages and beans, but they have also thrived. This cowboy skillet supper is an easy meal, and it's affordable. All you need is your choice of sausage, an onion, canned beans, and barbeque sauce. For example, smoked sausage goes well with honey barbecue sauce for an irresistible "sweet and spicy" combination.
Start by slicing and sautéing the sausage and the onion. Then add your beans and barbecue sauce. Bring the pan or dutch oven to a simmer. And just like that, dinner is served! Cowboy sausages and beans go well with rice, noodles, or a baked potato.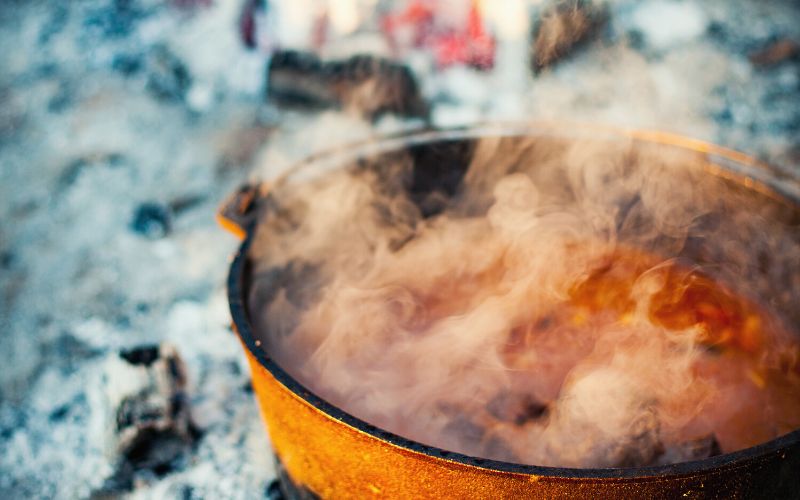 9. Skillet Cornbread
You don't need a whole dutch oven to make tasty cornbread. You can make it in a cast-iron skillet right over the campfire. You can use cornbread mix, or you can make it from scratch with cornmeal, flour, salt, and baking soda. To bind all that together, use milk, eggs, butter, and honey.
Pour your batter into a thoroughly buttered, pre-heated cast-iron skillet. (You can pre-warm over the fire, charcoal briquettes, or camp stove.) Cover the skillet with tin foil and put the whole thing on the grill cooking grate or camp stove. Keep the heat to a medium-low level, so the top cooks without burning the bottom.
After 20 minutes, check to see if the cornbread is done. It's done if it has risen and the top looks set. Remove from heat, keep covered, and let it rest for 5 minutes. Next, dig in! We suggest pairing cornbread with a good bowl of chili or the last recipe, cowboy sausages and beans.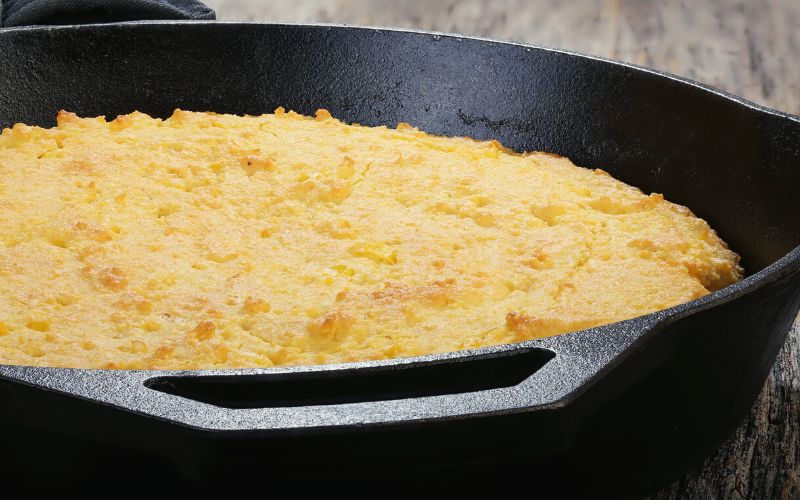 10. Peach Cobbler
Nothing is easier than dutch oven peach cobbler. You can prep this delicious dessert in less than two minutes. Cook time is about 45 minutes, so prepare and start baking while you make dinner. It will be ready just when everyone has finished their meal.
Heat your dutch oven over the coals. Add canned peaches and cover them with white or yellow cake mix. Put ½ a stick of sliced butter and cinnamon to taste on top of the cake mix. Cover and bake.
Keep hot charcoal briquettes under the dutch oven and on the lid. After 45 minutes, check the cake as you would at home with a toothpick or fork. When the cake mix is done, your cobbler is ready. Don't worry about leftovers; the cobbler will be gone in a few minutes!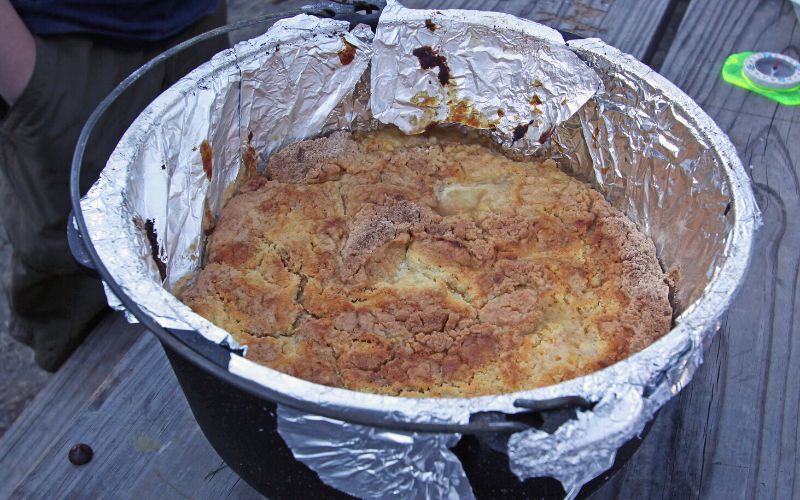 11. Skillet S'mores
No campfire is complete without s'mores. But instead of finding and whittling sticks, make s'mores in a cast-iron pan and eat them like a dip with this camping recipe.
This recipe may be the easiest one yet. Melt butter and chocolate in your skillet and cover with marshmallows. You can use mini or regular-sized marshmallows, but the mini ones melt faster.
Cover the skillet and cook over the fire on a grill grate or the camping stove. Once the marshmallows are melted, your s'mores are ready. Use graham crackers to scoop out the sticky goodness.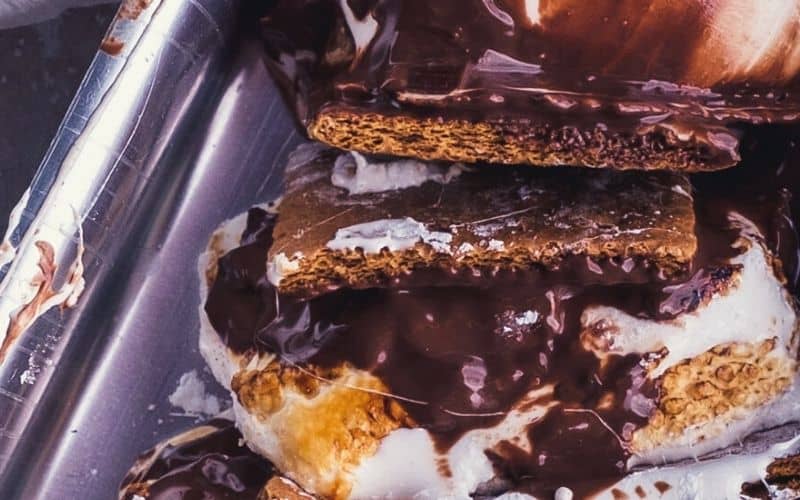 Happy Camping!
One of the great joys of camping is cooking over the open fire. We hope this list of cast-iron campfire cooking recipes inspires you before your next camping trip. After all, there's nothing like coming together over a delicious meal!
Have any cast-iron recipes to add to the list? Let us know in the comments below, share with a friend, and bon appetite!