Camping in cold temperatures? If so, then being able to insulate your shelter is one of the most important skills to have. Whether you have a four-season tent or a regular three-season tent, the following tips can add several degrees to your sleep setup, and help turn a miserable night of tossing and turning into a good night's sleep. 
Sound good? If so, read on, learn the basics, and be prepared to get your camp on no matter what the weather's doing!
1. Buy a Four-Season Tent
Using a four-season shelter is the first step to staying warm in cold winter conditions. While a three-season tent can be adequately insulated for most winter camping trips, in truly frigid temps only four-season tents will cut the mustard.
These tents typically use burlier materials and reduce or do away with mesh in the walls of the interior, thus reducing the amount of cold air entering and sealing in the heat produced by your body. Most also have snow flaps around the base to prevent snow and cold air from blowing inside.
All told, a lot of factors need to be considered when choosing the right shelter for your needs. For more on these, check out our guide to the best 4-season tents.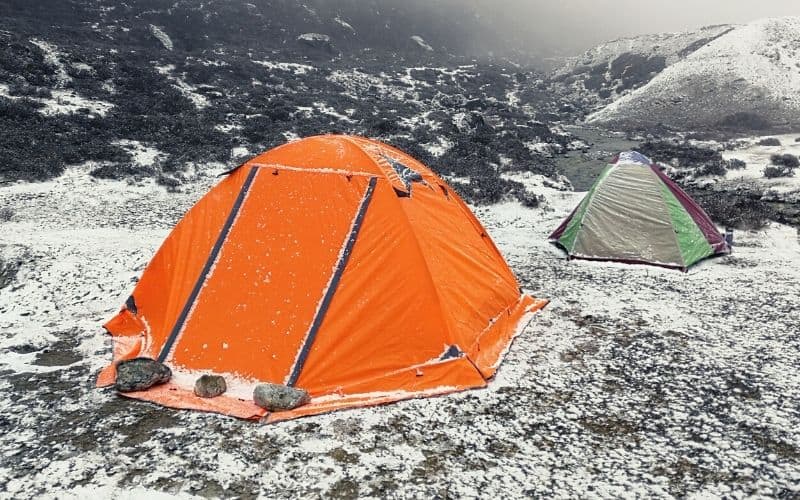 Whichever shelter you choose for winter camping, one thing to keep in mind is a smaller tent will improve thermal efficiency. Your body is your tent's primary source of heat. As such, it is easier to keep your tent warm with a small shelter rather than a larger one since there's less space for your body to heat up.
2. Bring Your Gear Inside
As mentioned above, having a smaller shelter means there's less space for your body heat to heat up. You can further minimize that space by bringing all of your camping gear inside the tent with you at night – your backpack, spare clothing, and anything else you'd normally store in the vestibule or outside.
3. Insulate the Walls and Roof From Inside
This is one of the more time-consuming steps but is one of the most effective.
You can insulate your tent walls and roof with reflective foil, a thermal blanket, or any other material that traps heat and reflects it back inside.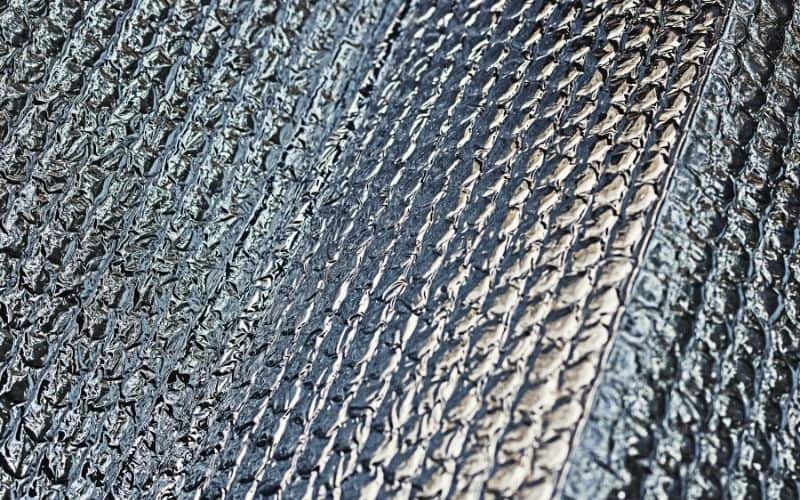 This form of tent insulation works in two ways. First, by creating an added line of defense against ambient temperatures and, secondly, by reflecting the warm air produced by your body, thereby maximizing thermal efficiency.
4. Insulate the Walls from the Outside
Insulating the walls from the outside should be done around or after sunset. Covering the outside of your shelter while sunny will prevent the sun from heating it during the day.
As with all insulation strategies, this method helps to keep warm air inside your shelter and also to keep cold air out. It's also far easier to do than insulating from the inside.
5. Clear the Ground
Sleeping on uneven ground with debris underneath not only hurts your tent but can also directly influence how warm it will become by bedtime. If the base of your shelter isn't flat on the ground, then the chances are that icy winds and cold air will be able to sneak under it while you sleep, thus increasing convective heat loss and creating cold spots throughout.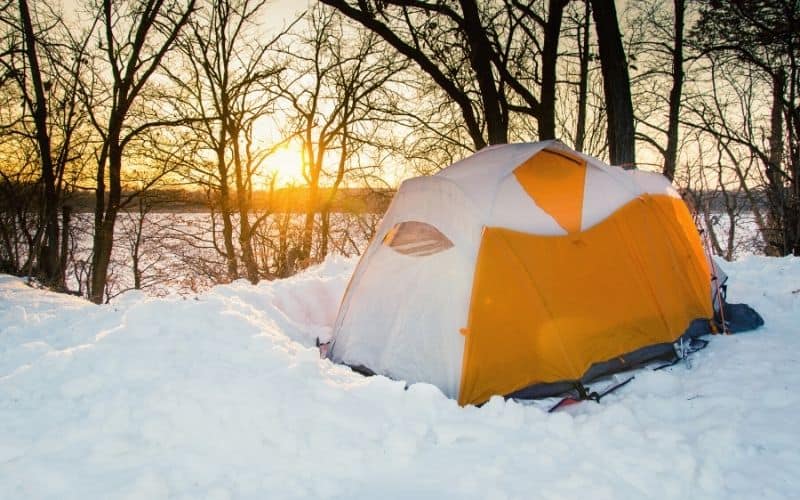 To get around this, take a few minutes to flatten the snow or remove debris that could create air pockets before setting up camp.
6. Insulate the Tent Floor with a Rug, Thermal Blanket, or Foam Padding
Inside your shelter, you can lay down thermal blankets, a space blanket, reflective foam, or even an extra sleeping pad to minimize cold spots and provide an extra layer of insulation. This doesn't only reduce heat loss but also saves you from getting cold feet, hands, or knees when moving around inside the tent on portions not insulated by your sleeping mat or air mattress.
7. Use a Wind Break (or Build One with Snow or Rocks!)
High winds pose a risk to the structure of your shelter, not to mention making everything colder. If you can't find a natural windbreak – trees, boulders, outcrops – in your camping area, you can create your own.
A windbreak can consist of any materials around (as long as they won't turn into projectiles!). The most obvious are snow and rocks, though sticks and branches could be used in a bind to prevent the full force of the wind from hitting your tent.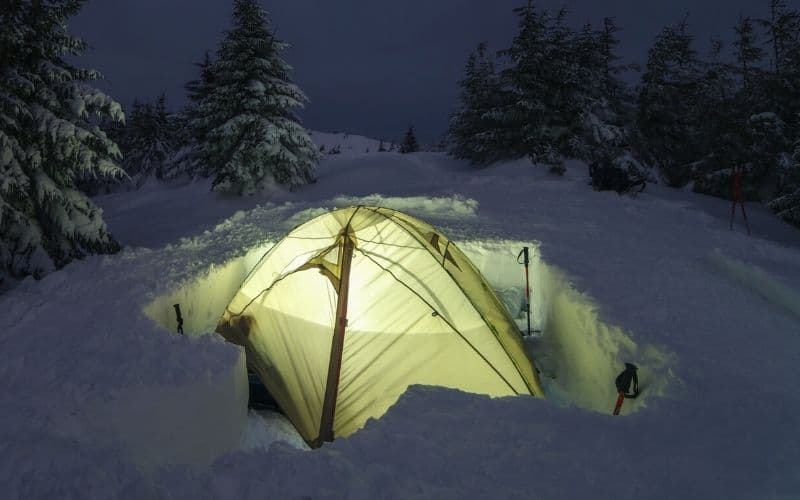 If you're camping in deeper snow, you can also dig a flat spot into the snow rather than piling snow around you.
8. Bring a Tent Footprint
A footprint, also known as a groundsheet, is a lightweight and versatile piece of kit that can be worth its weight in gold when winter camping. A footprint, essentially, minimizes the loss of body heat through the base of the tent by placing an extra layer between you and the cold ground.
And not only will a groundsheet keep you warmer, but it will also keep the bottom of your shelter free of rips and tears.
9. Double Up on Sleeping Mats
If you don't have a fancy cold-weather sleeping pad or don't want to dole out the cash for one, you can double up on traditional sleeping mats, thus creating a double layer of insulation for your underside.
Sleeping pad rating systems are based on R-values, which are cumulative. So, if you have two sleeping pads with an R-value of 2.5, then you'll have a total R-value of 5 when you stack one on top of the other, which should be plenty to see you through the night on most winter camping trips.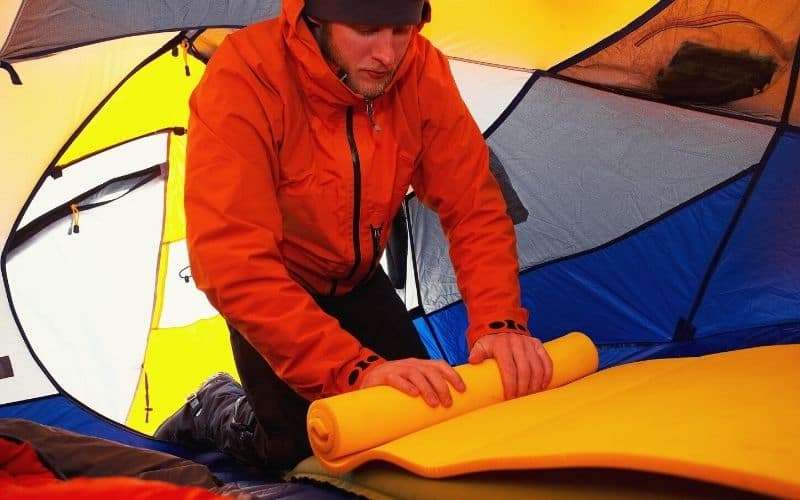 If splurging on a second sleeping pad isn't within your budget, folding up a spare thermal blanket and slipping this under your pad will add a little extra insulation – not much, but every little helps in a pinch!
10. Buy a Tent Heater
This is arguably the simplest and most effective option.
Choosing the correct tent heaters depends on many factors such as the size of your shelter, the number of people who'll be inside it, and of course, the conditions you're camping in. Nevertheless, most heaters can seriously bolster your cold-weather defenses by upping temps inside your shelter by up to 15°F.
The bad news is that tent heaters do pose some safety risks. You want to avoid leaving it next to the walls or any gear that could potentially catch fire. You also always need proper ventilation and should not fall asleep with the heater running.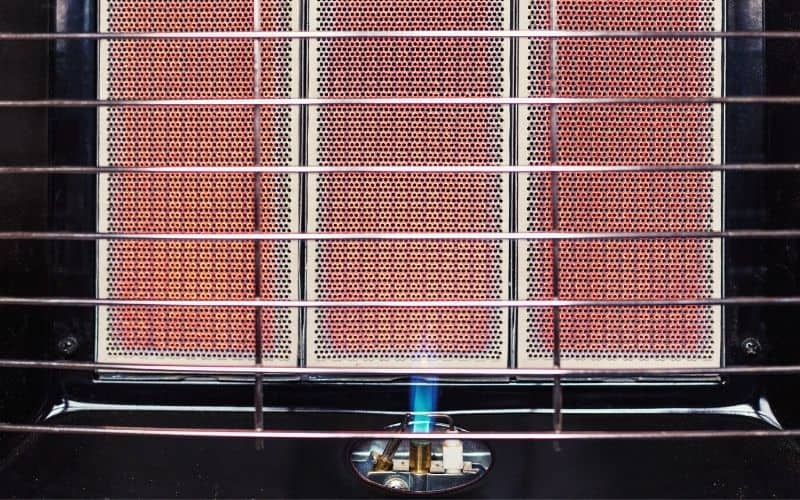 The good news is that most modern heaters come with safety features such as automatic shut-offs and oxygen depletion sensors to reduce risk.
Interested? Check out our buying guide for the best tent heater, in which you'll find seven awesome heaters for all budgets.
11. Self-Insulation Strategies
Having a well-insulated tent for winter camping isn't in itself, of course, going to be enough to keep you warm when the mercury plummets. 
For that, you're going to need a well-insulated sleeping bag, thermal underwear, warm socks, and a cozy hat to complement the hood on your sleeping bag. In addition to these, you should consider packing a few foot warmers, heating packs, and/or a hot-water bottle to give your sleep system a little temperature boost on extra-chilly nights.
How to Insulate a Tent: 11 Warming Ways!
Now that you've learned how to insulate a tent, you are ready for your next winter camping trip! But before you go, make sure you check out our guide on how to stay warm in a tent and winter camping tips for further brrr-beating tips, tricks, and hacks. 
If you have any questions about how to insulate your shelter for camping in cold weather, let us know! And if you'd like to share this post with your friends, share away!