Editor's Choice
Sherpa Adventure Gear Jumla Hat
The Sherpa Adventure Gear Jumla Hat tops our review on account of combining all of the best characteristics you could ask for in a hat for outdoor adventures.
The Jumla's combination of merino wool and polyester makes it ideal for active pursuits. It's odor-resistant, wicks away moisture well, is quick-drying, and also tough enough to deal with the rigors of life on the trail.
The double insulation provided by the Jumla's microfleece interior keeps you warm in all weathers, while the wool regulates your temperature and provides awesome breathability. This means you won't have to worry about taking it on and off as temperatures change throughout the day.
It's also worth noting that each Jumla is knitted by Nepalese women working in a women's co-op in Kathmandu, all of whom earn a livable wage and benefit from Sherpa's outstanding and ethical employment practices.
Bottom Line: If you are looking for the best hat with the most versatile material and design, this is the option for you.
The Best Winter Hiking Hats
Want to protect your noggin no matter how cold winter is?
You're in the right place! In this guide, we will be covering the following:
What makes a beanie great
The various styles of beanie
The best beanies on the market
No matter how high-quality and cozy the rest of our cold-weather hiking getup, neglecting to take care of the "command center" can result in a chilly and uncomfortable day on the trails. Hoods are helpful, sure, but when the mercury plummets and the wind's howling, a little extra protection can go a long way.
Enter: the hiking beanie!
Unsure what kind of beanie will be best for your adventures? Read on to discover the best beanie hats for all kinds of outdoor activities in 2022.

What Makes for the Best Cold-Weather Beanies?
Before making your purchase, it's well worth taking a few minutes to look into the specs and features that make one beanie better than the other.
Material
Beanies can be made from several kinds of fabrics. For our money, the best are synthetic materials like polyester fleece or natural fibers like merino wool.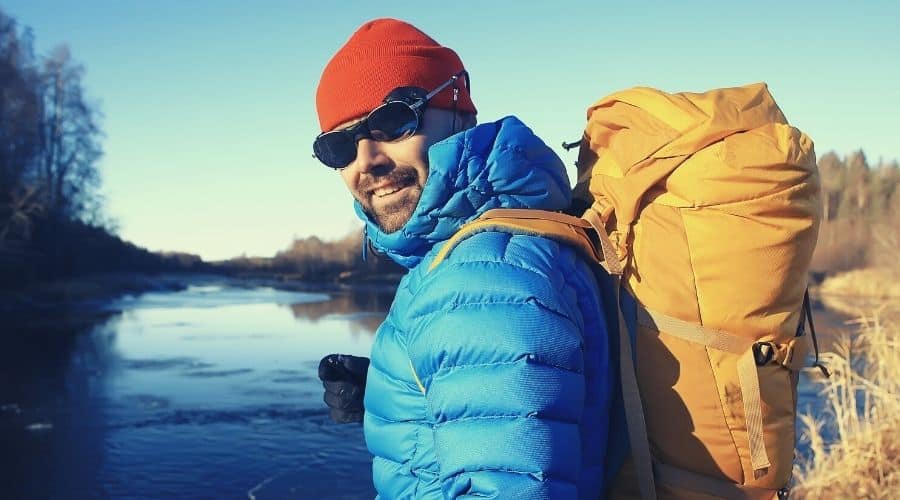 The reason that these materials are the most popular is that they combine all the most desirable characteristics for outdoor pursuits. These include quick-drying capacity, breathability, moisture-wicking capabilities, and, of course, the ability to keep your head warm.
Merino Wool
These days, thanks to brands like Smartwool and Icebreaker, merino is the most popular fabric in high-performing hiking hats. It's lightweight, comfortable, highly breathable, and dries very quickly. It's also naturally odor-resistant and continues to insulate your dome even if it gets wet while you're hiking.
The only downside to merino is the price, with some models of hat costing twice as much as their synthetic counterparts.
Synthetic Materials
The positive aspect of synthetics over wool is that they are generally more affordable. This is especially true of models made with 100% merino wool. They also tend to dry faster and are more durable.
Whatever material you ultimately choose, you should find one with an antimicrobial treatment like polygiene. We often don't think of our heads as being particularly germie, but after wearing something over and over again, it can be surprising how dirty (and stinky!) it becomes.
Warmth
Most of us wear a winter hat like a beanie to protect ourselves when hiking in cold weather. A lot of heat is lost through your head. Although it isn't the 45% that researchers assumed in the 1950s, it is still around 10% in cold temperatures. As such, protecting your skull in cold temps should be a priority.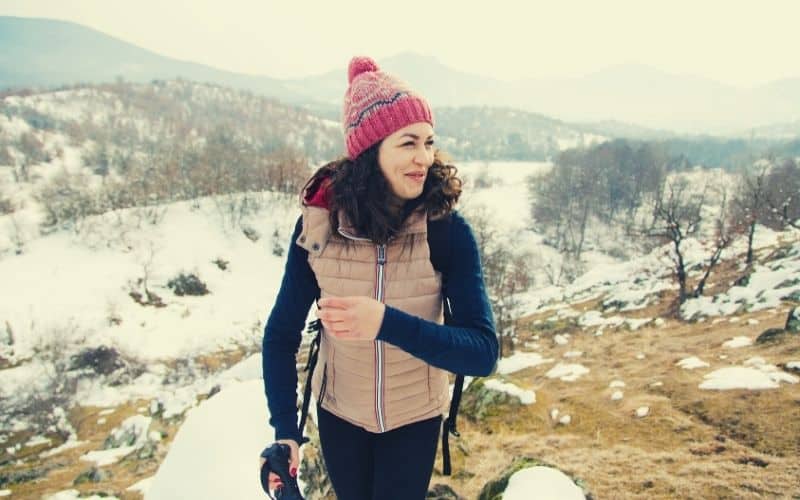 But how do we know if a hat's warm or not?
The best way to gauge warmth when buying online is to study the specs for the hat's weight and thickness. Most merino and fleece hats boast a density or weight of 100-400 g/m2 (grams per square meter of material). In short, the higher the number, the heavier, thicker, and warmer the hat will be.
But it isn't just cold temps we need to be wary of. In any season, strong winds can chill our domes and leave our ears feeling like lumps of ice without the right protection. As such, hats with an added wind-resistant layer, like the double-layer Mountain Hardwear Dome Perignon, can make all the difference. Failing that, models that use integrated earbands are the way to go.
Comfort & Fit
All hiking hats perform better when they fit well. With a good, snug fit, they're less likely to let in cold air and, of course, more likely to stay on your head in high winds.
Many hats are one-size-fits-all or unisex. If you're concerned about finding a good fit, opt for a hat that is made specifically for your gender—female products are typically slightly smaller than those for men.
For a more precise fit, we recommend choosing a hat with multiple size options. If doing so, hunt down the manufacturer's sizing guide. Then, measure your head with a tape measure and use your measurement and the chart to decide if you need a small, medium, or large.
Durability
Any product meant to accompany you on an outdoor adventure should be durable. One of the best ways to determine this is to look at previous customer reviews to get a handle on how it performs in the longer term.
Another way is to pay close attention to the specs.
Some of the factors and features conducive to long-term durability include double-stitched seams, DWR (Durable Water Repellent) treatments, thicker fabrics, and stretchy material like spandex that will help the hat keep its shape.
And some materials are, of course, more durable than others. For example, even a good merino wool hiking hat is likely to get a little "holey" over time, something to which a fleece hat will not be quite so prone. If you're particularly fond of merino wool, look for a merino-nylon or merino-polyester combo as synthetics typically add durability.
Style
Slouchy Beanies
Slouch beanies (aka "hipster beanies") are one of the only beanies that don't have any form of cuffing at the brim, but are only folded over. They form a slight slouch on the head and are styled backward.
The slouchy style is often used more for fashion than functionality, however, and can sag a little at the back of your dome and on your forehead.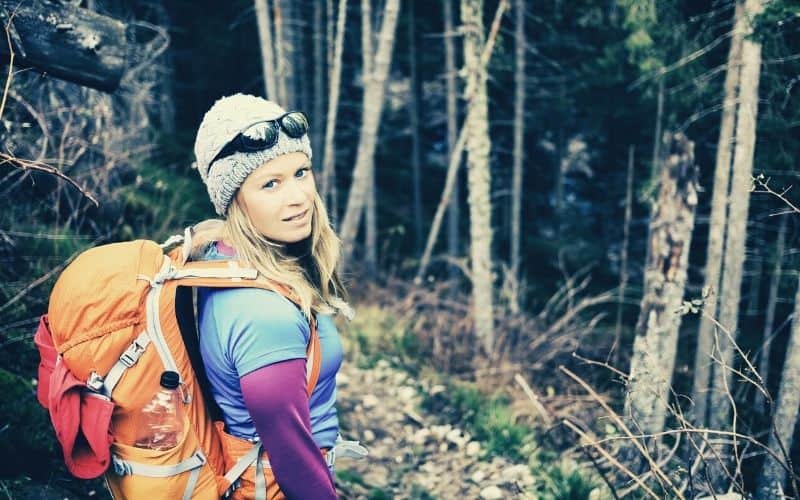 Cuffed and Cuffless Beanies
A cuffed beanie has dramatic foldovers or a "cuff" that you can fold back up and over the lower half of the hat, thereby providing added insulation for your ears. The roll cuff also helps them sit tighter and makes them less prone to sagging over your eyes.
"Cuffless" models are the opposite. As the name suggests (!), they have no cuff but come down across your forehead and stop there. They're one of the most popular styles out there owing to their light weight and straightforward and low-profile design, which makes them especially well-suited to more active pursuits.
Woven Beanies
Woven beanies go by many names, including fisherman's, docker hats, and skull caps. They are similar to cuffed beanies but are much more shallow, so they sit over the middle of your ears and do not normally cover up any of your forehead.
Brimmed Beanies
If you are looking for some protection from the elements built into your winter hat, then a brimmed beanie is the way to go. These hats can be made in any other style but include a cap-like brim on the front and sometimes ear flaps on the side. These stop the sun from getting in your eyes and can even be sturdy enough to shield your face from rain water.
The Best Hiking Beanie: Our Top 7 Picks
Under Armour Men's ColdGear Infrared
Best for Added Warmth
Under Armour's ColdGear beanie is a toasty-warm, low-cost option that's ideal for male adventurers.
The ColdGear's unique selling point is the ColdGear Infrared technology that Under Armour integrates into the design. This material uses a thermo-conductive inner coating that is soft and comfortable and, most importantly, absorbs your body heat, allowing you to retain it for longer.
The ColdGear is made slightly larger and is mostly suitable for men. It uses a traditional shape with a cuff at the bottom that acts as an ear band for the lower portion of your dome.
While not as breathable as some merino options, this one's 100% polyester, brush fleece materials make it superbly soft to the touch, as cozy as they come, and a great choice for buyers on a budget who don't want to compromise on warmth.
Fabric: 100% Fleece
Gender: Male
PROs

ColdGear technology retains your body heat
Cuff is an ear band
Comfortable brushed fleece

CONs

Single sizing means it's more suitable for men only
Bottom-Line: If you need a low-cost option that will keep you warm in any weather, the Under Armour ColdGear deserves a place very near the top of your shortlist! 
The North Face Bones Beanie
Best Beanie for Men
The NF Bones Beanie is another great option for lovers of the supple softness and outstanding cold-weather performance of fleece.
The hat is made from 100% recycled fleece and, though it weighs in at a mere 2.8 ounces, offers more than enough warmth for any adventurers who's not headed to either of the poles or above the 6000-meter mark!
The shape is a classic, a cuffless design that covers all of your ears but stops short of sagging into your eyes on the forehead. This shallow design also allows it to snugly shape to your head and retain heat better than its slouchier peers. On the inside, a soft fleecy earband provides added insulation against cool winds.
Fabric: 100% Polyester
Gender: Male
PROs

Made from 100% recycled material
Classic, cuffless design
Snug, shallow shape

CONs

Will run a bit large for women
Bottom-Line: A super-cozy option that's lightweight, breathable, and doubles down on insulation around your ears.
Mountain Hardwear Dome Perignon Beanie
Best Wind-Resistant Beanie
True to its name, the Dome Perignon is Dom Perignon of hats for cold and windy days in the mountains.
With an added wind-blocking layer and extended side that provide full-ear coverage, this one's ideal for hikers who envision spending a lot of time in blowy conditions or who are particularly concerned about the welfare of their ears.
Engineered to work with a helmet, the DP uses a sleek design that's low-profile, fits securely on your head, and maximizes heat retention by hugging your dome all the way around the hem.
Mountain Hardwear sells the DP in six color variations and four sizes ranging from small to extra large. These variations make this the only hat on our list that allows you to ensure you get a dialed-in, precise fit.
Fabric: Polyester
Gender: Unisex
PROs

Meant to slide on under a helmet easily
Variations in sizing
Very wind-resistant

CONs

Not as breathable as merino
Bottom-Line: With added wind resistance, a snug fit, and a lower cut around the ears, the DP is ideal for windy days in the outdoors.
Patagonia Fishermans Rolled Beanie
Best Sustainably-Produced Winter Hat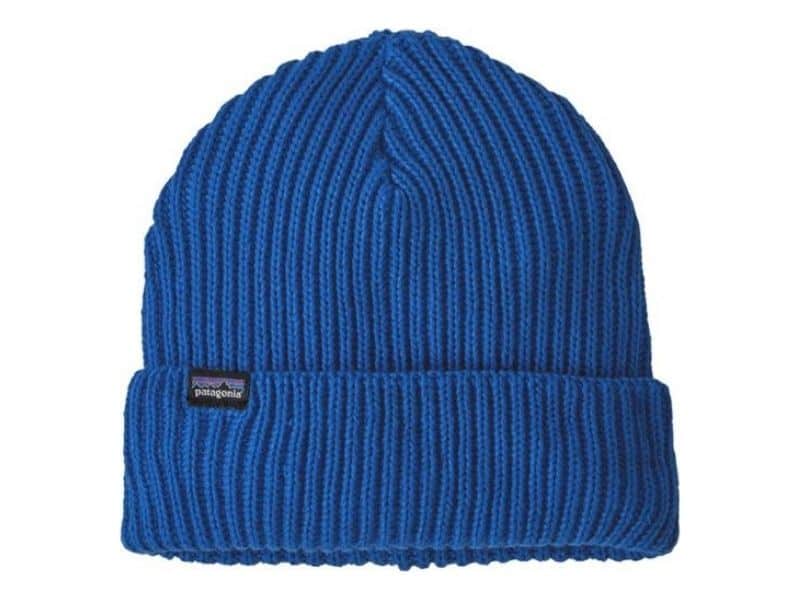 Patagonia's own take on the fisherman style is a lightweight, stylish, cozy, durable, and snug option that's perfectly suited for all-day use on just about any kind of adventure.
This beanie hat is made to sit snug and shallow on your head, just skimming the ear, and uses a cuffed design that provides more adjustability in varying temperatures.
This cuffed beanie is made from itch-free polyester, 68% of which are derived from recycled materials. The material is both super comfortable, warm in cold weather, and far more durable than both merino and fleece alternatives.
Although this one loses a few points for its lack of size options, its cuffed design means it can be adjusted to fit just about any head.
Fabric: 100% Polyester Yarn
Gender: Unisex
PROs

Made with durable, itch-free polyester
68% recycled material
Fair Trade Certified sewn

CONs
Bottom-Line: If you want to support a great, ethically minded company with your purchase and still have a warm head, this one is the way to go.
The North Face Shinsky Beanie
Best for Women
The Shinsky Beanie is a kinda cool-looking cuffed beanie that doesn't offer the same performance as some of the other options in our review but scores highly as regards comfort and style.
Unlike the two products listed above, this beanie hat doesn't sit as tightly to the top of the head. Instead, it uses a slightly floppy design with a deep-fitting base that makes it more adaptable. When temps are really low, you can pull the cuff right down over your ears and the back of your dome. When they pick up, you can roll it up to let a little air in.
This hat is made with an acrylic knit that's long-lasting and a sure bet to keep your head warm all winter. It is primarily designed for women, so the sizing is slightly smaller than unisex or male products. However, it also has a knitted pattern that's more attractive than many unisex options and is sold in three different colors.
Fabric: 100% Acrylic Knit
Gender: Female
PROs

Durable acrylic knit
Deep-fitting base provides more adjustability
Attractive knit pattern

CONs

Smaller sizing makes it better suited to women only
Material not as high-wicking or breathable as merino
Bottom-Line: With a deep-fitted and highly versatile design that's also warm and aesthetically-pleasing, the North Face Shinsky's a winner for buyers who want adequate insulation without sacrificing appearance or style.
Arc'teryx Rho LTW Beanie
Best Moisture-Wicking Beanie
The Rho LTW from Arc'teryx is a high-performing beanie designed for more aerobic activities.
Made with a merino wool and spandex combination, the LTW is moisture-wicking, odor-resistant, and more durable than products that use merino alone. The spandex content also means it's more stretchy, particularly along the bottom, and helps provide a snugger, bad-weather-blocking fit.
This material also helps this outdoor hat remain lightweight, coming in at only 1.1 ounces. A thermal-efficient base with textiles derived from natural fibers also makes it soft and great at maintaining warmth. And while cuffless, the LTW still doubles down on insulation thanks to a cozy headband in the lower portion.
Fabric: Merino wool and spandex
Gender: Unisex
PROs

Double covering headband
Moisture-wicking and odor-resistant
Lightweight

CONs

Comes only with a single sizing
Bottom-Line: Its moisture-wicking material, lightweight, and odor-resistance make this wool beanie one of the best on the block.
Sherpa Adventure Gear Jumla Hat
Best Overall
The Sherpa Adventure Gear hat is a cuffless and woven wooly wonder of a hat that's ideal for all kinds of 3-season and 4-season adventures.
The Jumla is made from a combination of merino wool and polyester. This combo makes for a hat that is odor-resistant, quick-drying, and moisture-wicking, all in one.
Most of the hat is knitted with merino wool, though the polyester microfleece earband adds both durability and extra warmth for sensitive ears in the winter.
Weighing in at just 3.5 ounces, the Jumla also offers an outstanding warmth-to-weight ratio, making it ideal for throwing in your pack just in case and maybe the best backpacking beanie out there.
These hats are knitted by Nepalese women in Kathmandu who work as part of a women's co-op, earning a livable wage.
Fabric: Merino wool and polyester microfleece
Gender: Unisex
PROs

Fabric combo brings durability and breathability
Protects your ears
Produced within a supportive co-op community

CONs
Bottom-Line: The Jumla's super cozy combo of fleece and merino make this one a great pick for winter wanders in even the most frigid conditions.
Last update on 2022-01-22 / Affiliate links / Images from Amazon Product Advertising API