Guide To The Best Camping Tent Heaters [2022 Edition]
Looking For Safe Tent Heaters For Camping?
You're in the right place! In this guide, we will be covering the following:
Why you need a quality tent heater
What you should consider when buying heaters for tents
Propane tent heater or electric tent heater?
Reviews of the best tent heaters on the market
Our unbiased view on the best camping heater for tents
Winter camping is a fun experience, but not if you're freezing your butt off and trying to prevent your toes from getting frostbite. While there are multiple ways to raise your body temperature and your overnight comfort, one of the simplest is to purchase a wood burning stove or heater for camping.
Don't make the mistake of choosing based on price alone. While the old saying "you get what you pay for" is true, more expensive doesn't mean better so you could end up spending unnecessary money and still not have the right heater for tent camping.
There are a lot of tent heaters to choose from, and this guide will help you navigate some of the best tent heaters on the market. Help you decide which features are most pertinent to you and help you pick the top tent heater for your needs.
Editors Choice
Mr. Heater Portable Buddy
It's important to have a reliable tent heater when camping, and the Mr. Heater Portable Buddy is our favorite due to its large and adjustable heat output, excellent features and price.
The Portable Buddy is the perfect product for those campers, deck owners or RV users that are in need of an effective way to keep themselves warm at night. It has a one click piezo sparking mechanism and adjustable heat knob which will produce enough BTUs from 4000-9000. With a burn time of 3-6 hours, this should be sufficient heat for most campers.
The oxygen depletion sensor ensures safe usage by shutting down if it detects rising carbon monoxide levels while accidental tipping over safety features protect against setting your tent on fire if you happen to knock it over.
At a Glance: Gas & Electric Heaters for Camping
Further reading: Find out more ways to stay warm when tent camping.
The Best Portable Heater for Camping: The Results
Mr. Heater Portable Buddy
Best Tent Heater
The Mr. Heater's Portable Buddy stands out from the crowd thanks to its great functionality, features, and price. Leading us to choose it as our #1 pick for any cold-weather car camping trips.
This portable propane heater has a one-click piezo sparking mechanism, and an adjustable heat knob capable of producing between 4000-9000 BTUs for up to 6 hours (on low). This is more than enough heat for most small to large tents, decks, garages or RVs. It comes with an oxygen depletion sensor and accidental tip-over safety features to ensure safe usage.
At 10.6 lbs in weight and 14.25 x 9 x 15 inches in size, it is one of the heavier and bulkier models to make our list, meaning it is more suited for RVs or car camping.
Specs
Fuel: Portable propane
Output: 4000-9000 BTUs
Heating Area: 225 sq ft
Burn Time: 3-6 hours
Weight: 10.6 lbs
PROs

Up to 9000 British Thermal Unit capable of heating a large area
Adjustable heat
Sturdy design
Swivel regulator allows connection to propane tank
Several safety functions

CONs

Heavy
Noisy even on low setting
7,000 ft altitude ceiling
Bottom-Line: The Mr. Heater Portable Buddy delivers a large heat output with decent run-time, great safety features and all for an affordable price.
Honeywell HHF360V
Best Electric
With enough heating output to keep a large tent warm, and its unique 360° fan design allowing for even heat distribution if placed in the middle of the tent everyone inside is going to be toasty warm. You've also got complete control over the heat with two heat modes and an adjustable thermostat.
As an electric portable heater, it is a considerably safer option than using propane. To bolster its safety further, it also features a tip-over shut-off function should you accidentally knock it over.
At 1500W it's power-hungry and needs to be connected to either the campground's power or using a generator if you take one on your camping trip.
Specs
Fuel: Electric
Output: 1500W
Heating Area: 100 sq ft
Weight: 5.4 lbs
PROs

Adjustable thermostat + two heat modes
360-degree heating elements
Tip-over safety feature

CONs

Needs electrical outlet
Noisy fan
Bottom-Line: If you've got access to a generator or can hook up to a campsites power, then the Honeywell HHF360 would be our top choice for a portable electric heater. 
Mr. Heater Little Buddy
Quietest
The Little Buddy heater is a smaller, cheaper, and more portable version of its big brothers, the Portable Buddy & Hunting Buddy. However, this "miniaturization" does also mean a lower heating capacity of 3800 BTUs with a burn time of up to 5.5 hours..
The Little Buddy does, however, also feature an Oxygen Detection Sensor and an accidental tip-over detection off-switch. One frustrating area is the lack of adjustability of the heat — the Little Buddy simply has an on/off switch.
If you don't need the level of heating that this portable space heater provides, we would recommend either the Texsport or Stansport heaters over the Little Buddy due to their smaller packed size, weight, heat adjustability and lower cost. Both of these heaters do produce a little less heat and have fewer safety features, but in our opinion, they provide better value than the Little Buddy.
Specs
Fuel: Propane Tank
Output: 3800 BTU
Heating Area: 95 sq ft
Burn Time: 5.5 hours
Weight: 5.85 lbs
PROs

Good run time
Great safety functions
Quiet

CONs

Heavy for a smaller camp
Can't adjust the heat
7000 ft altitude limit
Bottom-Line: The miniature version of the Portable Buddy packs a decent amount of radiating heat into a smaller, lighter, quieter and cheaper package.
Texsport Portable Outdoor Propane
Best for Backpacking
For those who like to backpack in the winter and need a little extra warmth when you crawl into your tent in the evening, Texsport's 1 lb model is our top pick for you.
The Texsport connects to either 14.1 or 16.4 oz disposable propane canisters and has an adjustable gas regulator that can produce up to 2890 BTUs for up to 5.5 hours. This camp heater has a small metal dish attached behind the burner to help focus heat in whatever direction you want to point it.
While 2890 BTUs is the lowest on our list, this should still be more than sufficient for most backpacking tents. It does feature an auto shut off if the flame goes out, but be extra careful you don't set your sleeping bag alight when moving around as there is no tip-over shut-off
Specs
Fuel: Outdoor propane
Output: 2890 BTU
Heating Area: 80 sq ft
Burn Time: 5 hours
Weight: 1 lb
PROs

Super lightweight
Adjustable regulator
Oversized plastic base

CONs

Lacks safety features of bigger models
Lower heat output
Bottom-Line: If you're planning a winter camping trip into the backcountry, this Texsport portable outdoor propane heater provides decent heat output in a small and lightweight design.
Comfort Zone CZ707
Best Budget Electric
If you want a simple, straight-forward electric tent heater at a price that won't severely dent your bank balance, then the Comfort Zone CZ707 is a great choice.
It's an affordable pick and produces sufficient heat to warm around 100 square feet. It has two heat modes plus an adjustable thermostat allowing you to dial in the temperature to suit your needs.
While it is lightweight, it does have a bulky design and the metal casing can be a little hot to the touch. Overall, if you can spend a little more we'd recommend the Honeywell 360 as you get more features and a better design for not significantly more cost.
Specs
Fuel: Electric
Output: 1500W
Heating Area: 100 sq ft
Weight: 3 lbs
PROs

Affordable
Lightweight
Decent warmth output

CONs

Metal casing can be hot to touch
Bulky
Bottom-Line: If you're looking for a cheap electric tent heater the Comfort Zone CZ707 is a simple and straightforward offering at a great price.
Stansport Portable Outdoor Infrared Propane
Best Budget Propane
With a small packed size, light overall weight and more heat produced than the Texsport, the Stansport model came very close to being our choice for the top backpacking option.
The Stansport can throw out up to 3100 BTUs of heat with its adjustable thermostat, runs on 16.4 oz propane cylinders and has a burn time similar to that of the Texsport.
The reason we chose the Texsport over the Stansport is the inclusion of the Auto-Off function should the flame go out, the Texsports lighter weight (1lb vs 1.8lbs) and the greater adjustability of the Texsport (the Stansport can only be set to three settings — low, medium and high).
If you're looking for a cheaper option though, then the Stansport is still a great lightweight portable camping heater.
Specs
Fuel: Propane
Output: 3100 BTU
Heating Area: 85 sq ft
Weight: 1.8 lbs
PROs

Lightweight
Small packed size
Good output for small weight

CONs

Only 3 heat settings so can't fine-tune
Lacks safety features of larger models
Heavier than Texsport
Bottom-Line: A good cheap and lightweight option if you need to heat a smaller tent.
Mr. Heater MH12B Hunting Buddy
Best for Large Tents
The Hunting Buddy is great for groups who either want to heat a (very) large tent or who may want to heat an outdoor space to congregate or hang out in. Hence the name Hunting Buddy.
With an adjustable regulator giving you an outstanding 6000-12000 BTUs, at the higher end of that range it is capable of heating spaces up to 300 square feet in size. The Hunting Buddy features an ODS (Oxygen Depletion Sensor) and a Tip-Over Safety catch, making it one of the safer models on our list.
While the Hunting Buddy can produce an incredible amount of warmth, it does come at a cost — it is pretty bulky and weighs 16 lbs making it unsuitable for anything more than a short journey from car to campsite.
Specs
Fuel: Propane
Output: 6000-12000 BTU
Heating Area: 300 sq ft
Weight: 16 lbs
PROs

Can heat a very large area
Safe tent heater
Swivel regulator

CONs

Heavy
Bulky
7000 ft altitude limit
Bottom-Line: If you're looking for a heating option that can provide warmth over a large area then it's hard to look past the Hunting Buddy's colossal 12000 BTU output.
How to Choose a Great Camping Tent Heater
When choosing a heater for your tent, there are a few factors you should consider. Below we'll break down some of the more important considerations.
Power Source
Camping heaters will typically use either gas or electricity as their power source, and both have their advantages. So, which should you choose between gas and electric heaters?
Gas Heaters
Gas tent heaters use either propane gas or butane gas, with propane being the more common choice because of its affordability. Propane and butane heaters are capable of a large heat output and can heat large areas quickly. The Hunting Portable Buddy and Hunting Buddy are capable of heating a space up to 225 sq ft and 300 sq ft, respectively.
The vast majority of models use full-combustion, which leads to an open flame and inefficient burning. These propane heaters should be used with extreme caution and should never be left on while you sleep.
More modern tent heaters for camping use catalytic combustion which burns more efficiently and is also significantly safer to use. Catalytic heaters, like the Camco Olympian Wave-6 which didn't make our list, also have the advantage of being usable in high-altitude low-oxygen environments of up to 12,000ft. Older full-combustion models will start to fail around 6000-7000 feet.
The duration of the heater's operation is determined by its heat output and fuel tank size which can range from one hour up to 48 hours or more. All the gas heaters we reviewed use disposable gas canisters, although some combustion tent heaters such as the Portable Buddy have swivel regulators that can connect with larger gas tanks.
Unsurprisingly, gas-powered heaters are more popular than electric ones due to the distinct lack of power sockets out in the wild.
Pros
Fuel is cheaper
Produce more heat
More portable
Cons
Presence of carbon monoxide
More expensive than electric
Electric Heaters
Electric heaters tend to carry less risk than their gas equivalents as they don't release potentially toxic gases and there is no open flame. They're significantly less portable though as they can only be used in campgrounds that have power sources or if you take your own generator or solar cell camping.
Electric heaters are generally not as powerful as a gas option, and are therefore more suited for smaller areas — both the Honeywell HHF360V and the Comfort Zone CZ707 are capable of heating around 150 square feet.
Pros
No gas fumes
Don't need to bring along fuel canisters
Cheaper to purchase
Cons
Electric heaters require a power outlet
Not as strong as gas heaters
Very power-hungry
Heat Output
The heat output, or amount of warmth generated, is measured using BTU (British Thermal Units) for a propane or butane heater and wattage for corded electric heaters (battery-powered heaters confusingly use voltage). In all cases, the higher the number the more heat produced.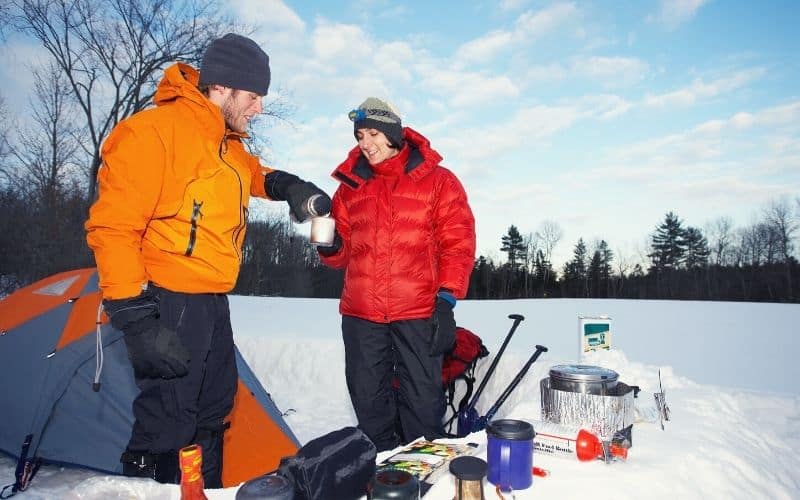 The amount of heat you need will depend on multiple factors; the size of your tent, the number of people sleeping in it, the amount of gear you have and how cold it is outside.
When it comes to BTUs, portable radiant heaters with around 1000-5000 BTUs, such as the Mr. Heater Little Buddy and the Texsport Propane will be enough for most small camping tents. Larger models such as the Portable Buddy (9000 BTU max) or the Dewalt DXH12B (6000 BTU max) are more suitable for large tents or if you want to heat an area outdoors.
If you're unsure on which to buy, determine the size of your tent and how big a heat differential is needed (i.e. the difference in temperature between outside and inside). Then head over to this home heating calculator, input your numbers and it will give you a rough estimate of how many BTUs are necessary for your needs.
We recommend adding an additional buffer of 500-1000 BTUs as it's better to have a higher than necessary heat output rather than not enough.
With an electric model, the process is a little simpler, just divide the wattage by 10 to calculate the approximate space that it can heat (again, we recommend adding a bit of a buffer).
With either electric or gas heaters we recommend looking for a model that has adjustable heat settings so you can fine tune the warmth to your needs.
Safety Features of Camping Heaters
The use of camping portable heaters does incur some risk. While most products do incorporate various safety features you should still maintain several safety best practices when heating your tent with a heater.
Always be mindful of where the heater is positioned. Avoid placing it close to anything that can easily catch fire, such as a sleeping bag, the tent walls and any other potentially flammable gear.
When it's in use always allow for proper ventilation, so that carbon monoxide and other gas fumes can escape. Never leave the heater turned on when you sleep.
In addition to the above tips if you want to be extra safe, then look for some of the following common safety functions on propane and electric tent heaters:
Accidental Tip-Over Switch: turns off the portable tent heater if it is knocked over. Common in most electric and gas heaters.
Automatic Shut-Off: turns off the fuel if it detects the flame has gone out (e.g. Texsport Propane) or if the product has been on for several hours without interruption from the user.
Oxygen Depletion Sensor (ODS): turns the gas heater off when the oxygen level in the tent falls below a safe level (found in all Mr. Heater products). Protects from Carbon Monoxide poisoning.
Overheating Protection: Some heaters such as the Honeywell HHF360V include a temperature sensor that will shut it down when its working mechanism becomes too hot.
Lastly, always make sure you read the manufacturers instructions and adhere to their guidance.
Weight & Packed Size
As with most camping outdoor gear, weight and packed size can be an important consideration if you don't have a lot of room to transport everything. The role of weight and packed size is particularly important if you're backpacking and need to haul all your own gear in your backpack.
We've taken a look at a wide variety of heaters, ranging in weight from the 1 lb Texsport Propane up to the heavy Mr. Heater Hunting Buddy which weighs 16lbs.
For backpackers needing a little bit of extra warmth, keeping weight down is hugely important and we would recommend keeping it below a few pounds at most. The Texsport and Stansport weigh 1 lb and 1.5 lbs respectively, although you'll also need to factor in the weight of your fuel canisters on top of this.
If you're car camping, and will be parked next to your pitch, then weight becomes less of an issue. Although, if you're planning on taking a lot of gear and your car's trunk isn't the largest, paying attention to the packed size is important.
It shouldn't come as a shock that higher heat output heaters are also the largest and heaviest devices we've reviewed.
Noise Level
While not the most pressing concern, you head out on camping trips to appreciate the sounds of nature and to be blunt, some tent heaters can be downright noisy.
Many gas operated space heaters make a humming or hissing sound as the gas is burned off to create heat. While there is no gas to burn, an electric model is not immune to making noise, as most electric heaters have moving parts like fans which can also disturb the peace.
There are a few gas operated heaters such as the Mr. Heater Little Buddy that operate almost silently but do expect at least some noise during operation.
Last update on 2022-01-25 / Affiliate links / Images from Amazon Product Advertising API