You may have heard that incorporating vegan food into your diet is good for you and the planet. But in a world of camping classics like hot dogs, hamburgers, and scrambled eggs, is there any room for vegan meals around your camp? We say heck yeah!
With a bit of planning, you can cook nutritious, delicious, and easy-to-prepare meals right at your campsite. There are also plenty of classic camping meals that you can turn vegan with a few simple tweaks.
So whether you've got some vegans in your camping crew or you'd like to try some new plant-based meals, we hope you enjoy our guide to the best vegan cuisine for camping!
Breakfasts
1. Banana Coconut French Toast
French Toast is a camping favorite… but did you know it's extremely easy to make plant-based as well? Despite looking incredibly fancy, French toast is simple to whip up with just a handful of ingredients you probably already have around your camp.
The trouble with regular French toast is it is made with perishable and refrigerated ingredients like eggs, milk, and butter. To avoid this, try swapping in a banana in place of eggs and using plant-based milk instead of regular milk. Our pro tip? Try full-fat coconut milk for an extra punch of flavor that goes very well with the banana.
If you're not a fan of coconut or banana, there's no limit to the flavor combos you can try. Add a different type of plant-based milk, fresh fruit, jam, dried fruit, and of course, warmed-up maple syrup. To make sure you've got enough protein to keep you going, try sprinkling some ground nuts or seeds or adding a scoop of nut butter, our fave is almond butter.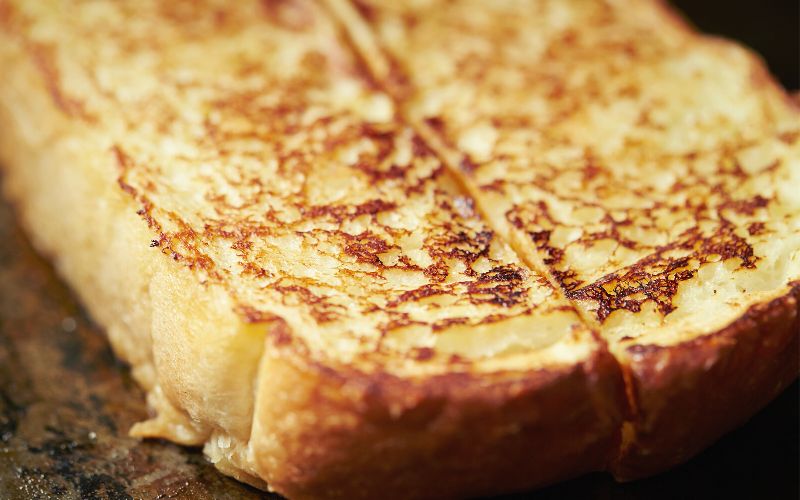 2. Classic Pancakes
Yes, you can still enjoy this breakfast classic, vegan-style! Making vegan pancakes is incredibly easy to do. You simply create a batter from flour, sugar, salt, baking powder, and your favorite plant-based milk. Since none of these ingredients need refrigeration, vegan pancakes are easy to serve up on any camping trip.
One of the best tips to get those incredibly fluffy pancakes that everyone loves is to add a bit of water to your batter. If you only use plant-based milk in your mix you'll get heavier and chewier pancakes. Make sure you whisk gently just until all the ingredients are barely incorporated. Overmixing results in dense pancakes!
Serve your pancakes warm with maple syrup and vegan butter or get creative by adding ground nuts, dried or fresh fruit, chocolate chips, or shaved coconut.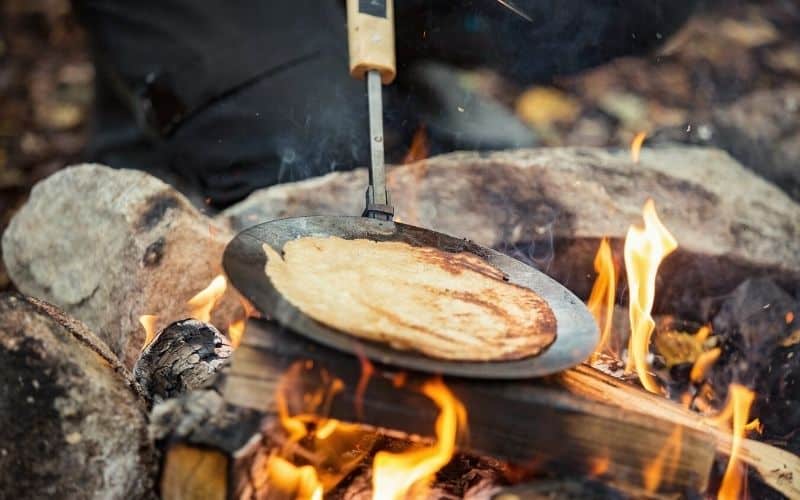 3. Tofu Breakfast Scramble
Craving an egg and toast-style breakfast? Try a tofu scramble! With a few tips and tricks, you'll be amazed at how easily tofu can help conquer any craving for eggs.
A tofu scramble is a healthy and nutritious breakfast idea that resembles eggs in looks, taste, and texture. It's incredibly easy to make. You simply heat a pan and break apart some tofu in the pan with your hands. If you want it to resemble real eggs as closely as possible, just add turmeric, nutritional yeast, and Kala Namak.
Kala Namak, or Himalayan Black Salt, is a type of salt with many health benefits which tastes similar to eggs because of the sulfur compounds in it. It will give your tofu scramble an incredibly egg-y taste and smell.
If you'd like to up the flavor even further, try adding some spinach, tomatoes or bell pepper just like you would with normal scrambled eggs. Serve your tofu scramble with toast, avocado slices or vegan cheese.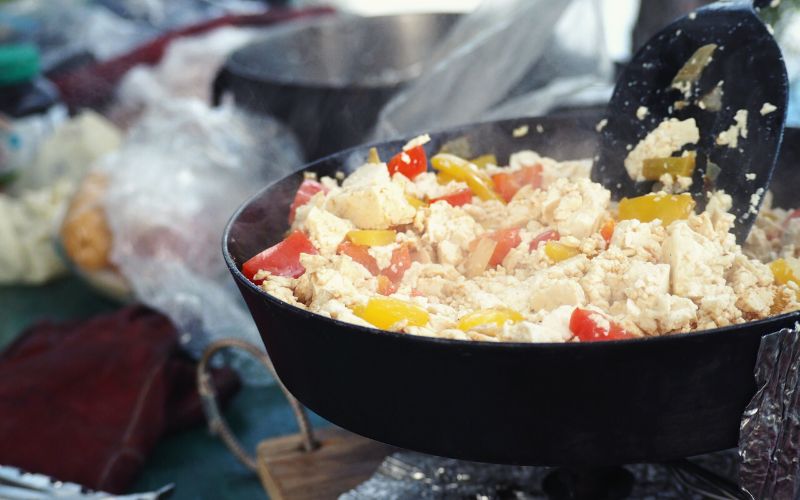 4. Chickpea Flour Frittata
If you're looking for a creamy breakfast filled with veggies, try a chickpea flour frittata! It is inexpensive and easy to make and resembles a real frittata or quiche, especially if you add some Kala Namak.
Creating your chickpea frittata is as easy as whisking chickpea flour, nutritional yeast, baking powder, kala namak (or salt), turmeric and pepper together in a bowl. Add extra mix-ins for flavor like tomatoes, mushrooms or spinach.
Heat a tablespoon over medium heat and then add your mixture, spreading it evenly. Cover and let cook until firm, about 15 – 20 minutes. Serve warm with a slice of hearty bread!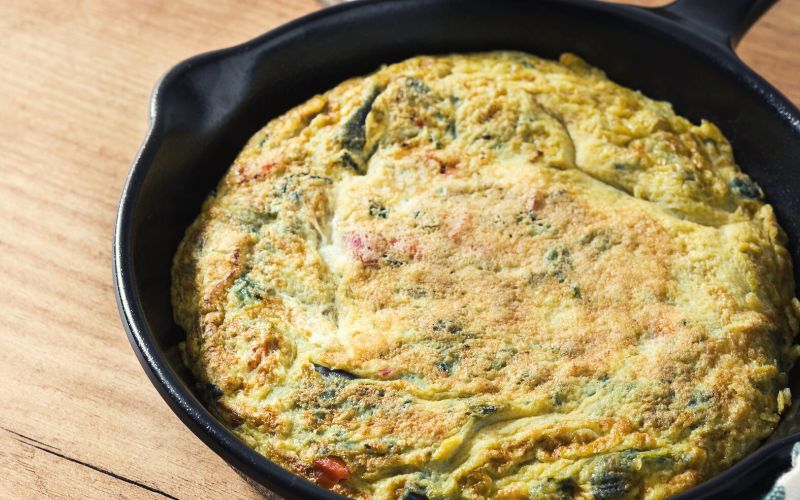 5. Coconut Chia Oatmeal
If you're looking for camping breakfast ideas that you can prep ahead, there's no recipe easier or more nutritious than chia seed oatmeal. Chia seeds are nutritional powerhouses that will fuel all your camping activities. You can prepare this fantastic breakfast in advance and then bring it to your campsite – no cooking required!
In a mixing bowl, combine oats, coconut water, coconut milk, chia seeds, salt, and one tablespoon of maple syrup. Divide the mixture between four small mason jars and refrigerate them overnight. In the morning, simply top your oats with fresh berries, dark chocolate, more maple syrup or any other favorite toppings.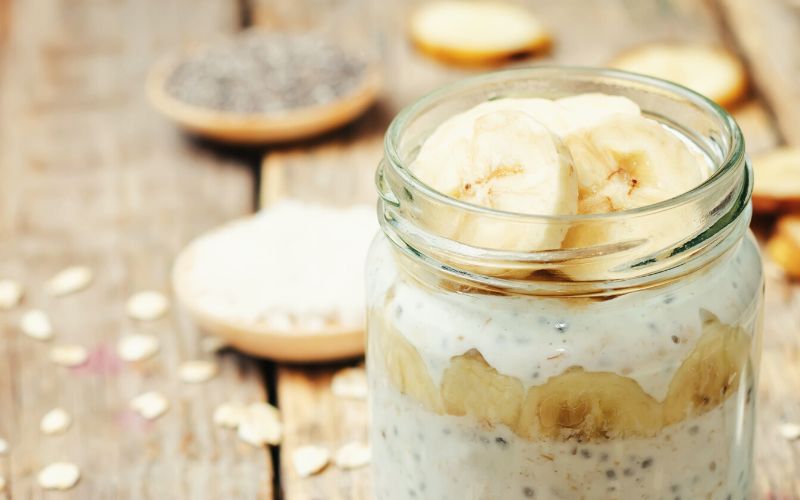 6. Apple Pie Quinoa Porridge
When following a vegan diet, it's important to get enough protein. Quinoa hits the spot perfectly since, unlike some other plant proteins, quinoa is a complete protein that contains all nine essential amino acids.
One of the easiest ways to enjoy quinoa is to make it in the exact same way you would porridge. The general rule of thumb is to use 2 cups of water for every 1 cup of quinoa and then bring it to a boil for 10-15 minutes.
If you want a real blast of flavor, try making quinoa "apple pie" style. Just add fresh apples or applesauce and cinnamon while cooking. Top with raisins and add some apple slices before serving.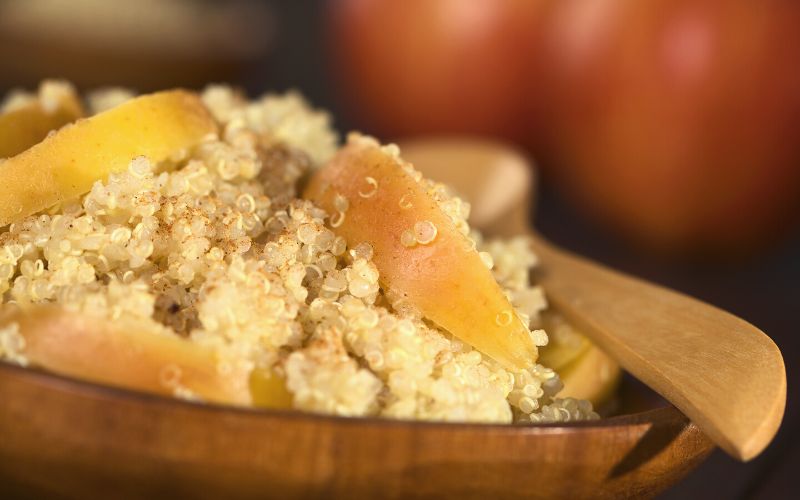 7. Breakfast Burritos
For a protein-packed, quick and easy meal at breakfast, try making vegan breakfast burritos. Breakfast burritos are highly convenient since you can pre-make all the fillings and then heat them up right at your campsite.
Start with a base of scrambled tofu (check our tips above!) or canned beans. You'll then want to add a layer of veggies – pico de gallo, hash browns or avocados work well. Next, you'll want to add a sauce for flavor. Store-bought sauces work or you can make your own delicious, cheese-like sauce from cashews.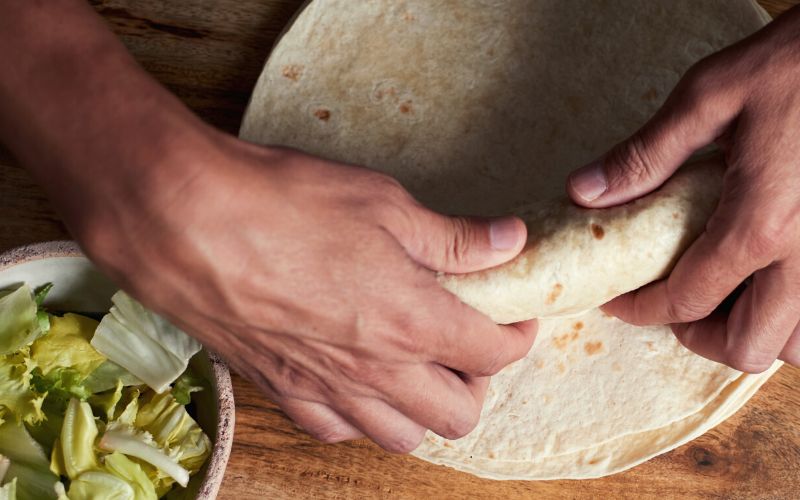 Lunches & Dinners
1. Kabobs with Tofu
Looking for a vegan alternative you can grill over the campfire? Try vegan kebabs! They're easy to prep ahead and mess-free since they don't require any cutlery. All you need to do is skewer alternating cubes of tofu and your favorite veggies.
If you want a blast of extra flavor, try making your own marinade. You can easily whip together a BBQ-inspired glaze by mixing ketchup, apple cider vinegar, maple syrup, smoked paprika, and garlic powder. You can even whip up a marinade at home and store it in a squeeze bottle so it's ready to go at your campsite.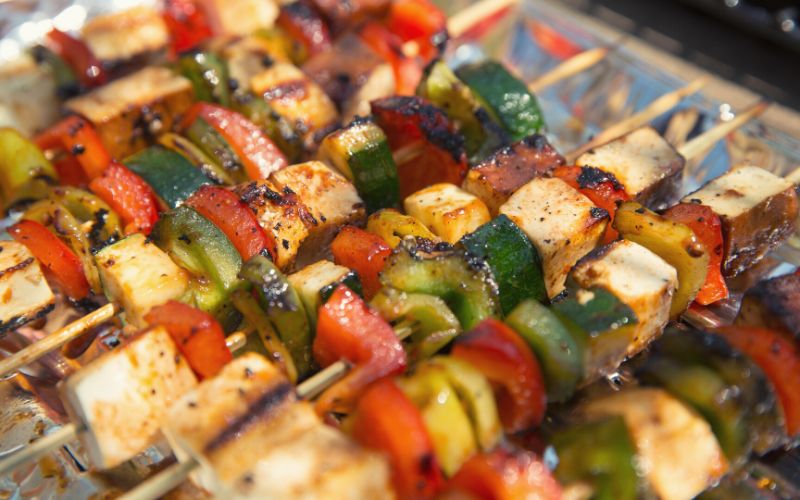 2. Spicy Chickpea Veggie Burgers
If you're looking for quick and easy vegan camping food recipes, it doesn't get any simpler than chickpea burgers. All you need is a can of chickpeas and a handful of ingredients to make some seriously delicious and healthy burgers.
Mash a can of well-drained chickpeas into a bowl and add bread crumbs until the mixture easily forms hamburger patties. Now you can add whatever flavor combo that you're craving. Try adobo chilis or hot sauce for a spicy kick or grilled veggies and fresh herbs for a Mediterranean-inspired flavor.
Cook your chickpea burgers for around 10 minutes on a cast iron pan. Serve on toasted bread with your favorite toppings.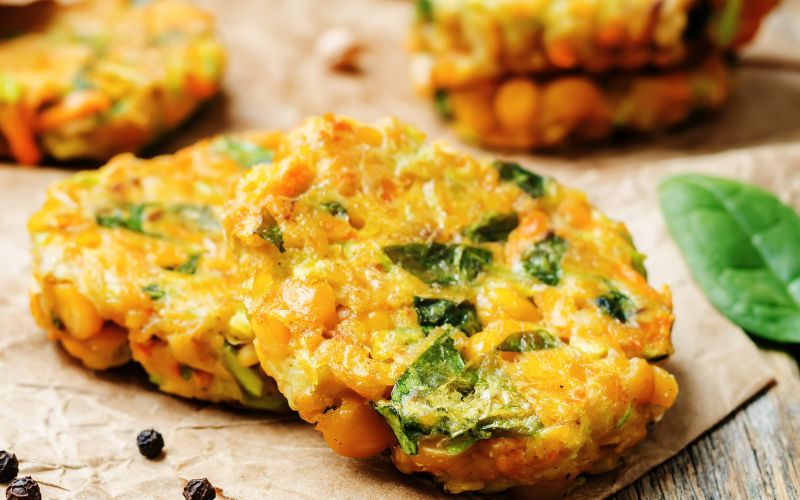 3. One-Pot Mushroom Pasta
Looking for a one-pot plant-based camping meal? Then you'll love this flavorful mushroom pasta. Since you'll be cooking your mushrooms and pasta directly in this sauce, you'll only need one pot.
Start by creating a cheesy sauce from plant-based milk, vegetable stock, nutritional yeast, and garlic powder. While you're working on your sauce, heat a saucepan over your camp stove and cook your mushrooms with a bit of garlic and parsley.
Next, add your sauce directly to the pot. Make sure you have enough room as you'll need to cook your pasta in it. Simply add your pasta and wait until enough liquid boils off so that your pasta is cooked and you are left with a thick, creamy sauce.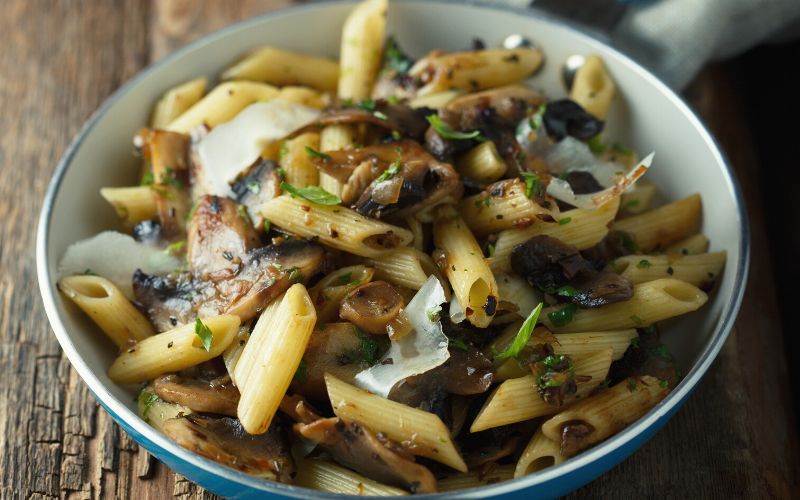 4. Campfire Chili
Chili is another classic, stick-to-your-ribs camping meal that's so easy to make vegan! In fact, you can use whatever favorite chili recipe you already love and just substitute the meat for pinto or black beans.
If you're looking to spice things up, try making quinoa and sweet potato chili instead. You'll enjoy all the same hearty chili flavors you love with an added dose of nutrients like iron, vitamin A, magnesium, and zinc.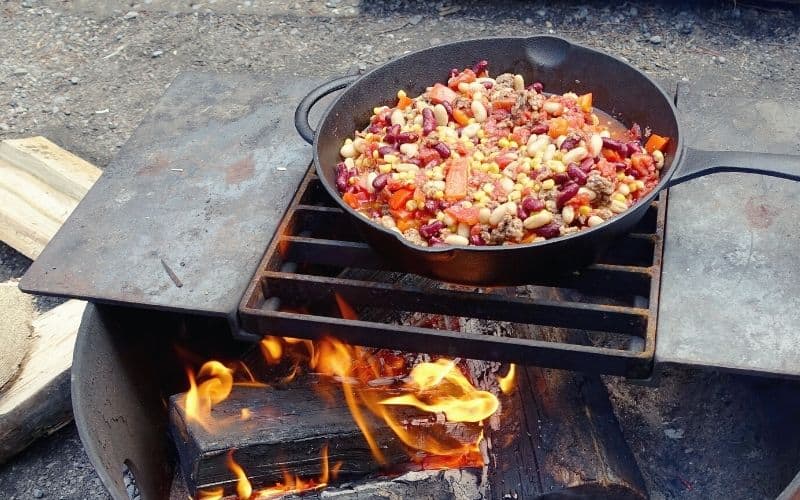 5. Make-ahead Couscous
If you're looking for a light, nutritious and flavor-packed meal, treat yourself to some make-ahead couscous. Couscous is one of those camping meals that tastes better the day after you make it. It's also a great side dish for other meals on our list like the tofu kebabs or chickpea burgers.
Cooking couscous is easy once you nail the couscous-to-water ratio. You'll need 1 ¼ cups of water or broth per 1 cup of couscous. Once your couscous is cooked, just add a protein, veggies, and some herbs and spices.
6. Sweet Potato Fajitas
You've probably already tried steak fajitas, but have you ever tasted them with sweet potato? If you're looking for some classic comfort food, these really hit the spot!
To make these fajitas, start by cutting your sweet potatoes into ¼ inch steaks and marinating them in your favorite fajita spice mixture. Once you've got your fire going, you can cook your sweet potato right over a metal cooking grate. In another pan, cook your usual fajita fillings like bell peppers and onions. Serve warm over tortillas.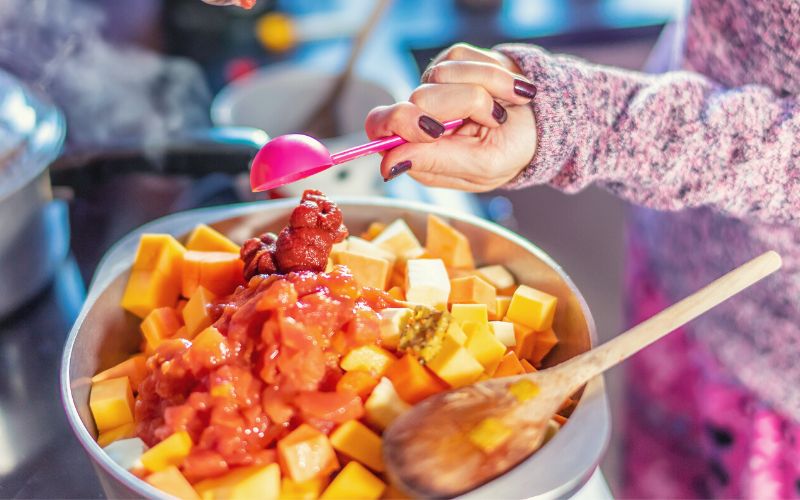 7. Red Lentil Sloppy Joes
Everybody loves this summer classic while camping and here's how you can easily turn it vegan!
In a pot over your camp fire, saute some onions. Once transparent, add your red lentils – ½ a cup of lentils makes about 2 sandwiches. Add herbs and spices like mustard, maple syrup, apple cider vinegar, vegan Worcestershire and hot sauce. Serve on a toasted bun with whatever toppings you love. These lentils are also delicious as a dip for tortilla chips!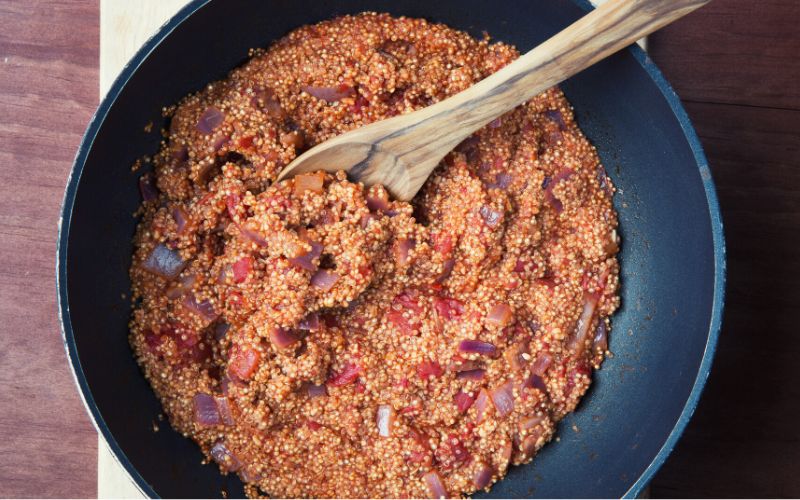 8. Artichoke Paella
If you love paella, you can easily make it vegan by following your favorite recipe and just substituting artichoke hearts for the seafood. You can pick up jars of artichoke hearts at most grocery stores. If you don't use up the whole jar, they make great fillings for sandwiches, wraps, or as an extra dose of flavor for pasta dishes.
9. Foil-Wrapped Sweet Potatoes
Jacket potatoes are a classic on any camping menu and it's so easy to keep them vegan! Just wrap any regular potato or sweet potato in foil and tuck them right into the embers of your campfire. Turn the potatoes occasionally to ensure even cooking. They'll be done in about 30 minutes.
Once cooked, simply slice them almost all the way through and then add your favorite toppings. For a really hearty meal, you can even fill them with vegan chili!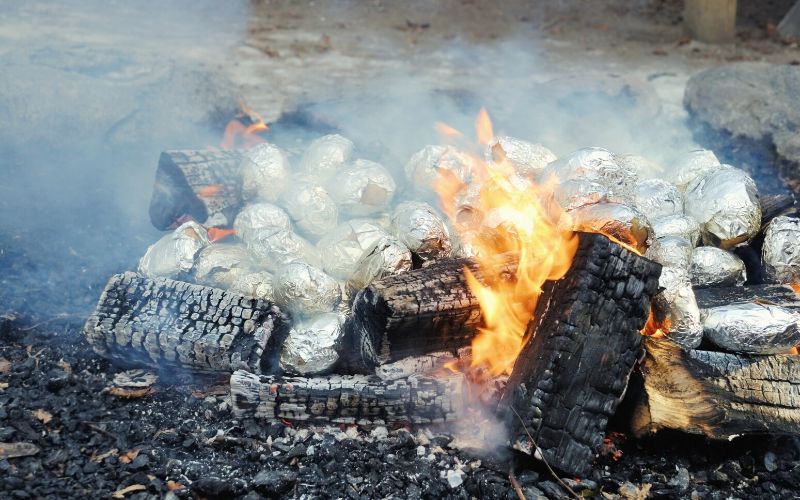 Desserts
1. No Bake Apple Crisp
This dessert is so easy to whip up it will become your go-to treat for any camping trip. It's made from common camping ingredients like apples, granola, brown sugar, cinnamon, and bourbon (what, you guys don't take bourbon camping?!)
Start by tossing some sliced apples in a pan with raisins, brown sugar, cinnamon, and a splash of bourbon or maple syrup. Once the alcohol burns off and the mixture starts to thicken, mix in your granola. Serve with a scoop of vegan whipped cream.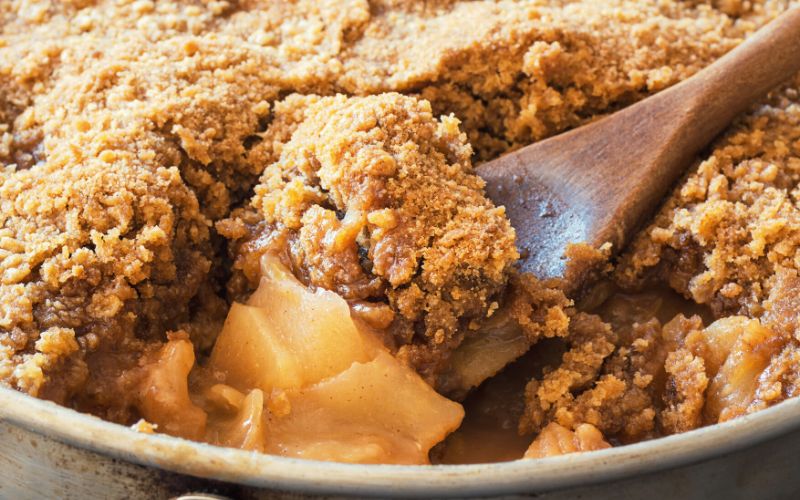 2. Vegan S'mores Bars
What kind of camping trip would it be without s'mores? While you might not think of s'mores when you think of vegan desserts, there's actually nothing about graham crackers, chocolate, or marshmallows that requires animal products.
Most major grocery store brands will sell vegan marshmallows and milk-free chocolate. It might be trickier to find vegan graham crackers. If all else fails, you can even make the graham crackers yourself ahead of time.
If you'd rather make your s'mores ahead of time, just turn them into bars! Just mix the usual marshmallows, chocolate, and crumbled graham crackers with toasted oats and dates to bind it all together. Press your mixture into a brownie pan and cut into bars.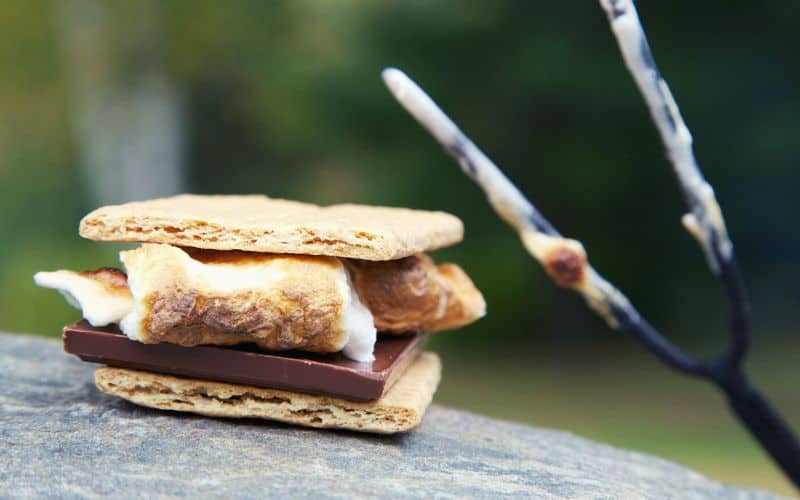 3. Skillet Brownie
Did you know that you can easily make vegan skillet brownies in a pan right over your campfire? All you need is your favorite vegan brownie recipe and a cast iron pan. You can even mix the dry ingredients ahead of time for easy assembly at your camp.
The trick to cooking brownies in a skillet or pan is to cook them slowly on low to medium heat for around 10 minutes. You'll know they're ready when the edges of the brownie are cooked while the middle still looks dark and fudgy.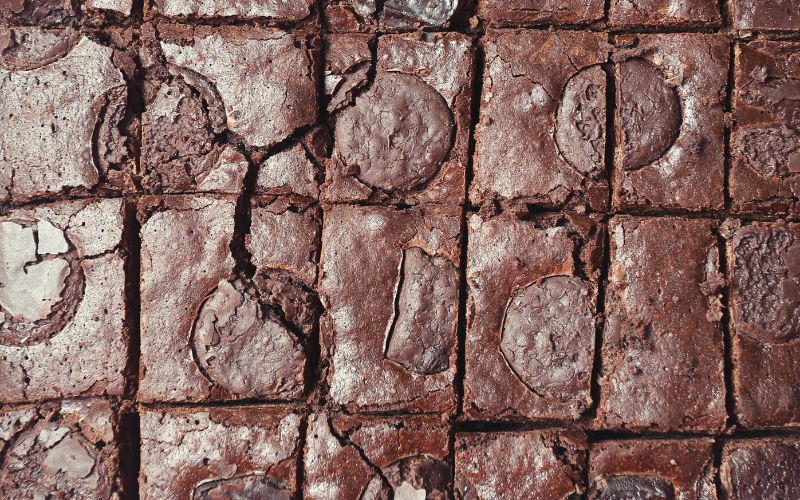 4. Smoky Spiced Campfire Popcorn
There's nothing better than kicking back in a camping chair with a bowl of popcorn. But don't settle for the same old butter-salt combination! You can enjoy an explosion of flavor by adding some extra spices to your kernels.
Smoked paprika and chili flakes will give it a spicy hit while nutritional yeast will add a cheesy flavor. You can even mix your spices at home ahead of time so they're ready to go at your camp.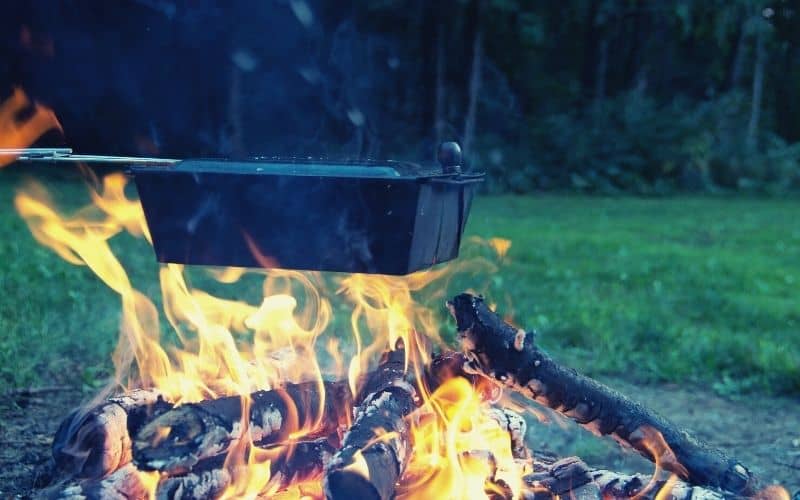 Snacks
1. No-Bake Protein Bars
No-bake vegan protein bars make a healthy and filling snack for camping and hiking. With just a few ingredients, you can make some delicious vegan protein bars that will keep for up to 5 days.
To make these protein-packed bars, mix peanut butter, dates, and oats in a food processor. Add almond milk and protein powder until you can mold the mixture in your hands. Transfer to a mixing bowl and add additional toppings like chocolate chips or raisins. Press the dough into a pan, refrigerate, cut, and enjoy!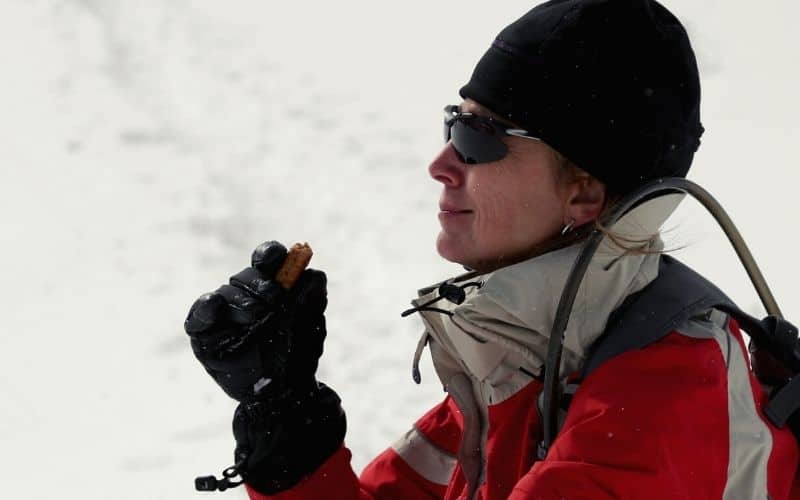 2. Trail Mix Energy Balls
Take your trail mix game to the next level by turning it into delicious, no-bake energy balls. With a base of just dates and cashews, these sweet treats are endlessly customizable.
Start by mixing soaked cashews and dates in a food processor. You'll end up with a dough that's easy to shape in your hands. Add any of your favorite toppings like dried fruit, nuts, and seeds. If you'd like a fancy presentation, create your balls first and then roll them in your toppings until they're completely covered.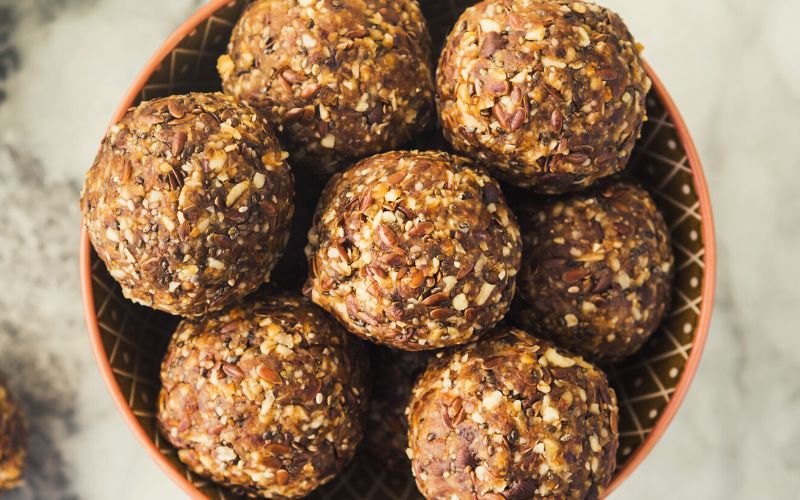 3. Fruit Leathers
Fruit leather is an awesome vegan and gluten-free snack. You'll have no problem getting your 5 a day when you taste how delicious it tastes!
All it takes is your choice of fruit, parchment paper, a cookie sheet, a food processor, and an oven. You'll only need 5 minutes of prep work and the rest of the magic happens in the oven. Fruit leather can be made with any type of fruit or berry, so try a couple of recipes until you find your favorite.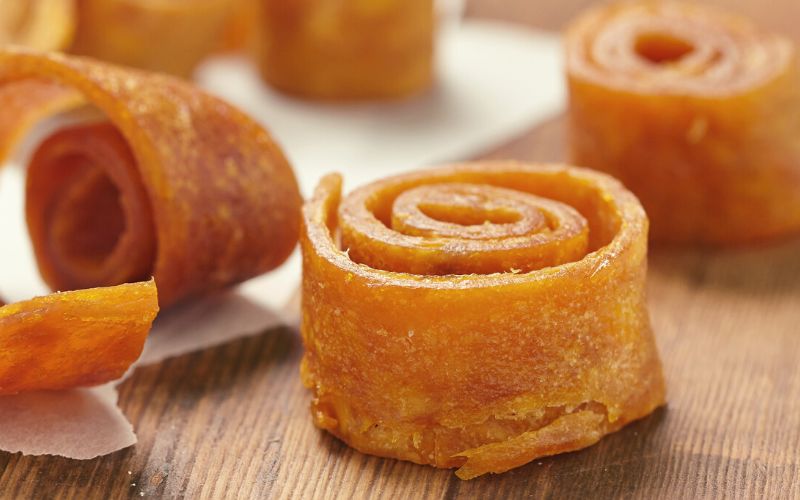 4. Nut Butter Crackers
It's important to remember that not all camping meals have to be fancy! If you're looking for a light, portable, and hearty snack, stick to a classic like nut butter and crackers. This snack combo is the perfect mix of energy-boosting carbs and filling protein.
5. Peanut Butter & Jelly Granola Bars
Tired of endless peanut butter and jelly sandwiches? Try these PB+J inspired granola bars instead. They're easy to whip up with ingredients you probably already have to hand!
Start by mixing rolled oats, peanut butter, and maple syrup in a large bowl. Once mixed, press half the mixture into a square tin baking pan. Next, spread out your chosen jam and top it with the remaining oat mixture. Let it rest until it feels firm enough to slice with a knife.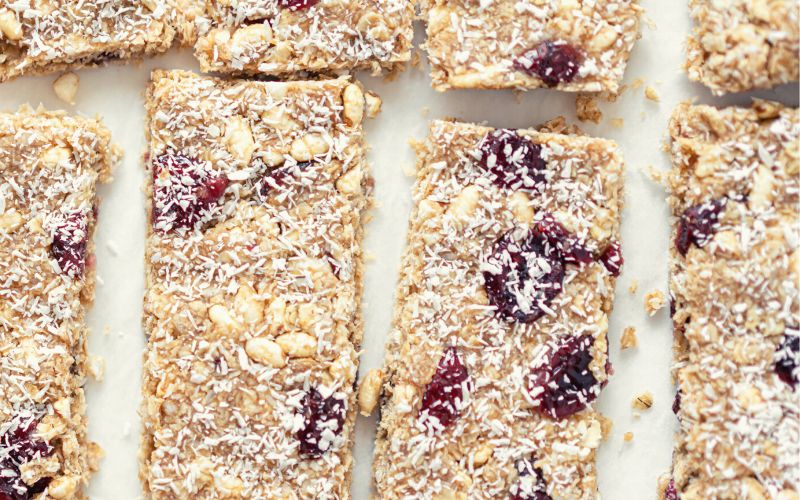 Vegan Camping Food: Happy Plant-Based Munching!
Camping is one of the best ways to surround yourself with the beauty of nature. What better way to celebrate the call of the wild than to treat your whole camping crew to some plant-based meals and snacks?
We hope this guide to our favorite vegan snack ideas and meals for camping has inspired you to enjoy some plant-based meals around the campfire. Get your taste buds ready because these vegan meals are both nutritious and delicious!
If we missed some of your favorite campsite vegan recipes, let us know in the comments below. And if you want to inspire your own family and friends to try some plant-based camping meals, feel free to share this article with them!