If you're wondering if you can eat vegan and still enjoy delicious and nutritious meals while on the trail, you're in the right place!
As plant-based foods become more popular, there are more vegan options for hungry backpackers than ever before. With a bit of careful planning, you can develop a vegan meal plan for your next trip that hits all the usual backpacking criteria: nutritious, lightweight, portable, and convenient.
In our guide, you'll find 19 scrumptious vegan meal and snack ideas that are perfect for hitting the trail. We hope this guide inspires you to add a little more plant power to your own pack!
Sustenance Considerations for backpacking
Nutrition
It doesn't matter if you're an outdoor herbivore or a meat-loving trekker, nutrition matters on the trail. Failure to bring nutrient-packed food with you leaves you at risk of feeling tired, sluggish, or even unwell.
As you start meal planning vegan meals for your next backpacking trip, here is some nutrition information to consider. As always, remember that these are just estimates. You should always tweak these suggestions based on your own gender, age, weight, and physical activity level.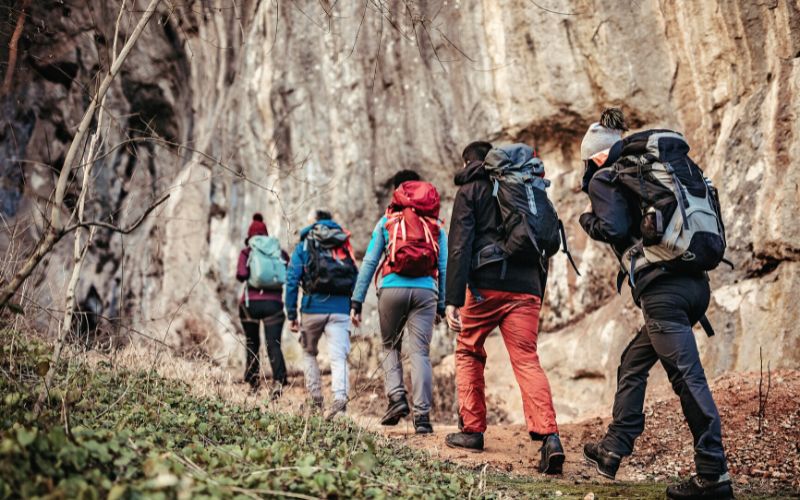 Proteins
Protein is the building block of muscles, allowing them to get stronger and recover faster. When you run out of energy from carbs and fats, your body can also use protein for fuel.
Backpacking and hiking in general will put a lot of strain on your muscles. The harder and longer you walk or climb, the more of your muscle fibers are being torn or damaged. To repair your muscles, your body needs protein.
But it's a big misconception that protein has to come from meat. There are plenty of plant-powered protein options that are suitable for backpacking including protein powder, nuts and seeds, vegan jerky, soy protein, and dehydrated beans.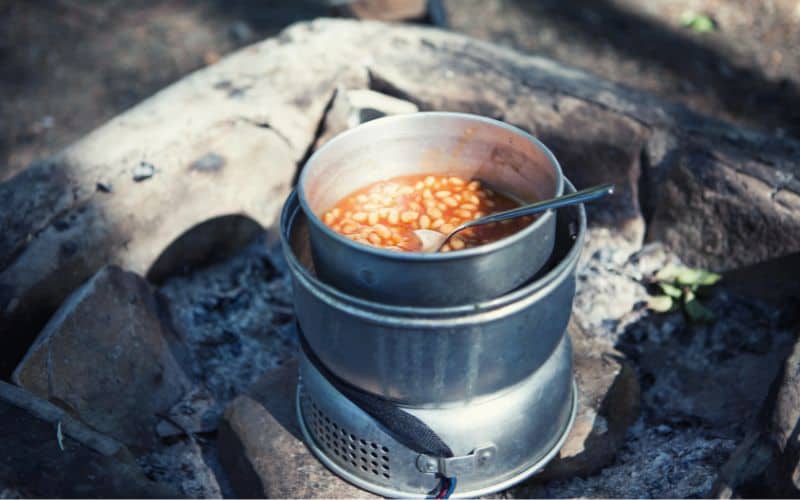 Carbs
While hiking and backpacking, carbohydrates are going to be your body's main energy source.
While proteins and fat are also good sources of energy, they take longer and more effort for your body to digest. This puts you at a greater risk of an upset stomach, especially during the strenuous parts of your trek.
As a general rule of thumb, the more active you are, the more carbs you need. If you exercise for more than an hour a day, you may need as many as 3 – 5 grams of carbs per kg of body weight. So a 170 lbs person (70kg) will need roughly 210 to 350 grams of carbs per day of backpacking.
Just remember that the human body can only process a few hundred calories per hour. While carbs are the best energy source, avoid eating too much at once as this will actually divert blood away from your muscles to help digestion.
Some examples of good carb choices include dried fruit, granola, sweet potatoes, energy bars or shots, and oatmeal (with vegan chocolate chips!).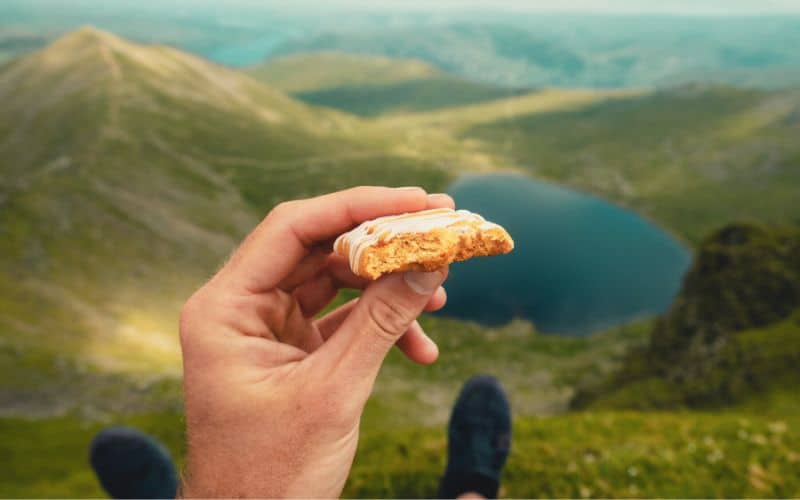 Fats
Fats play an important role in any nutritionally-balanced diet. They act as an alternative source of energy when our bodies burn through our carb stores and they help us absorb important vitamins and minerals.
With that being said, it may be tempting to pack a lot of high-fat foods considering how calorie-dense they are. But there's a good reason you should avoid consuming too many fatty foods while backpacking.
While it's true that your body can use fats as an alternative energy source, they simply can't compare to carbs in terms of energy efficiency. Fats take an incredibly long time for the body to break down, sometimes even up to 6 hours.
Your body also requires oxygen to turn fats into energy-producing fatty acids and, as we all know, oxygen is not exactly plentiful when you're huffing and puffing up a mountain.
In summary, fats are important, but they are not the most readily-available source of energy for your hikes. As a general rule of thumb, try to consume the majority of your fats before or after your hike to allow your body time to convert them into usable energy.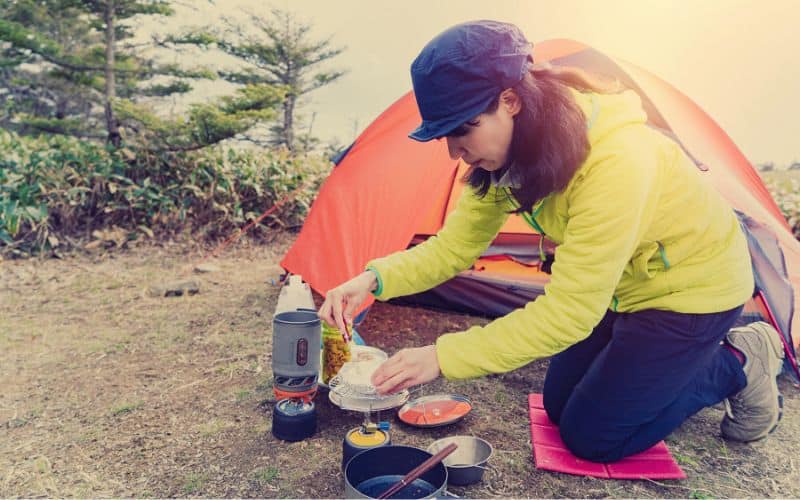 Vitamins and Minerals
Vitamins and minerals are required by the human body to carry out all its functions. Since your body can't produce these micronutrients on its own, you need to ensure you're getting them from the foods you eat.
Hikers especially need vitamin B, vitamin D, iron, calcium, zinc, and magnesium. These nutrients are vital for ensuring energy production as well as your body's ability to heal and repair muscle tissue.
Since the primary source of vitamins and minerals are fruits and vegetables, it can be difficult to ensure you're getting enough while backpacking where fresh fruit and fresh veggies are not exactly in abundance.
Vegans are at particular risk for vitamin B12 deficiencies since the primary source of these products are meat and dairy.
To ensure you're getting enough vitamins and minerals, it's best to eat a variety of plant-based foods rich in nutrients including whole grains, beans, freeze-dried fruits, vegetables (veggie sticks work!), nuts, and seeds. When possible, choose freeze-dried meals over dehydrated ones as they conserve more of their nutritional value.
If you're following a strictly vegan diet, make sure you're also including foods that are fortified with vitamin B12 like nutritional yeast, plant-based milk, and cereals, or taking a supplement.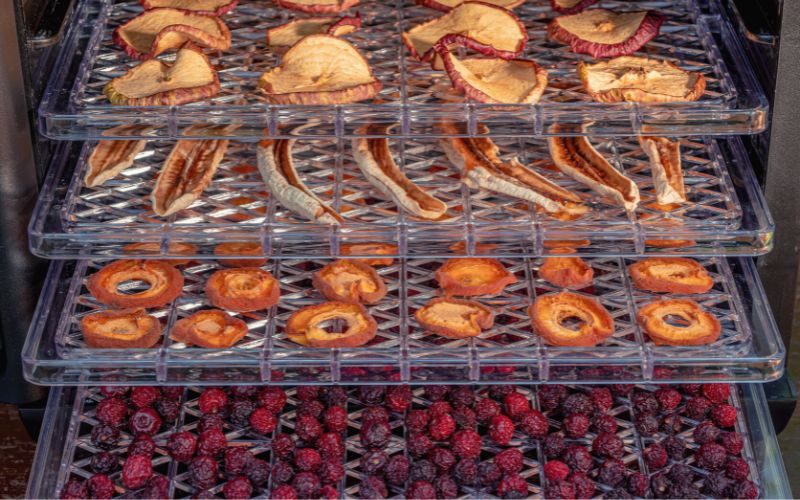 Salts and Electrolytes
Dehydration can quickly put a stop to your backpacking fun. The solution? Electrolytes.
As you backpack, you'll be sweating out both moisture and electrolytes. Water alone won't cut it to replace these nutrients. Without salts and electrolytes, your body cannot properly hydrate.
For backpacking trips where you'll be strenuously hiking, an easy solution is to take salt capsules to replenish your electrolytes.
Another solid choice is drink mix packets. They're lightweight, portable and they might motivate you to drink more water. Just remember to alternate between actual water and a drink packet every time you fill your water bottle. A green tea for breakfast and hot chocolate before bed on cold nights won't hurt, either!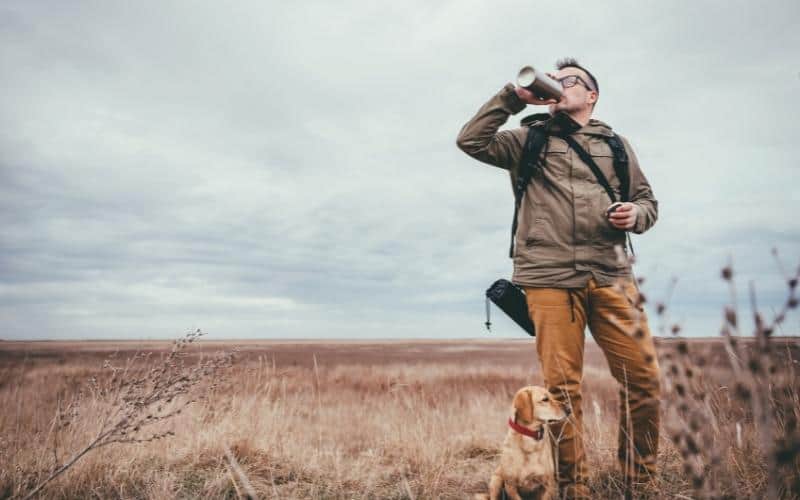 Calories
Backpacking consumes a lot of energy. One of the best ways to be certain you're getting the energy you need to fuel your adventures is to count calories.
As a general rule of thumb, women with a heavy pack will need between 2,500 and 3,000 calories a day while men will need between 3,500 and 4,000.
It's important to remember that this is just an estimate. The calories you burn and will therefore need to replenish depend on a number of variables including your height, age, weight, and physical fitness level.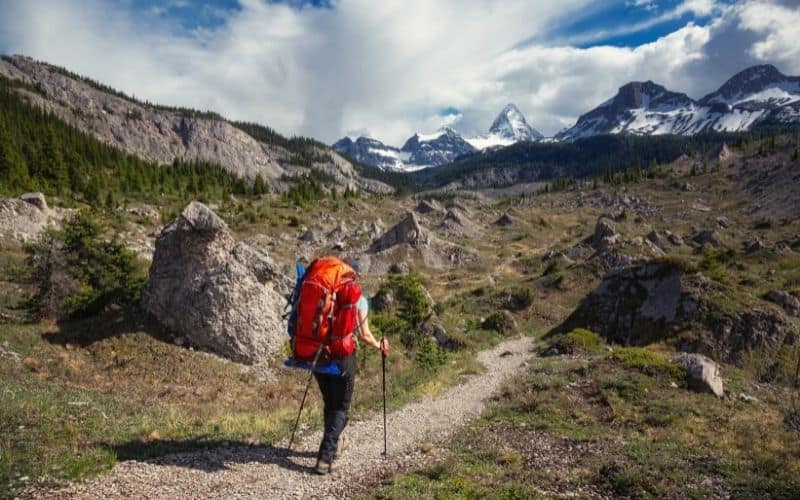 One of the best ways to calculate the calories you'll need is by figuring out your Base Metabolic Rate. This will let you know how many calories you burn per day, even when your body is at rest.
Next, calculate the expected calories you will burn per day on your backpacking trip. This calculator is a good start – just choose 'Hiking: cross-country' for the activity.
Add these two numbers together and you'll get the minimum amount of calories you should be eating in a day while backpacking.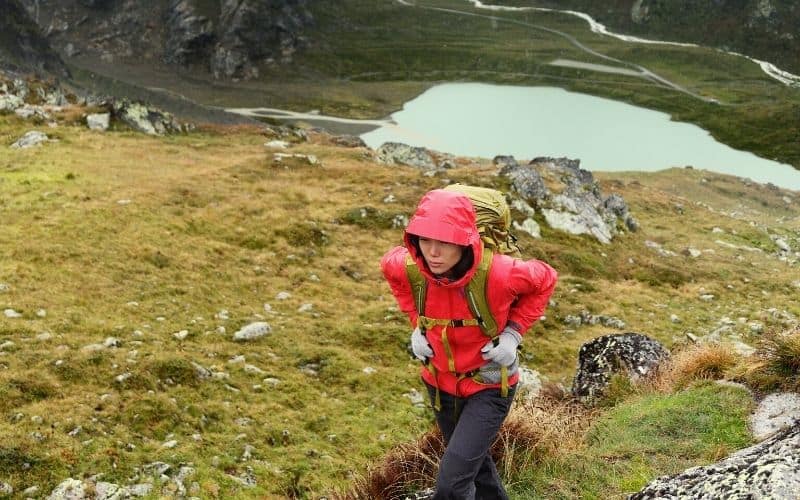 Weight
When backpacking, every ounce makes the difference between waking up with an aching back or feeling strong and ready to face the day.
The key to preparing a vegan menu for backpacking is to choose foods that are nutrient- and calorie-dense yet lightweight and portable.
For instance, apples might make a great vegan snack for a short trek, but 3-4 apples equal a pound of weight. How many are you willing to lug on your back on a week-long backpacking adventure?
While planning your menu, get creative and think of alternatives. Swap cans for boxes, nut butter jars with pouches or powders, and fresh fruits and veg with dried or dehydrated foods – freeze-dried veggies and fruits are winners!
For more on dehydrated food, check out our guide on the best foods to dehydrate.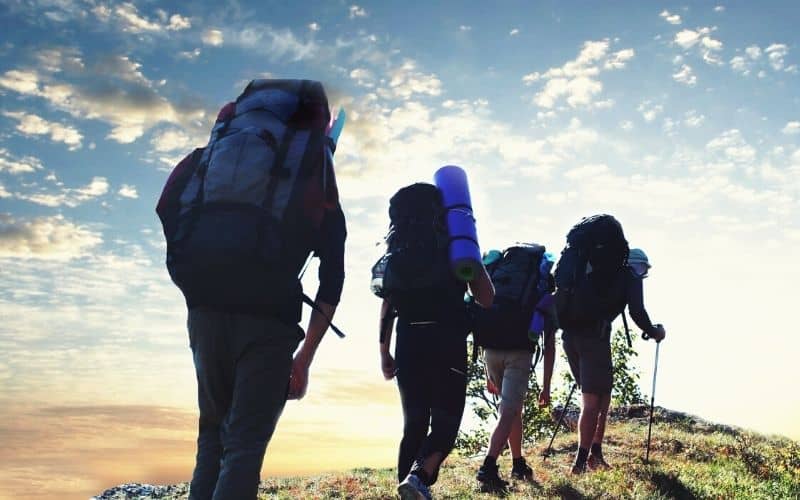 Convenience
When creating your backpacking meal plan, you'll want to consider how much time and effort you want to spend cooking.
The longer your food takes to prepare, the more fuel you'll need to carry on your back. You'll also want to consider if you're really going to be in the mood for cooking an elaborate meal after a long day of hiking.
As a general rule of thumb, you want to carry foods that are portable, lightweight, and require minimal preparation. You'll also want to include some high-energy, backpacking snacks that can be eaten one-handed for a quick energy boost while on the trail.
While it's true that backpackers tend to prefer quick and pre-packaged meal options, you should also consider bringing a bit of variety. While you can certainly live off tuna and oatmeal pouches for a week, you should bring a variety of foods that you're actually excited to eat after a long day.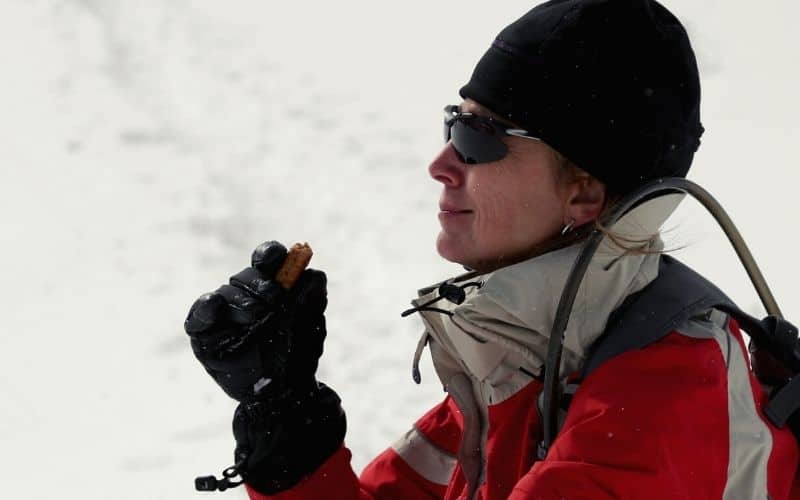 Packability
When planning your own backpacking meals, you'll want to consider more than just the weight. While some foods might be lightweight, they're also excessively bulky and will take up too much space in your backpack. 
You'll also want to choose food that is non-perishable and durable enough to withstand the beating it will likely take in your pack. 
Some of the most 'packable' backpacking meals come in boxes and pouches. Think freeze-dried meals and dehydrated meals where you just add water. Not only are these pre-made, vegan, and vegetarian backpacking meals nutritious and filling, but they also take up very little room in your backpack. 
You can also find other common foods in lightweight pouches like nut butter and instant mashed potatoes.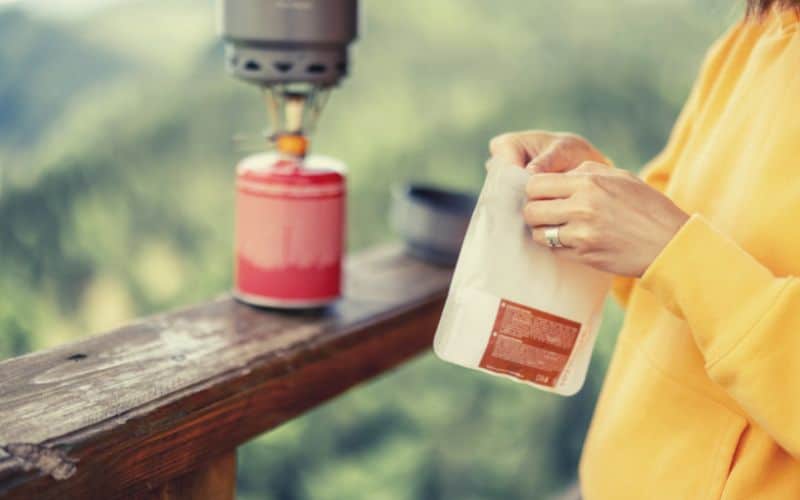 Vegan Backpacking Food: Our 19 Favorites
Here are some of our favorite backpacking meals and snacks to help inspire your own vegan meals out in the backcountry: 
Breakfasts
Quaker Oatmeal
Nothing beats oatmeal for a cheap, nutritious, and filling breakfast!
Quaker Oatmeal pouches make the perfect breakfast in the great outdoors. You can skip the bowl and make your oatmeal directly in the pouches. There is a range of flavors available, however, not all are vegan like the original version. Therefore, make sure to do your research before buying any of the flavored options.
If you want to up the protein of your oatmeal, you can simply mix in a pouch of nut butter or bring along some of your own seeds and nuts.
Outdoor Herbivore
In your quest to find the perfect, backpacking vegan breakfasts, Outdoor Herbivore should top the list. There's a lot to love here – plant-based, low sodium, lightweight, less packaging, and, perhaps most important of all, great tasting.
There are plenty of great options available for a hearty breakfast including popular favorites like High Elevation Rice Cereal and Blueberry Maple Crunch Oatmeal.
There are also plenty of tasty backpacking dinners, ranging from soups and curries to salads, pasta, and even burritos. Some options are no-cook, meaning they can be made without boiling water.
If you'd like to take the guesswork out of planning a vegan menu for your next backpacking trip, they even offer 5 and 7-day supplies of pre-made vegan meals.
Backpacker's Pantry
Backpacker's Pantry offers a variety of freeze-dried backpacking meals from breakfast to dinner. This means you can enjoy them by simply pouring hot water into the pouch and waiting a couple of minutes for your meal to rehydrate.
Each pouch averages 10" x 8" in size and is about as thick as a deck of playing cards. Most packages come with two serving sizes and weigh between 6–7 ounces. Their shelf life ranges from 3–10 years.
There are plenty of options for a hearty, warm breakfast available including Peanut Butter & Banana Oatmeal, Cinnamon Apple Oats, and Blueberry Walnut Oats.
FirePot
FirePot is a British company that produces dehydrated backpacking meals. Take one look at their ingredients list and you'll see these meals tick all the boxes in terms of healthy ingredients, nutrients, and energy sources.
Unlike a lot of other companies that freeze-dry their meals, FirePot meals are slow-cooked together and then dehydrated. The company swears this improves flavor and texture. Considering the popularity of FirePot meals, they're probably on to something!
FirePot offers two, calorie-packed breakfasts (both of which are vegan): Baked Apple and Toasted Banana Breakfast Porridge. Each pouch comes with two servings and packs an impressive 30g of protein per pouch.
Trailtopia
Trailtopia is a family-run company that offers plenty of oatmeal breakfast options for vegans. All Trailtopia meals are created from scratch in Rochester, Minnesota.
Weighing an average of 2.5oz per pouch, you can prepare their oatmeal by simply adding hot water and waiting 5 minutes. Flavor combos include Banana, Blueberry, and Brown Sugar Raisin. Each pouch has 2 servings and 12g of protein per pouch.
Peak Refuel
If you're looking for high-protein, lightweight breakfast ideas made with premium ingredients, it's hard to beat Peak Refuel.
They offer one vegan breakfast option Mountain Berry Granola. Each packs 530 calories for just 4.5oz of weight and an insanely impressive 23g of protein per pouch.
Loaded with premium ingredients like locally-sourced berries and rice milk, you better pack more than one because you won't feel like sharing!
Lunches & Dinners
Backpacker's Pantry
On top of the breakfast options we previously mentioned, Backpacker's Pantry offers a surprising amount of vegan dinner options too.
Each dinner pouch comes with 1 serving and averages around 350 calories and 13g of protein.
Backpacking dinners include Southwestern quinoa & beans, Louisiana Red Beans and Rice, Green Curry, Pad Thai, Mango Sticky Rice, and Chana Masala.
Bushka's Kitchen
Crafted with nutritious, all-natural ingredients, Babushka's Kitchen makes it easy to fuel up on your outdoor adventures. They take special care to carefully balance the proteins, fats, and carbohydrates in each of their freeze-dried meals.
At just 4.6oz, their versatile Lentil Lunch provides 600 calories and 29 g of protein per pouch. It can be enjoyed warm or cold, as breakfast or lunch, and can even be used as a filling for sandwiches or wraps.
Other options are their generous portion of Zoodles in Avocado Sauce. It's a great low-carb, high-protein option for those looking for vegan or vegetarian backpacking meals. 
Pair any of these lunch ideas with their vegan side dishes like sweet potato mash. Finish it off with a delicious Rice Pudding!
FirePot
Remember FirePot, known for their premium, insanely high-protein meals? They've got some vegan lunch and dinner options, too! Choose from tasty options like Smoky Tomato Paella, Orzo Bolognese, Green Gumbo, and Mac 'n' Greens.
If you're looking for the best, high-protein, vegan backpacking meal, check out their Posh Baked Beans. These fire-roasted baked beans are packing an insane 44g of protein per pouch.
Another high-protein option is their Chili 'Non' Carne with Rice at 37 g per pouch.
Fernweh Food Company
Fernweh offers thoughtfully-produced, vegan meals for backpacking with low-impact packaging. In fact, all of their meal pouches are made from 100% compostable packaging and recycled labels. But don't worry, you can still eat directly from the pouch! 
There are plenty of dehydrated, plant-based options available for lunch and dinner including Southwest Stew, Mushroom Pot Pie, Green Tamale Pie, and Red Beans with Coconut Rice.
Both single and 2-serving pouches are available. Calories range from 110-130 per ounce. They also offer a convenient, 5-serving pouch of Southwest Stew that will feed your whole backpacking crew!
If you're looking to add a little kick to your meals, try their powdered add-ins like Hot Sauce and Chard & Roasted Garlic spice.
Nomad Nutrition
Satisfy your cravings for vegan comfort food on the trail with Nomad Nutrition. They make dehydrated backpacking meals that actually taste like real food. If you're tired of the same old tuna pouches or oatmeal, you'll appreciate that all the meals are inspired by authentic cuisines from around the world.
Most Nomad Nutrition meals are available in single-serving or snack sizes. Meals average about 4 oz per pouch and 10g of protein per serving.
Some of their backpacking dinner ideas include Irish Shepherd's Pie, Indian Red Lentil Stew, Spanish Paella, and Caribbean Curry.
They also offer the 'world's first' instant quinoa. Just throw these pouches in your pack and you can make nutritious and protein-rich quinoa in just minutes. It's a great way to add some extra protein to any meal without adding too much weight.
Patagonia Provisions
Patagonia makes a range of vegan, dry soup mixes for backpacking that are as good for you as they are for the planet. Each of their nutritious, plant-based meals is USDA organic, Kosher, and Non-GMO Certified. Each pouch has on average 15g of protein per serving.
Some of their most popular vegan options include Red Bean Chili, Black Bean Soup, and Green Lentil Soup.
Just remember that since these are dry soup mixes and not meal pouches, you will need a heat-resistant bowl to prepare them.
Desserts
Heather's Choice Packaroons
These lightweight, vegan, and gluten-free desserts are seriously delicious!
Packaroons are coconut macaroon-like desserts designed for your backpack. Each of these dehydrated cookies contains no artificial flavors, MSG, fillers, or preservatives.
Heather's Choice offers 8 delicious flavor combinations. Boasting 170 calories per ounce, enjoy mouthwatering flavors like Candy Cane, Blueberry Almond, and Sweet Coconut.
Unreal Candy Bar
Don't let the name fool you – these candy bars are both nutritious and delicious, and are made with all-natural and very real ingredients!
Unreal Candy Bars are made from just three ingredients: organic coconut, organic cassava syrup, and dark chocolate. You can snack on these guilt-free since all the ingredients are sustainably sourced and include no artificial flavors, preservatives, dyes, gluten, soy, or dairy.
Nutiva Hazelnut Spread
What better way to treat yourself after a long day of hiking than to some rich classic chocolate or dark chocolate hazelnut spread?
Nutiva offers single-serving packets of their plant-based chocolate spread. Each package contains vegan and gluten-free ingredients and is a good source of omega-3s and dietary fiber.
Try spreading it on bread, eating it with fruit, mixing it into oatmeal, or just binging right out of the pack!
Snacks
Nut Butters
Nut butters are simply one of the best vegan snacks for camping or backpacking. Rich in protein, healthy fats, and essential vitamins and minerals, nut butters will give you the fuel you need to power your adventures.
You can find nut butters in powdered form or in pouches. Powdered nut butters are extra-lightweight and can easily be mixed into other meals and desserts like rice pudding or oatmeal. Pouches offer a convenient, hands-free snack that won't slow you down.
Bobo's Oat Bars
These made-in-the-USA oat bars make a scrumptious breakfast or snack on camping trips and backpacking adventures.
Each bar is vegan, gluten-free, and contains no trans fats. Try delicious flavors like Apple Pie, Banana Chocolate Chip, and Lemon Poppyseed.
Quinn Peanut Butter Filled Pretzels
Quinn makes the ultimate, decadent vegan snacks! Peanut butter lovers will rejoice at these gluten-free, whole-grain pretzels filled with all-natural peanut butter. They're also Non-GMO Certified. Featuring a delicious taste and hearty crunch, pack extras because you won't be able to put them down.
Pear's Snacks Flavored Nuts
Pear's Snacks creates naturally-flavored nuts in convenient resealable packages. They offer a variety of tasty flavor combinations that range from sweet (Salted Caramel Churro) to salty (Memphis Style BBQ). All told, they're a great alternative to trail mix!
Each pouch comes with 4 servings. For just a 1-ounce serving size, you'll get 5 grams of protein and a healthy dose of dietary fiber. Plus, they're just darn tasty!
Happy Backpacking!
Just a few short decades ago it was pretty difficult to keep up with a vegan meal plan while backpacking.
These days, thanks to vegan diets blossoming, there are plenty of lightweight, healthy, and filling backpacking friendly vegan foods that make life a whole lot easier in the backcountry.
We hope this guide has inspired you to bring along some plant-based foods and snacks during your next backpacking trip.
If we've left out any of your favorite vegan backpacking food, be sure to let us know in the comments below! And if you want to share this guide with your family and friends, go right ahead!