Nothing pairs better with a crackling campfire than the sound of all your camping friends crooning out a selection of classic hits.
Whether you're into ballads, old-school rock, reggae, or folk tunes, a good sing-along is one of the most fun ways to spend an evening in camp.
In this post, we'll go over our top picks for the best songs to play on guitar around the campfire – so loosen up those pipes and get ready to start jammin'!
1. American Pie by Don McLean
Whether you like it or not, 'American Pie' is an absolute classic – simple chords, a slow musical build-up, a story, and an internationally-recognized 'wagon wheel' chorus to boot.
It's been said by many in the United States and perhaps even more so overseas, but this popular song by Don McLean may be more recognized as America's second national anthem!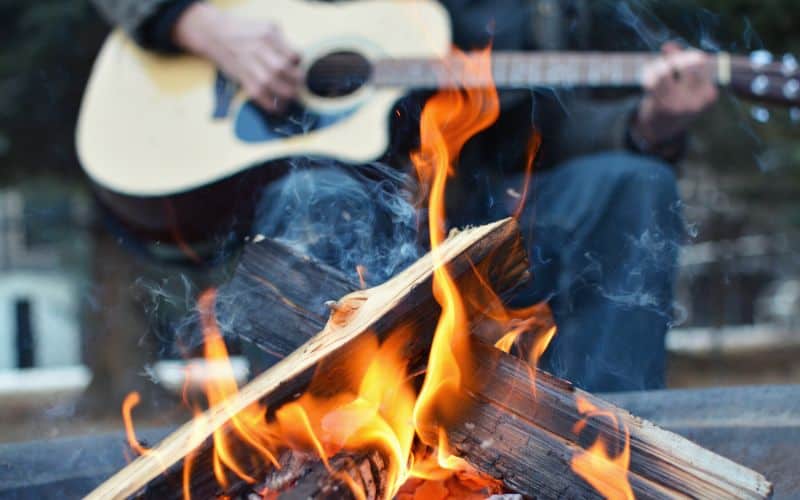 2. Hey Jude by The Beatles
You don't need to know who John Lennon, Paul Mccartney, Ringo Starr, and George Harrison are, nor any of the Beatles' lyrics to participate in this sing-a-long.
'Na, na, na, na, na, na, naaaa, na, na, na, naaaa, Hey Jude!' If the rest of the lyrics escape you, these will do just fine!
If you're a camp leader or you're with a group who doesn't know each other well, this Beatles song is the perfect way to break the ice and foster some group singing.
Be prepared for the entire song to last longer than its 7-minute recording, or for strangers from other campsites to start singing 'Hey Jude' with you!
3. Let It Be by The Beatles
Released on the British band's twelfth studio album, Let it Be, this is another legendary song.
Filled with hope, sorrow, reconciliation, and ultimately 'wisdom', if you've suffered a day of hardship on the trail or you know someone sitting around the campfire who's recently had a tough time, sing this for you, for them, for everyone.
Music heals. All one needs is an acoustic guitar, a little courage, and a voice (even if it's bad). Companionship will do the rest.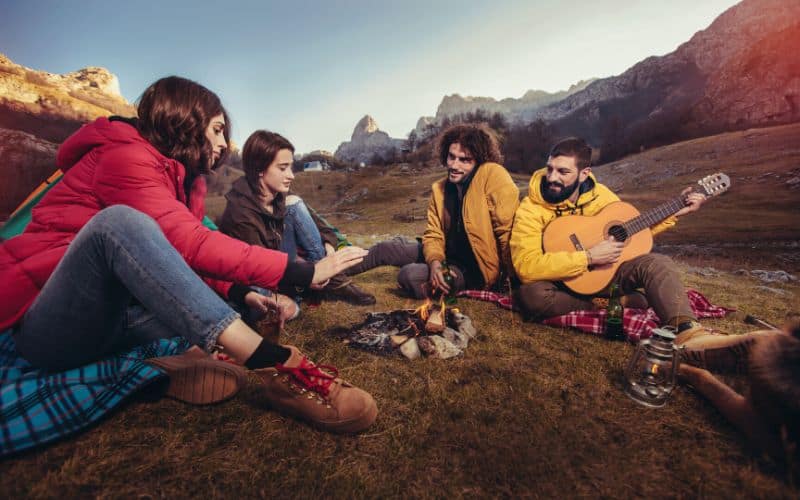 4. Take Me Home Country Roads by John Denver
No doubt one of the most popular songs on our list. You don't have to call Virginia your 'mountain mama' to relate to this song.
Misty mountains, longing, and nostalgia, empty valleys, lost love, landscapes that only exist in memories – John Denver wrote lyrics with universal appeal.
When the verses are sung in harmony or split between two different voices, these melancholic themes are suddenly more poignant . . . though the iconic chorus, undoubtedly sung loudly by everyone, brings life's joys right back to it.
5. I Walk The Line by Johnny Cash
Play the first few notes of this intro riff and this recognizable song immediately gets a group of people bobbing up and down or seemingly afoot, walking.
If your crush is sitting around the campfire and you don't know how to make a move, why not sing this love song while offering them the occasional Johnny Cash glance?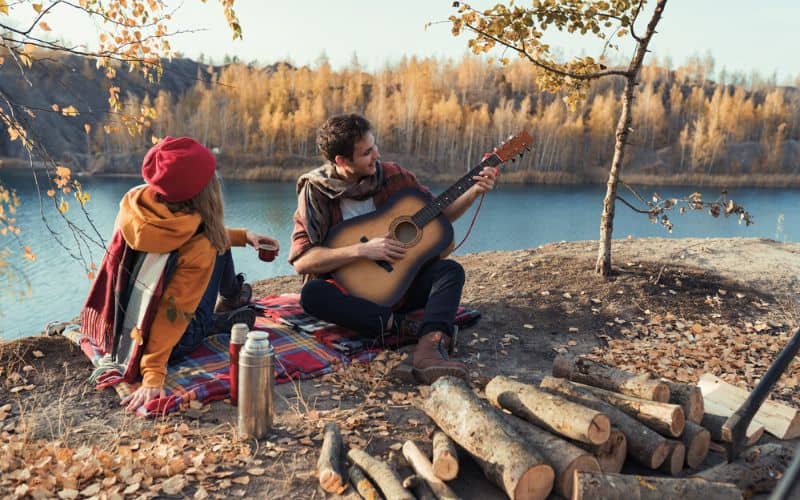 6. Brown Eyed Girl by Van Morrison
Not all campfire songs are released without public scrutiny.
Released in 1967 on Blowin' Your Mind, the Northern Irishman's tune was actually first titled 'Brown Skinned Girl', as it is about an interracial relationship. However, wanting to increase its appeal for radio, Van Morrison changed the name to 'Brown Eyed Girl', and it has since become the successful song he'd imagined . . . a timeless classic.
7. Free Fallin' by Tom Petty
'And I'm free, free fallin' – the younger generation of music lovers might recognize this song from John Mayer's iconic Live at the Nokia Theatre performance in 2008. However, 'Free Fallin' was originally written by Tom Petty and released in 1989 on Full Moon Fever.
Truth be told, though we enjoy Mayer's acoustic version, the original still stands as our favorite version – a raspy voice, strong backup vocals, upbeat drums, and a simple yet electrifying guitar riff.
If you want to be thrown deeper into the world of late '80s Americana, we recommend watching the official music video!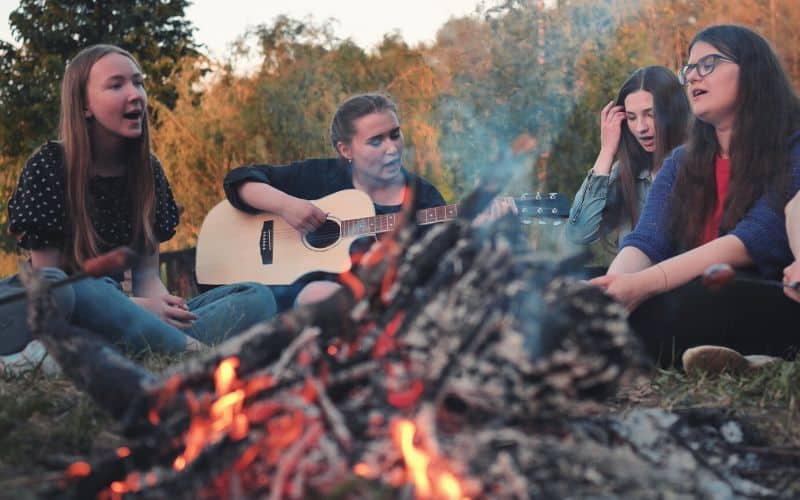 8. Redemption Song by Bob Marley
'Emancipate yourself from mental slavery, none but ourselves can free our minds.' Though 'Redemption Song''s recording was originally played by Bob Marley alone with his acoustic guitar, it has since been sung by millions around the world.
This reflective song conjures images of mythology, history, and modernity to not only portray a society entrenched by war, politics, and hunger, but also to offer hope for freedom, equality. and unity.
With an easy chord progression, it's the ideal song to bring to the campfire for beginners!
9. Like a Rolling Stone by Bob Dylan
Bob Dylan has certainly released a large array of classic songs: 'Mr Tambourine Man', 'Tangled Up in Blue', 'The Times They Are A-Changing', 'Boots of Spanish Leather' – among many, many more.
However, 'Like a Rolling Stone', released in 1965 on Highway 61 Revisited, has largely been credited as sparking a new generation – for Dylan, music lovers, and the music industry as a whole.
The song is still charged with his previous postwar political energy, his folky harmonica licks, and raspy voice; but, the instrumentation has moved to electric. The organ vertebrates in the back, the electric guitar licks noodle, and the drums move with more energy. 'Like a Rolling Stone' was the #1 song on Rolling Stone's 2004 and 2010 '500 Greatest Songs of All Time'.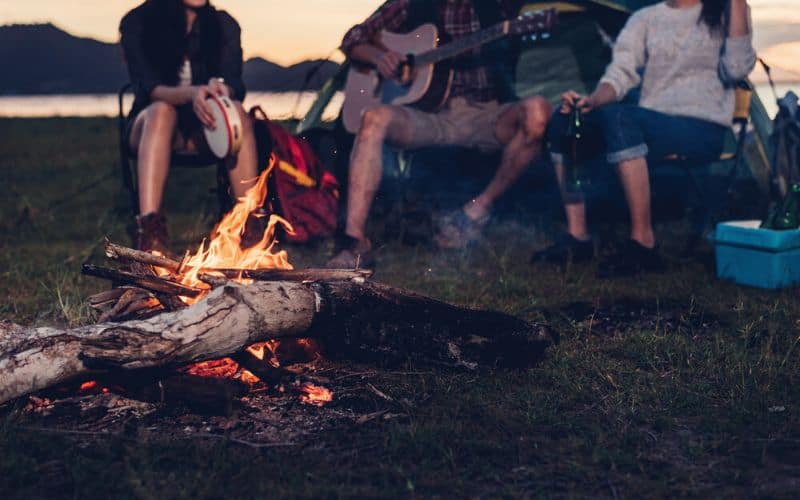 10. House of the Rising Sun by The Animals
Perhaps no other rock song beginning in A-Minor is as recognizable as 'House of the Rising Sun'. The chord progression moves through once, the snare kicks in and, soon, the organ accompanies.
Despite being about New Orleans, this iconic song has an eerie and mysterious, desert-like vibe. As the song progresses, the voice of the lead singer gets louder, raspier – more evocative.
We recommend watching the official music video, too. The juxtaposition between the band's 'Beatles-like' playing pose and the song's content is absurd, though entertaining. This is definitely one to have in your campfire songs arsenal!
11. Ob-La-Di Ob-La-Da by The Beatles
You may wonder: Why this Beatles tune? Well, it's got everything a great campfire song needs! Basic chords, an upbeat rhythm, and a sing-along chorus. What else is really needed?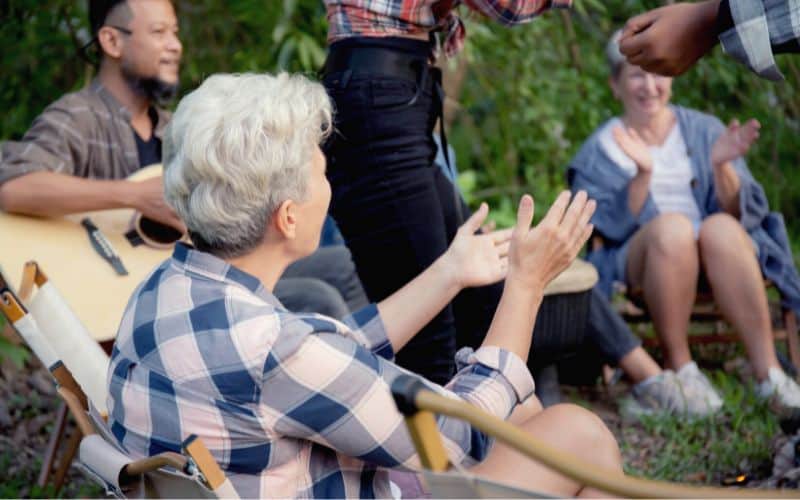 12. Chasing Cars by Snow Patrol
Released in 2006 on the band's fourth-studio album Open Eyes, Snow Patrol's 'Chasing Cars' is perhaps the purest love song on this list.
Though many might remember it from Grey's Anatomy, the majority of us remember it as a song that defined the first decade of the 2000s.
Written by lead singer Gary Lightbody, every lyric seems to evoke the universal feelings of falling in love – whether it's for the first or last time. Lying together beneath the stars, the 'three words', watching life move by, wasting time together . . . being in love is scary and confusing, but being with that special person around a campfire is one of life's most special moments.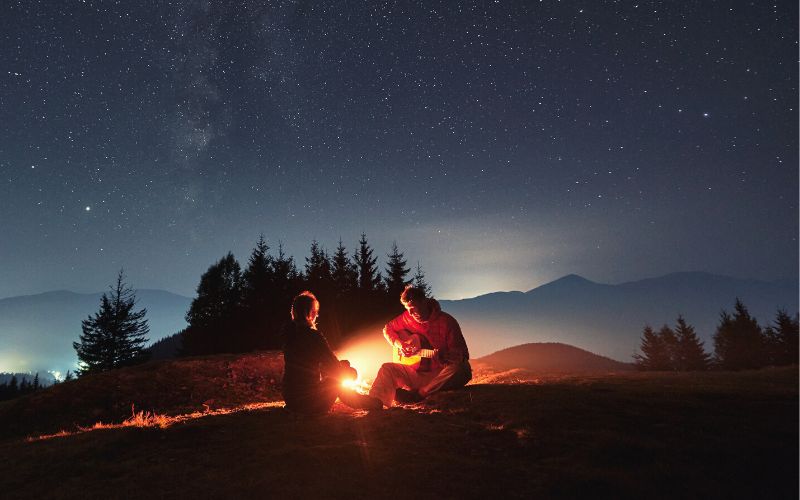 13. Down on the Corner by Creedence Clearwater Revival
A song written to get everyone up and dancing. The best part? It's got a classic riff that is easy to learn! 'Down on the Corner' was released on CCR's fourth studio album, Willy and the Poor Boys (1969).
14. Stand by Me by Ben E. King
Surrounding yourself with good company around a warm, glowing campfire is sometimes more memorable than the epic summits surmounted earlier that day.
While the song's first verse moves through a dark landscape beneath moonlight, it comes back to the focal point: people, relationships, and love.
With a poet's eye, King's lyrics raise the stakes to crumbling mountains; but, regardless of geological time, if we stand together then we'll be ok.
'Stand by Me' isn't simply a plea for company, but a testament to the ways in which relationships are dynamic – one must give to take.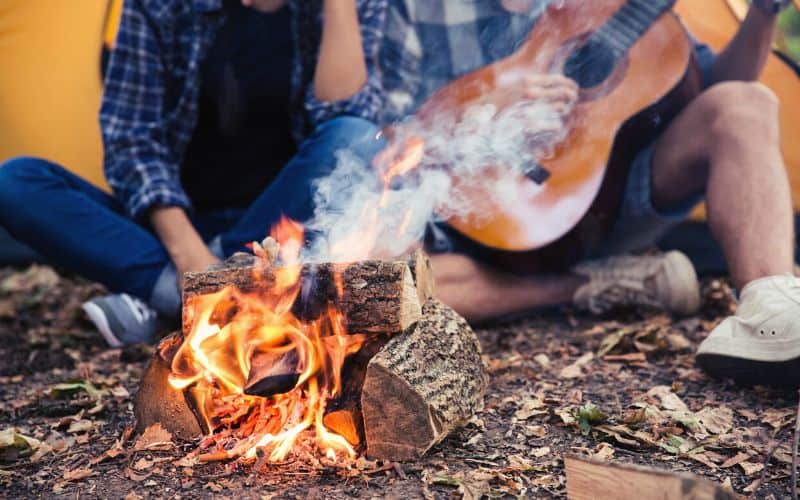 15. Sweet Caroline by Neil Diamond
If you're at a campground in the middle of summer, you're bound to hear 'Sweet Caroline' coming from more than one campsite – or, if sung late at night, every camper will come join your party!
It'll be nearly impossible to get the full brass section there, but trust us, you'll barely be able to hear the acoustic guitar beneath the famous chorus!
Ironically, this song takes on a whole new life when stripped down, for the singing from a crowd of people is far more energetic than the original, where Neil Diamond sings alone.
16. Sweet Home Alabama by Lynyrd Skynyrd
Released on their second album, Second Helping (1974), 'Sweet Home Alabama' has become an all-time American classic.
With electrifying guitar riffs, gospel-like backup vocals, and an energetic piano, it might seem hard to justify playing this song on the acoustic guitar . . . but, like many campfire tunes, it's more about merriment and singing together than it is about musical talent.
The opening guitar riff is a testpiece for any aspiring guitar player, too. So, if you learn that, tap yourself on the back and get playing!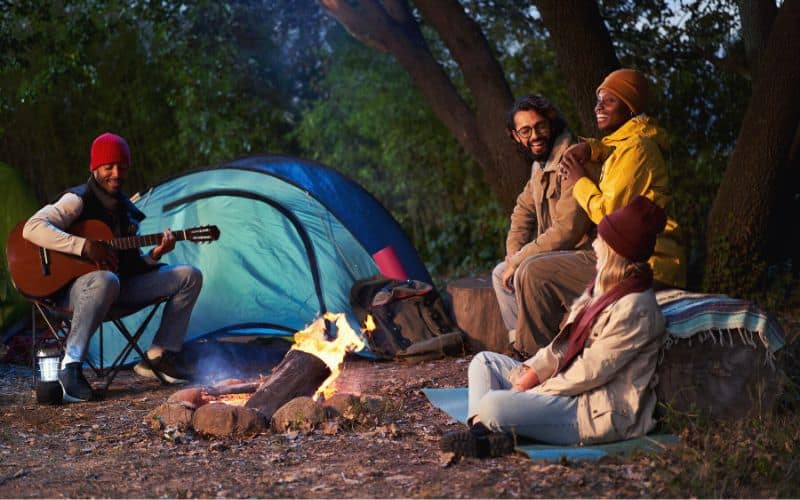 17. Upside Down by Jack Johnson
Groovy, chill, upbeat – Jack Johnson is here to spread the good vibes and encourage us to appreciate mother nature.
For those who've watched the official music video, you might recognize the animated monkey that explores the underwater sea world with him. And, for those who don't know, it's Curious George!
This song was written for Curious George, and was the first single released from the movie's soundtrack, Sing-A-Longs and Lullabies for the Film Curious George (2006).
This is a tune for beach campfires, with the waves crashing in the background, driftwood burning, and the stars above twinkling.
Johnson's music is known for its surf-like qualities, and the bongos certainly conjure images of palm trees, green mountains, and the beach.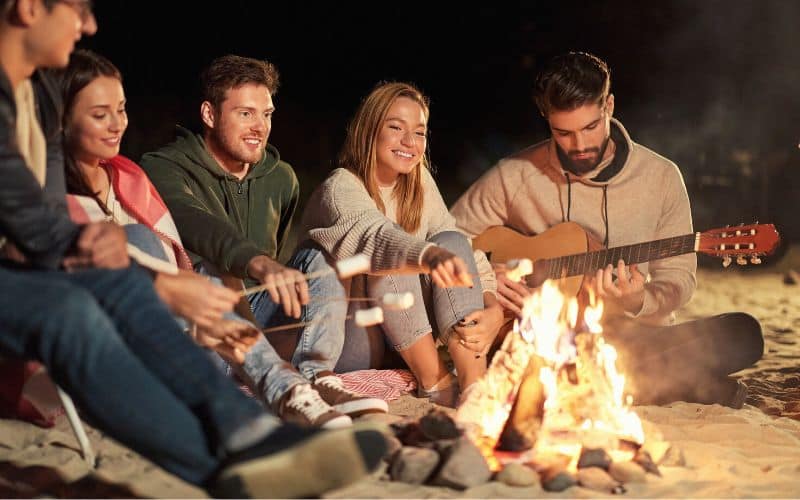 18. Hallelujah by Leonard Cohen
Cohen was a Canadian poet with a deep, sonorous voice that was instantly recognizable.
His hit song 'Hallelujah' has been covered by many artists since its original release in 1984. Willie Nelson, Bob Dylan and, most famously, Jeff Buckley, whose acoustic finger-picking rendition is the one most people learn to play.
However, though these covers are melodic and beautiful in their own right, there is a certain aura, almost church-like, as well as a vocal and instrumental pacing in Cohen's original that is unmatched.
At times, it seems like he is preaching, even speaking, rather than singing. Then, after a pause, a choir bursts forth to sing the harmonious chorus. These shifts all add up to the great immersion that the listener is privy to when listening to the great Leonard Cohen.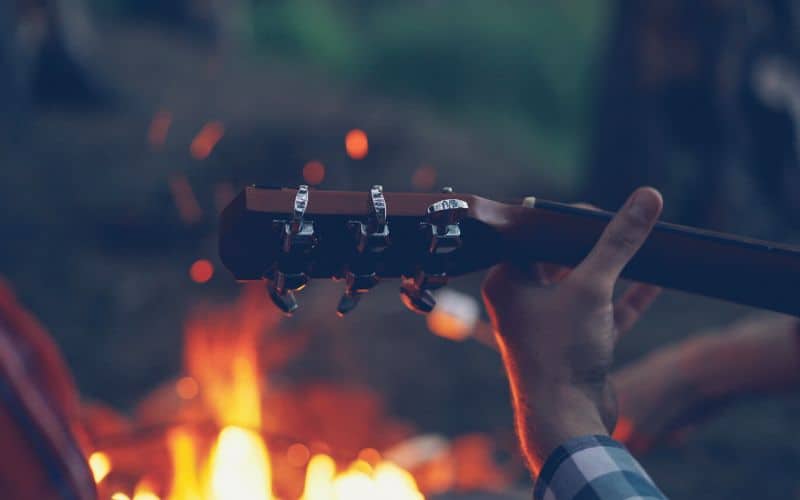 19. Mrs. Robinson by Simon & Garfunkel
This great song has a groovy riff and is one for the more advanced guitar players!
Released in 1968 as part of the soundtrack for The Graduate, this song's introduction is one you can noodle around with while waiting for people to stop chattering around the campfire. Then, when almost everyone is dialed in, you can start the 'do, do, dos', at which point everyone will join in!
20. Heart of Gold by Neil Young
Another Canadian legend. Young's music seems to rise straight from the landscapes: moonlight, prairie skies, undulating seas, forests – he's in tune with what's going on outside.
Despite being an acoustic classic, it is the harmonica in 'Heart of Gold' that distinguishes this tune from the others on this list. And the lick is not too hard to learn!
So, whether you're playing guitar, singing and playing the harmonica, or you partner up with someone else around the campfire, the combination of all three musical ingredients is key to doing this song justice (though of course, it still sounds awesome without the harp!).
21. Good Riddance (Time of Your Life) by Green Day
Many of us remember Green Day for their pop-punk music that marked the sound of an era, our youth and adolescent days. Fast power chords, attitude, and brutally honest lyrics are synonymous with the three-piece band.
However, perhaps their most famous song, 'Good Riddance (Time of Your Life)' is an acoustic classic with a string accompaniment that is still played time and time again. You'll hear it at graduations, weddings, birthdays, funerals, open-mic nights, or from a busker on the street, reminding you to stop and enjoy the day.
The first two measures of this song may well be the most recognized notes in modern acoustic music. Billie Joe Armstrong 'messes' up the first chord twice, then goes right into the song. Whether or not it was accidental is up for debate, but it's become iconic.
Best Campfire Guitar Songs: Strum the Night Away!
Campfires have always been central to human socialization. Whether you're sharing stories, telling jokes, or simply watching the flames lick the air, there will never be a bad time for the guitar to come out – even if your singing is as off-key and inharmonious as a squad of baying coyotes!
If you liked this post, feel free to share it with your friends! And drop us a line in the box below if you have any questions or comments.