What better way to end a day of camping fun than singing a few tunes around the campfire?
When the fire's roaring and the 'smores are roasting, all you need is a few members of your crew to burst into song to take your camping fun to the next level. The memorable hits on our list are so catchy they'll have both kids and adults singing, humming, or clapping along!
So if you're looking for a way to liven up your next camping trip, you'll love this list of camping greats (no great singing voice required!)
Classic Camping Hits
1. "Ring of Fire" by Johnny Cash
Nothing beats the rugged country music of Johnny Cash for a campfire sing-a-long. You'd be hard-pressed to find anyone that doesn't recognize this iconic hit from the Man in Black himself. Since "Ring of Fire's" original release, this hit has been covered across all genres, but nothing beats the original Johnny Cash acoustic version for a great campfire song.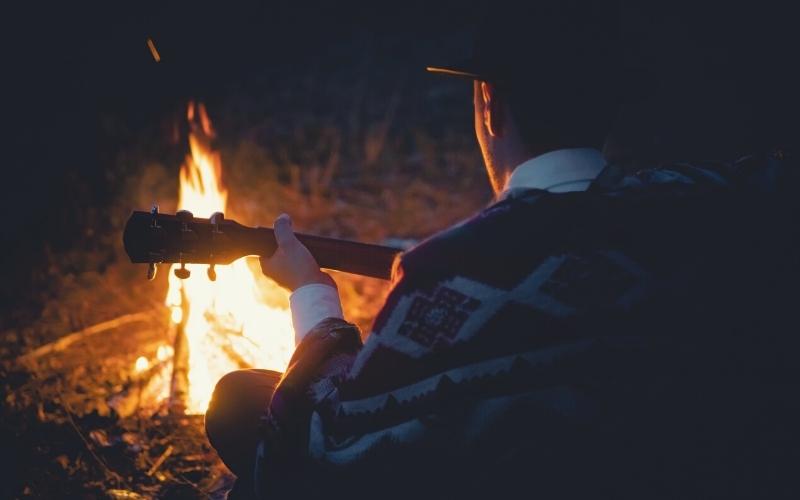 2. "Hallelujah" by Leonard Cohen
It may surprise you to know that Leonard Cohen's hit song "Hallelujah" was actually not very popular when it was first released. It wasn't until the track featured in the movie Shrek that it soared in popularity.
While "Hallelujah" might be a bit too chill and soulful for parties, it makes a great choice for some mellow singing around the campfire. The song has a very simple lyrical structure, so anyone can easily sing along. It's also one of the best guitar songs for around the campfire if you have anyone in your crew that can play the acoustic guitar.
3. Wild Mountain Thyme
Wild Mountain Thyme is an old Irish/Scottish folk song, although most people recognize the cover versions by Ed Sheeran or Bob Dylan. While it's not clear who originally composed the song, we do know the lyrics are about the beauty of the hills around Balquhidder in Scotland.
If you're hoping to sing this melodic tune during your next camping trip, try the Ed Sheeran version. It's the easiest one to sing in a group.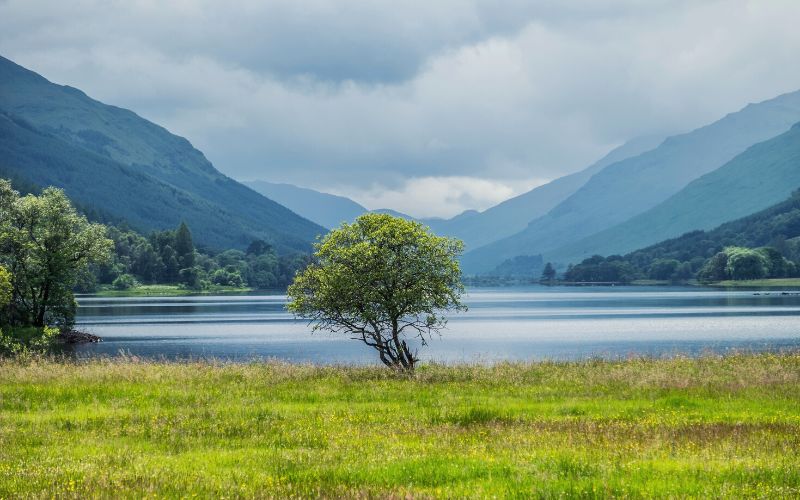 4. "Take Me Home Country Roads" by John Denver
You don't have to be from West Virginia to love this country song! Although "Take Me Home Country Roads" is a classic by John Denver, you likely heard best-selling country singer-songwriter Brandi Carlile's version during the 2022 Super Bowl.
"Take Me Home Country Roads" makes a great camp song that will resonate with anyone who grew up in a small town or loves nature. You'll also score some major nostalgia points if you're camping anywhere near the Blue Ridge Mountains!
5. "Brown Eyed Girl" by Van Morrison
Nothing gets a crowd going quite like Van Morrison's soulful love song, "Brown Eyed Girl". It was actually the track that catapulted Van Morrison into the spotlight after leaving his first band in 1967.
This catchy and whimsical tune is easy to sing and clap along to, making it the perfect song to sing around the fire.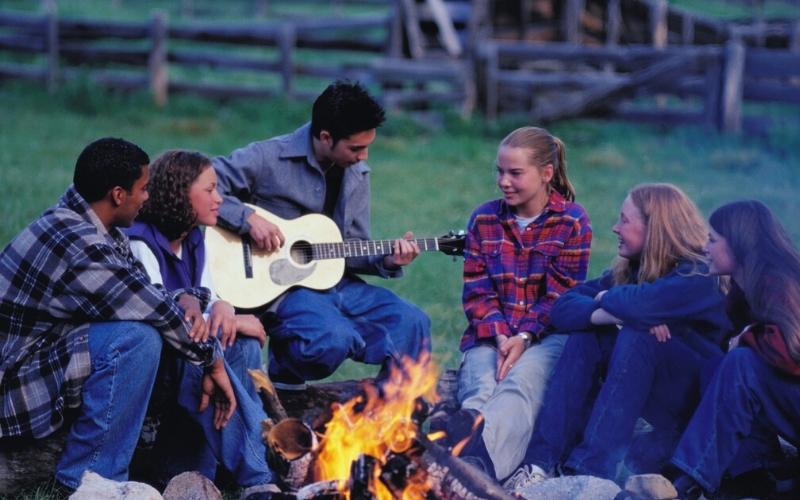 6. "Stand by Me" by Ben E. King
If you're looking to add a little blues or R&B to your camping trip, you can't go wrong with this soulful classic. It's a simple song with humble intentions. In fact, Ben E. King stated he wrote it as a love song for his partner at the time.
The lyrics are simple enough that anyone can sing or hum along and the chords aren't difficult to learn either making it one of the best guitar songs for around the campfire.
7. "Wagon Wheel" by Old Crow Medicine Show
This tune is so catchy, you can't help but hum or sing along! This is an old-timey tune that experienced a resurgence once it was covered by Darius Rucker. Although it was originally composed for the banjo, it also works well with someone playing guitar.
8. "No Rain" by Blind Melon
Another great tune to belt out during your next camping sing-a-long is "No Rain" by Blind Melon. This famous rock song was written by bass player Brad Smith and became the band's breakthrough single. Keep the rain at bay during your next camping trip with this classic and nostalgic song.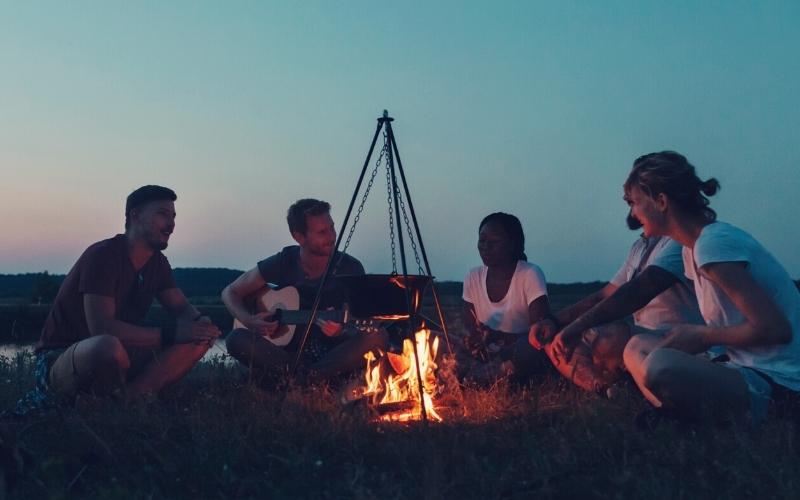 9. "American Pie" by Don McLean
What better way to start a camping sing-along than with this classic, rock-and-roll anthem? In fact, American Pie was so popular when it was first released that it was the number-one hit in the US for 4 weeks and then it went on to top the charts in several countries worldwide.
This classic song is easy to follow and will have everyone joining in once you get to its iconic "bye, bye Miss American Pie…" chorus.
10. "Sweet Caroline" by Neil Diamond
Despite being released in 1969, you'd be hard-pressed to find someone that doesn't recognize "Sweet Caroline", the Neil Diamond classic. Neil Diamond actually wrote the tune for his wife who was named Marsha, but he needed a three-syllable name to work for the lyrics. Thus "Sweet Caroline" was born and campers everywhere rejoiced.
11. "The Joker" by The Steve Miller Band
The Joker is a fun song by the Steve Miller Band that will have your whole camping crew laughing and singing along. When first released in 1974, The Joker didn't even chart in the UK. That's hard to imagine for a tune that's become so popular it's sung around campfires everywhere!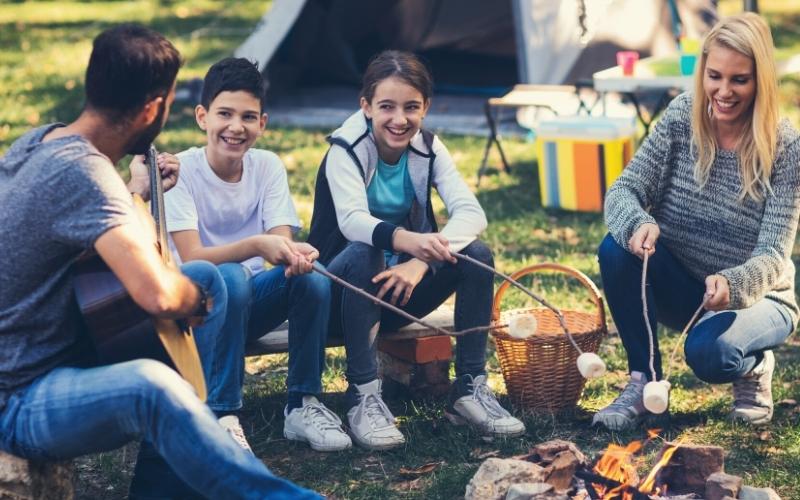 12. "Hey Jude" by The Beatles
"Hey Jude" is the Beatles' longest song and arguably their most famous. It's a happy-go-lucky tune about maintaining a positive outlook – the perfect message for those camping trips where everything seems to be going wrong! The best part is that even tone-deaf campers can get in on the fun during the "na na na na" part at the end.
13. "Sweet Home Alabama" by Lynyrd Skynyrd
It doesn't matter where you come from, when Sweet Home Alabama starts you just gotta sing along! In fact, artists from across all genres have been remaking this hit since its original release in 1936. This campfire song is the ideal country classic to enjoy with your family and friends.
14. "Sittin' on the Dock of the Bay" by Otis Redding
Few songs capture the magic of a cool summer day out on a lake or river quite like this one. Its catchy beat and repetitive lyrics make it an instant favorite for campers of all ages. Bonus points if someone manages to land that impressive whistled chorus!
15. "Free Fallin" by Tom Petty
While many people might not recognize the lyrics to this Tom Petty classic, they'll start singing along when they hear the unmistakable chorus! The song was even included in Rolling Stone's The 500 Greatest Songs of All Time. This classic rock song enjoyed a long run at the top of the charts and it makes a fun tune to sing around the ol' campfire.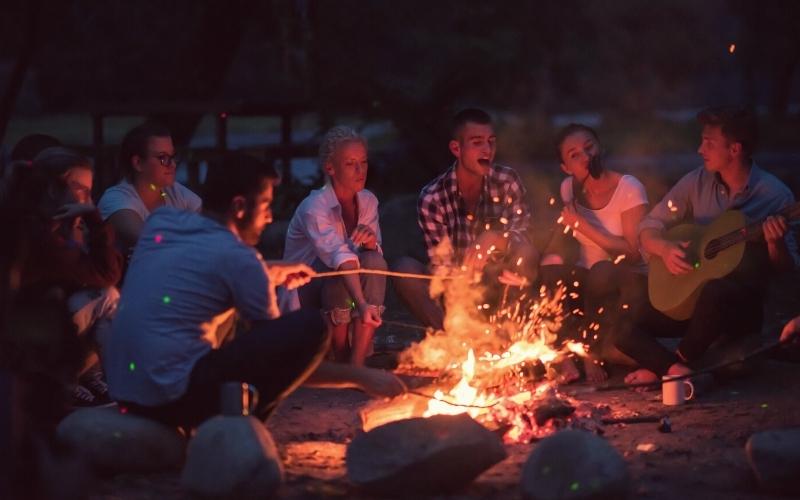 Kids Camping Songs
16. A-Camping We Will Go
This song first debuted in Barney's Campfire Sing-a-Long and it became an instant classic camp song for kids. The lyrics are repetitive and follow the tune of Farmer in the Dell, making it easy to follow for kids of all ages.
17. Home On the Range
This is a song that celebrates the simple things in life and spending time in nature – perfect for getting the littlest campers excited about spending the night under the stars! The lyrics tell the story of cowboys and pioneers from the old American west.
Even Franklin D. Roosevelt claimed it was his favorite song, so you'll be in good company jamming out to this tune around your next campfire!
18. She'll Be Coming Round the Mountain
She'll Be Comin' Round the Mountain is a fun campfire song with easy, repetitive lyrics so that everyone can join in. Despite being popular to this day, the earliest known recording is actually from the 1920s.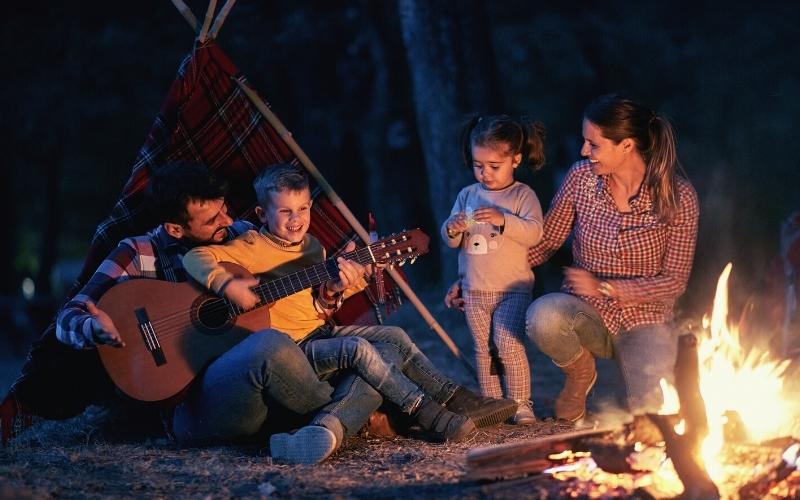 19. Ain't No Bugs on Me
Every camper, big or small, knows all about battling bugs in the great outdoors. Blow off some steam from all those mosquito bites with this fun tribute to one of the peskiest parts of the camping experience.
20. Kookaburra
Kookaburra is a fun and silly song, giving you the opportunity to share a laugh with your kids around camp. It's actually an Australian song about a native Australian bird, which provides the perfect opportunity to teach young campers about different animals and their native habitats.
21. The Green Grass Grew All Around
This fun and repetitive jingle is allegedly based on an Appalachian folk song. It's an example of a "cumulative song" where the first verse is short and words are added during each round to make the song longer and longer. It's a fun song for kids that will remind them to keep their eyes open to all the wonderful wildlife around them.
22. The Banana Boat Song
The Banana Boat Song is a traditional Jamaican folk song. Despite often being considered a children's song, the Banana Boat Song has a fascinating history as a call-and-response work song sung from the point of view of dock workers working the night shift loading bananas onto ships.
Of course, kids can skip the history lesson and just enjoy this campfire song for what it is – an irresistibly catchy song with fun and repetitive lyrics.
23. We're Going on a Bear Hunt
This was once a popular song that circulated around American summer camps in the 70s. While it might be a bit spooky for the youngest campers, it's the perfect song to start a conversation with your kids about bear safety while camping. Take the camping fun to the next level by acting out every verse of the song.
24. John Jacob Jingleheimer Schmidt
Your kids will get a real kick out of this fun and repetitive song! It is a traditional children's song that first gained popularity amongst scout troop gatherings in the 1920s and 1930s. This one is especially fun to sing in a round since the tempo and volume vary throughout the whole song.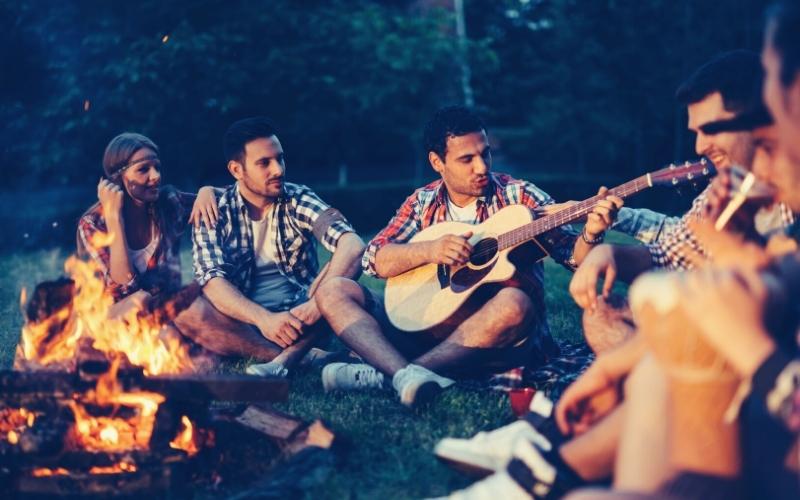 25. Camp Granada (Hello Muddah, Hello Faddah)
Camp Granada is a 1960s Grammy-award-winning song written from the point of view of a young boy heading to summer camp. While the singer has a lousy time during his summer camp experience, the song is filled with funny words and rhymes that kids will enjoy.
Best Campfire Songs: Happy Camping!
One of the best parts of any camping trip is building a fire, roasting marshmallows, and singing some tunes with your family and friends. We hope our guide to the 25 best campfire songs inspires you to start your own campfire sing-song!
If we missed any of your favorites, be sure to tell us in the comments below and don't forget to share this article with your camping pals!