When the temperatures drop, there's no substitute for a pair of puffy pants. Designed to shield you from the cold weather, insulated hiking pants can turn a frigid night in the backcountry into a comfortable camping experience.
Despite this, finding the perfect pair of puffy trousers isn't always as simple as it might seem.
In this article, we'll introduce you to 10 of the top options on the market and offer some tips for selecting the right model for your needs. That way, you can spend less time researching your gear and more time in the great outdoors.
Editor's Choice
Feathered Friends Helios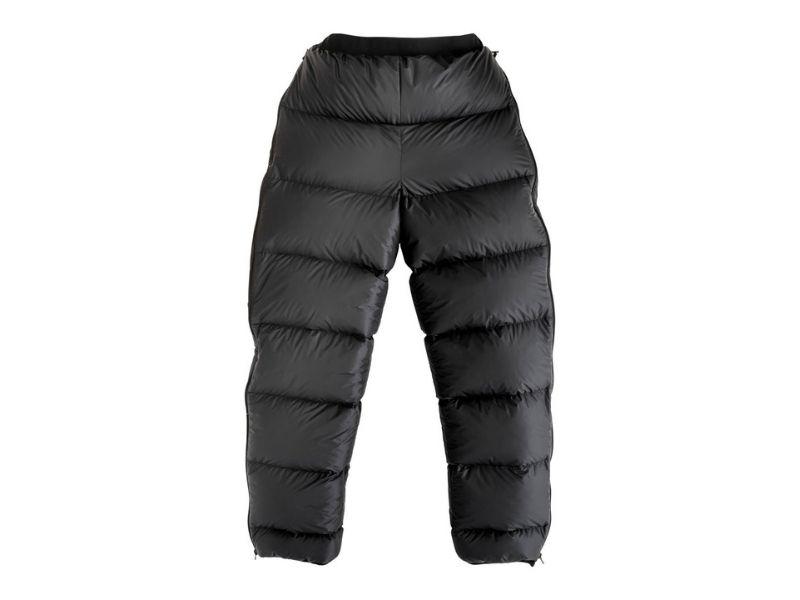 Out of all the down-insulated pants on the market, one model stood out among the rest: the Feathered Friends Helios.
These trousers use high-end 900+ fill power down to keep you insulated from wintry temps. They also boast a Pertex Endurance LT shell for durability without adding heft to your pack. Furthermore, they are crafted in the USA so you can feel confident in what you buy.
The Helios are far from the most affordable option out there and they don't have DWR-treated down. Despite this, they are a reliable all-around choice for any outdoor adventure.
Bottom Line: They might be pricey, but it's hard to argue with the quality of the Feathered Friends Helios puffy trousers.
Our Favorite Puffy Pants: Quick Recommendations
The 10 Top Down-Insulated Pants
Feathered Friends Helios (Unisex)
Editor's Choice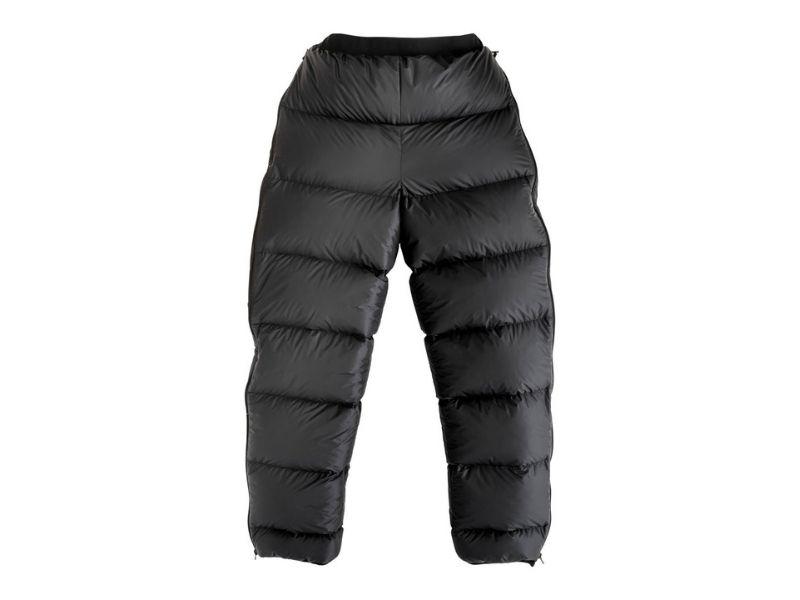 For all-around performance in frigid temps and snowy conditions, you shouldn't leave home without the Feathered Friends Helios.
These super high-quality trousers are made with top-of-the-line 900+ fill goose down. They also boast a water-resistant Pertex Endurance LT shell fabric for increased warmth around your campsite.
Furthermore, the Helios comes with a set of full-length side zippers and expandable ankle cuffs. That way, it's easier to put them on and take them off, even while wearing hiking boots. The Helios are also hand-sewn in the USA at Feathered Friends' Seattle factory.
At 13 oz., the Helios are heavier than ultralight models like the MH Ghost Whisperer and Patagonia Nano Puff. However, they offer significantly more warmth than either of these competitors and also have a more rugged, hard-wearing shell.
Premium mens down pants like this, however, don't come cheap. Additionally, the Helios doesn't have DWR-treated insulation, which could be a problem in wet locales. Despite all of this, it's Helios' all-around performance makes them great value for money.
PROs

Full-length side zippers for convenience
900+ fill power
Made in the USA
Relatively lightweight (13 oz.)

CONs

High price point
Not DWR treated
Bottom-Line: A pricey but high-performing, well-thought-out pant that excels in very cool, dry conditions.
Mountain Hardwear Ghost Whisperer (Men's & Women's)
Best Ultralight
Crafted specifically for ultralight campers, the MHGW is the ideal choice for winter outdoor adventures.
Tipping the scales at 9.6 oz. (272g), the Ghost Whisperer is the lightest pair of puffy trousers on the market. At the same time, these trousers are packed full of RDS-certified 800 fill goose down. They also have a low-profile quilt pattern for enhanced warmth around camp.
To achieve this ultralight performance, the company crafted these trousers using a 100% recycled nylon shell fabric. This fabric is also bluesign-approved, which means that this pair of pants is eco-friendly.
Super lightweight puffy trousers like this do pose a bit of a durability concern, though. So, some care is needed to ensure that you don't damage them while on the move. But, if weight savings are a concern, these are a fantastic choice.
PROs

RDS-certified 800 fill power goose down
Ultralight construction
Low-profile quilt pattern eliminates cold spots

CONs

Some durability concerns with thin fabric
Bottom-Line: If keeping the total weight of your pack to a minimum is as much a priority as warmth, it's hard to beat the Ghost Whisperer.
Patagonia Nano Puff Pant
Best for Shoulder Season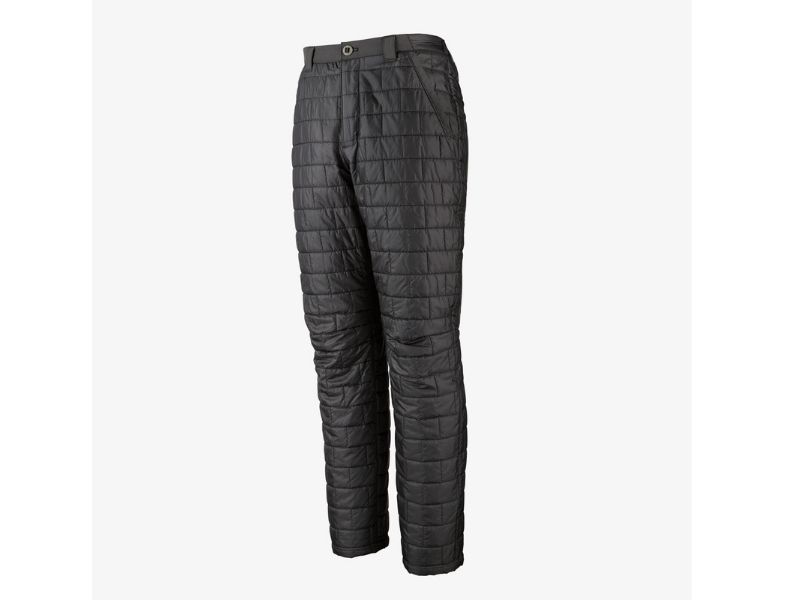 When not-so-nice weather threatens your adventures, the Patagonia Nano Puff Pant might just be what you need.
Although these aren't technically down (they have synthetic fill), the Nano Puff offer superb down-like performance. In fact, they're built with DWR-treated 60g PrimaLoft Gold Eco insulation, which is both environmentally friendly and exceptionally warm.
As a result, the Nano Puff are capable of keeping you warm, even when camping in wet conditions. In addition to being water-repellent, these trousers are bluesign-approved and Fair Trade Certified sewn. That means that they're among the most eco-friendly synthetic trousers available.
The downside to using a pair of synthetic trousers like this is that they aren't as packable as those made from goose down, like the FF Helios or MH Ghost Whisperer. However, they're still surprisingly lightweight (11.7oz/332g) and a solid option for a range of wintertime adventures.
PROs

Synthetic insulation provides warmth even when wet
DWR-treated
Eco-friendly PrimaLoft insulation and materials

CONs

Not made from down
Slightly less packable than down
Bottom-Line: They might not be down, but if you want lightweight insulated trousers for wet conditions, the Patagonia Nano Puff Pant are a must-have.
Western Mountaineering Flight Pants (Men's)
Best for Frigid Temps
If you're expecting extremely cold temps on your next adventure, you need a set of puffy trousers that's warm enough for the conditions. Enter: the WM Flight Pants.
Your go-to option for truly frigid temps, the Flight are made with 850-fill power goose down for sleeping-bag-like performance. They even boast a 20D polyester WindStopper shell for a mix of durability and weight savings. While using a little less down than the FF Helios, this wind-resistant shell makes the two near equals in terms of warmth.
We also like that the Flight comes with a DWR finish to help shed water in damp environments. Furthermore, these trousers have full-length zippers, elastic ankle cuffs, and an adjustable waist belt for added convenience.
These are, however, one of the most expensive options available and don't have pockets. Even so, they are still a good option when staying warm is the chief concern.
PROs

850 fill power goose down insulation
Highly durable 20D polyester WindStopper shell
Full-length side zippers for easy on/off
Lightweight (12.5 oz.)

CONs

High price point
No pockets
Bottom-Line: Super-frigid temperatures are no match for the super-cozy Western Mountaineering Flight Pants.
Sitka Gear Kelvin Lite Down 3/4 Packable Hunting Pants (Unisex)
Best for Hunting
Designed for the sportsmen and women among us, the Sitka Gear Men's Kelvin Lite 3/4 Packable Hunting Pants are a solid option for winter expeditions.
The Kelvin Lite are filled with a unique form of insulation – the 900-fill Primaloft Gold down blend. This material mixes 900 fill down with synthetic insulation to give you weight savings and performance in damp locales.
Additionally, the Kelvin Lite are made with Gore OPTIFADE technology, which is considered one of the best camouflage patterns in the world. They also have a unique 3/4 length construction, which is ideal for use with bulky waterproof boots.
The drawback to the Kelvin Lite is that they aren't very light or packable. However, if staying cozy in the cold and concealed from your target is the main concern, the Kelvin Lite are winners!
PROs

Blend of synthetic and down insulation
Gore OPTIFADE camouflage pattern
3/4 length construction for use with winter boots

CONs
Bottom-Line: The Kelvin Lite's ¾-length design, camouflage pattern, and beefy down-synthetic insulation makes them the ideal pick for cold-weather hunting trips.
Mountain Hardwear Compressor Pants (Men's)
Best for Wet Conditions
Expecting wet conditions on your next winter adventure? The MH Compressor Pant is here to help.
Although these trousers aren't made with down fill (they're synthetic), they offer fantastic down-like qualities. In fact, they're built with Thermal.Q Elite 80 g/m2 insulation that's cozy, even when wet.
This Thermal.Q synthetic insulation is designed to mimic the natural structure of down. Unlike down, however, it can still help keep you toasty when soaked, making it a solid option for damp environments.
Like most synthetic insulated trousers, though, the Compressor Pant is a bit bulky. It also has a very slim fit, which can make it difficult to layer over your other trousers. Regardless, its performance in wet environments is second to none.
PROs

Thermal.Q synthetic insulation for warmth
Side zippers for easy on/off
Great at insulating in wet environments

CONs

Fairly heavy and bulky
Slim fit can make it difficult to layer
Bottom-Line: If you're okay with a bit of extra weight in your pack, the Compressor Pant is one of the best puffy trousers around.
Naturehike Goose Down Pants (Unisex)
Best for Comfort
Comfort-focused to the core, the Naturehike pants are a great option for lounging on chilly nights around the campsite.
These trousers are made with 700-fill goose down, which offers a mix of affordability and packability. They also have a 20D nylon shell for durability while you're adventuring outside.
Furthermore, Naturehike built these down-insulated pants with a set of full-length zippers on each side so you can put them on and take them off without removing your shoes. They also have an adjustable waist and plenty of pockets for added convenience.
However, we ought to point out that these down-insulated pants are the heaviest option on our list (17.6oz), weighing twice as much as the MH Ghost Whisperer. As such, they're ideal for car-camping adventures where weight savings aren't as much of a concern.
PROs

Comfort-focused design
Side zips make them easy to get in and out of
Adjustable waist belt for comfort

CONs

Heavy weight for down-insulated pants
Not RDS-certified down
Bottom-Line: For folks that prioritize comfort above all else, the Naturehike Goose Down Pants are a great option for lounging around the campground.
Tapasimme Ultralight Down Pants (Unisex)
Best Value
Searching for a pair of down pants on a budget doesn't have to be an impossible task. With the Tapasimme Ultralight, you can be cozy during the winter without breaking the bank.
These trousers from Tapasimme are made from plush down fill insulation for extra warmth in cool conditions. They also use durable, waterproof nylon fabric to block out water when trekking through the snow.
Additionally, these puffy trousers come with 3 pockets for quick gear storage on the go. As an added bonus, they pack down to about the size of a soda can, making them easy to tuck into your pack when you head for the hills.
These pants aren't made with RDS-certified down, which could be a concern for some campers. They also don't have zippered sides, which can make getting in and out of them a challenge. That being said, if keeping your trouser price at a minimum is important, this model is hard to top.
PROs

Affordable price point
Waterproof nylon fabric
Plenty of pockets

CONs

Not RDS-certified down
No zippers on the side for easy on/off
Bottom-Line: A lightweight, highly packable, and affordable choice for any wintertime expedition.
Jack Wolfskin Atmosphere (Men's)
Best for Eco-Friendliness
Outdoor adventure and environmental-friendliness shouldn't be at odds. With the Jack Wolfskin Atmosphere Pants, you get a set of eco-friendly puffy trousers that can shield you from the elements without hurting the environment.
These trousers are crafted from RDS-certified 700 fill power down to ensure that they're made from only ethically sourced materials. Plus, the Atmosphere feature a ripstop shell that's bluesign-approved for eco-friendliness.
However, the Atmosphere's features don't stop there. They also have articulated knees for improved range of motion and added synthetic fill in high-wear areas. Furthermore, they come with their own carry bag for easy transport.
Nevertheless, these trousers' lack of zippered sides and pockets is a bummer. But, they are relatively lightweight, so they're a nice option for a range of outdoor activities.
PROs

Bluesign-approved eco-friendly materials
Articulated knees for freedom of movement
Carry bag included

CONs

No pockets
Doesn't have zippered sides
Bottom-Line: If you want a pair of down pants that align with your values, the Jack Wolfskin Atmosphere is a nice choice.
Flygo Packable Compression Down Pants (Women's)
With the Flygo Women's Packable Compression Pants, bulky puffy trousers are a thing of the past.
These trousers feature a women's-specific slim fit for added comfort in the mountains. They have a full nylon shell for durability in rugged terrain as well as plenty of pockets for convenience on the go.
As far as insulation goes, these trousers boast duck down, which is affordable, yet functional if you want to stay insulated from your surroundings. Plus, this insulation is relatively low-volume, so it's capable of keeping you toasty and cozy without feeling overly bulky.
It is worth mentioning, however, that these trousers from Flygo are a bit heavy for down-insulated pants – at 17 oz., they're the second heaviest on our list after the Naturehike. As such, they're best used in car camping situations where weight isn't much of a concern.
PROs

Slim women's fit
Lots of pockets
Highly durable fabric

CONs

Run small – buy a size up to get a good fit
Bottom-Line: These form-fitting, down-insulated pants are a solid option for anyone not endeared by the "Michelin Man" look and feel of other puffy trousers. 
The Best Down Pants: What To Look For
Finding the best down pants is essential if you want to stay warm in wintry conditions. Here are some important things to look out for as you shop for your next pair of down pants.
Warmth
Warmth in down-insulated pants depends on the quality of the fill itself. We can assess the quality of down using two useful metrics:
Fill Power – The fill power refers to the volume of 1oz of down fill. How this is measured is a bit complicated, but the moral of the story is that higher fill numbers equal higher quality down. So, 800-fill down will have better insulating qualities than 750 fill. But, as you can imagine, higher fill power down costs more.
Down Fill Weight – The fill weight refers to how much down is actually used in trousers, sleeping bags, or a jacket. A higher fill weight indicates that more insulation is used in that piece of gear. That means that down-insulated pants with 3.5 oz of fill will generally be warmer than those with 2.5 oz of fill.
The warmest options in our review are the Feathered Friends Helios and WM Flight, which use 4.4 oz of 900+ fill and 4 oz. of 850-fill down respectively. Those with the lightest insulation are the Tapasimme Unisex.
Fabric
While we often focus on the insulation in our trousers, their outer fabric layer is just as important. There are two key things to look out for when assessing the quality of trouser fabric:
Denier Rating & Durability – The denier of a fabric refers to the thickness of the fibers in that layer. Trousers with higher-denier fabrics are more durable, though they are usually heavier and bulkier.
Water-Resistance – Since down doesn't provide any insulating value when wet, trousers with water-resistant fabrics or which use a durable water repellent (DWR) treatment are the best option for wet conditions.
The toughest pants in our review are the Jack Wolfskin Atmosphere, which use a ripstop shell for added durability. These, along with the Tapasimme Unisex, WM Flight, Patagonia Nano Puff and FF Helios use DWR treatments for superior wet-weather protection.
The Sitka Kelvin Lite and Mountain Hardwear Compressor use synthetic insulation that's designed to keep you warm even when it's wet.
Weight & Packed Size
The weight and packed size of your gear are always important and puffy trousers are no exception.
As a general rule, you can expect puffy trousers to weigh between 9 oz. and 17 oz. However, these numbers do vary.
The weight of your puffy trousers will depend both on the thickness of the fabric and on the quality of the down. Higher quality down and thinner fabrics will weigh less, but this usually comes with either an increase in cost or a decrease in durability.
The lightest pants in our review are the Mountain Hardwear Ghost Whisperer (9.6 oz.) and the heaviest are the Naturehike pants, which weigh 17.6 oz.
Ethics & Sustainability
Since down insulation is sourced from geese and ducks, many campers have concerns about the ethical implications of their gear.
Thankfully, many manufacturers of down trousers and jackets now offer RDS-certified down. RDS, or "responsible down standard" is a certification for down sourced from animals that aren't subjected to unnecessary harm.
This means that RDS-certified down is never from birds that are live-plucked to ensure animal welfare in the supply chain. So, if this is something that's important to you, it's worth searching out puffy trousers that use RDS-certified fill.
Of the down-insulated models above use RDS-certified down with the exception of the Tapasimme Unisex and Naturehike.