If there's a universal truth out there in the hammocking world, it's this: Bugs ain't fun.
From buzzing mosquitoes to biting midges, insects are one aspect of outdoor adventure that's best avoided. When you're hammocking in particular, the bugs can be heinous, so it's imperative that you come prepared.
Keeping the creepie crawlies at bay can be a challenge, but with a quality hammock mosquito net in tow, you'll be ensuring you can get a good, itch-free night's sleep.
Selecting the perfect bug net for your hammocking adventures isn't always straight-forward, so we created this guide to get you off on the right foot. Up next, we'll give you details on the 7 best options on the market to help you enjoy your next expedition.
Editor's Choice
Kammok Dragonfly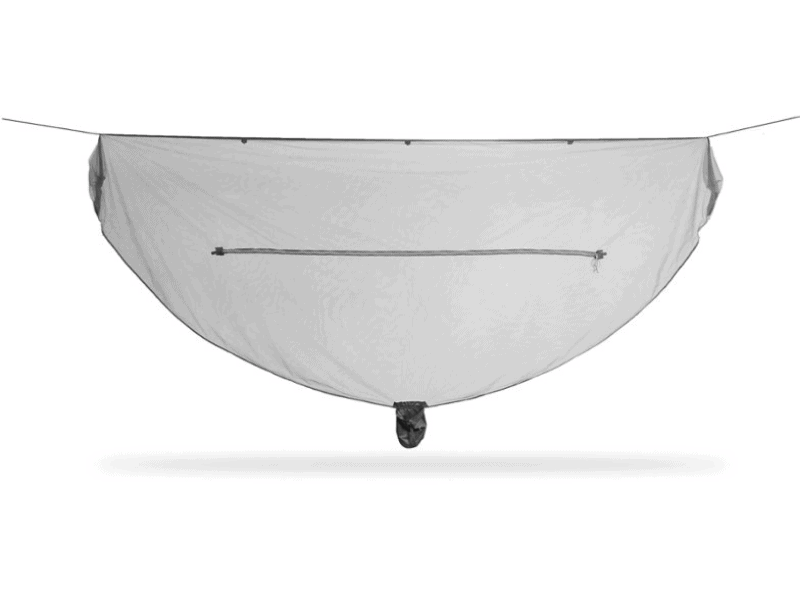 Purpose-built to keep the mosquitos and no-see-ums at bay while you snooze, the Kammok Dragonfly is our top choice for all hammocking expeditions.
Engineered out of high-end Dragonet mesh, the Dragonfly creates a 360-degree shield between you and the creepie crawlies. It also has a fast-pitch knotless design so you can maximize your relaxation time while in camp.
As an added benefit, Kammok also designed the Dragonfly to be lightweight to ensure that you can bring it on all your adventures.
Standout models like the Kammok Dragonfly, alas, don't come cheap. But when it comes to quality and functionality, this net is a top choice.
Bottom line: It might be a bit pricey, but the Kammok Dragonfly is an all-around awesome mosquito net that you should never leave home without.
RELATED: Best Hammocks for Backpacking
The Top Hammock Bug Net: What To Look For
If you don't already have a camping hammock with mosquito netting, then a separate bug net is a must-have. However, while many folks think of hammock bug nets as simple pieces of gear, there's actually quite a lot that goes into protecting you from annoying insects.
Coming up, we'll discuss everything you need to know to craft the perfect mosquito net hammock system. Here are some of the most important things to keep in mind as you shop:
Mesh Type
Fun fact: not all mesh nets are created equal. In fact, there are many different types of mesh out there and only some of them are appropriate for your hammocking trips.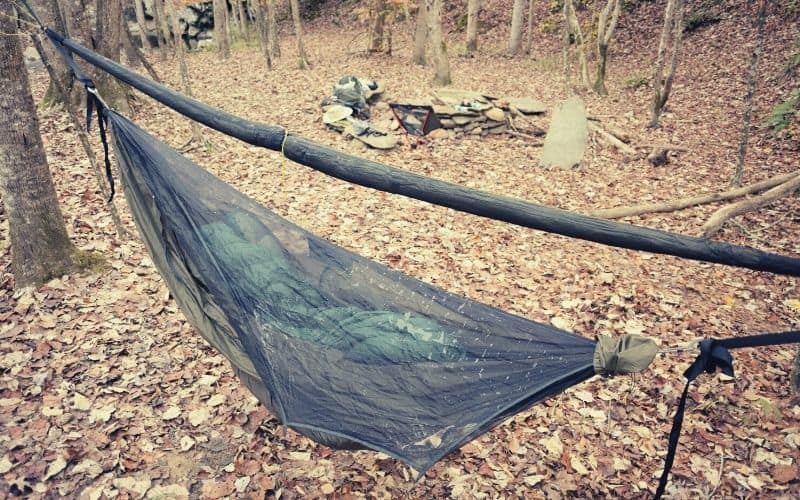 These are the two primary types you'll find in the wide world of hammocking gear:
Mosquito Mesh: As the name suggests, mosquito mesh is designed to protect you from, well, mosquitos. It generally has about 200 holes per square inch, which is just small enough to stop your average mosquito from sneaking through. While this type of netting isn't going to stop midges in their tracks, it's a highly breathable and affordable option that will serve the needs of most campers adequately.
No-See-Um Mesh: By and large the best choice for hammocking, no-see-um netting is specifically crafted to protect you from a wide range of insects. No-see-um netting has a much tighter weave than a mosquito net, using at least 500 holes per square inch. As a result, it's one of the best choices for hammocking in midge-prone locations.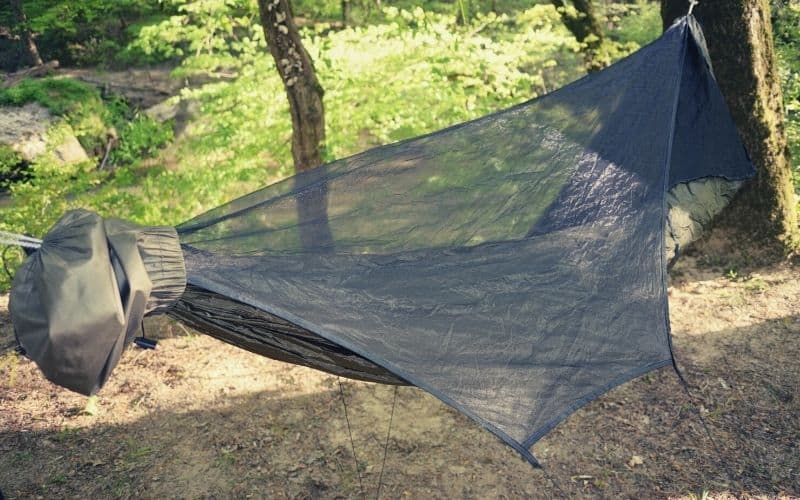 Net Style
Once you figure out what type of mesh you want in your net, it's time to determine the net style that works best for your needs. In general, there are 3 main types of bug nets to consider:
Bug Sock: The simplest option available, bug sock nets are lightweight shields against annoying insects. These nets simply slide over your sleeping area, encapsulating it like, you guessed it, a sock. The downside is that they're a bit annoying to get in and out of as you have to disassemble the netting when you need to use the John at night.
Zippered: Aptly named, zippered nets provide just as much protection as sock-style models but use a large zipper for easy entry. Although they're a bit heavier than their sock-style cousins, zippered models strike a good balance between convenience and functionality.
Tent: Finally, tent-style nets, like the Eagles Nest Guardian Base Camp, are designed to fully enclose your sleeping area. They're usually pitched from your ridgeline and come with a floor to provide full protection from bugs for added comfort. The drawback is that they tend to be quite heavy and bulky, so they're not ideal for backpacking.
RELATED: Best Hammock Underquilt
Pitched Size
If you don't already have a hammock with mosquito net protection built-in, you'll need to make sure that whatever net you purchase will fit your hammock's dimensions.
These days, most bug nets are suitable for the majority of hammocks. However, folks with double hammocks will want to pay particular attention to the specs of any model that they buy.
As a general rule, you should look for a net that is at least a foot or so longer than your hammock. That way, you can ensure that you don't run into any problems while pitching camp.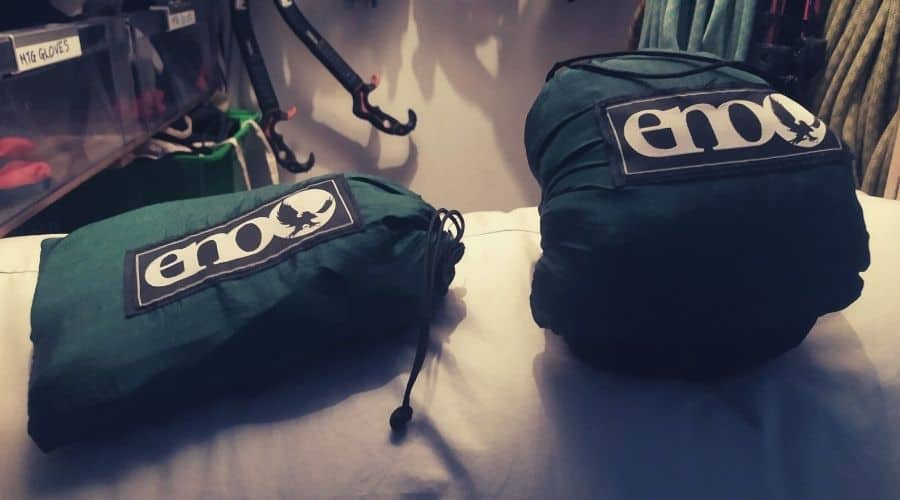 Weight & Packed Size
Since hammockers tend to be inclined toward lightweight backpacking, it should come as no surprise that weight savings are a priority with bug nets.
The good news is that the majority of nets on the market are quite lightweight. Indeed, most models weigh between 7oz and 16oz, which is perfect for the majority of hammocking adventures.
Of course, you'll find the occasional model that's fairly heavy and bulky. These mosquito nets, however, are usually tent-style models that prioritize comfort above all else.
Best Hammock Bug Net Reviews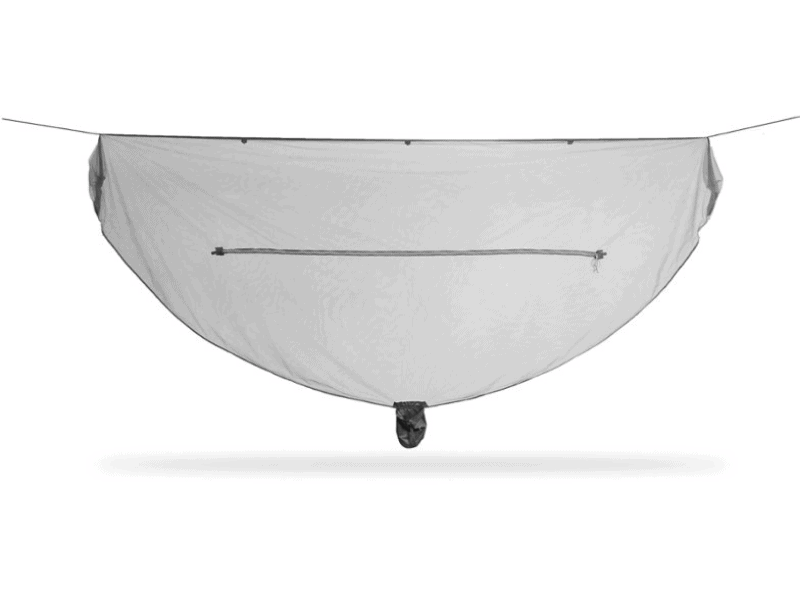 Kammok Dragonfly
Editor's Choice
Bringing home the gold in our head-to-head round-up, the Kammok Dragonfly is our choice for the best bug net for hammock camping.
Offering an excellent mix of weight savings and packability, the Dragonfly weighs only 9.8oz and packs down to 4.5"x7.5". At the same time, it's large enough to accommodate hammocks up to 10' long, making it a superb all-around choice for outdoor adventure.
Kammock designed this bugnet for hammock adventures using their proprietary 15D Dragonet no-see-um polyester mesh. This netting provides 360-degree protection without compromising breathability.
Meanwhile, the Dragonfly is built with an easy-to-use zipper so you can quickly get in and out of your sleeping area at night. Furthermore, this model boasts an easy-to-set-up knotless system for fast pitching. It even has a set of integrated gear loops and its own water-resistant storage sack for added convenience on the trail and come bedtime.
Of course, a fully-featured model like the Dragonfly doesn't come cheap. So, it's not exactly the most budget-friendly option available. But, if you're okay with a higher sticker price, the Kammok Dragonfly is hard to beat.
PROs

Simplified knotless pitching system
Highly breathable polyester mesh netting
Integrated gear loops for storage
Includes a water-resistant storage bag
Lightweight and packable

CONs

Pricey for a mosquito net
Bottom-Line: A solid all-around choice, the Kammok Dragonfly offers optimal mosquito netting for hammock adventures in any environment.
Eagles Nest Outfitters Guardian Base Camp
Best for Car Camping
If car camping is more your style, the ENO Guardian Base Camp might be what you need. The only tent-style model on our list, the Guardian bug net offers exceptional comfort and 360-degree protection from biting insects.
It can be pitched off of a ridgeline above pretty much any hammock, allowing you to maximize your critter-free space. Plus, the Guardian bug net is made with super-fine no-see-um mesh to keep you safe from all insects. It also comes with a full-length zippered entry for easy access
The netting itself then connects to a waterproof, adjustable floor that keeps your gear dry during a storm. This floor is also an ideal bug-free place for your pup to sleep if they enjoy tagging along on your hammocking expeditions.
As an added bonus, this model comes with its own ridgeline and carry bag. Therefore, it's an ideal all-in-one system for roadside outings.
And the downsides? Well, the Guardian Base Camp is quite heavy and bulky at 2lbs 12oz. This makes this net best for use during car-based hammocking trips where weight and portability aren't your chief concerns.
PROs

Very spacious
Has waterproof floor
Large zippered opening for easy access
Includes a ridgeline and carry bag
Creates a bug-proof space for you and your pup

CONs
Bottom-Line: For situations where weight savings aren't a priority, the heavy-duty and comfortable Eagles Nest Outfitters Guardian Base Camp is a solid choice.
Outdoor Vitals Ultralight Hammock Bug Net
Best for Ultralight Backpacking
When keeping your pack weight at an absolute minimum is your top concern, the Outdoor Vitals Ultralight Bug Net is a fantastic choice.
Tipping the scales at just 7.6 oz, this sock–style mosquito net for hammock adventures is one lightweight piece of gear. It's also built with high-quality 20D polyester mesh that blocks out flies and mosquitoes while you snooze.
At the same time, this model from Outdoor Vitals has DWR-treated parachute nylon fabric panels on the underside and on either end of your hammock. As a result, it makes it easy to stay dry in foul weather and it traps in extra heat on chilly evenings.
Furthermore, Outdoor Vitals crafted this net to be easy to set up. It's compatible with all camping hammocks as it includes a mini ridgeline that you can attach to your tree straps. When it's time to hit the hay, you can simply cinch down the cords on each end of the mesh. That way, you can get 360-degree protection from all the creepie crawlies.
However, one area where this model from Outdoor Vitals doesn't quite impress is in how tricky it is to enter and exit your hammock. Since this is a sock-style hammock bug net, you have to completely remove it each time you want to answer nature's call at night. Nevertheless, for lightweight treks, it's hard to top.
PROs

Very lightweight and portable
Includes a mini ridgeline
DWR-treated fabric for weather protection
Easy to pitch design
Complete protection from insects

CONs

Tricky to get in and out of your camping hammock
Bottom-Line: With its emphasis on cutting weight, the Outdoor Vitals Ultralight is one of the best hammock bug nets for lightweight camping.
Wise Owl Outfitters SnugNet
Best Budget
Offering an amazing mix of affordability and functionality, the Wise Owl Outfitters SnugNet is a solid option for any camping hammock.
The SnugNet is perfectly sized to accommodate larger hammocks, making it a nice choice for single and double hammocks alike. Furthermore, it comes with full 360-degree protection thanks to its built-in no-see-um netting.
For easy entry and exit, the SnugNet also uses a double-sided zipper. That way, you can quickly get in and out of your sleeping area with minimal hassle at night.
If that wasn't enough, the Wise Owl Outfitters SnugNet also comes with 30 feet of ridgeline, which makes setting up your hammock net a breeze. As an added bonus, this model also comes with a high-quality ripstop compression bag to facilitate easy transport to and from your campsite.
Nevertheless, one area where the SnugNet could stand to improve is in terms of its weight. At 20 oz, it's far from a lightweight model, meaning it's less ideal for ultralight trips. However, it's still one of the best camping-specific hammock bug nets for budget-conscious campers.
PROs

Very affordable
Comes with a waterproof stuff sack
Includes 30 feet of ridgeline
Double-sided zipper for easy entry and exit
Simple set up design

CONs
Bottom-Line: If keeping your bank account in the black while enjoying your hammocking adventures is a priority, it's hard to beat the Wise Owl Outfitters SnugNet.
Eagles Nest Outfitters Guardian SL Bug Net
Best for Solo Hammock
Designed specifically with those solo trips into the mountains in mind, the Eagles Nest Outfitters Guardian is a solid hammock mosquito net for any adventure.
Crafted out of SkyWeave Lite no-see-um mesh, the Guardian SL is made to protect you from any annoying insects you might encounter. Moreover, this SkyWeave Lite mesh is highly breathable, which makes it ideal for use during the hottest months of the year.
For added convenience, ENO crafted this sock-style net so that you can quickly set it up over your sleeping area. Then, once you're bundled up in your sleeping bag, you can even adjust the netting using the internal adjusters to get the perfect fit.
Furthermore, the Guardian SL comes with its own compression stuff sack. When we take into account its impressively light weight of 9oz, this model is among the lightest hammock bug net options on the market.
However, it's worth noting that the Guardian SL is only 9' long, which isn't ideal for longer or double hammocks. This being so, folks with larger hammocks may want to consider a different, longer model that can fully protect their sleeping area at night.
PROs

Internal adjustment system to help you get the perfect pitch
SkyWeave Lite mesh is highly breathable
Lightweight design
Includes a compression storage sack for transport

CONs

Fairly short length (9') isn't ideal for longer hammocks
Sock-style design makes entry and exit a bit tricky
Bottom-Line: The ENO Guardian is a solid option for warm-weather hammocking when keeping your pack weight low is a priority.
Foxelli XL Hammock Net
Best for Double Hammock Camping
The ideal choice for double hammocks, the Foxelli XL is a comfort-focused model for casual outdoor adventure.
Engineered to be longer and wider than nearly all other options on the market, this model boasts a 12' length for use with all hammocks without a built-in bug net. It also comes with its own 25' long ridgeline to make pitching your shelter for the night a breeze.
One of the best aspects of the Foxelli XL is that it boasts a rugged dual-sided zipper. This makes it easy for both you and your expedition buddy to get in and out of your sleeping area.
Meanwhile, when it comes to packing up camp each morning, the Foxelli XL makes things as simple as can be. It includes its own carry bag for easier transport and storage so you can more easily carry your gear to and from camp.
With that in mind, we should mention that this model is fairly heavy. At 16 oz, it's far from the lightest option on our list. However, if we take into account its larger size, the Foxelli XL is still one of the best hammock bug net options available.
PROs

Perfectly sized for double hammocks
Includes 25 feet of ridgeline
Comes with a carry bag
Large double zipper for easy entry and exit

CONs

Somewhat heavy if used with solo hammocks
Bottom-Line: If you can't imagine hitting the trail without your hammocking partner in tow, the Foxelli XL is a must-have.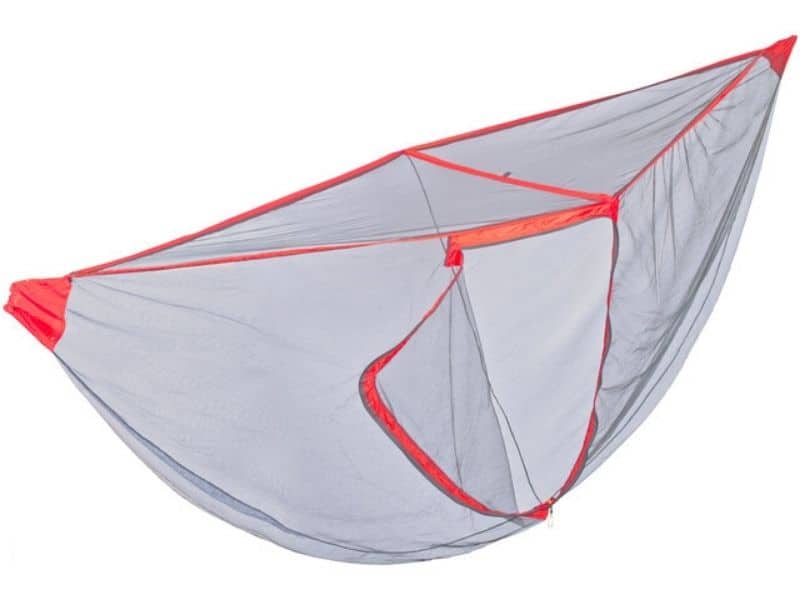 Sea to Summit Hammock Bug Net
Best for Comfort
Putting your comfort at the forefront of its design, the Sea to Summit Hammock Bug Net is a fan-favorite option for all-around adventure.
Featuring a unique design with a foldable spreader pole instead of a ridgeline, this model offers unparalleled stargazing opportunities. The spreader pole even helps to provide a more spacious interior living area for maximum comfort while you snooze.
Since it doesn't have a ridgeline, it's also super easy to set up—even if you don't know your hammocking knots. That means less time spent in camp fussing with your gear and more time enjoying the great outdoors.
Additionally, Sea to Summit crafted this model using premium no-see-um mesh, so it's a nice choice if you want to keep the critters at bay. For your personal comfort, this mosquito net also includes a wide zippered opening to facilitate easy entry and exit from your sleeping area.
While this model is a bit pricey compared to some of the other options out there, it's a time-honored choice for cozy camping.
PROs

Knotless set up design
Has a spreader bar to provide greater interior space
360-degree protection against no-see-ums and mosquitoes
Large zippered opening for easier access

CONs

Fairly pricey when compared to other models
Bottom-Line: An amazing choice for folks who like their space and won't settle for second best, the Sea to Summit Hammock Bug Net is well worth your consideration.