Many campers mistakenly believe they have to put away their hammocks once late autumn rolls around. There is, however, a simple way to extend your season and allow for cold weather hammock camping: invest in a hammock quilt.
Underquilts wrap around the bottom of your hammock to provide you with reliable insulation even in frigid outdoor temps. In this article, we'll explore the benefits of using one and share seven top-rated models to choose from.
Editor's Choice
Outdoor Vitals Aerie 30F
Besides serving as a durable hammock underquilt, the Outdoor Vitals Aerie 30F serves four other functions. Most importantly for campers, the Aerie can be used as a hammock underquilt or a sleeping bag. This convenient 4-in-1 feature makes the outdoor Vitals Aerie an exceptional bargain for anyone who's unsure whether they want to make the transition from sleeping bag to underquilt. It also provides you with superior versatility.
Just because the Outdoor Vitals Aerie has so many features, however, doesn't mean you'll be adding a ton of weight to you back. Indeed, the Outdoor Vitals Aerie is very light at only 1.7 pounds and is made with a very durable ripstop nylon shell. Plus, this Outdoor Vitals Aerie can handle temps as low as 30°F thanks to its down insulation.
Hikers of all skill levels are sure to find something in the Outdoor Vitals Aerie to love. This very durable underquilt is one of the most lightweight and versatile in the industry. New hikers just getting into hammock camping should seriously consider looking into the Outdoor Vitals Aerie.
Runner Up
Enlightened Equipment Revolt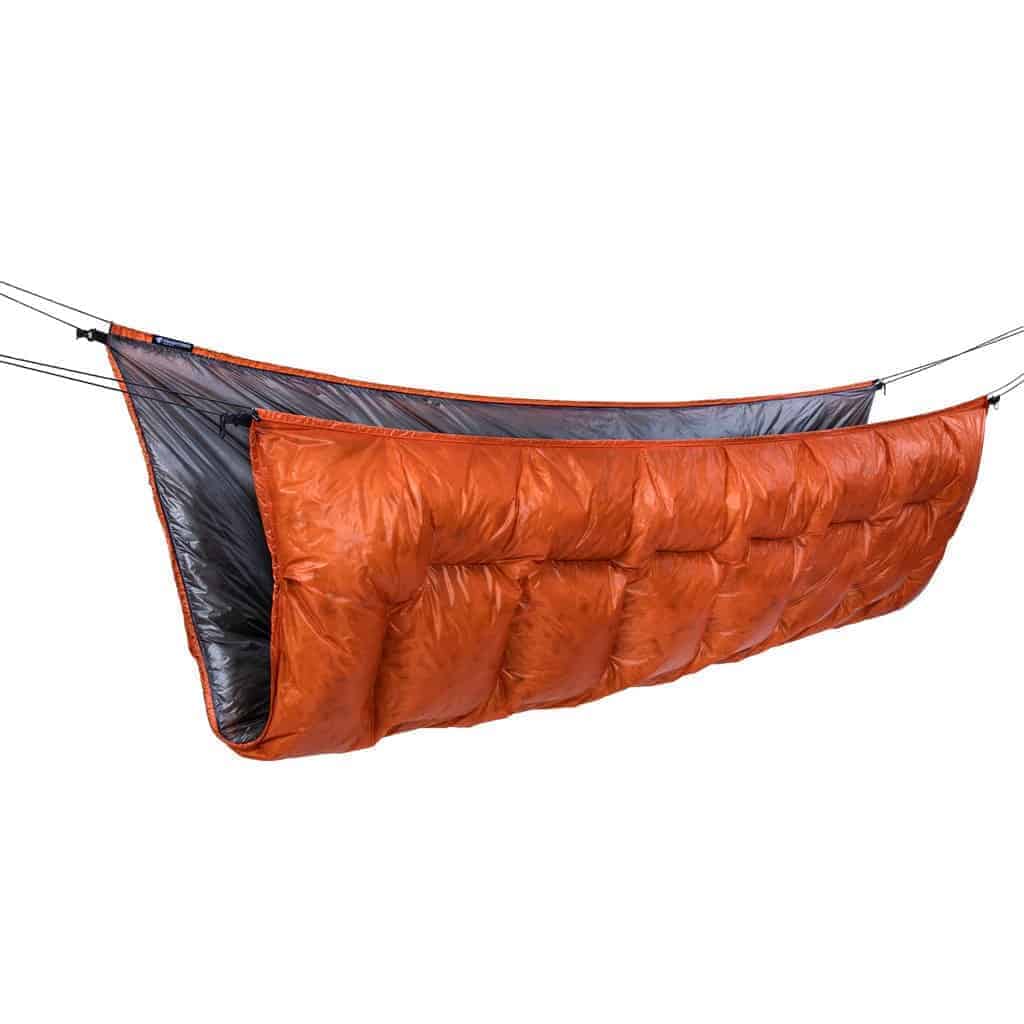 The best feature of the Enlightened Equipment Revolt underquilt is that it's 100 percent customizable. You can easily pick the ideal temperature rate, material type, and even color designs from a wide variety of options to create your ideal Revolt. This makes it simple to make a design that fits you specific hiking goals.
Another key feature of the Revolt is that it uses a special kind of down insulation produced by the highly respected company DownTek. The type of lightweight down insulation DownTek makes has no synthetic materials, yet it has been proven to absorb far less moisture than most other down underquilts. With DownTek's patented design, you'll enjoy the luxurious benefits of down products without having to worry about the added weight of synthetic materials.
The Enlightened Equipment Revolt is a luxury product for serious campers in the market for a durable and water-resistant down underquilt that they can easily customize.
Best Value
Snugpak Hammock Cocoon
The Snugpak Hammock Cocoon is interesting because it's not technically an underquilt. While it's usually listed with other standard underquilts, the Cocoon wraps around your hammock to provide you with optimal hammock insulation. This banana-style design will help campers who frequently travel to windy areas.
Manufacturers chose to use a trademarked synthetic travelsoft insulation system to help users feel comfortable in their Cocoon. The outer MicroDiamond fabric is water resistant, so there's no need to worry if you're traveling to rainy areas. The only thing to keep in mind before purchasing the Cocoon, however, is that it weighs about 5 pounds.
For campers looking for a unique value play who don't mind adding a few extra pounds to their travel sack, the Snugpak Hammock Cocoon is a great underquilt to consider.
Benefits and Features of Hammock Underquilts
Why Do You Need A Hammock Underquilt?
Without any additional support, the layer of fabric on your hammock's bottom can't protect you from chilly temperatures, especially if it's windy outside. Even if you put a blanket on the inside of your hammock, the weight of your body will compress any insulation your blanket could have provided you with.
RELATED: The Best Sleeping Pad for Hammock Camping
Hammock underquilts were designed to alleviate these problems by creating a layer of insulation underneath your hammock. Since an underquilt for hammock is strung on the outside of your hammock, you avoid the problems that come with compressing your blanket inside the hammock's interior. With a hammock underquilt, you can reliably use your hammock well into the fall and, in some cases, winter.
Synthetic Versus Down Insulation
When researching insulation products like hammock underquilts, you're bound to run into the terms synthetic and down insulation. These are the two major forms of insulation in the camping world today and, as with everything else in life, both has their pros and cons.
We'll start with the more luxurious option: down insulation. All down underquilts use plumage, feathers, or a combination of the two from geese or ducks. Manufacturers could technically use any plumage from waterfowl and be considered a down product, but ducks and geese are the most common choices.
For many years, geese were the preferred choice in down-insulated underquilts due to their superior ability to trap heat without adding much weight. It's only recently that companies have begun using duck plumage to bring their manufacturing costs down. Duck plumage is more common, but it requires a tad more weight to reach the same degree of heat insulation as goose underquilts.
The obvious pros associated with down products are that they are lightweight, durable, and easy to compress. This makes them ideal for campers who want an underquilt that will easily pack into their travel gear.
Another pro for down products is that they can trap more heat with less weight than synthetic products. Even duck-down products weigh less and capture more heat on average than synthetic underquilts.
Although down products have a lot going for them, they aren't perfect. The main criticism campers have with down underquilts is that they don't dry out quickly. To address this issue, many down underquilts have special moisture-resistant coatings to increase water resistance. No matter how much coating your down product has, however, it's no match for a moderate or heavy downpour.
Because of down products' tendency to absorb a lot of moisture, they also tend to be difficult to wash. Synthetic underquilts, on the other hand, are machine-washer friendly and can still provide you with a ton of insulation even if it's raining outside. Most synthetic underquilts are made with a polyester filling that makes them more water-resistant and comparable in durability to down products.
The negatives with synthetic underquilts, however, are that they tend to be bulkier, less comfortable, and heavier than down products. Some people just can't get used to the "stiffer" feel synthetic underquilts have in comparison with down underquilts. Synthetic products usually can't provide the same degree of heat insulation as down products. Also, due to synthetic underquilts' heavier weight, they are more difficult to pack and carry around with you than down underquilts.
Bottom line: down underquilts are better for campers who value comfort over affordability and don't have issues with these underquilts' tendency to absorb moisture. On the other hand, campers looking for an affordable and durable product that is easier to clean and resistant to rain should start their quest in the synthetic market.
Materials To Look Out For In An Underquilt
Most reputable manufacturers nowadays use a ripstop nylon shell on the top layer of their underquilts. This type of fabric has been shown to dramatically enhance the underquilt's durability, so be sure to look for it when shopping for your underquilt.
RELATED: The Best Hammock Bug Net
Another material that should be on your underquilt is called "durable water repellent" (DWR). As the name suggests, this is a layer of waterproof coating on the topmost layer of the underquilt. DWR is useful, but not necessary, on most synthetic products. On down-insulated underquilts, however, you seriously need a coating of DWR. Without DWR, down underquilts can't be used comfortably in mild rain or drizzle conditions.
Temperature Ratings
As you'll see in our list below, each underquilt has a specific temperature rating determined by the manufacturers. These temperature ranges tell you what the ideal outdoor temperature you could use your underquilt in. The lower the temperatures your underquilt can handle, obviously, the more you'll be able to use it throughout the year.
When choosing an underquilt always pick a product that will perform at about 10℉ cooler than the average temps at your favorite camping destinations.
Do You Need An Overquilt Too?
While underquilts tend to be more popular, there are such things as overquilts (aka a hammock top quilt) that you can drape over your body while laying in the hammock. Most of these overquilts are similar concerning fabric design to underquilts with either down or synthetic insulation and durable nylon ripstop shells. Some products function as both underquilts and overquilts, but most of the time you'll need to purchase an overquilt separately.
By themselves, overquilts are mainly used for providing additional warmth in the late summer and early fall when it's chilly outside but not frigid. You might want to consider purchasing an overquilt as well as an underquilt if you frequently travel through very cold areas. The overquilt will help trap even more heat and form a "sleeping bag thermal effect" while you're in your hammock.
Best Hammock Underquilts: The Results
ENO Blaze
The North Carolina-based company Eagles Nest Outfitters (ENO) is highly regarded in the hammock world. One of their most popular down hammock underquilts they offer is known as the ENO Blaze.
The Blaze lives up to its name with a temperature rating between 30 to 40°F. It's able to withstand such low-temperature thanks to its 750 duck down insulation.
Once you've unfolded the ENO Blaze, it will measure 6' 6'' long by 4' wide. When you're done using this underquilt, you can pack it up into a stuff sack that measures 14'' by 7'' and weighs a very light 24 ounces. On top of the Blaze's nylon shell, manufacturers have added a coating of DWR to combat light rain and drizzle.
Besides the regular stuff sack, ENO includes a larger storage sack to put your ENO Blaze in when you're not using it for extended periods of time. ENO recommends you use the storage sack rather than the stuff sack because it will extend the life of your underquilt.
There are elastic shock cords along the length of the ENO Blaze that help pull the underquilt as close to your body as possible. You'll also find elastic cords on the ends of the ENO Blaze by where you'll attach the underquilt to your hammock's carabiners. These two elastic cords will help you reduce the amount of air that's able to flow into your hammock while you're sleeping.
Due to its use of duck down insulation, the ENO Blaze should be considered a luxury product for campers concerned with portability and who often go to chilly, but not overly damp, regions.
PROs

Temperature rating of 30 to 40°F.
DWR finish wicks off mild moisture.
Easy to pack duck down insulation
Only 24 ounces

CONs

One of the shortest underquilts on the market.
ENO Vulcan
Eagles Nest Outfitters' Vulcan underquilt is a synthetic product that uses PrimaLoft synergy insulation technology. This special insulation system helps the Vulcan achieve a temperature rating of 35° to 45°F rating.
When it's spread out, ENO's Vulcan measures 6' 8'' long and 4' in width. The Vulcan weighs 30 ounces when compressed into the included nylon sack.
A nice feature of the ENO Vulcan is that it's very easy to set up. All you'll have to do is clamp down the carabiners on the ends of your hammock and tighten the shock cords to your preference. Even beginners shouldn't have issues setting up the ENO Vulcan.
While beginners can certainly get good use out of this underquilt, the ENO Vulcan was created more for pro hikers than novices. With its low-temperature rating and water-resistance, the ENO Vulcan is ideal for experienced hikers who often go to very damp and/or snowy regions of the world.
For additional comfort, ENO manufacturers used a special type of "cut construction." This design style helps contour to your body to provide additional comfort. Although this is a synthetic product, the cut construction helps it feel almost as comfortable as a down underquilt.
One slight con with the ENO Vulcan is that it's designed to work in tandem with an overquilt product to provide the full benefit of insulation. While it's not necessary, manufacturers suggest looking into their overquilt to get the full benefit.
Intermediate or advanced campers who go for hammock trips to very cold and wet areas will get a good deal of use out of the ENO Vulcan.
PROs

35° to 45°F rating.
Waterproof lining perfect for campers going into snowy regions.
Easy to set up.
Cut construction helps contour to your body.

CONs

A bit bulkier and heavier to pack at 30 ounces.
Designed to work optimally with a separately sold overquilt.
Sale
OneTigris Hammock Underquilt
The OneTigris' hammock underquilt is a synthetic product that uses a polyester fill. Over the polyester filling is a 20D ripstop nylon shell as well as DWR coating. The official temperature range on OneTigris' product is between 40° and 68°F.
When OneTigris' underquilt is fully extended it measures 7' 9'' long by 4' wide. Once it's in its stuff sack, the OneTigris underquilt will only measure 13'' x 8'' and weigh an impressive 27 ounces.
One minor drawback to the OneTigris product is that it wasn't designed to contour to your body. Without a contoured design or down insulation, the OneTigris could feel a bit stiff against your body.
On the plus side, the OneTigris product is a very easy to use and affordable underquilt for beginning hammock hikers. The fact that it's synthetic will save beginners a great deal of hassle when contending with moisture, and its lightweight design makes it easy to carry around.
Campers who frequently go backpacking in damp regions will most likely enjoy OneTigris' underquilt. While it doesn't provide the comfort of a contoured product, the OneTigris underquilt provides good insulation, dries off fast, and is easier to pack than most synthetic products.
PROs

Polyester filling and DWR coating help prevent moisture from sticking.
Only 27 ounces.
40° to 68°F range great for three seasons.
Ideal for beginners.

CONs

OneTigris underquilt is not contoured.
ENO, Eagles Nest Outfitters Ember UnderQuilt Hammock Insulation for Spring and Fall
LIGHT INSULATION: Hammock camping is no longer just for summer; The Ember…
COMFY & EASY: Now updated with a fully adjustable shock cord suspension system…
KEEPS TOES TOASTY: Designed with a dual-layer, offset quilted construction that…
WATER & WIND RESISTANT: Made with 40D ripstop nylon with a durable…
INCLUDES STORAGE BAG: The ultralight stuff sack packs this quilt down to…
ENO Ember
ENO's Ember underquilt is a synthetic product with a polyester fill. For durability, ENO decided to use a nylon taffeta ripstop shell on the outside of the Ember. Regarding temperature rating, Ember is set at 50°F.
The dimensions of the unfolded Ember are 7' 11'' long by 3' 9'' wide, which makes it one of the longest on our list. When you pack the Ember into its stuff sack, it will only measure 15'' by 8'' and weigh 25 ounces.
Unlike many other products on our list, there are a few color schemes to choose from with this underquilt. You can choose from a red interior/black exterior, black interior/green exterior, and light blue interior/dark blue exterior when picking out your Ember.
As you might have already guessed, a slight negative for the ENO Ember 2 is that it has a high temp rating of 50°F. Even though it's relatively lightweight for a synthetic product, you'll need to plan on bringing a sleeping bag or overquilt with you to get good use of this underquilt in frigid temperatures.
Due to its high-quality construction and its higher temperature rate, the ENO Ember is a good product for novice campers who don't go to extremely frigid areas all too often.
PROs

Designed for four seasons.
Only 25 ounces.
Excellent for novice campers who don't often go to frigid areas.

CONs

Temperature rating rather high at 50°F.
Outdoor Vitals Aerie
Best Overall
The Outdoor Vitals Aerie is one of the most versatile down underquilts on our list, which is part of what wins it our vote as the best hammock underquilt out there. Besides being used as an underquilt, it has three other uses. You could use the Aerie as a standard sleeping bag, a technical blanket, and a sleeping pod system. If you wanted to, you could buy a second Aerie to provide you with the comfort of a double sleeping bag.
The Outdoor Vitals Aerie has a low-temperature rating at 30°F. The outer layer of this product is made of durable 20D ripstop nylon shell. When it's stretched out, the Outdoor Vitals Aerie measures 6'9'' in length by 2'4'' in width and fits most hammocks under 6'6". In its compressed state, the Aerie measures 10 x 7 x 7 inches and weighs about 34 ounces. By the way, two shock cord pieces are included.
The Outdoor Vitals Aerie is one of the best choices on our list for people just testing the waters of winter hammock camping. Even if it turns out that you don't like using a hammock, you could always switch back to the Outdoor Vitals Aerie as a sleeping bag.
New campers in the market for an affordable, lightweight, and incredibly versatile down underquilt should take a look at the Outdoor Vitals Aerie.
PROs

4-in-1 uses with one Aerie product.
30°F temperature rating.
Ideal for new campers looking for down insulation underquilt.
Limited lifetime warranty.

CONs

Despite DWR finish, this underquilt will get soaked in heavy rain.
A tad heavy at 34 ounces.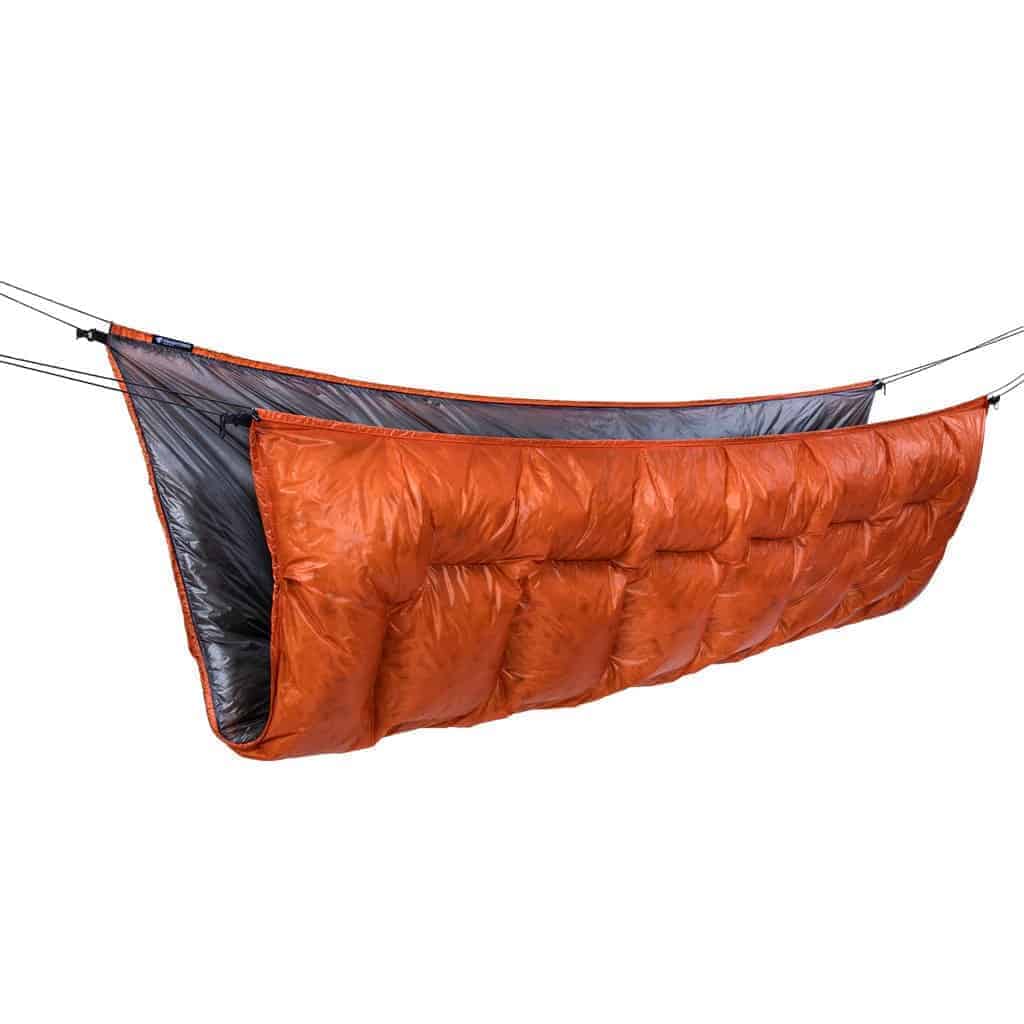 Enlightened Equipment Revolt
Runner Up Underquilt
The Enlightened Equipment's Revolt is one of the most customizable on our list. Not only can you choose from dozens of color combinations, but the Revolt also comes in a wide variety of sizes, insulation strengths, and temperature ranges. The highest temperature range in Revolt's catalog is around 50°F, and the lowest is 0°F.
When unfolded, the regular Revolt underquilt measures 5.4' in length and 3.75' in width. The regular Revolt (set at a standard 30°F rate with 850 down insulation) weighs about 14 ounces. By the way, no matter what Revolt you get, it will measure 3.75' in width.
These Revolt products have a waterproof down insulation system developed by the company DownTek. DownTek is well known in the camping industry for producing some of the lightest and most water-resistant down products. All of DownTek's insulations are free of synthetic treatments and have been found to absorb around 30 percent less moisture than most other down products. DownTek's products are also machine washer friendly.
In addition to the stuff sack, people who purchase the Revolt also get an organic cotton storage bag and a shock cord.
The major downside to the Revolt is that it wasn't designed for beginner hikers. The high-quality design and wide-range of customizable options might confuse people not already familiar with the world of hammock underquilts. You need to have a clear idea of what you're looking for before picking up one of these luxury products.
For people willing to splurge on a fully customizable down underquilt, definitely, check out the Revolt
PROs

Easy to tailor a Revolt to your hiking needs.
Water-resistant and environmentally friendly DownTek down insulation.
Shock cord included.
The lightest on our list.

CONs

Customizing comes at a cost.
Snugpak Hammock Cocoon, Fully Encases the Hammock, Insulated with Travelsoft Filling
Designed to completely encase a single person hammock from the outside to…
Equipped with a full length zipper that allows you to customize how sheltered…
Features Travelsoft filling, which offers superior heat retention and a…
Micro Diamond and Paratex treatments help the cocoon repel water and keep it…
The cocoon's dimensions are 118 inches long by 34 inches wide; not designed to…
Snugpack Hammock Cocoon
"Best Value Underquilt "
Although the Snugpak Hammock Cocoon is officially considered an underquilt, it doubles as an overquilt. The unique design of this product allows users to zip the Cocoon around them as if they were, well, in a cocoon! Obviously, this design feature helps users retain an extraordinary amount of heat.
You'll have to use the Cocoon's zippers to adjust how far you want the insulation to go once you're inside. If you wanted to, you could zip up this Cocoon almost all the way up, so your whole body is well insulated. This cocoon-style design helps if you're sensitive to the wind. Note, the Cocoon has a mummy-style design, so there is a wider end for your shoulders and a narrower end for your feet.
Snugpak's dark green Hammock Cocoon has a special travelsoft insulation system and is constructed out of MicroDiamond fabric. The travelsoft insulation not only traps heat, but it also helps reflect heat. Manufacturers have also added a layer of antibacterial Paratex around this product to prevent against germs, dirt, and bugs.
Snugpak designed their Cocoon to be big enough to wrap around all winter hammocks. Manufacturers also provide customers with a shock cord to provide extra stability.
The major disadvantage of the Snugpak Hammock Cocoon is that it weighs 67 ounces. Snugpak's Cocoon is also one of the bulkiest underquilts, which makes it a real hassle compress. When it's in its stuff sack, the Snugpak Hammock Cocoon measures 9" x 9".
Also, since this product wraps around your hammock, it's quite difficult to sleep on your side or turn at all while sleeping. If you tend to move around a lot while you sleep, or if you can't get comfortable in a back sleeping position, this might be an issue.
Campers who don't mind adding a few extra pounds to their travel sack for wraparound insulation should test out the Snugpak Hammock Cocoon.
PROs

Wraparound design functions as both under and overquilt.
Great "sleeping bag style" protection against the wind.
Shock cords on both sides of the Cocoon.
Paratex coating provides antibacterial support.

CONs

Weighs 67 ounces so not great for backpacking.
Not ideal for side sleepers.