Over the last decade or so, hammock camping's popularity has skyrocketed. And for us dyed-in-the-wool hammockers, this comes as no surprise. Hammocks are lighter, more packable, and – for some – a darned sight more comfortable than your regular sleeping pad, sleeping bag, and tent setup.
Whether you plan on using your hammock for thru-hiking, car camping, or lounging in the yard, our guide has you covered. It includes nine outstanding hammocks suitable for would-be hammockers of all shapes and sizes. And if you're not sure which is best for you, our detailed buying advice is there to lend a hand.
Editor's Choice
Warbonnet Blackbird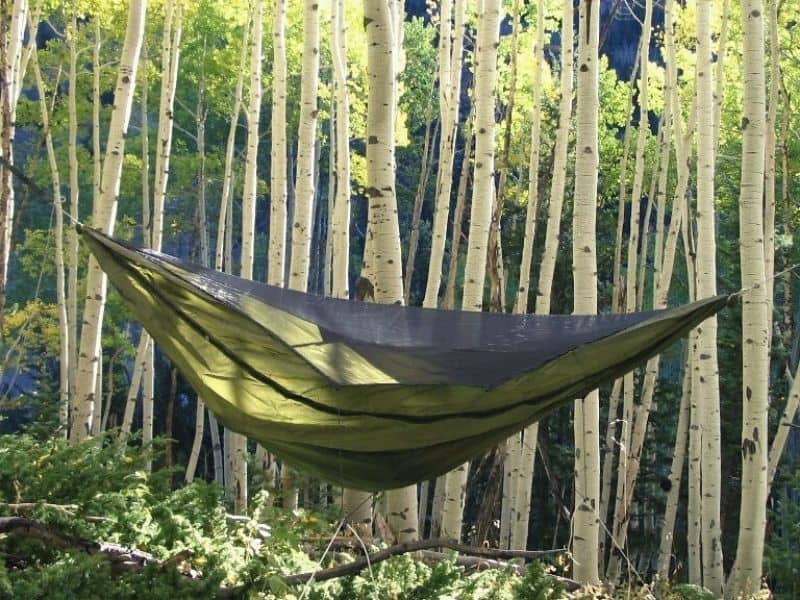 The Warbonnet Blackbird has scooped our best backpacking hammock award for a few years running, and this year fended off stiff competition from a handful of creditable pretenders to its throne.
The Blackbird is, in short, a no-nonsense kinda hammock that more than satisfies every non-negotiable metric we have for a sleeping hammock. Even more, it also throws in a few non-standard features regarding its foot box and bug net, elevating its game even further.
It's made with Warbonnet's Dream-Tex fabric, which is, in a few words, ripstop nylon on steroids. This fabric combines a regular ripstop weave with a bias-directional diamond grid to deliver an excellent strength-to-weight ratio and a far softer finish than regular nylon. Unlike other nylon-made camping hammocks, there's also a little stretch to let you sprawl.
Bottom line: A high-capacity and comfortable airborne billet with a few dialed-in features that make it a little more practical and user-friendly than the best of the rest.
Best Camping Hammocks Reviews
Warbonnet Blackbird
Editor's Choice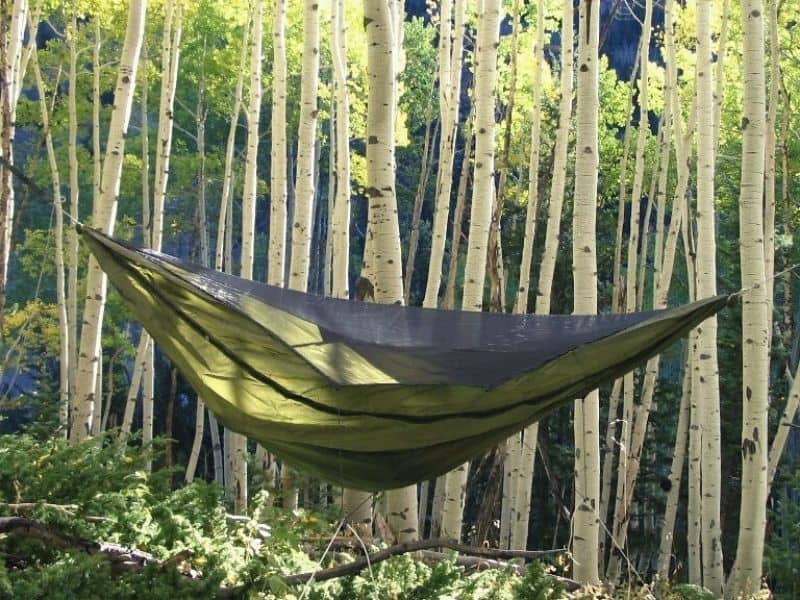 Cottage brand Warbonnet versus all the big names in the hammocking niche is comparable to David versus Goliath. And, just as in the biblical tale, this David also comes up trumps.
The Blackbird does everything both beginner and seasoned hammockers need a hammock to do…and a little more to boot.
This hammock measures a generous 10 feet long by 62 inches wide and has an outstanding weight capacity of 350 lbs. This makes it suitable for sleepers up to 6'2" tall and one of few single-person hammocks that can accommodate peeps who pip the 300-pound mark. Despite this, the hammock itself weighs in at a modest 15.7 oz. (sans suspension), so is a decent option for backpacking.
Let's talk bells and whistles, of which the Blackbird has a few…
First up, there's a roomy, built-in foot box that lets you shift around a little without ensnaring your feet. Secondly, there's a "noseeum" bug net top that unzips fully on one side and folds up when not in use. Thirdly, there's a storage shelf that provides a secure but out-of-the-way compartment for your bedtime essentials.
Sold already? Glad to hear it, but we haven't even gotten to the best bit…
While there's already a lot to love about this hammock, the winning feature of the Blackbird is the use of Dream-Tex fabric. This combines 40D ripstop nylon with a bias-directional diamond grid pattern to provide superior strength and a far softer, cozier next-to-skin feel than other nylons, making it a true standout in the comfort stakes.
The Blackbird is also available in several colors and in both a two-person size or with a single or double-layer (which boosts load capacity).
Specs
Weight: 15.75 lbs. (without suspension)
Weight Capacity: 350 lbs.
Dimensions: 120" x 62"
PROs

40D ripstop nylon Dream-Tex fabric
Handy added features (footbox and shelf)
High weight capacity
Lightweight
Zippered, integrated bug netting with elastic guylines to keep net away from your face

CONs

Bug net not detachable
Pricey
Bottom-Line: A great option for mid-hike hangs, camping, backpacking, and hammock camping newbies and veterans alike.
Sea to Summit Double Pro
Best Value
The Sea to Summit name is virtually synonymous with high-quality, dialed-in outdoor kit. And after a few hammock camping trips in the Double Pro hammock, it's easy to understand why the brand has earned such an impressive rep.
The Double Pro hammock system is made with 70D ripstop nylon fabric, making it the toughest and most durable hammock on our list. While this fabric's a little less soft against the skin compared to most hammocks on our list, the S2S DP is a shoo-in for buyers who value longevity over all else.
Compared with the other two-person camping hammocks on our list, the ENO DoubleNest and Kammok Roo, the S2S DP is a little roomier, measuring 118" x 75" to the DoubleNest's 115" x 74" and Roo's 120" x 68.5".
And while the DoubleNest is the cheaper of the two, it's worth bearing in mind that it's sold without a suspension system, while the DP comes with suspension straps and quick-connect buckles.
Specs
Weight: 23.6 oz (with included straps, buckles, and stuff sack)
Weight Capacity: 400 lbs.
Dimensions:118 x 75 inches
PROs

Room enough for two!
High weight capacity
Suspension straps and buckles included
Tough, 70D ripstop nylon fabric
Water-resistant stuff sack

CONs

Quite heavy
Fabric isn't the softest
Bottom-Line: A tough, roomy, lightweight hammock that comes with everything hammocking couples need to get their hang on!
Hennessy Hammock Expedition Asym
Best for Car Camping
If you're looking for a complete hammock shelter system that includes everything you need for all-weather adventuring, the Hennessy Expedition Asym is well worth a place on your shortlist.
This is the second most expensive hammock on our list, after the Warbonnet Blackbird, but you get an awful lot of bang for your buck.
For starters, there's the extra-long, extra-wide 70D nylon hammock itself, which uses an asymmetrical design that allows you to lay flatter than in many hammocks.
Next up, there's a 30D polyester No-See-Um bug net that can be clipped back for night-sky views whenever the biters aren't on the rampage.
Thirdly, the Asym comes with a complete suspension system, including 10 ft., low-stretch polyester core ropes with polyester webbing suspension straps.
And to top it all off, there's a 70d, PU-coated polyester ripstop rainfly to keep you dry in inclement weather.
At 47 oz., this camp hammock setup isn't going to win any prizes for its light weight. In return for those extra ounces, however, you get an ultra-durable camping hammock that's built to withstand not only the elements but years of use and abuse.
If you like the look of the Hennessy Expedition but want something a little lighter, check out the Hennessy Ultralite Backpacker Asym Zip. This isn't quite as rugged as the Expedition, and has a lower weight capacity, but weighs in at 15 oz. lighter.
Specs
Weight: 47 oz. (including suspension)
Weight Capacity: 250 lbs.
Dimensions: 100 x 48 inches
PROs

Patented asymmetrical design for a lay-flat hammock no matter how you sleep
Long enough to accommodate users up to 6' tall
User-friendly suspension system and bug net included
Gear pocket slides on the ridgeline
Folds into an open-air lounger or can be deployed as a tent when paired with your hiking poles
Complete hammock shelter system

CONs

Heavy
Expensive compared to most other camping hammocks
Overkill for occasional users
Bottom-Line: A beast of a hammock that comes with everything you need to hang out in buggy conditions and wet weather.
ENO Doublenest
Best Double Hammock
The Eno DoubleNest has been one of the top-selling hammocks on the market for the best part of a decade. And there are plenty of reasons why this one's won the approval of so many happy hammockers.
The DoubleNest doesn't boast much in the way of bells and whistles but covers its bottom line impressively. It's made with 70D nylon taffeta with triple-lock stitching for added strength, which makes it one of the most durable and robust camping hammocks in our review, after the Sea to Summit Double Pro, ENO Skyloft, and Hummingbird Single.
Measuring 112 by 74 inches, it's also one of the roomiest. And with a weight capacity of 400 pounds, it's second only to the Kammok Roo Double.
The Doublenest is also very easy to hang thanks to its use of (included) carabiners that can be clipped into (not included) daisy chain suspension straps for simple adjustment. And for campers who like to stand out from the crowd, the multiple color options are sure to appeal.
And the downsides? Well, given that the Doublenest weighs 35 oz. with suspension, it ain't the lightest option out there by a long way. And, of course, having to buy your tree straps separately detracts somewhat from its apparent affordability.
Specs
Weight: 19 oz (35 oz with suspension system)
Weight Capacity: 400 lbs.
Dimensions: 112 x 74 inches
PROs

High weight capacity
Roomy enough for two (palatial for one!)
Highly durable fabric
Affordable
Carabiners included

CONs

A little too heavy for backpacking
Suspension system sold separately
Bottom-Line: A solid, reliable hammock that's big enough for two and ideal for front-country hammock camping.
Grand Trunk Ultralight
Best Budget
If you're new to the hammock camping game and looking to test the water before splurging on a pricier kit, the GT Ultralight is a great budget hammock option.
The GTU might lack the bells, whistles, and fancy design features found on pricier hammocks, but it does what the occasional hammocker needs it to do. It's durable, spacious, easy to use, and relatively comfortable to hang in. Given that it retails at around half the price of big-name competitors, that's not bad for starters.
The GTU is made with parachute nylon fabric. This isn't quite as comfortable as the fabric used in the Warbonnet Blackbird or Eno DoubleNest, for example, but is highly durable and triple-stitched at all weight-bearing points for added security. It also has a weight capacity of 300 lbs. and measures 114" x 54", making it capable of accommodating tall and large sleepers.
Tree straps aren't included with this GTU hammock, but it comes with 2 nautical-grade carabiners and a confidence-inspiring lifetime warranty.
Looking for something similar but a little more robust? Check out the Grand Trunk Skeeter Beeter Pro here.
Specs
Weight: 12 oz.
Weight Capacity: 300 lbs.
Dimensions: 114 x 54 inches
PROs

Cheap!
Generous weight capacity
Large dimensions
Lifetime warranty

CONs

Straps not included
A little too heavy for backpacking
Bottom-Line: A frill-free but functional and reliable budget camping hammock that does everything the occasional hammocker needs their hammock to do.
Hummingbird Single Camping Hammock
Best for Backpacking
Buying a hammock so you can leave the tent at home on backpacking trips? Or for a mid-hike hang? If either of the above applies, the Hummingbird Single is well worth considering.
This featherweight camping hammock tips the scales at a tiny 5.2 oz. This makes it the lightest hammock on our list by a large margin and, for comparison, more than three times lighter than the winner of our review, the Warbonnet Blackbird.
But there must be a catch, right? Otherwise, every hammocker in the world would be "hanging out" in a Hummingbird.
Well, not really. Despite its light weight, the Hummingbird scores highly in nearly every metric. It's made with tough, ripstop nylon fabric (built to FAA parachute rigging standards, no less), has a weight capacity of 300 lbs, and can be easily set up when paired with the Hummingbird Ultralight Tree Straps.
The only real downside is that it measures just 104"x47", which makes it the narrowest hammock on our list and also the second shortest. This, however, will only be an issue if you're over 6' tall. And if you'd prefer a slightly roomier version, Hummingbird Single+, which is only 2 oz. heavier but measures a more accommodating 116" x 63".
Specs
Weight: 5.2 oz. (just the hammock)
Weight Capacity: 300 lbs.
Dimensions: 104 x 47 inches
PROs

Ultralight – the ideal travel hammock or hiking hammock
High weight capacity
Tiny packed size
Ripstop nylon fabric

CONs

Stingy dimensions
Straps not included
Bottom-Line: An ultralight but slightly undersized camping hammock that's best suited to users under 6' tall or exceptionally keen to shave ounces off their pack weight.
Kammok Roo Double
Best Capacity
Let's cut right to the chase: the Kammock Roo doesn't only have the best capacity of all the camping hammock models in our review, it's also one of the most comfortable we've ever slept in.
The Roo is made with silky, durable, 40-denier Gravitas diamond ripstop nylon. This isn't only tough, but feels awesome against your skin and uses a fade-resistant UV inhibitor treatment that ensures the color stays bright season after season.
We also love the attention to detail on this hammock. Kammok uses a proprietary crinkle treatment that breaks the fabric in and ensures 'from-the-box' softness and easy packability from the get-go. And if you opt for the suspension system, you'll get a pair of patented carabiners capable of supporting 5,000 lb of force and Dyneema Racer Slings that are 15 times stronger than steel.
So, why isn't the Kammok Roo outselling competitors like the ENO Doublenest or Sea to Summit Double Pro? With the DoubleNest, we can only imagine this is down to ENO's sparkling reputation, or the fact that the Roo's a little on the narrow side by comparison. The S2S DP, on the other hand, is a whole 10 oz. lighter (with straps), so is favored by weight weenies.
Specs
Weight: 17 oz.(34 oz. with straps)
Weight Capacity: 500 lbs.
Dimensions: 120 x 68.5 inches
PROs

High weight capacity
Straps and water-resistant stuff sack included
Fade-resistant, breathable, and fast-drying fabric
8 integrated gear loops
Lifetime warranty
Good stuff sack

CONs

Relatively narrow for a two-person hammock
Bottom-Line: A very well-made two-person nest that's uber-comfortable and ideal for heavier users.
ENO Skyloft
Best for Comfort
Camping hammocks aren't really supposed to feel just like your bed at home. The Eno Skyloft, however, kinda feels just like your bed at home…
…only, for some, a little bit better.
The Skyloft is the most luxurious hammock on our list. It uses a semi-circular design that cradles the body and thanks to its aluminum spreader bars provides a flatter lay than regular-shaped camping hammocks. The spreader bars not only give you a larger sleeping area but make it one of few camping hammocks in which front sleepers can sleep comfortably.
Here comes the best bit: the Skyloft is kinda two hammocks in one. Yup, you read that right. This unique camping hammock has two 'modes' – sleep and relax. In sleep mode, you get a flatter lay for catching Zs. In relax mode – achieved with a simple tug on the tensioners at one end – your 'bed' converts into a lounger that's ideal for taking in the views or reading a book.
All this, however, comes at a price, both in $ and packed weight, as the Skyloft is both the priciest and the heaviest rainfly-free camping hammock on our list.
Specs
Weight: 45.8 oz.
Weight Capacity: 250 lbs.
Dimensions: 4.5 x 18.5 inches
PROs

Oh-so comfortable
Truly flat lay hammock
Easy setup
Durable material
Spreader bars make it roomier than gathered-end hammocks
Functional stuff sack

CONs

Pricey
Heavy
Suspension system isn't included
Bottom-Line: A heavy but exceptionally comfortable luxury camping hammock that's ideal for hammock camping from the car or days near the beach or lake.
Tentsile Connect 2-Person
Best Hammock Tent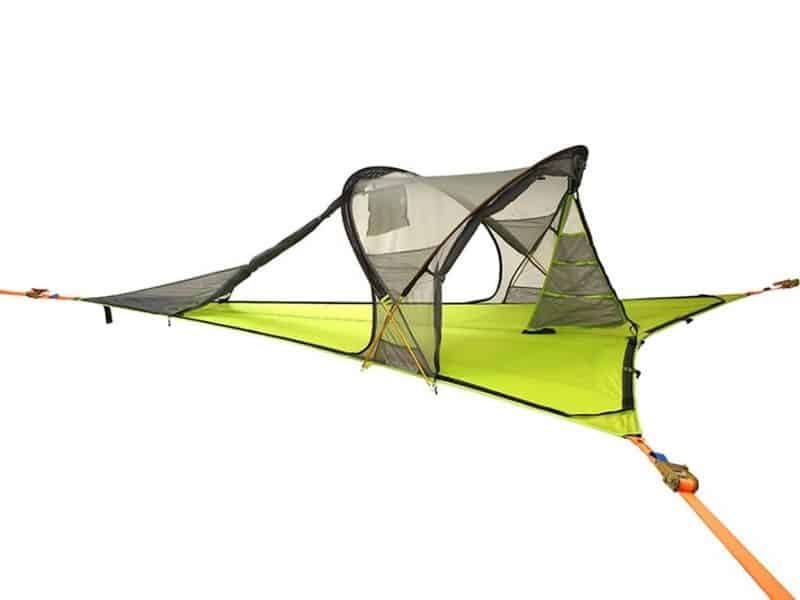 The Tentsile Connect has long been recognized as one of the best hammock tents out there. It's remarkably well-made, fully waterproof, roomy, versatile, and boasts a few non-standard features that set it apart from almost any other tent hammock system we know.
The Tentsile is billed as a 2-person hammock tent, but with a floor area of 52 square feet, center height of 3 feet, and load capacity of 880 lbs., it can comfortably accommodate two adult sleepers and a kid. The tent can also be joined to one or two other Connects to create either a 4 or 6-person tent.
While the setup is tricky, time-consuming, and requires 3 trees, the Tentsile is super-convenient once "pitched." It has a total of 4 doors for easy entry/exit, a wealth of underfloor and interior storage compartments, and even a hanging tablet pouch for watching movies. And if you can't find 3 trees, it can always be deployed as a regular ground tent.
We know what you're thinking. Given that the TC costs a lot more than a standard ground tent or hammocking setup, why would you choose it over either?
Compared to a regular hammock-fly-bug net shelter system, the TC has the benefit of providing a lot more room, a lot more stability, a hell of a lot more storage, and far superior weather protection courtesy of its 5,000mm HH rainfly.
And compared to a regular tent? Well, you can stay down there with the dirt and critters and lumpy sleeping surface if you want, but if cloud-like comfort sounds like something you might want to try, the Tentsile Connect will deliver.
Specs
Weight: 20 lbs. 12.8 oz.
Weight Capacity: 880 lbs.
Dimensions: 136 x 106 x 36 in.
PROs

Outstanding weight capacity
Plenty of storage pockets
Can be used as a regular tent
Full bug protection
Waterproof rainfly (5,000 HH)

CONs

Expensive (even for a hammock tent)
(Really) heavy!
Setup is tricky and time-consuming
Three trees/anchors required
Bottom-Line: An incredibly well-designed hammock tent that's a good option for buyers who want next-level comfort and weather protection…and have $ to burn.
Camping Hammocks Buyer's Guide: How to Choose
A lot more goes into the making of a good camping hammock than meets the eye. Below, we provide a detailed explanation of all the factors to consider when buying.
Intended Use
As with any outdoor gear, finding the right hammock for you depends on when, where, and how you plan to use it.
Car Camper or Backpacker?
Many backpackers prefer hammocks over traditional sleep systems because lightweight or an ultralight hammock like the Hummingbird Single will allow them to shed a few ounces from their total pack weight, even if this means compromising on durability and spaciousness.
If you're a car camper, however, you can afford to throw weight considerations to the wind. In this case, heavier-duty and roomier hammocks like the ENO DoubleNest, ENO Skyloft, or Tentsile Connect become an option.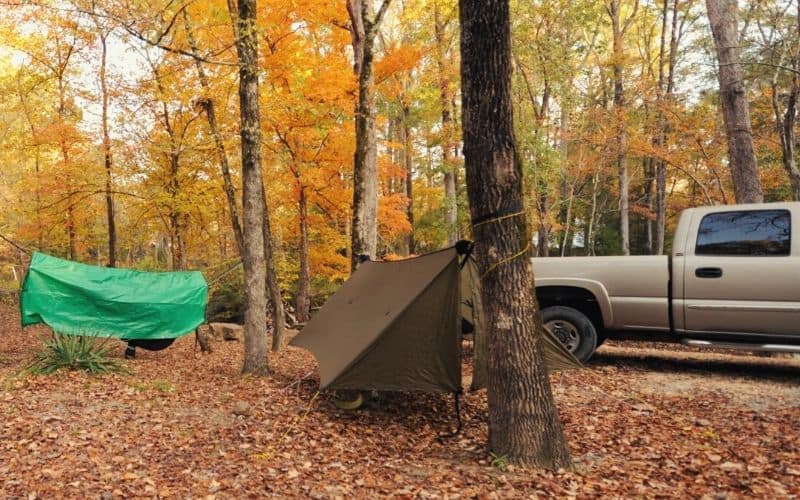 Solo Camper or Hammock-Camping Couple?
This one seems simple on the face of it, right? If you're a solo camper, buy a one-person hammock. If you're hammocking with your partner (or pooch), get a double hammock.
But it ain't quite so straightforward.
Let us explain…
If you're a larger human, the dimensions and/or max load capacity of a single hammock might not cut the mustard (read: support your weight or accommodate your physique). In this case, a two-person model like the ENO DoubleNest or Kammok Roo Double will prove more comfortable (and be less likely to collapse while you're catching your Zs!).
Fair-Weather Camper or All-Weather Warrior?
The main drawback of hammock sleep systems, of course, is that they don't provide the same level of waterproofing as a tent – for that you'll have to rely on a well-hung tarp or invest in a rain fly.
When buying your hammock it's wise to factor in the added cost and weight involved in adding a rain fly to your setup. Some of the camping hammocks on our list might seem like bargains at first, but once you've added the cost of a fly, this might no longer be the case.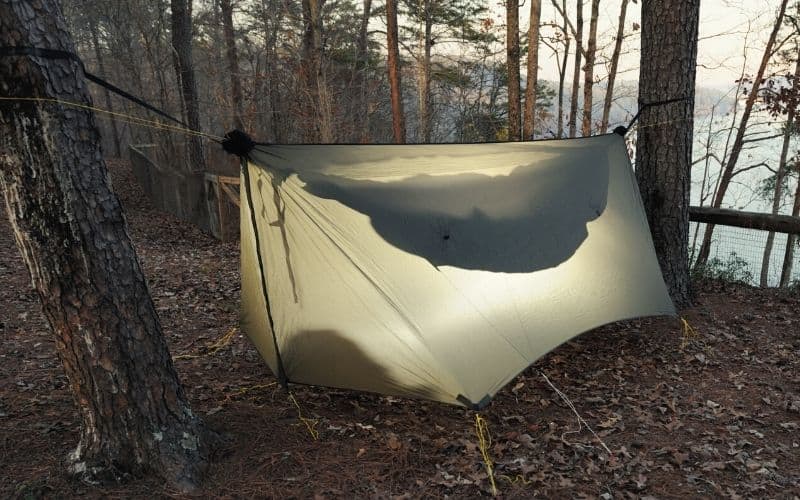 Some of the pricier options, likewise, might suddenly seem like a good deal when you discover they include a full suspension system and a rain fly, as is the case with the Hennessy Expedition Asym.
All of the above, of course, depends on the conditions in which you tend to do your hammocking. In our experience, though, having a rainfly along for any overnight trip is never a bad thing, just in case conditions take a turn for the worse.
Weight Capacity
The hammocks in our review have weight capacities ranging from 250 pounds (the Hennessy Hammock Expedition Asym) to 500 pounds (the Kammok Roo Double).
While choosing a suitable model simply comes down to matching the hammock with how much weight you plan on putting in there, there are a few observations worth making.
First up, make sure you account for ALL of the weight you plan on putting in there. That means your body weight plus the weight of your quilt or sleeping bag, plus the weight of your clothes/pajamas/canine/cat/teddy bear.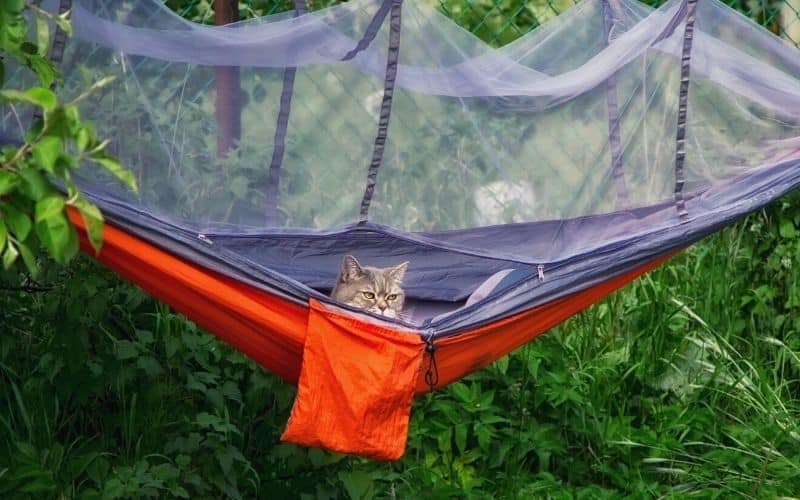 Secondly, be sure to leave a 10-20 pound buffer over and above the total weight calculated above. This is not only an act of "due diligence," but will allow you to pile on a few pounds without having to fork out for a new "hang."
Dimensions
Depending on how tall you are, and how you tend to sleep, the dimensions of your hammock can have a significant bearing on how comfortable it will be.
Ideally, you should be able to lie diagonally. This provides a flatter sleeping surface and helps avoid uncomfortable curvature of the spine and neck. For this, you'll need a model that's a minimum of two feet longer than your height, and at least 45 inches wide (48 if you're over 6' tall).
Single vs Double Hammock Design
Design-wise, single and double hammocks are all but identical. With double, two-person hammocks, you simply get more space to accommodate a second sleeper and higher-tenacity materials that can handle a heavier load.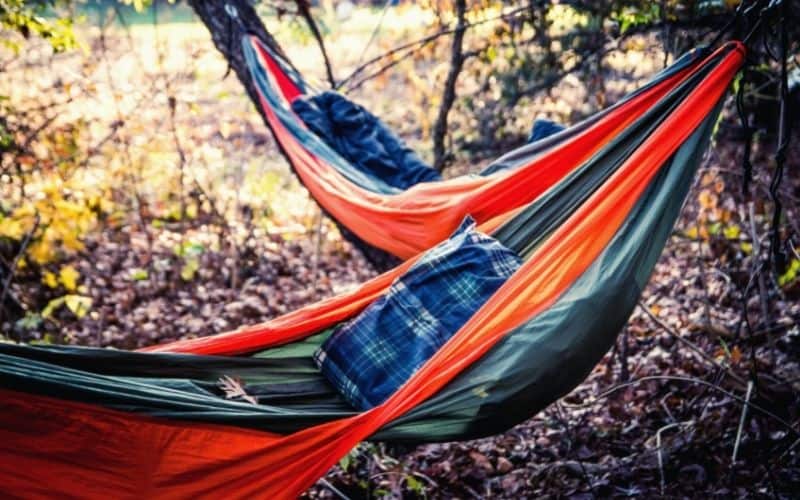 As with single models, check the load capacity and ensure the hammock is at least two feet longer than the height of the tallest sleeper.
Looking for more room? We recommend a model like the ENO Skyloft, which uses spreader bars that essentially expand the fabric at both ends to create a more rectangular shape, thus providing a wider sleeping area than with a gathered-end hammock, which tapers inward at the top and tail.
Suspension System: Hammock Straps & Ease of Setup
A hammock suspension system is simply the method used to tie and secure your hammock to a tree or stand. These are typically made up of nylon, polyester, or Dyneema straps and carabiners, though a few exceptions do exist.
Here, though, is the rub: not all hammocks include a suspension system, so be sure to factor this in when weighing up the options to ensure you get value for money.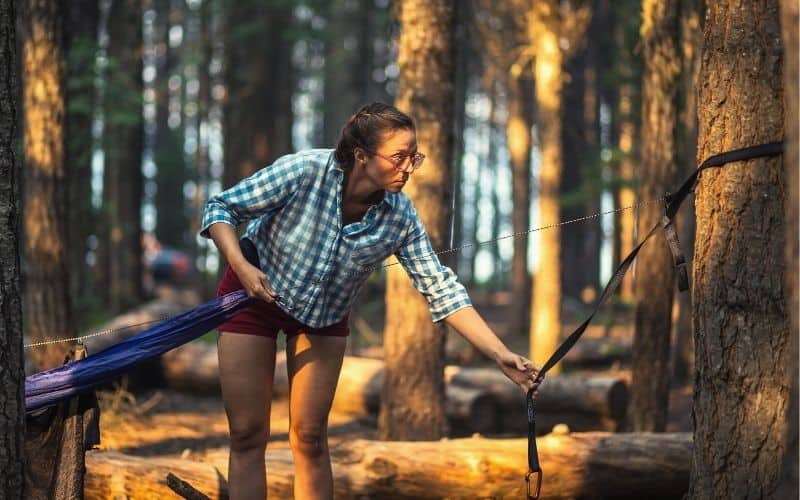 On our list, the ENO Doublenest, Grand Trunk Ultralight, and Warbonnet Blackbird's suspension systems are sold separately.
Different Suspension Systems
Most hammocks can work with different types of suspension system. However, many hammock brands sell proprietary suspension systems that are specific to their brand or even certain models, like the ENO Helios or ENO Sublink.
The type of suspension system you use might not seem like a big deal, but it can make a world of difference to setup time and general convenience.
Daisy Chain Straps
Both user-friendly and convenient, these are the best hammock straps out there for beginners. To use them, all you have to do is loop one end of the strap around your anchor point, feed it through the loop of webbing on one end, then clip the strap to the end of your hammock with your 'biner.
To help you get the ideal 30º hang angle, daisy chain straps have multiple connection points (the links in the "chain") per strap. This saves you from having to mess around with knots and makes tweaking your tensioning a breeze.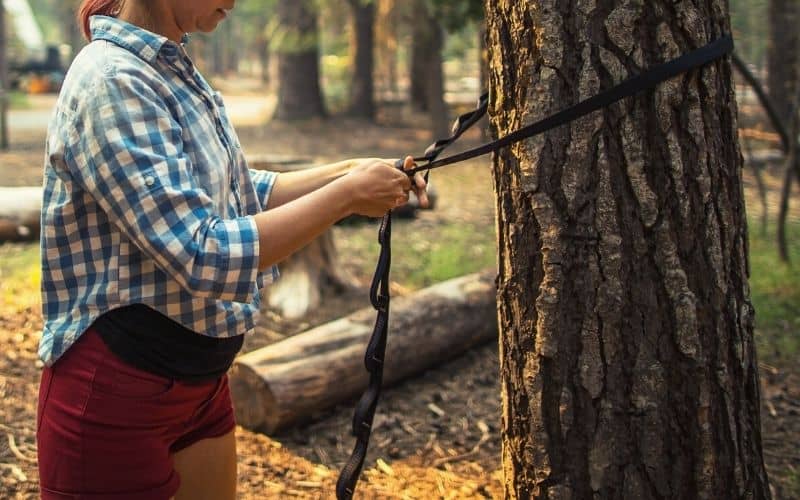 The only real downside to daisy chains is that they tend to be much heavier than other types of straps. If you're hammocking in wet weather, water can also run down the strap and into your sleeping area if the flat side of the strap is turned skyward.
Our favorite chain straps for our hammock shelter system? The ENO Atlas.
Here's how to use a daisy chain:
Whoopie Sling System
This is a popular suspension system among backpackers because it's lightweight, packable, and easily adjustable.
Whoopies comprise a fairly easy-to-use loop and knot system. While they have a lower load capacity and aren't as easy to set up as a daisy chain, they're easy to adjust and far lighter.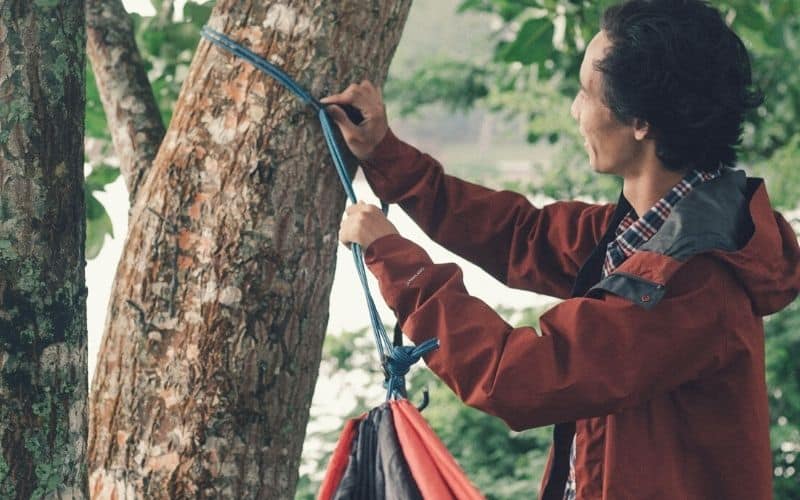 Our favorite whoopie? The Hanging High Whoopie Sling.
Here's how a whoopie sling is used:
Buckle Suspension
These systems are ultralight and easy to set up but not as common as the other two suspension types. On the plus side, buckle systems usually require no knots and are easily adjusted. On the downside, they typically don't hold as much weight as daisy chains.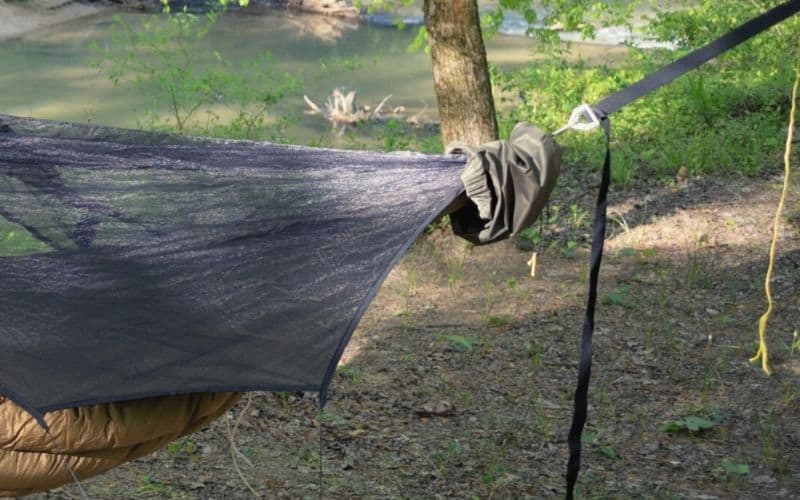 Our favorite? The Warbonnet Outdoors Buckle Suspension System.
Here's how they're used:
Durability
Durability is key to getting value for money in any camping product. With camping hammocks, however, it can make the difference between hanging happily ever after or an unhappy nocturnal landing somewhere down the line.
But how do you gauge durability?
This all depends on the type of fabric and the fabric denier rating.
Let's start with the denier rating. This refers to the thickness of the fibers in the fabric and is usually represented by a number followed by a solitary 'D', i.e. 20D, 70D, etc. The higher the denier rating, the thicker the diameter of the yarn. And the thicker the diameter of the yarn, the more durable and abrasion-resistant the fabric will be.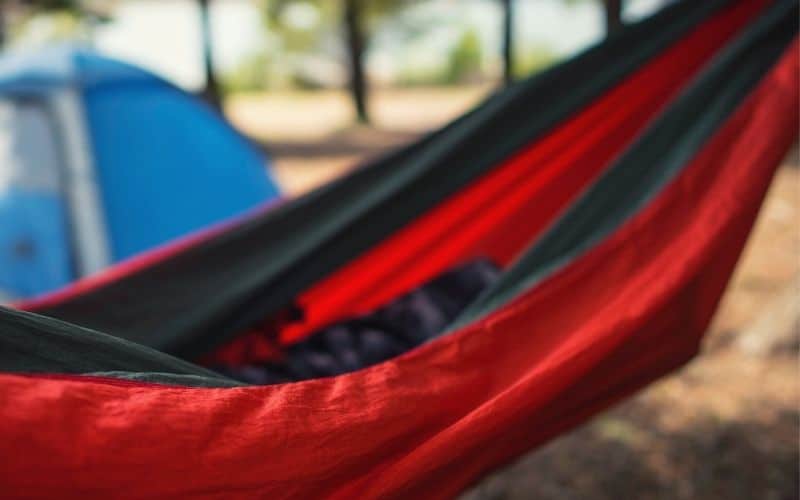 The Eno Skyloft, which is made with 140D ripstop nylon, is by far the toughest hammock on our list. This is followed by the Sea to Summit Double Pro, Hennessy Expedition Asym, and ENO Doublenest, which are all made with 70D nylon. The Kammok Roo Double and Warbonnet Blackbird (both 40D) have the lowest denier rating.
The other indicator of durability is the type of fabric used. Most models use either nylon, ripstop nylon, parachute silk, or polyester.
Polyester
Polyester is easy to care for. It doesn't absorb much water, so it's very resistant to mold and dries quickly after getting wet. This makes it a good choice if you'll be leaving it exposed to the elements.
There are, however, a few downsides to polyester. For starters, it's oleophilic. This means it absorbs oil, including – you guessed it – the oil from your skin. Over time, therefore, polyester camping hammocks may get a bit stinky, less breathable, and the colors might begin to fade. Polyester also isn't as tough as nylon, so it's not the best bet for backcountry adventuring.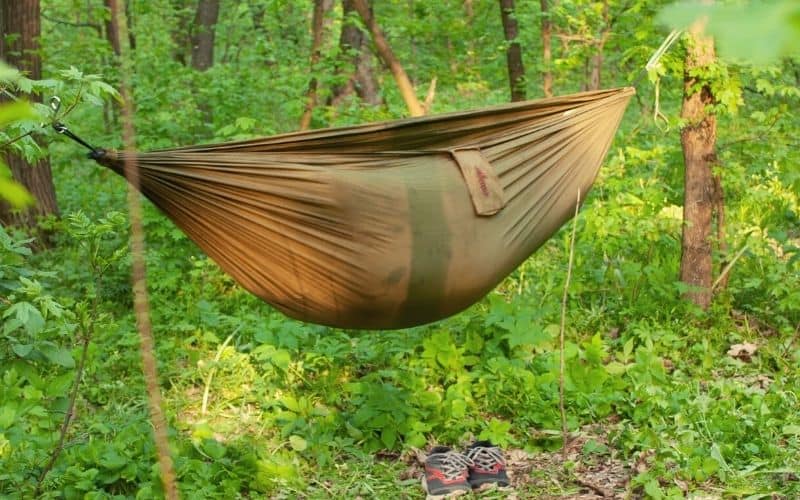 Nylon
Nylon is the most popular material used in bona fide camping or backpacking hammocks (as opposed to yard or beach hammocks). The reasons for this are simple. It's durable, lightweight, relatively breathable, and more rip-resistant than other fabrics.
The only real downsides to nylon are that it absorbs more water than polyester (and so takes longer to dry out), and is typically pricier than other fabrics.
Ripstop Nylon
Nylon-made fabrics are often reinforced using a special weaving technique that earns them the designation "ripstop." This technique involves weaving additional fibers through the original fibers to add strength and create resistance to rips and tears. Ripstop fabrics are easily distinguished by the diamond pattern of the weave.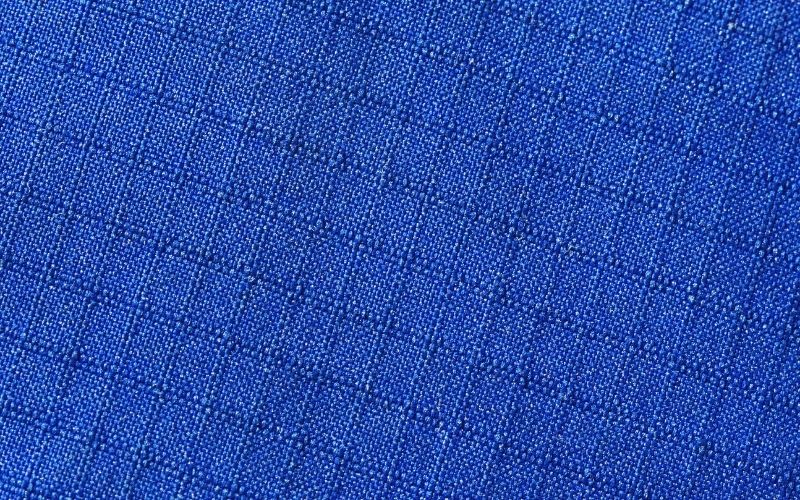 On our list, the following hammocks are made with ripstop nylon: Sea to Summit Pro Hammock, ENO Skyloft, and Hummingbird Single.
Parachute Silk
This is a variety of nylon that's made with extra-thin threads and is especially soft to the touch. It weighs less and dries quicker than standard nylon, so it's a good choice for backcountry hammockers. The only hammock on our list made with parachute nylon is the Grand Trunk Ultralight.
Need extra strength? If so, you might want to consider a double-layer hammock. As the name suggests, double-layer hammocks are those that use two layers of fabric instead of one. While this adds to the weight, it increases load capacity and rip resistance. Although there are no double-layer hammocks on our list, the Warbonnet Blackbird is available in a two-layer version.
Packed Size & Weight
End-use is the critical factor to consider when deciding how light and packable or heavy and bulky you're willing or need to go.
For garden hangs or afternoons at the park, you can probably afford to opt for a heavier and bulkier model. This begs the question: why would you want to? Well, heavier models tend to offer more comfort than their lighter counterparts courtesy of using thicker materials and having more spacious dimensions, which makes them more conducive to a satisfying snooze.
When backpacking, however, every ounce counts, so getting as much fabric per ounce of packed weight is often the name of the game, as long as this doesn't mean compromising on durability.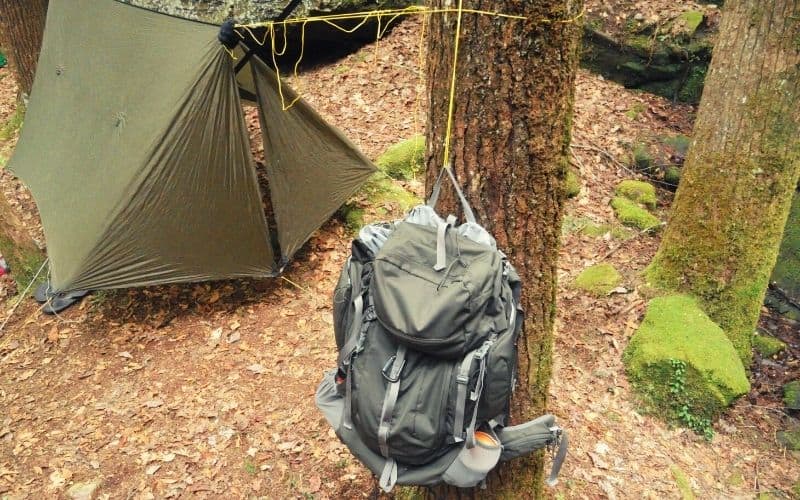 The lightest hammock on our list? Take a bow, the Hummingbird Single. The HS isn't only ultralight, but is made with tough, ripstop nylon fabric and has an impressive 300-pound load capacity.
The heaviest? The Hennessy Expedition Asym (47 oz.), though it's worth noting that this comes with an integrated bug net, rain fly, and suspension system. The heaviest without suspension and other accessories is the ENO Skyloft, which weighs a whopping 45.8 oz.
Best Hammock Camping Accessories
Rain Tarp
A hammock alone, of course, isn't going to provide enough weather protection to keep you dry in wet conditions. For that, you'll need a complete hammock shelter system with a waterproof tarp to hang over your airborne bed. For these, check out our guide to the best hammock tarp or opt for a model like the HH Expedition Asym, which has a rainfly included.
Other brands sell rain flys separately, as with the S2S Profly Rain Tarp and the ENO Sublink Shelter System.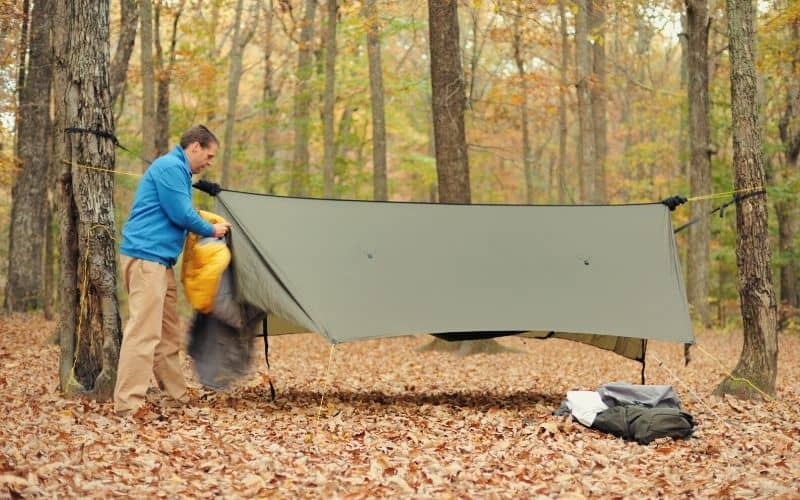 Unsure how to hang a tarp? No problem! All is explained in our step-by-step guide on hammocking tarp setup.
Bug Net
Integrated or not?
While bug nets might be deemed indispensable for hammocking in buggy locations, we feel that integrated models are less versatile than the detachable kind. The reason? In short, a detachable bug net can be discarded in bug-free locations, saving you a little pack space and weight. An integrated bug net, however, is there for good times and bad, for better or worse…
As with suspension systems and rain tarps, bug nets often need to be purchased separately. If this is the case, we recommend buying the compatible bug net for the specific make and model.
These will be a better fit and doing so will preclude buying a net that either leaves gaps for airborne biters to sneak in while you sleep or is too large and sags over your body, thereby making it easy for bugs to bite where the net comes into contact with your skin.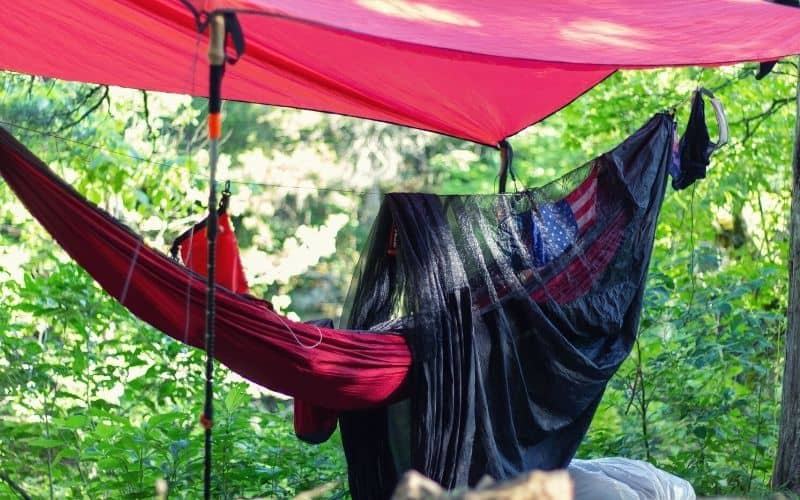 In our review, only the Hennessy Expedition Asym and Warbonnet Blackbird come with bug nets.
If your system doesn't have a model-specific bug net available from the brand, our favorite is the Kammok Dragonfly, which provides 360° protection, is large enough to cover even the biggest hammocks, and hangs from a ridgeline to prevent sagging. For other options, check out our guide to the best hammock bug net.
Underquilt or Sleeping Pad?
Many newbie hammockers wonder why underside insulation is necessary. Our bodies, after all, aren't in contact with the cold ground, as is the case when tent camping. And we have our sleeping bag, too…
The problem lies in the fact that sleeping bags rely on 'loft' for insulation. When compressed against the fabric of our hammocks by the weight of our body our sleeping bag's loft is all but nullified, leaving our undersides exposed to cold air.
To get around this problem, we have two options: an underquilt or a sleeping pad.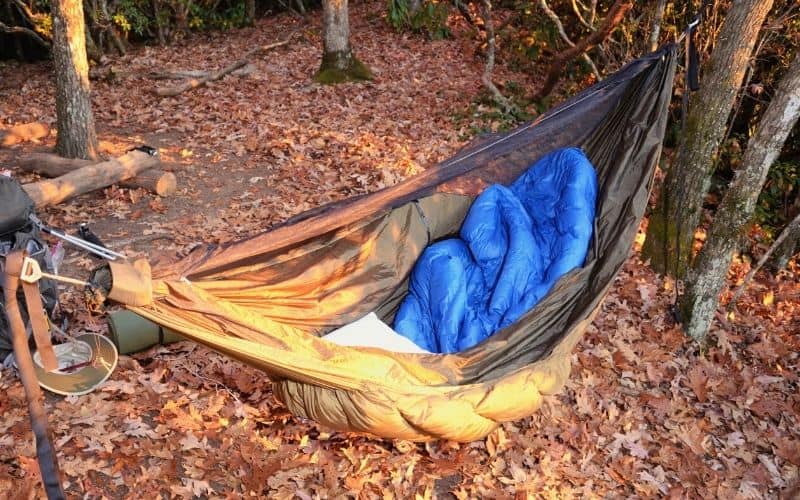 Underquilts are designed to attach to the underside of hammocks, thus creating a layer of insulation that won't be compressed by your body weight. With a good underquilt, winter camping or backpacking adventures in your hammock become doable in the lower 48. They are, however, invariably pricey.
Our favorite underquilts are the Enlightened Equipment Revolt or ENO Blaze. For more on these and other options, check out our comprehensive guide to the best underquilts.
Regular sleeping pads aren't designed to fit inside hammocks, but a few hammocking-specific sleeping pad models are now available for those who want to avoid the expense of an underquilt. You'll find 7 of these in our guide to the best sleeping pad for hammocks. Spoiler alert: our favorite sleeping pad is the Klymit V.
Hammocking Stand
No trees? No problem! Hammocking stands are a handy way to ensure you can hang your hammock no matter where you take it. While way too heavy and unwieldy for backcountry camping or backpacking, for car camping, beach hammocking, or garden hacks, they're frickin' ideal.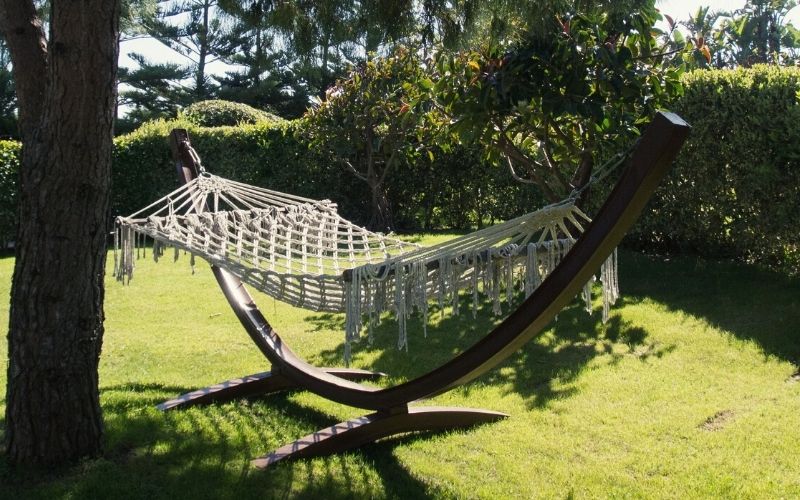 Our favorites? The Kammok Swiftlet and the ENO SoloPod Stand. For a more affordable option, check out the Sunnydaze Portable Stand.
Best Hammocks for Camping: The Verdict
Hammock camping is a great way to take your camping game to, literally, a whole new level…but only, of course, if you have the right hammock camping gear. We hope the above article has helped you pin down what the "right" kinda kit looks like and steered you in the direction of the perfect camping hammock for your needs.
The best all-rounder? The tough, tried, and true Warbonnet Blackbird.
The best for occasional hammockers? The affordable but fully functional Grand Trunk Ultralight.
And the best for buyers who want the most luxurious hammock sleeping experience? The Eno Skyloft, whose spreader bars and soft fabric allow it to deliver cloud-like comfort.
So, how did you like our article? If you have any questions, please leave a comment in the box below. And if you'd like to share this post with your friends, share away!