Best Camping Hammock: Our 7 Top Picks Of 2021
Looking For A Great Camping And Backpacking Hammock?
You're in the right place! In this guide, we will be covering the following:
Why you need a backpacking hammock
What you should consider when buying.
Reviews of the top camping hammocks on the market
Our unbiased recommendation on the #1 hammock for camping
There are few sweeter feelings after a day on the trail, than feeling the smooth sway as you climb into your hammock for the night.
Whether you're looking for the best backpacking hammocks to accompany you as you tred the Appalachian Trail, a car camp hammock set up or simply something for your yard – we've talked to the best hammock brands, researched their models and summed up the results in this guide.
Using our hammock reviews, you'll find a hammock that's perfect for your lifestyle and your next adventure.
Editors Choice
Kammok Roo
Despite there being so many types and brands available on the market, we've narrowed the winner down to our personal favorite: The Kammock Roo. It lives up to being "the world's best camping hammock" because most campers prefer it for its durability and palatial size. It's stronger and softer than most other models, too.
The Roo is more expensive than its main competitors but does better than all of them across the full board of important considerations. The only drawback we can think of is that if you want to overnight, you may need to pick up separate bug netting (Dragonfly) and tarp (Glider) accessories for the Roo.
The Roo is a good option for those looking to reduce their carbon footprint (a hammock leaves popular campsites undisturbed, unlike using a tent) and each purchase donates money to Kenya.
Bottom line: The Kammok Roo is just one of the best hammocks on the market, in our opinion it's the best.
Why Choose A Hammock Shelter System? What Is Wrong With A Tent?
Ah, the great outdoors. What's a better way to enjoy all nature has to offer than to kick back in your very own backpacking hammock? The short answer is that there isn't anything better than that. When shopping for gear, hammock camping is often overlooked because we've come to unequivocally link tents with camping. But tents need to move over because portable camping hammocks are taking over and changing the way people camp and spend time outdoors.
Though people in Central and South America have been using hammocks (hamaca from the Spanish) for years, the concept of hammock camping is relatively new in the U.S. and has emerged as an excellent alternative to the tent. Before you decide on which hammock is right for you, though, look at how it will be used.
Maybe you are tired of sleeping on the ground. (A wet tent floor isn't fun). Maybe you want versatility and an option that will perform triple duty as a bed, a chair, and a lounger so you can lounge over (yes, literally) a stream and listen to the water rush by. Maybe you want to be closer to nature and to sleep under the stars. Maybe you just don't want to take the time to put a tent together.
Whatever your reason for shopping for a sleeping hammock, using this guide, you can be sure that you'll get one that meets your needs. Also, it doesn't hurt that we'll help you get the best value.
To understand what type will best suit your needs, it is a good idea to go through the different variables you can choose from, gain an understanding of why they matter and get a feel for which ones are most critical to you.
What Should I Look For In A Hammock Tent?
Dimensions
Hammocks can be anywhere between 4.5 – 8.5 feet wide. If you're a broad-shouldered guy or are planning to sleep two, you probably won't want a model that's only 4.5 feet across. For length, it's a matter of preference. If you're 6'2 or you like to stretch and sprawl out, you might be more comfortable in a 7-foot-long model versus a shorter one.
Weight Capacity
This is important. Again, we'll use our solidly built, 6'2 guy who has broad shoulders. He shouldn't buy a product with a weight limit of 150 pounds. Again, consider how your hiking hammock will be used. Weight capacities go up to 500 pounds so you can sleep in a hammock soundly knowing you'll be held securely (just get a suspension system with a similar capacity).
Attachment Points
Camping hammocks are essentially a sheet unless you have something to attach to, and a suspension system to do the attachment. Unfortunately, a lot of models do not provide suspension systems and you will need to purchase them separately. Additionally, if they do provide straps, you will often want to replace them for stronger/lighter versions.
A model with multiple attachment points will be able to be strung in a variety of ways and a variety of places, giving you a greater choice of camping spots (and views).
Insulation Options
Hammocks are generally made from thin parachute material which is great for being lightweight and strong but isn't renowned for its insulating properties. If you are planning on using your hammock in less than temperate conditions, you may want a model with options to layer. These models are designed to allow an underquilt or hammock camping pad to be slipped between the layering of the hammock.
RELATED: Need more insulation? Then check our guide to the best hammock underquilt
Cost
There are a variety of good products available for a range of budgets, although there is a correlation between quality, extra features, and overall cost.
Understanding how much you are willing to spend, and what are your main requirements in a hammock shelter system will help you to strike the right balance between cost and practicality for your purpose. We have reviewed a wide range of models to help the one that suits you and your wallet.
Weight
No one enjoys hulking around an overloaded backpack no matter how comfortable the guy in the store told you it would be. Removing a few ounces here and a few ounces there will help to keep your pack weight down and help create a more enjoyable trip.
If you are planning on carrying all your gear on your back for several days or more, keep your kit as light as possible. On the flip side, if you're looking to hang something up on your stoop, weight will be a lesser priority.
Often the suspension straps and slings that come with hammocks (if they come with them at all) are cheap and cumbersome. Changing them out with alternatives can help reduce your pack weight further. You can see some options here.
Durability
If you want something to last a lifetime, even if it endures some tough love along the way, then the material selection will be a significant factor in your choice. Although, here in lies the rub. While not a cast iron rule, if you want improved durability, it often comes at the cost of weight – the ultralight options available are generally made from less durable materials to help keep their weight down.
Purpose
Purpose is the ultimate reasoning point you should use in your selection. Although, in reality, it is not a separate deciding factor as those above, but is actually the integration of them all.
Do you wish to overnight, in all weather? Then may we suggest to you something that is durable, capable of layering, and to purchase a tarp (if it doesn't come with one). In this situation, we would argue protecting yourself from the elements is more important than weight or other considerations.
The flip to this is of course if you a thru-hiking and want to keep your weight down. Then your selection should be primarily based on the weight requirements and less so on durability, or if it comes with a bug mesh or insulation options.
RELATED: Learn how to hang a hammock correctly
Types
We won't be talking about the netted one in your backyard that you bought in that tourist shop in Miami – the one that is just waiting to flip you onto the ground when you least expect it. No – we're talking about covered camp hammocks specifically made for camping (tents no longer reign supreme). In fact, many campers find that they prefer them because they're fun, relaxing, and offer more options than a traditional tent (and you know we're all about choices and customizing our experience).
In fact, many people find they are better for sleeping because they provide ultimate comfort. You can sleep on a diagonal and wake up well-rested, unlike sleeping on a lumpy, bumpy tent floor. Here, we'll explore several types (along with hammock accessories and hammock suspension systems) so you can choose the hammock shelter system that is most suitable for your budget, lifestyle, and needs.
Ultralight Backpacking Hammocks
The hammock isn't a new concept. The first use of them on record was when the Spanish colonists noted that Native Americans in the West Indies were using "hamacas" or "nets" (a word derived from the Haitian meaning "fish net") to sleep. Then, in the late 1500's, they became popular to use for sleeping on naval ships. Since their use by Native Americans and sailors, they have emerged as a new trend in camping.
This popularity is because they're affordable on any budget and you're sure to find a great one at any price range. They are lightweight (good for when you're hiking or backpacking) and come in options for daytime (just lounging) or sleeping. You'll want to look for a sturdy one with quality construction, though (especially if you plan on lounging over a stream). There are also options for two so you can snuggle up to your sweetie under the stars.
These tend to be the best choice for an on-the-go lifestyle and spontaneous adventures. It's light, easy to carry, and ideal for hiking and enjoying the outdoors. The biggest advantage of is that you get the most bang for your buck with them. They're less expensive than tents and better for comfort and versatility.
They tend to not be a good choice for long-term camping or camping in extreme, rugged conditions (i.e. in the mountains in the snow) as they do not offer as much protection against the elements as other options.
Insulated Hammock
So, maybe you opt for a camping hammock instead of a tent, but it's going to get chilly. Your plans for sleeping outside don't have to be thrown out or postponed. You'll just need to take a few extra steps to insulate yourself so you can stay nice and cozy without compromising your plans. (Take that Mother Nature!) Here are the three best options for insulating:
Sleep on top of a pad. This is a great option for beginners or people who may already own a sleeping pad. These can shift, though, so use a mummy-shaped pad for minimal sliding.
Layer, layer, layer!! If you know you'll be using it in lower temperatures (keep in mind that even summer nights can be cool), you should consider purchasing a double rather than a single layer hammock. This model will have a special compartment for a sleeping pad. Alternatively, add a fleece sleeping bag liner to your sleeping bag for extra warmth.
Under-quilt. This is the preferred method of more experienced hammock sleepers. An under-quilt will protect you from the cold by hanging beneath your hammock shelter system.
If you're considering an insulated model, ask yourself the following questions: Will you be using it long term? Will you be using it all year around? If so, this is perfect because you can stay snug and be ready for anything. Plus, there are lots of options for insulation.
An insulated hammock is best used for nights that may be colder and works best paired with a good-quality ​hammock sleeping bag. However, there's a learning curve with insulated hammocks, so they may not be right for the novice hammock user. Users may also have difficulty finding strong trees to use when setting up their hammock.
Daytime Hammocks For Campers
These are perfect for lounging, snoozing, and generally hanging out during any downtime on your trip (or in your backyard). They can be used for overnight, but you will often want to opt for some additional kit, such as quilts, bug nets and tarps to make sleeping in them safe and comfortable.
ENO Doublenest
The Eagles Nest Outfitters DoubleNest hammock can safely support up to 400 pounds and is one of the few two-person hammocks on the market. It's made of breathable nylon taffeta and folds to be the size of a grapefruit, making it light-weight and portable.
The ENO DoubleNest takes seconds to set up and has multiple uses – it can even be secured to a wall. It gives you the option of a flat lay or on a diagonal for ultimate comfort. It's 6'2 wide and 9'4 long and weighs just nineteen ounces. Also, it's very durable and comes in a variety of two-tone colors.
Key Features
112 x 74 inches and a carrying capacity of 400 lbs the ENO Doublenest was designed with two people in mind.
Tough Carabiner attachments allow you to clip to the anchor of your choice.
Weighs 20 ounces and packs down to the size of a softball.
Comes with a 2-year manufacturer warranty
PROs

Two-person camping hammock
Hammock stuff sack is attached and doubles as a pocket

CONs

Suspension system/straps sold separately
Kammok Roo
Best Hammock for Camping
The Kammok Roo has dubbed itself "the world's best camping hammock" and for good reason. It's made of nylon and a good, sturdy Made in the U.S. product. It's also the most spacious option yet at 10 feet long and 5'7 feet wide – about the size of a queen size bed.
It boasts a weight limit of 500 pounds and weighs just twenty-three ounces. The Kammok Roo's fabric is stronger and softer than other parachute materials and, unlike some other models, comes with a whoopie sling and two climbing rated carabiners.
Also, it's an excellent choice for the socially conscious camper – a portion of the purchase price goes toward creating sustainable resources in Kenyan communities.
Key Features
Comes with two KangaClaw carabiners and two Dyneema Racer Slings
Extremely roomy and comfortable
Lifetime Warranty
LunarWave diamond ripstop fabric, triple-stitched seams and reinforced stress points.
Weighs 28 ounces and packs down to the size of a water bottle.
PROs

Extremely roomy and comfortable hammock
The lifetime warranty
Extremely durable
Can fit two and can (almost) sleep two

CONs

May need to 'channel' your inner spiderman to get out sometimes, due to high sides
Grand Trunk Ultralight
Best for Backpacking
A perfect alternative to the traditional tent, this ultralight hammock is made of 100% polyester, it's light and very affordable, and it comes in three different colors. Even if you choose not to use it for sleeping, you can still relax at the campsite, use it at home in the yard, bring it with you to the lake, and take it with you when you travel.
It is compatible with sleeping pads, has sturdy hanging hooks, and has triple-stitched seams to reinforce it's strength. It is also guaranteed to stay clean for years due to its mildew-resistant, machine washable fabric.
Key Features
Lightweight hammock at only 12 ounces, this polyester beast holds up to 200lbs
Sleeping pad compatible, allowing a more comfortable snoozing experience
Easy set up and packs down to the size of a football in the attached stuff sack.
PROs

Light-weight and convenient hammock
Easy to hang
Budget-friendly

CONs

Suspension straps have to be bought separately
Thin material
Bottom-Line: The Grand trunk Ultralight is an amazing option for the gram counters looking for an ultralight backpacking hammock.
Hammocks For Camping
While you can with some extra kit turn a daytime hammock into a comfortable and safe place to lay your head overnight, there are many purpose built camping hammocks on the market. These will often have in built features such as bug nets, rain tarps and layering to allow quilts or sleeping pads to be inserted under you.
Grand Trunk Skeeter Beeter Pro
Mosquito problem? Not anymore with the Grand Trunk Skeeter Beater Pro hammock. It's 100% nylon with triple-stitched reinforcements for ultimate strength and has gray no-see-um mosquito netting that hangs overhead and away from your face to prevent feelings of claustrophobia.
It has a double-sided zipper and plenty of space with it being 4.3 feet wide and 8.6 in length. It's best for one occupant but can hold up to 400 pounds.
Key Features
Camping hammock with mosquito net allowing you to sleep bug-free.
Features two internal storage pockets for stowing away your valuables while you sleep
Triple stitched parachute nylon and nautical grade carabiners for extra durability
PROs

Best protection against mosquitoes with integrated bug net
Comes with starter rope, net suspension kit, and nautical-grade carabiners.
Hammock an be flipped to use without netting

CONs

Storage pockets all but useless
Warbonnet Blackbird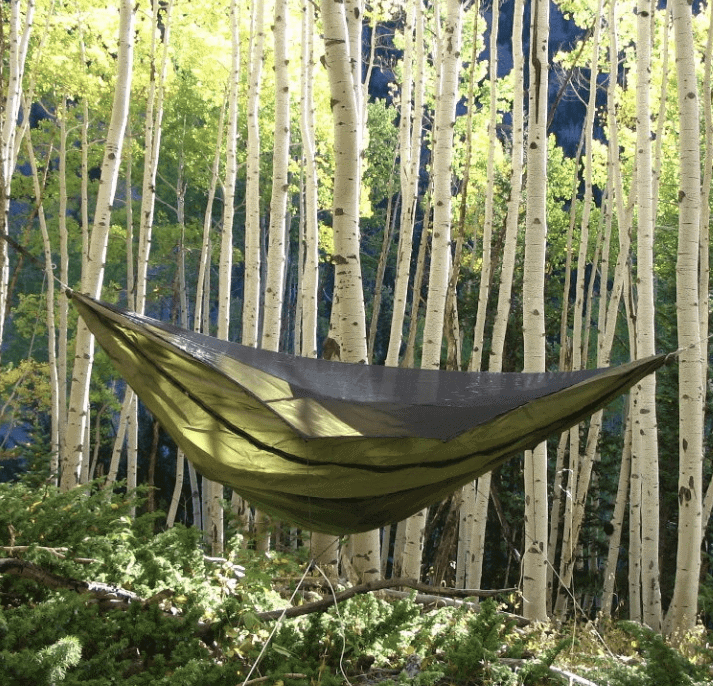 The Warbonnet Blackbird is a jungle hammock with bug net that is 5.25 feet wide and 10 feet long and is perfect for users up to six feet tall. The best part of this model is how much you can customize it to make it your own. You can choose between several types of fabric and with a single or double layer body.
The hammock includes a full-length zipper; its bug net can be rolled back, and it has two foot a storage shelf and foot box, perfect for storing shoes, glasses, etc. The Blackbird comes with two suspension or two elastic lines, built-in bug netting, shelf, foot box, and stuff sac. Carabiners are sold separately.
Key Features
Integrated footbox that allows you to more easily find a comfortable diagonal sleeping position.
Dual sided zippered bug net so you can easily get in whilst keeping the bugs out
Storage shelf for holding your shoes, or other items.
Strong and durable construction from breathable 30/70D Nylon with DWR finish.
PROs

Integrated bug net to help you get a good nights sleep
Available in XL version for the taller among us (over 6 feet)
Incredibly comfortable camping hammock

CONs

Bottom prone to water and abrasion
One of the more expensive options
Lawson Blue Ridge Camping Hammock
This is as luxurious as camping gets! Half camping hammock and half tent, the Lawson Blue Ridge can be suspended or be slept in like a tent. Though pricey, it's versatile enough to create a custom sleeping experience by lying flat, so you're not cocooned. Also, it boasts no-see-um netting and a rain fly to keep you dry and protected from the elements. It's lightweight and easy to set up so you can enjoy the outdoors with no fuss.
Key Features
Made of ripstop nylon and poly pack cloth with a No-See-um bug canopy
Comes with a waterproof ripstop-nylon rain fly
O-ring in ceiling for hanging light
Two interior storage pockets
PROs

Comes with included rain fly tarp and bug net.
Ring for hanging a camping lantern/headlamp and interal storage pockets

CONs

Significantly heavier than it's competitors and with a weight limit of only 275 lbs.
Suspension system/tree straps not included.
Hammock Camping Gear Accessories
Here are some options for accessories, allowing you to have a more enjoyable camping experience (in any weather).
Rain Tarps & Shelter System
Don't get caught in the rain – enjoy the sound of it as it falls on your hammock rainfly while you stay dry. Look for one that has a rectangular shape to give you and your hammock ample coverage, has excellent water-shedding capabilities, and can be easily packed away. Rain tarps can also be used to provide shade.
Mosquito Nets
Pesky mosquitoes won't be an issue anymore. Look for a hammock bug net that is lightweight, compact, and blocks out all bugs. An added bonus? Some mosquito nets can be used for privacy because of their "no-see-um" netting (you can see out, but no one can see in).
Sleeping Pad, Bag & Underquilts
We've already talked about how to keep warm with sleeping pads and under-quilts, but we can't forget about sleeping bags – the foundation of your camping gear. Be sure to choose a rugged sleeping bag that can stand up to sub-zero temps and keep you warm. If you're not claustrophobic, a mummy-style bag is the best for hammock camping.
Suspension Systems, Whoopie Slings & Tree Straps
Tree straps will secure your hammock and allow you to enjoy your hammock worry-free. Typically made of nylon, most hammock suspension systems have a hook and loop design that's easy to use and provides strength to hold you. Just make sure to check the weight limits before purchase.
Last update on 2021-12-02 / Affiliate links / Images from Amazon Product Advertising API