Hardshells are, by definition, the jacket type best equipped to keep you dry and comfortable when the weather's at its wildest. While softshell jackets and rain jackets will suffice if you plan on hiking in three-season conditions, on alpine missions or when the weather takes a turn for the biblical, a hardshell's bombproof, 3-layer protection is what you need.
Like all classes of outdoor gear, however, the term "hardshell" encompasses a wide range of performance levels, and specific models are better suited to different end uses than others.
To help you find the best option for your needs, budget, and activity type, we've put together a list of our favorite jackets this year. In our reviews, we provide the lowdown on what each jacket does well and what it doesn't, as well as highlighting the kind of adventure it's most suitable for. Below these, you'll also find detailed buying advice to help you choose.
Our Top Picks by Category
Budget: Mammut Kento and Outdoor Research Microgravity
Performance: Arcteryx Alpha SV, Arc'teryx Beta AR, and Black Diamond Highline Stretch
Lightweight/Ultralight: Patagonia Storm10 and Black Diamond Highline Stretch
Editors Choice
Arc'teryx Beta AR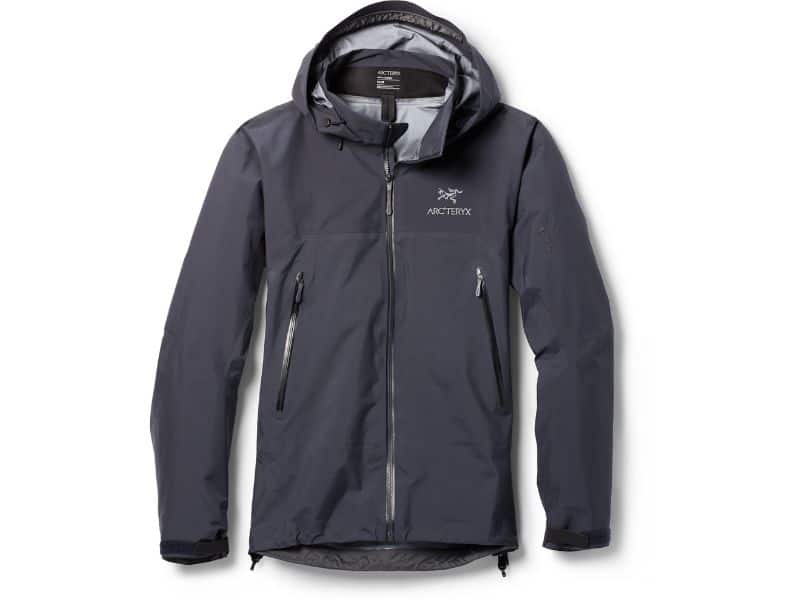 In choosing the winner of our award, we sought a waterproof jacket that provided the perfect balance of weather protection, breathability, mobility, and toughness, and a full complement of dialed-in, user-friendly features.
The Arc'teryx Beta AR (click here for women's version) ticks all of those boxes…and then some.
This jacket is made with Gore-Tex Pro waterproofing technology, which is both the most breathable and most waterproof of all the fabrics in the Gore-Tex range. This combo makes it more than capable of keeping you dry in heavy downpours whilst also ensuring you won't overheat or end up soaked in sweat during high-intensity activities.
The 40d and 80d ripstop fabric in this jacket makes it tough enough to withstand plenty of rough treatment. Unlike other burly hardshells, however, this toughness doesn't detract from the Beta AR's mobility, with the jacket's no-lift gusseted underarms, articulated elbows, and ergonomic patterning ensuring it provides almost unrivaled freedom of movement.
The features in this jacket are another cause for celebration.
Heading the lineup of lovable add-ons are a pair of large pit zips for added ventilation, a droptail hem that keeps your butt dry when sitting, and an adjustable, helmet-compatible hood. And putting the proverbial cherry on the cake, there's also a trio of high-volume waterproof pockets, an internal security pocket, a soft-brushed lined collar, and a laminated brim and hem.
Bottom Line: The Beta AR is pricey, but in terms of performance, fit, features, and weight-to-weather-protection ratio, it can't be beaten.
At A Glance: Quick Recommendations
Further info: If you're not sure a hardshell is what you need, then check out our main article on the best hiking jackets.
The Best Hardshell Jacket: Reviews Of Our Top 8 Picks
Arc'teryx Beta AR
Editors Choice
Waterproofing: 3-layer Gore-Tex Pro ⸱ Weight: 1 lb. ⸱ HH: 28,000 mm ⸱ MVTR: 25,000 g/m²/24h
Choosing our favorite from Arc'teryx's stellar range of outstanding hardshells was no easy task. When push came to shove, however, we had to plump for the one that we feel offers the best performance for the price – the Beta AR (click here for women's version).
This jacket may cost a pretty penny, but in terms of craftsmanship, protection against the elements, durability, and suitability for rough and tumble in the mountains, it leaves the best of the rest languishing in its wake.
The Beta AR is made with Gore-Tex Pro waterproofing technology, which is the crème de la crème of the Gore-Tex range. With a HH of 28,000 mm and MVTR of 25,000 mm, this fabric provides the most robust waterproofing and highest breathability of any on our list, making it ideal for high-output activities in the most extreme conditions.
But what we love most about this jacket is its dialed-in design and next-level attention to detail. Though made with a minimalist, alpine-style fit, its incorporation of "no-lift" gusseted underarms, articulated elbows, a droptail hem, and ergonomic 3-dimensional patterning make it one of the most comfortable and mobile hardshell jackets we've ever worn.
And the other features don't disappoint either. There's a duo of oversized hand pockets, an interior pocket, a chest pocket, a well-designed helmet-compatible hood, WaterTight zippers, a pair of water-resistant pit zips for ventilation, laminated adjustable cuffs, a microsuede chin guard, and a RECCO reflector for avalanche emergencies.
In short, if you're looking for a hardshell jacket that ticks every box that needs ticking, this is it.
PROs

Highly waterproof and breathable
3 exterior pockets and 1 interior pocket
Underarm vents
Trim fit
Harness-compatible pockets

CONs

Not the lightest option out there
Pricey
Bottom-Line: An incredibly well-designed jacket that uses 40d Gore-Tex Pro technology to deliver the perfect balance of waterproofing, breathability, and durability.
Mountain Equipment Lhotse
Runner-Up
Waterproofing: Gore-Tex Pro ⸱ Weight: 18.2 oz. ⸱ HH: 28,000 mm ⸱ MVTR: 25,000 g/m²/24h
British brand Mountain Equipment has a well-earned reputation for creating seriously badass rain shells for high-alpine adventures (and also, of course, for the brand's abysmally bad native climate!). The Lhotse is a perfect example of the type of jacket upon which this reputation was built.
Weighing 18.2 oz., this is the heaviest option on our list. However, its use of 40d ripstop nylon fabric, 80d ripstop inserts in areas prone to abrasion, and a Gore-Tex Pro membrane make it pretty much the very definition of a "bombproof" mountaineering jacket.
There's very little to separate the Lhotse from the other Gore-Tex Pro jackets on our list, the Beta AR and the Mammut Nordwand. These three jackets offer identical waterproof performance and breathability and boast a similar alpine fit. If serious weather protection is what you need, none of them will disappoint.
However, the winner of our review, the Beta AR, scooped our "Best Overall" award courtesy of its slightly more ergonomic fit and lower weight. That said, if alpine or ice climbing is on the cards, the Lhotse's tougher fabrics might just be worth the weight penalty.
Features-wise, the Lhotse has everything you'd expect to find on a high-end mountaineering jacket. In addition to those 80d reinforcements, there's plenty of other good stuff going on, most notably a fully adjustable hood and cuffs, a trio of oversized pockets, underarm pit zips with a laminated and bonded entry, and articulated pre-shaped sleeves.
PROs

Tough as nails
Completely waterproof
Affordable
Pit zips
Articulated alpine fit

CONs
Bottom-Line: A burly beast of a waterproof shell that's equipped to keep you dry in even the most heinous conditions.
Outdoor Research Microgravity
Best Value
Waterproofing: Ascentshell ⸱ Weight: 14.6 oz. ⸱ HH: 15,000 mm ⸱ MVTR: 30,000 g/m²/24h
If comfort sits higher on your list of priorities than high-end weather protection, then the OR Microgravity (click here for women's version) is well worth a look.
While this shell has a few flaws that make it less than ideal for especially gnarly conditions, there's also a lot to love.
For starters, the Microgravity's MVTR of 30,000 g/m²/24h makes it the most breathable jacket on our list, earmarking it as something of a shoo-in for those who take part in high-intensity and high-output activities.
Next, there's the trend-breaking use of OR's AscentShell waterproof fabric. While this is less waterproof (15,000 mm) than the Gore-Tex Pro or Active fabric used in the Nordwand, Beta AR, and Lhotse, it's also far softer against the skin, has a softshell-like stretch, and is a far more affordable option.
Finally, the Microgravity has a feature set including everything you could want in a jacket. There's a fully adjustable helmet-compatible hood, two handwarmer packers, two chest pockets, Dynamic Reach underarm panels for improved mobility, and AquaGuard zippers throughout. While we would've liked a pair of pit zips, the fabric's breathability is such that they aren't a big miss.
PROs

Waterproofing: AscentShell
Weight: 14.6 oz.
HH: 15,000 mm
MVTR: 30,000 g/m²/24h

CONs

Very comfortable
Highly breathable
Stretchy outer layer
Underarm gussets
Helmet-compatible hood
Bottom-Line: An affordable hardshell jacket that offers above-average weather protection and all the comfort of a softshell.
Mammut Kento
Best Budget
Waterproofing: Mammut DRYtechnology™ Pro ⸱ Weight: 15.3 oz. ⸱ HH: 20,000 mm ⸱ MVTR: 15,000 g/m²/24h
For many hikers, the performance offered by the more expensive jackets on our list will be overkill for the conditions in which they typically hit the trails. If this applies to you, and you're happy to make a few compromises on waterproofing and breathability to save a handful or two of $, then the Mammut Kento (click here for women's version) is a great option.
This entry-level hardshell rain jacket performs well – if unexceptionally – in every metric. It has a respectable hydrostatic head rating of 20,000 mm, an MVTR of 15,000 g/m²/24h, is made with durable, 40-denier polyamide outer fabric, and also has fully taped seams, pit zips, an adjustable and helmet-compatible hood, and harness-compatible pockets.
While the Mammut DRYtechnology™ Pro waterproofing makes the Kento both the least breathable and least waterproof option on our list, it's hard to quibble given that it costs a fraction of the price of the Gore-Tex Pro and Active jackets on this list.
This jacket weighs a fairly hefty 15.3 oz., which makes it the second heaviest we reviewed after the ME Lhotse. And compared to the other low-cost model, the OR Microgravity, it's a whole 0.7 oz. heavier and a lot less breathable. It does, however, partially atone for these shortcomings with its superior waterproofing and inclusion of pit zips and articulated sleeves.
PROs

Affordable
2 handwarmer pockets & 1 zippered chest pocket
Splash-proof pocket zippers
Pit zips
Helmet-compatible and adjustable hood

CONs

Less robust weather protection
Lacks the breathability required for high-output activities
Bottom-Line: A well-made, entry-level hard shell jacket that provides more than enough weather protection for the needs of most 3- or 4-season hikers.
Black Diamond Highline Stretch
Best Mobility
Waterproofing: BD.dry Stretch Nylon 3L with GTT ⸱ Weight: 12.7 oz. ⸱ HH: 20,000 mm ⸱ MVTR: 20,000 g/m²/24h
Once upon a time, even the best hardshell jackets were stiff, unyielding affairs that often left you feeling like you were in a straight jacket rather than a merely waterproof one.
As technologies and designs have evolved, we were subsequently blessed with articulated fits and gussets that afforded a little more leeway for movement, but which often added to bulk and weight. Then came what we'd all been waiting for – fully mobile, stretchy softshell impersonators like the Black Diamond Highline (click here for women's version).
Let's skip straight to the bottom line: we frickin' love this jacket.
While it's not as waterproof as bombproof-class shells like the Beta AR, ME Lhotse, or Mammut Nordwand, it does plenty to make up for this slight shortfall.
Let's start with the USP, the oh-so-endearing "stretch" from which the Highline takes its surname.
Thanks to its use of stretchy nylon fabric in combination with a robust water-repellent finish and 20,000 mm waterproof membrane, the Highline essentially marries the best bits of a softshell jacket with a traditional hardshell while doing away with the shortcomings of each.
This means you get a jacket that's more mobile than almost any other hardshell out there but also waterproof and breathable enough for all but the most extreme wet-weather adventures.
The Highline also uses a brand-spanking-new, potentially revolutionary GTT (Green Theme Technology) water-repellent coating. This isn't only PFC-free and, thus, more environmentally friendly than traditional durable water repellent coatings, but is also hyper-fused to the fabric fibers, meaning you'll never have to waste time or $ refreshing it with a post-purchase spray.
PROs

Outstanding mobility
Pit zips
Fully taped seams
GTT water-resistant finish
Helmet-compatible hood

CONs

Less waterproof and breathable than the top dogs on our list
Bottom-Line: A superbly comfortable waterproof jacket that combines the wet-weather performance of a high-end hardshell with the mobility of a softshell.
Arc'teryx Alpha SV
Premium Pick
Waterproofing: 3L Gore-Tex Pro ⸱ Weight: 1 lb. 2 oz. ⸱ HH: 28,000 mm ⸱ MVTR: 25,000 g/m²/24h
Looking for a performance-oriented, seriously badass jacket that's geared towards more technical and high-intensity high-alpine pursuits? If so, the Arc'teryx Alpha SV (click here for women's version) is well worth a place on your shortlist.
This jacket is made with N100p-X 3-layer Gore-Tex Pro waterproof/breathable fabrics and included N80p-X Gore-Tex Pro reinforcements in high-wear zones for increased abrasion resistance. While billed as a mountaineering jacket, we found the feature set and mobility of this hardshell made it equally well-suited to regular hiking.
The Alpha SV is among the most intelligently designed on our list. On the shoulders, it uses reinforced patches to double down on abrasion resistance. It also has a helmet-compatible storm hood, anatomic shaping and underarm gussets, a duo of interior pockets, three hipbelt-compatible exterior pockets, and die-cut velcro cuff adjusters to reduce bulk.
The SV in the Alpha's name stands for 'severe', a reference to its ability to fend off the foulest of weather. In addition to having an HH of 28,000 mm and MVTR of 25,000 g/m²/24h, meaning it will keep you dry and sweat-free even when moving fast and working hard, it has Gore-taped seams and WaterTight zippers.
There's no getting around the fact that this is a very pricey jacket. However, if you're happy to "shell" out for the best your money can buy, it's well worth a look.
PROs

Great waterproofing
Robust materials
Helmet-compatible hood
2 large hand pockets, 2 interior pockets, and one bicep pocket
Fully sealed seams

CONs
Bottom-Line: A pricey but all-but-bombproof technical shell designed for high-alpine pursuits.
Patagonia Storm10
Best Ultralight
Waterproofing: H2No Performance ⸱ Weight: 8.3 oz. ⸱ HH: 20,000 mm ⸱ MVTR: 15,000 g/m²/24h
To avoid the weight penalty and added expense of a 3-layer hardshell, many hikers and mountaineers settle for a 2.5-layer model. With the Patagonia Storm10, however, you can have the best of both worlds.
Weighing just 8.3 oz., this is the lightest jacket in our review, yet makes very few compromises in terms of weather resistance. Using 3-layer H2No Performance Standard technology, it has a HH of 20,000 mm and an MVTR of 15,000 g/m²/24h, putting it just below the "best in class" (the ME Lhotse, Beta AR, and Nordwand) for breathability and waterproofing.
The Storm10 is also far more affordable than these competitors.
But there are a few compromises…
For starters, the Storm10's 20d ripstop nylon fabric is the thinnest on our list and won't stand up to the same level of abuse as the 40d or 80d fabric used on the Lhotse, Beta AR, Nordwand, or Mammut Kento. It also lacks a few design features that are all but standard on its high-end peers, most notably pit zippers, articulated arms, and gussets.
All of the above means that the Storm10 is a great hardshell jacket for fast-and-light adventures and perfectly suitable for 3- or 4-season hiking. For mountaineering, ski-touring, or ice-climbing, however, we recommend opting for a model with a more nuanced, alpine fit and burlier fabric.
PROs

Highly waterproof and breathable fabric
Roomier fit than most jackets on our list
Uses recycled fabrics
Alpine-helmet-compatible hood
Adjustable jacket hem and cuffs to trap body heat
Tiny packed size

CONs

Thin fabric makes it less durable than competitors
No pit zips
Bottom-Line: A fairly priced, ultra-lightweight jacket that's ideal for fast-and-light adventurers.
Mammut Nordwand Advanced
Best For Mountaineering
Waterproofing: 3-layer Gore-Tex Pro ⸱ Weight: 15.7 oz. ⸱ HH: 28,000 mm ⸱ MVTR: 25,000 g/m²/24h
Completing our lineup of Gore-Tex Pro waterproof-breathable jackets is the downright formidable Mammut Nordwand Advanced (click here for women's version).
Named after the Eiger's notoriously hostile north face, and built to withstand the type of conditions encountered in such places, the Nordwand is to the world of hard shell jackets what tanks are to the world of motor vehicles.
It's made with the brand's extra-burly 80dx80d Most Rugged fabric and uses Gore-Tex Pro waterproofing technology. This makes this jacket's durability second to none and its weather protection on par with our review's winner and runner-up, the Arc'teryx Beta AR and Mountain Equipment Lhotse.
While this is a lighter jacket than the Lhotse, it's also a fraction more durable owing to its use of 80d fabric throughout, as opposed to in areas prone to wear and tear only. In a face-off with the Beta AR, the Nordwand was edged out of the top spot only on account of its extra bulk and weight (it's 5.2 ounces heavier) and slightly less favorable price tag.
We'd still choose the Lhotse or Beta AR for 4-season hiking or even low-grade alpine or ice-climbing. However, if headed into more extreme environments and anticipating a meteorological sh*tshow, the Nordwand's the jacket we'd prefer to have on our backs.
Despite its heft, the Nordwand is still a highly mobile and comfortable jacket. It's made with a superbly ergonomic alpine fit, uses Mammut's High Reach Technology for unrestricted freedom of movement, and has probably the most user-friendly and well-designed hood of any jacket in our review.
In short, there are cheaper and lighter jackets out there, but none will have your back (and arms, head, core, and the rest of your upper body) in seriously foul weather quite like the Nordwand.
PROs

Outstanding waterproof performance
Highly breathable
Incredibly robust
Well-designed hood
Pit zips
Interior chest pocket & 2 hand pockets

CONs
Bottom-Line: A serious jacket for serious conditions, the Nordwand is a great pick for high-alpine adventures.
What Is A Hardshell Jacket?
In a nutshell, hardshell jackets are three-layer waterproof shells composed of an interior lining, a tough exterior face fabric, and a waterproof-breathable membrane sandwiched between the two. While some observers are apt to lump 2- and 2.5-layer jackets into the "hard shell" category, these models are better categorized as "rain shells".
Compared to a 2/2.5-layer rain jacket, 3-layer models are usually heavier and pricier, but also more robust and durable, and offer better protection in harsh conditions.
Hardshells' solid waterproofing, breathability, ruggedness, and durability make them a great choice for hiking in 3- or 4-season conditions, mountaineering, ice-climbing, and ski-touring alike.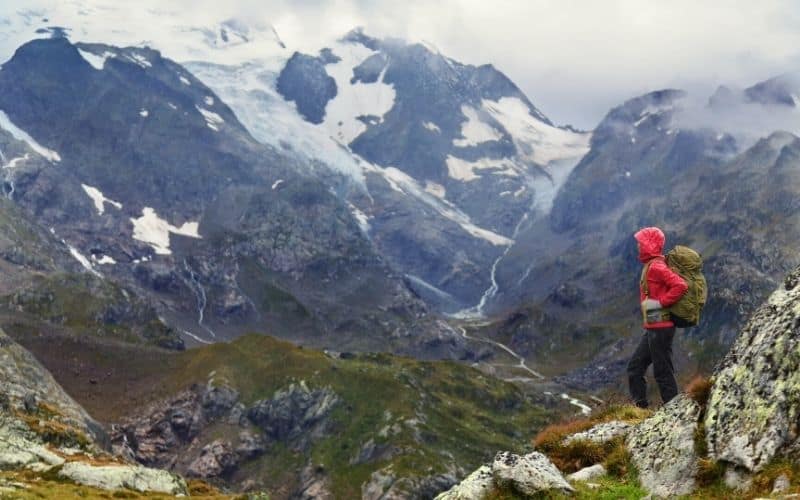 Things To Look For In A Hardshell Jacket
Weather Protection
Hardshell jackets use a variety of waterproofing technologies, such as Gore-Tex (standard, Pro, and Active) Mammut DRYtechnology Pro, Omni-Tech, and BD.dry. All of these fabrics offer varying levels of water resistance – something that is quantified in what's known as the hydrostatic head test.
The hydrostatic head (HH) test (aka "water-column test") measures how much water pressure a fabric can withstand before starting to leak. If, for example, the fabric starts leaking when 20,000 mm of water pressure is applied, then its hydrostatic head waterproof rating is 20,000 mm.
As you might have guessed, the higher the HH rating, the more waterproof the jacket is.
But just how waterproof do you need a jacket to be?
In truly harsh conditions in which you're exposed to heavy precipitation in combination with strong winds (which add to water pressure on the fabric), we recommend a jacket with a HH of 20,000 mm to 30,000 mm. For general hiking in 3/4-season conditions, or if you plan on using the jacket merely as an emergency shell, then 15,000 mm to 20,000 mm will suffice.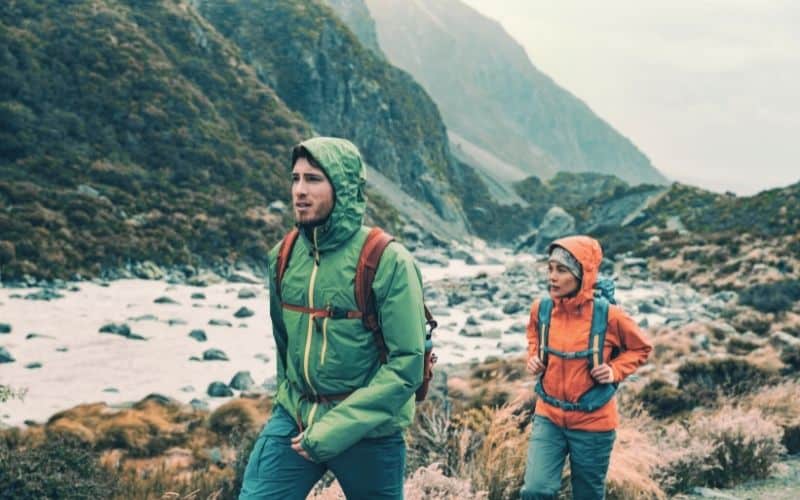 In our review, the most "bombproof" (i.e. weather-resistant) jackets are those made with Gore-Tex Pro. This technology has a hydrostatic head of 28,000 mm and a breathability rating (more on this below) of 25,000 g/m²/24h/ It's capable of keeping you dry, inside and out, in even the gnarliest weather, and no matter how high-output your activity is.
Our review includes three Gore-Tex Pro jackets – the Arc'teryx Beta AR, ME Lhotse, and Mammut Nordwand. All of these offer bombproof waterproofing in combination with excellent breathability, making them a great pick for alpine adventures and seriously sucky weather.
With a HH of 15,000 mm, the OR Microgravity is the least waterproof option on our list, followed by the BD Highline Stretch and Mammut Kento (20,000 mm). While this makes these jackets significantly less protective than their pricier peers, all three offer robust enough weather resistance for hikes in all but the most extreme conditions and at more affordable prices.
All of the jackets in our review also use a DWR (durable water repellent) coating. This is a hydrophobic (water-repellent) finish applied to the outer layer of the jacket that causes water to bead up on the surface instead of soaking into the fabric. This provides a "first line of defense" that helps to prevent the jacket from "wetting out."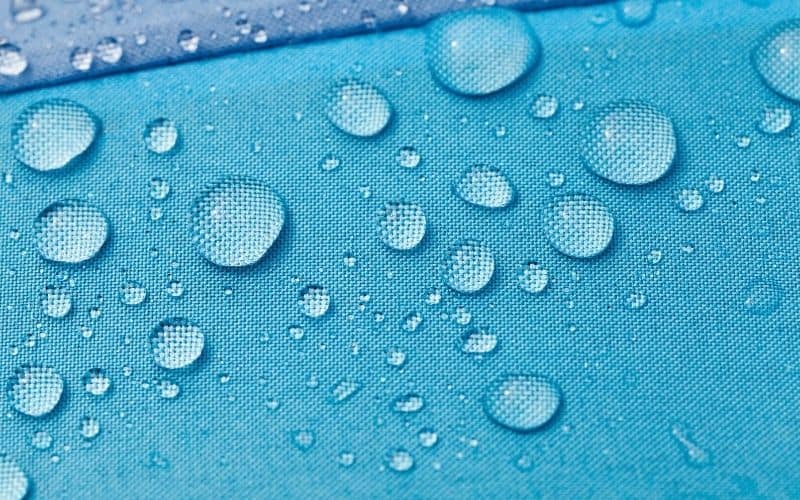 Weight & Packed Size
Ultimately, no matter which hardshell jacket you choose it's going to spend a lot of time stowed in your backpack. As such, the jacket's weight and packed size are vital considerations, especially if you plan on backpacking, alpine pursuits, or are simply averse to transporting more poundage than is strictly necessary.
It's worth bearing in mind, however, that some jackets at the lighter end of the spectrum can compromise on weather resistance and durability in a bid to keep weight down. They also often have a less comprehensive feature set, lacking non-essential but very handy add-ons like pit zips, extra pockets, or gusseted underarms.
For example, the Patagonia Storm10, the lightest model on our list, is also the only one to have no pit zips. It also lacks any gussets in the shoulders or arms and is made with thinner, 20-denier fabric.
The heaviest option, the ME Lhotse, on the other hand, is made with 40d & 80d fabric, boasts an extra chest and interior pocket, and has full articulation throughout.
Mobility & Fit
One of the age-old gripes against hardshell jackets is that they lack the flexibility and freedom of movement offered by softshells. In recent years jacket manufacturers have taken giant strides towards rectifying this problem with new innovative features and design adaptations.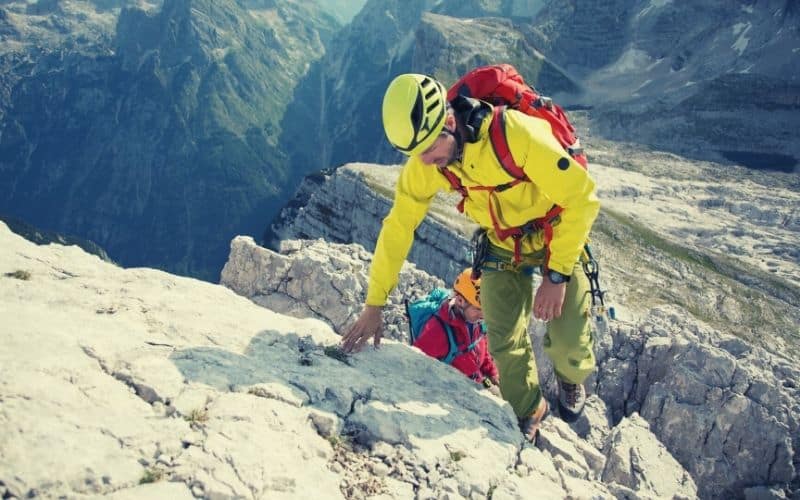 The most important mobility-enhancing design features are articulated arms and/or shoulders like those found in the Arc'teryx Beta AR, ME Lhotse, and Mammut Kento, underarm gussets like those in the Mammut Nordwand and Beta AR, and stretchy fabric like that used in the BD Highline.
Concerning fit, the three styles you're more likely to come across when surveying the options are "standard", "alpine", and "minimalist."
Standard jacket fits are usually the roomiest of the bunch, leaving you plenty of room for layers underneath. The only downside of this fit is that they usually weigh a fraction more and are prone to billowing in the wind. Alpine and minimalist fits are more trim and ergonomic, meaning there's less room for under-layers but also less weight and bulk.
Ventilation & Breathability
A great hardshell jacket not only needs to keep moisture out but also let air in to allow your perspiration and excess body heat to escape. For this, we rely on the breathability of the fabric and the jacket's ventilation features.
Ventilation
To give you the option of boosting airflow and dumping heat when need be, some jackets include extra ventilation features. The most common of these are "pit zips" (underarm zippers), adjustable cuffs, and mesh pockets, all of which can be closed to keep heat in when temps are low or opened to let in fresh air when you're working up a sweat.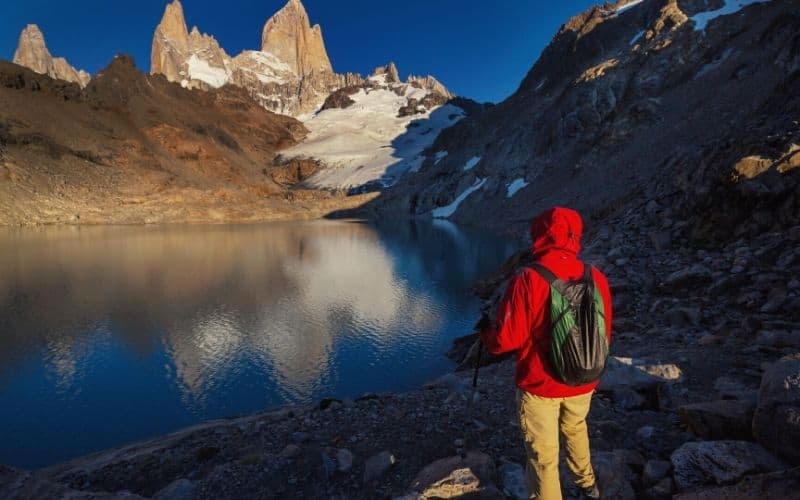 All of the jackets on our list have adjustable cuffs, and the only ones that don't have pit zips are the Patagonia Storm10 and Outdoor Research Microgravity.
Breathability
This refers to the fabric's ability to let your sweat escape from inside to out, helping to avoid becoming soaked in your own perspiration when you start exerting yourself on the trail.
Breathability is quantified using the moisture vapor transmission rate (MVTR), which measures how much moisture vapor can escape through a square meter of fabric in a 24-hour period. In product listings, the MVTR usually looks like this: 17,000 g/m²/24h, 28,000 g/m²/day, etc., and the higher the figure, the more breathable the fabric is.
For high-output activities like trail running, backcountry skiing, and more intense hiking, we recommend choosing a hardshell with an MVTR of at least 20,000 g/m²/d. For general hiking, those with an MVTR of 12,500 – 20,000 will likely suffice.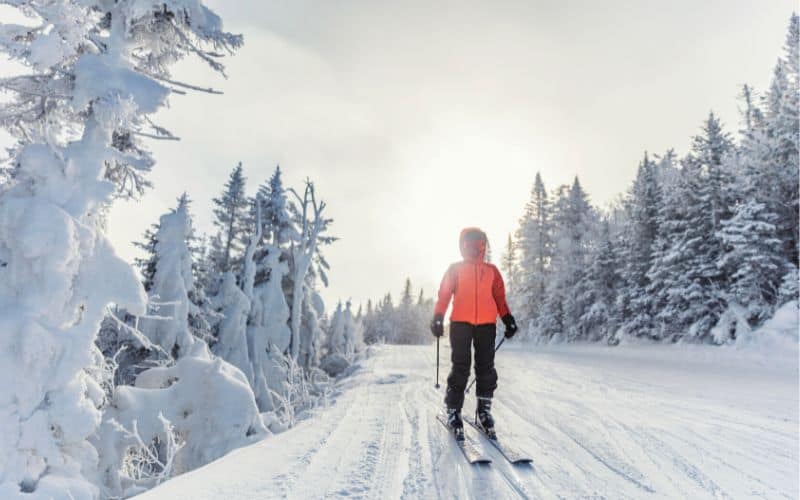 The most breathable hardshells on our list are those made with Ascentshell or either Gore-Tex Pro or Gore-Tex Active waterproof-breathable fabric, which have an MVTR of 30,000 and 25,000 g/m2/24 h respectively. These models include the OR Microgravity (AscentShell), Mammut Nordwand Advanced, Arc'teryx Beta AR, and Mountain Equipment Lhotse.
Durability
The most reliable indicator of how durable and rip-resistant a hardshell will be is the thickness of the fabric and the type of weave (standard or ripstop) used in its construction.
Fabric thickness is quantified in the denier rating (d), which measures the density of the fabric's fibers.
Generally speaking, a higher denier count equates to a more durable and resilient fabric. However, fabrics made with a "ripstop" weave are less susceptible to punctures, rips, and tears than those made with a standard weave. This means that a jacket that uses 30d ripstop fabric will normally be just as tough as a one in the 40-60d range that uses a regular weave.
Durability is, of course, a characteristic we'd all like our jackets to have. However, it's worth bearing in mind that the trade-off for added durability is reduced packability and extra weight. Jackets that use high-denier, harder-wearing fabrics will usually weigh at least a few ounces more than those made with flimsier fabric.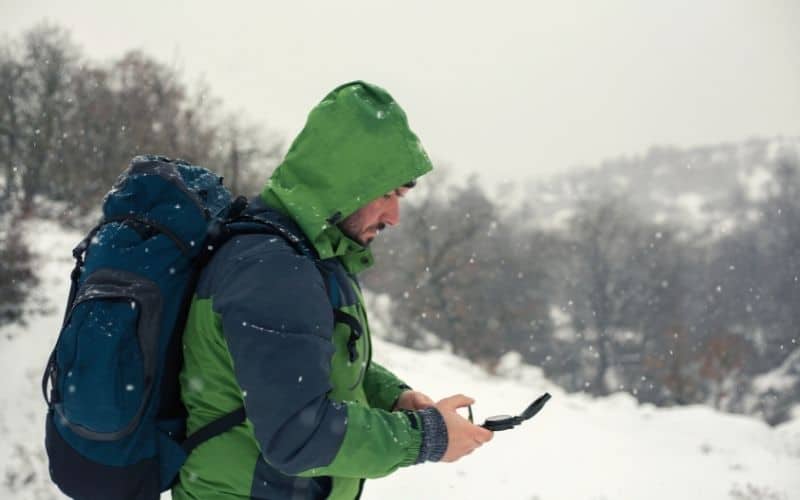 Thanks to their 3-layer constructions, all of the jackets on our list excel on the durability front. The most durable, however, is the Mammut Nordwand, which tips the scales at a pretty hefty 15.7 oz. but is made with virtually bulletproof 80d ripstop fabric.
Features & Design
A few non-standard features and design characteristics can seriously enhance a jacket's performance, comfort, and convenience. After many years of using jackets both with and without these features, we consider the following to be the most important:
Hoods
The vast majority of hardshell jackets have a hood, of course, but there's a huge difference between a hood that's well-designed and one that's not.
When buying, look for "full adjustability," which means the hood has cinch cords both at the sides and the rear. These allow you to cinch the hood down on your head, thus preventing it from being blown back by the wind and improving your peripheral vision by allowing the hood to turn in tandem with your head.
We also recommend choosing a hood with a wired peak. This feature creates a small awning, of sorts, above your brow, which helps to keep rainwater out of your face.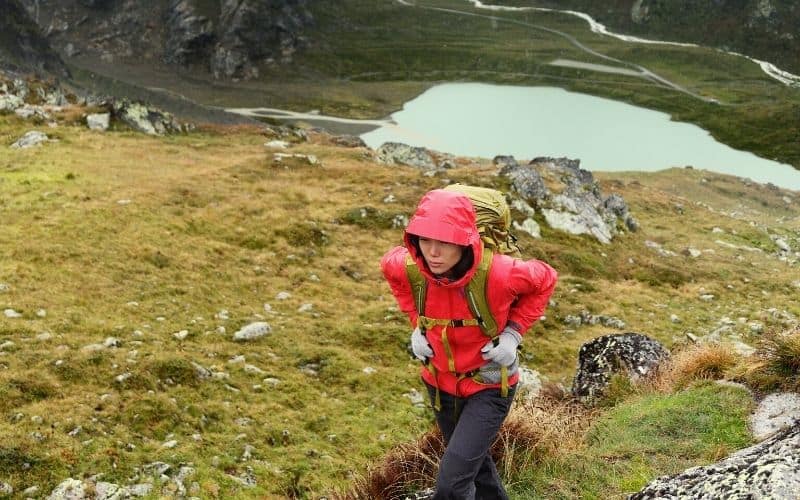 Finally, if you plan on doing any mountaineering or scrambling, look for a jacket with a hood that's helmet-compatible. The extra material used in this style of hood not only allows for a helmet to be worn underneath but also helps prevent the hem of the jacket from riding up when wearing one.
Pockets
Believe it or not, not all hardshell jackets are blessed with this small but – for some – highly important feature. Besides giving you something to stick your hands in when they're cold, pockets are useful for stashing small essentials you like to keep to hand and, if they're mesh-lined, ventilating when things start getting a little sticky under the collar.
For added convenience, the pockets on some jackets (the ME Lhotse, for example) are placed higher on the body to allow for easier access when you're wearing a hipbelt or harness.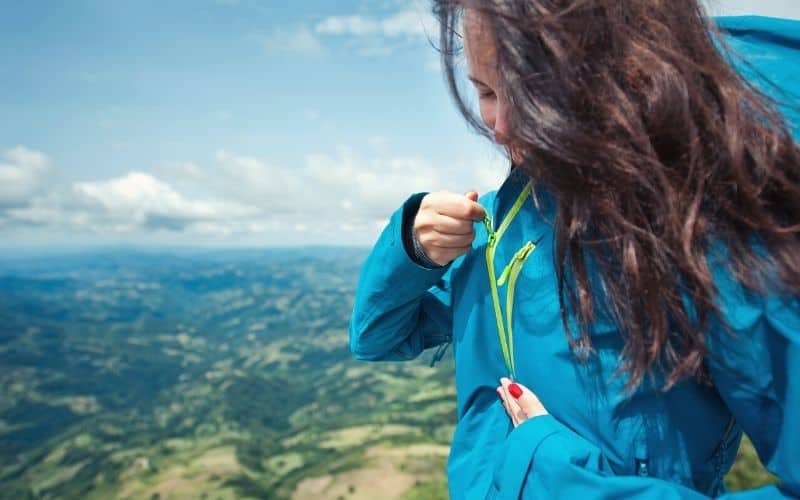 Chin Guard
This is an insert of softer fabric that protects your chin against the rougher shell fabric providing a more comfortable, chafe-free experience for your skin!
Best Hardshells: The Verdict
Just in case you're still undecided, let's have a little recap to help you out.
Our standout favorite hardshell jacket is the Arc'teryx Beta AR. Not only does the Beta AR boast awesome waterproofing, but it's also the most comfortable we reviewed, tough as nails, and rich in convenient and practical features.
If you're on a tighter budget, we recommend going for the Mammut Kento. While not as performance-oriented as other options on our list, the Kento is waterproof, breathable, and mobile enough for the needs of most hikers.
So, how did you like our article? If we missed anything or you have any questions, let us know! And if you'd like to share this post with your friends, please do!