Best Rain Shell Jacket
Outdoor Research Men's Foray
The competition for our overall best hardshell jacket was a close race between a couple of options, but in the end, the Outdoor Research Foray took the crown for its versatility. By far, one of the best qualities of this hardshell jacket is its TorsoFlo ventilation, which blows the rest of the competition out of the water.
However, the Foray hardshell is not content with some of the best breathability on offer as its Gore-Tex Paclite shell also provides some of the best waterproofing. At 28000 mm, this hardshell ties our list as the most waterproof and includes AquaGuard YKK zippers and taped seams.
As if that were not enough, the Foray is one of the more durable hardshells on our list with a liner made of 50D polyester. Couple that with hook and loop adjustable cuffs and an excellent dual-pull adjustable hood that is helmet-compatible, and it is ready for any outdoor activity.
Bottom Line: Regardless of the weather or purpose, the OR Foray can handle it without any major flaw.
Best Shell Jackets For Outdoor Adventures
Looking for a Great Hardshell Jacket?
You're in the right place! In this guide, we will be covering the following:
What is a hard shell jacket?
Identify the important considerations for buying rain jackets.
Why weather protection & breathability are the most important
Reviews of several of the top hard shell rain jackets
Our unbiased #1 pick of the top waterproof/breathable hard shell jacket
Whether hiking, climbing, or skiing, you need a solid outdoor jacket to protect you from the elements. However, sometimes the weather changes fast, you are either prepared, or you are left out in the cold– literally.
While hardshell jackets provide plenty of protection for different outdoor situations, not all hardshell jackets are right for extreme weather. This is especially true if you need a jacket for a higher altitude as the weather can shift in a matter of minutes.
That is why we put together a list of the top hardshell jackets, highlighting what each hardshell jacket does best or when you should reach for a given model. We also provide a helpful buyer's guide to figure out what the ideal jacket is for your needs.
Things to Consider When Buying a Hardshell Jacket
Weather Protection
There are a couple of ways that you can interpret weather protection, but the most common (not already covered in other sections) is waterproofing. Considering the premise of our article, this is also one of the more important for our list.
Waterproofing for shell jackets is rated by its hydrostatic resistance and is given in millimeters. Adequate waterproofing for a standard rainstorm is 10000 mm, but torrential downpours and heavy snowstorms might call for 20000 mm or more.

Gore-Tex is the most renowned material for waterproofing outdoor gear and is consistently one of the most reliable. Many manufacturers are developing proprietary brands of waterproof fabric, some of which are as good as Gore-Tex for water protection.
On top of the general waterproof fabric, you also want to look for a jacket with durable water resistance (DWR). This layer of protective coating on the exterior of the shell prevents water from building up and soaking through even the top layer.
Outside of water resistance, the next type of weather protection is windproofing, though this has more to do with the construction of the hardshell than the material. A rain jacket that has fewer openings into it provides better wind resistance and is generally accomplished with taped seams.
Keep in mind that taped seams also serve an essential function in waterproofing, which makes them arguably as crucial as the hardshell's shell material. While not always quite significant, it is also a good idea to look for hardshell jackets with waterproof zippers.
Venting & Breathability
Despite what it may seem, venting and breathability are just as crucial for a storm-worthy jacket as a jacket for milder climes. Even though your hardshell might keep you dry from the water falling outside, you need it to keep you dry from the sweat and moisture your body creates within.
Many manufacturers provide a breathability rating in grams, representing how the quantity of water the fabric releases in an hour. That said, the breathability rating is not given as often as other quantifiable ratings and should not necessarily be the spec you look for.
More important than breathability is ventilation since you likely only need the jacket sealed tight for periods rather than perpetually. The most common type of ventilation is "pit zips," which are zippers that open under the arm.
Considering that the underarm accounts for a fair amount of heat buildup, releases a large amount of sweat to cool the body, and is easier to aerate than other locations, this makes sense. Of course, the size of the pit zips also plays a significant role, and some hard shell jackets try to integrate their vents with their pockets.
Warmth
Along with venting and breathability, a hardshell jacket's warmth is another important feature, though this may not always be quite as important as some of the others. This is because you should purchase a product that is roomy enough to allow you to wear base and mid-layers without feeling like the Stay-Puff Marshmallowman.
As such, a hardshell's warmth quality is tied mostly to its wind/water resistance i.e., keeping the elements out or if, for some reason, you don't plan on adopting a layering strategy. While this is not often much of an issue, look for hardshells that employ either wool or synthetic fibers as these provide the best insulation.
Mobility
Mobility is a sneakily important consideration when choosing a jacket for a couple of reasons. The first, and most intuitive reason, is that a jacket that restricts your range of motion presents a potential risk by limiting your ability to move and react.
However, the mobility can also play into the weather protection that the jacket you're looking for offers. For example, if the jacket rises at the hem when you lift your arms, that can allow cold underneath your layers at the waist.
On top of that, a jacket that does not account for raising your arms can allow water into your mid and base layers. For the latter issue, look for a jacket that includes hook and loop cuffs at the sleeves and provides additional fabric at the arms without bunching.
Features
Hardshell jackets can include a couple of different features, but the most common to consider are the hood and pockets. The hood should consist of a fitted bill that diverts water away from your face and the jacket's openings.
If you are participating in mountaineering or skiing then ensuring that the jacket has a helmet-compatible hood is an important consideration. Another thing to consider regarding the hardshell hood is how you tighten it and how much peripheral visibility it affords.
With pockets, you generally want hand pockets that allow you to warm your digits with additional chest pockets for storing important items (wallet, phone, compass, etc.). Some hardshell pockets even include unique hand-warming material, but ensure all hand and chest pockets have waterproof zippers or flaps.
The Best Hardshell Jackets: The Results
Outdoor Research Men's Foray
Best Shell Jacket
The OR's Foray easily tops our list for the best ventilation with its TorsoFlo vents, which stretch from the hem of the jacket to the bicep. As a result overheating shouldn't be an issue unless you're jogging up that mountain.
However, the Foray hardshell is not content to be a mild weather jacket alone as it also uses Gore-Tex Paclite for its exterior material. This provides the Foray with a list-leading 28000 mm of hydrostatic waterproofing.
As if that were not enough, it is also among the list leaders for one of the most durable we encountered, thanks to its 50D polyester liner. The only part of this jacket that does not hold up quite as well is the hand pockets that can wear out a bit quickly if you are not careful.
Still, with three pockets, including Napoleon chest pocket, and a helmet-compatible hood, this hardshell has everything you need.
PROs

Gore-Tex active with Paclite shell
Has a 50D polyester liner
Has TorsoFlo ventilation
Has numerous hand pockets & chest pocket

CONs

Heavy
Not the most durable pockets
Bottom-Line: Do not let the tag fool you: The Foray is the most breathable while topping our list in many other categories.
Columbia Men's Rural Mountain
Best Dual Option
The Columbia Rural Mountain may feel a bit bulky if you wear it as a single layer, but it still works exceptionally well. On top of that, this hardshell's "bulk" actually allows you to layer more effectively than some other products that we reviewed too.
One thing that stands out about the Rural Mountain is its proprietary fabrics for both the other and inner layer. The outer layer employs an Omni-Tech shell that provides an adequate 10000 mm of waterproofing– perfect for light rain.
The inner layer is made of Columbia's Omni-Heat, which provides excellent insulation against biting cold temperatures. Of course, if you do not need to worry about the cold, the Rural Mountain offers plenty of ventilation with pit zips to whisk away heat and moisture.
Just as impressive, this hardshell also comes with numerous pockets that do not suffer any durability concerns from prolonged use.
PROs

Has an Omni-Heat liner
Has an Omni-Tech shell
Has pit zip ventilation
Has solid pockets

CONs
Bottom-Line: The Columbia Rural Mountain works well whether you want to use it as a top layer for cold weather or as a single layer for warmer weather.
Marmot Men's PreCip
Best Budget
If you do not need a hardshell for extreme situations, you will appreciate the price of the Marmot PreCip, which is one of the few good hardshell jackets at a budget price we came across. While not suitable for the most punishing environments, the PreCip is one of the lightest hardshell jackets that we found.
This hardshell jacket also comes with a few additional features like an interior security pocket to keep your valuables safe and secure. The Marmot hardshell also includes other comfortable extras like ripstop fabric and a brushed collar lining.
Even better, this hardshell offers some of the best mobility that we found thanks to its AngelWing movement feature, which provides a bit more room to increase your range of motion without sacrificing other benefits.
While not the most waterproof we found, the Marmot PreCip still provides a decent 10000 mm hydrostatic waterproof rating. However, this is not the ideal hardshell jacket to layer your clothing for colder climates.
PROs

Lightweight
Has AngelWing movement
Made of NanoPro Eco
Is a less expensive jacket

CONs

Not the best fit
Not the most waterproof
Bottom-Line: The Marmot PreCip offers an excellent range of motion and is offers excellent ventilation, perfect for four-season hiking.
Arc´teryx Alpha FL
Best Weather Protection
Arc'teryx has long stood at or near the top for outdooring gear, and it nearly earned the top spot on our list. For one, it ties our list with the best waterproof rating we encountered with a 28000 mm hydrostatic rating.
This is thanks mainly due to the use of a 3-layer Gore-Tex Pro fabric, which also protects from the wind. However, the Arc'teryx went one step further and made it a point to use N40p-X Gore-Tex active. Hence, the material is exceptionally durable thanks to different types of weaves while also being a waterproof/breathable fabric.
While most of our best jackets tend to weigh a lot, the Arc´teryx Alpha FL is one of the few high-end models that is also lighter than most. This hardshell also packs up smaller than most being able to squeeze into its pocket and sitting no bigger than your standard hiking water bottle.
That said, this might not be the best hardshell jacket to bring to dry, warm climates as it does not offer the best ventilation– the one characteristic that kept it from being our top-rated option.
PROs

Is a lightweight jacket
Has an N40p-X 3-layer Gore-Tex Pro shell
Has an excellent storm hood
Is a more durable jacket

CONs

Is a more expensive jacket
Not the best ventilation
Bottom-Line: If you're looking for pure weather protection it's hard to beat the Arc'teryx Alpha FL.
Mountain Hardwear Boundary Ridge
Best Skiing Hardshell Jacket
Mountain Hardware may not be the first name that you think of for general outdoor hardshell jackets, but their inclusion of a powder skirt makes them a shoo-in for our best skiing hardshell. Of course, the addition of a powder skirt does not make a great hardshell, but the Mountain Hardware also made it a point to include a high-end 3-layer Gore-Tex pro shell.
This superior fabric means that not only do you not have to worry about rain, but even heavy snow will not present an issue. This hardshell offers 28000 mm of hydrostatic waterproofing. As if that were not enough, the Boundary Ridge also provides solid core venting through its pockets, which work better than some other models on the market employing a similar approach.
Still, the Mountain Hardware does not stop there as it also provides traditional pit zips for even more ventilation– though this again does not surpass some other products we reviewed. However, the inclusion of numerous pockets that work just as well if you are in a climbing harness, and a helmet-compatible hood makes this a potential "best" option for specific consumers.
PROs

Has a Gore-Tex 3L shell
Has great ventilation
Has numerous pockets
Has a powder skirt

CONs

Heavy
Is a more expensive option
Bottom-Line: As one of the few hardshell jackets we found with a powder skirt, the Mountain Hardwear Boundary Ridge is a no-brainer for skiing.
Jack Wolfskin Sierra
Best Sustainable
While a hardshell jacket that can protect you from the environment is excellent, a hardshell that can do that while also protecting the environment that you love is even better. This is where the Jack Wolfskin Sierra, which uses 100-percent recycled fabric for all of its layers, comes into play.
On top of that, while the Jack Wolfskin may not provide the most waterproof/breathable hardshell that we reviewed, it still comes in pretty high with a hydrostatic waterproof rating of 20000 mm. This is all thanks to Jack Wolfskin's proprietary Texapore Ecosphere Mini Ottoman 2L shell.
As if that were not enough, the Jack Wolfskin also offers substantial ventilation with pit zips to eliminate excess heat during alpine treks. On the other hand, you do not have to worry about the cold either thanks to the Nanuk 200 Ecosphere liner.
PROs

Made of recycled fabric
Has a Texapore Ecosphere Mini Ottoman 2L shell
Has a Nanuk 200 Ecosphere liner
Has pit zip ventilation

CONs

Waterproof/breathable fabric could be improved
Is a heavy jacket
Is a more expensive jacket
Bottom-Line: If you need a solid hardshell that is eco-friendly, the Jack Wolfskin Sierra uses some of the most sustainable practices in the industry.
Patagonia Ascensionist
Warmest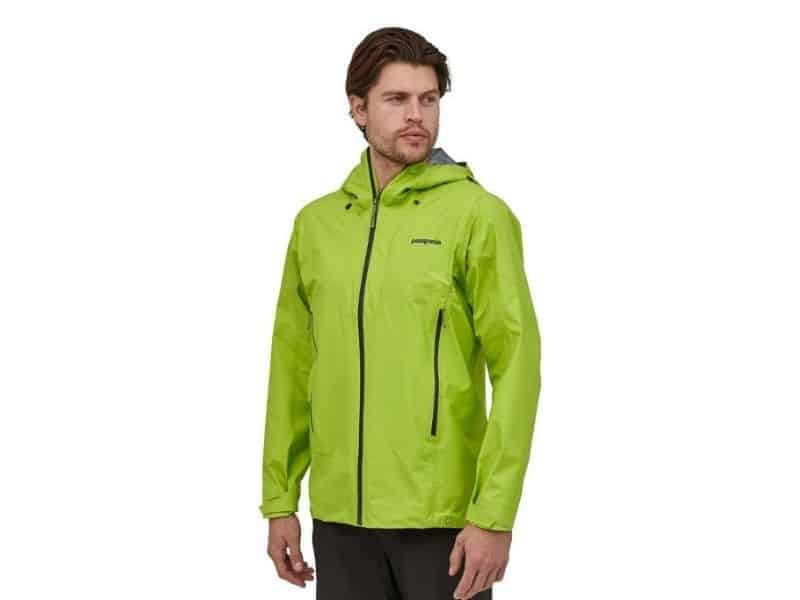 The Patagonia Ascensionist almost goes out of its way to make sure that you stay nice and toasty thanks to the inclusion of its Gore-Tex C-Knit liner. This is an excellent feature because not only does it keep you warm, but it also improves the waterproof rating.
Granted, the Patagonia Ascensionist does not release its hydrostatic waterproof rating. Still, it does use a traditional Gore-Tex Pro 3L outer layer, which is considered one of the top fabrics in the industry. What is even more surprising is that this rain shell can remain light as it is with the numerous Gore-Tex active layers.
That said, if you do not like the sound or feeling of the crinkly fabric, then the Patagonia Ascensionist may not be the most suitable product for you. On the other hand, the hood and the cuffs provide both excellent visibility as well as mobility.
Even better, the pit zips offer decent ventilation too, so the Ascentionist works well when you're working up a sweat.
PROs

Is a lightweight jacket
Has a Gore-Tex pro shell
Has a Gore active C-Knit liner
Has numerous features

CONs

Is a more expensive jacket
Not the most comfortable
Bottom-Line: With more protective layers than most, the Patagonia Ascensionist provides excellent protection from some of the coldest climates.
REI Co-op Drypoint GTX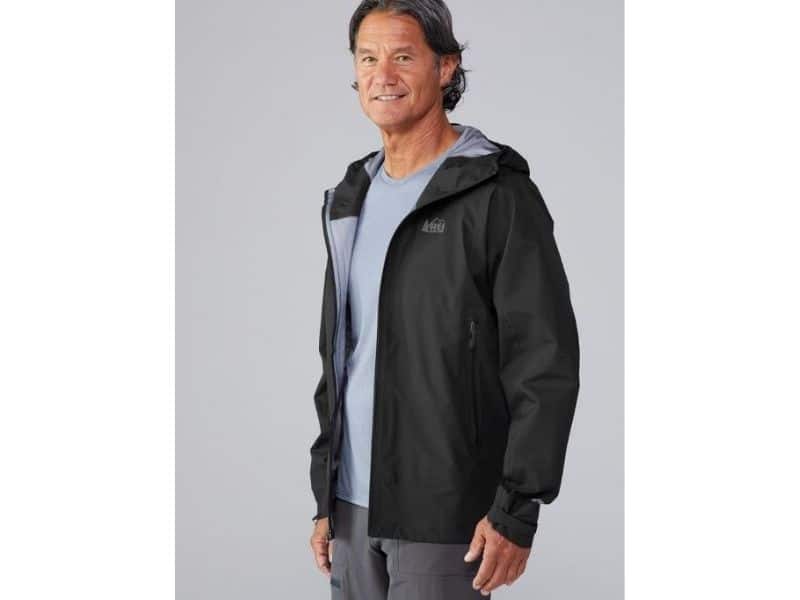 When you want a hardshell jacket that can handle some moderately inclement weather but will not hold you down, it checks all the boxes. For one, this is the lightest jacket that we reviewed at just over 10 ounces, making it easy to carry whether you need it or not.
Even though the Drypoint GTX does not release its hydrostatic waterproof rating, it still uses a Gore-Tex Pro 3L shell, which sits at the top of the list in most instances. Even better, the REI Drypoint GTX also offers core zip ventilation and does so in a way that does not present some of the issues other core zip ventilation does.
On the other hand, this is not the best fitting hardshell jacket that we found, which can present issues when trying to layer with it. On top of that, the Drypoint GTX also employs solid DWR, so you do not have to worry about your under layers getting wet.
Finally, this is one of the few hardshell jackets we saw with a 3-point hood that is helmet-compatible and is easy to adjust for top-tier visibility.
PROs

Is a lightweight jacket
Has a Gore-Tex Pro 3L shell
Has numerous features
Has core zip ventilation

CONs

Not the most durable
Not great for layering
Bottom-Line: When you just need a single layer to protect you from moderate weather, the REI Co-op Drypoint GTX has you covered.
Mammut Kento
The Mammut Kento is near the top of our list in a couple of different categories, but one of its best qualities is its fit. The Kento's fit makes it great for a top layer on a multiple-layer-system used for outdoor activities in some of the colder climates.
On top of that, while the Mammut Kento does not top our list as the most waterproof, the inclusion of its proprietary DRYtechnologyPro shell offers robust waterproofing. With 20000 mm of hydrostatic water resistance, the added wind breaking ability is only icing on the cake.
That said, while the Mammut Kento might be celebrated as a top layer and has the fit to accommodate such an arrangement, it is not ideal as a single layer. This is because the fit benefits from the use of lighter, thinner fabric that does not, in its own right, provide the best insulation.
Still, when you include pit zips for ventilation and a fully adjustable hood and hem, the Mammut Kento works for so many different setups.
PROs

Has a Mammut DRYtechnology Pro shell
Has a good fit
Has pit zip ventilation
Has numerous features

CONs

Not the most durable
Not the warmest
Bottom-Line: With one of the best fits we found and numerous features, the Mammut Kento is excellent as a top layer shell.
Last update on 2021-09-18 / Affiliate links / Images from Amazon Product Advertising API