A reliable waterproof or water-resistant jacket is a must-have piece of kit for any kind of hiking adventure.
While we'd all love to do our hiking in our shorts-and-t-shirt in mild weather, there's no knowing what mischief the weather gods might have up their sleeves. If that mischief happens to be of the aquatic kind, the only way to spare yourself a few hours (days?) of misery is to ensure that a great outdoor jacket is along for every "ride." 
But what makes one jacket a better option than another?
In this guide, all will be explained. At the bottom of the article, you'll find detailed buying advice that will help you find the most suitable jacket for your needs, budget, and adventure type. Before that, we'll introduce you to our top 10 favorites for this year. 
From ultra-mobile softshells and lightweight rain jackets to "bombproof" hardshells for all-weather warriors, our list has something for everyone!
Arc'teryx Zeta SL
Editors Choice
Scooping our award for the top hiking jacket out there this year is the all-but-flawless Arc'teryx Zeta SL.
Like all things Arc'teryx, the Zeta SL isn't going to win any prizes for affordability, but it does more than enough to merit its lofty price tag.
The Zeta SL is a true all-rounder, recording "top of the class" results in every metric we judge a jacket's merits by. It's lightweight (10.9 oz), offers great next-to-skin comfort, packs down small, has a tough 40d ripstop nylon shell, breathes better than most of its peers, and provides robust protection in heavy rainfall.
While we would have liked a pair of pit zippers or chest vents to add airflow when needed, this is the only notable omission in the Zeta SL's feature set. It has a watertight front zipper, gusseted underarms, and articulated patterning for freedom of movement. Add to that two handwarmer pockets, a chin guard, and an adjustable hood and cuffs and you've got an impressive jacket for hiking.
Bottom Line: A lightweight but tough, durable jacket that offers outstanding weather resistance and a far more ergonomic, comfortable fit than its closest competitors.
At a Glance: The Top Hiking Jackets
The Best Hiking Jacket: Our Top 10 Picks
Arc'teryx Zeta SL
Editor's Choice
When it came to choosing the winner of our review, our criteria were simple.
We wanted a comfortable jacket with robust waterproofing, a low pack weight, plenty of breathability, and made with durable materials. It also had to have enough mobility for unrestricted movement in case we decided to mix our hiking up with a little bit of scrambling, ski-touring, or rock climbing.
The Zeta SL ticks all those boxes.
This jacket is made with 40d ripstop nylon fabric, making it one of the most durable in our review. Its use of Gore-tex Paclite technology also makes it among the most waterproof and breathable on our list, second only to the Montbell Versalite.
There are, however, a handful of other features and design characteristics that make the Zeta SL a true standout.
We especially liked the trim fit and articulated patterning, both of which made it feel more performance-oriented than other models and resulted in less billowing in windy conditions. The gusseted underarms also made it feel less restrictive, while the soft chin guard saved us the free but unsolicited facials we've received from many a jacket in the past.
There's no getting around the fact that this is a pricey jacket. However, its stellar performance across the board means it offers great value for money nonetheless. There are, of course, more breathable, waterproof, mobile, and lighter models out there. Each of these, however, makes a significant compromise (or two) in another metric – something that can't be said of the Zeta SL.
Specs
Type: Hardshell
Weight: 10.9 oz.
Waterproofing: Gore-Tex New PacLite Plus
HH: 28,000 mm
MVRT: 15,000 g/m²/d
PROs

Robust waterproofing
40d ripstop nylon
Articulated patterning
Gusseted underarms

CONs
Bottom-Line: Tough, mobile, breathable, and waterproof enough to justify its lofty price tag. An exceptional all-around performer.
Outdoor Research Foray
Best Ventilation
Heavy rain jackets usually aren't ideal for high-output activities, but the OR Foray is one standout exception to the rule.
At 16.3 oz., this is by far the heftiest rain jacket on our list. However, its use of OR's unique TorsoFlo hip-to-bicep vents means it's equipped to provide more airflow than the best of the rest when you're working hard. You get all the protection you'd expect from a heavyweight shell without affecting your performance in more active pursuits.
This design feature also allows you to wear the jacket over a bulky down jacket or even a smaller backpack, so could save you a buck or two on a raincover for your pack.
Ventilation aside, there are plenty of other reasons why the Foray is among our favorites. In addition to its solid waterproofing and impressive breathability, it boasts a wealth of useful features. The most notable of these are its fully taped seams, harness-compatible pockets, large chest pocket, adjustable hood and cuffs, and an internal front stormflap.
Compared to the next heaviest jacket in our review, the Marmot Minimalist (14.9 oz), the Foray offers similar waterproofing and breathability but has far superior extra features.
Specs
Type: Hardshell
Weight: 16.3 oz.
Waterproofing: Gore-Tex PacLite Plus
HH: 28,000 mm
MVRT: 15,000 g/m²/d
PROs

Highly waterproof and breathable
TorsoFlo ventilation panels
50-denier polyester
bluesign-approved fabrics
Climbing harness/hipbelt-compatible pockets
Stuffs into its own pocket

CONs
Bottom-Line: A burly, hard-wearing jacket that's built for rugged environments and offers unrivaled ventilation features.
The North Face Venture 2
Budget Pick
Need a simple, low-cost, reliable, and lightweight shell to carry in case you get caught in bad weather? If so, the North Face Venture 2 is well worth considering.
This cheap-and-cheerful 2.5-layer jacket is made with TNF's DryVent waterproofing, giving it an impressive hydrostatic head rating of 25,000 mm and a decent MVTR of 12,500 g/m²/24hrs. Compared to the next cheapest option on our list, the Patagonia Torrentshell, this represents a huge upgrade in waterproofing (18,000mm HH) and only a slight drop in breathability.
In terms of durability, this lightweight hiking jacket is up there with the top performers on our list. If you opt for one of the solid colors, the face fabric is a 40d nylon. Heather-colored models, on the other hand, are made with extra-burly 70d nylon.
The Venture 2 also boasts a set of features on a par with many of its far pricier peers. There are pit zips, an adjustable hood and cuffs, a stormflap with hook-and-loop closures over the front zipper, two hand pockets, and a cinch cord in the hem.
While there are more technical and performance-oriented jackets out there, this is a great option if you need an affordable, reliable shell for everyday wear or emergency use out on the trails.
Specs
Type: Hardshell
Weight: 11 oz.
Waterproofing: 2.5-layer DryVent
HH: 25,000 mm
MVRT: 12,500 g/m²/d
PROs

Fully waterproof
Relatively lightweight
Pit zips
Durable fabric
Relaxed fit leaves room for layers underneath
Fully adjustable hood

CONs

Not the most breathable option
Bottom-Line: A highly durable and affordable jacket with a high waterproof rating and a handful of useful features.
Black Diamond StormLine Stretch
Best Mobility
In our search for the one rain jacket to rule them all, we came across a few contenders that very nearly pipped the Arc'teryx Zeta SL to the throne. None came quite so close as the Black Diamond StormLine Stretch.
Prepare yourself for a few minutes of unmitigated, gushing praise…
The Stormline is, simply put, a game-changer in the world of outdoor apparel.
When the wizards at BD put this incredibly versatile jacket together they essentially upended longstanding notions of what a rain shell could be. Using an elastane-nylon blend over a waterproof-breathable membrane no longer would mobility have to be sacrificed in the name of waterproofing. Waterproof jackets, finally, could be just as comfortable as softshells.
Beyond its awesome mobility, the StormLine has a lot more going for it, too. It also has an adjustable hem and cuffs, waterproof zippers, a helmet-compatible hood, underarm vents, and packs away into its own pocket. Not bad for such a reasonably priced jacket…
While we would have appreciated a little more adjustability in the hood and would opt for the Zeta SL or Montbell Versalite when expecting seriously wet conditions, this is very nearly the perfect hiking jacket.
Specs
Type: Hardshell (with a twist!)
Weight: 11.3 oz.
Waterproofing: BD.dry waterproof-breathable laminate
HH: 22,000 mm
MVRT: 22,000 g/m²/d
PROs

Stretchable fabric
Waterproof
Highly breathable material
Pit zips
Helmet-compatible hood

CONs

If you're hiking in extreme weather, there are more waterproof options available
Bottom-Line: The 12% elastane content makes this waterproof jacket far more mobile than its competitors and one of the best rain jackets out there for more technical hikes and scrambles.
Marmot Minimalist
Best Midweight
The Marmot Minimalist has been around for a while now, and over the years has received plaudits from thousands of wet-weather hikers the world over.
At 14.9 oz., this is far from being the most lightweight jacket on our list – the Montbell Versalite is half the weight and the winner of our review, the Zeta SL, is a whole 4 oz. lighter. However, the Minimalist offers comparable waterproofing to the Zeta SL, is much cheaper, and is far more durable and rich in features than the Versalite.
The Minimalist's 28,000 mm HH rating and 15,000 g/m²/24hrs MVRT make it among the most waterproof and breathable models in our review. This means it's a great jacket for hikes in even the most biblical of downpours and capable of keeping you cool and sweat-free when you're hiking in warmer conditions or on steep, uphill sections of trail.
Compared to the other "heavyweight" hiking jacket in our review, the OR Foray, the Minimalist is a little less rugged and lacks the oh-so-endearing add-on of full-length pit zippers. On the plus side, it's a fraction cheaper, 1.5 oz. lighter, and a little more mobile thanks to its use of "Angel-Wing" underarm gussets.
Specs
Type: Hardshell
Weight: 14.9 oz.
Waterproofing: GoreTex Paclite
HH: 28,000 mm
MVRT: 15,000 g/m²/d
PROs

Made with 100% recycled polyester fabric
PFC-free DWR
Underarm gussets
Articulated elbows
Zippered hand and chest pockets

CONs
Bottom-Line: A highly waterproof hooded jacket that has featured on our list of top rain jackets several years in a row – and with good reason! 
Outdoor Research Helium II
Best Lightweight
The latest iteration of OR's Helium is the ideal pick for trail runners, gram-counting hikers, or anyone else who wants a reliable emergency shell that keeps weight to an absolute minimum.
Weighing in at just 6.3 oz. this is the lightest jacket in our review, beating the Montbell Versalite by 0.1 oz. and the next closest competitor, the Zeta SL, by over 4.5 oz. Nevertheless, this is a tough little cookie. Thanks to its 30d ripstop nylon fabric, it's as durable as many models that weigh twice as much and more resistant to tears than its predecessor, the Helium original.
To keep the weight down, however, makers OR sacrificed a few features found in other jackets on our list. There's only one chest pocket, no pit zips, no articulation in the sleeves, and no underarm gussets. These omissions make the Helium II less convenient than other models, but don't detract from its standing as a solid emergency shell.
The Helium II has the most athletic, slim fit of all the jackets on our list. As such, it's wise to size up if you plan on wearing substantial layers underneath.
Specs
Type: Hardshell
Weight: 6.3 oz.
Waterproofing: Pertex Shield Diamond Fuse 2.5L
HH: 20,000 mm
MVRT: 20,000 g/m²/d
PROs

Incredibly light
Solid waterproofing
Highly breathable
30d ripstop nylon fabric

CONs

Only one pocket
Less suitable for cold weather
Bottom-Line: An incredibly lightweight jacket that packs plenty in the way of waterproofing, breathability, and resistance to rips, wear and tear. Possibly the best backpacking jacket out there.
Columbia Men's Ascender Softshell Rain Jacket
Best Budget Softshell
If your outdoor gear closet is lacking a tough, cozy, water-resistant jacket that works well both as a mid-layer and a standalone outer, the Columbia Ascender is well worth a look.
Made with 100% polyester, the Ascender has a little more stretch than most other jackets in our review, the exceptions being the Rab Kinetic and BD StormLine. It offers impressive wind resistance, too, but is the only jacket reviewed with no waterproof membrane. While billing it as a "rain jacket" is a bit of a stretch, we did find that it kept us dry in short-lived, lighter showers.
The Ascender's main selling points are its warmth and comfort. Unlike the hardshell jackets in our review, this one offers enough insulation to keep you warm on shoulder-season hikes or during more intense, high-output winter hikes. It also feels far softer against the skin.
Features-wise, the Ascender offers more or less what you'd expect from such an affordable jacket. There's a trio of zippered pockets, adjustable alpine cuffs, and an adjustable hem, but no articulation in the sleeves or underarm gussets. This is also the only shell in our review that doesn't have a hood.
Specs
Type: Softshell
Weight: 12.35 oz.
Waterproofing: N/A
HH: N/A
MVRT: N/A
PROs

Stretch fabric
Available in 7 colors
Water-resistant zippers
Warmer than other options

CONs
Bottom-Line: If looking for mens outdoor jackets the Ascender is an incredibly warm, stretchy mid-layer hiking jacket that is water-resistant enough to keep you dry in light rain. 
Rab Kinetic Plus
Best Softshell
Over the years, British brand Rab has earned a rep for producing exquisitely dialed-in, high-quality technical garments for the mountain-going public. And in the Kinetic Plus, they have delivered what has to be one of our favorite wet-weather jackets ever.
The Kinetic Plus is made with Rab's proprietary PROFLEX fabric, a polyester blend that provides outstanding mobility and next-to-skin comfort.
Unlike most other softshells in its weight class, this hiking jacket also boasts a flexible waterproof membrane with a hydrostatic head rating of 10,000 mm and MVTR or 30,000 g/m²/d. This makes it just as waterproof as hardshells like the Patagonia Torrentshell and among the more breathable models in our review.
In terms of features, the Kinetic Plus is up there with the best of them. While there are no underarm gussets (the fabric has enough stretch that they aren't needed) or pit zips, it has a stretch-on hood with a laminated and stiffened peak, three pockets, an AquaGuard VISLON front zip, and adjustable cuffs.
Specs
Type: Softshell
Weight: 11 oz.
Waterproofing: PU membrane
HH: N/A
MVRT: N/A
PROs

Stretchy fabric
Waterproof
Breathable
Adjustable cuffs
Taped seams

CONs

Pricey
Low waterproof rating
Bottom-Line: In short, a superbly comfortable, mobile softshell jacket that uses a PU membrane to deliver wet-weather performance on a par with many hardshells.
Patagonia Torrentshell 3L
Best Value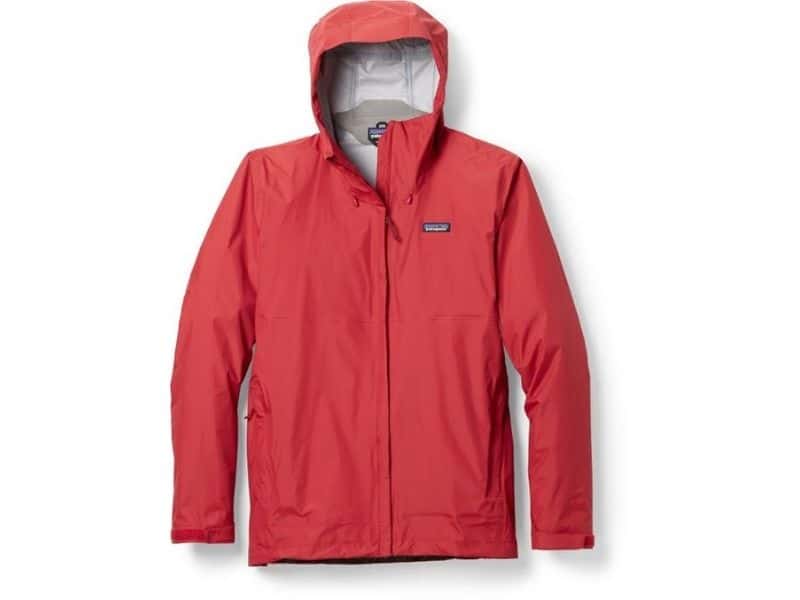 The Torrentshell has been a regular fixture on our list of the best waterproof hiking jackets for half a decade. Here's why…
This 3-layer hiking jacket does everything the average hiker needs an emergency rain shell to provide. It's lightweight, highly breathable, comfortable, impressively durable, and waterproof enough to keep you dry in moderate and sustained rain showers.
The Torrentshell's three-layer construction makes it one of the most durable and comfortable options on our list, with the burly outer layer providing extra protection against wear and tear and the soft lining a cozier feel than most of its 2- or 2.5-layer competitors.
The Torrentshell's feature set is similar to most other hardshells in its price range and performance class. There's a two-way adjustable hood, hook-and-loop cuff closures, a microfleece-lined neck, pit zips, and a duo of handwarmer pockets. There are, however, no underarm gussets and nothing in the way of articulation.
For performance, the Zeta SL, Montbell Versalite, OR Foray, and Marmot Minimalist are better options owing to their superior waterproofing and breathability. If you need a reliable, comfortable, and much more affordable shell for general hiking, however, the Torrentshell is well worth adding to your shortlist.
Specs
Type: Hardshell
Weight: 11 oz.
Waterproofing: 3-layer H2No
HH: 10,000 mm
MVRT: 15,000 g/m²/d
PROs

Microfleece-lined neck
Well-designed hood
Hook-and-loop cuff closures
Comfortable lining
Durable

CONs

Not ideal in heavy precipitation
Bottom-Line: A long-term favorite of hikers everywhere. While not as waterproof as others on our list, it's still a great hiking jacket for emergency use in unexpected rain showers.
Montbell Versalite
Best Performance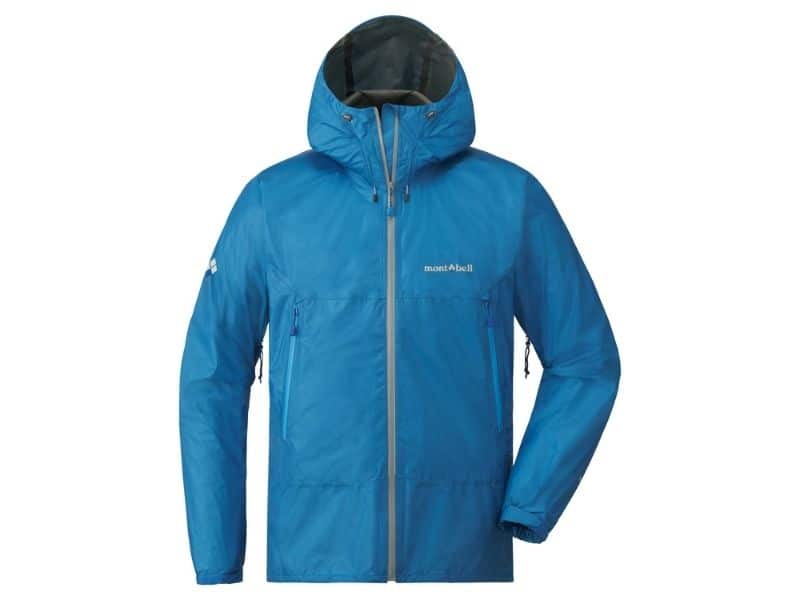 For fast-and-light adventures, thru-hiking, trail running, or hikers who balk at the idea of carrying any more weight than is necessary, the Montbell Versalite is a great jacket for hiking.
This ultralight jacket is made with Gore-Tex's Infinium fabric. While Infinium is not technically waterproof, the addition of a tightly knit ripstop nylon face fabric gives the Versalite an impressive hydrostatic head rating of 30,000 mm.
Ratings aside, we found the OR Helium II provided slightly more solid protection in heavy downpours, though the Versalite breathed better when moving fast. And while the Versalite's 10d ripstop nylon fabric is reasonably tough for the weight, it falls a long way short of the Helium in terms of durability and resistance to scuffs, scrapes, and tears.
Weighing just 6.4 oz., this is the second lightest jacket in our review. Nevertheless, it boasts an impressive set of features, including a duo of zippered hand pockets, pit zips, a fully adjustable hood, adjustable alpine cuffs, and articulated arms.
Specs
Type: Hardshell
Weight: 6.4 oz.
Waterproofing: Gore-Tex Infinium
HH: 30,000 mm
MVRT: 43,000 g/m²/d
PROs

Highly waterproof and breathable
Ultralight
Pit zips
2 zippered hand pockets
3-way adjustable hood

CONs

Not as durable as competitors
Bottom-Line: An ultralight jacket with the highest HH and breathability rating on our list, this one's ideal for high-output hiking, trail running, ski-touring, and other faster-paced activities.
Types of Waterproof Hiking Jackets
Broadly speaking, hiking jackets can be divided into two main categories: softshells and hardshells. Below, we take a look at the benefits of each type.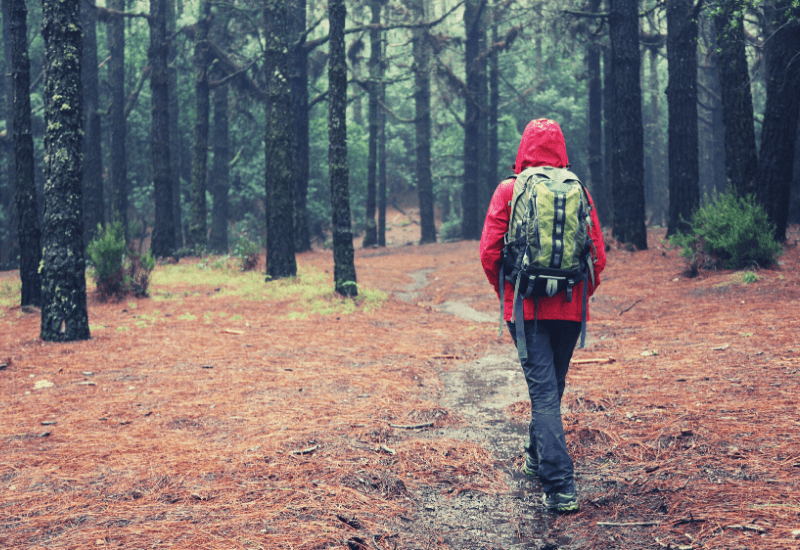 Softshell or Hardshell?
Softshell Hiking Jackets
These are defined by their use of stretchy, soft, breathable fabric that's designed to provide light water resistance and insulation.
For the most part, soft-shell hiking jackets offer more warmth and mobility than hardshells, but a lot less in the way of water resistance – instead of a waterproof membrane, most have a DWR (durable water repellent) coating that will fend off only light showers.
Examples: Columbia Ascender and Rab Kinetic Plus.
Hardshell Hiking Jackets
While softshell jackets are merely water-resistant, hardshells are waterproof, meaning that their core function is to protect against the elements. Most use a waterproof-breathable membrane that is either sandwiched between the lining and face fabric or bonded to the latter.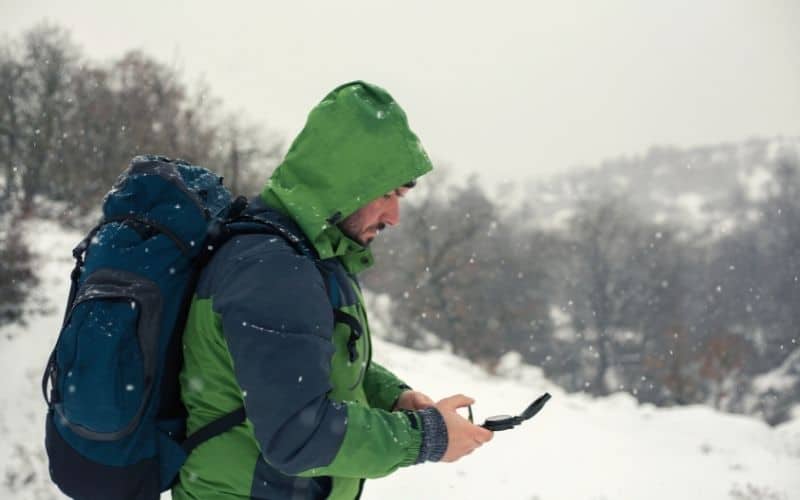 Though exceptions exist (see the Black Diamond Stormline Stretch), hardshells are made with stiffer materials that lack the mobility of softshells.
In short, if weather protection is your priority, a hardshell is what you need.
While some overly pedantic observers are apt to class 3-layer jackets as the only true "hardshells," to keep things simple, our review treats 2-, 2.5-, and 3-layer models as hardshells.
Examples: Arc'teryx Zeta SL, Outdoor Research Foray, The North Face Venture 2,Black Diamond StormLine Stretch (hybrid), Marmot Minimalist, Outdoor Research Helium II, and the Patagonia Torrentshell 3L, Montbell Versalite.
How to Pick a Waterproof Jacket for Hiking?
There are several factors to take into consideration when shopping for the ideal hiking jacket for your needs. Below, we provide a brief overview of each one.
Wind & Water Resistance
While softshells are only water-resistant, hardshell hiking jackets are fully waterproof. This means that softshells are a good option if you need an insulating, mobile layer that will keep you dry if the odd, short-lived rainshower sweeps in. However, most models aren't going to keep you dry in heavy or sustained rainfall. For that, you'll need a hardshell hiking jacket…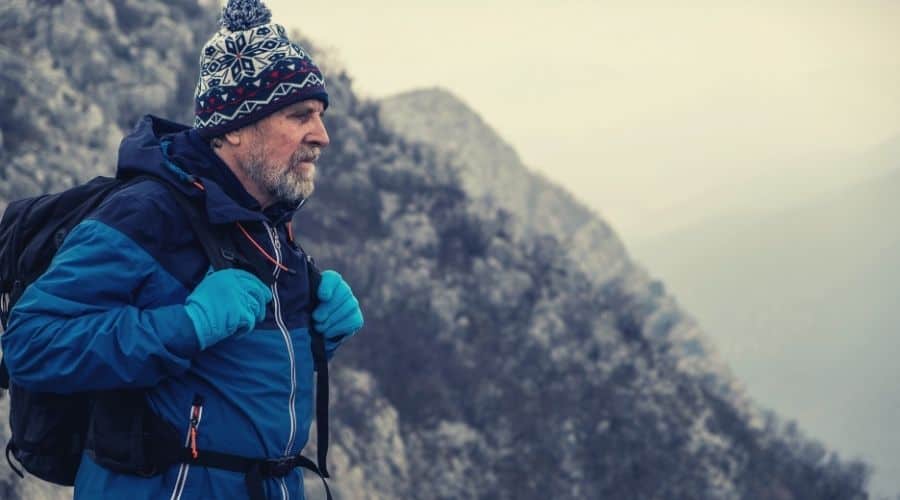 The level of water resistance provided by hardshells varies from jacket to jacket and is quantified in something called the "hydrostatic head test". This test measures how much water pressure the jacket's fabric can withstand before it begins to leak. If, for example, the fabric begins to leak with 10,000mm of water pressure then its HH is 10,000mm. Simple!
The higher the HH rating a rain jacket has, the more waterproof it will be.
Jackets like the Montbell Versalite (30,000 mm), Arc'teryx Zeta SL (28,000 mm), and OR Foray (28,000 mm), for instance, belong to the truly "bombproof" class of rain jackets and will keep you dry even in a sustained downpour.
Models like the Patagonia Torrentshell (10,000 mm), on the other hand, are best viewed as emergency shells that will keep you dry in shorter showers or sustained but light rainfall.
Finally, most hardshells also use a "DWR coating". This is a hydrophobic (water-repellent) finish that makes water bead up on the surface of the fabric and therefore helps to prevent the jacket from "wetting out".
Fabric Layers
Hiking jackets are available in 2, 2.5, and 3-layer constructions. Though exceptions exist, a few general observations can be made about each type as regards performance:
2-layer
These are the most rudimentary of the bunch and consist of a waterproof-breathable membrane attached to a fabric inner layer (usually a mesh lining).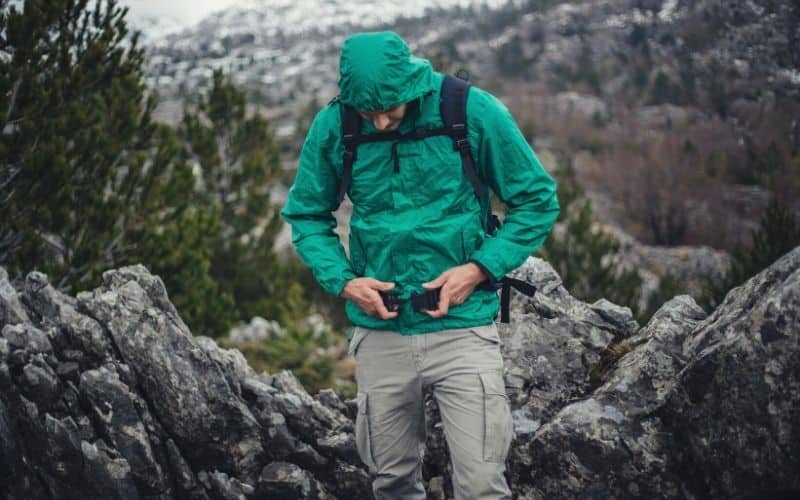 Most 2-layer jackets are heavier, bulkier, and less breathable than 2.5-layer models, though also cheaper. As such, they're a good option for general hiking and buyers on a tight budget, but not ideal for those who prioritize performance and low packed weight.
Exceptions to this rule are the OR Foray, which is pricey for a 2-layer, and the Montbell Versalite, which is far more breathable (43,000g/m²/24hrs), lightweight (6.4 oz), and packable than any other 2-layer rain jacket out there.
2.5-layer
These are made with an ultra-thin interior fabric affixed to the waterproof membranes, instead of the bulkier lining used on both their 2- and 3-layer cousins.
This construction makes 2.5-layer jackets highly breathable, compressible, and lightweight. On the downside, it also means they're less soft against the skin and less durable than 3-layer jackets, which usually have a fabric lining and burlier outer layer.
3-layer
These consist of a waterproof membrane sandwiched between more substantial face fabric and a slightly thicker interior lining.
While bulkier than 2.5-layer options, most 3-layer jackets feel better against the skin and offer far superior breathability and waterproofing to 2-layer models (the Patagonia Torrentshell, however, is an exception to the rule).
Durability
The most reliable marker of how durable and resilient a rain jacket will be is the thickness of the fabric and the type of weave used in its construction.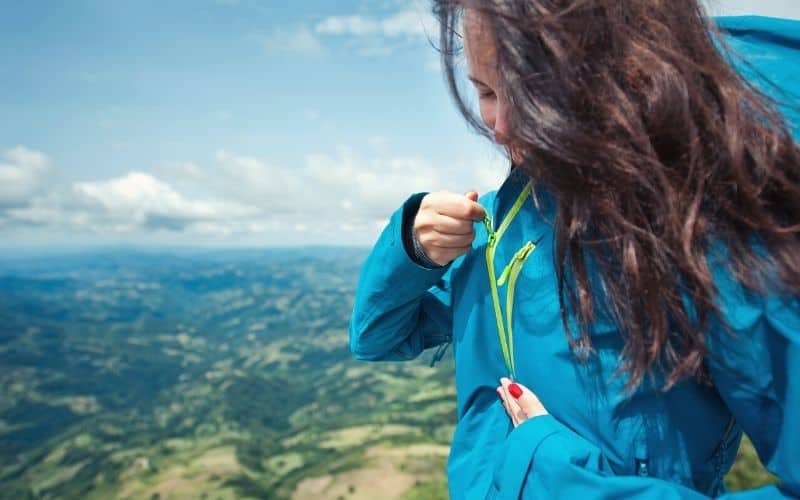 The thickness of the fabric is quantified in the denier rating (d), which measures the density of fabric fibers.
In most cases, higher-denier fabrics are tougher and more durable than low-denier ones. However, some jackets are made with a "ripstop" weave that makes them tougher, pound for pound, than ordinary weaves. This means that a 15D ripstop shell is likely to be as tough, if not tougher than a 20D shell made with a regular weave.
As you might have guessed, the trade-off for durability is usually extra weight, with jackets made using high-denier fabrics tipping the scales at a few ounces more than those made with thinner ones.
In our review, the most durable jackets are the Arc'teryx Zeta SL (40d ripstop nylon), North Face Venture 2's (70d nylon), and Patagonia Torrentshell (50d ripstop nylon). The least durable are ultralight models like the Montbell Versalite (10d ripstop nylon) and OR Helium II (30d ripstop nylon).
Comfort & Mobility
As mentioned above, softshells are usually far more mobile and comfortable than hardshells owing to their use of stretchier and softer fabric. That said, some hybrid models that combine hardshell waterproofing technology with stretchy softshell inserts are now bridging the gap between the two. The BD StormLine is the perfect case in point.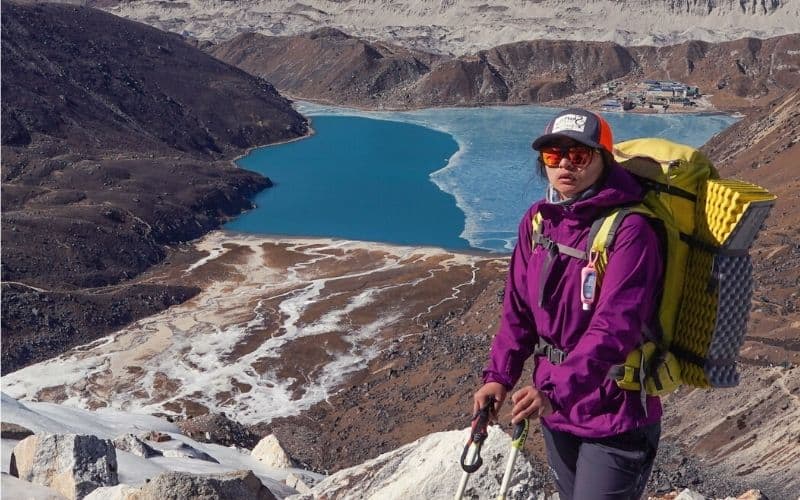 With out-and-out hardshells, the fit of the jacket and its interior lining are the most important things to look for.
With regards to fit, articulated (i.e. ergonomic) cuts are the most comfortable as they conform to the contours of your body and provide superior freedom of movement.
Other mobility-enhancing features are underarm gussets and helmet-compatible hoods. While pit gussets like those used in the Marmot Minimalist allow for unrestricted movement of your arms (especially important when scrambling), helmet-compatible hoods prevent the jacket riding up and exposing your midriff when wearing a helmet.
Smaller features like a chin guard that prevents the fabric chafing against your chin are also handy additions.
For the most part, 3-layer shells offer better next-to-skin comfort thanks to their use of a more substantial lining than 2- or 2.5-layer models, both of which can feel a little plasticky and sticky.
Breathability & Ventilation
Breathability refers to a jacket's capacity to let body heat and sweat escape from inside to out. Without it, simply put, things are going to get mighty sticky as soon as you start exerting yourself.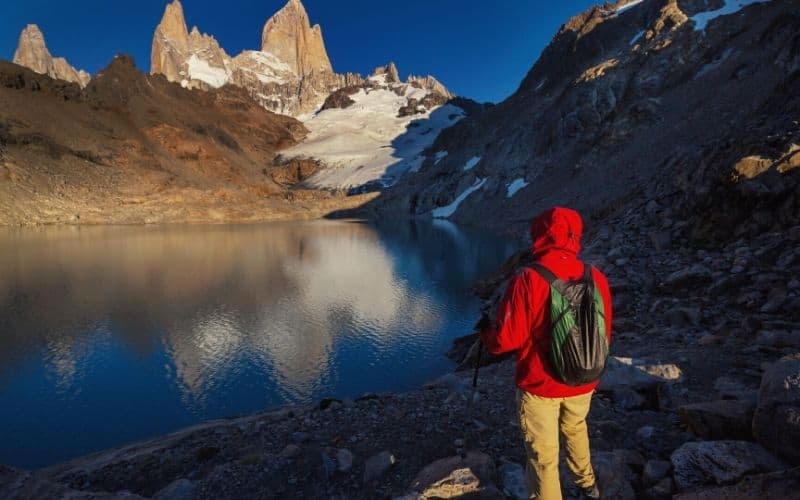 Breathability is quantified using the moisture vapor transmission rate (MVTR), which measures how much moisture can escape through a square meter of fabric in a 24-hour period. In product listings, this usually looks like this: 15,000 g/m²/24h or 25,000 g/m²/day. In a few words, the higher the MVTR, the more breathable the fabric is.
Jackets with a high MVTR are typically those geared towards high-output pursuits like trail running, backcountry skiing, mountain biking, and more intense hiking. Those with a low MVTR are better suited to general use or hiking on mellow trails.
The rain jacket with the highest MVTR on our list is the Montbell Versalite (43,000g/m²/d).
To boost airflow, some jackets include ventilation features like pit zips (underarm zippers), adjustable cuffs, and mesh pockets, all of which can be opened to release heat/let in some fresh air when need be.
Weight & Packability
Whichever rain jacket you choose for your adventures, the chances are it will be spending the vast majority of its working life "on-call" – that is, stowed in your backpack, ready to be deployed when the wet stuff start's falling. This being so, how light and compressible (or not) the jacket is is an important consideration.
When weighing up the options, however, bear in mind that ultralight jackets often lack the durability and weather resistance of heavyweights, and usually scrimp on a few features like pit zips or pockets.
This is exemplified by the lightest and heaviest jackets in our review – the OR Helium II (6.3 oz.) and the OR Foray (16.3 oz.). While the Helium II is a much lighter jacket, it's less waterproof and is made with much thinner fabric. It's also less adjustable and has fewer pockets and vents.
Additional Features
The extra features most likely to impact the convenience and user-friendliness of your hiking jacket are the pockets, hood, vents, and adjustable cinches or drawcords.
Pockets
These come in useful for storing small essentials you like to keep easily accessible and, of course, for putting your hands in when temps are low. Most midweight jackets have a total of three pockets – two hand pockets and one chest pocket. Ultralight models, however, often only have one or do away with pockets altogether in order to cut down on weight.
For added convenience, the pockets on some jackets (the OR Foray, for example) are situated higher on the body to allow easy access even when you're wearing a hipbelt or harness.
Hood
The best hoods are fully adjustable, meaning they have cinches that allow you to tighten them over your dome. This prevents the hood from being blown back on your head when hiking into the wind and helps improve peripheral vision by keeping the fabric out of the way.
In rain shells, we're also fans of wired peaks, which help to keep rainwater off of your face by creating a small awning, of sorts, above your brow.
Vents
This non-standard feature is one that's very handy to have, letting you dump heat in a hurry when need be without exposing yourself to the rain. Pit zippers are the most common ventilating features. However, the OR Foray goes one step further with zippers that run from the bicep to the hem.
Adjustability
Adjustable hems, cuffs, and hoods allow you to trap body heat when feeling the chill and ventilate when starting to sweat.
Sustainability
If ethical production practices and eco-friendly materials are an important consideration, look for a rain jacket that's bluesign-approved, is made from recycled materials, and uses a PFC-free DWR coating.
Both the Marmot Minimalist and Patagonia Torrentshell are partially made with recycled materials, while the Torrentshell and OR Foray are bluesign-approved.
If you want more information on what to wear on the trails then hit up our other guides!