Editors Pick
Arc'teryx Zeta SL
Our decision came down to the wire, with many high-quality hiking jackets fitting into different niche settings and situations. That said, if you want the best winter hiking jacket that works well in a wide variety of environments and conditions, it is hard to ignore the Zeta SL.
First, the Zeta SL provides excellent protection from the elements, including rain, wind, and cold. Yet, you do not have to worry about some classic hardshell issues as the Arc'teryx is also very breathable.
Another hardshell issue absent from the Zeta SL with the jacket featuring a lightweight and dexterous design using it's GTX Paclite Plus materials. This combination provides a substantial range of mobility and breathability while still allowing it to be packed down smaller than most competitors.
Outside of a higher price tag and some minor venting issues, the Arc'teryx presents few flaws or issues. To add some icing on the cake, the Arc'teryx also has a solid hood with a stiffened brim, though it is not suitable for use with a helmet.
Bottom line: The Arc'teryx Zeta has it all in spades – protection from the weather while maintaining a lightweight and mobile hardshell design.
The Best Hiking Jackets To Keep You Dry and Comfortable
Looking For Great Mens Outdoor Jackets for Backpacking & Hiking?
You're in the right place! In this guide, we will be covering the following:
Break down the important considerations when buying the best hiking rain jacket.
Review nine of the best backpacking jackets on the market
Give our unbiased #1 pick on the best rain jacket for hiking
Whether you want to take a gentle stroll along a class 1 walking trail, trail running or looking for a real challenge on a class 5 obstacle trail, the right jacket remains invaluable.
So while the Arcteryx Zeta SL is our overall winner, it may not be the right choice for you depending on the type of hiking you do, what other gear you own and the type of climate you hike in.
Based on our years of experience on the trails, we take a look at each jacket and weight it's pluses and cons to give you a qualified opinion on what each is best suited for. So, check out our reviews of 9 of the best hiking jackets for hiking to see which measures up best to keep you dry.
Choosing The Right Hiking Jacket
Picking the right jacket can be difficult with all of the different jargon and technical terms. On top of that, even the terms that seem relatively normal can have different meanings when applied to hiking jackets.
From the different types of hiking jackets and the general idea you can get from their class to the numerous features that protect in different conditions, this breakdown will help you navigate the various terms brands use. Keep in mind, most of these features perform a sort of balancing act with one quality decreasing while another decreases.

Types Of Waterproof Hiking Jackets
Soft Shell
This type is the style most beginners will likely think of as it can most easily double as a general jacket. Noted for its soft, supple construction, soft shell jackets are often some of the most comfortable.
Not only do soft shell hiking jackets tend to offer better mobility, they generally use softer materials that feel better against exposed skin.
That said, softshell jackets take the comfort approach above the performance approach. In this case, softshell jackets often provide more breathability, but even "weatherproof" models fall far short compared to the other types of hiking jackets.
Hard Shell
If you want a product that can do it all, hard shells might be the best of the three different types. For a top-quality hardshell jacket, the only potential issue is that they are likely not quite as comfortable as comparable softshell hiking jackets.
However, hardshell jackets can still provide decent breathability while simultaneously protecting you from colder temperatures. On top of that, few protect you from the elements the way a top-tier hardshell does.
Further reading: If you really want a hardshell then check our guide to the best hardshell jackets, alternatively if you want a jacket that can adapt, then check out our guide to the best 3-in-1 jackets.
At the same time, if you live in a warmer region, the chances are that even the most breathable and vented hiking jackets will be too warm for you.
Hybrid
Not nearly as universal as the other two types of hiking jackets, hybrid jackets sit in the middle of the pack of soft and hard shells for most features. Specifically, hybrid hiking jackets make it a point for the outer shell to use stretchy fabric that provides more maneuverability than stiffer materials.
However, hybrid jackets will also include top-notch waterproofing that can be absent from softshell hiking jackets. This type of jacket also tends to include more of the auxiliary environmental protection features than a standard softshell.
Keeping You Dry – Things To Consider In Hiking Jackets For Men
Weather Resistance
When you're out in the outdoors and the heavens open, your enjoyment will likely highly correlate with how dry you stay. So when hiking in the rain, a great jacket can be the difference between comfort and abject misery.
While most advertise some form of protection from the elements, different brands will use different terms. This distinction is technically a moot point, as no jacket is truly "fully waterproof" using the standard IPX rating system.
You can roughly gauge how water-resistant any product is by looking at its HH rating, assuming the brand provides it. The HH rating tells you both how water-resistant the jacket is as well as how breathable it is.
The first number tells you how many millimeters of water are needed to break through the fabric while the second number tells you how many grams of water vapor can pass through in 24 hours. Generally, anything that has both numbers up to 10,000 mm/g or higher gives decent protection in wet conditions with anything above 15,000 mm/g, providing solid defense and will keep you dry in everything but the heaviest rain.
Further reading: Why does waterproof rain gear "wet out"? and how often should you wash your jacket to prevent it?
Ventilation
A waterproof/breathable jacket is largely a myth with some degree of breathability given up for an increase in the weather protection given bythe fabric. That said, many products try to add breathability by including some sort of vent as part of the jacket, which opens up to allow body heat to escape the rain jacket directly.
The most common type of vents are pit zips which open up anywhere from 2" to 4" underneath the arms. Chest vents are not common, but they also provide good ventilation when the weather permits.
Some of the best waterproof/breathable hiking jackets come with openings that run nearly the entire length of the jacket to the hem. However, not all vents are created equally with pocket vents providing little in the way of appreciable ventilation.
Weight
For longer hikes or those that challenge the hiker, the jacket's weight can play heavily into your decision. Heavier hiking jackets have a natural tendency to be a bit less breathable, though this depends on where the weight sits.
For example, some heavy jackets use more material or heavier materials, which tends to decrease breathability. On the other hand, some heavy jackets include different features that add weight but do so strategically.
On top of that, longer hikes tend to be tests of endurance, which generally benefit from lighter packs in general. While many people try to cut weight in their backpacks, it is also good to reduce weight with what you wear.
Packed Size
Besides needing to keep your weight down for longer hikes, it is also important to use your available space efficiently. Unless you are hiking in inclement weather, there is a good chance that you will not be wearing your jacket the whole hike.
This is where the jacket's packed size becomes important, though some jackets offer unique packing options. The most useful method of packing one is by stuffing it into its own inverted pockets.
A jacket that packs neatly inside of its pocket can be made even more convenient if it includes a loop on it so you can attach it to the outside of your pack without having to take more of the interior space.
"Fit" & Adjustability
Given that hiking can require you to move in extended positions, the fit and adjustability impact a surprisingly wide range of qualities. From the outset, the fit affects how maneuverable you are in the jacket without exposing your layers underneath.
Many products come in an "athletic" fit designed for people in good shape, though some may offer a bit more room for larger folks or additional layers. Of course, the fit will also impact the waterproofing of a jacket, where adjustability comes into play.
Some models include various cinches at strategic points that close off openings where water could otherwise work inside. The most common cinches are positioned along the waist, though many jackets also include wrist straps.
To Hood or Not to Hood
While not all jackets have a hood, those made for harsh weather certainly will. However, not all hoods are created equal, nor do they all work for every situation.
For example, even if a jacket includes a hood, it may not be suitable for use with a helmet– a necessary piece of equipment for safely hiking in rough mountains. On top of that, the hood's actual design can also provide more waterproofing based on its shape.
Some hoods cinch, allowing you to tighten them to your head, preventing water from dripping into the opening. Hoods with a bit of a stiff "bill" so that the brim keeps the rain out of your eyes even when cinched closed.
Hiking Jacket Terminology Deciphered
Waterproof Fabrics
For general elemental protection and waterproofing, the fabric used will usually impact the jacket's quality more than other aspects. The most commonly used and widely recognized is Gore-Tex (GTX), which comes in a couple of different varieties, each balancing the swing of protection and breathability to various degrees.
Gore-Tex is the most trusted name for waterproof fabric, but many brands make their elemental-resistant materials. Black Diamond's BB.dry and Rab's Proflex are two that compare favorably.
The North Face makes the DryVent material, which is like Gore-Tex, but cheaper and other proprietary materials but is not as good. Some brands use Pertex, which offers comparable protection but is more comfortable.
Laminate
The laminate is a thin layer, usually woven within the jacket's inner and outer shells. Generally, the laminate will be made from one of the water-resistant materials mentioned in the previous section.
That said, the laminate itself is often made up of multiple layers of 2, 2.5, and 3– each suited for different types of hiking. A 2 layer laminate is used for casual hiking rain jackets and bonds the laminate to the outer shell with just a lining on the inside.
The 2.5 layer laminates are budget-friendly, but they also reduce breathability by including a thin layer backing the laminate that is also water-resistant. The 3-layer laminates are used for performance rain jackets and bond the laminate to the fabric on the inside, reducing the weight and increasing durability.
DWR Coating
DWR or durable water repellent is a coating applied to the outer layer. Rain jackets seeking to increase their overall water resistance often apply a DWR coating to the zippers as well.
DWR works by making a rough, jagged surface at the microscopic level on the applied surface. This micro-contour prevents water from soaking into the top layers of the jacket, forcing the water to bead up and roll off.
DWR is not a permanent fix with frequent use wearing it off, but it can be reapplied as well. If the DWR coating wears through, the laminate will still protect you, but the jacket's breathability decreases.
YKK Zippers
Once seen as a fashion statement, YKK zippers provide more than just bragging rights. While it may not be something you initially notice, zippers can be more or less durable.
Those that fall on the less durable end of the spectrum are frustrating, but they also present ways for water to work into your pockets. This is where high-quality zippers like YKK zippers come in handy.
Unlike other zipper makers, YKK is a vertically integrated manufacturer that controls every step of production. This production process allows YKK zippers to maintain the highest standards from the smelting to the installation with rigorous quality control.
The Best Outdoor Jackets (Mens) Reviewed
Arc'teryx Zeta SL
Best Hiking Coat
Anyone familiar with high-end outdoor clothing likely expected to find Arc'teryx somewhere on our list. In this instance, we saved the best for last as this model provides almost everything you would want, leaving us struggling to find real cons.
Of course, the price tag is likely the first thing that might turn some people away, but you get what you pay for with this hiking jacket. The outer shell and the laminate are made out of GTX material, the former sporting 40D durability.
This combination makes the Zeta SL by far one of the best products for elemental protection that we reviewed. To further reinforce this protection, the StormHood features a great brim design while the WaterTight zipper prevents your carriables from getting wet.
The one thing that the Arc'teryx could improve on would be adding some kind of venting. However, the Zeta SL is one of the more breathable models we saw and surprisingly lightweight.
PROs

Made of N40r GTX PACLITE Plus fabric
Great flexibility
Provides excellent elemental protection

CONs

Expensive jacket
Does not have ventilation
Bottom-Line: The Zeta SL may come with a hefty price tag, but it also provides pretty much everything you would want out of a hardshell jacket. Not only is it durable and offers excellent resistance to bad weather, but it is also one of the more maneuverable hardshells an outdoor enthusiast could want.
Outdoor Research Foray
Outdoor Research is a somewhat younger company than many on our list, but as the name implies, it focuses heavily on producing top-quality gear that can handle the worst situations. The Foray fits that bill with its use of 2 layers of GTX PacLite waterproof laminate.
However, the top layer is just as impressive being made out of 50D polyester, providing a good mix of warmth retention, breathability, and durability. To reinforce the waterproofing further, the Foray features fully taped seams, making this jacket one of the more weather resistant models we reviewed
That said, the foray is also the heaviest jacket on our list at 15.9 oz, though the weight does not seem to impact the wearing comfort. A big part of this comfort comes from Outdoor Research, including TorsoFlo vents, which run from the hem to the bicep providing the best ventilation on our list.
PROs

Has great environmental protection
Has many features
Provides excellent ventilation

CONs

Cumbersome in your Pack
Not the best fit
Bottom-Line: Along with the Marmot, the Outdoor Research Foray was a great option for our best hiking rain jacket thanks to solid features and environmental protection. However, it does not provide the best fit and is also the heaviest jacket that we reviewed.
The North Face Venture 2
The North Face is easily one of the more well-known brands on our list such that even casual people recognize it. While TNF makes products for all grades of price and quality, the Venture 2 jacket aims to offer a solid rain jacket at a reasonable price.
Made out of either 40D nylon or 70D nylon, depending on whether you choose the solid or heathered color options. The North Face's proprietary DryVent laminate provides adequate water-resistance.
Keep in mind, as a shell, the Venture 2 is not the most breathable option that we came across. To account for the substandard breathability, the Venture 2 does at least provide decent pit zips.
On top of that, this model has decent mobility with only modest riding when lifting your arms.
PROs

Good value jacket
Has good mobility
Has a good fit

CONs

Is not the most breathable
Not the most comfortable
Bottom-Line: A solid all-arounder, the Venture 2 lightweight jacket could stand for some creature comfort upgrades. That said, it is one of the best budget options we found and offers a great feeling fit that lets you move freely.
Black Diamond StormLine Stretch
Named for the most challenging class of ski runs, Black Diamond pushes outdoor gear boundaries with continued innovation. The StormLine Stretch is one of the few products we encountered that does not use GTX, but its BD.dry material still stacks up well in comparison.
As the name suggests, the Black Diamond does more than offering excellent protection with an exceptional range of motion. This mobility is accomplished by blending the nylon material used for the outer fabric with elastane, providing top-tier mobility as well.
That said, like many other shells, the StormLine Stretch does not offer the best breathability. Thankfully, the Black Diamond Stormline comes with pit zips to increase ventilation.
While the StormLine stretch runs a bit big, the hem and cuffs are adjustable, so you do not lose out on protection from the elements. To further reinforce this protection, the zippers of the Black Diamond are treated with polyurethane.
PROs

Great waterproof jacket
Has many features
Has good mobility

CONs

Not the most breathable jacket
Has a larger fit
Bottom-Line: The Black Diamond Stormline Stretch is the best rain shell jacket we reviewed thanks to excellent materials and construction. It can get a bit warm if you stay active, but few products can surpass its environmental protection.
Marmot Minimalist
Born in the college dorms of its founders, Marmot makes it a point to provide some of the best elemental protection around. The Minimalist jacket takes this task to heart with the use of GORE-TEX PacLite 2.5 while sealing all of the seams.
The Marmont includes several extra comfort features throughout the jacket, including Angel-Wing Movement for an increased range of motion. The Minimalist reinforces its solid waterproof laminate with a stiffened brim and cinching wrist cuffs that do not restrict your peripheral vision or movement.
One thing that strikes a bit odd is the increased weight of the Minimalist which comes in as one of the heavier products on our list at 15 oz. This size also shows up in its packability as it is one of the larger packed hiking jackets too and does not pack into a pocket.
The Marmot may not have a microfiber hood, but it does include an anti-abrasion storm flap.
PROs

Has excellent environmental protection
Is more durable than most
Great comfort

CONs
Bottom-Line: As one of the best contenders for the top spot, the Marmot is comfortable while being both one of the more durable and weather-resistant jackets we found. However, the Minimalist just misses the mark a bit with its rather hefty weight and price tag.
Outdoor Research Helium II
Outdoor Research makes another appearance on our list, but this time, the company may have been trying to innovate a bit too hard. The Helium hooded jacket is easily the lightest model on our list weighing around 6 ½ oz, making it both light and packable.
While the chest pocket and internal hip pocket, which doubles as a packing pouch, are nice, the absence of hand pockets is odd and unfortunate. Based on the design, we want to consider this jacket a rain shell, but its elemental protection does not stand up as well compared to other high-end products.
This lack of protection is likely due to Pertex's use rather than G-Tex, though the seams are at least sealed. One of the more concerning issues with the Helium II is the use of only 30D ripstop nylon, the weakest material on our list.
PROs

Lightweight hiking jacket
Has numerous features
Packs better than most

CONs

Lack of pockets
Not the most durable jacket
Bottom-Line: The Outdoor Research Helium II is the lightest hiking jacket on our list, but it also packs up easier into a more convenient pouch pocket than others. However, it will not stand the test of time, but it is a great layer jacket to throw on top for moderate weather & our top pick as the best backpacking jacket.
REI Co-op XeroDry GTX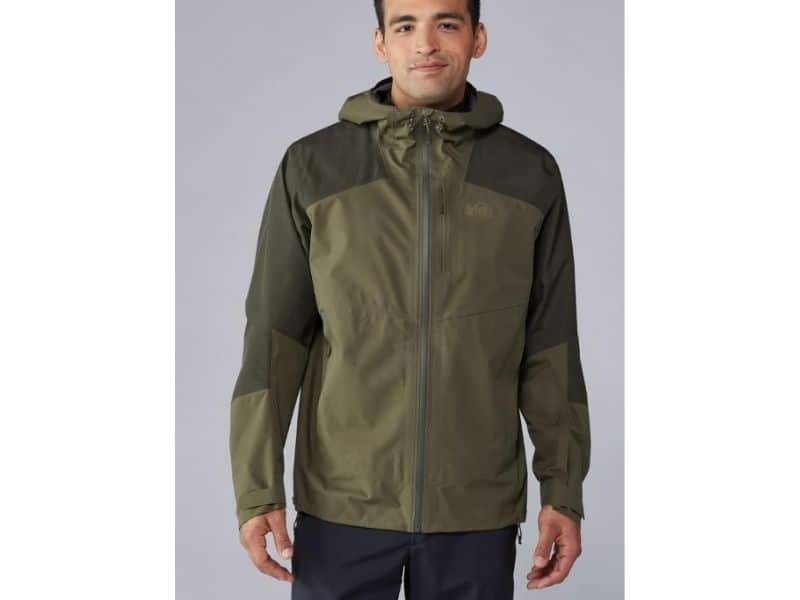 REI might be better known as a retailer, but they make a great line of outdoor products as well. While not their flagship model, the XeroDry GTX jacket brings a lot to the table as a solid hooded jacket.
This jacket is one of the more comfortable dedicated hiking jackets that we came across and provides a solid range of motion. On top of that, the XeroDry GTX jacket uses a 2-layer laminate and is bluesign approved, meaning it uses sustainable fabrics.
The hood and hem can be cinched to help keep out water and provide adjustability to improve the fit.
That said, the XeroDry GTX is not as breathable as some of their competitors, and core vents are not that effective. However, the REI misses the mark in elemental protection, too, which puts this hiking jacket in a bit of a narrow demographic.
PROs

Cheap jacket
Very comfortable
Has good mobility

CONs

Not the most breathable jacket
Not the best waterproofing
Bottom-Line: While not the top-tier of what REI has to offer, the XeroDry GTX does come in at a bit lower of a RRP too. To be fair, the XeroDry is meant to be a shell layer, so it should not be the only jacket you bring for serious hiking.
Columbia Men's Ascender Softshell Rain Jacket
While Columbia might be one of the more well-known brands on the market, most avid outdoors people know it more as a casual brand than anything else. In this instance, the Ascender at least tries to fill a completely different niche than many of the other cold-weather jackets reviewed.
Instead of serving as just an outer layer for punishing adventures, the Ascender aims to provide an all-around experience. Specifically, this model is one of the few softshell products that we reviewed, making it comfortable compared to most hardshells.
For example, the interior features a fleece lining that feels soft against the skin, and will help keep you warm, but this comfort can also lead to overheating. Unfortunately, the Ascender does not breathe as well as others and does not include any additional venting features.
That said, it's a great choice for either layering in colder temperatures or for everyday wear around town.
PROs

Great value jacket
Hugely comfortable
Layers better than some
Features hand pockets

CONs

Does not have an adjustable hood
Not the most maneuverable
Bottom-Line: The Columbia Ascender jacket works well as a casual jacket due to its comfort and design while still allowing for layers. While the Ascender is not going to win any awards or be the best at anything anytime soon, it is one of the less expensive options.
Rab Kinetic Plus
Known as much for their outdoor equipment as they are their clothing, Rab tends to go its way when it comes to designs. This principle holds for the Kinetic Plus, which, while technically a softshell, offers many of the benefits of a hard shell jacket.
This construction makes the Rab Kinetic Plus the only hybrid shell hiking jacket on our list, offering excellent quality to all of the major aspects. The Rab also goes the extra mile by using a seamless design and including YKK AquaGuard zippers.
There is no getting around the fact that Rab's polyester shell is one of the stretchiest and most comfortable we came across. On top of that, the 3-layer Proflex laminate does a decent job while still maintaining the absurd mobility RAB strives for
PROs

Provides excellent mobility
Incredibly lightweight and packable
Proflex 3-Layer

CONs

Is an expensive jacket
Not a helmet compatible hood
Bottom-Line: Trying to push the boundaries between hardshell and softshell has its benefits, which the Rab Kinetic Plus takes full advantage of. Aside from being one of the lightest jackets on our list, it also provides excellent mobility and range of motion, making it a great option for aerobic activities.
If you want more information on what to wear on the trails then hit up our other guides!
Last update on 2021-09-18 / Affiliate links / Images from Amazon Product Advertising API