Boasting rolling hills and gorgeous nature preserves, Ohio is one of the Midwest's top hiking destinations. Whether you're looking for the best hikes in Ohio with waterfalls or you're keen to check out Cuyahoga Valley National Park, there's an adventure in the Buckeye State for you to enjoy.
In this article, we'll introduce you to 12 of the top Buckeye State hiking trails. We'll even clue you in to everything you need to know about hiking in Ohio so you can get right out into the mountains.
The 12 Top Ohio Hikes
1. Ash Cave, Hocking Hills State Park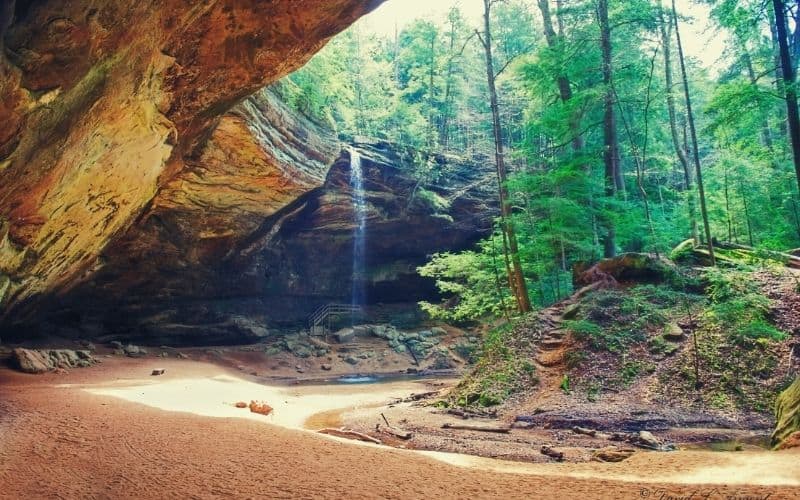 Trail type: Loop
Length: 0.5 miles (111ft ascent)
Difficulty: Easy
Access: Ash Cave parking area on Route 56 near Creola
One of Hocking Hills State Park's best-known destinations, Ash Cave is the perfect short hike for the whole family.
After departing the Ash Cave trailhead, this path takes you on a casual walk through a stunning gorge. Along the way, you get a fantastic view of massive trees and gorgeous wildflowers, which offer plenty for everyone to see and discover.
The gorge then opens up and drops you off underneath a gigantic overhanging ledge. This ledge forms a huge horseshoe-shaped cave that's some 700 feet long from end to end. Plus, the East Fork of Queen Creek even cascades down one side of the cave, forming a misty waterfall.
Once at the cave, you can wander around to your heart's content. Then, when you're ready to head back home, you can continue down the path to loop back to the parking area.
2. Jacob's Ladder Overlook, Christmas Rocks State Nature Preserve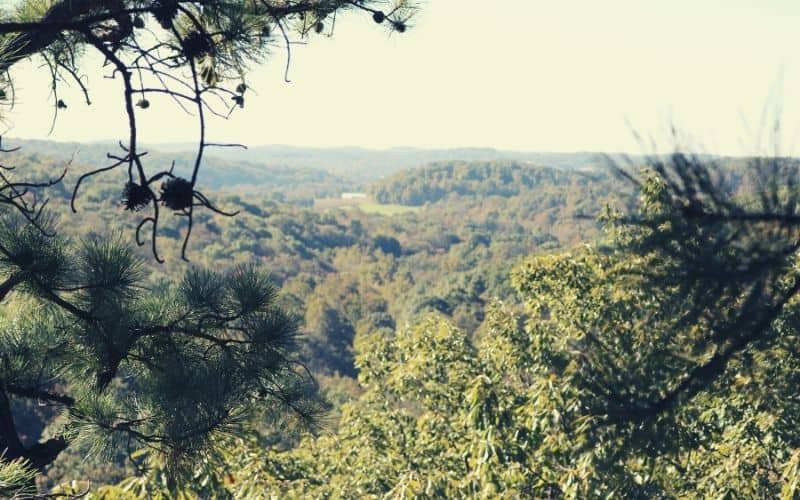 Trail type: Out-and-back
Length: 4.7 miles (655ft ascent)
Difficulty: Moderate
Access: Christmas Rocks parking area on Meister Road near Lancaster
A hidden gem in the heart of Ohio, Christmas Rocks State Nature Preserve is home to some of the rarest animals in the state. If you're visiting the state nature preserve, the trek to the Jacob's Ladder Overlook should definitely be on your to-do list.
Beginning at the trailhead on Meister Road, this hike follows two interconnecting loop trails. It starts off on the Orange Loop, which clubs steadily upward right off the bat.
Eventually, the path transitions into the Blue Loop, which leads to a great viewpoint above the Christmas Rocks. After gazing out over the Christmas Rocks, you can follow the path back to the intersection with the Orange Loop and head toward Jacob's Ladder.
Once you reach Jacob's Ladder, you're treated to sprawling views over the valley below. On a clear day, you can even see the Columbus Metro Area as an added reward for your efforts.
3. Jaite to Boston (Buckeye Trail), Cuyahoga Valley National Park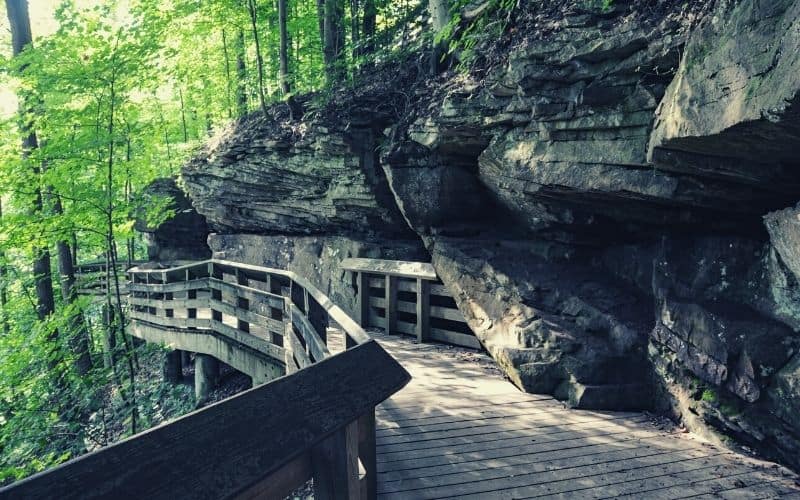 Trail type: Out-and-back
Length: 10.2 miles (250ft ascent)
Difficulty: Moderate
Access: Red Lock Trailhead on Highland Road near Riverview
Did you know that Ohio has a national park? Yep, that's right: Cuyahoga Valley National Park is one of the few national parks located east of the Mississippi in the great state of Ohio.
Situated just outside of the city of Cleveland, the park protects a fragile landscape along the Cuyahoga River. It also encompasses a number of historic sites, including parts of the old Ohio and Erie Canal towpath.
Within the park, the Jaite to Boston section of the Buckeye Trail is one of the most popular hikes. This trek starts off at the Red Lock Trailhead near Jaite and meanders its way over rocky terrain to the old train station near Boston.
Over the course of this hike, you'll be treated to views of the Cuyahoga River as well as sprawling vistas of the surrounding valley. Plus, if you want to turn this into a loop, you can easily connect to the Valley Bridle or the Towpath Trail for the return journey.
4. John L Rich Trail & North Rim Trail, John Bryan State Park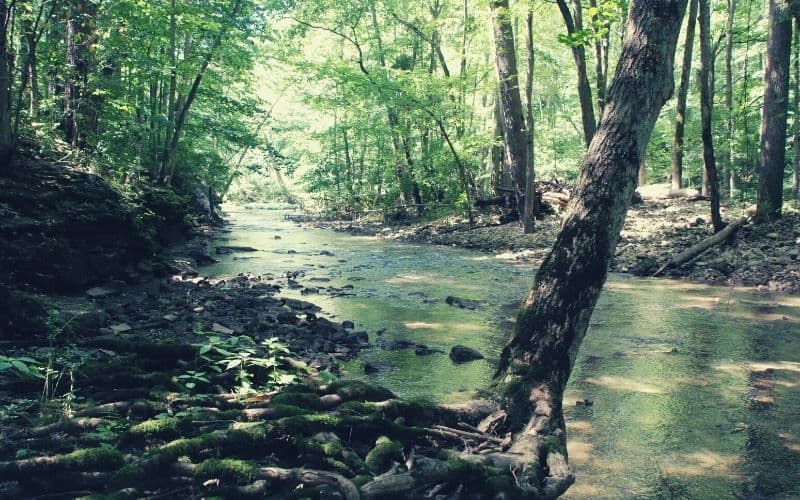 Trail type: Out-and-back
Length: 5.5 miles (746ft ascent)
Difficulty: Moderate
Access: Clifton Gorge Parking Lot on Jackson Street near Yellow Springs
Located near the city of Dayton, John Bryan State Park is the ideal escape from the hustle and bustle of city life.
On these two trails, you can head out on an adventure and see the spectacular Clifton Gorge first-hand. Starting from the Clifton Gorge Parking Lot on Jackson Street, this out-and-back trek takes you through a rugged gorge with views of huge bridges and waterfalls along the way.
You'll begin on the John L. Rich Trail and then eventually cross a beautiful bridge to link up with the North Rim path. Once on the North Rim path, you'll get even better views of the surrounding area.
For extra fun, you can even link up with the Pittsburgh-Cincinnati State Coach path. This path parallels the North Rim, so it's a great little addition to your outing if you want to get your steps in for the day.
5. Old Man's Cave to Cedar Falls, Hocking Hills State Park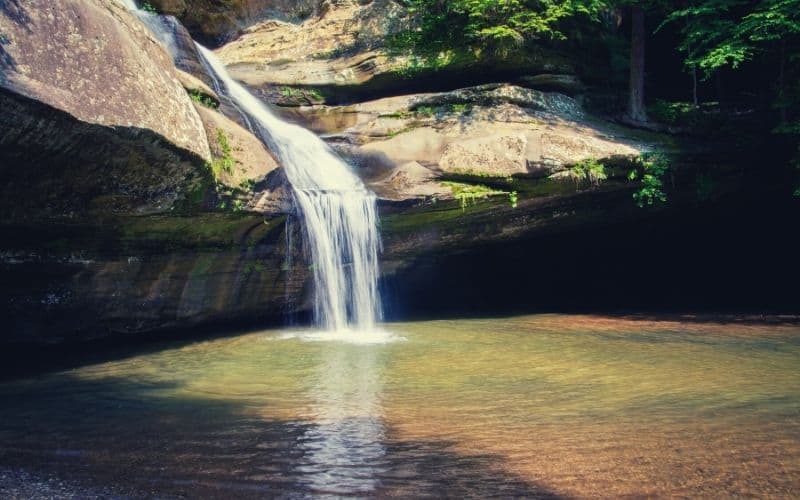 Trail type: Loop
Length: 6.8 miles (623ft ascent)
Difficulty: Moderate
Access: Parking area at the Old Man's Cave Visitor's Center near Bloomingville
Another fan-favorite at Hocking Hills State Park in Ohio, the trek to Old Man's Cave is one of Ohio's premier hiking trails.
The first part of this hike takes you from the Visitor's Center to Old Man's Cave along the Buckeye Trail. Along this casual and family-friendly path, you'll journey through lush forests and enjoy many a babbling brook.
Eventually, you'll come across the main waterfalls of the cave area, which are well worth stopping to see. After you get your fill of these first few cascades, you'll pick up the trail toward Cedar Falls.
At Cedar Falls, you're treated to another set of roaring waterfalls. If you have the time, it's worth stopping for lunch here and enjoying the view. Once it's time to call it a day, you can follow the Overlook Trail to head back to the main parking area at Hocking Hills to complete the loop.
6. Clifton Gorge Trail, Clifton Gorge State Nature Preserve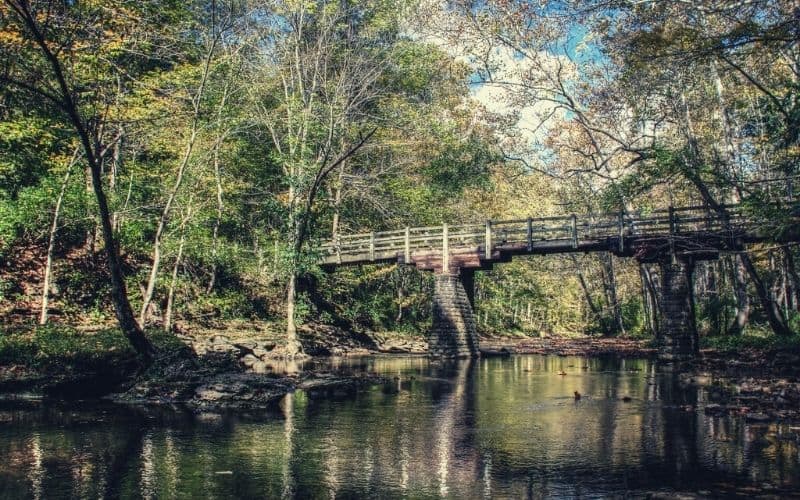 Trail type: Loop
Length: 1 mile (60ft ascent)
Difficulty: Easy
Access: Clifton Gorge parking lot on Route 343 near Clifton
The Clifton Gorge Trail is a casual jaunt in the woods for anyone on the lookout for family-friendly hikes in western Ohio.
After setting off from the Clifton Gorge parking lot, this cozy trek heads straight into gorgeous woodlands. The path is wide and well-marked, making it one of the more suitable hiking trails in the state for young kids.
During this jaunt, you'll have views of the preserve's many unique limestone formations. Plus, in the spring months, the preserve is among the best wildflower viewing spots in Ohio. The path will eventually take you to an overlook above the gorge where you can check out a massive cascade.
Once you're at the gorge, you can sit back and enjoy the view as you decide on your return path. Depending on your schedule, you can either retrace your steps back to the parking lot or follow the Narrows Trail for even more views of the mighty Little Miami River.
7. Hog Hollow Trail, Mohican State Park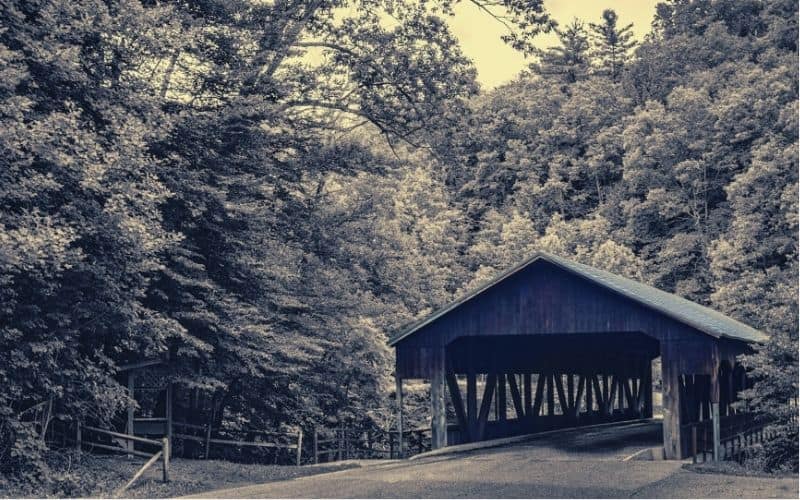 Trail type: Out-and-back
Length: 2.1 miles (485ft ascent)
Difficulty: Moderate
Access: Covered Bridge parking area on Park Road near Perrysville
An enjoyable year-round adventure, the Hog Hollow Trail offers a casual walk through the woods to a fire tower with excellent views. Plus, this jaunt starts out at a scenic and historic covered bridge, so there's something for everyone to enjoy.
To start this hike, you'll begin at the Covered Bridge Parking area in Mohican State Park. From there, you'll follow a well-marked path up and over undulating terrain. The path will eventually lead you to a large fire tower.
Although the fire tower is usually closed, you can grab a breather by the tower and look out over the valley below. If you're keen on more adventure, you can also use this hike to access other scenic treks, such as those in the nearby Clear Forge Gorge Nature Preserve.
8. Backpack Trail, Shawnee State Forest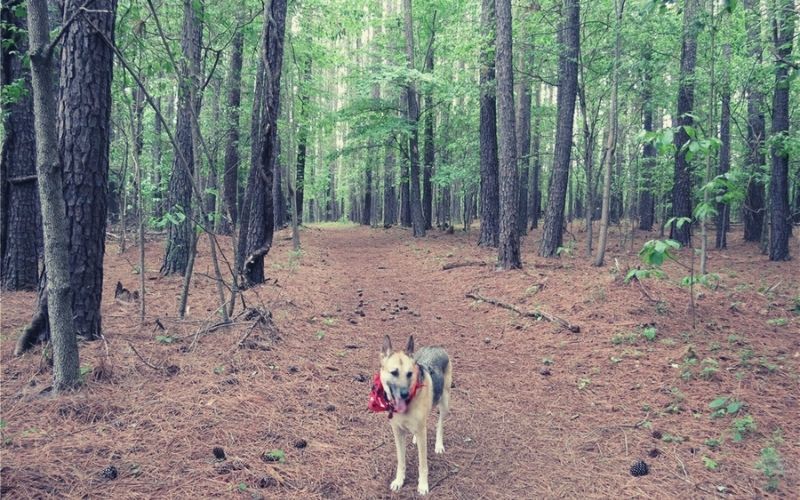 Trail type: Loop
Length: 38.5 miles (6,136ft ascent)
Difficulty: Hard
Access: Backpacker's Kiosk off Route 125 near West Portsmouth
One of Southern Ohio's top hiking trails, the Backpack Trail is a must-do trek for experienced backpackers.
Overall, the state forest's backcountry trails total about 50 miles, though this 38.5-mile loop tags all the highlights. It starts at a small self-registration kiosk on Route 125 and heads directly into the woods.
While hiking, you'll follow an orange-blazed path that climbs up and down a seemingly endless series of hills. These trails traverse some of the best-forested terrain in the entire state, so expect stellar views and many waterfalls.
Most folks find that they can complete this hike in about 3 to 5 days. But, with an assortment of different side trails available, you could easily extend this to be a week-long adventure.
9. South Loop, Zaleski State Forest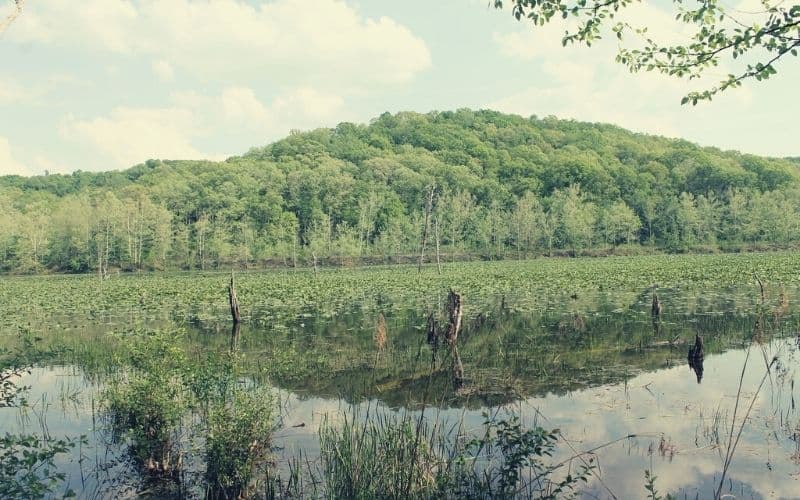 Trail type: Loop
Length: 11.3 miles (1,528ft ascent)
Difficulty: Moderate
Access: Zaleski State Forest Backpacker Trailhead on Route 278 near McArthur
Ohio's second-largest state forest, Zaleski offers a whole host of trails for the intrepid hiker to choose from. Perhaps the most popular day trip is the South Loop, though you could also connect all the trails to make a 3-day backpacking expedition.
For a day hike or single overnight adventure, you'll start off at the Backpacker Trailhead and pick up the path for the South Loop. The South Loop offers a chance to see some of the best terrain that Zaleski has to offer, including scenic overlooks, dense forests, and glistening streams.
Do keep in mind, however, that camping is only available at designated campsites. Furthermore, there are quite a few venomous snakes in the region, so be sure to wear long pants and tread lightly on these trails. It's also worth mentioning that hunting is allowed near the forest. So, don't forget to wear brightly-colored clothing during hunting season.
10. Long Loop, Lamping Homestead, Wayne National Forest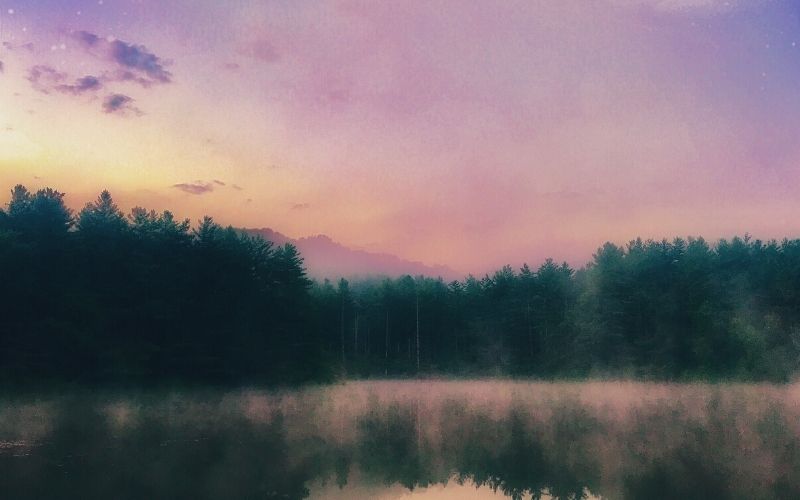 Trail type: Loop
Length: 4 miles (185ft ascent)
Difficulty: Easy
Access: Parking area on Clearfork Road near Graysville
The only national forest in Ohio, Wayne National Forest is one of the largest areas of public land in the state. Within the forest, Lamping Homestead Recreation Area is one of the most popular sites, especially if you love fishing in quaint ponds.
At the recreation area, there are 2 hiking trails to choose from. However, if you opt for the Long Loop, you can tag both trails in the park. For this hike, you'll begin at the recreation area's parking area on Clearfork Road and pick up the path for the Short Loop.
The Short Loop meanders its way up and around some rolling hills, popping out on ridges for the occasional view once you reach the Long Loop. As you make your way back to the Short Loop path, you can even stop for a quick dip in the local pond.
Overall, the Long Loop makes for a quick hike in this picturesque park that's not to be missed if you're in the area.
11. Quail Hollow Loop, Quail Hollow State Park
Trail type: Loop
Length: 3 miles (190ft ascent)
Difficulty: Easy
Access: Quail Hollow Parking Area on Congress Lake Avenue near Hartville
When it comes to hiking Ohio, hiking in Northeast Ohio is a sure bet. In fact, Quail Hollow State Park is one of your best options in the Cleveland Area, especially if you're on the lookout for a short-day trip.
This park is situated just outside of Cleveland and it offers about 16 miles of interpretive trails for hikers to enjoy. Although there are a lot of trails to choose from in the park, the Quail Hollow Loop is a solid choice for hikers of all ability levels.
To access this hike, you'll begin at the park's primary trailhead and pick up the wide path at the back of the parking lot. From there, you have an endless series of trails to follow, but taking the main path that loops around the park is a great choice.
Along this trek, you'll pass through stunning forests and a number of flower-filled fields. Since the park contains a network of different trails, you can shorten or extend your hike as needed. Or, if you don't mind horses, you can venture out onto the nearby equestrian trails for added fun.
12. Horseshoe Falls, Caesar Creek State Park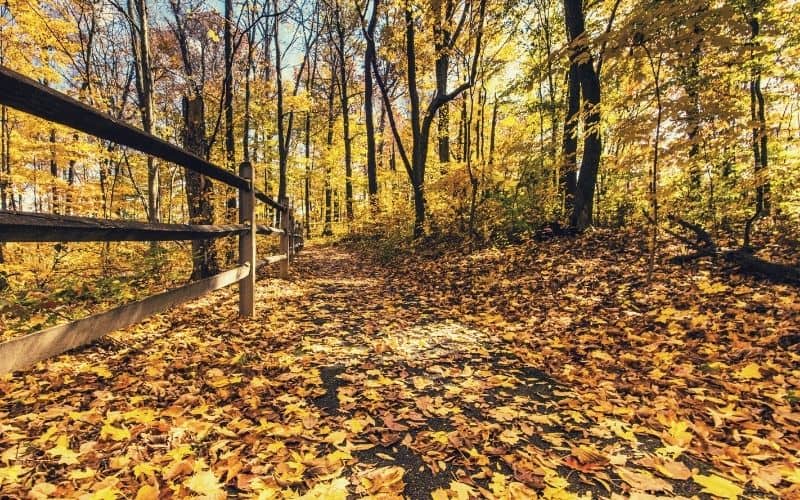 Trail type: Out-and-back
Length: 2.2 miles (200ft ascent)
Difficulty: Easy
Access: Flat Fork Ridge Recreation Area parking lot on Clarksville Road near Waynesville
Last but not least, Horseshoe Falls is an excellent short adventure in the greater Cincinnati, Ohio region.
To begin this hike, you'll want to park your car at the Flat Fork Ridge Recreation Area trailhead. Then, pick up the trail at the back end of the parking lot that will take you toward a stunning lake.
As you continue down the main trail in the park, you'll meander your way through the woods until you reach Horseshoe Falls. After you take in the sights at the falls, you can continue down the path to a funky suspension bridge.
Snap some pictures at the bridge and hang a left to get another view over the falls. Once you're ready you can casually retrace your steps back to the parking area.
That said, we ought to mention that this hike is best after a period of heavy rain. That's because the falls are very sensitive to seasonal rainfall patterns. So, consider visiting during the winter or spring for your best chance at seeing the falls in full force.
Hiking In Ohio: Amazing Trails & Endless Fun
If you're headed to the Midwest, Ohio is one adventure state that you just can't miss. From Hocking Hills State Park to Cuyahoga Valley, the outdoor opportunities are truly limitless in the Buckeye State.
We hope our guide to the best hiking in Ohio helped you find the right outing for your next trip. If you enjoyed any of these recommended hikes in Ohio, let us know in the comments below! Plus, feel free to share this article with your friends so they can start planning their upcoming adventures.