Ohio? It's nothing but plains and cornfields, right?
Wrong!
Unbeknownst to many, within easy driving distance of Cleveland and Akron, there lies a gorgeous little oasis of wilderness that's home to a few mighty surprises – waterfalls, towering forests, spectacular rock formations, panoramic overlooks, and great hiking trails.
This "oasis" goes by the name of Cuyahoga Valley National Park. If this national park isn't on your current list of hiking destinations to visit, we're sure it will be by the end of this post!
Below, you'll find a list of the 9 best hikes in Cuyahoga Valley National Park along with info on accessibility, restrictions, trail lengths, and all the highlights to look forward to on your hikes.
The 9 Best Trails In Cuyahoga Valley National Park
#1 Virginia Kendall Ledges Trail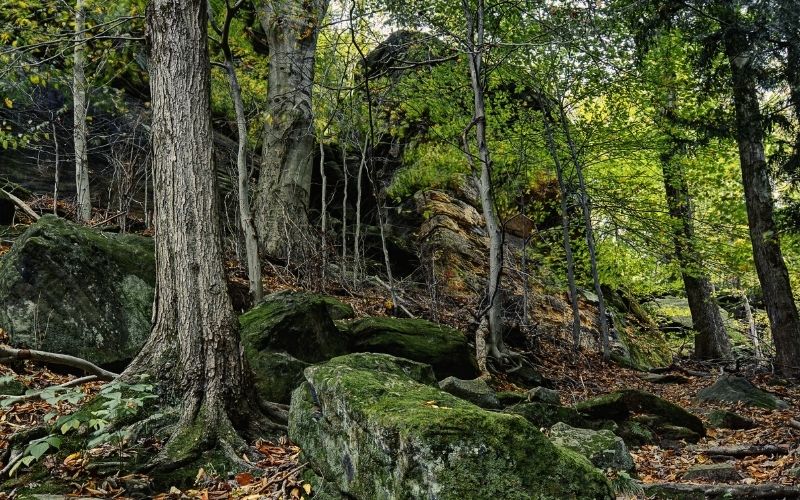 Type: Loop
Distance: 2.2 miles
Rating: Moderate
The Virginia Kendall Ledges Trail is one of the most popular trails in Cuyahoga Valley National Park, and once you get there you'll understand why!
This is one of a kind, winding through a maze of moss-covered bluffs, boulders, and rock faces. There are various caves, nooks, and crannies you can explore along the way, although we recommend doing so with the utmost care as the rock is often slippery and unstable.
This route also provides access to the Ledges Overlook, an elevated outcrop that offers up stunning views of Cuyahoga Valley.
The VKLT is unpaved and rocky for the most part, so we advise wearing appropriate footwear.
RELATED READING: Check our guide to the best Ohio Hiking Trails!
#2 Blue Hen Falls via the Buckeye Trail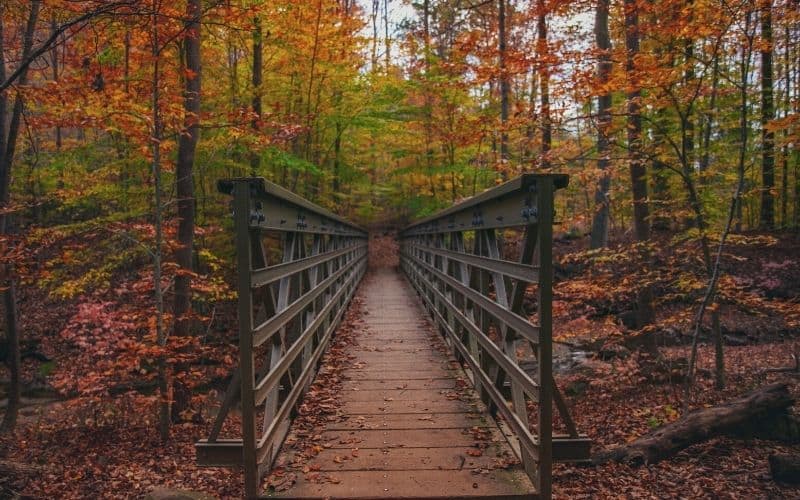 Type: Out-and-back
Distance: 1.2 miles
Rating: Easy
The Buckeye Trail is a 1,444-mile route that circles the entire state of Ohio. Forty of the best of those miles wind their way through Cuyahoga Valley National Park, and their highlight is undoubtedly the gorgeous, curiously named Blue Hen Falls.
At just 1.2 miles long, this family-friendly hike is a great option for visitors who are short on time or looking for a mellow stroll as opposed to anything strenuous.
After crossing the bridge a short way from the trailhead near the Boston Store Visitor Center (trail maps available here!), you'll find yourself in dense, old-growth forest. Shortly, you'll reach Blue Hen Falls, a quirky, double waterfall that spills over the lip of a large sandstone roof into a cave and small gorge below.
From here, the trail continues to Buttermilk Falls, a less dramatic but taller waterfall that's well worth the extra 10-15 minutes it will take you to get there.
#3 Brandywine Gorge Trail – Brandywine Falls Hike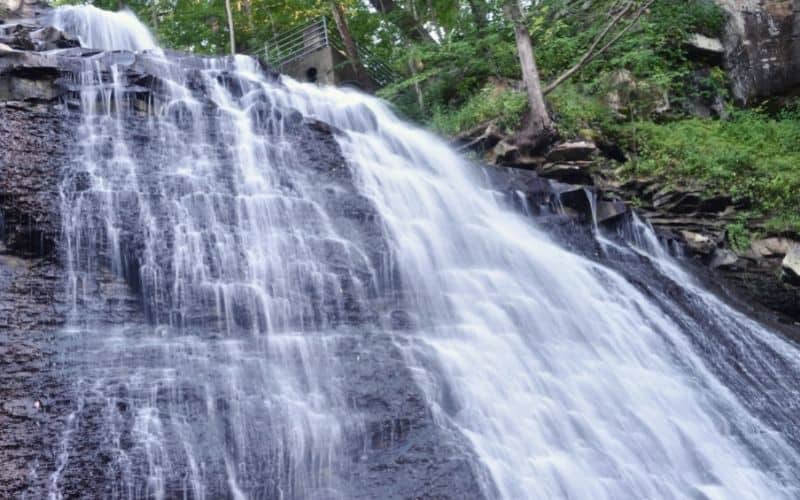 Type: Loop
Distance: 1.4 miles
Rating: Moderate
Hiking Cuyahoga Valley National Park isn't complete without a visit to Brandywine Falls. Brandywine is the largest waterfall in the park and is easily accessible for hikers of all ages and fitness levels on this mellow, well-maintained trail, which involves a mere 160 feet of ascent.
The 60-foot Brandywine Falls at the trail's end is a spectacular sight at any time of year, but particularly so when complemented by the red, yellow, gold, and amber hues of fall foliage.
Owing to its accessibility and that show-stopping endpoint, this trail can get pretty busy in summer and early fall, so we recommend arriving early to beat the crowds.
While part of the trail is wheelchair accessible, this sadly won't take you all the way to Brandywine Falls itself.
#4 Tree Farm Trail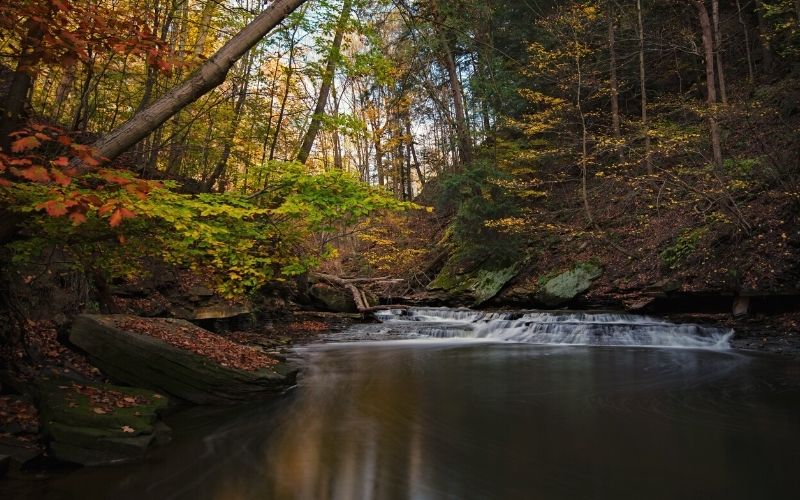 Type: Loop
Distance: 2.8 miles
Rating: Easy
This path isn't as popular as others owing to its lack of geological features found elsewhere in Cuyahoga Valley National Park. This, however, makes it an ideal choice for lovers of peace and quiet, and a great place to spot wildlife.
The area in and around Cuyahoga Valley National Park is renowned for its tree farms and nurseries, and on this trail you wind gently through a former farm that has since become a sanctuary for non-deciduous trees and wildlife like moles, squirrels, chipmunks, deer, and rabbits.
To get to the trailhead, start at the Horseshoe Pond parking lot and use the trailhead to the west of the lot. While family-friendly, this path can get a little overgrown and muddy at times, so don't forget your hiking boots!
#5 Towpath Trail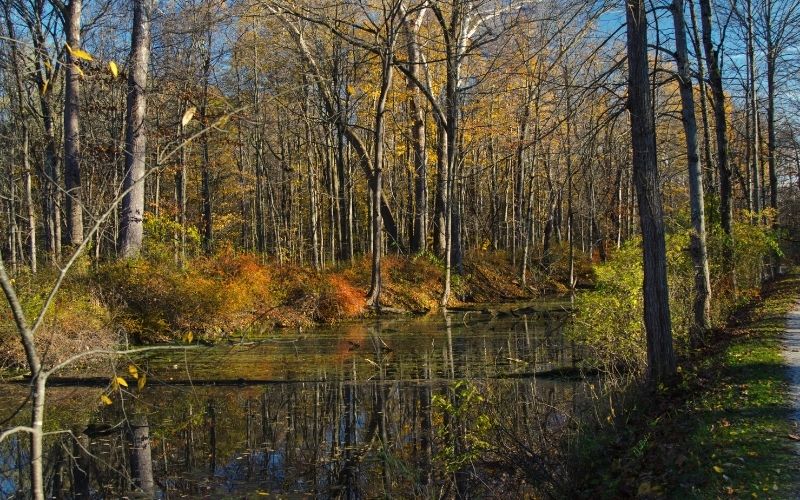 Type: Point-to-point
Distance: 101 miles
Rating: Moderate
The Towpath Trail is a historic route that was originally made for donkeys and horses to tow passengers and cargo down the Ohio and Erie canals. The trail is just over 100 miles long, with 20 of those miles passing through the heart of Cuyahoga Valley National Park.
There are several access points throughout the park, allowing you to hike as little (or much!) of the Towpath as you choose!
With virtually no elevation gain, this is one of the most family-friendly options on our list. It's also wheelchair-, bike-, and stroller-accessible, and dog-friendly, though park authorities request that you keep your pooch on a short leash.
#6 Pine Grove Trail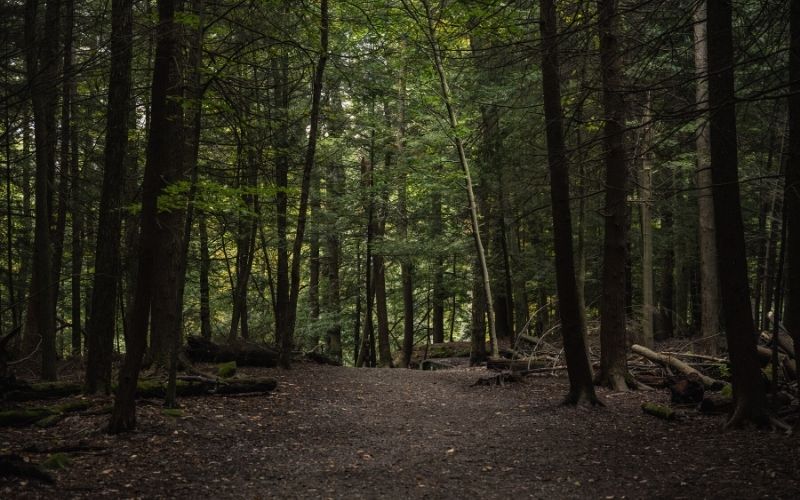 Type: Loop
Distance: 1.5 miles
Rating: Moderate
As the name suggests, the Pine Grove Trail takes you through one of the most densely forested areas of the park. But it ain't all about pine. Along the way, you'll walk by towering specimens of hemlock and oak, as well as a wide variety of beautiful wildflowers in spring and summer.
The walk is relatively easygoing, with only 100 feet of elevation gain over its 1.5-mile length. Nevertheless, the terrain can be fairly bumpy so it's not wheelchair or stroller-accessible, and proper hiking shoes are recommended.
To reach the trailhead for this route, you'll need to use the 0.4-mile connector that diverges from the Virginia Kendall Ledges Trail.
#7 Salt Run Trail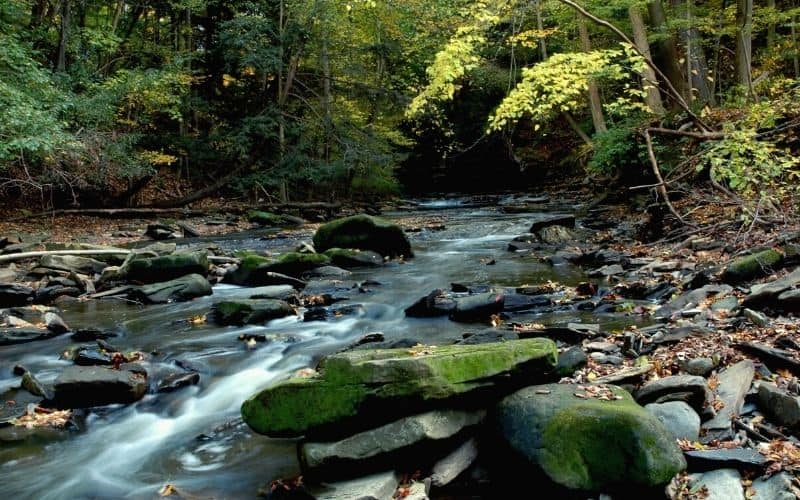 Type: Loop
Distance: 3.3 miles
Difficulty Rating: Moderate
This 3.3-mile hike in the Kendal Lake Area of the park involves around 450 feet of ascent, making it a great option for hikers looking for a little more of a workout.
The trailhead is located just across from the Pine Hollow parking lot, from where the occasionally steep and uneven path threads its way through dense, lush forest teeming with foliage.
The highlight of the route is White Oak Spring, a natural, fairytale-esque natural spring that bubbles up at the base of a large white oak tree.
You can easily lengthen your hike by connecting to the Kendall Lake Trail after returning to the trailhead, adding 1.1 miles to the original 3.3-mile hike.
#8 Plateau Trail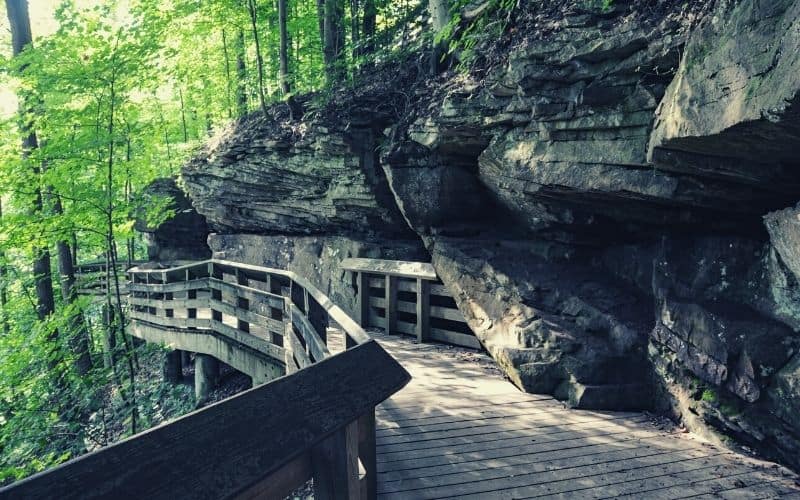 Type: Loop
Distance: 4.9 miles
Rating: Moderate
The Plateau loop is the longest standalone day-hiking route on our list and, as such, a good option for hikers or cross-country skiers who want a little more of a challenge.
This forested route doesn't offer much in the way of vistas, but along the way you'll be surrounded by delightfully atmospheric forest and have the opportunity to visit a duo of beautiful ponds with short diversions from the path.
While only requiring 200 feet of ascent, the path is unpaved and fairly rugged, so good footwear is essential.
Access to the path is from the Oak Hill Trailhead just off Oak Hill Road, or from the Valley Picnic Area next to the Cuyahoga River on Riverview Road.
#9 Deer Lick Cave Loop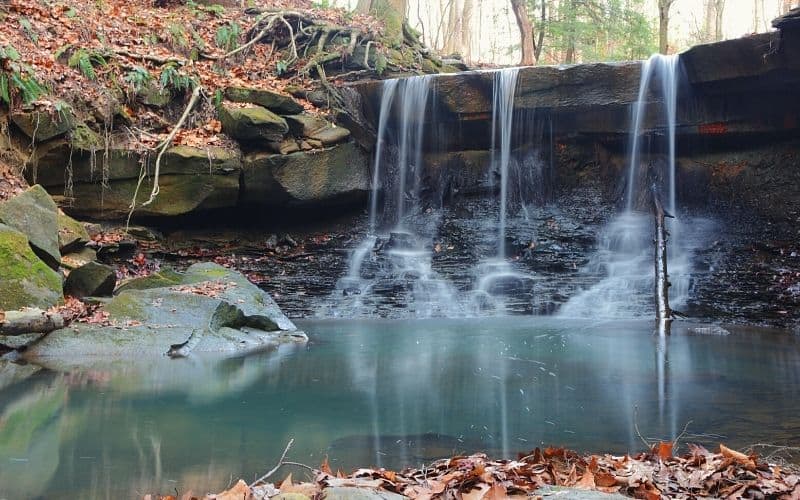 Type: Loop
Distance: 4 miles
Rating: Moderate
Hiking the Deer Lick Cave Loop requires a little bit of navigational nous owing to the various forks and junctions along the way (follow the oak leaf blazes!). The reward for your efforts, however, is a family-friendly stroll through a forest of towering trees on a moderately trafficked route with a very special feature at the end.
You can access this loop via two trailheads – the Nature Center Trailhead and the Deer Lick Cave Trailhead. Choosing the latter of the two will cut the hike's overall distance by roughly a mile.
Starting from the Nature Center and traveling clockwise, you'll pass by a number of quaint, babbling streams before reaching a junction and turning right onto the Buckeye. From here, the going gets a little tougher as you steadily ascend a ridge to the edge of a 90-foot ravine before reaching the route's highlight, Deer Lick Cave, around 2 miles in.
The cave itself is more of a nook formed by a protruding an overhanging sandstone outcrop, but it's well worth seeing nonetheless. A short way upstream, you'll also find Deer Lick Cave Falls, a tiny but surprisingly captivating waterfall.
This hike only involves around 250 feet of elevation gain, but will likely take around two hours due to the rugged nature of conditions underfoot. Again, sturdy footwear is recommended.
Further Ohio Reading
For more outdoor fun in Ohio check out our guides to:
Cuyahoga here we come!
Didn't we tell you Ohio had a bit more to offer than plains, corn, and the odd metropolis wedged somewhere in the middle?!
We hope you enjoyed our guide to the 9 best trails in Cuyahoga Valley National Park. If you have any questions about any of these hikes or are planning a Cuyahoga National Park hiking trip, drop us a line in the comment box below. And if you'd like to share this post with your friends, please share away!