Once you've had enough of San Diego's amazing sand and surf, why not head inland for a bit of hiking?
Southern California is a known mecca for outdoor adventure, and the San Diego area does not disappoint. Boasting landscapes including scenic deserts, looming mountains, and biodiverse forests, San Diego will take your hiking to new heights!
With so many amazing San Diego treks to choose from, where do you start? By reading our guide! We've narrowed it down to the 15 best to help you plan your next trip in the gorgeous backcountry of America's Finest City!
1. Eagle Rock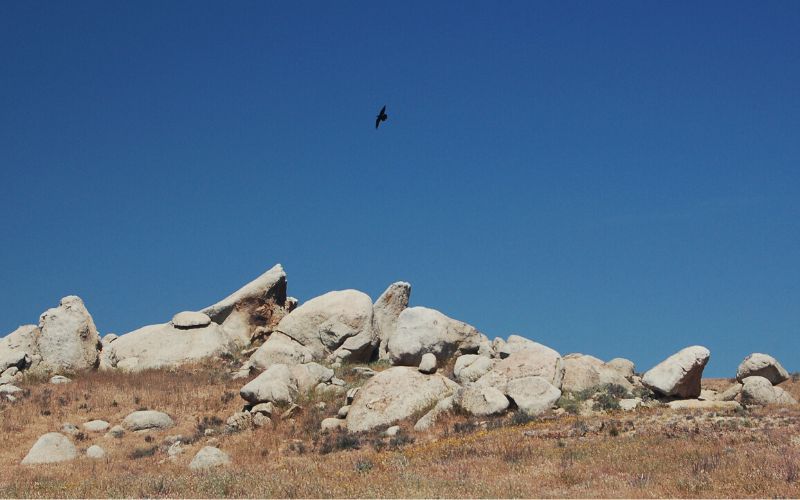 Type: Out and back
Length: 6.5 miles
Difficulty: Easy
The Eagle Rock trek is a scenic hike that takes you along a portion of the famous Pacific Crest Trail. Thanks to its manageable length and only 950 feet of elevation gain, it's an easy hike that even novice hikers can manage.
There are plenty of 'Eagle Rocks' in California, so make sure you're heading to the one at Warner Springs.
Eagle Rock is a relatively flat, desert hike. There is a lovely seasonal stream lined with oak trees that provides some much-needed shade during the spring and summer months. Along the way, you'll see plenty of Southern California vegetation like pencil chollas and prickly pear cacti.
At the end of the hike, you'll reach the Eagle Rock formation. Eagle Rock is one of the most aptly named landmarks you're ever going to encounter! One look and you'll understand how this granite mammoth got its name.
Remember that the San Diego area is filled with snakes of all shapes and sizes. You should be aware of what to do in case you encounter a snake on the trail, especially the ones that rattle!
2. Cowles Mountain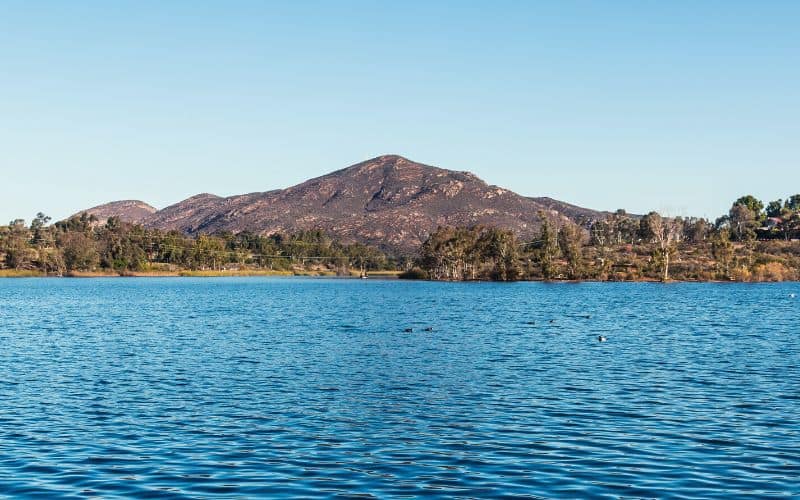 Type: Out and back
Length: 3 miles
Difficulty: Moderate
Ready to head up to the highest peak within San Diego's city limits?
The trek up Cowles Mountain is a moderately challenging hike and one of the most popular in San Diego County. The trail starting at Golfcrest and Navajo is the most heavily trafficked, so consider starting from Big Rock Park and Barker Way if you want to beat the crowds and score a parking space.
Despite the crowds, Cowles Mountain is a beautiful hike with some of the most sweeping views within the city's limits. The trail is easily accessible and well-maintained. And with over 1,500ft of elevation, it's a great workout!
We recommended doing this hike in the spring. During that time, the normally pretty greenish-brown landscape of Mission Trails Regional Park explodes in color thanks to beautiful, springtime blooms. You don't want to miss it!
3. Annie's Canyon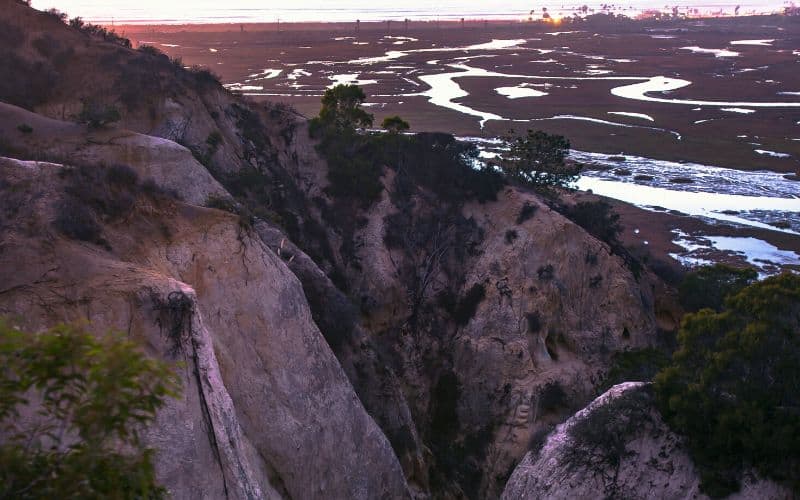 Type: Loop
Length: 1.5 miles
Difficulty: Easy
Annie's Canyon is a short and easy hike that packs a major punch in just 1 hour. On this short hike, you'll get to scramble in a narrow sandstone slot canyon and loop around the newly restored wetlands of the San Elijo Lagoon.
The trail to Annie's Canyon can be accessed from a few different trailheads, including Solana Hills, North Rios, and La Orilla.
If you want to enjoy the best views, start by heading down the Solana Hills Trail. That way, you'll catch sight of the beautiful San Elijo Lagoon as you descend. Just be prepared for a steep climb on your way back after exploring the slot canyon.
4. The Borrego Palm Canyon Trail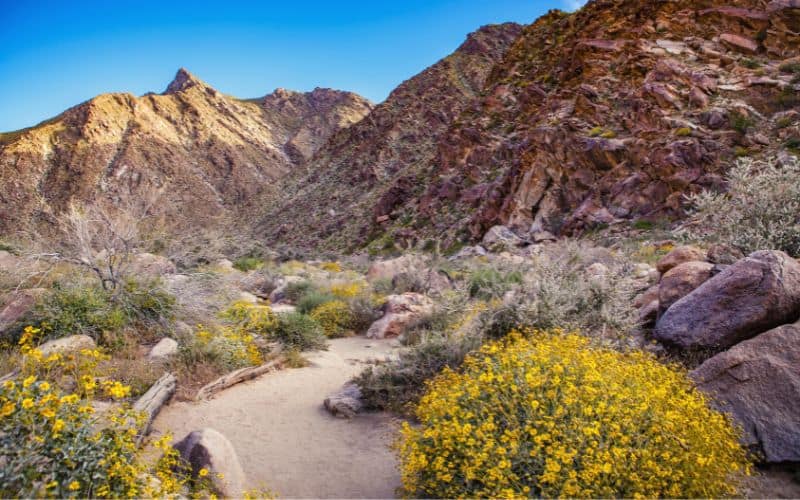 Type: Loop
Length: 2.9 miles
Difficulty: Moderate
Anza-Borrego Desert State Park is the largest state park in California. It's a vast outdoor playground, unlike anything you've ever seen before. Come for the hiking, stay for the hidden slot canyons, abandoned mines, and beautiful, wildflower meadows!
The Borrego Palm Canyon Trail takes you on a journey around Anza-Borrego. It's a loop trail that ascends about 450ft into the desert canyon. Near the end of the trail, you'll pass through one of the biggest palm oases in all of California. Depending on the season, you might even pass a couple of waterfalls along the way.
You'll find the trailhead next to the Visitor's Center. While the trail is short, it's moderately challenging due to the elevation gain. There are also a few sections where you'll have to cross streams and rock scramble, too.
5. Iron Mountain Trail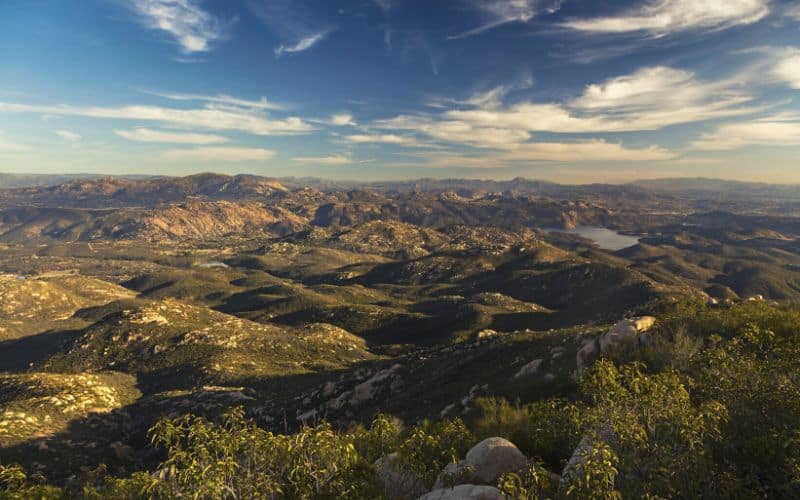 Type: Out and back
Length: 5.6 miles
Difficulty: Moderate
Iron Mountain is one of the most popular hiking destinations in San Diego Country, second only to Cowles Mountain.
The trail to the summit offers a reasonable challenge, even for experienced hikers. On a clear day, you can enjoy panoramic views all the way to the Pacific Ocean!
You can take this trek as a loop by combining the Iron Mountain and Ellie Lane Trail, but it will be longer. For a quicker but more strenuous ascent, you can follow the Iron Mountain Trail as an out-and-back hike straight to the summit.
You can reach the trailhead off Highway 67 in Poway. This is a busy hiking spot and parking spots are limited. Head out early to beat the crowds!
6. Three Sisters Falls Trail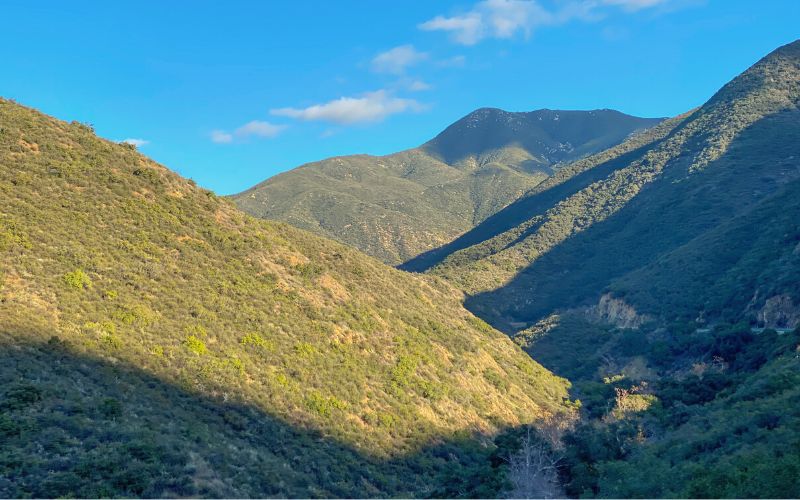 Type: Out and back
Length: 4 miles
Difficulty: Moderate to Challenging
While Cleveland National Forest is a popular area for hiking and camping, it is probably best known for the "Three Sisters" – three large waterfalls wedged between rocky mountains. After a good rainfall in the spring or fall season, the falls cascade over the mountains and into the canyon below, making it the perfect time for a visit!
It used to be that some climbing was required to reach the Three Sisters. New adjustments to the trail have created an easier and more direct route to the falls.
People that love climbing, scrambling, or otherwise challenging hikes will still find plenty to appreciate about this trail. The hike to the third waterfall is especially challenging and you can also traverse the rocky bottom.
You can find parking close to the trailhead where Boulder Creek Road meets the unpaved Cedar Creek road.
7. Cuyamaca Peak Loop Trail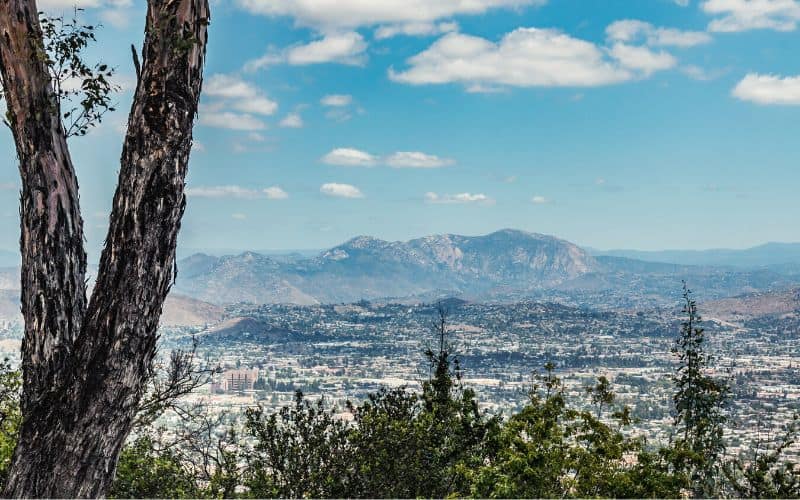 Type: Out and back
Length: 7.7 miles
Difficulty: Moderate
At an elevation of 6,515 feet, Cuyamaca is the second-highest peak in San Diego County. Don't let the elevation dissuade you! Despite the steep elevation gain, it isn't a particularly technical or strenuous hike. Even novice hikers looking for a challenge should consider it.
Cuyamaca Peak is set against the stunning background of Cuyamaca Rancho State Park. This trail comprises just a small portion of the 100 miles of trails that wind their way through the oak woodland forest of the park.
The trail begins at Paso Picacho Campground. It will take roughly 3 to 4 hours to reach the peak. The rewards are worth it! On a clear day, you can see over 100 miles in every direction from the deserts to the east and the coast to the west. Even Table Top Mountain in Mexico is visible!
8. Los Peñasquitos Canyon Trail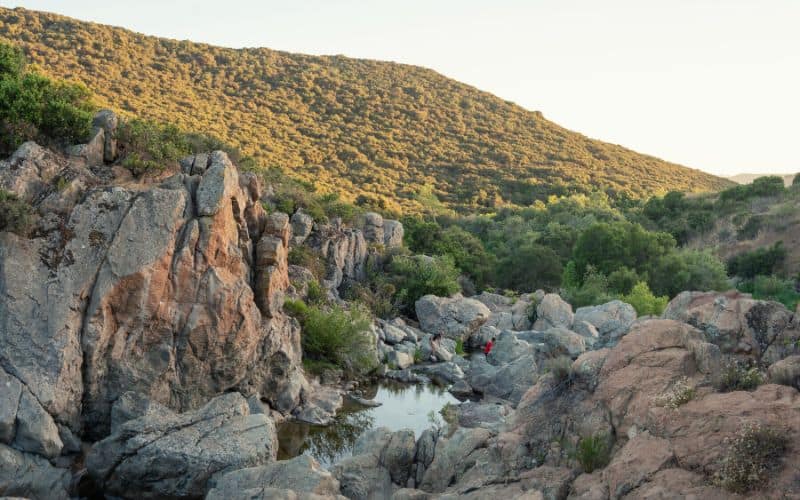 Type: Loop
Length: 7 miles
Difficulty: Easy
The Los Peñasquitos (meaning "little cliffs") Canyon Preserve is a popular hiking spot just outside the community of Mira Mesa. It is a testament to how water can turn a desert into a flourishing oasis.
Los Peñasquitos is one of the most popular parks near San Diego thanks to its natural beauty and rich history. In fact, Native American history within the Preserve dates back as far as 7,000 years ago!
The best way to explore the beauty of the canyon is through this 7-mile trail which stretches from one end of the preserve to the other. Sights along the way include a bubbling creek, a small waterfall, a freshwater marsh, and a streamside forest of giant oak trees.
Remember that, after a bout of rain, the park may be closed due to flooding or water damage.
9. Cedar Creek Falls Trail, San Diego River Gorge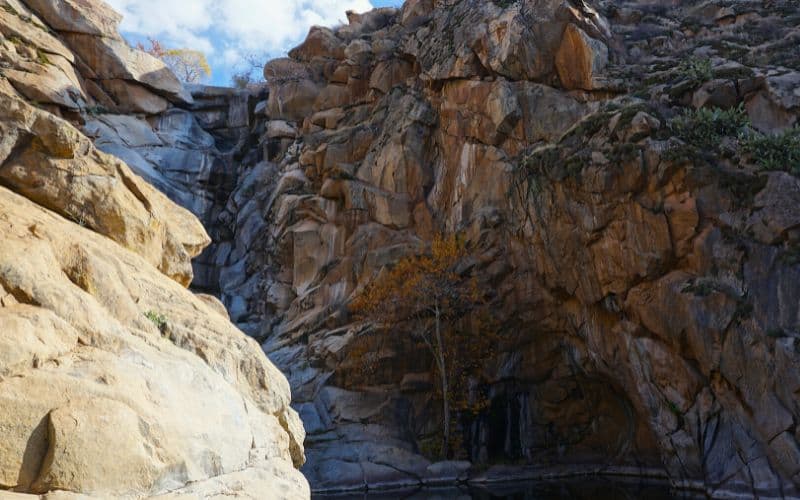 Type: Out and back
Length: 6 miles
Difficulty: Moderate
Despite requiring a permit, Cedar Creek is one of San Diego's most popular hikes. It's a truly magical hike that will have you traversing across the San Diego Gorge on the way to a plunging, 80 ft waterfall.
To get a permit, simply visit the Recration.gov site for Cedar Creek Falls. Permits go fast, especially on the weekends, so try and book early.
Why a permit? As with most heavily regulated trails, some misbehaving and ill-prepared hikers ruined the fun for everyone. To avoid the same fate, make sure you use common sense and come prepared for the long distance and the California heat.
Despite the drama, it's definitely worth making the extra effort to visit Cedar Creek Falls. Along the entire hike, you'll enjoy stunning views of the San Diego Gorge along with the mountains that surround it. Plus, you get to cool off in an amazing swimming hole!
10. Potato Chip Rock via Mt. Woodson Trail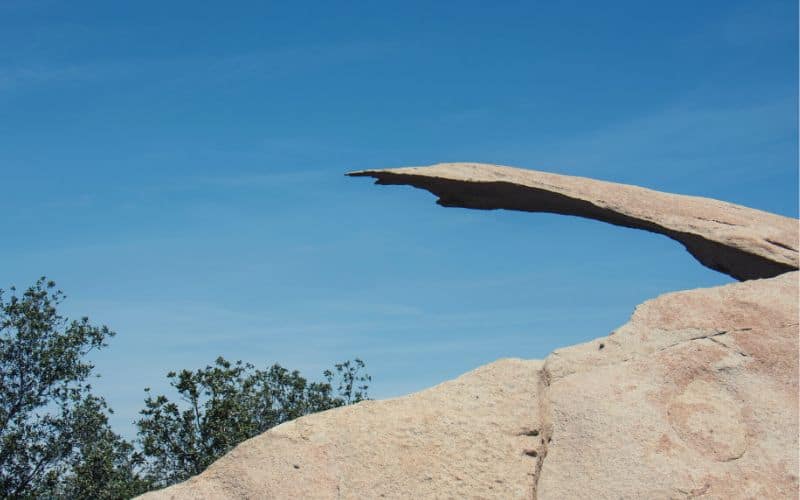 Type: Out and back
Length: 7.4 miles
Difficulty: Challenging
This famous trail on Mt. Woodson leads to a popular rock formation known as "Potato Chip Rock". You'll definitely break a sweat on this climb as you head to the peak. If you're brave enough to stand on Potato Rock itself, which is so thin it looks like it might break at any moment, you'll earn your own jaw-dropping Instagram-worthy photo!
The hike starts in Poway, about 30-minutes outside of San Diego. It's a difficult hike because of the elevation gain – the total ascent is about 2,130 ft. You'll also want to come prepared for the heat because there's little shade along the way.
11. Broken Hill Trail Loop, Torrey Pines State Park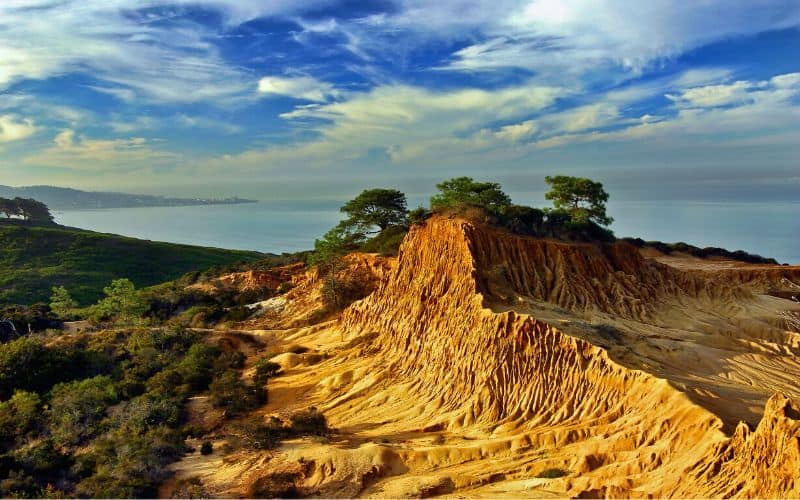 Type: Loop
Length: 3.3 miles
Difficulty: Easy
The Torrey Pines State Natural Reserve is made up of two parts: a gorgeous state beach and a network of trails that meander through the beachside cliffs. The best bit? All of it is just 30 minutes from downtown San Diego!
What's particularly special about this natural reserve, apart from its striking beauty, is that it is the home of the Torrey Pine. The Torrey Pine is a critically endangered species of pine from California. San Diego's coasts are one of the only places in the world where you can spot this rare gem!
The Broken Hill Trail Loop is basically the long way to reach the beach. This is a good thing since it means it's the less-trafficked route. The only downside is that the trailhead is much farther away from the main parking lot, but that just means you'll enjoy more peace and quiet on the trail!
If, after Broken Hill, you're still up for adventure, consider checking out the Razor Point Trail or the Guy Fleming Trail.
12. Stonewall Peak Trail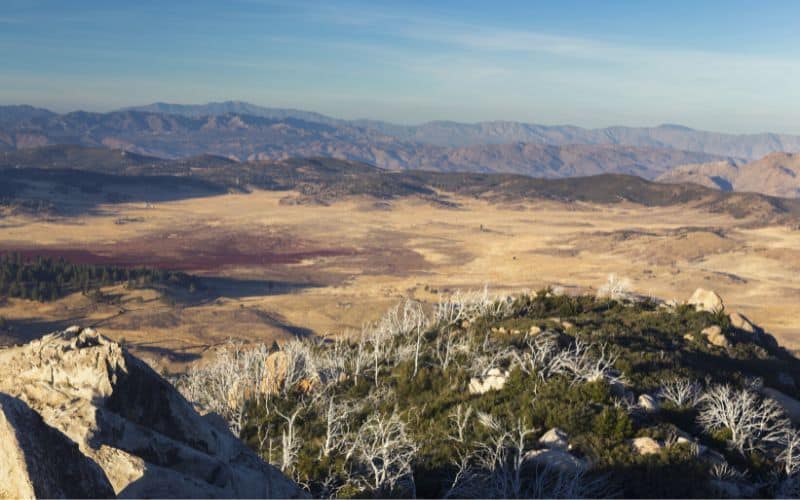 Type: Out and back
Length: 4.2 miles
Difficulty: Moderate
Cuyamaca Rancho State Park is home to 4 peaks (Cuyamaca, Middle, Stonewall, and Oakzanita), and Stonewall is the most popular and most accessible of all of them. Despite being a mountain hike, it's manageable for even ambitious novice hikers.
Stonewall actually got its name due to its close proximity to the former Stonewall Mine. The remains of this nineteenth-century mine can still be seen next to Stonewall Lake!
As you near the peak, the last section of the trail is an exposed ridge. While there are steps and a handrail, it's not for the faint at heart! From the peak, you can enjoy a majestic 360-degree view of Cuyamaca and Anza-Borrego Desert State Park.
13. Sunset Cliffs Natural Park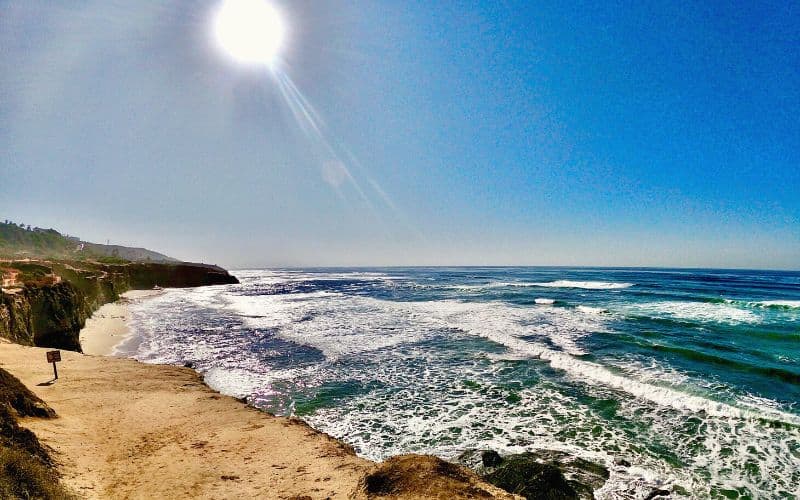 Type: Out and back
Length: 3 miles
Difficulty: Easy
Sunset Cliffs is a beautiful, family-friendly hike along the coast. While it only takes about an hour to complete the entire hike, you might want to spend more time exploring this gorgeous area.
There are several points where you can access the trail. The easiest entry point is at the corner of Ladera St. and Sunset Cliffs Blvd. From here, you'll find a stairway with access to the tidal pools along with the coastal beach trail.
If you're an experienced kayaker or paddler, remember that this is considered to be one of SoCal's top coastal paddling destinations! It's also a lovely spot to enjoy a West coast sunset.
14. Santa Margarita River Trail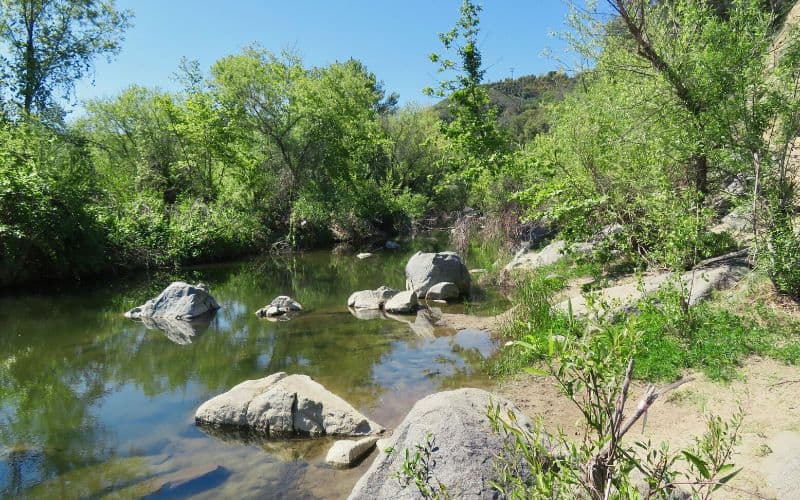 Type: Out and back
Length: 5.7 miles
Difficulty: Moderate
The Santa Margarita River Nature Preserve is an area of immense ecological importance. Not only does it host one of California's last free-flowing rivers, but it's also recognized as one of Earth's 25 global hotspots of threatened biodiversity.
There are 18 miles of hiking and equestrian trails that wind their way through the preserve. The Santa Margarita River Trail is a picture-perfect trek that closely follows the river.
If you spot some river impoundments along the way, don't worry! That's just the work of the illustrious California golden beaver. Keep an eye out for raptors, coyotes, deer, and other animals that call the preserve home.
15. Oak Canyon to Grasslands Trail, Mission Trails Regional Park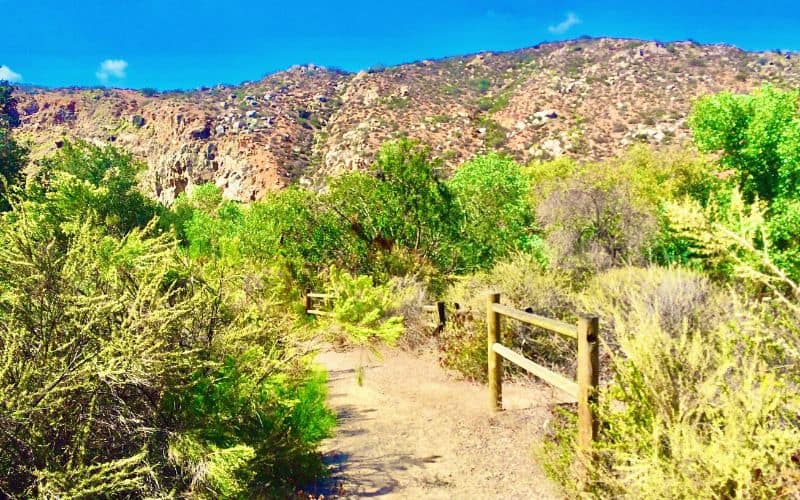 Type: Loop
Length: 3.7 miles
Difficulty: Easy
Mission Trails Regional Park encompasses over 8,000 acres of natural and developed recreational sites. Its rugged hills, wildflower meadows, and deep valleys perfectly represent the San Diego County landscape.
While the Cowles Mountain Trail offers rugged adventure, the Oak Canyon Trail to Grassland Trail is a peaceful and secluded trail through several wildflower meadows. The trail, which begins at the Old Mission Dam parking lot, is nestled in one of the quieter areas of the park – perfect if you're looking for some peace and solitude!
Best Hikes in San Diego: Happy Hiking!
With sweeping ocean views, slot canyons, vast deserts, and even California's largest national park, San Diego has it all! We hope our guide to the best hikes in San Diego has got you excited about getting out of the city and spending time in nature. 
Be sure to let us know which one of these San Diego hikes is your favorite! And don't forget to send this guide to all your friends so you can start planning your next outdoor adventure together!