Featuring stunning salt flats, rugged mountains, and the lowest basin in North America, Death Valley is one magical destination.
That being said, with so many great adventures to choose from in the park, finding the right Death Valley hiking trails for your trip isn't easy.
To help you narrow down your options, we've created this in-depth introduction to hiking in Death Valley National Park. Up next, we'll give you insights into the park's best trekking opportunities and offer up some tips for making the most of your trip.
Best Time To Visit Death Valley National Park
Death Valley is a land of extremes. In addition to being the lowest point in North America at 282 feet below sea level, it's also one of the hottest places on Earth.
As a result, the best time to visit Death Valley is in the fall, winter, and spring months. Visiting from late September to mid-May provides the best chance to see the beauty of the park without the high temperatures.
However, the park is open all year round. But if you choose to visit in the summer, be sure to avoid hiking within the park during the afternoon, which is the hottest part of the day, and be sure to wear plenty of sunscreen and bring plenty of water.
Death Valley National Park Useful Information
Any trip to Death Valley National Park is sure to be an amazing experience. But, venturing to the park requires coming prepared for the conditions you'll face. Here are some key things to keep in mind when planning your trip:
It's Hot… Very Hot: We've said this already, but it's worth saying again: Death Valley National Park is exceptionally hot in the summer. So, avoid hiking at midday and bring plenty of water for your adventures.
Plan Your Camping Location Wisely: There's only one campground in the park—Furnace Creek—that accepts reservations from October to April. All other campgrounds in the park are first-come, first-served, so be sure to arrive early in the morning to snag a spot.
Not All Trails Are Well-Maintained. Unlike most national parks, relatively few trails in Death Valley are actually maintained: So, bring a map and a compass and know how to use them to ensure your adventures go off without a hitch.
High-Clearance Vehicles Are A Must: Most of the roads in the park are poorly maintained dirt roads. This being so, you'll need a high-clearance vehicle if you want to get off the beaten path.
Top Ten Hikes In Death Valley National Park
1. Zabriskie Point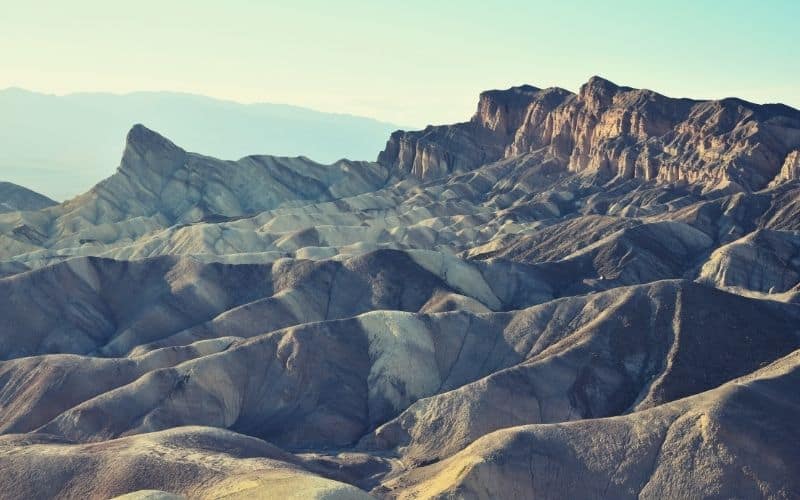 Trail type: Out-and-back
Length: 0.4 miles (52ft ascent)
Difficulty: Easy
Access: Near the Furnace Creek Visitor Center on CA 190
Offering some of the finest panoramic views of Death Valley, the trek to Zabriskie Point is a must-do for all visitors. This trail starts right off of a parking lot on Highway 190 and follows a short path with minimal elevation gain to a great overlook.
From the overlook, you can gaze over the park's badlands and get vistas of the Black Mountains in the distance. The views here are particularly good at sunset, so it's the perfect Death Valley National Park photo stop at the end of a long day of hiking.
Since this trek usually takes less than 30 minutes to complete, many visitors choose to link it up with a trek down to Golden Canyon via the Gower Gulch Loop (see below). Doing so provides you with a nice 5.8-mile round-trip adventure on one of the park's most popular day trips.
2. Mesquite Flat Sand Dunes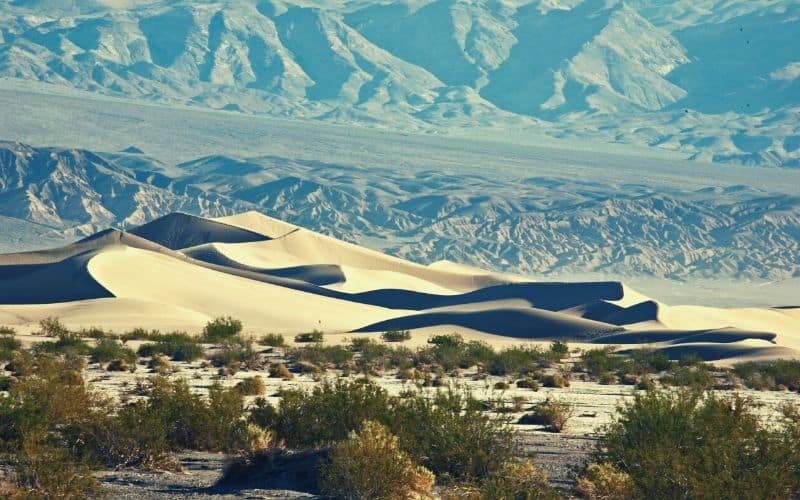 Trail type: Out-and-back
Length: 2.8 miles (206ft ascent)
Difficulty: Moderate
Access: Parking area on Route 190 near Stovepipe Wells
For a truly out-of-this-world experience, a visit to the incredible Mesquite Flat Sand Dunes ought to be on your list.
As the best-known sand dunes within the park, the Mesquite Flat Sand Dunes are a popular destination for hikers of all experience levels. The trek to the dunes is relatively straightforward and most visitors find that they can complete the outbound hike in under 1.5 hours.
To get to the dunes, you'll leave your vehicle at a parking area off Highway 190 near Stovepipe Wells. From there, you'll follow an informal cross-country path to the dunes. Although there's no formal trail to the dunes, it's quite a popular spot, so you'll likely find others heading in the same direction.
Once at Mesquite Flat, you can harness your inner kid and frolic around in the sand or you can sandboard down the dunes. What could be better, right?
3. Darwin Falls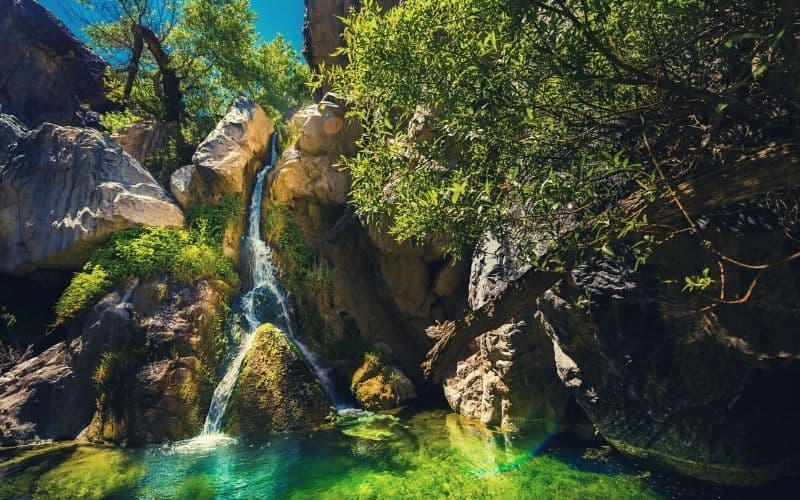 Trail type: Out-and-back
Length: 2 miles (20ft ascent)
Difficulty: Easy
Access: Parking area on Old Toll Road off of CA 190
Thought that the hottest and driest park in the US wouldn't have a waterfall? Think again! The famous Darwin Falls is the only permanent water source in the park, and is well worth seeing.
Getting to the trailhead involves following a rough, but generally passable, dirt road off of CA Route 190. You'll follow the road for about 3 miles until you arrive at a parking lot next to a metal gate.
From the trailhead, you'll hike for about 30 to 45 minutes down this 2-mile out-and-back hike to reach your destination. The trail itself is usually quite mellow and it offers a surprising amount of shade along the way.
Once you're at the falls, you can sit back, relax, and take in the view. Do keep in mind, however, that swimming isn't allowed at Darwin Falls. That's because the water in the park is a protected resource for the many animals that live in the area. Nevertheless, gazing at the falls from afar is still a worthy reward for your efforts!
4. Artist's Drive to Artist's Palette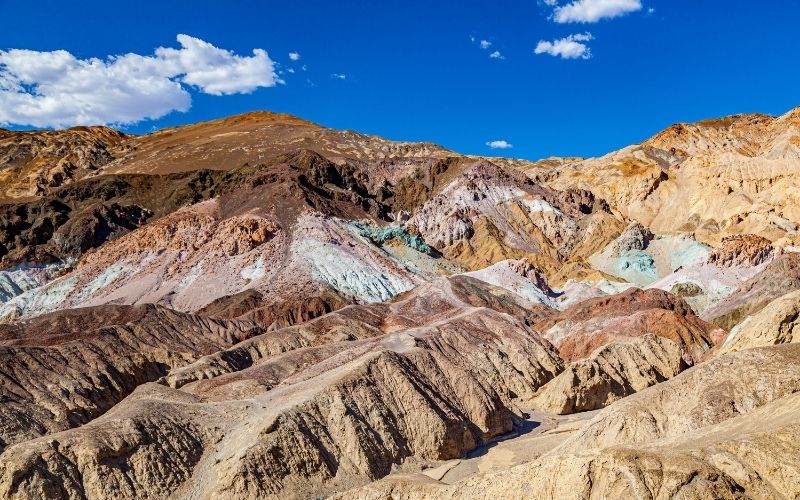 Trail type: Out-and-back
Length: 0.4 miles (118ft ascent)
Difficulty: Easy
Access: Artist's Palette Parking Area on Artist's Drive near Furnace Creek
A fantastic little jaunt if you're short on time, the walkout to Artist's Palette is a must-do for all first-time visitors to the park.
This hike starts off at a parking area along the scenic Artist's Drive off Badwater Road. Since this is less of a formal trail and more of a place to wander, you can simply leave the parking lot and head into the stunning multi-colored rocks that dot the landscape.
Most folks find they can easily spend 30 minutes or more walking around the Artist's Palette. However, you can create your own adventures here based on the amount of time you have on hand.
5. Golden Canyon – Gower Gulch Loop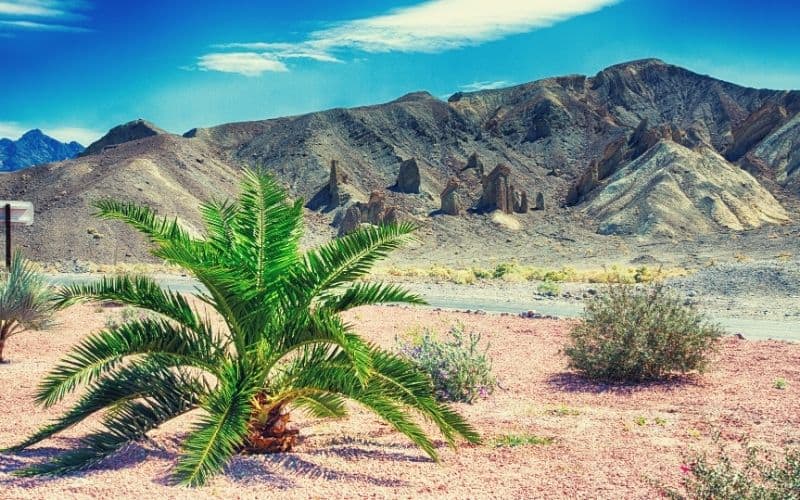 Trail type: Loop
Length: 4.2 miles (715ft ascent)
Difficulty: Moderate
Access: Golden Canyon Trailhead off of CA 190 on Badwater Road
One of the best hikes in Death Valley for the more intrepid visitor, the trek out to Golden Canyon on the Gower Gulch Loop is one you won't want to miss.
The easiest place to access this hike is off Badwater Road. From here, you can follow a well-marked path through some of the most stunning landscapes in the park.
Along your trek, you'll walk past notable landmarks, such as the Red Cathedral and Manly Beacon, where superb panoramic views of the park await. You'll eventually descend down into Gower Gulch, where you can check out the remains of some old borax mines (history buffs will also want to check out the nearby Harmony Borax Mine near Furnace Creek).
If you're looking for more of an adventure, you can turn this into a 5.8-mile point-to-point trek by continuing onward to Zabriskie Point. Otherwise, you can loop back around to your starting trailhead for a quick hike if you're short on time.
6. Natural Bridge Canyon Trail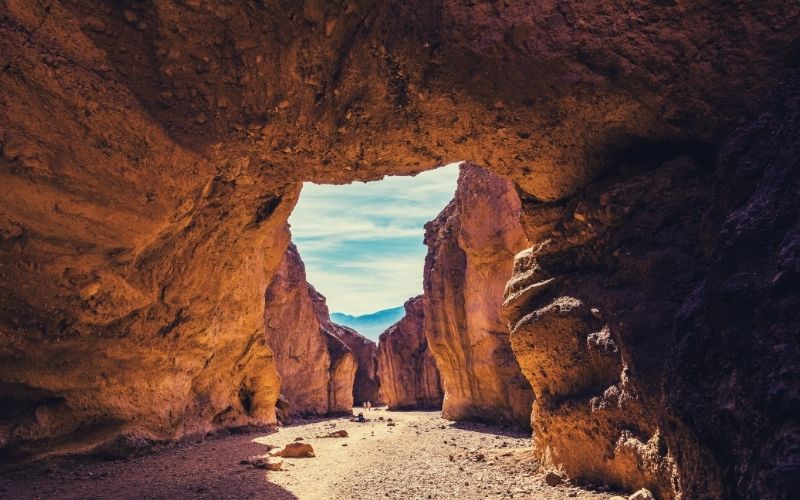 Trail type: Out-and-back
Length: 1 mile (86ft ascent)
Difficulty: Easy
Access: Natural Bridge Road off of Badwater Road
A fun, family-friendly hike, the trip out to Natural Bridge Canyon is the perfect little jaunt to add to your to-do list while in Death Valley.
This 1-mile out-and-back hike departs from a parking area on Natural Bridge Road. Once you leave the trailhead, you'll immediately enter a large canyon that meanders gradually uphill toward your destination.
After a short while, you'll eventually come upon the massive 50-foot-tall Natural Bridge. As the name suggests, the Natural Bridge is a large span of rock that towers over the canyon below.
If you have extra time, you can continue wandering down the canyon past the arch to dry falls of polished marble for even better views. If not, you can turn back toward the trailhead by following your original path to your vehicle.
7. Badwater Salt Flats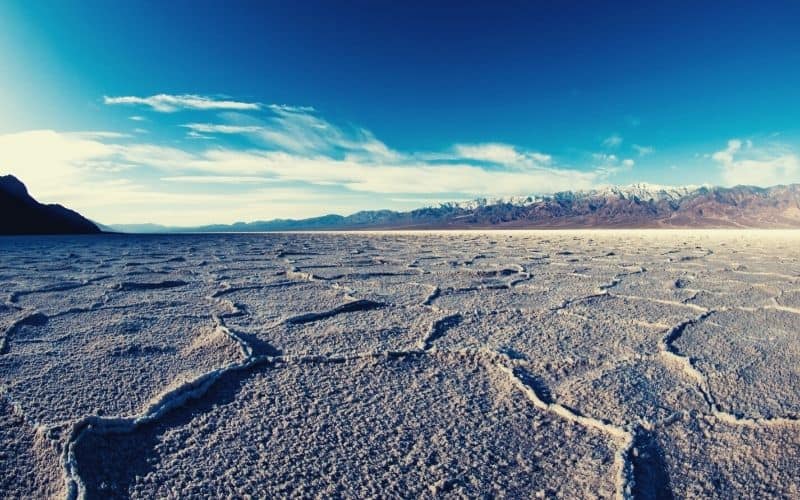 Trail type: Out-and-back
Length: 2 miles (no elevation gain)
Difficulty: Easy
Access: Badwater Road to the south of the visitor center at Furnace Creek
One of the most popular hikes in Death Valley National Park, the journey out to the Badwater Salt Flats in Badwater Basin is a must for all visitors.
To access this hike, you'll head down to a large, well-signed parking area on Badwater Road. From there, you'll follow a wide ADA-accessible boardwalk that takes you down to the salt flat of Badwater Basin—the lowest point on the continent.
Once you reach the salt flat, there's no trail, so you can walk around to your heart's content. Oh, and as you stroll about, don't forget to take a moment to look up at the views of the Panamint Range and Telescope Peak, which offer a stunning contrast to the basin floor below.
Do be warned, however, that this is not a good hike to do after 10 a.m. in the summer months. It becomes dangerously hot here, so make this a morning hike if visiting in the summer.
Pro-Tip: If this one's a little too easy for you, it can easily be combined with the Sidewinder Canyon hike, a 5-mile trail through dry washes and spectacular slot canyons.
8. Mosaic Canyon Trail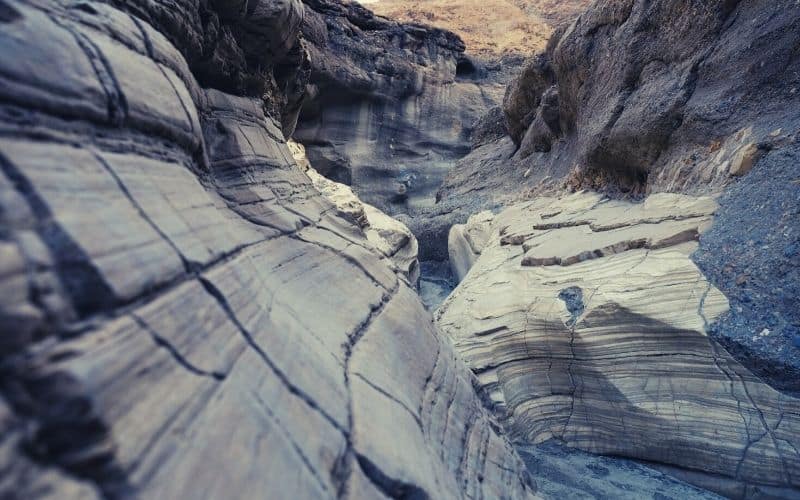 Trail type: Out-and-back
Length: 4 miles (1,200ft ascent)
Difficulty: Moderate
Access: Parking area off of CA 190 near Stovepipe Wells Campground
A unique slot canyon hike for the more adventurous hiker, an outing along the Mosaic Canyon Trail is sure to be a hike to remember.
For this hike, you'll begin at a relatively large parking area just off CA 190. The first part of this journey begins in a rocky wash before heading into the water-carved canyon itself.
Now that you're in the wilderness, the trail gets more rugged and remote, making for the perfect adventure. Along the way, you'll see large outcroppings of the canyon's namesake Mosaic Canyon breccia, which is a unique rock formation composed of angular fragments.
After about 1.3 miles, you'll come across a massive boulder, which is the stopping location for most hikers. However, you can continue onward past the boulder to even narrower canyons if you're feeling up for a longer hike.
If you do continue on into the narrow slot canyon, however, keep in mind that the path is quite rocky. So, if it's your first time on the route, be sure to take your time, wear appropriate footwear, and keep an eye out for steep drop-offs as you walk.
9. Ibex Dunes Hike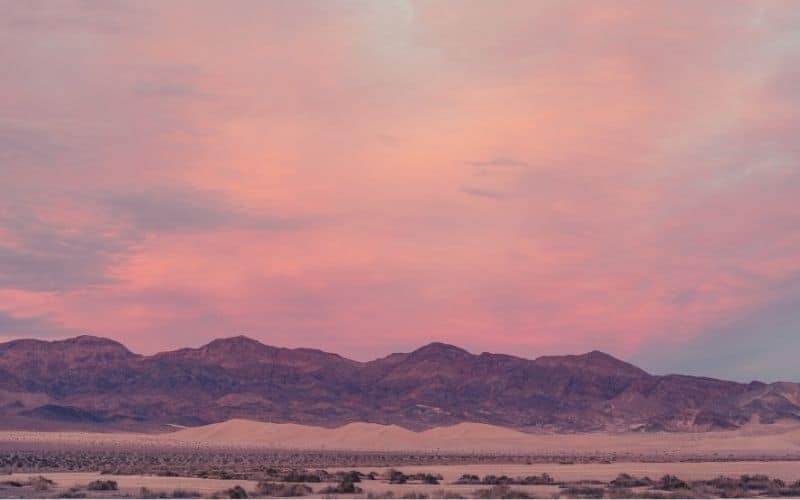 Trail type: Out-and-back
Length: 5.7 miles (485ft ascent)
Difficulty: Moderate
Access: Parking area on Saratoga Springs Road (unpaved) off of Route 127
Perhaps the most remote set of sand dunes in Death Valley National Park, the Ibex Dunes is a superb destination for folks looking to get off the beaten path.
To access this region, you'll need a four-wheel-drive vehicle with plenty of clearance to make it down Saratoga Springs Road. That said, like most of the remote hikes in the park, there isn't a formal trail leading to the dunes.
Instead, you'll want to set out on a cross-country hike from the parking area toward the dunes, where you can roam around as you please.
Oh, and while you're here, keep an eye out for the Mojave fringe-toed lizard. This funky little lizard is known to skitter across the Ibex Dunes, which is quite an amazing sight to behold!
10. Ubehebe and Little Hebe Crater Trail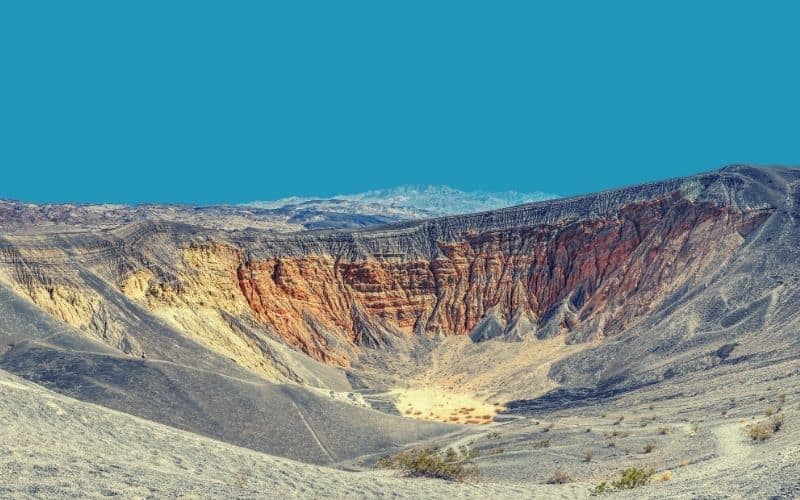 Trail type: Loop
Length: 1.5 mile (500ft ascent)
Difficulty: Easy to moderate
Access: Ubehebe Crater parking area near Scotty's Castle
Offering a chance to visit a massive volcanic crater in the middle of the desert, the Ubehebe and Little Hebe Crater Trail is a great choice for geology lovers everywhere.
One of the best hikes in Death Valley in terms of its uniqueness and scenery, the trail to Ubehebe and Little Hebe craters begins at a large parking area near Scotty's Castle.
From the parking area, you'll follow a well-worn path around the rim of the ancient Ubehebe Crater. Alternatively, if you'd like a shorter hike, you can just do a 1-mile out-and-back to Little Hebe, instead.
Nevertheless, if you decide to do the full loop, it's best to go in a counter-clockwise direction. Doing so means you can tackle the steeper uphill section first and save the downhill for when you're feeling tired at the end of your hike.
More California National Park Hiking Trails
If you fancy hiking in some of California's other National Parks, check out our guides to:
The Ultimate Death Valley National Park Hiking Adventure
Whether you're looking for a slot canyon adventure or you're excited to see Badwater Basin, there's something for everyone at Death Valley.
We hope our guide to the best hikes in Death Valley National Park helped you find your next adventure. If you got a chance to check out any of these awesome hikes, let us know in the comments below. Oh, and don't forget to share this article with your friends so everyone can experience the magic of Death Valley!