Desert wilderness. Idyllic waterfalls. Majestic mountains. Historical ruins. Iconic wildlife. Southern California hosts them all.
Whether you prefer gentle hiking through shaded forests or challenging yourself to epic mountain hikes, you won't be disappointed with what Southern California has to offer.
Southern California has much more in store than cosmopolitan cities or lifeless deserts. This region has some of the best and most dramatic hikes in the United States.
Whether you love hiking or are a fresh newbie, our compilation will help you plan your next hiking adventure.
What are you waiting for?
1. Skull Rock, Joshua Tree National Park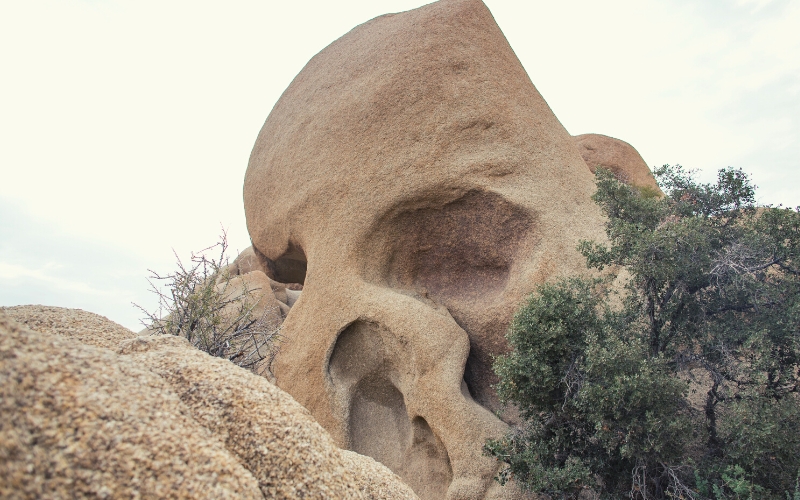 Type: Loop
Difficulty: Easy
Length: 1.7 miles
A trek to Skull Rock is one of the more popular hikes in the majestic Joshua Tree National Park.
This park spans two different deserts (the Mojave and Colorado deserts) and is named after the abundant spiky Joshua trees that are littered through this landscape.
Starting at Jumbo Rocks campground, this short but diverse trail crosses through a desert landscape with scattered oak woodlands. Along the way, there is ample opportunity to learn more about the native wildflowers found in this environment thanks to helpful interpretation signs along the trail.
The iconic 'Skull Rocks' provide unique photo opportunities, while more adventurous hikers can go climbing within this rocky environment. There is also an option to investigate more interesting rock formations by following the Split Rock Trail, an additional 2-mile loop from Skull Rock.
Joshua Tree National Park is criss-crossed with numerous trails that provide plenty of options if you're wanting to explore further, including the beautiful 1-mile Hidden Valleys loop.
Due to its popularity, parking can be tricky, so arrive early and book reservations if planning to stay in the campground in fall or spring.
2. Black Rock Canyon Panorama Loop, Joshua Tree National Park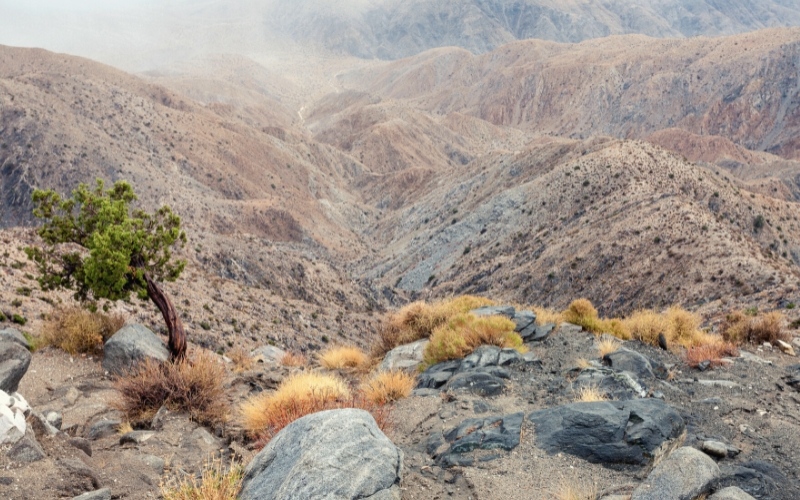 Type: Loop
Difficulty: Moderate
Length: 6.25 miles
In the northwest corner of the Joshua Tree National Park, you can start this popular trail from the Black Rock Canyon campground.
You begin by crossing a flatter, forested landscape, dominated by Joshua trees. The buzzing of insects will announce your arrival to Black Rock Spring around 1.5 miles into the hike. In spring/summer, this area is also decorated with pink and purple cactus blooms.
The trail progresses with a gradual incline into a more mountainous landscape with rare Pinyon-Juniper woodlands.
Perhaps unsurprisingly, given the name, the highlight of this trail is the panoramic view offered at the highest elevation, on the eastern side of the trail. Views stretch from east to west and include Coachella Valley, Mount San Jacinto, and the San Gorgonio Mountains.
The route can be undertaken clockwise or counterclockwise, with the latter being slightly steeper but with arguably more dramatic views.
3. Solstice Canyon Trail, Santa Monica Mountains National Recreation Area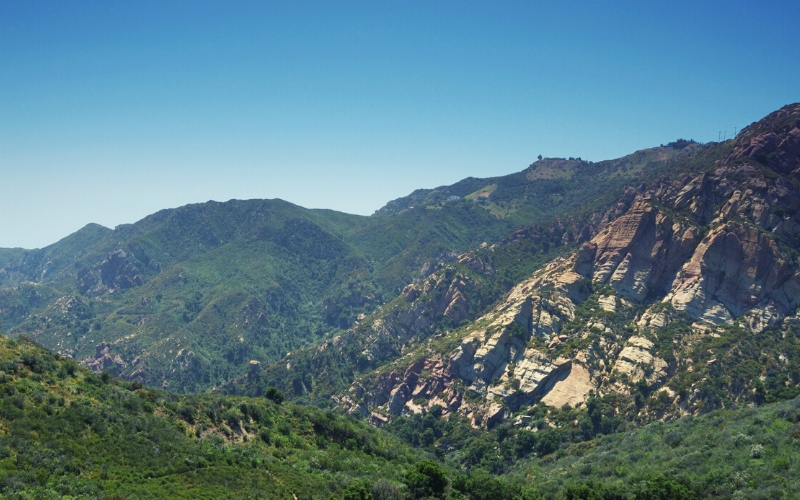 Type: Out and back trail
Difficulty: Easy
Length: 2.6 miles
Located within the Santa Monica Mountains, this trail is under an hour's drive from Los Angeles.
This is an accessible and easily navigated route, with the trail starting at a parking area close to the Pacific Coast Highway.
The gentle trail winds through scrub habitat dominated by vibrant sagebrush. Wildlife highlights can include alligator and fence lizards, acorn woodpeckers, and soaring red-tailed hawks.
You will follow a tranquil creek that leads to a beautiful perennial waterfall. Look out for the huge ancient oak tree you can admire close to the turning point. Other notable trail markers include the historic Matthew Keller House, the 100-year old ruins of a stone hunting cabin.
On arriving at the waterfall, you can also view the ruins of the Robert Raunch House. This house was originally designed by Paul Williams in 1952 and was burnt to its ruined state by rampant wildfires.
There is the option for hikers to link with the Rising Sun Trail for a steeper 4-mile round route with views over the canyon and coast.
4. Bastard Ridge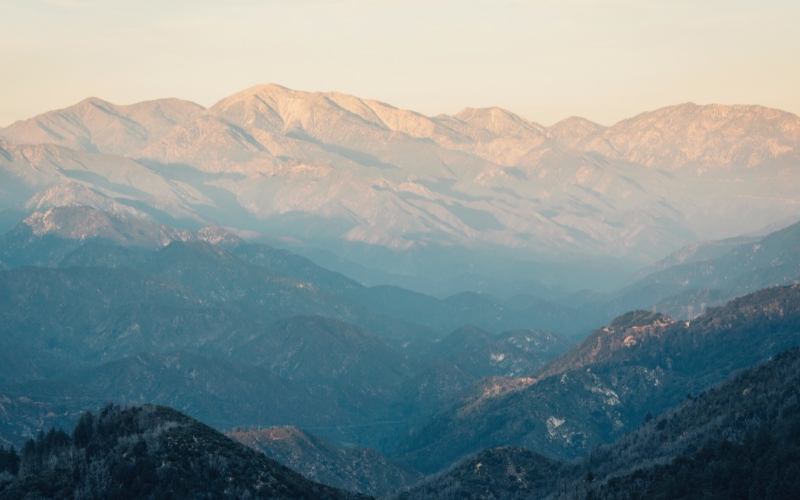 Type: Loop
Difficulty: Strenuous
Length: 13 miles
As its name suggests, this is most definitely a challenging hike. 
Located in the San Gabriel Mountains, this route allows hikers to reach an impressive 4 summits, offering astounding views.
The route starts by following the Old Mount Wilson trail, which begins near the historic Lizzie's Trail Inn. Follow this trail for one mile, before deviating onto the much steeper Bastard Ridge trail to reach the summits.
You will first summit Jones Peak (3,390 ft), followed by Hastings peak (4,000 ft), then Mount Yale (4,750 ft) before finally reaching the highest peak, Mount Wilson (5,713 ft). This final peak offers the opportunity to explore the landscape further using telescopes and to grab some refreshments at the Cosmic Cafe.
This strenuous hike is finished by following the Old Mount Wilson Trail to the start point. There is the option to shorten this route by rejoining the Old Mount Wilson Trail or the Baily Canyon Trail from Jones Peak if you've had enough!
This hike should only be attempted by experienced hikers with good navigational skills.
Warning – look out for rattlesnakes!
5. Brush Canyon Trail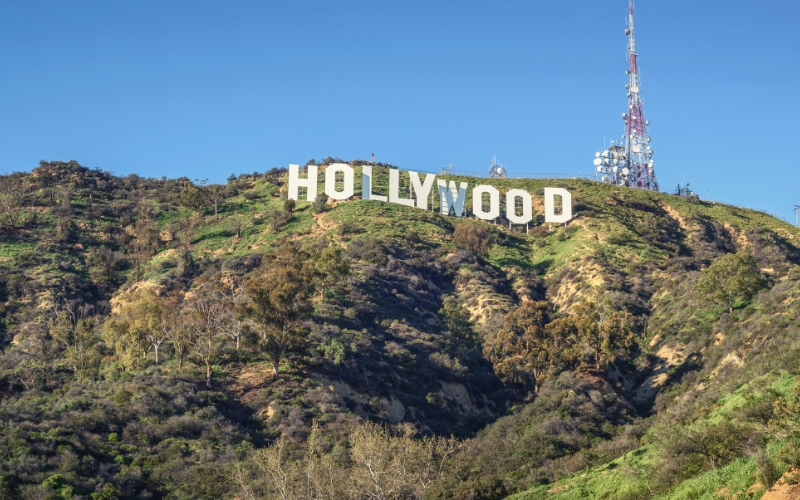 Type: Out and back trail
Difficulty: Moderate
Length: 6.5 miles
The trail is well-signposted and brings hikers to the iconic Hollywood sign. This offers fantastic photo opportunities of this famous landmark.
The trail begins at Griffith Park, north of Canyon Drive, where there are parking lots available. Be warned that some of these car parks shut at sunset, so make sure you get back in time!
The hike begins with a gradual shaded incline amongst oak and sycamore trees. This becomes steeper as you move out of the tree line into shrubland dominated by California Chaparral. You will then reach the top of Mount Lee at 1,050 ft, where the Hollywood sign is located.
There you will be treated to spectacular views that stretch out to include the Griffith Observatory, Lake Hollywood Reservoir, and the Santa Monica mountains in the distance.
There is the option to extend your hike by following the Mulholland Trail for an additional 1.2 miles.
6. Main Trail, Malibu Creek State Park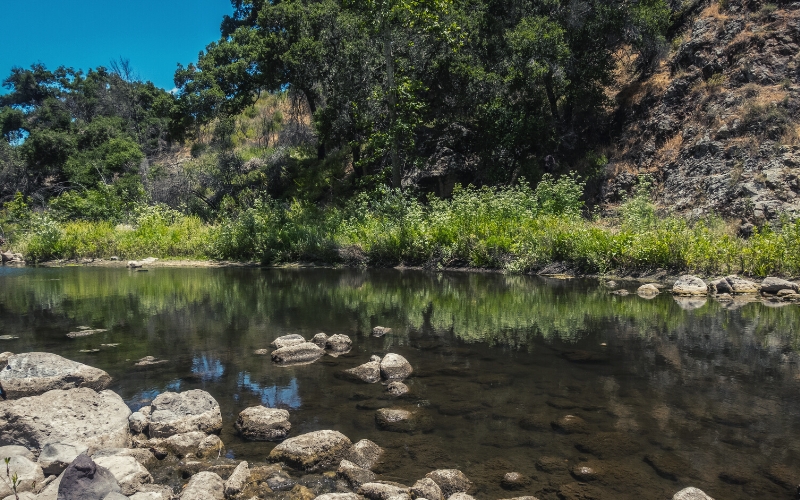 Difficulty: Easy
Type: Out and back trail
Length: 15 miles
With 8,000 acres and 35 miles of hiking trails, Malibu Creek State Park offers a range of options to explore.
The wide and flat Main Trail follows the Malibu creek through the park. You can expect stunning views of Malibu Canyon and Las Virgenes along the entire trail.
This is a 15-mile stretch, but there is scope to make it longer with a myriad of optional side routes available along the trail.
A wildlife enthusiast? This park is hugely diverse and offers plenty of opportunities for wildlife viewing.
With diverse woodlands, containing oak savannah, sycamores, numerous species of wildflowers, and majestic redwoods, you will be surrounded by a range of flora. And that's not to mention the fauna. Highlights include hummingbirds, salamanders, and even rare glimpses of mountain lions in more remote areas of the park.
With its dramatic backdrop, this park has been the setting for many Hollywood movies, most notably the 1969 Planet of the Apes movie!
7. Salt Creek Interpretive Trail, Death Valley National Park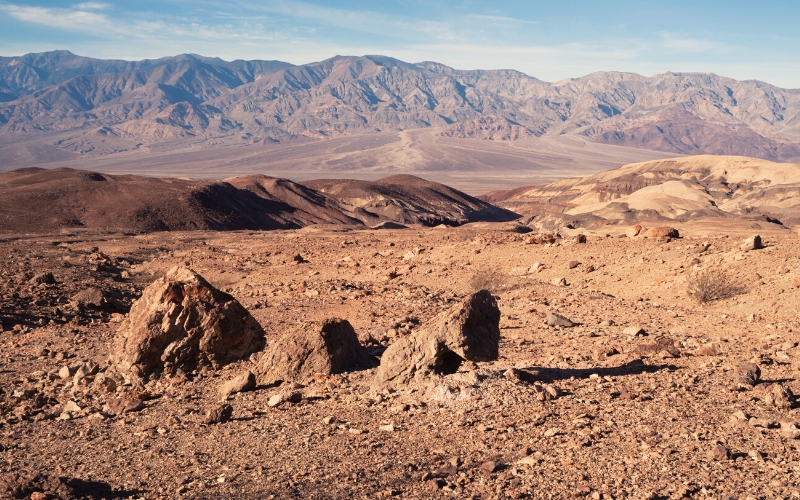 Type: Loop
Difficulty: Easy
Length: ½ mile
This short hike offers the opportunity to explore Death Valley, famously one of the hottest and driest places in the world. The world record for the highest air temperature at 134°F (57°C) was recorded here in 1913!
Salt Creek is one of the only spots you can find water in this valley.
You will follow the ½-mile, well-maintained boardwalk through the valley. Interpretation signs along this route provide fascinating information about the wildlife that inhabits this harsh landscape. You may even get a glimpse of the salt creek pupfish, with Death Valley being the best place to see this animal.
It's recommended to visit when the water levels are at their highest and temperatures are lower, between November and May.
For a longer day out, you can visit Badwater Basin to the north. This hike is an opportunity to walk at the lowest altitude in the country, at 282 ft below sea level!
Although this is a short trail, you should still be prepared for the desert environment and bring plenty of water!
8. Big Laguna Trail, Cleveland National Forest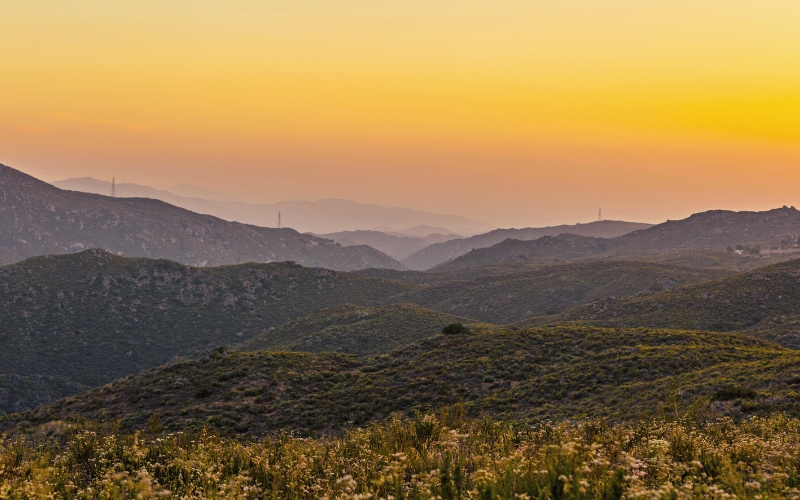 Type: Loop
Difficulty: Moderate/strenuous
Length: 10 miles
Less than an hour from San Diego, only 13 miles north from the Sunrise Highway, the Big Laguna Trail offers a wonderfully diverse trek within the Cleveland National Forest.
This National Forest offers nearly 500,000 acres of chaparral scrub and forest to explore. Popular with birdwatchers, there are over 200 resident and migrant bird species in this forest, including the Wrentit ('voice of the chaparral') and majestic Red-tailed hawks.
There are parking options at the Burnt Rancheria Campground, which is close to the trailhead.
The first 6 miles of this trail involve strolling through wildflower-rich meadows, tranquil pine forests, and past an alpine lake (in wetter years). After this point, the trail gets rockier as you climb 1,000 ft to gain fantastic views over the Anza Borrego Desert.
This route does cross with the Pacific Crest Trail, so pay attention to signage! For an easier route, you can pick up the Blue Jay or Falcon trails back to the campground.
9. Bridge to Nowhere, Angeles National Forest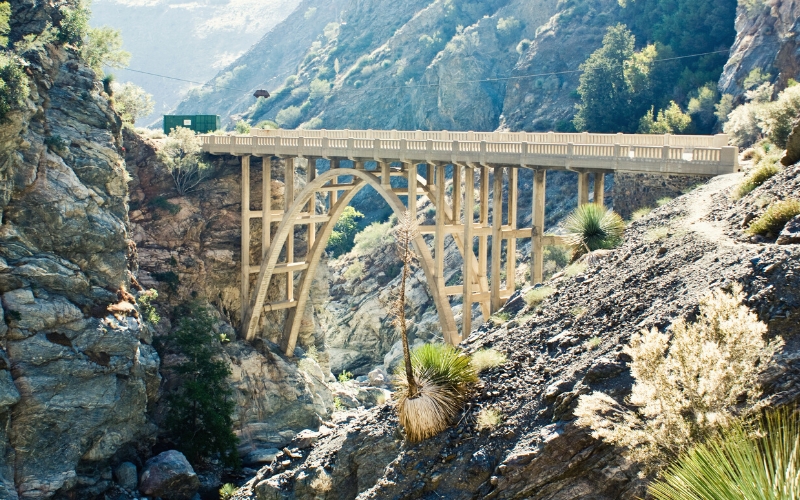 Type: Out and back trail
Difficulty: Moderate
Length: 10 miles
This intriguing-sounding trail follows the San Gabriel river, which runs close to the Mount San Antonio summit.
The trailhead is located at Coyote Flat, off East Fork road. The hiking trail traverses a striking canyon, with numerous refreshing river crossings. Keep an eye out for bighorn sheep amongst the hills.
This area is prone to flash flooding, so ensure you've checked the weather forecast and don't attempt river crossings if water levels are high.
This trail ends when the aforementioned 'Bridge to Nowhere' is reached. This is an impressive 120-foot arched bridge that spans the canyon. Originally built in 1936, the aim was to connect the East Fork Road and the San Gabriel Valley to the nearby town of Wrightwood. However, a mere two years later, the road was washed away by flooding and was never rebuilt.
This spectacular bridge offers plenty of photo opportunities. You can also enjoy a refreshing dip in the river's many swimming holes.
Adrenaline seekers can bungee jump from this bridge on the weekends. A fantastic way to top off a scenic hike!
10. Baldy Loop (Mount San Antonio/Mount Baldy), Angeles National Forest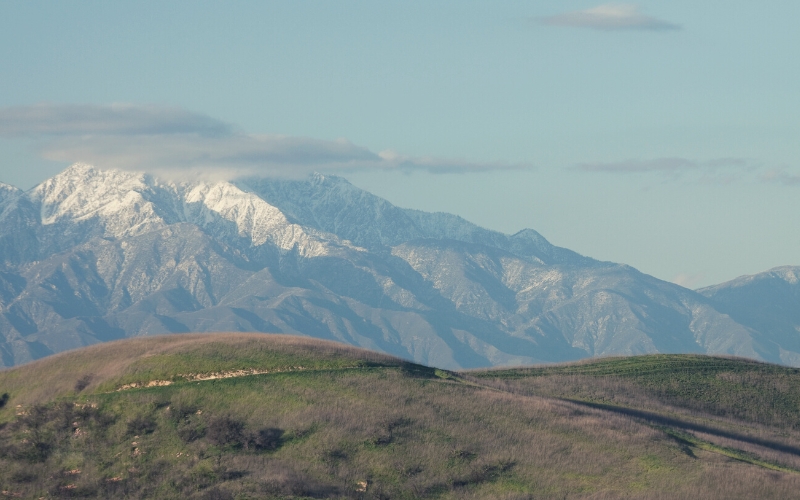 Type: Loop
Difficulty: Strenuous
Length: 11 miles
Mount San Antonio, or 'Mt Baldy' to locals, is the tallest peak in the San Gabriel Mountains which overlooks Los Angeles.
This popular trail starts at the Manker Campground. The route can be taken clockwise or counterclockwise, both of which take hikers around the mountain before reaching the summit.
The 75 ft picturesque San Antonio waterfall can also be enjoyed en route to the top.
The summit can be reached directly by following the Ski Hut trail. Alternatively, there is an optional detour to Baldy Notch, which is reached by following the Devil's Backbone trail.
Expect panoramic views on reaching the summit!
This is one of the most challenging hikes in the area, so you must come prepared. The Devil's Backbone trail can be particularly treacherous when icy, so make sure to check the weather forecast and trail conditions before attempting this route.
11. Moro Canyon Trail, Crystal Cove State Park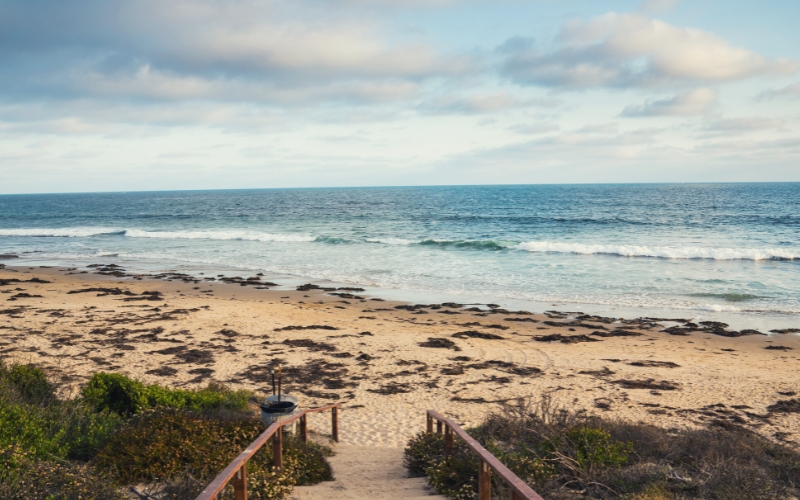 Type: Loop
Difficulty: Easy/moderate
Length: 1.4 miles
Crystal Cove State Park is rich in natural beauty and offers over 2,400 acres of it to explore. Within this vast expanse, you'll find a range of landscapes, from stunning beaches to more rugged inland terrain. Located close to the Pacific Coast Highway, it's also easily accessible.
Most hikes, including the Moro Canyon Trail, start from the Moro Campground. Although this is a shorter route, be prepared for some more strenuous uphill sections.
There are options to lengthen this hike by joining with the Moro Ridge and Red Tail Ridge routes. You can also explore the adjacent Laguna Coast Wilderness Park from this starting point.
12. San Jacinto Peak, Mount San Jacinto State Park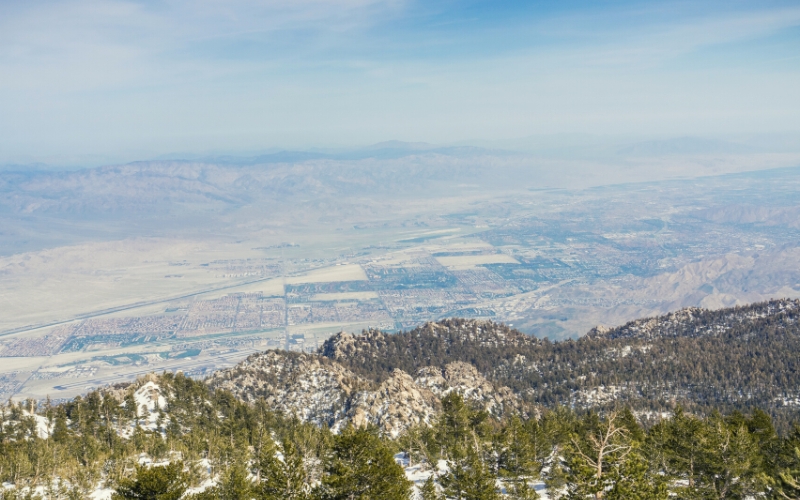 Type: Out and back trail
Difficulty: Strenuous
Length: 14.3 miles (optional shorter 6 miles)
Located near Palm Springs, east of Los Angeles, Mount San Jacinto is one of the highest peaks in Southern California.
There are multiple ways to reach this summit. The easiest is to use the Palm Springs Aerial Tramway. This tram ride offers scenic mountain views and drops hikers 2,400 ft from the top. The summit can then be reached by following the 6-mile trail from the Upper Terminal of the tramway.
Alternatively, you can reach the summit by following the Pacific Crest Trail, starting in the mountain town of Idyllwild.
There is also the option to follow the Round Valley Trail (4.3 miles) from the tramway terminal. This loop cuts between the tramway and the summit, offering wonderful mountain views.
A much more strenuous route to the summit follows the Cactus to Clouds trail. This challenging 14-mile hike climbs from the desert floor to the peak and should only be attempted by experienced hikers. There are very few water sources on this trail, so make sure to bring plenty with you.
13. Borrego Palm Canyon Nature Trail, Anza-Borrego State Park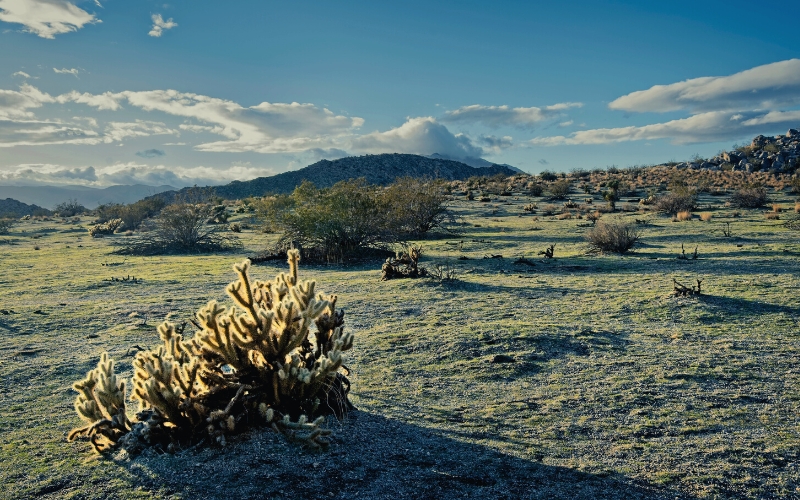 Type: Loop
Difficulty: Easy
Length: 3 miles
Anza-Borrego is the largest State Park in California, with over 600,000 acres of desert wilderness to explore.
Trails navigate through canyons, badlands, and blooms of stunning wildflowers in the spring including golden poppies and yellow desert sunflowers.
This easy hike crosses through the beautiful San Ysidro Mountains, leading you through a gorgeous and rugged desert landscape dotted with cacti and vibrant ocotillo. A popular route for nature lovers, you may be treated to views of hummingbirds and large flocks of migratory birds en route.
This trail reaches a leafy, spring-fed oasis within Borrego Palm Canyon, which you can relish in the shade offered by the majestic native Californian palm trees. Venture on a little further and you'll find a beautiful seasonal waterfall before taking the loop back to the trailhead.
14. Boucher Hill Loop, Palomar Mountain State Park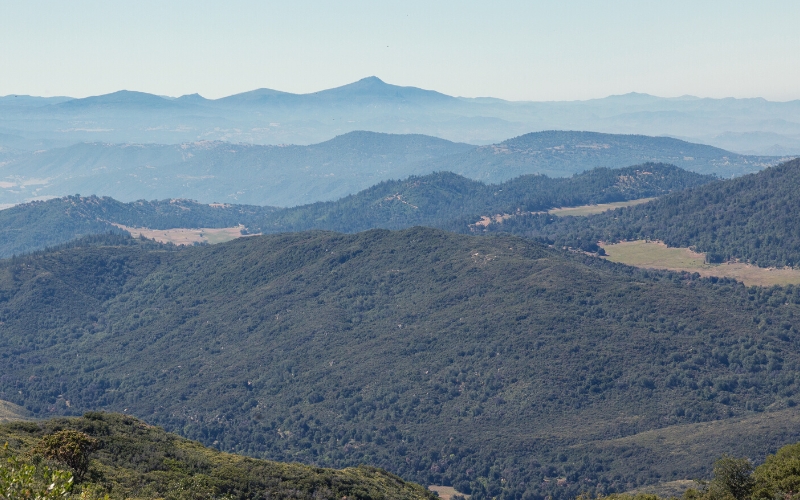 Type: Loop
Difficulty: Moderate
Length: 3.5 miles
Located in northern San Diego county, under 2 hours from the city, Boucher Hill offers a peaceful nature trek for city dwellers.
Although you can drive to this viewpoint, most people prefer hiking to the top to enjoy the wonderful nature along the way.
The trailhead is located close to the entrance of the Doane Valley. You will face a relatively steep climb through woodland dominated by pine and oak.
On reaching the top, hikers can enjoy the stunning views spanning from ocean to desert.
Boucher Fire Tower is also located on the hilltop. This historic yet still functioning fire tower is open to visitors when manned, offering up even more expansive views and excellent photo opportunities.
15. Signal Hill Trail, Hilltop Park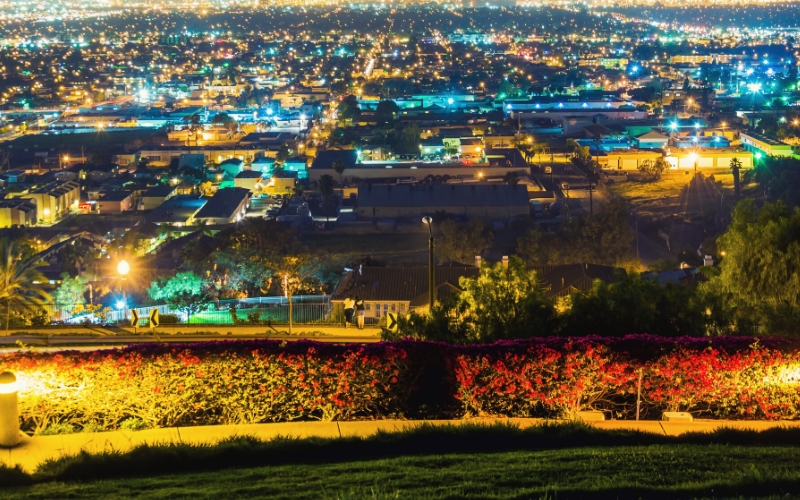 Type: Loop
Difficulty: Easy
Length: 1.7 miles
Located in the heart of LA's Long Beach, Signal Hill is a popular hike with city dwellers seeking a short but satisfying nature fix.
This well-used trail is open all year round, so you will likely encounter other users en route.
A network of trails leads to the Signal Hilltop. This easy, 1.7-mile loop cuts through parkland and peaceful forested areas. It also crosses residential areas, with some private property, so hikers are requested to keep to the trail.
The hilltop offers one of the best views of the spectacular Long Beach skyline. There is also the option to drive to this viewpoint, but where's the fun in that?!
16. Switzer Falls, Angeles National Forest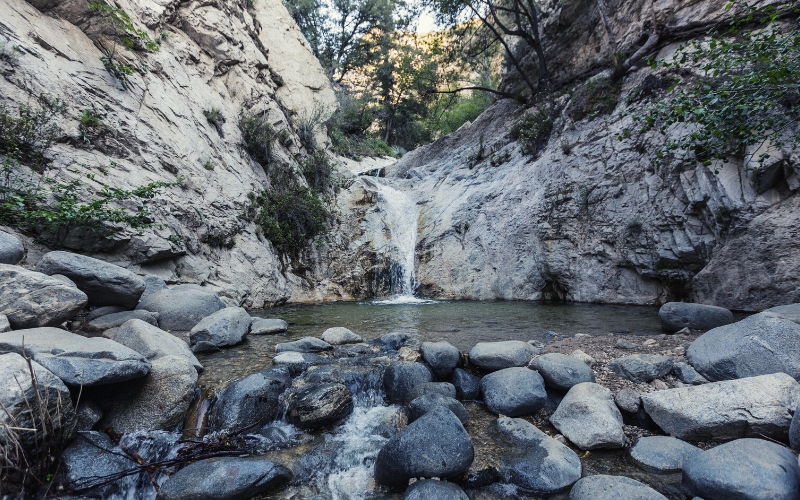 Type: Out and back trail
Difficulty: Easy
Length: 2 miles (optional extra ¼ mile)
On this popular, family-friendly out-and-back hike, you will be treated to views of the Arroyo Seco canyon line for the entire route.
Located in the San Gabriel Mountains, south of Pasadena, this trail begins at the Switzer Falls picnic area. You will then trek the Gabrielion Trail, following a peaceful creek within a shaded wooded area for the first mile.
After 2 miles, you will reach the bottom of these majestic 50 ft falls.
For more adventurous hikers, there is the option to follow a ¼-mile scramble to reach the upper tier of these falls.
17. San Gorgonio via Vivian Creek Trail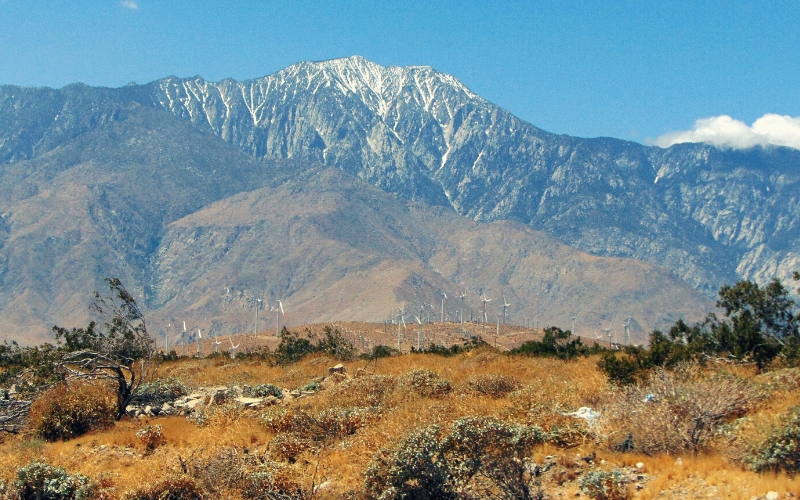 Type: Out and back trail
Difficulty: Strenuous
Length: 18.5 miles
At 11,500 ft, Mount San Gorgonio – also known as 'old greyback' due to the mountain's grey and rounded shape – is the highest peak in Southern California.
This trail can be done in a day by more go-getting hikers but is also a popular backpacking route.
There are various route options to reach this summit. The Vivian Creek Trail is the shortest and most accessible, although it's also the steepest!
A scenic and challenging route, this trail is split into five sections. The first section involves a relatively gradual incline, with the second, fourth, and fifth sections having the steepest inclines.
You will walk through wooded habitat, dominated by pines and cedars, before moving into the more stark landscape above the treeline.
It's quite an effort to reach the top, but the panoramic views are well worth it!
Best Hikes in Southern California, Have We Convinced You? 
Southern California has some of the most dramatic hikes in the United States. A diverse landscape full of hidden gems, hiking here is a fantastic experience for everyone.
Please do share this post with your friends if you enjoyed! And feel free to ask us any questions and share your best hikes in Southern California in the comments below.