Yosemite is a testament to America's unparalleled natural beauty. Each year, millions of visitors are drawn to Yosemite's majestic waterfalls, granite domes, abundant wildlife, and tranquil Sierra wilderness.
Whether you're a day-tripper escaping the city or an outdoor enthusiast seeking real adventure, YNP has something for every taste and hiking preference. While the Yosemite Valley is home to plenty of challenging hikes like the Half Dome Trail, you'll also find lots of easier and no-less-scenic treks suitable for families.
So which one of the many exhilarating Yosemite hikes should you tackle first? Read on to find out more.
1. Half Dome via Mist Trail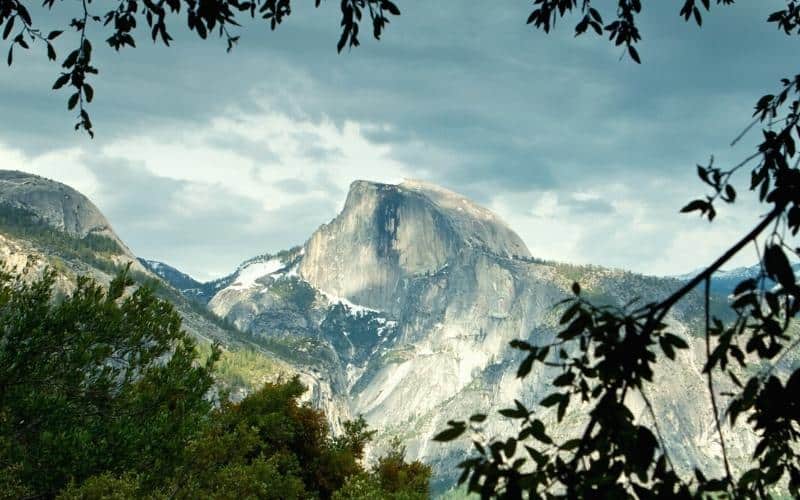 Type: Out-and-back
Length: 14.2 miles
Difficulty: Expert
The Half Dome trail is one of the most challenging and iconic in YNP, if not the nation as a whole. This one is not for the faint of heart. A few unfortunate souls have died on this trail and very few make it to the top without approaching meltdown. If you're brave enough to reach the summit, however, you'll enjoy views that can only be described as breathtaking.
To hike Half Dome you must be in good physical shape. There are a few trails that will take you to the summit but the Mist Trail is the shortest. Even on this, you can expect a grueling, 12-14 hike with an elevation gain of 4,800 feet.
The final section of the hike will have you traversing the back side of Half Dome, a hike so steep you'll have to make use of the cable system. Words won't do justice to the magnificent view you'll find at the top, so let's just say there's a reason the Half Dome is one of the most iconic and popular trails in the entire world.
Remember, you must have a Half Dome Permit to ascend the sub-dome steps or Half Dome cables. You can also get a day pass if you plan on performing your own 3,000-feet, rope-free climb Alex Honnold style, but we don't recommend it!
2. Yosemite Falls Trail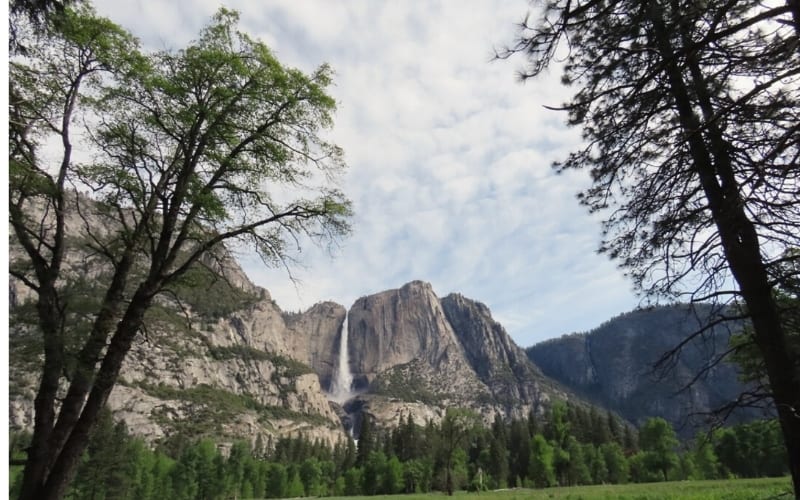 Type: Loop
Length: 2 or 7.2 miles
Difficulty: Moderate
Yosemite Falls is the tallest waterfall in North America and it's one of the top attractions of Yosemite National Park. To enjoy this iconic and towering waterfall at its most thunderous, visit during springtime or the early summer months after the winter snow melts.
You've got two options for undertaking this trek. Take the easier, 2-mile loop trail around Columbia Rock or challenge yourself to the quad-busting, 7.2-mile Upper Yosemite Falls Trail to the top of the waterfall.
There's nothing too technical or challenging about either trail other than their length, occasional steepness, and mild exposure. Despite its shorter length, even the trek to Columbia Rock features a series of heavy switchbacks to contend with. There are some exposed sections as you ascend, but you'll find guard rails to help you.
You can extend this hike and make a full day of things by continuing to Yosemite Point or Eagle Peak.
3. Panorama Trail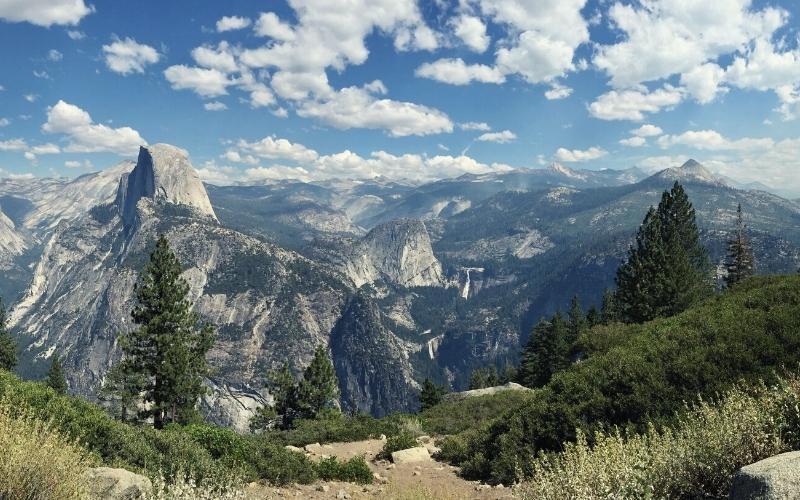 Type: Point-to-point
Length: 8.5 miles
Difficulty: Challenging
The Panorama Trail doesn't get the same love as the Half Dome hike or the Yosemite Falls Trail, and that's a real shame! If you're willing to spend a full day hiking, you won't find better views along any other trail in Yosemite Valley.
Despite its length of 8.5 miles, you should plan to spend at least 5–6 hours hiking. Not only will you find yourself stopping frequently to take in the beautiful landmarks like rushing waterfalls and panoramic outlooks, but you'll also have several flights of granite steps to contend with. Be sure to give yourself lots of time – this is one trail you don't want to rush!
Remember that the Panorama trail is point-to-point, so you'll need to figure out how to get back to your vehicle. We suggest taking the downhill route from Glacier Point parking lot to the bottom of the valley since it's much easier to plan return transportation this way.
4. May Lake Trail and Mount Hoffmann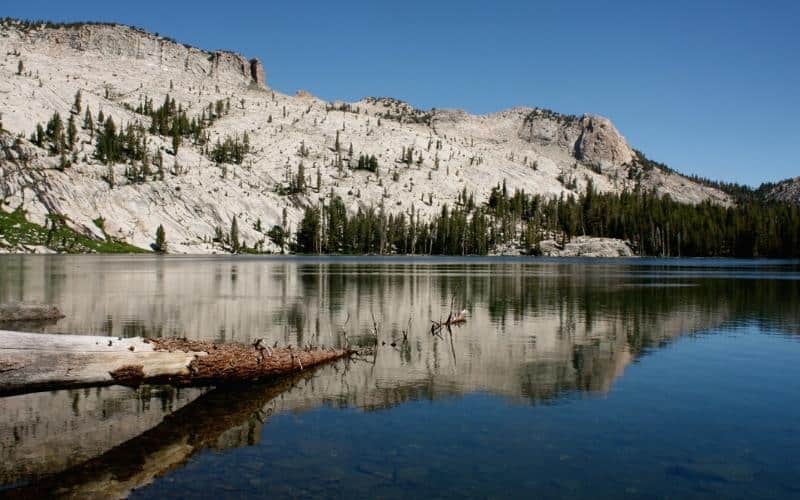 Type: Loop
Length: 2.5 miles
Difficulty: Easy
May Lake is one of the area's many picturesque high lakes and it has a rather unusual story. It's said that cartographer Charles F. Hoffmann named May Lake after the woman he would eventually marry, just shortly after naming the mountain that rises above the lake after himself.
We can't promise there are any mountains or lakes left to name, but we can suggest packing a picnic lunch and heading out on this short hike to one of YNP's most scenic and peaceful lakes.
It's a steady 500 feet of elevation gain to reach the lake, but you'll have plenty of scenic views to take your mind off the climb. Once you arrive, spend some time relaxing at the base of the striking granite cliffs of Mt. Hoffman.
If you want to reach the top of Mt. Hoffmann, you'll add another 3.5 miles (round trip) and 1,600 feet of elevation to your itinerary.
Remember that this hike is only available when Tioga Road is open, usually sometime in May or June through September.
5. Elizabeth Lake Trail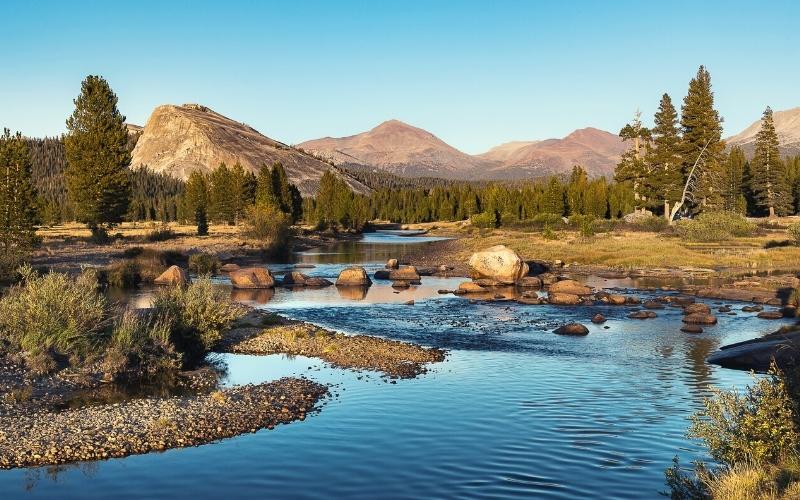 Type: Loop
Length: 4.8 miles
Difficulty: Easy
The Elizabeth Lake Trail is a popular day hike in the Tuolumne region of YNP. While most people that visit Tuolumne usually camp out or stay at a lodge to complete the longer hikes, Elizabeth Lake Trail doesn't connect to anything else, making it the perfect day hike.
This trail is short and not technically challenging, so it's great for novice hikers or older kids. Although it's a touch strenuous as you start to ascend towards the lake, you'll soon be rewarded with the stunning Alpine beauty of Elizabeth Lake.
If you are considering camping, the nearby Tuolumne Meadows Campground along Tioga Road is the biggest in YNP and makes a convenient starting point for visiting other trails.
6. Mariposa Grove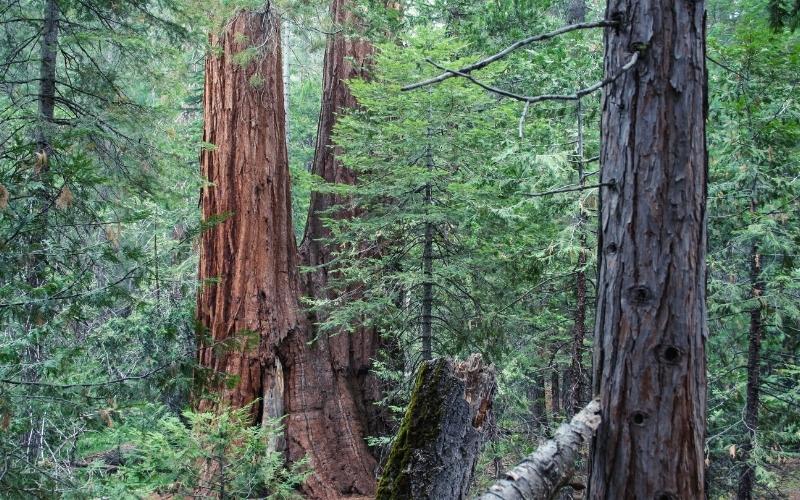 Type: Loop
Length: 7 miles
Difficulty: Medium
Mariposa Grove trail is a relatively easy hike where the only real challenge is the distance. You'll be walking along a trail lined with some of the biggest sequoias in all of the country, including the handsome Grizzly Giant – a 1,800-year-old ancient sequoia.
If you don't feel like taking on the whole 7-mile round trip, you can always take the shorter, 2-mile trail from the same trailhead called the Grizzly Giant Loop. You'll waltz past all of the most famous giant sequoias in the park, like the Fallen Monarch, Bachelor & The Three Graces, and Grizzly Giant himself.
No car? No problem. A free park shuttle leaves from the park's south entrance every 10–20 minutes. There are also a couple of dozen parking spots outside the grove itself.
7. Clouds Rest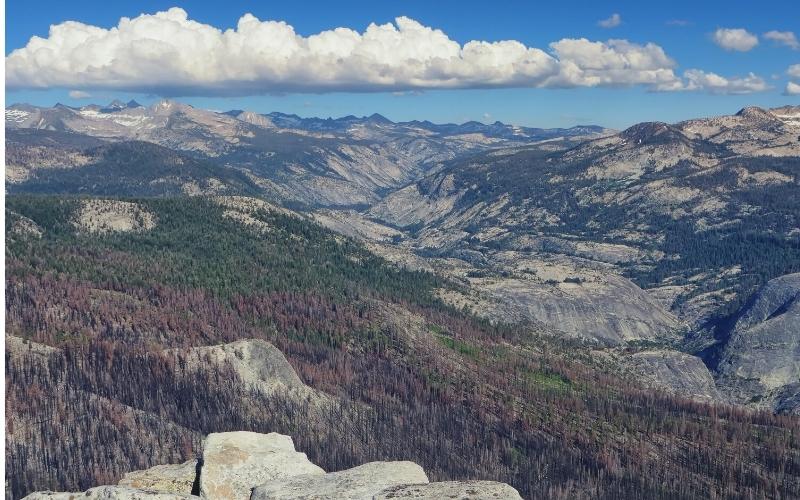 Type: Out-and-back
Length: 14.5 miles
Difficulty: Challenging
Hiking Clouds Rest is no easy feat. It's a strenuous, 8-14 hour hike that involves enduring a set of grueling switchbacks that quickly gain over 1,000 feet of elevation. If you want the same panoramic views as hiking Half Dome without the anxiety-inducing cables section, this is your hike!
There's a reason this hike earned the name "Cloud's Rest". Complete this relatively non-trafficked trail (14 miles tends to thin out the hikers) and you'll enjoy remarkable views from above the clouds of some of the park's most famous landmarks like Half Dome, Tenaya Lake, Mt. Hoffman, and North Dome.
This is not a trek to be undertaken on hot days. You'll be facing lots of exposed sections and some steep elevation gains, so make sure you bring at least 3–4 liters of water.
8. Lower Yosemite Falls Trail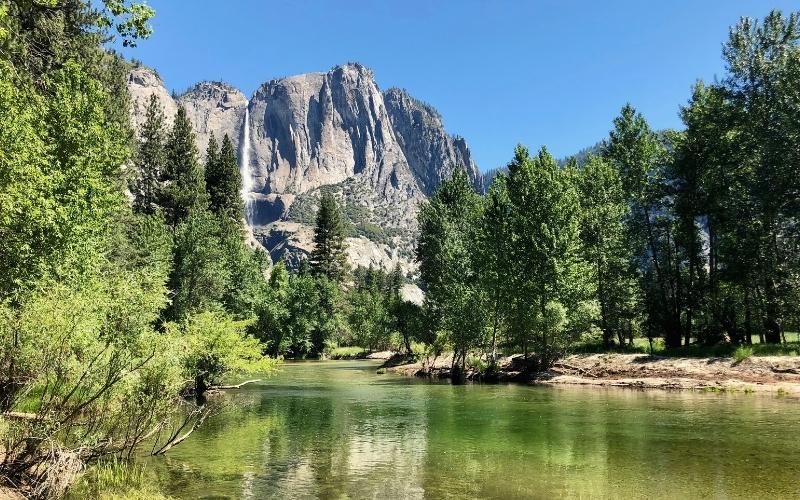 Type: Out-and-back
Length: 0.5 miles
Difficulty: Easy
This easily-accessible and paved trail will take you right to the base of Yosemite Falls in just 15 minutes. If you want a longer and more scenic route, try the 7-mile Yosemite Falls Trail instead.
This small trail winds its way through a forest where you'll enjoy views of the iconic waterfall peaking through the canopy the entire way. 
You can reach the trail in two ways: take the free park shuttle directly to the Lower Yosemite Falls trailhead or add 1.5 miles (round trip) by walking from Yosemite Village or Yosemite Lodge.
9. Mirror Lake Trail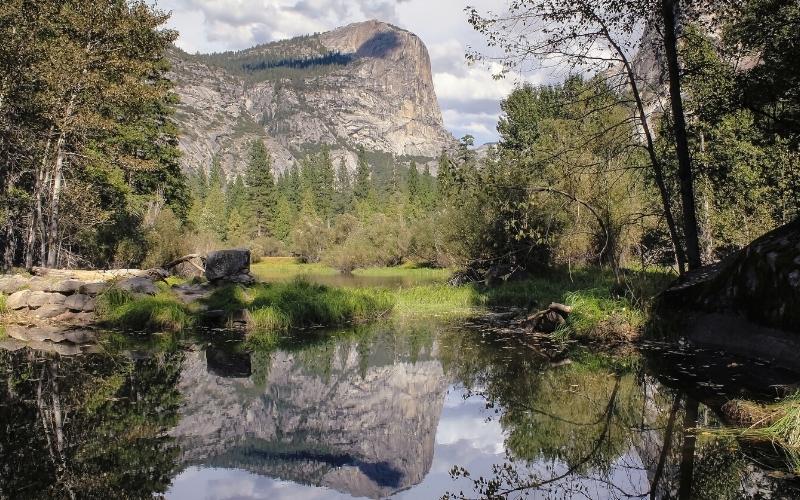 Type: Out-and-back
Length: 2.4 miles
Difficulty: Easy
Mirror Lake Trail is a short and easy hike to the biggest swimming hole in the Yosemite Valley floor. Much of the trail is paved so you'll only need 1–3 hours to complete the loop depending on your speed and how many pictures you take along the way.
In the summer, be sure to bring your bathing suit to enjoy a refreshing dip in Mirror Lake. The trail is accessible in the winter too, and you'll be able to enjoy close-up views of Half Dome without all the summer crowds.
The out-and-back trip to Mirror Lake is 2.4 miles, while the entire round trip around the lake is 4 miles. You'll find the Mirror Lake trailhead at shuttle stop #17. You can also hike from Curry Village, adding an extra 1.5 miles to your trip.
10. Sentinel Dome Hike and Taft Point (Pohono Trail)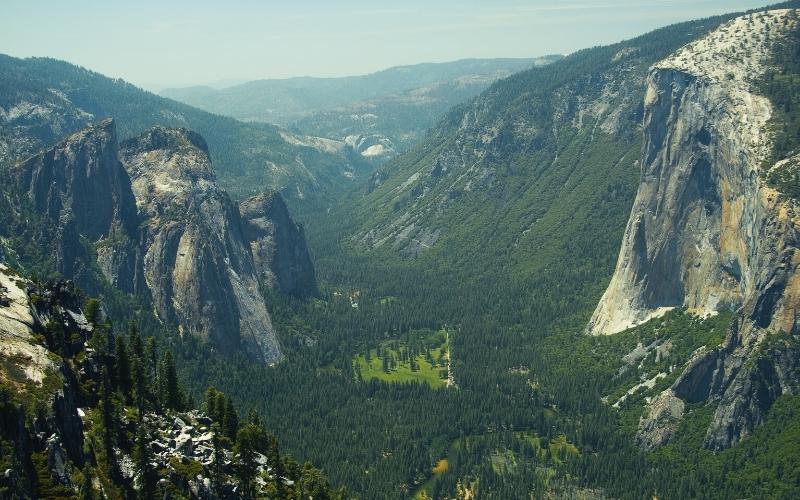 Type: Out-and-back
Length: 8.1 miles
Difficulty: Moderate
If you want to enjoy the 360-degree panoramic views YNP is famous for without the physical effort, try hiking to Sentinel Dome and Taft Point. While the trail is not technical, you'll have to contend with a long hike and plenty of grueling elevation gain.
On top of the spectacular views you'll enjoy from the top of Sentinel Dome, you'll also find the fallen Jeffrey pine – arguably one of the most famous trees in the world after being photographed by Ansel Adams.
With the closure of Glacier Point Road in 2022 for maintenance, the regular trailhead for Sentinel Dome and Taft Point is inaccessible. Instead, we suggest first taking the 4-mile trail from Glacier Point to Sentinel Dome then adding another 3.4-mile hike to Taft Point along the Pohono Trail.
By adding the scenic Pohono Trail to your route, you'll enjoy dramatic vistas of the valley below as you hike along Yosemite Valley's south rim. Taft Point is an overlook with breathtaking views (El Capitan included!)…. and no guard rails! If you're scared of heights, be prepared to test your limits.
11. Cathedral Lakes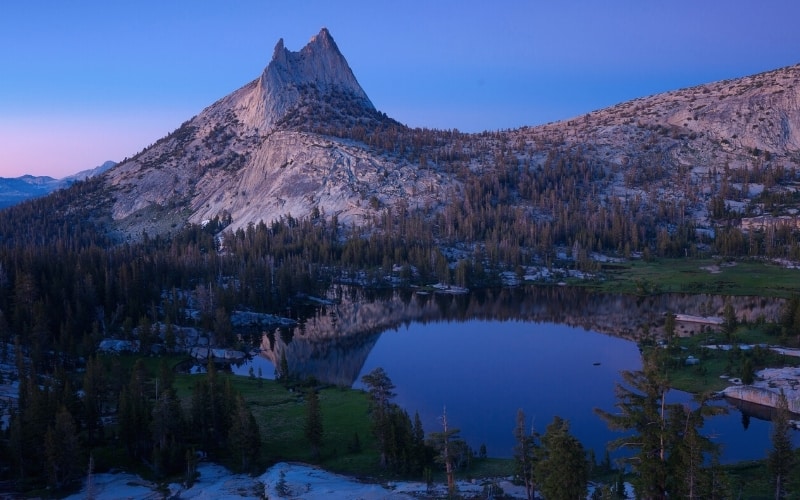 Type: Loop
Length: 8 miles
Difficulty: Moderate
Cathedral Lake is arguably the most impressive of all the granite-wrapped lakes in the Tioga Road region of the park. All the hikes in the beautiful Tuolumne Meadows area are well-trafficked and this trail is no exception. The Cathedral Lakes Trail is part of the popular backpacking route, the John Muir Trail, so expect a lot of company during your trek.
You can hike to both the Upper and Lower Cathedral Lake for a round trip of 8 miles, or visit either one for a 7-mile round trip. If you have time to visit only one of the two, make it Lower Cathedral Lake. It's the larger of the two and the perfect place to relax and enjoy a picnic.
You'll need to be in good physical shape to tackle this trail. The trail starts at above 9,000 feet of elevation and you'll have to ascend an additional 800 feet to reach the lakes. Give yourself plenty of time and take it slow if you're not used to hiking at higher elevations
12. Mist Trail to Vernal Fall and Nevada Falls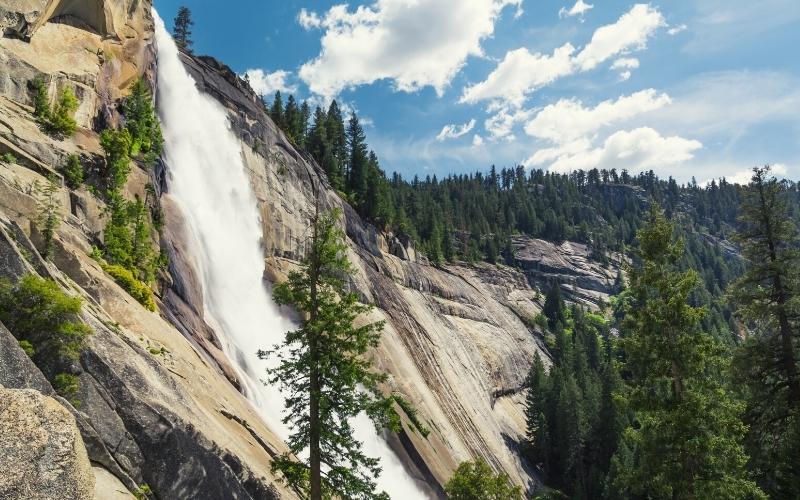 Type: Out-and-back
Length: 7 miles
Difficulty: Moderate
If you have time for just one Yosemite hike, make it the Mist Trail. This scenic out-and-back trail will take you on an epic journey to the top of the spectacular Vernal Fall while offering up plenty of other landmarks to visit along the way, including cool footbridges, a scenic overlook, panoramic views, and another waterfall.
The Mist Trail can also be taken on as a series of shorter treks, allowing hikers to turn back whenever they've had enough. The first section is a short hike to the Vernal Fall footbridge where you'll get to enjoy the views below from a scenic bridge.
From the footbridge, you'll find the trailhead for the actual Mist Trail. This is a short but intense hike to the top of Vernal Fall. From there you'll feast on stunning views of the valley below. As the name suggests, the mist is intense up here, so pack some rain gear and prepare to get wet.
If you're up for an even longer trek, you can continue the grueling climb to the top of Nevada Fall.
13. Bridalveil Fall Hike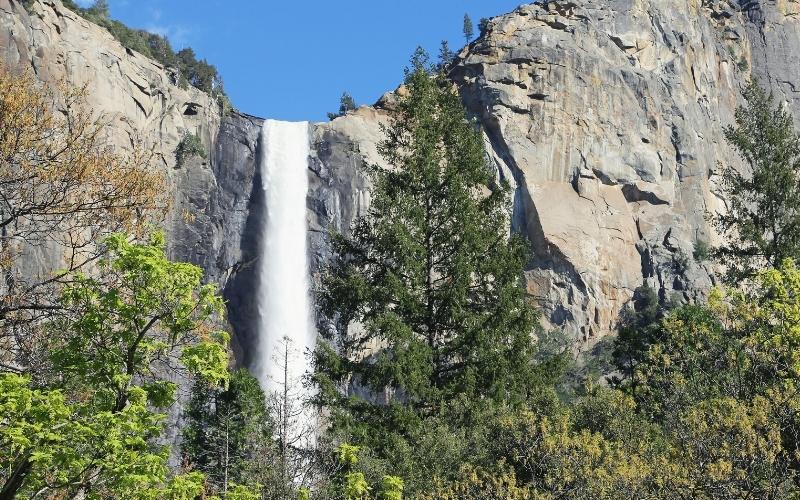 Type: Loop
Length: 1.2 miles
Difficulty: Moderate
Covering only 1.2 miles and less than 200 feet of elevation gain, the hike to Bridalveil Fall is an easy trek the whole family can enjoy. The trail is located on the south side of Yosemite Valley and will take you right to the base of the waterfall in half an hour.
The water that tumbles over the falls travels 620 feet before hitting the rocks below, causing mist to spray as far as a ¼ mile away. Bring waterproof gear if you don't want to get wet!
14. Glacier Point via Four-Mile Trail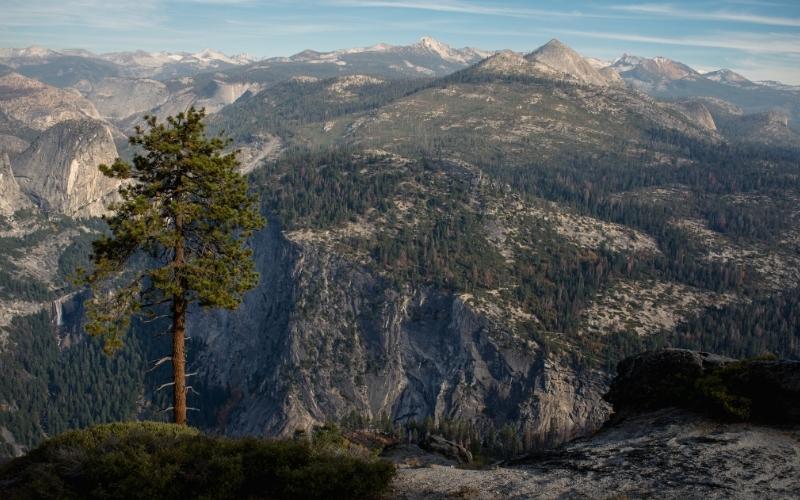 Type: Point-to-point
Length: 4.7 miles
Difficulty: Challenging
With a strenuous 3,200 feet of elevation gain, it's safe to say the Four-Mile Trail will test your limits. The trail quickly gains elevation right from the trailhead and doesn't stop climbing until you reach the top of Glacier Point.
While the first mile is under tree cover, you'll soon be captivated by views of the magnificent Yosemite Falls in the distance as you climb.
Expect to hike with lots of company. The Four-Mile Trail connects two of the park's most popular attractions – the Yosemite Valley and Glacier Point – so head out early if you want to beat the crowds.
15. Soda Springs and Parsons Lodge Trail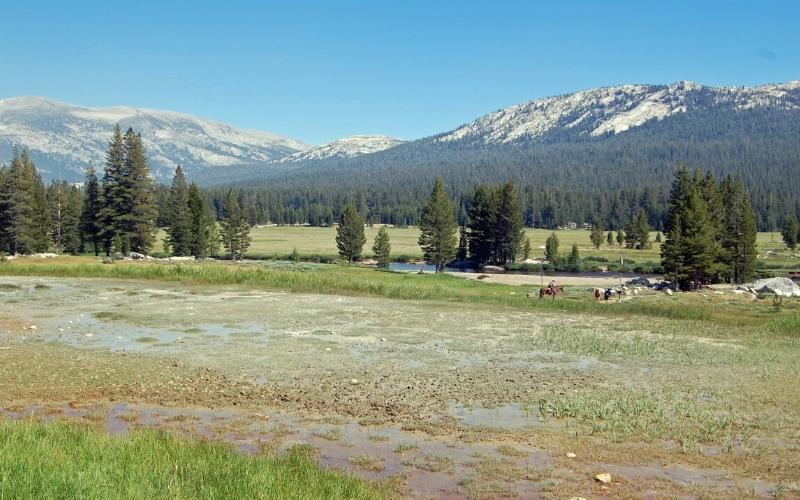 Type: Loop
Length: 1.5 miles
Difficulty: Easy
Follow along the Parsons Lodge Trail for a bit of history and a whole lot of natural wonder! This is an easy and well-maintained trail that's suitable for families with kids.
The main feature of the trail is Soda Springs, a fascinating geological feature where carbonated water seems to mysteriously bubble out of the ground. Along your trek, you'll also pass by Parson's Lodge, a historic structure that houses various displays on the history and ecology of the park.
Easy hikes in the valley don't get much more rewarding than this!
Best Hikes In Yosemite: Happy Hiking!
If you're looking to immerse yourself in nature and experience the wild beauty of California, there's no better place to hike than Yosemite National Park.
Don't forget there's more than one way to explore YNP's grandeur – try hiking, mountain biking, climbing, water sports, horseback riding, or camping. In the winter, strap on your skis, snowboard, or snowshoes and head down one of the many snow-covered routes.
We hope this guide to the best hikes in Yosemite has helped you plan your next adventure in America's most famous national park.

If we left out any of your favorite trails, be sure to tell us all about 'em in the comments below. See ya on the trails!