If you've ever been to Sedona, AZ, then you know it's an outdoor playground built for adventure. Surrounded by 1.8 million acres of national forest land, stunning red rocks, and scenic canyons, Sedona is the ultimate spot to get outdoors and spend some time with your family and friends (or your thoughts!).
In fact, the famous red rock and majestic canyons of Sedona are hiding over 400 miles of hiking trails. From ridges with fantastic lookouts to deep forest trails, Sedona has a trail for every type of hiker.
So lace up your hiking boots because the best way to experience the magnificent red rock country is on foot. We've created a list to help you discover this magical place and provide all the info you need to make the most of your trip.
1. Cathedral Rock Trail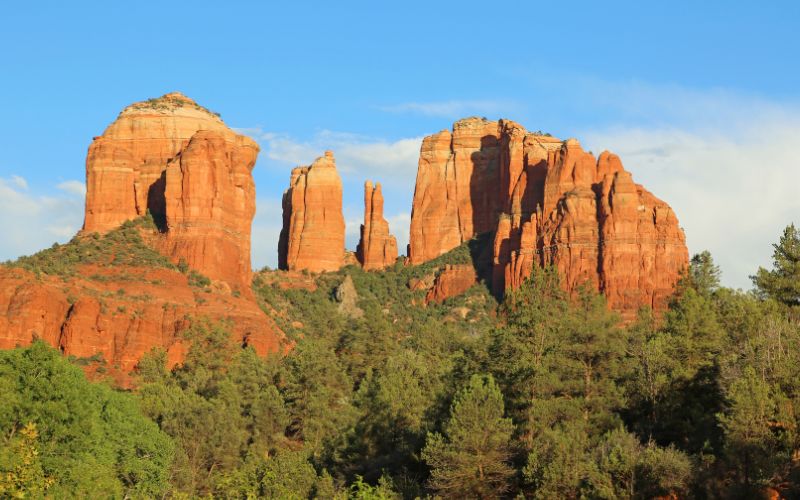 Type: Out and back
Length: 1.2 miles
Difficulty: Moderate
Despite being short and sweet, the Cathedral Rock Trail is definitely a quad-busting challenge. In a little over a mile, you'll face some rock scrambling and over 500ft of elevation gain, so it's much more strenuous than its short distance might suggest. The jaw-dropping views you'll find at the top of Cathedral Rock, however, are well worth the effort.
You'll find the trailhead for the Cathedral Rock Trail on Back O Beyond Road. If you don't manage to snag a parking space here, try starting from the Baldwin Trailhead instead. It's a bit of a walk to the trailhead, but you'll enjoy views of Cathedral Rock in the distance and warm up your legs for the steep, slickrock climb that awaits you!
This is one of the most popular Sedona trails, so don't expect much solitude on the trail. Make sure you arrive bright and early to snag one of the coveted parking spots.
2. Wilson Canyon Trail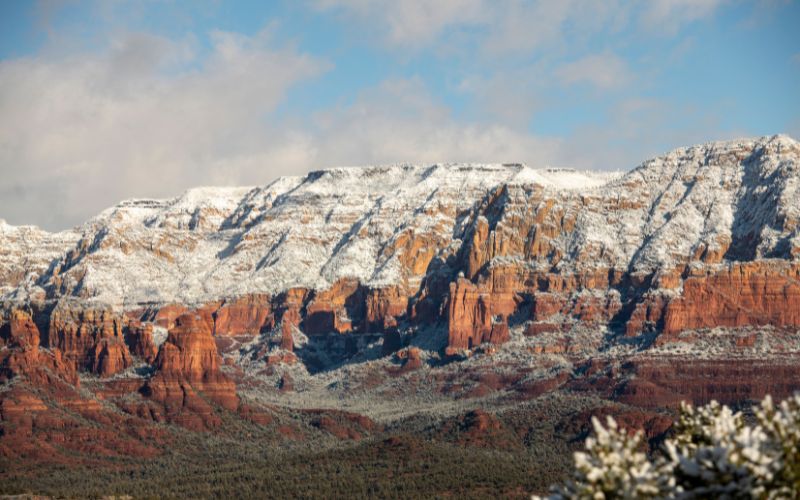 Type: Out and back
Length: 3.2 miles
Difficulty: Challenging
Wilson Mountain is the tallest mountain in Sedona. It earned its name from Richard Wilson, an ill-fated huntsman and trapper who had an unfortunate encounter with a grizzly in the canyon that now bears his name.
The Wilson Canyon Trail is a scenic trek with stunning views every step of the way. You'll find the trailhead just north of Midgley Bridge on the left. The trail zig-zags across the canyon before revealing the stunning, red rock views near the end.
There are two ways to the top of Wilson Mountain. The North Wilson Trail is the longer and more challenging of the two, but it offers better panoramas. The second, the Wilson Canyon Trail, is slightly shorter yet still scenic.
Just remember, black bears can still be spotted along the trail. It wouldn't hurt to freshen up on bear safety to avoid Wilson's fate!
3. Devil's Bridge Trail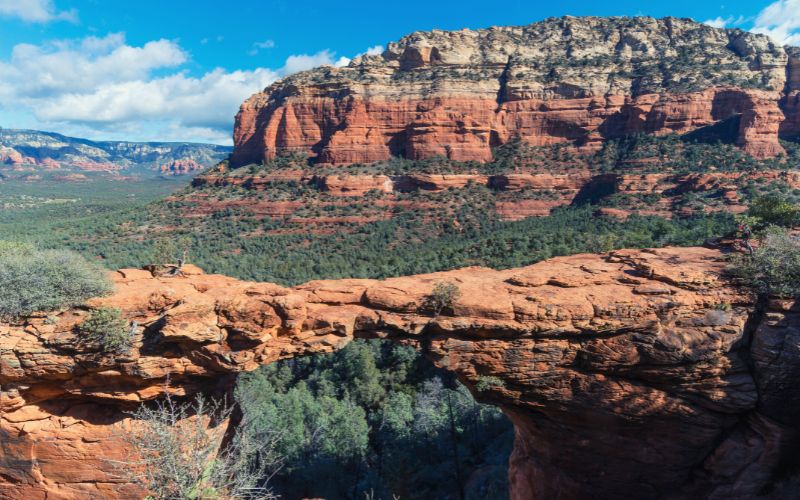 Type: Out and back
Length: 4.2 miles
Difficulty: Moderate
Don't let the devilish name fool you, the Devil's Bridge Trail offers some of the most heavenly views in the area. The 4.2-mile out-and-back trek to the Devil's Bridge, a natural sandstone arch, is one of the most iconic and frequented trails in all of Sedona.
Despite a 400ft climb, this trail is one of the best hikes Sedona has to offer novice hikers. Your journey starts at a parking lot off Dry Creek Road and well-visible trail markers will guide your way for the entire ascent.
The first half of the trail is wide and easy to follow but becomes quite narrow and steep as you make your way towards the arch. Be prepared to share the trail with mountain bikers, ATVs, and lots of other hikers.
If you have the courage, you can even walk your way across the arch. Just don't look down!
4. Bear Mountain Trail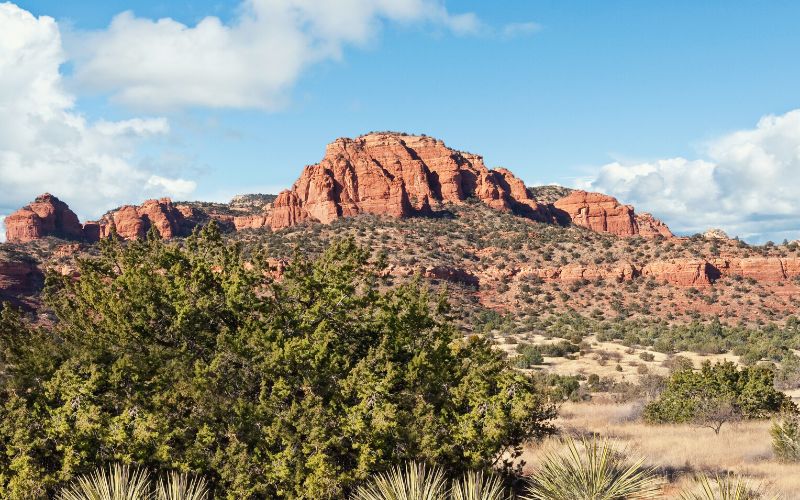 Type: Out and back
Length: 4.9 miles
Difficulty: Challenging
Known as one of Sedona's most challenging trails, you'll face over 1,800ft in elevation gain as you hike your way to the top of Bear Mountain. This hiking trail is technically challenging too – expect lots of sections with a steep incline and rock scrambling!
Start from the parking lot on Boynton Pass Road. The trail might not seem that bad from the trailhead, but remember, Bear Mountain is actually hidden behind the first set of hills! The trail steadily gains elevation passing desert cacti, juniper trees, and plenty of red rock along the way.
Conquer this thigh-busting trek and you'll be rewarded with 360-views of Sedona's beautiful red rock scenery. On a clear day, you can even spot the San Francisco Peaks near Flagstaff in the distance!
5. Birthing Cave
Type: Out and back
Length: 2 mile
Difficulty: Easy
Arizona is jam-packed with hidden caves to explore, and the Birthing Cave just might be the coolest of them all. The Birthing Cave is a stunning landmark nestled in the cliffs over the city. It earned its unique name from the belief that local Hopi women once visited this cave to give birth to their children.
The trail is easily accessible to hikers of all skill levels since it's short and relatively flat. Despite being such an interesting landmark, the Birthing Cave is still largely under-the-radar, so you might get lucky enough to enjoy the trail to yourself.
Start from the Long Canyon Trailhead off of Long Canyon Road. The trail has poor cell reception and the trail markers aren't always obvious, so download or bring a map before you head out.
RELATED READING: For some easier trails check out our guide to easy hikes in Sedona.
6. Brins Mesa and Soldier Pass Trail Loop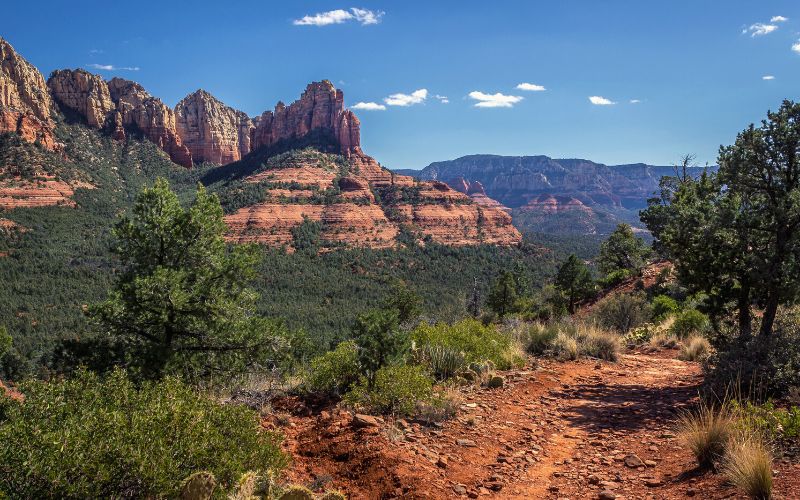 Type: Loop
Length: 6 miles
Difficulty: Moderate
The Brins Mesa + Soldier Pass Trail are two hidden-gem backcountry trails. While they might not offer the same epic views as some of the more popular hikes in the area, they're still worth visiting, especially if you're looking to enjoy a bit of solitude.
We suggest taking the loop clockwise starting with the Soldier Pass Trail. That way, you can hike the more popular, and far more crowded, Soldier Pass Trail early on in the day and hopefully reach the caves and the seven sacred pools before they become too crowded. Then, you'll be able to enjoy the quieter Brins Mesa Trail later on in the day.
7. Doe Mountain Trail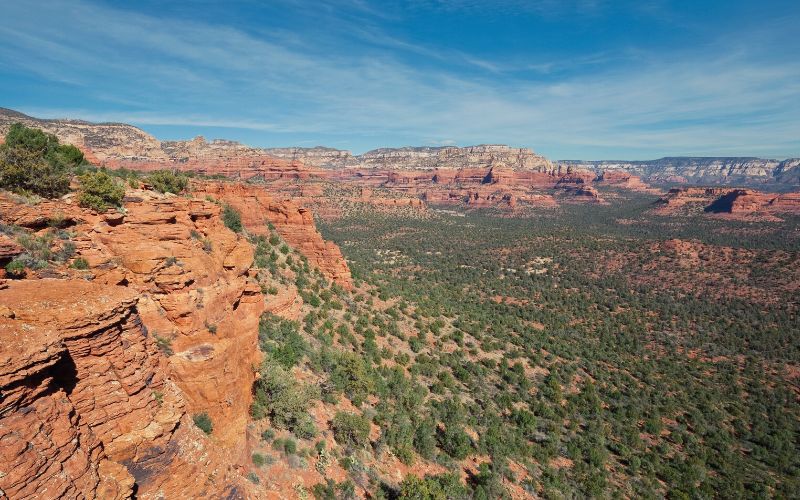 Type: Out and back
Length: 1.2 miles
Difficulty: Moderate
The Doe Mountain Trail is a quick hike up to a beautiful plateau with incredible views of almost all of the area's famed red rocks. Despite its short distance, this loop trail earns its moderate rating due to over 400ft of total elevation gain in just over a mile.
The path ranges from dirt trails to rocky terrain and features only a few shady areas, so come prepared for lots of direct sunlight. Thanks to the largely wide and open trail, expect to see lots of Arizona's local wildlife like rabbits, scorpions, and other critters. Reliable hiking boots are a must, while hiking poles are recommended.
8. Bell Rock Pathway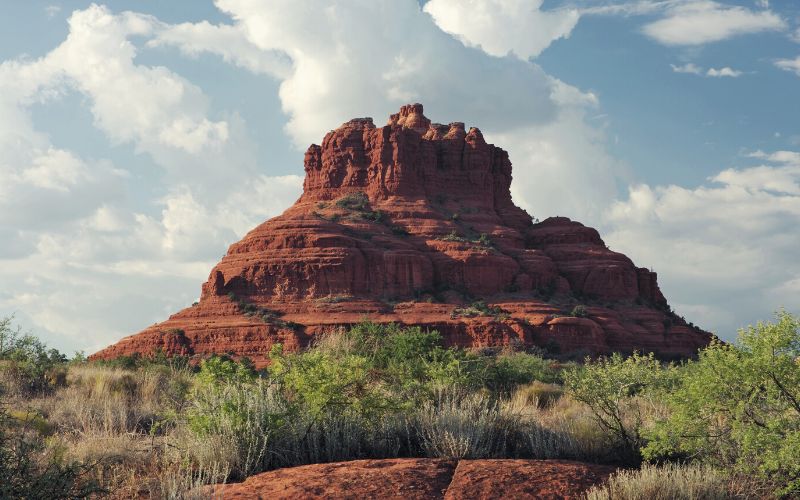 Type: Out and back
Length: 3.6 miles
Difficulty: Easy
Bell Rock Pathway is one of the most popular hikes in Sedona thanks to its instantly-recognizable mascot, a bell-shaped rock formation. Complete it as an out-and-back hiking trail or walk it point-to-point between the village of Oak Creek and the city of Sedona.
The majority of the trail is wide and flat with few steep hills, making it the perfect trek for families. Along the way you'll enjoy fantastic views of not only Bell Rock as you approach, but Courthouse Butte and other natural landmarks. The Bell Rock Pathway does not actually circle the base of Bell Rock – for that, you'll have to venture down a side trail.
9. Fay Canyon Trail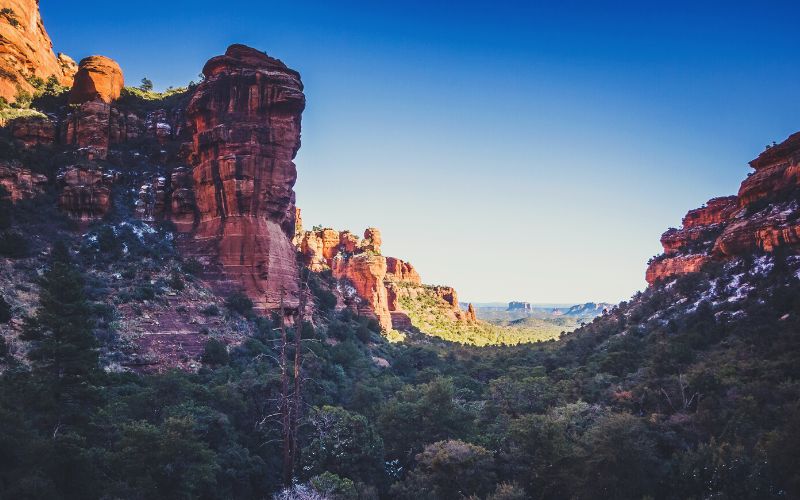 Type: Out and back
Length: 1 mile
Difficulty: Easy
Looking for an easy hike with minimal elevation? The Fay Canyon Trail is a scenic backcountry trail that only takes 1 hour to complete, round trip. You'll find nothing but a well-maintained and wide-open trail the entire way, giving you the perfect opportunity to admire the red sandstone canyon walls that line the path.
Some people hike this trail to check out the Fay Canyon arch found at the end of the trail, but it's easy to miss if you don't know what you're looking for. As you near the end of the hike, keep your eyes glued to the north (right side of trail) and you won't miss it!
10. Merry Go Round Rock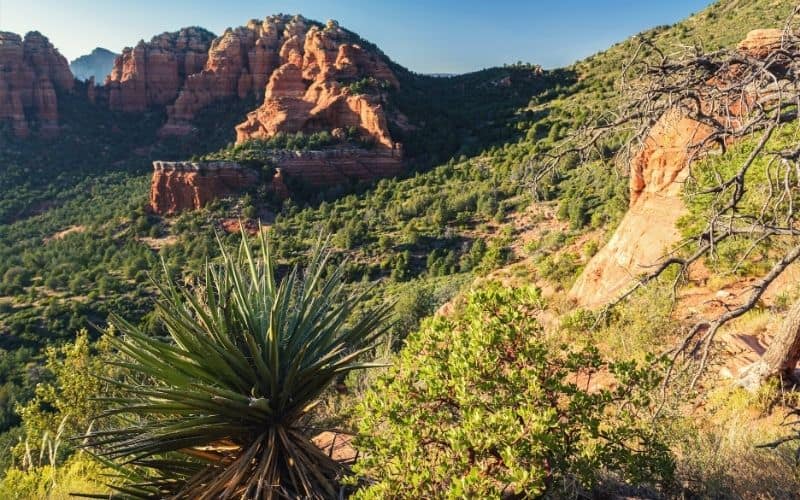 Type: Loop
Length: 1.2 miles
Difficulty: Easy
Fresh air, bright blue skies, and impressive red rock views await you as you loop around Merry Go Round Rock. While this loop trail is fairly short, you'll still need an ATV or a high-clearance 4×4 vehicle to get there. The road is windy and bumpy and people frequently end up turning back.
You can also reach the Merry Go Round Rock Loop on foot by taking a 6.4-mile, historic cattle route known as the Munds Wagon Trail. This out-and-back trail offers a beautiful romp through the Coconino National Forest and takes approximately 3 hours to complete.
11. Boynton Canyon Trail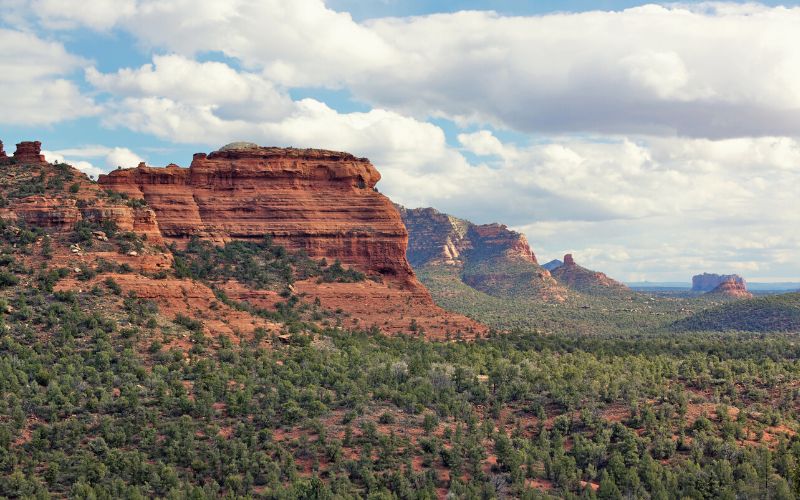 Type: Out and back
Length: 6.1 mile
Difficulty: Moderate
If you're hoping to visit one of Sedona's energy vortexes, this is your chance! The Boynton Canyon Trail is a moderately challenging trek through one of the area's most beautiful box canyons. The majority of the trek is on a flat trail while near the end of the hike, a short climb takes you to a viewpoint with incredible views of Boynton Canyon and Mescal Mountain.
As if the Boynton Canyon Trail wasn't popular enough due to its close location to neighboring towns, the trail has gained popularity as being the home to an energy vortex. If you want to check it out, at the trailhead take a detour down the side trail called the Boynton Vista Trail.
There are 2 more memorable landmarks along the trail that you can visit: the Sinagua ruins and Subway Cave. Keep an eye out for signage marking the side trails that will take you out to these landmarks.
12. Courthouse Butte Loop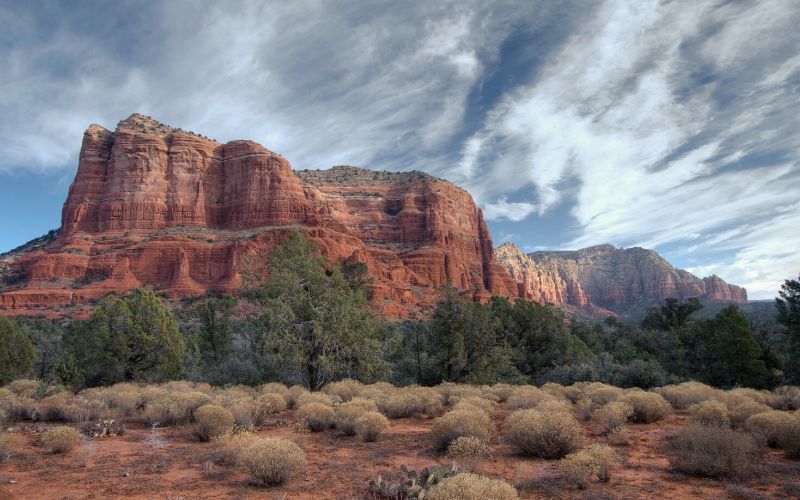 Type: Loop
Length: 4.3 miles
Difficulty: Moderate
It's hard to not be impressed by the Courthouse Butte. This majestic red rock rises over 1,000ft in the air, making it one of the most imposing landmarks in the area. The trek to get there will have you traversing the breathtaking Mogollon Rim – a unique, 200-mile-long limestone and granite cliff that stretches from Eastern Arizona to New Mexico.
There are two ways to access Courthouse Butte. From the south, you can take Bell Rock Pathway until its signed intersection with the Courthouse Butte Loop. From the North, follow along the Courthouse Vista trail heading towards Bell Rock until the trail intersects with the Bell Rock Pathway.
13. Airport Mesa Trail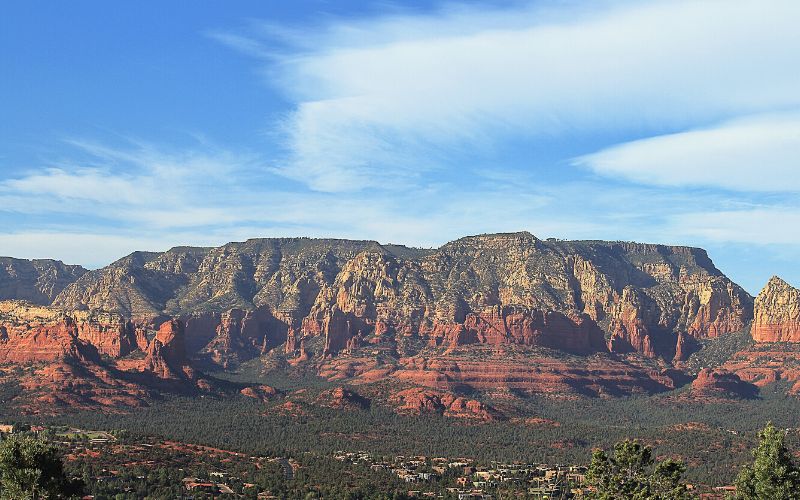 Type: Loop
Length: 3 miles
Difficulty: Easy
The Airport Mesa Trail is the best for enjoying spectacular views of Arizona's famous tall, red rock cliffs. The Airport Mesa (or Airport Loop) Trail skirts along the edge of a shrub-covered mesa allowing you to enjoy the mesmerizing views from high above the valley. 
Although the trail is relatively flat with minimal elevation gain, you'll be completely exposed to the sun for the majority of the way. Pack proper sun protection and enjoy spotting Sedona's famous landmarks along the way including Bell Rock, Cathedral Rock, Thunder Mountain, and the town of Sedona.
14. West Fork Trail (via Oak Creek Trail)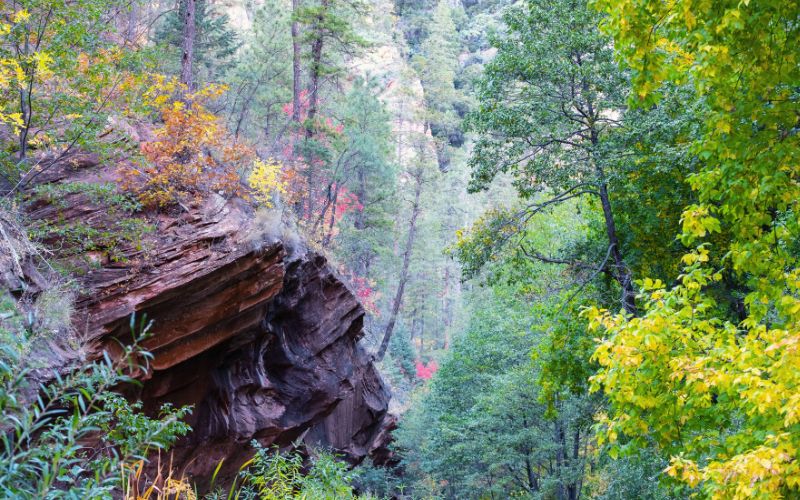 Type: Out and back
Length: 6 miles
Difficulty: Moderate
If you want to avoid getting blasted by the blazing Arizona sun all day, head on over to Oak Creek Canyon. There, you'll find the West Fork Trail – one of the most unique in Sedona thanks to its shade, water, and plentiful tree cover. 
The trail itself is easy to walk, although you will have to navigate across a couple of streams. Since the West Fork Trail is an in-and-out path, feel free to make your trek as short or long as you want to. If you want to extend your trek, at the end of the trail you can continue on towards the beautiful Red Rock Secret Mountain Wilderness.
15. Mescal Trail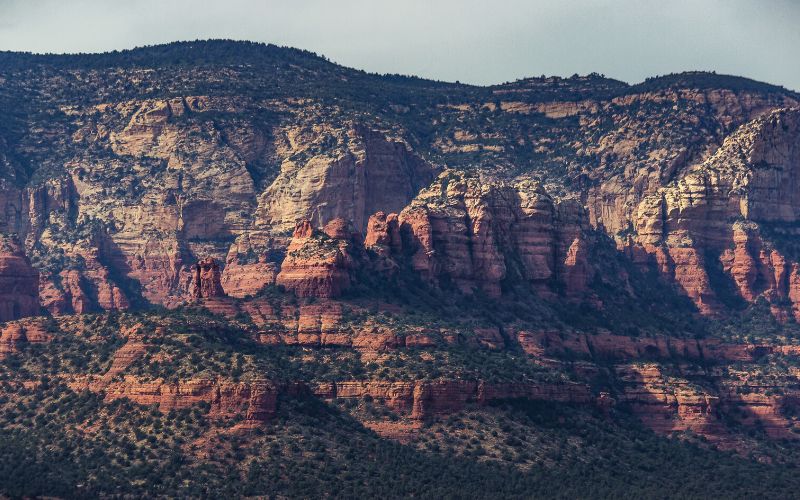 Type: Out and back
Length: 2.4 miles
Difficulty: Easy
If you need a break from some of the more popular hikes in the area, be sure to check out the Mescal Trail. Thanks to its short distance and minimal elevation gain, this is a hike that the whole family can enjoy. Just make sure to keep an eye out for the mountain bikes that regularly zoom by. 
You'll find the trailhead off of Long Canyon Road. For the majority of your trip, you'll be traveling along open, slick rock. If you're visiting in the spring, look out for the ocotillo in bloom and other dainty desert flowers.
Looking for something a bit more challenging? Try combining your trek with a detour to Deadman's Pass or a trip to Boynton Canyon.
Tips for Sedona Hiking
Here are some tips to ensure you enjoy our favorite Sedona hikes happily and safely:
Sedona is a very popular hiking spot. Parking lots fill up fast! Arrive early or plan for alternate transportation to and from the trailhead.
You need a Red Rock Pass when hiking on National Forest Land in Red Rock Country. Purchase a Red Rock Pass and display it on your windshield to avoid a citation.
Stay hydrated and eat often. When hiking in a desert climate like Arizona, your body consumes a lot of resources to stay cool. Bring along at least 1 liter of water for every 2 hours of hiking.
Eat adequate amounts of food to ensure you're replacing your electrolytes. In hot weather, drinking water without replacing the electrolytes you sweat out can lead to a dangerous condition known as hyponatremia. A good rule of thumb is to consume roughly 300 calories for every hour of hiking.
Download or purchase a map before heading out. Many of the best Sedona trails are outside of the cell service area.
Many Sedona trails are fully exposed. Make sure you come prepared for hot weather hiking and learn the signs of heat exhaustion. 
Best Hikes In Sedona: Happy Hiking!
With its majestic red rock and the trails that traverse them, isn't it about time you head to Sedona for a bit of hiking?
You don't have to worry about your hiking expertise either! As long as you come prepared for hiking in hot weather, Sedona's otherworldly terrain offers hikes suitable for hikers of all ability levels.
We hope you've enjoyed our guide. If you have any questions about hiking in the Grand Canyon state, feel free to drop us a line below. See ya on the trails!