Editors Choice
Outdoor Research Sombriolet
In determining the best overall hiking hat, there were several near the top of the back, but the Outdoor Research Sombriolet did enough to win the top spot in our review. The Sombriolet has the widest brim of all the hiking hats reviewed at 4.25 inches wide, which gives ample protection from the suns rays – although, if you are wearing a large backpack then the brim at the back can get a bit annoying.
The Sombriolet proved itself to do well across the board being comfortable, durable, breathable and stylish while still providing ample protection from the suns rays.
Best For Traveling
Coolibar Crushable Ventilated Canvas
On style points alone, the Coolibar Canvas Crushable steams ahead of the competition. However, it is more than a pretty face. The fact it's crushable and can be stuffed into the bottom of your backpack/suitcase, combined with it's excellent protection from it's 3″ brim make it a brilliant choice for traveling.
Best Budget​
Outdoor Research Sun Runner Cap
The Outdoor Research Sun Runner is odd looking, but if you a favor practicality and affordability over looks then this is likely the cap for you. With it's detachable cape/hood you will have great protection on your neck and ears, while the detachable drawcord will ensure that no winds will knock this off your head.
The Best Sun Hats For Men & Women
Looking For The Best Hats For Hiking?
You're in the right place! In this guide, we will be covering the following:
Why you need a hat for hiking
What you should consider when buying.
Reviews of the top hiking hats on the market
Our unbiased recommendation on the #1 hiking hat
As the temperatures rise and you start to plan your summertime outdoor adventures, you realize it's time to purchase a hiking hat to help protect you from the rain and harmful UV rays. They not only protect your head from getting wet but is also used in conjunction with sunscreen to prevent those harmful UV rays that reflect off shiny surfaces like sand, grass, and water back up into your face.
Since not everyone does a great job of applying sunscreen, a sun hat is an excellent way to help guarantee that you have a better degree of protection, plus it can lessen the amount of UV rays that reach your eyes. Below are a few tips on finding the best hat for your needs and a few reviews to help you start shopping, but first, the products in our review are as follows:
Outdoor Research Sun Runner Cap
Sunday Afternoons Adventure
Outdoor Research Sun Bucket
Outdoor Research Sombriolet
Coolibar Crushable Ventilated Canvas
Columbia Bora Bora Booney II
Tilley LTM3 Airflo
What To Look For When Buying Outdoor Hats
When selecting what to wear for hiking, be aware that not all hiking hats are not created equal, and not all hats are good for all jobs. Some may be better for hiking, while others may be more suitable for sitting out on the lake fishing. We'll start of by breaking down the various components you want to take a look at when choosing your perfect backpacking hat.

Brim Width
It is recommended by the FDA and other organizations to wear a wide-brimmed hat constructed of tightly woven fibers that are opaque for sun protection. A four-inch broad brim is favored for sun protection, however, when you are out hiking, you need to make sure that your brim isn't so floppy or wide that it interferes with your field of vision. A good rule of thumb is to find a brim that is at least 2.75 inches wide. If the underside of the brim has a dark color, that's even better as it lessens the glare from shiny surfaces.
Brim Shape
UV radiation can be scattered or reflected by different surfaces – snow can reflect as much as 80% of the UV radiation, sand on a dry beach by about 15%, and seafoam by around 25%. UV rays that are reflected can bounce under your hiking hat's brim striking your nose, chin, and cheeks. Brims that sit closer to your face that curve down offer better protection. Keep in mind though that the brim's shape needs to be considered for the activity that you have planned, i.e., driving, golfing, or fishing.
Hiking Hat Color
For the best sun protection, find a model that has a white top that will reflect heat from the sun while also featuring a darker color underneath to absorb UV rays that bounce back toward your eyes and face. Hats with darker colors under their brims are even fresher than hiking hats with lighter colors underneath. So remember that any off-white colors like khaki or beige are good choices and are easier to keep clean than lighter colors. Other considerations are the environments that you will be wearing your sun hat in. For example, are you wearing it around snow or water? In this case, a dark color under the brim is perfect.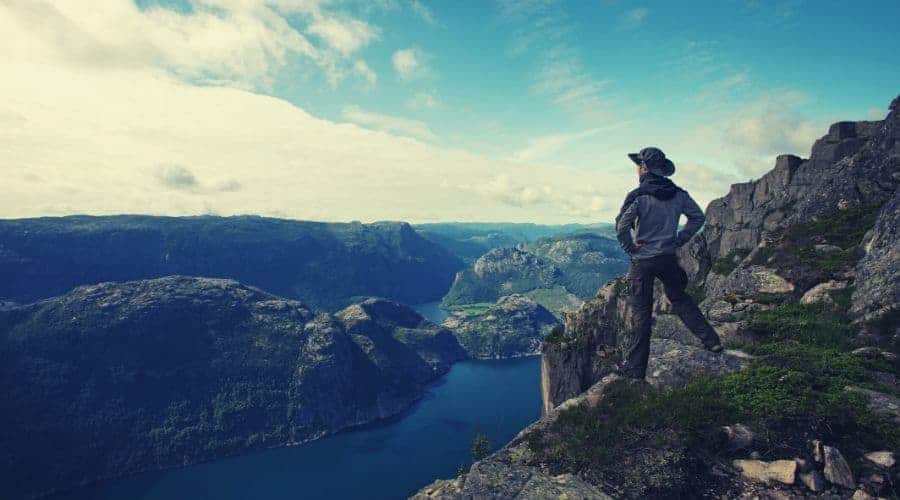 Hat Materials
Another important consideration for choosing the best outdoor hat for you, is the material it is constructed out of and whether it will be the right product for the climate or use that you have planned. Hot climates do better with materials that are breathable and lightweight. Typical materials that are used with sun hats that provide good sun protection include:
natural – raffia, hemp, cotton, and raffia
synthetic – polyester fabric and nylon
The material is also an important consideration if you want to machine wash your hat or if you have a preference for stiff or floppy hats for hiking. There are also companies that work with waterproof materials that are designed to float in case your hiking hat falls into the water.
The best sun protection hats that are constructed with UPF 50+ materials that will bock 99% of damaging UVA and UVB components are great for protecting your skin. U.V. protection is found in any substance or material that will absorb U.V. radiation. Your hiking hat should be labeled and, if it isn't, you should be able to hold it up to the light to check and see if sunlight can shine through. There are even some companies that are proud that their hiking hats are endorsed by Dermatologists.
It is common to find hiking hats with ratings of 30+ or 50+. This rating system measures how much UV radiation is allowed through the fabrics. If a product has a UPF rating of 30+, it will block about 96 percent of UV radiation, while a hiking hat with a rating of 50+ blocks about 99 percent.
Keep in mind that mesh ventilation sides will reduce a UPF rating by a small amount due to a small portion of sunlight that can break through the mesh holes. Also, if you choose one that isn't wholly covering your shoulders and your hiking hat, make sure to wear adequate sunscreen.
The material is also an important consideration if you want to machine wash your hiking hat or if you have a preference over stiff or floppy hats. There are also companies that work with waterproof materials that are designed to float in case your hat falls into the water.
Breathability
Sun hats can help to cool you down on a hot day. But if it doesn't breathe very well, that hat can heat you up instead. Make sure your hiking hat is constructed of a breathable fabric that should not allow you to overheat unless you are doing physical activity. A good rule of thumb is to find a hiking hat with proper ventilation on each side.
Comfort
Another important consideration when choosing a sun hat is to think about the activities you will be wearing it for. If you will be climbing, a smaller brimmed hat for hiking is a better choice as it won't hit your back and fall off when you look up to climb. If you will be running, then you want a sun hat that breathes well, is lightweight, and won't fly off in the wind.A properly fitted hat is also important as a sun hat that doesn't fit well will give you headaches from being too tight, or it will feel loose and unstable from being too big. Make sure to measure your head to the company's specific sizing guidelines before you buy your hat to ensure a good fit.
Durability
If you purchase a good sun hat, it should last you a lifetime accompanying you on many adventures over the years. It should become your constant companion, so make sure it is durable and provides excellent sun protection. You will find that many hiking hats are made with light colors since light colors reflect heat. However, keep in mind that if you buy a white one, it may be useful at keeping you fresh, but it will also quickly get stained and dirty. Choosing a hiking hat that is a little darker and easily washable will help to deal with stains, so they don't show as much. Also, make sure to pay a bit more for a durable material like nylon instead of a cheap straw hat from the gas station.
The Best Sun Hats For Hiking – The Reviews
Outdoor Research Sun Runner Cap
Best Budget Sun Hat
Providing UPF 50 protection, the Outdoor Research Sun Runner Cap is a lightweight baseball cap that includes mesh side panels affording airflow over the sides of your head. Plus, an external cinch-strap lets you customize your cap's fit while a removable chin cord offers extra security on those windy days.
One of the most protective caps on the market, the removable cape provides total sun protection for your entire neck and has a 50+ UPF rating. It is also very lightweight and comfortable and features a Velcro strap allowing you to create a custom fit.
While the cap is very breathable, the cape does tend to heat up your neck since it is touching it. If you don't need the total protection of the cape, it is possible to cinch it back giving you more airflow and breathability. Our pick for the best hiking hat for hot weather.
Key Features
Nylon fabric that is water resistant, breathable and lightweight
Wicking technology & TransAction™ Headband keep you fresher for longer
Removable cape and chin cord
PROs

Features a long cap that covers your ears and neck
Easy to adjust chin strap
Heat build-up is prevented by the lightweight material and side air vents

CONs

Not the most stylish (if that worries you)
If its windy, the side flaps blowing around can be annoying
Sunday Afternoons Ultra Adventure Hat
One of the more recognizable caps on the market, the Sunday Afternoons Ultra Adventure Hat is worn by adventurers everywhere. For those that like to brave the elements while keeping their cool, the Sunday Afternoons Adventure was created with a smart fabric for functional sun protection. It also includes patented details, a sun-conscious design, and customizable sizing.
No matter where your adventure takes you, this cap will keep you covered and protected with a 50+ UPF breathable sun rating, strategic mesh ventilation, and a 7 ½ inch neck flap that includes a lift-up tab. This is an exceptional cap for running, hiking, or even to wear on a sunny patio.
In case it blows off your head, and into the water, the Adventure also includes a floatable foam core so it won't sink. Plus, its moisture-wicking feature will help to keep you comfortable and fresh on those long hikes.
Key Features
3½" down-sloping front brim and 3¾" sides with floatable foam core and poly brim wire & 7½ inch neck cape with lift-up tab
UPF 50+ Certified Breathable Sun Rating (mesh vents not rated)
Adjustable chin strap
Packs flat for travel
PROs

Is effective at protecting your face from sunburn
Keeps the sweat out of your eyes
Secure head and chin straps

CONs

Brim gets a permanent crease in it from shipping
The lighter color shows up stains easily
Outdoor Research Sun Bucket
Stable in windy conditions, the Outdoor Research Sun Bucket features a shorter brim and UPF 50 sun protection. With an adjustable drawcord, it'll stay firmly on your head on those windy days while a 2 ¾ inch brim gives you just the right amount of protection to keep your face covered.
The brim is completely crushable and features a slight angle so that it slopes down from the top giving you better protection from the sun as it moves throughout the day. This is one of the more crushable hats on the market that can be crushed for long periods of time without damaging it. Its durable and lightweight design lets you just stuff it into your pocket or bag without worry.
This is also a comfortable product that is lightweight and breathable. It features mesh ventilation for better airflow, and the small flexible brim keeps it from flying off. You can create a custom fit with the cinch cord in the back which can also be removed if you don't want it to catch on anything.
Key Features
Water-resistant, breathable & lightweight fabric
Removable Chin Cord with one-handed drawcord adjustment
UPF 50+ rated
PROs

Fits comfortably and is nice and cool
Affordable, breathable, and water-resistant
Packs down small

CONs

The smaller brim is just adequate but won't protect like some of the other candidates
Outdoor Research Sombriolet
Best Hiking Hat
With an incredibly comfortable fit, the Outdoor Research Sombriolet is perfect to wear on hot summer days. It features an internal mesh structure that will hold the crown on your head while mesh vents allow warm air to escape. This wide brim hat includes foam that will keep it afloat should it fall in the water, and it also features a discrete cord along the edge for those windy days to prevent it from flapping up.
All Sombriolet hats have a dark grey underside that will absorb light to lessen glare. Available in men's and women's styles, they are available in a variety of colors and sizes. Featuring SolarShield construction, this lightweight model that uses a nylon/polyester blended fabric gives you up to UPF 50+ sun protection and vents that are strategically placed in the crown. It also includes a mesh lining for wicking moisture away to keep you cool and dry.
The TransAction headband will keep the hiking hat securely on your head as it wicks away moisture while the adjustable external drawcord and a removable chin cord with cord lock guarantee it will stay in place. Overall our top pick as the best hat for hiking.
Key Features
Water resistant, lightweight & breathable material with UPF 50+ rating
Side Vents on Crown & external breathable mesh panels will keep you fresh all day long
Comes with removable chin cord
PROs

Mesh structure holds it in place just above your crown
Grey underside helps to decrease glare
Has one of the broadest brims you will find

CONs

Style isn't that exciting for some
Downside to having a wide brim is it can be irritating while wearing a backpack
Coolibar Crushable Ventilated Canvas
With a good-sized brim, the Coolibar Crushable will keep you looking stylish while protecting you from the sun. Not only is this hiking hat comfortable, but it is also crushable from the top down. The brim gives you a decent amount of protection with three inches all the way around, plus the hat is rated at 50+ UPF protects you from approximately 99 percent of harmful UV.
The mesh on the sides is a great feature giving you breathability while still using a protective liner behind the mesh. It also features an internal elastic band that provides a good fit while keeping it securely on your head. If it does get too windy, just pull up the neck cinch cord for extra security.
This durable and comfortable product is also stylish and effective. You can't ask for a better-looking product that will do a good job giving you the protection you need out in the hot sun. Definitely the most stylish men's hiking hat.
Key Features
Broad 3″ brim for great UV protection
Travel friendly – crushable & packable
Internal elastic band for a snug fit and a mesh ventilated crown for comfort
PROs

Well-constructed, durable
Gives you great protection from the sun
Great ventilation and its crush resistant

CONs

Sizes tend to run to the smaller end
Columbia Bora Bora Booney II
This high-performance fishing hat also has qualities that will be appreciated by any outdoors person. The Columbia Bora Bora Booney II features a quick-drying UPF50 nylon fabric with non-UPF mesh panels and an Omni-Wick sweatband that guarantee your head is protected from the sun while also staying cool. It comes in a wide variety of colors but is available in only one size.
The headband does have a toggle in the back and an adjustable drawcord allowing it to fit heads with a circumference between 21 ¼ to 24 ½ inches. The Columbia Bora Bora Booney II features a UPF 50 that blocks out 98% of harmful UVA and UVB rays and carries the seal of recommendation from the Skin Cancer Foundation.
The Bora Bora Booney also features an Omni-Wick™ sweatband that includes a non-UPF mesh vent panel that will keep you cool while preventing sweat from getting you're your eyes. Plus, the quick-drying properties allow it to dry quickly in the event it ends up in the water. Both the toggle and chinstrap are adjustable allowing you to customize the fit to your head.
Key Features
Omni-shade UPF 50 protects you from the sun
Sweatband & mesh venting actively breathe and pull moisture away from your skin to keep you cool
Adjustable drawcord and toggle at the back
PROs

Affordable price
Mesh panels give you more ventilation
Great for blocking out the sun

CONs

Only comes in one size
Could do with a little design touch up
Tilley LTM3 Airflo
Best Wide Brim Sun Hat
Perfect for traveling, the Tilley LTM3 Airflo Hat is durable and great for protecting you when you are out in the hot sun. Featuring a secret pocket in the top part of the hat, the Tilley LTM3 allows you to store small valuables and has a small brim allowing you to move through a crowd with ease. It also offers great protection from the sun with a UPF rating of 50+ that keeps away almost 99 percent of UV rays.
With the wind cord on the back, this comfortable hiking hat will stay securely on your head in the wind providing a nice snug feeling. It also includes a soft sweatband with foam padding for protection to cover your forehead. Plus, it has a crown that is ventilated on the top of the hat providing necessary breathability to keep your head cooler.
The durability of the Tilley LTM3 is due to their hand-sewn construction, plus they easily regain their shape (even after being crushed at the bottom of your backpack). With its classy look, this is a comfortable and durable hiking hat for any outdoor outing.
Key Features
Maximum sun protection – fabric is certified UPF 50
Brim can be snapped both sides up, 1 side up or not at all
Front & back wind cords system secures Hat in gusty conditions while hydrofil® sweatband wicks moisture away
Lifetime guarantee
PROs

Well-made hat
Good quality and nice design
Great ventilation, durable

CONs

Brim is a tad on the narrow side to keep the sun out of your eyes
Tends to stain from perspiration
Further Hat Related Reading
If you're looking for a rain hat to handle some heavy downpour we run the rule over seven contenders
For those colder days up the mountain consider buying the best beanie for hiking
If you want the low-down on what to wear on the trail, be sure to give our other guides a look!
Last update on 2021-12-02 / Affiliate links / Images from Amazon Product Advertising API