When summer arrives, many of us eagerly anticipate hitting the trails. However, warmer weather and sunshine come with risks. Extended time outdoors exposes you to harmful UV rays, which can cause skin issues and even heatstroke.
The solution? A quality hiking hat. It not only protects your health but also reduces glare, keeps hair out of your eyes, and enhances your style. That's why we researched and tested various hats and caps to help you make an informed choice.
Topping the bill is the Outdoor Research Sombriolet, but also highly recommended are the REI Coop Explorer Hat, Coolibar Crushable Ventilated Canvas, Arc'teryx Calvus Cap, Buff Pack Trek Cap, Outdoor Research Sun Runner Cap, The North Face Horizon Breeze Brimmer, Columbia Bora Bora Booney II, Outdoor Research Sun Bucket, Sunday Afternoons Adventure Hat, and the Tilley LTM6 Airflo.
To further help you choose the best hat for your needs, we discuss the key features to look out for including brim width & shape, material & color, breathability & ventilation, comfort & fit, and weather protection.
At a Glance: Quick Recommendations
Top Choices by Category
Budget: Outdoor Research Sun Runner Cap, Columbia Bora Bora Booney II
Wide-Brim: Tilley LTM6 Airflo, OR Sombriolet, The North Face Horizon Breeze Brimmer, REI Co-op Explorer, Columbia Bora Bora Booney II, OR Sun Bucket, Coolibar Crushable
Cap: Arc'Teryx Calvus Cap, Buff Pack Trek Cap, Outdoor Research Sun Runner Cap
What are the Best Hiking Hats on the Market?
The following list highlights our top hiking hat recommendations, with the Outdoor Research Sombriolet winning our editor's choice award.
Outdoor Research Sombriolet
REI Coop Explorer Hat
Coolibar Crushable Ventilated Canvas
Arc'teryx Calvus Cap
Buff Pack Trek Cap
Outdoor Research Sun Runner Cap
The North Face Horizon Breeze Brimmer
Columbia Bora Bora Booney II
Outdoor Research Sun Bucket
Sunday Afternoons Adventure Hat
Tilley LTM6 Airflo
Outdoor Research Sombriolet
Editor's Choice
The OR Sombriolet is lightweight, breathable, tough, and offers enough protection to keep our skin safe on sunny days, earning it the title of best hiking hat.
The Sombriolet has a brim that measures 3.125 inches at the front and 4.125 inches at the back. This varied width means you get plenty of sun protection for your neck but won't have to worry about your vision being impeded at the front.
The Sombriolet is also one of the most comfortable and durable options on our list. It's made with double-weave ripstop fabric and has a super-soft, high-wicking headband for comfort. An internal mesh structure holds the crown on your head, while mesh vents on the sides provide a little A/C on hot days.
All versions of the Sombriolet have a dark gray underside that absorbs light and lessens glare, and have a UPF 50+ rating.
An adjustable strap at the back lets you customize the fit and a removable chin cord ensures it stays put when hiking in windy conditions. This broad brim hat also includes foam inserts that will keep it afloat if it falls in the water.
PROs

Mesh structure holds it in place just above your crown
Gray underside helps to decrease glare
Lightweight and breathable material with UPF 50+ rating
Side vents on crown & external breathable mesh panels will keep you fresh all day long
Removable chin cord
Extra-broad brim

CONs

Style won't be to everyone's taste
Brim can be irritating while wearing a backpack
Bottom-Line: A super-comfortable, well-designed hat that provides ample sun protection on even the balmiest of days. The best hiking sun hat we've ever come across.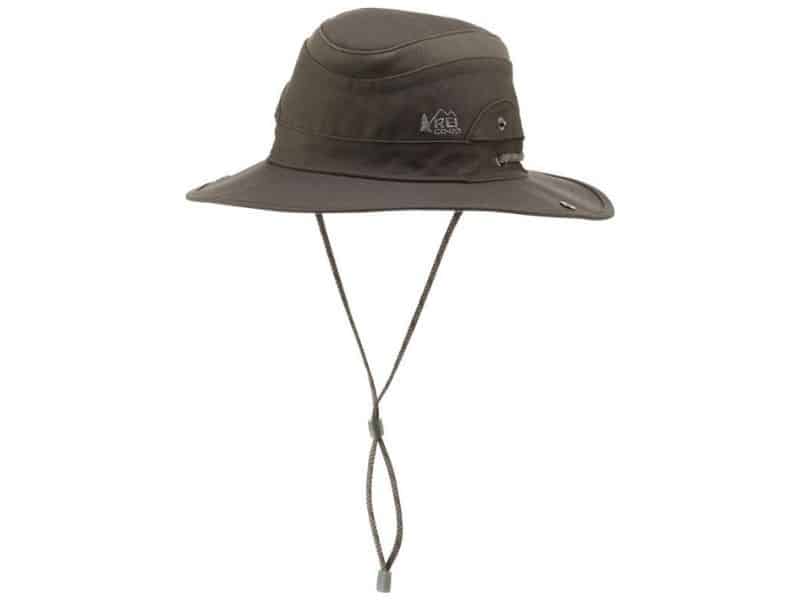 REI Coop Explorer Hat
Runner Up
Coming in a close second, the REI Explorer is an unusual contender in our outdoor clothing lists, being made from cotton. However, we're prepared to make an exception to the rule on this occasion.
The Explorer's main fabric is organic cotton, which tends to soak up rather than wick sweat, which can cause all kinds of problems – extra weight, dripping sweat, and serious chills when you stop moving and the sweat cools down. However, the Explorer's chunky, high-wicking headband is so effective that none of the above is an issue.
Truth be told, cotton fabric is more of a benefit than a drawback. It makes the Explorer super-soft and crushable, highly breathable, and gives it a UPF 50+ rating. For added airflow, the Explorer incudes a duo of large, polyester mesh side vents that keep your head cool in high temps.
Other nice features include a 3-inch brim, brass snaps that let you pin the brim up on either side, an adjustable chin strap, and a stash pocket in the crown.
PROs

Great ventilation
Wide brim
Breathable
Comfortable

CONs
Bottom-Line: Expertly made to meet the needs of the hot-weather hiker.
Coolibar Crushable Ventilated Canvas
Honorable Mention
Worth mentioning is the Coolibar Crushable, which crushes down into a tiny bundle, making it one of the most compact and portable hiking sun hats out there.
Crushability aside, the Coolibar has a lot going for it. It had a good-sized brim (3 inches), a 50+ UPF rating, mesh sides to prevent overheating, and a protective liner and elasticized headband behind the mesh to provide a comfortable and secure fit.
Looks-wise, the Coolibar might be an, um, "acquired taste", but this really depends on what floats your boat.
PROs

Well-constructed, durable
3-inch brim gives you great protection from the sun
Great ventilation
Travel friendly – crushable and packable
Internal elastic band for a snug fit and a mesh ventilated crown for comfort

CONs

Sizes tend to run to the smaller end
More functional than fashionable?
Pricey
Bottom-Line: A classy-looking, comfortable, and packable hiking hat that provides plenty of airflow and great sun protection.
Arc'teryx Calvus Cap
Best Baseball Cap
If you prefer a baseball cap style, the Arc'teryx Calvus is a well-designed option for hiking in all weather.
The Calvus is made with lightweight, breathable, water-resistant socora polyester fabric and has mesh side panels and a spacer mesh, moisture-wicking sweatband to keep your head cool and sweat out of your eyes when hiking hard.
The short brim on the Calvus won't protect all of your face, but is large enough to shield your eyes from the sun. Due to having a DWR finish it also doubles as a waterproof hiking hat, unlike most other hats on our list, so it will keep water out of your eyes when hiking in the rain.
PROs

Ultralight
DWR finish
Mesh vents

CONs

No protection for ears or neck
Bottom-Line: A sleek, stylish little cap that's ideal for hiking in both scorching sun or light rain.
Buff Pack Trek Cap
Runner Up Cap
Another cap worth considering is the Buff Pack Trek Cap, a simple, stylish baseball hat with a few dialed-in, hiking-specific features.
The Trek Cap is kinda pricey for what it is, but earns a place on our list on account of its awesome comfort. It's made with two-way stretch fabric, which means it remains comfortable on your head even after an epically long day on the trails. If you've ever worn a cap for 10 hours straight, you'll know this is a big deal!
The Trek Cap also has a cushy sweatband for added comfort, offers UPF 50+ protection, and has a series of air vents in the crown and sides to up airflow.
PROs

Bi-stretch fabric
Sweatband
UPF 50+

CONs

No neck or ear protection
Kinda pricey
Hand wash only
Bottom-Line: A winner if all-day comfort is your primary concern.
Outdoor Research Sun Runner Cap
Most Versatile
The Outdoor Research Sun Runner Cap is a great choice for hikers who prefer their headwear light and multifunctional.
Multifunctional? Yep! The Sun Runner is, essentially, two hats in one – both a simple but high-quality hiking baseball cap and a full-blown, legionnaire-style sun hat. In cap mode, the mesh side panels and large brim help keep sweat and glare to a minimum, whilst also protecting your face. In sun hat mode, you get full face and neck protection from the extended neck cape.
The OR Sun Runner cap has a healthy UPF 50 rating. An external cinch-strap lets you customize your cap's fit while a removable chin cord offers extra security on windy days.
PROs

Extra-long, removable neck cape covers your ears and neck
Easy to adjust chin strap
Lightweight and breathable material
Side air vents
Wicking technology & TransAction™ Headband keep you fresher for longer
Affordable

CONs

If it's windy, the side flaps blowing around can be annoying
Bottom-Line: Great value for money and an outstanding pick for especially hot locales.
The North Face Horizon Breeze Brimmer
Most Eco-Friendly
Made with entirely recycled materials, the Horizon Breeze Brimmer is our top pick for eco-conscious hikers.
Eco credentials aside, the HBB is a great hat in its own right. Its wide brim provides ample coverage for your face, ears, and neck, while a TurboDry® sweatband provides added comfort and wicks away sweat without the use of chemicals. Small grommets in the crown also provide a touch of airflow and an adjustable chin strap keeps it in place on windy days.
While the HBB only has a UPF 40 rating, it is recommended by The Skin Cancer Foundation.
PROs

Recycled materials
Effective sweatband
Adjustable chin strap
Recommended by The Skin Cancer Foundation

CONs
Bottom-Line: Ethically made and as comfortable as hats are made.
Columbia Bora Bora Booney II
Best Value
Offering excellent sun protection and good value for money is the Columbia Bora Bora Booney II.
This high-performance fishing hat has qualities that will be appreciated by any outdoors person. The Columbia Bora Bora Booney II features quick-drying UPF 50 nylon fabric with mesh panels and an Omni-Wick sweatband that guarantee your head is protected from the sun while also staying cool.
It comes in a wide variety of colors but is available in only one size. The headband has a toggle in the back and an adjustable drawcord, allowing it to fit heads with a circumference between 21 ¼ to 24 ½ inches. Both the toggle and chinstrap are adjustable, allowing you to customize the fit to your head.
PROs

Affordable price
Mesh panels give you more ventilation
Omni-shade UPF 50 protects you from the sun
Adjustable drawcord and toggle at the back
Sweatband & mesh venting actively breathe and pull moisture away from your skin to keep you cool and dry

CONs

Only comes in one size
Not the most "active" fit or design
Bottom-Line: This isn't the most athletic hat out there by a long way, but it offers good sun protection and is a great option for long days at camp.
Outdoor Research Sun Bucket
Best Bucket
If a bucket hat is your preferred style, offering more protection than a cap without the need for a wider-brimmed model, we recommend the OR Sun Bucket.
The Outdoor Research Sun Bucket features a shorter, 2 ¾-inch brim and UPF 50+ sun protection rating. The brim is completely crushable and features a slight angle so that it slopes down from the top giving you better protection from the sun as it moves throughout the day.
An adjustable drawcord ensures it stays firmly on your head on those windy days, while its crushable design and light weight mean it can easily be stuffed in a pocket when not needed.
On the trail, we found the Sun Bucket to be one of the most comfortable items we tested. We particularly loved the side vents and the rear cinch cord that allowed us to customize the fit. We were also big fans of the narrower brim, finding this allowed us to stomp onward at speed without any fabric impeding our view.
PROs

Fits comfortably
Breathable
Packs down small
UPF 50+ rated
Removable chin cord

CONs

Smaller brim will be a "pro" for some, but won't offer enough sun protection for others
Bottom-Line: A lightweight, well-ventilated sun hat that strikes a happy medium between caps and wide-brim sun hats.
Sunday Afternoons Adventure Hat
Best Overall Sun Protection
For maximum sun protection from a hat, we would opt for one of the most recognizable caps on the market, the Sunday Afternoons Adventure Hat.
No matter where your adventure takes you, this will keep you covered and protected with a 50+ UPF breathable sun rating, 4" brim, strategic mesh ventilation, and a 7 ½-inch neck flap that includes a lift-up tab.
Other endearing features include a wired brim that prevents the fabric flopping into your eyes, a floatable foam core, and moisture-wicking fabric that helps keep you sweat-free when hiking hard on hot days.
For a slightly more performance-oriented version of the Adventure, check out the Sunday Afternoons Ultra Adventure Hat.
PROs

Keeps the sweat out of your eyes
UPF 50+
4" brim
7.5-inch neck cape with lift-up tab
Packs flat for travel
Adjustable chin strap and sizing

CONs

The lighter color shows up stains easily
Bottom-Line: A great choice for running, hiking, or even lounging around camp on sunny days. 
Tilley LTM6 Airflo
Best Sun Hat
The Tilley LTM6 Airflo Hat is our top pick for stylish adventurers seeking full-head protection from the sun.
The Tilley Airflo offers great protection from the sun with a UPF rating of 50+ that blocks out 99% of the sun's rays. The wide brim also provides plenty of protection for your face, eyes, neck, and ears, though is stiff enough that it won't impede your view.
In terms of comfort, the Tilley is a winner. It includes a soft sweatband with foam padding and a ventilated crown that provides plenty of airflow for your dome. A wind cord on the back ensures it will stay snug on your head in breezy conditions.
Despite the stiffness of the brim, the Tilley is crushable, so can easily be stored away in a pocket or the "brain" of your backpack when not in use. And if you want to store small items inside the hat itself you can do so thanks to a handy little zippered pocket in the crown.
PROs

Good quality and nice design
Great ventilation
Brim can be snapped both sides up, 1 side up, or not at all
UPF 50+
Lifetime guarantee
High-wicking sweatband

CONs

Brim is a tad on the narrow side to keep the sun out of your eyes
Tends to stain from perspiration
Bottom-Line: A comfortable, durable,classy-looking, and highly protective hat that's ideal for any hot-water adventure.
What To Look For When Buying Hiking or Outdoor Hats?
The activities you plan on doing while wearing your hat will determine which qualities you need to prioritize. We break down these components in the list below to help you choose your ideal backpacking hat.
Brim Width & Shape
Material & Color
Breathability & Ventilation
Comfort & Fit
Weather Protection
Brim Width & Shape
A four-inch broad brim is ideal for sun protection on outdoor adventures. However, when hiking, ensure that your brim isn't so floppy or wide that it interferes with your field of vision. A good rule of thumb is to find a brim that's at least 2.75 inches wide. If the underside of the brim has a dark color, that's even better as it reduces glare.
UV radiation can be scattered or reflected by different surfaces. Snow can reflect as much as 80% of UV radiation, sand on a dry beach by about 15%, and seafoam around 25%. UV rays that are reflected can bounce under your hiking hat's brim, striking your nose, chin, and cheeks.
Brims that curve down and sit closer to your face, therefore, offer better protection.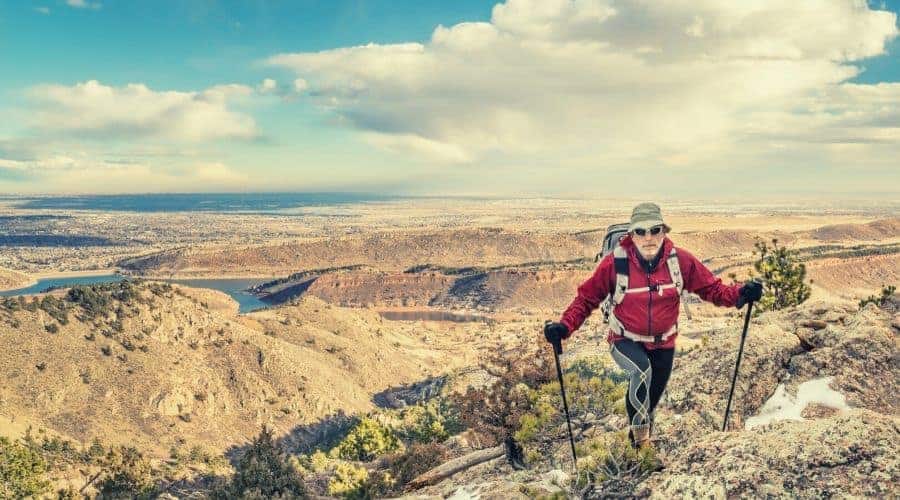 Hat Material & Color
In hot climates, opt for light-colored materials that are breathable and lightweight, like cotton, polyester, and nylon. If there's some lycra in there, all the better as this gives the material some stretch, providing a snugger fit and enhancing comfort.
Hats with good sun protection are constructed with materials that block out the sun's damaging UVA and UVB rays. Ideally, you should look for a UPF rating of 40 to 50+. If a product has a UPF rating of 40, it will block about 98 percent of UV radiation, while a hiking hat with a rating of 50+ blocks about 99 percent.
Keep in mind that mesh ventilation sides will reduce a UPF rating by a small amount due to a small portion of sunlight that can break through the mesh holes.
The material is also an important consideration if you want to machine wash your hiking hat or if you have a preference for stiff or floppy hats.
And what about color?
For the best sun protection, find a model that has a white or light-colored top that will reflect heat from the sun, while also featuring a darker color underneath to absorb UV rays that bounce back toward your eyes and face.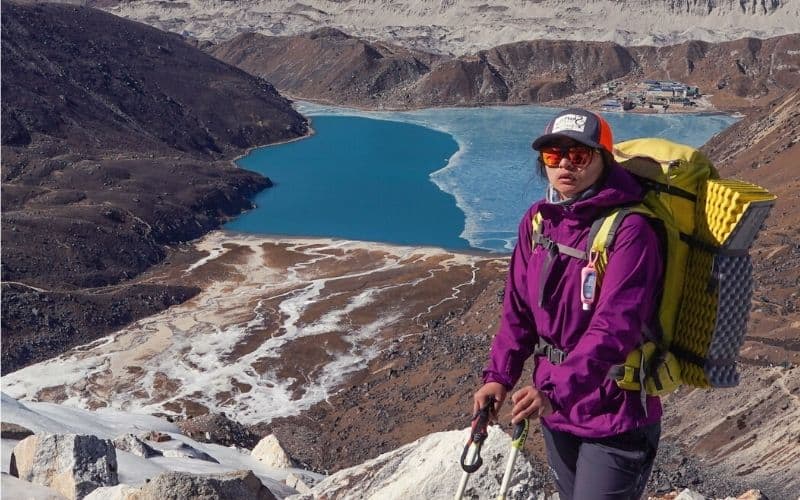 Breathability & Ventilation
Sun hats help keep your head cool on a hot day, but if they don't breathe well, they may have the opposite effect. To avoid this, ensure your hiking hat is made with breathable fabric and has sizable air vents on the sides. These will allow warm air and sweat to escape, and let fresh air circulate inside, thereby preventing overheating.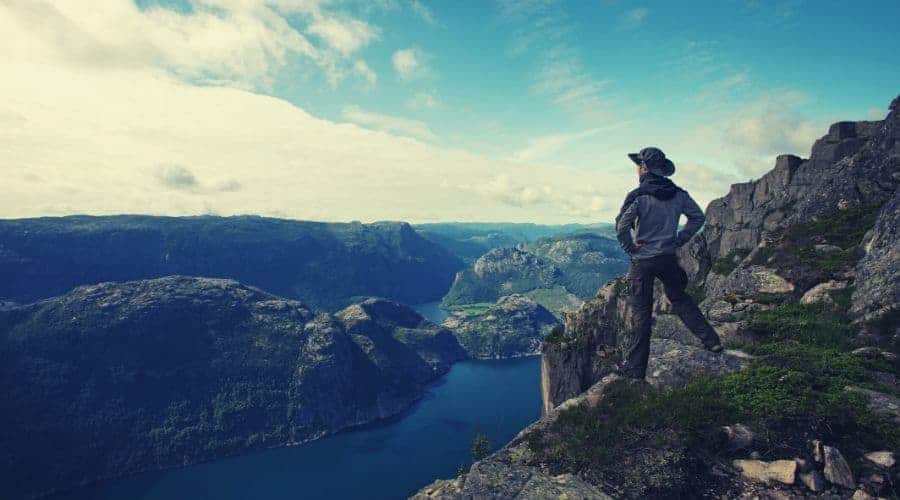 Comfort & Fit
The comfort and fit of a good hiking sun hat depend on two things: sizing and the quality of the interior sweatband.
All of the hats on our list have a comfortable sweatband, though the OR Sombriolet and The North Face Horizon Breeze Brimmer were standouts.
With regard to sizing, make sure you measure the circumference of your head and match it to the hat size before buying, or choose a model with an adjustable velcro strap or cinch-cord.
Weather Protection
All the hiking hats on our list provide UV protection, but only one offers decent rain protection—the Arc'teryx Calvus Cap, which has a DWR (Durable Water Repellent) finish.
Best Hiking Hat: The Verdict
For the perfect combination of sun protection, comfort, and breathability, the Outdoor Research Sombriolet is the one to choose. The Sombriolet boasts a barely-there feel whilst providing excellent sun protection for your head, face, neck, and ears, all while keeping your dome cool.
If you'd prefer a little extra sun protection or a cap, we recommend the Outdoor Research Sun Runner Cap. This cap is ideal for fast-paced hiking or trail running and converts into a legionnaire-style affair when you need added protection for your neck.
If you liked this post, let us know in the comments box below! And please feel free to share it with your friends.