Best Camping Toilets by Category
Budget: Reliance Luggable Loo, TRIPTIPS Portable
Folding: Reliance Products FOLD-TO-GO, TRIPTIPS Portable
Flush: Thetford Porta Potti Curve, Coleman Portable
Bucket: Reliance Luggable Loo, Stansport Portable, Loveable Loo
9 Top Portable Camping Toilets for RV Camping, Tent Camping, and Van Life
Why Use a Porta Potty While Camping?
1. It's an Easy Way to Pack Out All Your Waste
Many campgrounds or other dispersed camping areas require you to pack out all your waste when you go, and that includes human waste. A portable toilet keeps everything in one convenient place for the lucky person that has to lug it all out.
2. It Can Help You Relax
A portable camping toilet is a good alternative for people that have trouble relaxing enough to get their business done in public camp bathhouses or over a hole in the woods.
3. A Convenient Solution for Frequent Nighttime Bathroom Breaks
If you frequent the toilet often during the night, a porta potty is much more convenient than making your way to the public bathrooms.
4. It's a Good Plan B
If you want to avoid the hassle of emptying your RV's waste tank while camping, a porta potty is a good backup.
5. They're Inexpensive
RV toilets can be expensive. A portable toilet will offer you similar comfort, for much less money.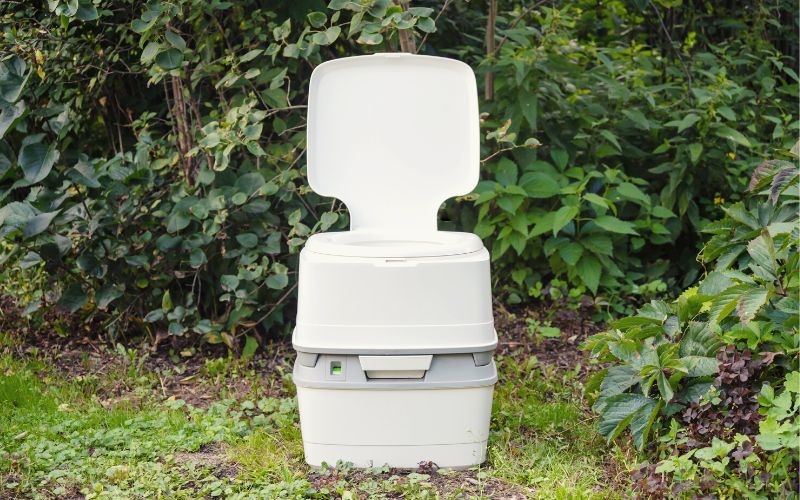 Things to Consider When Buying a Portable Camping Toilet
Types of Portable Toilets for Camping
Portable Bucket Toilets
This is the portable pissoir at its most basic, taking the form of a simple bucket with a toilet seat lid for comfort. While they don't offer many fancy features, bucket toilets are lightweight and portable. They're affordable too, with some costing barely more than a 12-pack of fancy TP (see the Reliable Luggable Loo).
Flush Toilets, Cassette Toilets, Dry Toilets, and Composting Toilets
Flushing toilets have a manual flush similar to what you'd find at home, along with a detachable tank for emptying/waste disposal. Most models of flush toilets contain chemicals in the waste tank that break down waste matter and mask any smells. While they're certainly bulkier than bucket-style toilets, they can help you avoid unpleasant whiffs.
Dry or composting toilets are similar to flush toilets, but they separate urine from solid waste and they skip the harsh chemicals by composting waste through something called the aerobic process. Portable composting toilets are more environmentally friendly than toilets that rely on chemicals and they produce less material that needs to be disposed of.
Folding Seat
A folding seat toilet is similar to a bucket-style model, without the bucket. Essentially, it's just a frame with a seat that must be combined with a disposable bag or by digging a hole underneath it. While these types of portable toilets are lightweight and easy to carry, be sure to check the weight rating.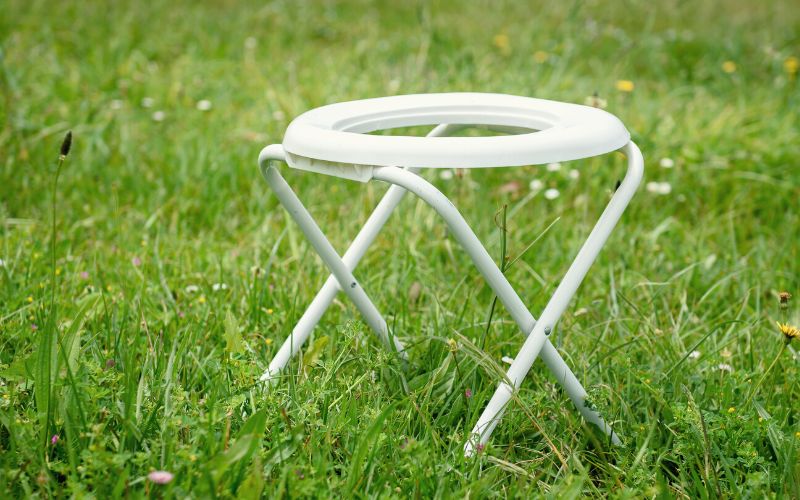 Overall Size & Capacity
The capacity of toilets refers to how much waste they will hold before they need to be dumped. A large capacity means they will have to be dumped less frequently, but they will also be heavier to carry when you do. Most campers can get by with a toilet that holds 3–5 gallons.
If you're considering a flushing toilet, keep an eye out for the size of the water tank, too. More fresh water available for flushing helps you keep the toilet bowl cleaner for longer.
Weight Capacity
Weight capacity refers to how much weight the toilet can bear while someone sits on it. This number can vary quite a bit, with folding toilets having the least capacity and flush toilets usually having the highest. The Cleanwaste Go Anywhere, for example, can support up to 500 lbs., while most of the folding models above can only handle 200-250 lbs.
Check this number carefully before buying! The last thing you want is for the commode to break while you're taking care of business.
Waste Disposal
When choosing from the many styles of camping toilets, consider how you want to dispose of your waste.
If you're planning on ditching your waste directly in a waste bin, you can get away with a bucket-style toilet with a doodie bag. You don't technically need the bag either, but then cleaning your commode will require a whole lotta' scrubbing.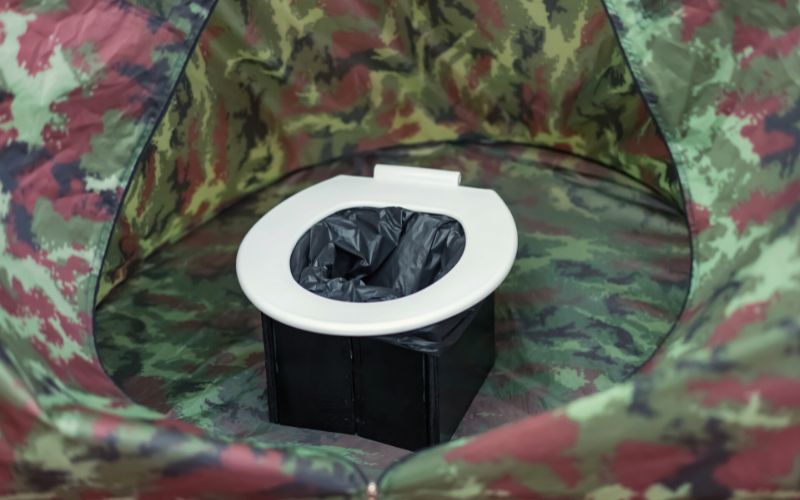 If you're planning on using the waste tank in a public restroom or a dump station, any flush toilet will do. Look for a model with a pouring spout as it makes the messy experience a whole lot easier.
Just remember – don't wait until the tank is completely full. The fuller the tank, the heavier it is to carry and trust us, some portable toilets do cause some splashing when filled to capacity.
Odors
Let's face it – a portable toilet is never going to smell like a bed of roses, but some models definitely get stinkier than others. If you're camping in an RV or van, avoid bucket-style models. A toilet like the Thetford Porta Potti does a much better job of concealing odors while a bucket toilet like Luggable Loo doesn't leave a lot to the imagination.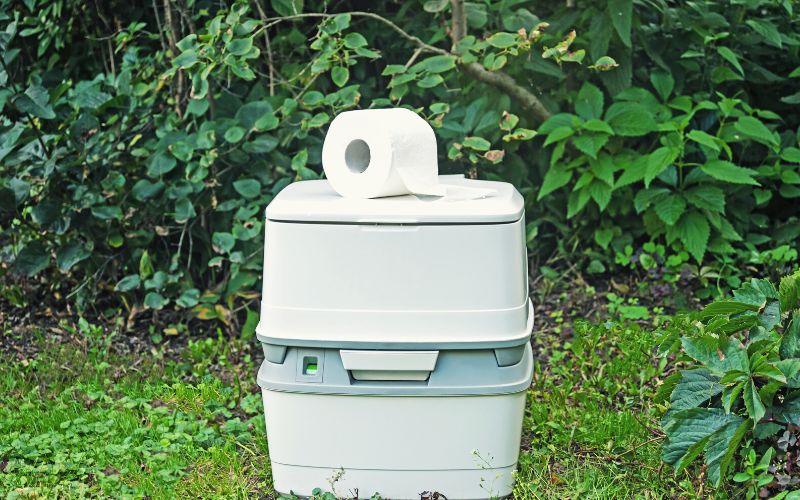 If you plan on keeping your WC away from your camp, go ahead and get that bucket-style porta potty. Just make sure it has a lid to keep critters and bugs from getting in.
Ease of Use
Portable camp toilets range in complexity from out-of-the-box ready models (like bucket toilets) to complicated, complete toilet systems. When it comes to camping toilets, the easier they are to use, the more comfort you're usually sacrificing.
Ease of use is really important when you're dealing with a big camping party. If you have to dump your waste regularly make sure it's a model that's easy to handle.
Bucket-style camp toilets are the easiest to use and they require next to no set-up. Complete systems like the Cleanwaste Go Anywhere offer the most home-like experience, but they can be tricky to set up.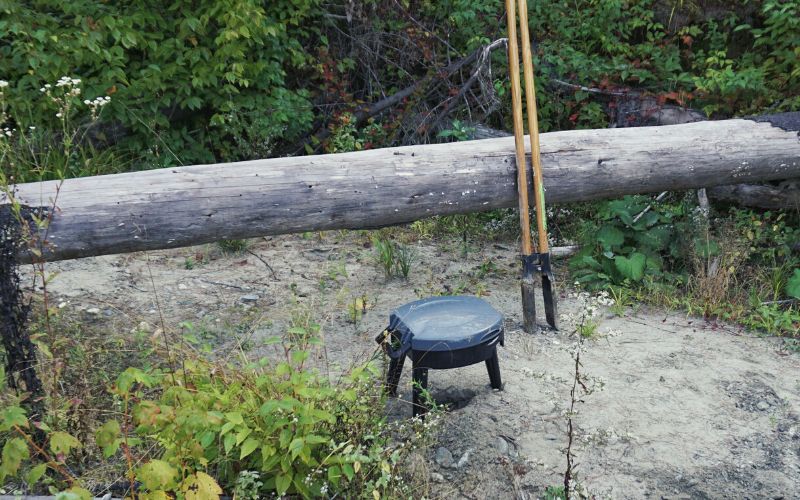 Be sure to pay special attention to the size of the seat, especially if you've got a full backside. Some portable toilet lids are quite small and can be uncomfortable to use.
Best Porta Potty Toilets: The Verdict
To sum it all up, if you're looking for a worthy camping throne, it's hard to beat the home-like comfort and smart features of the Thetford Porta Potti Curve. If you just want to keep it simple, the Reliance Luggable Loo is a great budget-friendly and hassle-free option.
We hope this guide has helped you choose the ideal portable toilet for you and your family. There are lots of portable camping toilets out there, so if we missed your favorite, tell us about it in the comments below!