If you've ever been camping, then you know that going to the bathroom in the great outdoors can be problematic. When nature calls, your only choices are, in most cases, a crowded and/or dirty campground restroom or popping a squat in the woods. There's got to be a better way, right?
If you need a comfortable and private place to do your business in nature, consider a portable camping toilet. These offer you home-like comfort while remaining easy to carry and easy to use.
So which is the best option for your camping needs? Read on to find out!
Top Choices by Category
Budget: Reliance Luggable Loo, TRIPTIPS Portable
Folding: Reliance Products FOLD-TO-GO, TRIPTIPS Portable
Flush: Thetford Porta Potti Curve, Coleman Portable
Bucket: Reliance Luggable Loo, Stansport Portable, Loveable Loo
Editor's Choice
Thetford Porta Potti Curve
The Thetford Porta Potti Curve is our top choice for best portable camping toilet. Thanks to features like a comfortable, full-sized seat, battery-powered flush, and an integrated toilet paper holder, it offers everything you need to answer nature's call in comfort.
While most portable camping toilets aren't designed for tight or confined spaces, the Thetford features a tight seal that locks out odors and prevents leaks, and a low-profile design, making it an ideal choice for small campsites or RVs. Choose the optional mounting kit and you can even secure the Potti Curve in place like a cassette toilet.
The Thetford looks the part, too, with its sleek and sophisticated design resembling the "throne" you've already got at home.
Bottom Line: The Thetford makes a fine choice for campers that don't want to give up at-home comforts while camping. Its comfortable design and smart features make it well worth the price tag!
At a Glance: Quick Recommendations
9 Top Portable Camping Toilets for RV Camping, Tent Camping, and Van Life
Thetford Porta Potti Curve
Editor's Choice
The Thetford Porta Potti Curve is on the luxurious side of portable camping toilets. It features a sleek and modern design with a comfortable, home-like seat. A battery-flowered flushing system makes it easy to use and you'll get about 56 flushes per battery.
What makes the Thetford stand apart from other portable flush toilets are its fancy features. Out of the box, it comes with an ergonomic carrying handle, a mess-free pour-out spout, a built-in toilet paper holder, and a level indicator that lets you know when it's time to empty the tank.
The Thetford has a large capacity, making it a convenient choice for families or groups. On the downside, it can get quite heavy when full. If you want to avoid making a back-breaking trip to the dump station, just dump it regularly before it becomes full.
If you're looking for a top-of-the-line camping commode, it's hard to beat the comfort and home-like feel of the Thetford. It's definitely on the pricey side for a flush toilet, but we think it's well worth the price.
PROs

Sleek and modern design
Comfortable seat
Built-in tissue holder
3-year warranty

CONs

Won't flush if batteries are dead
Pricey
Bottom-Line: The king of flush toilets for when only the finest for your backside will do! 
Reliance Luggable Loo
Best Budget
The Reliance Luggable Loo is essentially a fancy bucket with a lid, but don't give up on it just yet! Thanks to its simple design, it's incredibly easy to use, easy to clean, and easy to carry. All of this makes it a great, no-fuss toilet for families with kids.
The Reliance is a bucket-style toilet with a snap-on seat and cover. Combine it with Reliance's compatible "Double Doodie Bags" (or any other disposable waste bags) and the bag will catch everything for easy disposal.
Overall, the Reliance makes a good entry-level option for budget-conscious campers looking for an easy and lightweight bathroom solution.
The Reliance is backed by a 5-year warranty, too. If for any reason your Reliance is defective, you'll receive a free replacement.
PROs

Affordable
Good support capacity
Easy to use
Lightweight

CONs

Lid lacks stability
A bit pricey
Bottom-Line: The most affordable portable travel toilet on our list and ideal for campers who need a lightweight bathroom solution without the frills. 
Stansport Portable
Best Bucket
Enjoy all the convenience and ease of use of a bucket-style WC without it looking like, well, just a bucket.
The Stansport Portable is a compact and lightweight portable toilet that features a comfortable, full-sized seat. As with most bucket-style toilets, there is no learning curve – you just attach a bag and get down to business. It's a bit of an upgrade from the Reliance Luggable Loo and that's reflected in its higher price tag.
The Stanspot features a surprisingly strong construction for a bucket-style toilet (although the Luggable Loo can withstand more weight). Since it weighs less than 10 lbs., it's a good choice for minimalist campers who don't want to lug around a heavy commode. Built-in handles are included for easy carrying.
PROs

Lightweight
Comfortable seat
Easy to use

CONs
Bottom-Line: The convenience of a lightweight bucket-style toilet with the comfort of a full-sized toilet seat. 
Coleman Portable
Honorable Mention
With the Coleman Portable, you can handle nature's call in style. Thanks to comfort-enhancing features like an ergonomically-designed, elongated seat and one hand-flushing, it's almost as good as using your own bathroom!
The Coleman has a 5.3-gallon, self-contained holding tank/waste tank, so it's a great choice for large families or groups. When it's time to empty the waste tank, a convenient handle on each side of the tank makes it easy to carry.
One of the only downsides of the Coleman is its hefty weight, so make sure you don't mind lugging around a bulky, camping porta potty. If you're looking for a similar, but lighter, flushing toilet, try the Thetford Porta Potti Curve instead.
PROs

Separates fresh water and waste
One hand flush
Comes with a hose connector
Leak-free

CONs
Bottom-Line: Perfect for campers that demand at-home comfort and convenience from their portable toilets. 
Loveable Loo Compost
Most Eco-Friendly
The Loveable Loo is a composting toilet from the mastermind of humanure composting systems himself, Joseph Jenkins. This easy-to-install and eco-friendly option will compost your waste with no water, electricity, plumbing, or chemicals. Unlike some other eco-friendly models, moreover, you don't have to separate the solids and liquids.
Each Loveable Loo is handmade from durable sanded birchwood plywood and requires only a screwdriver to assemble. If properly managed, the Loveable Loo is surprisingly odor-free.
New to composting toilets? Don't worry, the handbook included with each Loveable Loo will teach you everything you need to know to get started.
PROs

Durable material and construction
Stable design
Eco-friendly

CONs

Heavy
Bucket needs to be changed from time to time
Bottom-Line: The perfect off-grid choice for environmentally-conscious campers.
Nature's Head Composting Toilet
Best Dry
Though pretty pricey, the Nature's Head toilet is arguably the top, low-hassle composting dry toilets available.
The Nature's Head Composting Toilet resembles a standard bathroom commode and is conveniently designed to be odor- and maintenance-free. A mixture of peat moss or coconut coir is used to speed up the decomposition process of the solid waste. This leaves an earthy odor behind that won't stink up your RV or campsite.
If you're worried about the dumping process, don't be! With its massive tank size, solids only need to be emptied after 80 uses.
PROs

Environmentally-friendly
Stable design
5-year warranty

CONs
Bottom-Line: Funky odors are a thing of the past with this vast improvement over older composting toilet designs.
Cleanwaste Go Anywhere Complete System
Best Support Capacity 
If you're a big and tall camper looking for a sturdy compact toilet that provides both comfort and height, look no further than the Cleanwaste Go Anywhere System.
Remember, appearances can be deceiving! Despite being made from plastic and weighing only 7lbs, the Cleanwaste actually has the highest support capacity on our list and can support up to 500lbs when on sturdy ground. Each leg easily pulls into place making setup a breeze.
Since the Cleanwaste relies on a doodie bag system, you won't have to worry about mixing harsh chemicals or visiting the dump station either.
PROs

High support capacity
Portable
Lightweight

CONs

Expensive
Assembly needed
Bottom-Line: Thoughtfully engineered and surprisingly sturdy for such a compact toilet. 
Reliance Products FOLD-TO-GO
Best Folding Seat Toilet
The Reliance FOLD-TO-GO is the camping toilet that does it all! This mighty three-legged folding toilet acts as a camping stool with its cover on and then converts into a portable camp toilet with the cover removed.
It's easy to maintain and easy to clean, too. Just throw the cover, sleeve, and carrying case directly into the wash. Thanks to its light weight, you can easily strap the FOLD-TO-GO to your pack or swing it over your shoulder.
Just take note of its 250-pound support capacity – if you need a commode that can handle more weight, try the TRIPTIPs instead.
PROs

High support capacity
Portable
Lightweight

CONs

Expensive
Assembly Needed
Bottom-Line: Minimalist campers will enjoy this lightweight commode that doubles as a camping chair. 
TRIPTIPS Portable Folding Toilet
Best Value
Looking for an ultra-lightweight and compact camping bathroom solution? It doesn't get much easier to use or lighter to carry than the TRIPTIPs. At just 2.9lbs it's the lightest portable toilet on our list, and it also packs down to a tiny 2.4 inches high.
Recently redesigned, the TRIPTIPS is now a taller size to provide an even more comfortable experience. It's ridiculously easy to set up, too and snaps into place in just a few seconds.
If you're a budget-conscious camper looking for a lightweight yet durable camping solution, treat your bottom to the TRIPTIPs.
PROs

Ultralightweight
Easy assembly and disassembly
Eco-friendly materials

CONs
Bottom-Line: With its ease of use and simple set-up, the TRIPTIPS offers plenty of bang for your buck.
Why Use a Porta Potty While Camping?
1. It's an Easy Way to Pack Out All Your Waste
Many campgrounds or other dispersed camping areas require you to pack out all your waste when you go, and that includes human waste. A portable toilet keeps everything in one convenient place for the lucky person that has to lug it all out.
2. It Can Help You Relax
A portable camping toilet is a good alternative for people that have trouble relaxing enough to get their business done in public camp bathhouses or over a hole in the woods.
3. A Convenient Solution for Frequent Nighttime Bathroom Breaks
If you frequent the toilet often during the night, a porta potty is much more convenient than making your way to the public bathrooms.
4. It's a Good Plan B
If you want to avoid the hassle of emptying your RV's waste tank while camping, a porta potty is a good backup.
5. They're Inexpensive
RV toilets can be expensive. A portable toilet will offer you similar comfort, for much less money.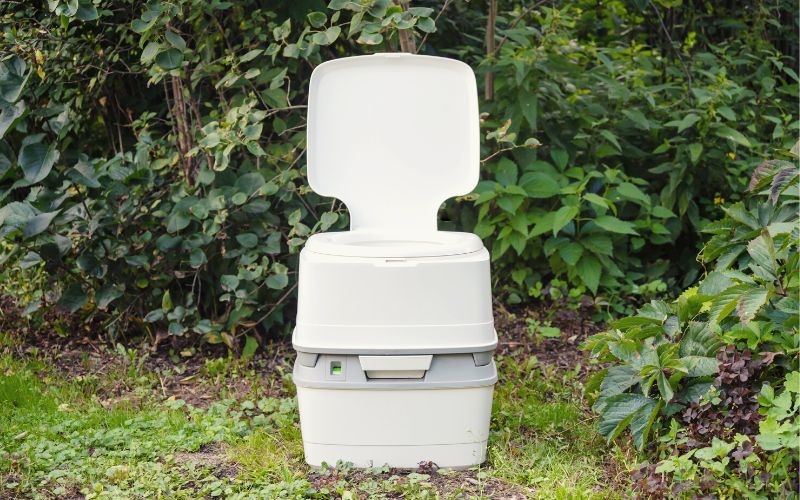 Things to Consider When Buying a Portable Camping Toilet
Types of Portable Toilets for Camping
Portable Bucket Toilets
This is the portable pissoir at its most basic, taking the form of a simple bucket with a toilet seat lid for comfort. While they don't offer many fancy features, bucket toilets are lightweight and portable. They're affordable too, with some costing barely more than a 12-pack of fancy TP (see the Reliable Luggable Loo).
Flush Toilets, Cassette Toilets, Dry Toilets, and Composting Toilets
Flushing toilets have a manual flush similar to what you'd find at home, along with a detachable tank for emptying/waste disposal. Most models of flush toilets contain chemicals in the waste tank that break down waste matter and mask any smells. While they're certainly bulkier than bucket-style toilets, they can help you avoid unpleasant whiffs.
Dry or composting toilets are similar to flush toilets, but they separate urine from solid waste and they skip the harsh chemicals by composting waste through something called the aerobic process. Portable composting toilets are more environmentally friendly than toilets that rely on chemicals and they produce less material that needs to be disposed of.
Folding Seat
A folding seat toilet is similar to a bucket-style model, without the bucket. Essentially, it's just a frame with a seat that must be combined with a disposable bag or by digging a hole underneath it. While these types of portable toilets are lightweight and easy to carry, be sure to check the weight rating.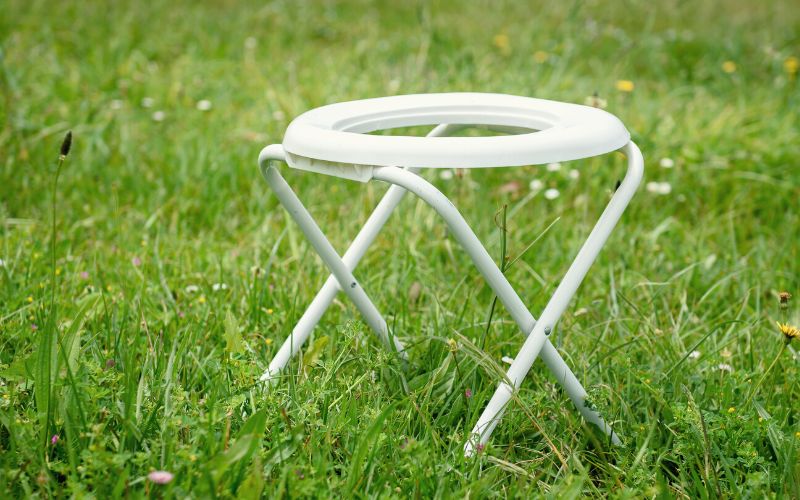 Overall Size & Capacity
The capacity of toilets refers to how much waste they will hold before they need to be dumped. A large capacity means they will have to be dumped less frequently, but they will also be heavier to carry when you do. Most campers can get by with a toilet that holds 3–5 gallons.
If you're considering a flushing toilet, keep an eye out for the size of the water tank, too. More fresh water available for flushing helps you keep the toilet bowl cleaner for longer.
Weight Capacity
Weight capacity refers to how much weight the toilet can bear while someone sits on it. This number can vary quite a bit, with folding toilets having the least capacity and flush toilets usually having the highest. The Cleanwaste Go Anywhere, for example, can support up to 500 lbs., while most of the folding models above can only handle 200-250 lbs.
Check this number carefully before buying! The last thing you want is for the commode to break while you're taking care of business.
Waste Disposal
When choosing from the many styles of camping toilets, consider how you want to dispose of your waste.
If you're planning on ditching your waste directly in a waste bin, you can get away with a bucket-style toilet with a doodie bag. You don't technically need the bag either, but then cleaning your commode will require a whole lotta' scrubbing.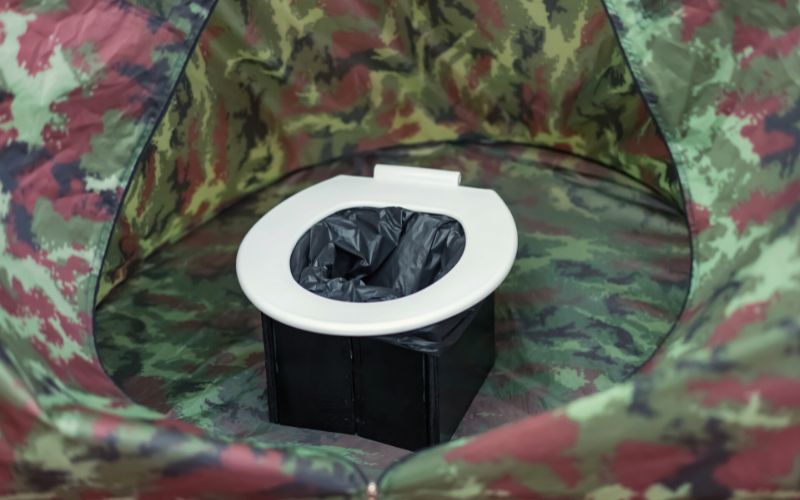 If you're planning on using the waste tank in a public restroom or a dump station, any flush toilet will do. Look for a model with a pouring spout as it makes the messy experience a whole lot easier.
Just remember – don't wait until the tank is completely full. The fuller the tank, the heavier it is to carry and trust us, some portable toilets do cause some splashing when filled to capacity.
Odors
Let's face it – a portable toilet is never going to smell like a bed of roses, but some models definitely get stinkier than others. If you're camping in an RV or van, avoid bucket-style models. A toilet like the Thetford Porta Potti does a much better job of concealing odors while a bucket toilet like Luggable Loo doesn't leave a lot to the imagination.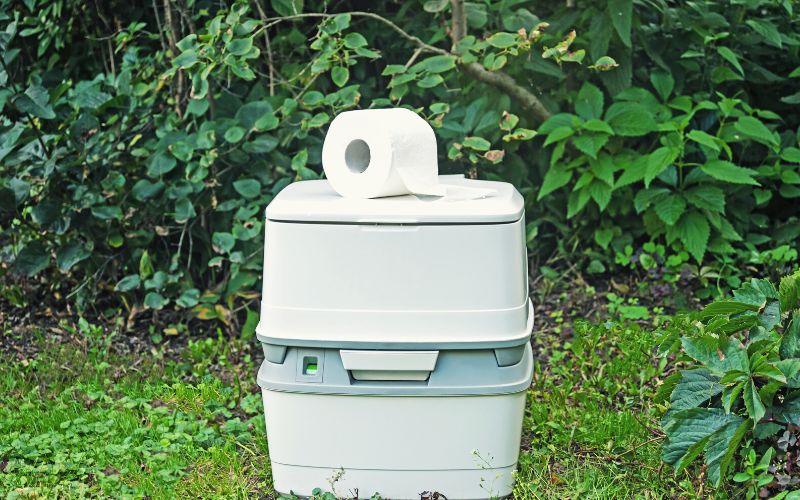 If you plan on keeping your WC away from your camp, go ahead and get that bucket-style porta potty. Just make sure it has a lid to keep critters and bugs from getting in.
Ease of Use
Portable camp toilets range in complexity from out-of-the-box ready models (like bucket toilets) to complicated, complete toilet systems. When it comes to camping toilets, the easier they are to use, the more comfort you're usually sacrificing.
Ease of use is really important when you're dealing with a big camping party. If you have to dump your waste regularly make sure it's a model that's easy to handle.
Bucket-style camp toilets are the easiest to use and they require next to no set-up. Complete systems like the Cleanwaste Go Anywhere offer the most home-like experience, but they can be tricky to set up.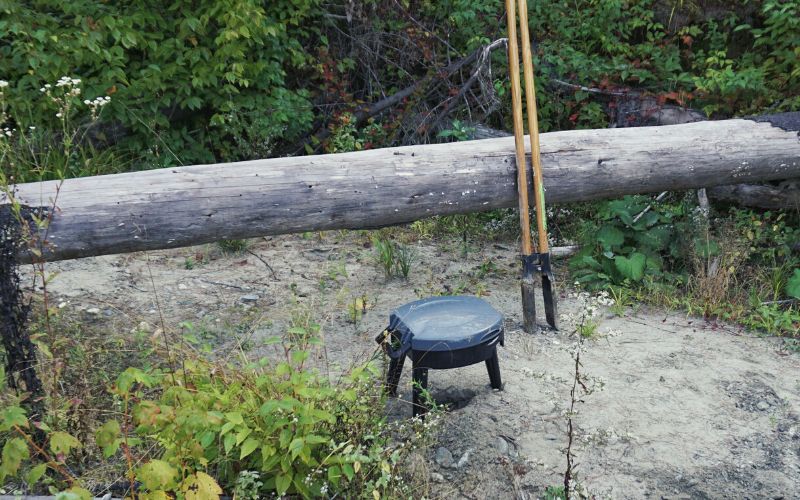 Be sure to pay special attention to the size of the seat, especially if you've got a full backside. Some portable toilet lids are quite small and can be uncomfortable to use.
Best Portable Toilet: The Verdict
To sum it all up, if you're looking for a worthy camping throne, it's hard to beat the home-like comfort and smart features of the Thetford Porta Potti Curve. If you just want to keep it simple, the Reliance Luggable Loo is a great budget-friendly and hassle-free option.
We hope this guide has helped you choose the best portable toilet for you and your family. There are lots of portable camping toilets out there, so if we missed your favorite, tell us about it in the comments below!