As most hikers know, the weather gods like to keep us on our toes by throwing in the odd shower or downpour from time to time. And when they do, the hoods on our rain jackets can leave a lot to be desired…
Even the best of hoods out there, after all, can fail to keep rainfall out of your eyes when the wet stuff's coming sideways. Or tend to stick to your head like a very pricey piece of shrink wrap. Or, alas, feel not much less claustrophobic than your average coffin.
So, what to do?
Well, a simple solution to each of the above annoyances exists in the form of an awesome hiking accessory that's far from sexy but beats more or less all others in terms of practicality: the rain hat.
Below, we're going to introduce you to the top-ranked products the outdoor industry has to offer, right after a short explainer to help you find the best option for your needs.
Editor's Choice
Outdoor Research Seattle Sombrero
After much consideration, we deem the best hiking rain hat to be one that provides the most coverage and uses the top waterproof membrane on the market today.
The Seattle Sombrero is made for stormy weather, using a 3-layer membrane that is the most protective, durable, and breathable your money can buy. The dense 70D plain weave also makes this fabric both harder-wearing and better equipped to fend off airborne H20 than the vast majority of the competition.
On top of that, the OR Seattle includes a Polyurethane (PU) coating that causes water to bead up on the surface and run off before saturating the fabric, and taped seams to prevent leaks. It's also as comfy as they come and, dare we say it, a bit of a winner in the looks department, too!
Bottom Line: This hardshell waterproof hat is built for optimal performance in the wettest of wet weather, packing all the technical features and specs that any all-weather wanderer could ask for.
What To Look For When Buying A Rain Hat For Hiking
What is a Rain Hat?
A hat is a great way to add style to your daily wardrobe. When it comes to hiking, though, style is a choice, but functionality is essential.
Hiking rain hats are quick-drying and made with water-resistant materials like nylon or polyester. A taped seal is then applied to the sewn seams to prevent water from leaking through.
Waterproof rain hats will also include a breathable laminate or membrane in the center tier of the material for an extra layer of waterproofing and wind resistance.
A thin layer known as a durable water-repellent (DWR) coating is also applied to the outside layer of the hat's material to increase the level of water resistance. DWR helps the moisture bead up and roll off the outer fabric, thus providing a "first line of defense" against saturation.
Are There Different Styles of Waterproof Hats?
There are many types of rain hats out there, all of which bring something a little different to the table. These are the most popular:
Boonie – Similar in shape to a sun hats, these feature a wide, 360-degree brim.
Baseball cap – Great for keeping rain out of your eyes; poor coverage otherwise.
Bucket-style – A low-profile version of the boonie, using a shorter brim.
Floppy – Similar to the boonie but, as the name suggests, with less rigid material.
Outback – The true Indian Jones-style, featuring a wide, fedora-like brim.
Winter hats – Lined with fleece or flannel for insulation.
Legionnaire-style – Usually styled like a boonie, but adds a "cape" in the rear to cover the neck.
ProTip: Rain hats for women tend to offer a little more in the way of color choices, but are sized a little smaller. The "mens rain hat" category, on the other hand, tends to favor fairly bland earth tones color-wise and has slightly larger sizing. Otherwise, the difference between the two is negligible.
What are the Benefits of Owning a Rain Hat?
If you're someone who loves hiking all year round, a rain hat is an awesome addition to your kit.
This accessory takes up very little room in your pack and, in some cases, can weigh just a fraction more than your average granola bar.
A rain hat will not only keep rainwater out of your eyes and keep your head and hair dry, but also prevents water from dripping down your neck into your jacket. Plus, you get to claim Indiana Jones coolness status, too.
A rain hat is also great during snowy conditions. Snow can soak through cotton hats or beanies quickly. In freezing conditions, this can spell serious trouble because you can lose 7 to 10 percent of body heat through your head and water can also conduct heat from your body up to 25 times faster than air.
What is UPF Protection and Why Is It Important?
A rain cap will often have an Ultraviolet Protection Factor (UPF) rating. A UPF sun protection rating tells you how much UV radiation a fabric will allow to reach your skin. A fabric with a UPF 50 rating will block 98% of the sun's rays and allow 2% (1/50th) to pass through to your skin.
Why is UV protection important when it is raining? On partly cloudy days, the "broken cloud effect" can occur. When it does, it can expose you to higher UV levels than on a day without clouds.
When hiking at higher elevations, moreover, you can be exposed to 25% more ultraviolet radiation compared to at sea levels. So a great hat with UPF protection is key on days when you haven't applied sunscreen.
The Best Rain Hat for Hiking: Our Top 5 Picks
Outdoor Research Seattle Sombrero
Editors Choice
This hardshell hat is one made for the heaviest of downpours, boasting fully taped seams and a three-layer, waterproof-breathable Gore-Tex membrane. It also uses a 70D plain weave crown that's tightly knitted for added leak-resistance and a wide, PU-coated polyester brim.
But this has got a lot more going for it than outstanding waterproofing alone…
It uses a brushed tricot-lined crown that feels comfortable around your forehead and wicks away any perspiration like a champ. Meanwhile, the "floating foam" brim helps to ensure the material isn't flapping in your eyes and rainwater is funneled well clear of your face and neck.
Other endearing features include a brim hook, loop adjustment, and a removable chin cord for when it's not windy. It also weighs in at a mere 3.2 ounces, has a UPF 50+ rating, and folds easily for packing. The sides of the brim are designed to fold up and attach by velcro when you don't need the extra coverage.
PROs

3-layer membrane
Wide brim
9 color options

CONs
Bottom-Line: It may be pricey, but the OR Seattle goes the extra mile in terms of providing the protection you need in really wet weather.
REI Co-op Waterproof Sombrero
Best Value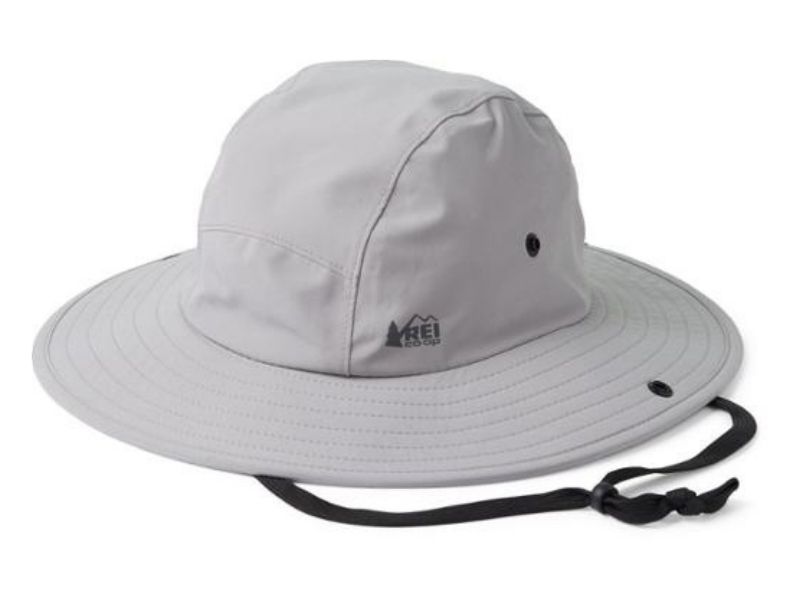 The REI Co-Op has changed the name of its Waterproof Sombrero. It is now called the Waterproof Brimmed Hat but is still designed with REI's very own 2.5-layer laminate along with fully taped seams.
The REI Sombrero includes a 4-panel design, assembled with a low-profile soft crown and 3-inch brim made from 89% polyester and 11% spandex for greater packability.
Features include a cool mesh lining for wicking and comfort, and a removable leash for when the wind isn't blowing too fiercely. And when the wet weather abates, the brim can be folded up and secured with small metal snaps on each side.
The REI Brimmed Hat has a UPF rating of 50 to protect your face and neck from unwanted UV rays on cloudy days.
Unfortunately, REI does not specify whether their Waterproof Sombrero is lined with a DWR coating, so you may need to do a little extra proofing on your own. And REI only offers it in one color, alloy grey.
PROs

Affordable
Easy to pack
Side snaps
Bluesign® certified

CONs

Brim soaks up water
Only comes in one color
Bottom-Line: The REI Waterproof Brimmed Hat ticks all the boxes for buyers in search of a low-cost, comfortable, and practical hiking hat for all but the heaviest downpours.
Sunday Afternoons Storm Bucket Hat
Best All Weather
Sunday Afternoons are known for their vast array of trekking hats. Their Storm Bucket is one of the most popular and is a great choicefor just about any sort of weather.
Made of 100% polyester, the Storm Bucket includes Sunday Afternoons' very own breathable H20Shield. This fabric sheds water quickly whilst also preventing the buildup of sweat inside.
Other non-standard features that make the Storm Bucket a winner for varied weather conditions include a 3-inch downsloping brim that ensures all H20 drips off well clear of your face and collar, and a UPF 50+ rating.
The Storm Bucket includes internal adjustable sizing and a comfortable mesh wicking sweatband. The chin cord is also adjustable, so it will stay on if conditions happen to take a turn for the blustery.
At just 2.5 ounces, the Storm Bucket is one of the lightest lightweights on our list, and also folds up neatly to be stuffed in the corner of your pack or even a pocket. While the color choices are limited, the blue, sequoia, and mulberry options available should cover most tastes.
PROs

Simple design
Easy to pack
Downsloping brim
Runs true to size

CONs

No adjustability
Not many color variations available
Bottom-Line: The Storm Bucket is a true all-rounder, performing just as well on sultry sunny days as it does when the weather's doing its absolute worst. 
Sunday Afternoons Ultra Adventure Storm
Best Coverage
The Ultra Adventure Storm by Sunday Afternoons is designed for the adventurer who wants maximum coverage.
This 100% waterproof, legionnaire-style hat has a 3¼-inch Reverse Split Brim that's reinforced with three wired panels to ensure in-your-face fabric flapping is kept to a minimum. And to protect your neck from the elements, it also features a 6-inch-long neck cape. This add-on may look like a mullet for hats, but it's super handy to have in both sunny and stormy conditions.
The materials in the Storm are 100% waterproof, using taped 2-layer nylon in combination with polyester bluesign fabric. It also includes reflective strips on the back of the crown, which is perfect for visibility on dark cloudy days or night hikes, and boasts a UPF rating of 50+.
The only thing Sunday Afternoons neglected to include in the Ultra Adventure Storm is a roll-up feature for the neck cape. This small omission aside, however, the Storm's a great choice for those who prioritize protection over appearances.
PROs

Reinforced brim
Extra coverage on the back of the neck
Reflective details for night hikes
Bluesign polyester fabric
Weighs just 2.9 oz.

CONs

No side fold-up snaps or velcro
No fold-up snap for the neck cape
Bottom-Line: An ultra-light and uber-practical accessory that's ideal for those who want added protection and plenty of trail-specific features.
Frogg Toggs Waterproof Breathable Boonie Hat
Best Budget
Sometimes simpler is better. That is what Frogg Toggs has going on with their Waterproof Breathable Boonie.
But hidden behind this 100% waterproof boonie's humble outward appearance is a highly sophisticated multi-layering system. One that, importantly, performs just as well in wet weather as those used on hats with far less favorable price tags.
The outer layer of the Boonie consists of a non-woven fabric blend that offers excellent wind resistance, breathability, and comfort, while the DriPore Gen 2 waterproof film middle layer does a great job of blocking precipitation.
The Boonie is also among the most portable budget models on the market, crushing down into a tiny bundle and weighing just 3.1 ounces.
And the downsides?
Well, the slightly quirky sizing (which runs small) aside, the Boonie has no other faults or flaws of note. Not bad for a budget-priced product, right?
PROs

Very affordable
Simple design
Compressible

CONs

One size fits all doesn't fit all
Runs small
Slightly papery feel
Bottom-Line: A lightweight, affordable hat that lacks some of the bells and whistles of pricier models but is an outstanding choice for buyers who prioritize functionality over frills.