As that old saying goes, prevention is better than cure. While there are plenty of effective remedies and cures for blisters and chafed feet out there – moleskin, ointment, etc. – a far easier solution exists in the form of the sock liner.
These liners for hiking are ultra-thin, breathable, lightweight socks that you wear under your regular socks as a means of preventing blisters, hot spots, and uncomfortable rubbing. While they're no guarantee that you won't experience any of these foot issues on the trail, many hikers swear by them as a means of mitigating the risk.
In this post, we review 7 of the best, from luxurious merino wool and silk models to affordable, ultra-durable nylon models. Below our reviews, you'll also find detailed advice to help you choose the perfect pair for you.
Top Choices by Category
Budget: Realtree and REI Co-Op Coolmax
Merino: REI Merino Crew and Icebreaker Liner Crew
Silk: REI Co-op Silk Crew
Synthetic: REI Co-Op Coolmax
Editor's Choice
REI Co-op Merino Wool Liner Crew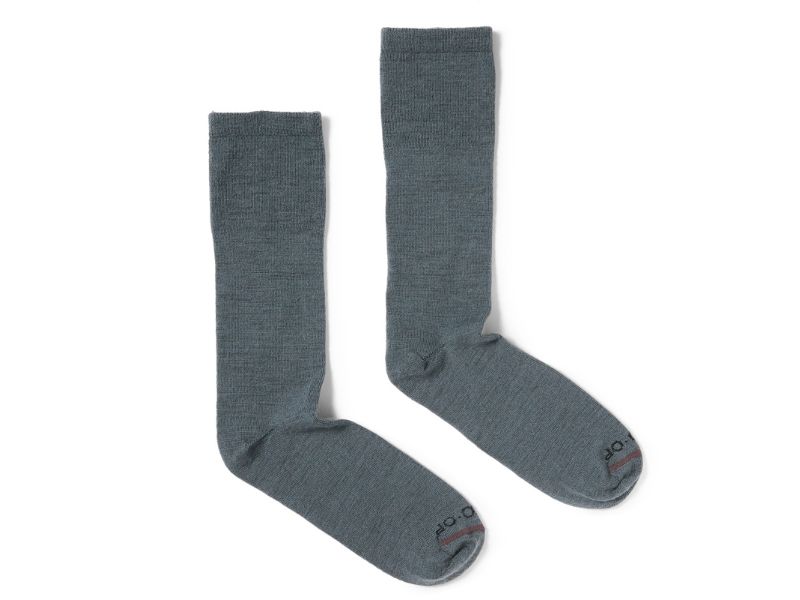 In most cases, finding perfect footwear comes down to personal choice and/or a little bit of trial and error. After much deliberation, trialing, and testing, however, we believe that the REI Co-Op Merino Crew will be the best sock liner out there for the greatest number of hikers.
The REI Merino Crew feel super-soft against the skin and are so thin that you won't notice the extra bulk. Unlike many merino competitors, however, they're also built to deal with the use and abuse of trail life.
The high merino content makes this sock liner breathable, high-wicking, and odor-resistant, while their nylon content ensures they won't wear thin or develop holes in a hurry. The heel and toe areas are reinforced, but the seamless design and light compression mean there's no risk of chafing or bunching.
All in all, this is an excellent sock at a great price and one that's suitable for all seasons of the year, too.
Bottom Line: Comfortable, hardwearing, and high performers in both hot and cold weather.
At a Glance: Quick Recommendations
Best Sock Liners for Hiking: Our Top 7 Picks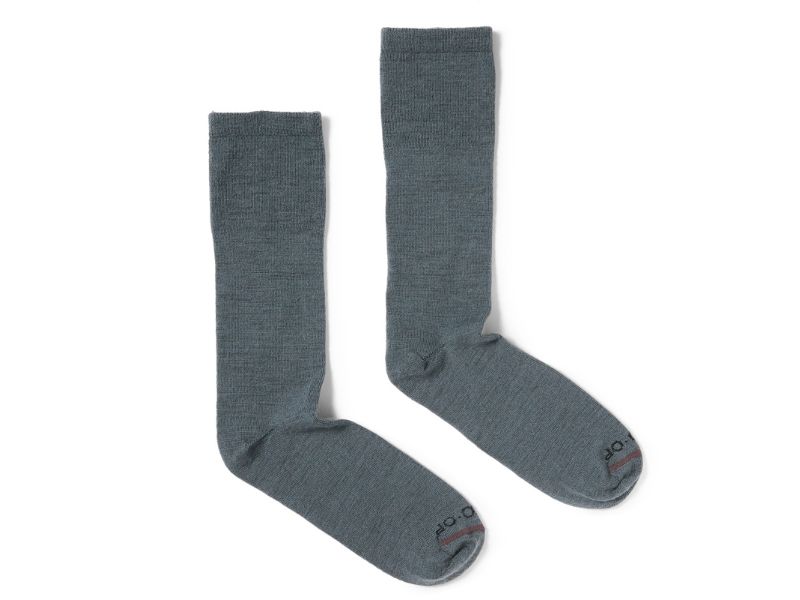 REI Co-op Merino Wool Liner Crew
Editor's Choice
If the perfect combo of comfort, compression, moisture management, and durability sounds good to you, then the REI Co-Op Merino Wool Liner Crew is the sock for you!
The REI Merino Liner's blend of material brings you the best of all possible worlds. Its 64% merino wool content brings the comfort, heat regulation, moisture management, and odor resistance. The 34% nylon adds durability, and the 2% spandex provides light compression whilst helping the sock maintain its shape over time.
There's no cushioning in this liner, but that isn't necessarily a bad thing. If you're wearing them under your regular hiking socks, you'll already have plenty from them, so the added bulk might feel a little uncomfortable or simply unnecessary.
A few other details help to make the REI Merino liner a standout, namely the seamless construction and the reinforced toe and heel. While the former helps to prevent chafing and blisters, the latter gives them the edge over many competitors in the durability metric.
PROs

Breathable and high-wicking fabric
Naturally antimicrobial and odor-resistant
Fairly priced
Responsibly sourced merino
Seamless toes
Durable

CONs

No cushioning (a 'pro' for some!)
Bottom-Line: Comfortable, ultralight, and built for long-term performance in all weathers.
Icebreaker Liner Crew
Runner Up
The Icebreaker Liner Crew is, essentially, a slightly tougher alternative to the REI Merino crew reviewed above. While its higher nylon content (43%) and lower merino content (55%) make it slightly less breathable and not quite as soft, it does mean you'll get a little more use out of them before they start to wear thin and develop holes.
What we love most about these socks is their versatility. While thin and breathable enough to keep our feet cool in warm temperatures, they also add ample warmth for winter hikes.
Like all merino models, the Icebreaker Crew is naturally antimicrobial, high-wicking, and breathable. However, they also have extra cushioning in the heel and toe area and a little added support in the heel and instep, which might seal the deal for some hikers.
PROs

Lifetime guarantee
Durable
High-wicking
Keep foot odor to a minimum

CONs

Not quite as comfortable as the REI Merino Liner Crew
Pricey
Bottom-Line: A hard-wearing and performance-oriented pair of socks that excel in all weather conditions.
Realtree Men's Liner Socks
Best Budget
Realtree's synthetic liners are a great option if you're in the market for a basic, workhorse liner or simply don't want to splurge on merino or silk.
While not as comfy as merino or silk, the Realtree liner's 98% polypropylene and 2% spandex construction makes them a little tougher and machine washable, while also providing ample stretch and breathability.
The Realtrees' synthetic construction means they don't offer antimicrobial properties and won't regulate temperature like merino. On trial, however, we found they wicked moisture well and only left our feet feeling a little too toasty when temps pipped the 85-degree mark. They also provided light arch support, which was an unexpected bonus.
PROs

Cheap!
Durable
Light arch support
Breathable
Wick moisture well

CONs

Lack odor-resistance
Not as comfortable as merino
Bottom-Line: Cheap, cheerful, and the ideal workhorse liner for hikers with less fussy feet.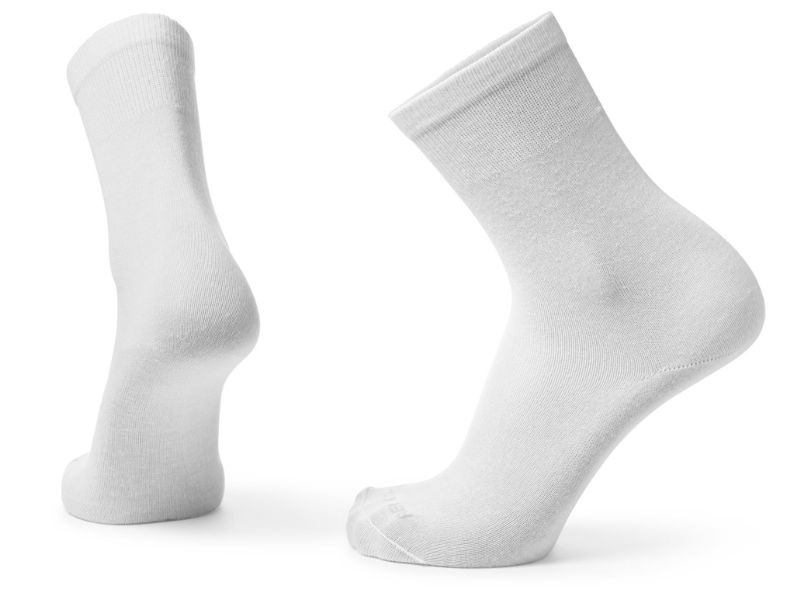 REI Co-op COOLMAX EcoMade Liner Crew
Best Value
Constructed in part with recycled plastic bottles, the REI Co-op CoolMax are our top pick for hikers who favor sustainable gear.
A full breakdown of these socks' composition reads 50% CoolMax, 49% nylon, and 1% spandex. On the trails, these 'ingredients' translate into long-term durability and great breathability, but slightly inferior wicking and comfort compared to merino-rich competitors. The lower spandex content also made them feel a little stiffer and slightly short on compression.
Given the above, who are these socks for? While it's largely a matter of personal preference, we recommend the REI CoolMax to anyone seeking a workhorse that's a little more performance-oriented than budget picks like the Realtree Liner but more affordable than pricier options like the Icebreaker Liner Crew or REI Merino Crew.
PROs

Made with sustainable materials
Highly breathable
Durable
Affordable
High-wicking
Flat toe seams

CONs

Not as comfortable as merino or silk options
Bottom-Line: Not as comfortable as some of the alternatives but far cheaper and more durable.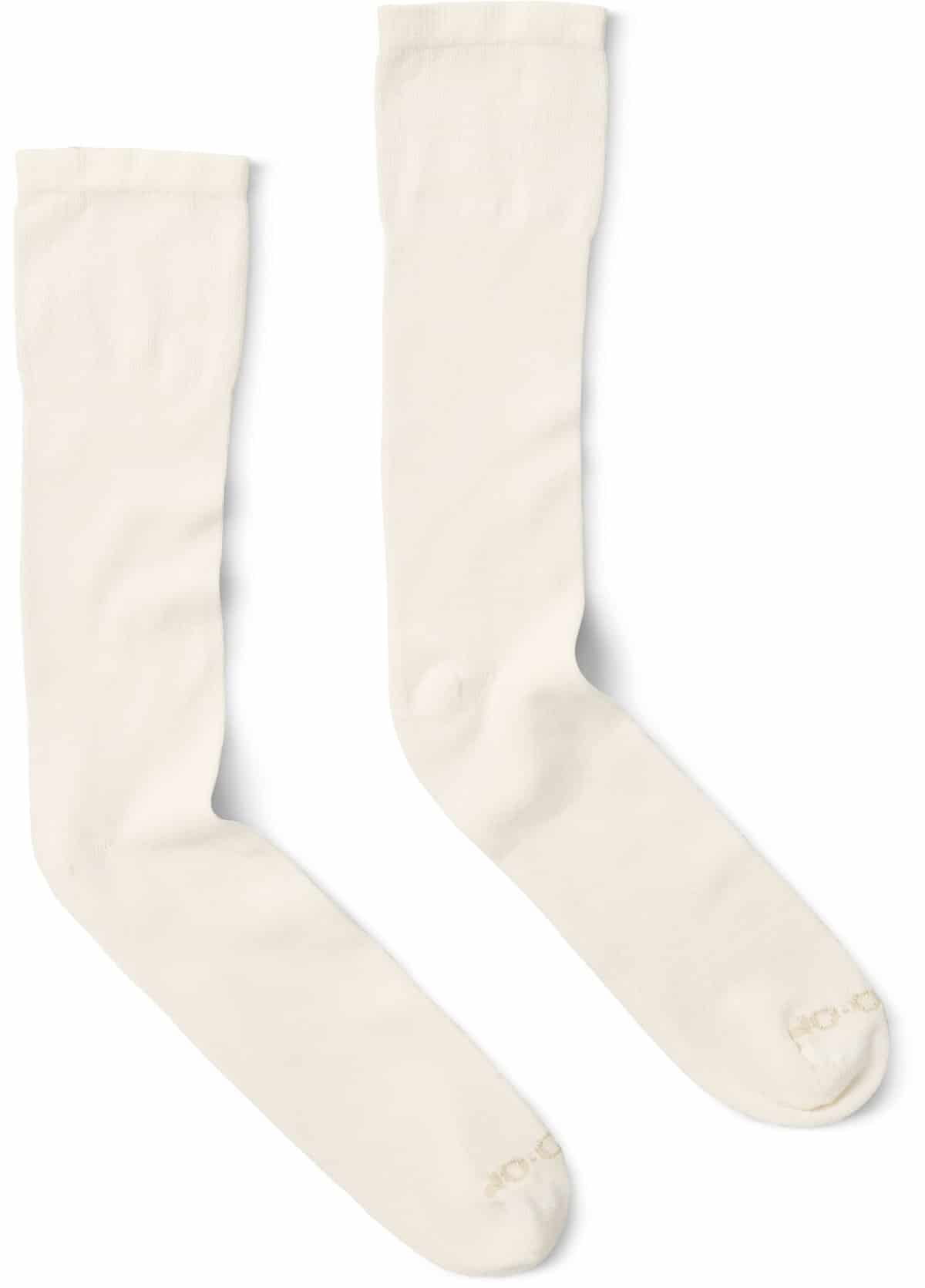 REI Silk Liner Crew
Best Silk Sock Liners
If you want to treat your feet to all the awesomeness of silk without worrying about silk's usual shortcomings (poor rip resistance and inferior durability), the REI Silk Liner Crew are the socks for you!
Made with 51% silk, 47% nylon, and 2% spandex, the REI Silk Crew sock liners bring together all the desirable qualities we look for in a liner. They have the plush softness of silk, the hardiness of nylon, and the elasticity of spandex, all in good measure. And best of all, they don't cost an arm and a leg.
We loved these sock liners' ultra-low profile, which makes them a great choice for anyone worried about liners adding too much bulk and making their hiking shoes an overly tight fit. We also found that they wick just as well as any merino-rich alternatives, breath well when we're working up a sweat, and dry very quickly.
The only real downside is that silk doesn't regulate temperature as well as merino, nor feel quite as cushy. While this is more of a testament to the strengths of the merino socks featured above, it does force us to rate models like the REI Merino Crew and Icebreaker Crew a little higher for year-round use.
PROs

Ultralight (ideal if carrying multiple pairs on backpacking trips)
Breathable
Durable
Ultra-thin fabric
Moisture-wicking ability helps prevent blisters

CONs

Not as soft as merino-rich alternatives
Bottom-Line: Ultra-light, ultra-thin sock liners with excellent moisture-wicking capabilities.
Injinji Liner Crew NuWool Toe Socks
Best Toe Sock Liners
Injinji's toe socks caused a bit of a storm when they first hit the market a few years ago. The peeps here at My Open Country were amongst the high number of skeptics at the start, but several of our crew have since been converted.
The Injinji socks have a patented, five-toe design that makes them, essentially, like gloves for your feet. While this design will feel a little strange to some, by separating the toes it helps to reduce blister-causing friction and bunching, and also reduces sweat by soaking up and wicking any that builds up between your tootsies.
Quirky design aside, the Injinji are great sock liners. Made with 51% nylon, 44% NuWool, and 5% Lycra, they're durable, soft against the skin, high-wicking, breathable, and odor-resistant, and also provide a snug fit with light compression and support.
PROs

Design helps to prevent blisters and hot spots
Fit snugly when worn underneath outer socks
Breathable fabrics
Wick excess moisture quickly

CONs

Five-toe design won't be to everyone's liking
Bottom-Line: Great for blister prevention, but the five-toe design takes some getting used to.
Smartwool PhD Outdoor Light Crew
Honorable Mention
While not a liner sock per se, Smartwool's Light Crew is a solid option if you need a slightly thicker undersock to add warmth on cold-weather hikes.
These socks are made with 59% merino, 39% nylon, and 2% elastane. This combo means they tick every box in the main performance metrics, making them highly breathable, high-wicking, tough, stretchy and mobile, and thermoregulatory (meaning they'll help keep your feet warm in cool temps and cool in high temps).
Because these wool socks are a little thicker than the other options, they're a little too warm for summer hiking. Their chunkiness, however, makes them ideal for wearing underneath your outer hiking socks on cold winter hikes and also for standalone use.
PROs

Versatile
Cushioned sole provides extra padding
Thicker than other options, but thin enough to wear underneath your main hiking socks
Perfect combo of materials for blister prevention

CONs

Will be slightly too thick for some
Bottom-Line: Too thick for summer hiking but ideal if you need an extra layer to keep your tootsies toasty in the cold season.
How to Choose Liner Socks for Hiking
Material
For a sock liner to do its job, it has to be made with breathable, moisture-wicking, and durable fabric.
The best fabrics are merino, silk, and synthetics like nylon and polyester. 
Merino sock liners are highly breathable, naturally odor-resistant, high-wicking, and supremely comfortable. Wool also regulates temperature, keeping your feet cool in summer and warm in cold weather. Merino is also, however, the priciest option available and not terribly durable unless blended with nylon or polyester.
Silk liners are typically less durable than wool or nylon models and just as pricey as merino. On the plus side, they're ultralight, comfortable against the skin, highly breathable, and wick moisture well.
Nylon- and polyester-rich liners are the most durable options available, and usually the cheapest, too. The only downside to these synthetic materials is that they aren't quite as soft to the touch as merino or silk.
Spandex/Elastane is often used in liners to provide stretch, which helps provide light compression and gives you a snugger fit.
So, which material is best for you? This ultimately depends on both your budget and personal preferences. That said, our favorite liner socks all contain a high percentage of merino or silk, which provide comfort, and are combined with spandex and nylon or polyester, which provide stretch and durability respectively.
Design
All of the options on our list are crew socks. The reasons for this are simple: the majority of hikers hike in crew socks and very few outdoor brands make liners in a no-show or ankle-height length.
But the height of the sock isn't the only thing worth considering. Other characteristics that affect performance include the seams, the amount of compression, Achilles support, and the addition (or absence of) reinforced patches in the heel and toe, which are the areas most likely to develop holes with frequent use.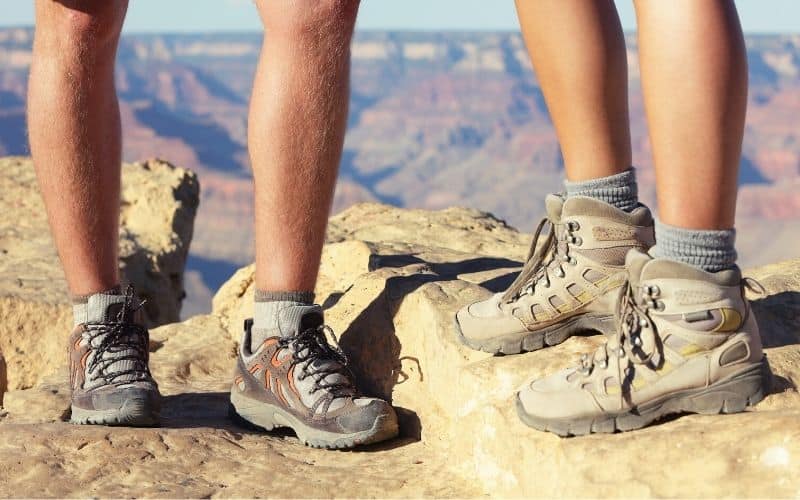 Size
Ideally, you should match the size of your sock liners to the size of your regular hiking socks. Doing so will let you pull them up easily while on the move and prevent the cuff from digging in if you're wearing a shorter liner.
If you're wearing hiking boots, your liner should reach higher than the top of the boot to prevent rubbing and chafing.
The fit should also be snug in order to reduce friction. If the liner is too loose, the material can bunch or your foot might move around inside, which will make you more, not less likely to get painful blisters.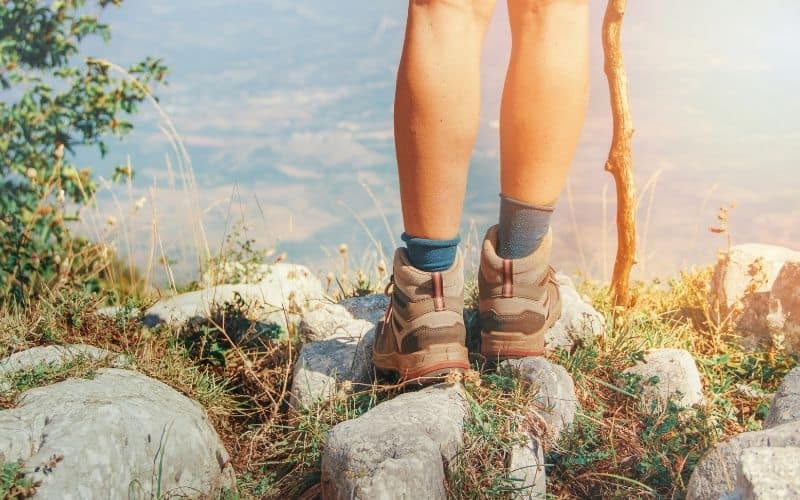 FAQs
Hiking liner socks are ultra-lightweight, thin socks that, in most cases, you wear under your regular hiking socks as a base layer. Wearing liners under a thicker outer sock can help to prevent chafing and the formation of blisters.
Liner socks aren't for everyone, but if you frequently develop blisters or experience uncomfortable rubbing when hiking, then they might be the solution you're looking for.
In hot weather, some hikers choose to use liners on their own because their thinner material helps to prevent their feet from overheating, which can lead to swelling. Others choose to wear liners simply for extra cushion and comfort or to keep their feet warm in cold conditions.
Best Sock Liner: The Verdict
Still undecided? Let's have a little recap of our top picks to help you out.
Above, we've introduced you to seven very worthy sock liners, but our pick of the bunch is the REI Merino Crew. These sock liners score highly in every metric, from breathability and wicking capability right through to next-to-skin comfort and fit, so were a shoo-in for our top spot.
If you're looking for something a little cheaper, we recommend the REI CoolMax Crew and Realtree Sock Liners, both of which are great value for money.
If you liked this article or have any questions, drop us a line in the box below. And if you'd like to share it with your friends, go ahead!