Best Socks for Winter
Smartwool Hunt Crew OTC socks
Made from a merino blend, Smartwool's socks are the clear winner. Not only are they are among the best socks for freezing cold days, but they also keep your feet dry and absorb odor so they won't stink by the campfire at night.
The secret is the merino fabric. It insulates, wicks moisture, and has anti-bacterial properties. It's also soft against your skin. You might never want to take these socks off, so it's a good thing they are tough as nails. With care, they'll last for years.
Buying The Best Socks For Cold Weather Hikes
Looking for a great pair of Winter socks?
You're in the right place! In this guide, we will be covering the following:
The top materials for winter socks
What features to look for in warm socks
Reviews of 5 of high-quality winter socks
Our unbiased conclusion on the best pair of socks to keep your toes warm
As a serious hiker, you know your hiking shoes are your most important piece of equipment. Your socks come a close second. Why are they so important?
First, the right type of sock prevents blisters. Second, they cushion your feet to keep them comfortable over rough terrain. Finally, keeping your feet warm and dry and absorb odors.
We'll examine these parameters in further detail below as we help you find the best warm sock for your needs.

The Most Important Properties of Winter Socks
There are three main factors to consider when buying winter socks for cold-weather hikes.
Warmth
The ideal winter socks will keep your feet warm during cold weather hikes without overheating. You want an insulating material that will trap your body's heat while removing moisture.
Some fibers, such as merino wool, are thermostatic. That means they regulate heat. Air pockets in the fiber keep you warm but allow your feet to breathe. Thus keeping your feet and toes at an optimal temperature. You won't need to layer, like some hikers, to regulate the heat level.
Of course, if you go with self-heating electric socks, you will be able to adjust the temperature easily. For people with circulatory issues or conditions such as hypothyroidism, this type may be a great option since you won't need to rely on your body's ability to generate heat.
Wicking
Good socks for hiking will wick moisture away from your feet and toes. The way this works is through a process called capillary action. They shouldn't absorb moisture; they allow it to travel via tiny conduits along the fabric and away from your skin. Once the moisture reaches the outer layers of the sock, it evaporates, keeping you dry.
Intelligent designers use naturally wicking materials combined with features such as ventilation channels to optimize a sock's wicking properties. Additional features like mesh construction can increase breathability.
Comfort
Your winter socks must fit well to do their job. They should be snug and slightly taller than your hiking boots to protect your calves from chafing, and should be form-fitting without binding.
If the fit is too loose, they can bunch up or wrinkle, leading to blisters. On the other hand, too tight can cause pressure points, cramps, or even numbness.
Other factors related to comfort are cushion level and how the socks feel against your skin. You want socks that buffer your feet on rough terrain and that aren't abrasive against bare skin.
Below we discuss the variety of materials you can find in hiking socks and how they satisfy the requirements of warmth, wicking, and comfort.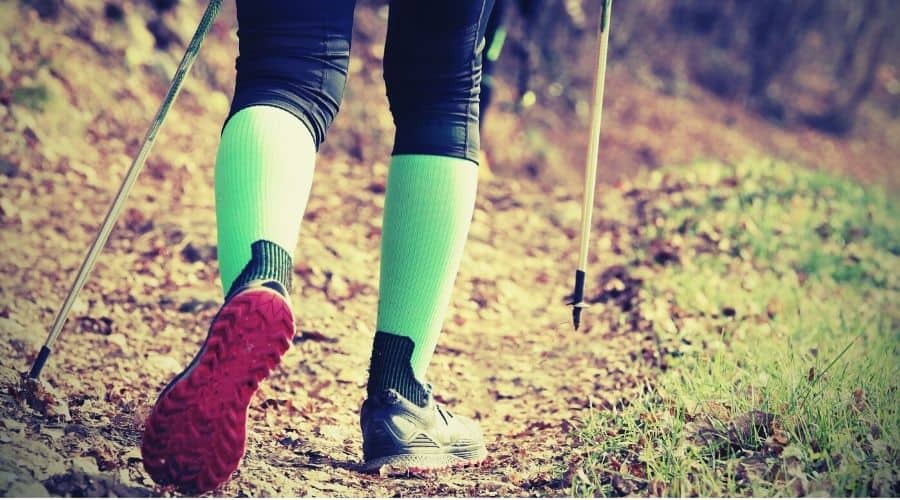 Warmest Socks for Winter: Material Choice
Socks come in a variety of fabrics. While some of them, such as cotton, are fine for wearing around the house, they are not great for winter hiking wear. Below we'll give you the rundown on a variety of fabric options.
Cotton
Cotton feels soft, is inexpensive and easy to layer. When it's dry, its air pockets provide insulation. When you exercise, however, it absorbs water and loses its ability to keep you warm. Therefore, cotton is a terrible choice for hiking in cold weather.
Merino Wool
Merino wool, on the other hand, is one of the best options. Wool fibers crimp, creating air pockets to provide insulation. The crimps also act like springs, making wool elastic. It can stretch and bounce back. This helps wool socks fit well.
Because wool repels water, it wicks sweat away from your feet and provides some rain protection. But even soaked, wool does a better job keeping you warm than many other materials.
Wool is also anti-microbial. It has an organic acid called creatine that breaks down odor-causing bacteria, so your feet won't stink when you wear wool.
Unfortunately, wool can be itchy. The coarser the yarn, the more abrasive it will be. This coarseness is measured in microns, which are a thousandth of a millimeter. Most wool is between 28-33 microns in thickness. Merino wool, however, is under 22 microns. Because it is so much finer than other wool, most people find it soft against even bare skin.
Cashmere
Cashmere is a luxury fiber derived from cashmere goats. Typically under 17 microns, it is softer than wool. It is also three times warmer and wicks moisture to keep you dry.
Unfortunately, cashmere is delicate. It pills easily, and it's not elastic. Cashmere drapes instead of fitting snugly. That makes it a lousy choice for winter socks, but an excellent choice for scarves.
Synthetics
Some synthetic fibers used to make moisture-wicking socks include acrylic, polyester, nylon, and spandex.
None of these absorb water, so they are great at wicking moisture. Acrylic and polyester also provide warmth. Polyester is used to make fabrics like Polarfleece. Acrylic can be used as a wool alternative and, like wool, fights odor.
Nylon, along with Lycra spandex are not warm but provide elasticity. They can be blended with warm materials to give a snug fit and arch support.
Exotic
Alpaca, bison, and yak are luxury fibers. Like cashmere, they are warmer than merino wool but lack elasticity. They need to be blended with other materials. Unfortunately, they also tend to be expensive and less durable than merino wool or synthetics.
The Socks for Winter Reviewed
Warrior Alpaca's Second to None
Best Cold Weather Socks
These alpaca blend are a great choice if you wear taller hiking boots since they provide knee-high coverage. That means the backs of your boots won't chafe bare skin. Additionally, a pair made from Alpaca are warmer than a similar pair made of merino wool, making this an excellent choice for freezing temperatures.
Like merino wool, the alpaca in this blend wicks moisture and has anti-microbial properties. They will keep you dry all day and not stink when you take off your boots by the campfire.
Another advantage of alpaca is that it's hypoallergenic. They won't itch even sensitive skin. However, while alpaca is also softer and warmer than merino wool, it's not elastic. Lycra spandex and a wide rib help these fit correctly. They will even stretch over bulky calves.
PROs

Warm and Comfortable
Protects skin from tall boot edges
Stretches to fit larger calves
Alpaca is hypoallergenic

CONs

More expensive and less durable
Only come in gray
Bottom-Line: If you are looking for the best warm socks for winter that work with boots, Warrior Alpaca's genuinely are second to none.
Smartwool Hunt Crew OTC
Best Hiking Socks for Cold Weather
These merino wool socks are amazing. Because merino is such an excellent insulator, these are among the warmest socks in cold weather, but will still be comfortable when it warms up. That makes them a tremendous three-season sock that you can wear on all but the hottest days. They will keep your feet dry no matter the weather, thanks to the water repellent qualities of merino. The merino wool also keeps your feet odor-free.
They come with cushioning for rough terrain and are elastic, so they'll flex with your feet. They won't bunch or sag, and they provide arch and ankle support. That makes them great for a variety of footwear, including hiking sandals, since they provide additional support as you navigate steep inclines.
On top of all these benefits, they are as tough as iron. That makes them a great value since they will last you many seasons.
PROs

Keeps feet warm and dry
Odor and water-resistant
Cushioned for comfort
Light ankle and arch support
Won't bunch or sag
Durable and tough
Best value

CONs

May be tight if you have large calves
Bottom-Line: Smartwool Hunt Crew OTC are our overall top pick for the best winter socks.
EnerWear Ladies' Merino Wool Trail
Best Winter Socks for Women
The EnerWear contain a much higher proportion of merino wool than the Smartwool model. That makes them warm, dry, and odor-free. Intelligent design features were added to increase their utility. For example, a mesh fabric supports your insteps while increasing the sock's breathability. Terry-loop cushioning was added to help keep your feet comfy over rough terrain.
Because these are thinner, they might feel more comfortable and be an even better fit for all-season wear. The disadvantage to the more delicate fabric and the higher merino content is that it makes these less durable. They will pill more quickly than Smartwool's offering.
They are less expensive than other options and come in many colors and designs. Make sure to hand wash to keep the colors vibrant, though, as some of the dyes bleed.
PROs

Merino wool keeps your feet warm, dry and odor-free
Excellent value for the price
Cushioned for rugged terrain
Come in many colors
Great value

CONs

Not as durable
Some of the dyes bleed, so hand wash
Bottom-Line: These colorful and practical winter socks are a great value.
United by Blue Ultimate American Bison
Most Comfortable
These beautiful winter socks are made in the USA from native bison down. This is a luxury fiber that is considered softer and warmer than cashmere. Like merino wool, it is moisture-wicking and naturally cushions your feet and toes, so you feel you are walking on air. The bison is blended with merino and spandex to provide structure, and a spandex rib also offers arch support. Nevertheless, a pair of these is not very durable, so you might want to save them for lounging around the campfire.
If you decide to splurge and get yourself or a loved one these thick, warm, and super-soft socks as a special treat, you can feel good knowing you're also helping the environment. United by Blue removes a pound of trash from the oceans for every pair sold.
PROs

Very warm and comfortable
Beautiful and luxurious
Extremely comfortable
Your purchase helps the environment

CONs
Bottom-Line: One of the best pair of socks to pamper yourself or a loved one with.
QILOVE Heated Socks
Best Insulated Socks
If you suffer from circulatory issues or have a condition like hypothyroidism, these thermal socks might be the buy for you. They might also be great for those with arthritis or anyone who likes gadgets.
They have carbon filaments that warms with a gentle heat when plugged into the rechargeable Lithium-ion batteries. Once turned on, they immediately warm up. The heat setting is adjustable to prevent overheating.
Made of smooth cotton, they are comfortable despite the sock warmer heating elements. Since the carbon fibers that provide heat are thin and the battery is unobtrusive, you will barely notice them. The battery slips into a small side pocket.
The most significant disadvantage (aside from the cotton) is that the battery lasts only 6.5 hours on the lowest setting and 3 hours on the warmest one. This then makes these a bad choice for a week-long backpacking trip. They are also relatively expensive.
PROs

Light and comfortable
Three warmth settings to keep your feet warm
Unobtrusive battery

CONs

Limited battery charge time
Somewhat expensive
Bottom-Line: These are a great pick if you need immediate heat or help to stay warm.
Last update on 2022-01-22 / Affiliate links / Images from Amazon Product Advertising API