No hiker has any doubt that the most important part of their attire is their boots. The second most important? Your socks.
Socks are multitaskers, and vital to enjoying a happy time on the trails. The right sock will not only keep your feet warm, but it will also prevent blisters, keep odors at bay, provide ample cushioning and arch support, and let your feet breathe.
To help you find the perfect pair for you, we've put together a list of our favorite winter hiking socks. Below our reviews, you'll also find detailed buying advice to ensure you find the ideal options for your needs.
Our Top Picks by Category
Budget: Time May Tell Merino, REI Co-Op Expedition, and Danish Endurance Alpine
Knee-length: J.B. Extreme 30 Below XLR Winter Sock, Tibetan Wool SS, and Danish Endurance Alpine
Crew: Smartwool Classic Mountaineer, Warrior Alpaca, and Darn Tough Hiker
Editor's Choice
Smartwool Classic Mountaineer Full-Cushion Crew
After much debate, we settled on the Smartwool Classic Mountaineer as our pick for the best socks for cold-weather this year.
The Classic Mountaineer aren't the cheapest or the warmest winter socks out there, granted, but they do everything your average hiker, camper, or backpacker needs a cold-weather sock to do. They're lightweight, warm, high-wicking, breathable, as comfortable as they come, and have the right amount of cushioning in all the right places.
As with all Smartwool socks, the Classic Mountaineer uses a high percentage of merino (73%) combined with polyamide and elastane for added durability and stretch. The elasticized arch brace provides a snug, foot-hugging, supportive fit, and the flat-knit toe seams eliminate hotspots and chafing.
The Classic Mountaineer are, in short, a performance-oriented sock that packs plenty of warmth for alpine adventures and hikes in all but the coolest corners of the globe.
Bottom Line: Extra-comfortable merino wool socks that are ideal for hikers and campers who need a little extra warmth come wintertime.
At a Glance: Quick Recommendations
Treat Your Cold Feet with Winter Socks: Top 9 Reviews
Smartwool Classic Mountaineer Full-Cushion Crew
Editor's Choice
Choosing the best hiking socks for cold weather from the myriad options available was no easy task. After testing, however, one pair stood head and shoulders above the best of the rest: The Smartwool Classic Mountaineer.
On paper, the Classic Mountaineer boasts all of the attributes you'd expect in a great winter sock. They're thick, well-cushioned, and use a merino wool blend that's designed to optimize warmth, breathability, and durability. In the field, however, we found them just a little more comfortable than the competition.
This is mainly due to the dialed-in design details used by makers Smartwool, who have thrown in a few features that make the Classic Mountaineer stand out. These include strategic mesh zones for added breathability, an elasticized arch brace that keeps the sock in shape and provides a snug but not smothering fit, and a flat-knit toe that makes the seams unnoticeable.
The cushioning used in the CM is also on the nail. While you can get away with strategic cushioning in summer hosiery, in wintertime the sole of your feet needs all the insulation it can get. Smartwool has saved all the beef for the bottom of your feet, swaddling the sole and toes in chunky merino goodness.
Are there any downsides? Well, this depends on what you're looking for. If you live in a more temperate climate or are prone to sweaty feet, the CM may be overkill. There are also, of course, cheaper options out there. Nevertheless, if you need a pair of warm, comfy, durable winter socks, these are truly hard to beat.
Click here for Women's Version.
PROs

Cozy and supportive merino-polyamide blend
Plenty of cushioning
Flat-knit toe seams
Elasticized arch brace

CONs

Overkill for some locations
Bottom-Line: Cozy, breathable, warm, extra-thick socks that will serve you well in all but the most frigid portions of the planet.
Warrior Alpaca
Runner Up
While not an out-and-out hiking sock, the Warrior Alpaca is well worth considering if you have a problem with frigid feet.
This heavyweight sock is made with a blend of Alpaca wool, acrylic, nylon, and Lycra. This combo brings a lot to the table. The Alpaca wool makes them toasty warm and soft against the skin, breathable, and high-wicking. The acrylic and nylon lend added toughness and durability. The elastane ensures a good fit and keeps them in shape for the long term.
We love the Warrior, above all else, for their incomparable comfort. This comes courtesy of the high Alpaca content, the full terry loop lining, a nicely fitted toe box and heel, the no-rub seam stitching, the reinforced toe, and the cushy heel and arch support.
This isn't the most athletic or performance-oriented sock on our list by a long way and is designed for everyday use with the odd outing on the trails. However, if warmth and comfort are your main concern, the Warrior are well worth a punt.
PROs

Alpaca wool is warmer than sheep wool!
Incredibly warm and comfortable
Ample cushioning
Reinforced toe

CONs

Pricey
Not the most athletic fit
Bottom-Line: Toasty warm and as comfortable as they come.
Time May Tell Men's Merino Wool Hiking Cushion Sock Pack
Bargain Buy
Merino is famed for various things, among them are its usually exorbitant price tag. However, this Time May Tell sock goes to show that you can get your hands on (and feet in) a pair of great merino wool socks without breaking the bank.
When you buy the TMT, you get 4 pairs for the price of one pair from bigger-name brands. And they don't cut too many corners, either. The TMT are made with a blend of 80% merino wool, 14% stretch nylon, 5% poly, and 1% Spandex. That's a crazy high merino content for the price, while the synthetics complement the yarn by adding durability and stretch.
The corners that have been cut are small ones, but they may prove a deal-breaker for fussier hikers. First up, the TMT doesn't have any kind of zonal cushioning, so the thickness of the fabric remains uniform from top to bottom. And while the seams on the toes are low-profile, they aren't quite as flat as those on other models on our list.
If you can live with these shortcomings, however, you'll be getting yourself a true bargain!
PROs

High merino content
Mid-heavyweight
Warm but breathable
Surprisingly durable
Cheap!

CONs

Lack cushioning
Seams aren't as flat as competitors
Bottom-Line: Warm, comfortable, and surprisingly durable at a bargain price.
J.B. Extreme 30 Below XLR Winter Sock
Honorable Mention
If you're looking for a pair of socks for camping or extreme cold, then the J.B. Extreme 30 Below are well worth considering.
The JBE are made in Canada and, as the name suggests, designed to keep your tootsies toasty in the kinda conditions you might encounter in the Great White North in winter. They're made with a blend of merino, nylon, and spandex, which together deliver all the attributes we look for in a hiking sock – breathability, warmth, comfort, stretch, and durability.
The best bit: J.B. Extreme 30 is one of the most affordable options on our list. For just a little more than the price of our review's winners, the Smartwool Classic Mountaineer, you get two pairs of knee-length merino wool socks. That's a whole lot of sock for very few $!
The Extreme 30 will be overkill for most winter hikers, we know. However, if you're keen to make sure your feet don't suffer on your winter adventures, they're a great pick.
If you want an even warmer sock, check out J.B.'s -40 Arctic Trail and -50 Icelandic versions.
PROs

Affordable
Knee-high cut keeps legs warm
Very warm
Nice cushioning
Great for skiing, other snow sports, and winter sports

CONs
Bottom-Line: An extra-warm pair of winter socks that work well in both ski boots and hiking boots in extremely cold conditions.
REI Co-Op Expedition
Best Budget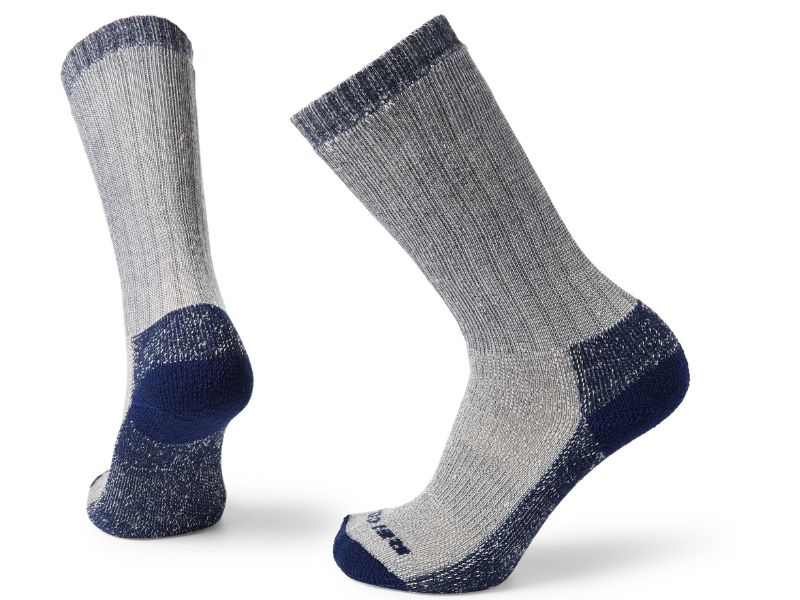 REI has a rep for churning our high-quality low-cost gear, and the REI Expedition are no exception to the rule.
The Expedition are made with a blend of 79% RWS merino wool, 20% nylon, and 1% Lycra spandex. The low Lycra content makes them a little less stretchy than others on our list (good if you don't like compression, not so good if you do), while the high nylon content makes them a little more durable.
As with all merino products, they're naturally odor-resistant, high-wicking, breathable, and superbly comfortable. The comfort provided by the merino wool is complemented and enhanced by a reinforced heel, toe, footbed, and Achille, a stretchy arch band that also provides ample support, and seamless toes.
Compared to the Smartwool Classic Mountaineer, the Expedition are a little thinner and, thus, not quite as warm, so are a better bet for locations with milder winters or shoulder-season hiking.
PROs

Affordable
Durable
Made with merino wool
Seamless toes
Wick moisture well

CONs

Available to REI members only
Not made for very low temperatures
Bottom-Line: A pair of high-quality socks at an affordable price point.
Tibetan Long Wool Slipper Socks
Best for Camping
Need something a little warmer for nights in the tent or RV? If so, this fleece-lined and fancy footwear is just what you need!
These slipper socks do exactly as the name suggests. The knee-high sock portion keeps your lower legs warm while the slipper part takes care of your feet. They're also extra-thick, so are ideal even if you happen to be camping on the high plateaus of Tibet itself!
They aren't just very warm and comfortable, they're also highly practical thanks to a grippy, reinforced sole that's tough enough to let you wander around a dry campsite without wearing your shoes or boots.
PROs

Handmade in the Himalayas
Available in 5 sizes
Cozy fleece lining
Wool exterior
Cool design

CONs
Bottom-Line: Ideal for days in the tent, RV, or cabin.
Darn Tough Hiker Boot Full Cushion
Most Durable
If you're sick of your prized hiking socks making their way to an early grave after just a season on the trails, the Darn Tough Hiker are the solution you've been looking for.
The DT Hiker are made with a blend that includes 66% merino wool, 32% nylon, and 2% Lycra spandex. While this lower merino content makes them a little less softer, all that nylon makes them extra-durable.
The DT are a little skinnier than the heavyweights on our list, but use plenty of extra padding and extra cushion in strategic points, which gives added insulation for your toes and soles. Their undetectable seam fusion also gives them a barely-there feel, while the performance fit ensures they don't bunch or slip while you're on the move.
Click here for Women's Version.
PROs

Very durable
Great blend of sweat-wicking natural and synthetic fibers
Snug fit
Nice cushioning

CONs

Not as warm as other options
Not as soft as other options
Bottom-Line: Highly durable yet comfortable socks with a performance-oriented fit.
Danish Endurance Alpine
Best Value
Made with a combo of cozy merino wool and polyester mesh, the Danish Endurance Alpine are a great option for anyone seeking a warm, knee-high sock that still breathes well enough to prevent your sweat from causing cold feet.
While marketed as a "winter sport" sock, and perhaps geared more towards skiing than hiking, we found the DE Alpine worked really well on the trails. The high merino content combined with the mesh panels made them the most breathable of the bunch, while the cushy heel, toe, and underfoot padding made them amongst the most cushioned.
We also loved the protective shin padding, which is a feature we'd like to see in many other hiking socks in future. This protects your shins against the cuff of your hiking boots and also guards against bumps and scrapes from undergrowth (or, in our case, hard snow when postholing!).
The high nylon content in the DE Alpine means they aren't as soft or odor-resistant as other options on our list, but it's hard to quibble at this price.
PROs

Affordable
Warm
Moisture-wicking
Protective shin padding
Durable

CONs
Bottom-Line: A great knee-high sock that insulates and breathes as well as the top performers on our list.
Ororo Heated Socks
Best Heated Socks
If you suffer from circulatory issues or have a condition like hypothyroidism, these thermal socks might be the best buy for you. They are also great for those with arthritis or anyone who simply wants their feet to be toasty warm without having to rely on body heat alone.
The Ororo have ultra-thin carbon heating filaments located in the sole of the foot. These filaments are so thin that you barely notice them, and the battery is also unobtrusive, slipping into a small pocket below the cuff.
Once turned on, they immediately flood your feet with a hearty dose of heat. The heat setting is adjustable to prevent overheating and the battery can last for up to 10 hours on a low setting.
Unlike many heated models, the Ororo are very well-designed. They're made with Coolmax fabric, which is breathable and high-wicking, and keeps its shape over time.
PROs

Light and comfortable
Three warmth settings
Unobtrusive battery
Breathable and high-wicking Coolmax fabric

CONs

Pricey
Minimal extra cushioning
Bottom-Line: Great socks if your feet run cold or you do your hiking in truly frigid conditions.
How to Choose the Best Winter Hiking Socks
Sock Materials
Socks come in a variety of fabrics. Below we'll give you the rundown on the various options.
Merino Wool
Simply put, merino wool is the best fabric out there for hiking baselayers, whether that's hosiery, panties, thermals, or t-shirts. The reason for this is that it is a thermoregulatory fabric, meaning it adapts to your body temperature by insulating when your body's cold and breathing when it's hot.
Merino is also naturally odor-resistant, wicks well, and is incredibly comfortable against the skin. While other wool fabrics can feel coarse, merino's tiny diameter (usually 10-22 microns), means it doesn't feel itchy at all, even against bare skin. The crimps in merino wool that provide insulation also act as springs, meaning it retains its shape longer.
Alpaca
Alpaca has been used in clothing for millennia, but only made its entrance into the world of hiking attire in the last few years. Alpaca is very similar to merino in that it breathes well, adapts to your body temperature, wicks moisture quickly, and is naturally antimicrobial.
In terms of performance, alpaca does something that was unthinkable just a few years back – it outperforms merino in almost every metric. Not only is alpaca stronger and warmer than merino, but it also feels slightly softer against the skin and retains less water. The catch? It costs a pretty penny!
Synthetics
Some synthetic materials used for making moisture-wicking socks include acrylic, polyester, nylon, and spandex.
Since none of these materials absorb water they are great at wicking moisture. They're also more durable than natural fabrics like merino so are often used in combination with merino to add durability. In short, the higher the synthetic content, the tougher and more durable the sock will be. Nylon and spandex also add elasticity, so are ideal if you like a little compression.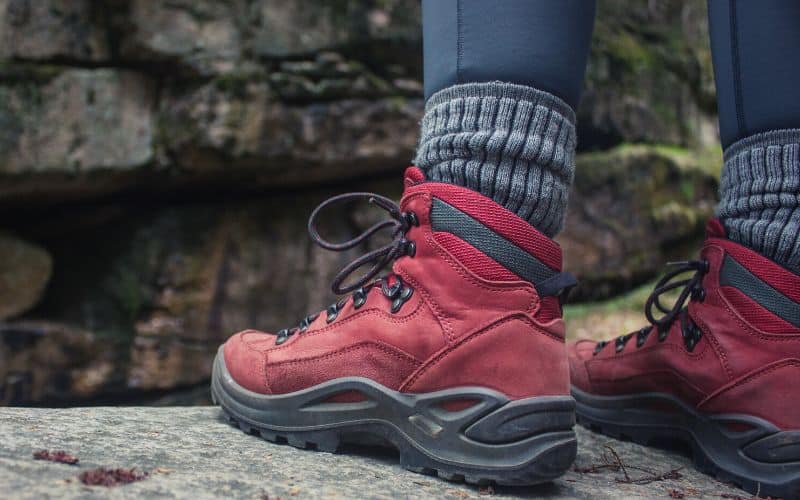 Cotton
Cotton is soft against the skin, breathable, and inexpensive, but also pretty darned awful for athletic pursuits. When you sweat, cotton absorbs water rather than wicking it away, meaning it's liable to cause blisters and/or chafing, and it also loses its ability to insulate when wet. As such, cotton socks are a poor choice for hiking in cold weather.
Insulation
The ideal pair of winter socks will keep your feet warm during cold-weather hikes without overheating. You want an insulating material that will trap your body's heat while removing moisture.
Some fibers, such as merino wool, are thermostatic. That means they regulate heat. Air pockets in the fiber keep you warm but also allow your feet to breathe, thus keeping your feet and toes at an optimal temperature.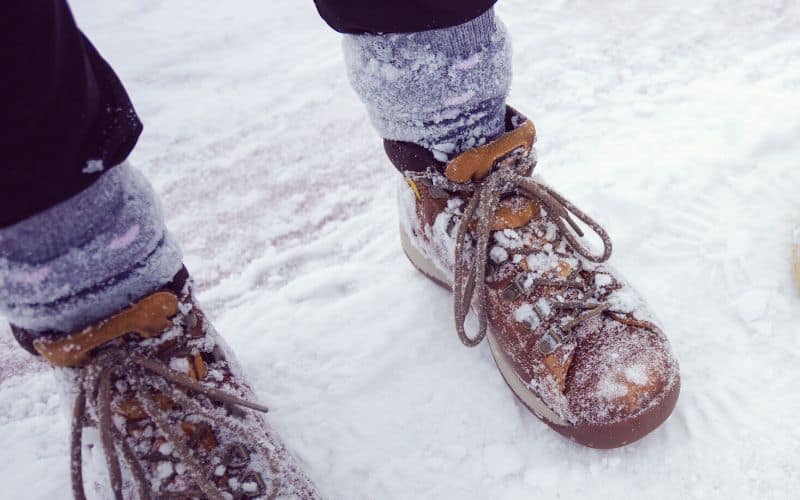 Of course, if you go with a self-heating electric sock, you will be able to adjust the temperature easily. For people with circulatory issues or conditions such as hypothyroidism, this may be a great option for you since you won't need to rely on your body's ability to generate heat.
The warmest socks for hiking on our list are the J.B. Extreme 30 Below XLR, which are perfect for temps well below freezing or winter camping. At the other end of the scale, we have the Darn Tough Hiker, a better bet for shoulder season hiking or winter hiking in less extreme climates.
Comfort & Cushioning
Hiking socks have varying levels of cushioning which is the main determinant of comfort after the material they're made with. While the use of flat seam stitching and moderate compression can help, cushioning is key to giving any sock all-day comfort.
As a general rule, thicker cushioning equates to more warmth. It also delivers more support and underfoot protection against impacts, which is great for rough, rocky trails.
Fit
Ill-fitting socks are ones that are sure to cause you foot trouble just a few miles down the trail. If the blisters don't get you, then the bunching of the material with a baggy pair at the heel and cuff is sure to cause at least some annoyance. In a pair that are too tight, restricted blood flow could make your feet grow cold quickly, or simply squish your toes and forefoot, and shins.
Sizing, then, is a big deal. When choosing winter socks for your hikes, take extra care to find out whether the brand's sizing runs small or large, and whether they tend to be wider, regular, or narrow.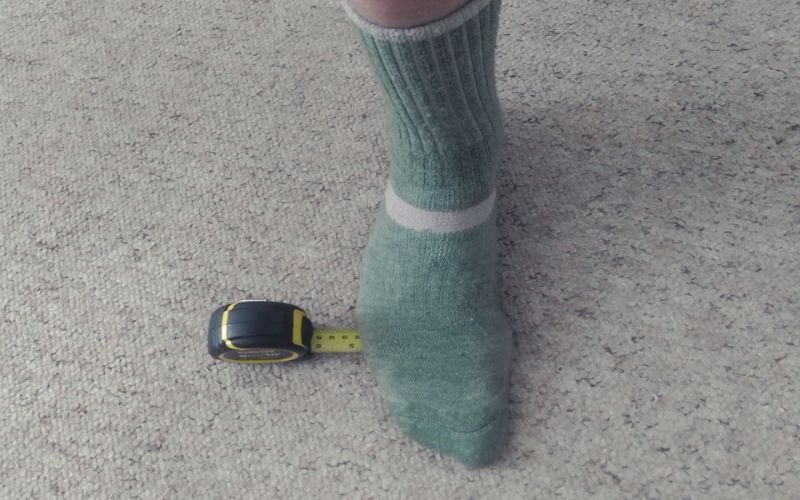 Sock Height
Crew or knee-high? Choosing between the two will come down to what kind of hiking footwear you tend to use, personal preference, and just how cool temps will be where you do your hiking.
If you wear regular high-cut hiking boots, knee-length socks become an option and will provide support for your lower legs. Some crew-length models, however, barely cover the top of the boot, which can cause the hem/cuff to rub against the collar of your boot. Needless to say, knee-high models are also great in extreme cold as they provide extra warmth for your lower legs.
Durability
Winter hiking socks ain't cheap, so it's always nice to know that your investment won't need replacing just a few months down the line.
Judging durability is always tricky, but in our experience, models that use a high proportion of nylon or polyester outlive those that don't. The reason for this is that these synthetics are far tougher than fabrics like merino and alpaca wool (and yak wool).
This is demonstrated nicely by the most durable socks on our list, the Darn Tough Hiker and REI Co-Op Expedition, which are made with a whopping 32% and 20% nylon respectively.
Best Cold-Weather Socks for Hiking: The Verdict
Ready for a quick summary of our top picks? Let's do it!
Our favorite winter hiking socks are the Smartwool Classic Mountaineer. The Classic Mountaineer are toasty warm, nicely fitted, and more geared towards athletic pursuits or performance-based activities than other heavyweight models.
While the Classic Mountaineers are fairly priced, for an even better price you can get your hands on a solid alternative in either the REI Co-Op Expedition or Time May Tell Crew, both of which offer all the benefits of merino and surprising durability given their modest price tag.
If you liked this post, let us know in the comments box below. And if you'd like to share it with your friends, share away!