Cooking with a good wood-burning stove is the ultimate way to cook while on a camping trip. Although wood stoves aren't as powerful as canister-fueled backpacking stoves, they save you the hassle of carrying fuel with you, thereby reducing your cook system's packed weight and bulk.
In this guide we review 7 great wood camp stoves, explain why we think the Solo Stove Lite is the favorite amongst our testers, and we'll explain everything you need to know about cooking with natural fuel including detailed buying advice to help you find the best model for your needs, budget, and adventure type.
At a Glance: Top Wood Stoves for Camping
What is the Best Camping Wood Stove?
From brewing Coffee in the Sierra Nevadas to roasting Marshmallows over our editor's backyard fire pit we've tested a number of stoves in the last few years and have shortlisted the following.
Solo Stove Lite
EcoZoom Versa Camping Stove
TOAKS Titanium Backpacking Wood Stove
BioLite Camping Stove 2
Lixada Camping Stove
kampMATE WoodFlame Stainless Steel Stove
Ohuhu Camping Stove
Solo Stove Lite
Editor's Choice
Weight: 9 oz ⸱ Assembled size: 4.25" diameter x 5.7" ⸱ Packed size: 4.25" diameter x 5.7" ⸱ Material: Premium stainless steel ⸱ Type: Can
The SS Lite is a great pick for solo campers and camping couples.
This compact, lightweight little burner is made with high-quality stainless steel and uses a double-wall construction that allows air to be heated and fed to the top. This gives the flames at the top a boost of preheated oxygen and creates a secondary combustion point. This makes for a hotter fire with less smoke, and more efficiency when cooking meals.
Solo also makes a slightly larger version of this product, the Solo Stove Titan. While the SS Lite is ideal for 1-2 people, the Titan is a better collapsible stove if you'll be cooking for more people.
PROs

Lightweight and compact
360-degree airflow design
Lifetime guarantee
Durable

CONs

Expensive
Have to remove pan when adding fuel
Bottom-Line: This small, light, and stable burner is the most efficient on our list and a great choice for campers and backpackers alike.
EcoZoom Versa Camping Stove
Runner Up
Weight: 228 oz ⸱ Assembled size: 10" diameter x 11.5" ⸱ Packed size: 10" diameter x 11.5" ⸱ Material: Stainless steel and ceramic ⸱ Type: Can
The EcoZoom Versa packs a serious punch and is one of the largest stoves we tested, which allows you to use a larger pan and cook up a feast for larger groups.
You can burn wood sticks, wood pellets, charcoal, or other solid biomass fuels with this, too. It features a fully insulated vertical chamber for combustion. This chamber is lined with a refractory metal to bounce all that heat back into the fire, which increases efficiency and creates less smoke.
While this is a pretty expensive option, its larger dimensions and impressive fuel efficiency make it a shoo-in for group camping trips.
PROs

Huge cooking surface
Durable
Silicone grips
Efficient

CONs
Bottom-Line: This is the heaviest of all the products we reviewed, but is perfect for cooking with large pans.
TOAKS Titanium Backpacking Wood Stove
Best Ultralight
Weight: 5.4 oz ⸱ Assembled size: 3.75" diameter x 7.25" ⸱ Packed size: 3.75" diameter x 3.75" ⸱ Material: Titanium ⸱ Type: Can
The Toaks Titanium wood-burning backpacking stove is an ideal choice for anyone keen to keep pack weight to a minimum.
The TT packs down into a very small package, with each piece nesting inside the others. Not only does it pack small, but it's also extremely lightweight, tipping the scales at just 5.4 oz. If you include the weight of gas canisters, this is at least a few ounces lighter than even the lightest canister burners.
Like everything Toaks makes, this one is constructed out of titanium – an ultra-strong and durable metal. It features air holes along its base to stoke the flames and uses a double-walled construction to prevent heat from dissipating, which ensures the fire is burning at maximum efficiency.
And the downsides? Well, since this is so small, you'll have to feed it very small sticks and break them up before you start cooking. It's also less stable than the SS lite, so you'll have to closely monitor the flames while you cook. This, however, is the price you have to pay if you want a true minimalist wood-burning stove, which this is.
PROs

Heat efficient
Lightweight
Packable

CONs

Less durable
Need to remove pan when adding fuel
Bottom-Line: The TT is the lightest model on this list and also packs down into a very portable package.
BioLite Camping Stove 2
Best Heat Efficiency
Weight: 33 oz ⸱ Assembled Size: 5" x 5" x 8.3" ⸱ Packed Size: 5" x 5" x 8.3" ⸱ Material: Stainless steel ⸱ Type: Can
The BioLite Camping Stove 2 is the only product we tested that converts heat from fire into electricity. As you cook your dinner over a fire, the BioLite takes the excess heat and stores it in a 3,200 mAh battery. After you've recharged your body with a hot meal, you can recharge your cell phone!
This wood camping stove and power station is built using durable, rugged stainless steel. It has an LED dashboard built into the device that allows you to monitor fan speed, power output, and fire strength while you cook, and a built-in light that lets you see what you're doing when cooking in the dark.
The BioLite has high and low heat settings, too. You can certainly boil water with this, and quickly at that. But, you can also simmer or cook other food over the flame on the low setting. While a little on the heavy side, the Biolite's multifunctionality could save you a few ounces in pack weight by allowing you to leave your battery pack at home.
PROs

Turns fire into electricity
Doubles as a power bank
Heat efficient
Durable

CONs

Expensive
Heavy
Need to remove pan when adding fuel
Bottom-Line: This is the only product we tested that can turn heat into electricity.
Lixada Camping Stove
Best Budget
Weight: 11.3 oz ⸱ Assembled Size: 6" x 6" x 7.1" ⸱ Packed Size: 7.5" x 6.7" x 0.6" ⸱ Material: Titanium ⸱ Type: Folding wood stove
The Lixada wood-burning backpacking stove folds down so thin that losing it in your pack is a real possibility!
But there's a lot more to the Lixada than packability alone…It's made of corrosion-resistant stainless steel and yet weighs under a pound, so it's both durable and lightweight – a winning combo! The Lixada is also the cheapest model on our list.
And what about fuel efficiency? Thanks to the strategically placed air holes along the bottom and underside, your fire will get plenty of oxygen to burn hot.
On the downside, the stove's smaller dimensions do mean it's best suited to solo campers as opposed to groups or couples. You'll also have to feed small sticks or other fuel through the small combustion door regularly to keep it going. And watch out, the sides can get pretty hot from the fire!
PROs

No need to remove cooking pot when fueling
Affordable
Lightweight
Opening to feed fuel
Stainless steel construction

CONs
Bottom-Line: This is the least expensive foldable option on this list, and it's made with hard-wearing, long-lasting titanium.
KampMATE WoodFlame Stainless Steel Stove
Best Value Foldable
Weight: 17.6 oz ⸱ Assembled Size: 7" x 6" x 4" ⸱ Packed Size: 7.5" x 6" x 0.2" ⸱ Material: Stainless steel ⸱ Type: Folding
The kampMATE WoodFlame is one of the best wood-burning stoves in terms of portability and versatility. It's strong and lightweight and folds down into a tiny package. Even though it packs small, you'll find that it can support a surprisingly heavy pot or pan, even a cast-iron skillet!
This lightweight offering is made of sturdy stainless steel and is easy to assemble and use – just fit the pieces together, grab some sticks, pine cones, dry grass, or other flammable materials you can scrounge up, and get cooking!
PROs

No need to remove pot when fueling
Money-back guarantee
Opening to feed fire
Durable

CONs

Heavy
More expensive than some foldables
Bottom-Line: A highly portable and well-made little cook system that can support larger pots and pans.
Ohuhu Camping Stove
Best Value Can
Weight: 14.2 oz ⸱ Assembled Size: 5.3" diameter x 6.1" ⸱ Packed Size: 5.3" diameter x 3" ⸱ Material: Stainless steel  ⸱ Type: Can
This offering from Ohuhu is one of the only wood-burning camping stoves that comes with a grill plate/grid. That's right, you can grill hotdogs or burgers in the backcountry with this wood camping stove. And despite being strong and stable enough to handle almost any pot or pan, it also packs down pretty darn small.
The Ohuhu is made of strong stainless steel and is very easy to set up. When you use it, things heat up fast thanks to air vents that channel oxygen to the fire and keep it hot.
The only downside is that the can occasionally get too hot, making it less suitable for simmering or other low-heat cooking. Even considering this, we think this offers a great bang for your buck!
PROs

Durable
Adjustable height
Affordable
Heat efficient
Great for boiling water

CONs

Must remove pan when adding fuel
Heavy
Bottom-Line: This is the most affordable can stove we tested, but it packs a decent punch and is very well-made.
How to Choose a Wood Camping Stove
When choosing the right twig burning stove for your next camping or backpacking trip, keep in mind the following criteria to help you choose.
Design: Types of Wood-Burning Camping Stoves
Size and Heat Efficiency
Weight
Stability
Material: Stainless Steel Vs. Titanium
Design: Types Of Wood-Burning Tent Stoves
When it comes to choosing what type of wood burning stove you want there are two main types, folding stoves and can or box stoves.
Folding Stoves
Folding camp stoves are the most efficient storage option. They generally fold flat, so you can stack other things on top of them or slide them into small spaces in your pack. For proof of this, check out the packed dimensions of the KampMATE WoodFlame and Lixada stoves, which fold down to 0.2" and 0.6" respectively.
Can/Box Stoves
Can stoves, or box stoves, generally don't fold up as small. However, they are usually much stronger and tend to be more efficient than foldables. And since there are no hinges involved, they're also more stable by far.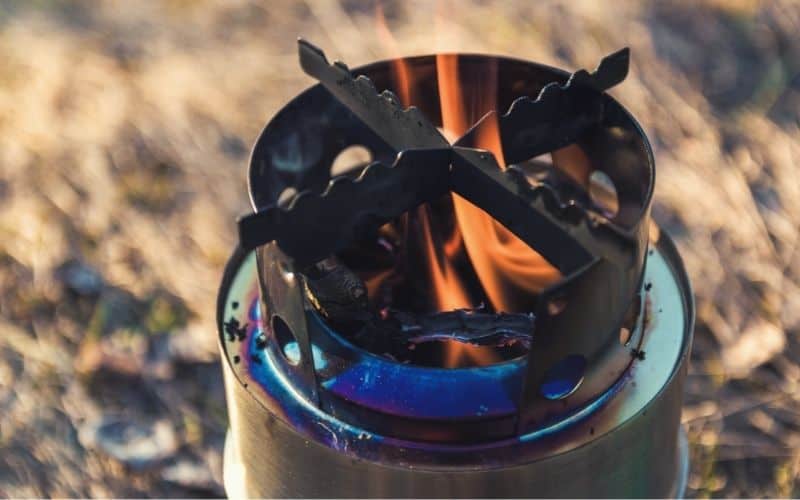 Size And Heat Efficiency
The Size and heat efficiency of your stove is another important consideration. The size of your stove determines two things – how packable it will be and whether or not it will allow you to cook with larger pots and pans.
If you're car camping in a group, then, a larger model like the kampMATE is the way to go. For solo backpackers or couples, however, a more portable wood-burning stove like the SS Lite or Toaks Titanium will do the job.
Efficiency comes down to the nuance of the design. Generally speaking, the most efficient stoves are those with a double-walled design that creates an insulating pocket between the fire and the elements, and air holes that boost combustion by allowing oxygen to 'fan the flames', so to speak.
We thought the Solo Stove, Ohuhu, and EcoZoom were the most efficient stoves we tested. That said, the BioLite's ability to charge your devices off the excess heat puts it on a whole other level efficiency-wise!
Weight
Weight is an important consideration for backpackers. While weight isn't such an issue if you're car camping, but if you're backpacking, you need a cooking system that will do the job you need it to do without weighing down your pack. In other words, choose something that has the right balance of weight, size, and efficiency to fit your needs.
At just over half the weight of the lightest of the other wood-burning stoves we tested, the Toaks Titanium is our pick for ounce-counting minimalists.
Stability
Stability is a very important factor for your safety and the safety of the environment you're camping in. All the products we tested were stable enough to support the right-sized pot. However, a few stood out in this metric: the offerings from EcoZoom, KampMATE, and SS lite, all of which felt particularly unlikely to collapse or topple over while in use.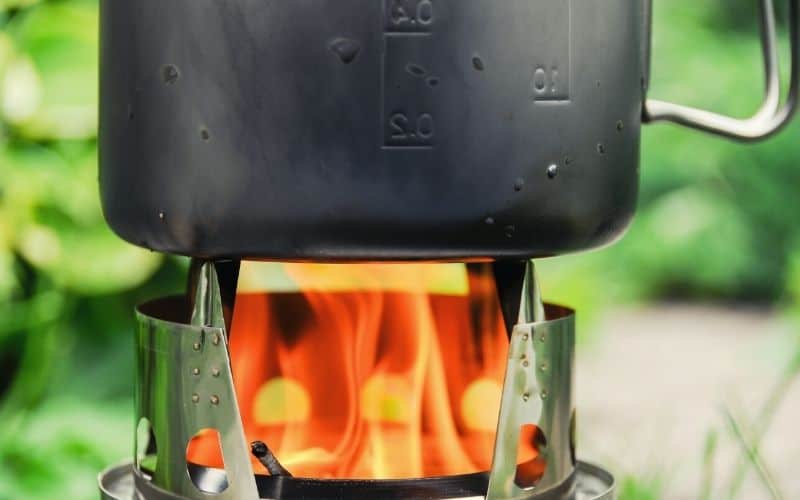 Material: Stainless Steel Vs. Titanium
Material is another important factor, and both of these materials are great for wood-burning stoves. However, stainless steel is going to be significantly heavier than titanium. If weight is important, as it is with backpacking, then consider titanium. Most of the stoves we cover here are made of stainless steel except for the Toaks and Lixada titanium stoves.
Why Use a Portable Wood Stove?
Cooking over fire is fun. But, simply cooking over a campfire is inefficient. With a wood-burning stove, you'll still get warm as the small fire inside heats up and that heat will be laser-focused on your cookpot, thus improving heating efficiency. 
More importantly, by burning wood, you'll have infinite free fuel all around you without having to carry fuel with you!
Best Small Wood Burning Stoves: The Verdict
In terms of all-around performance, the Solo Lite is our hands-down winner. It's lightweight, packable, durable, and the most efficient model we tested by far.
If the price tag on the SS Lite is a little too hefty, we recommend the Lixada, kampMATE, and Ohuhu stoves, depending on how compact you need your cook system to be.
And if you're planning a few multi-day trips, then our favorite backpacking stove is the Toaks Titanium. This lightweight wood-burning stove weighs next to nothing but is tough as nails and more than capable if you want to cook meals for one or two campers.
We hope you found this guide helpful. If we missed something be sure to let us know in the comments box below! And feel free to share this post with your friends!