Are you ready to shed the belief that camping is not for you? We understand your concerns. Sleeping on the ground, outside, with no heat or AC is an intimidating proposition, but we guarantee that it's one worth overcoming. The joy of a simple life, while camping in the woods is, often, enough to reconnect you with nature and the things in life that matter.
And, hey, we're not saying that you have to throw all sense of comfort and cleanliness out the window in order to go camping! With the right gear and camp systems, it's easy to transform your campsite into an oasis away from home. Our helpful guide to camping for beginners will provide specific motivation for why you should try camping, along with helpful gear suggestions, packing tips, and meal planning advice.
Why Go Camping?
Choosing a vacation with purpose is important. Time away from work has proven to be a vital contributor to overall health and happiness. The ability to relieve tension and stress while doing something that you're passionate about can, often, lead to increased focus and motivation, even upon returning to those less enjoyable commitments.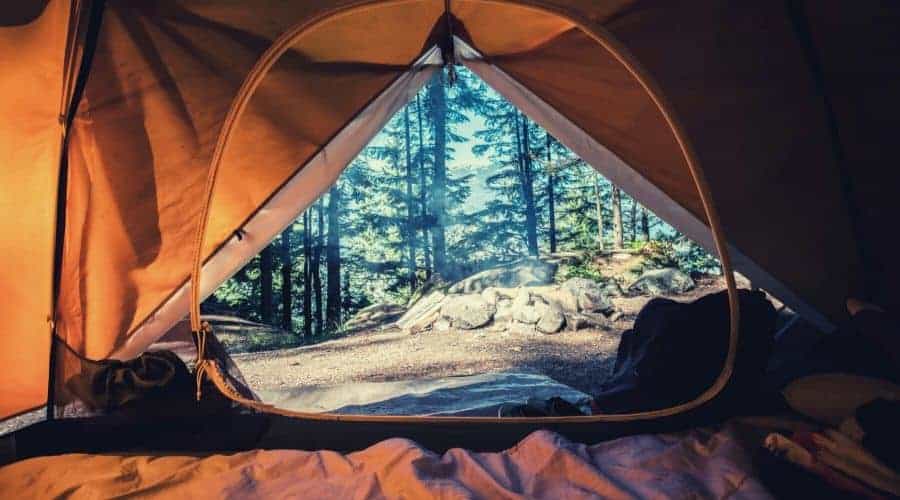 While the ideal way to relax and rejuvenate the mind, body, and soul will vary greatly from person to person, there seems to be a common theme amongst the happiest folks out there: simplification. It's hard to think of a better way to simplify what you, truly, need to be happy than time spent going camping with friends. Plus, there are some amazing benefits:
Affordability
With an average campground campsite cost of $20 -$35/night and many wild, or backcountry, sites that are free, camping is among the cheapest lodging options available for visiting a new area. Why be limited to 2 nights in a hotel when you could spend an entire week exploring a new city for the same cost, or less?
For some great ideas and potential adventures at awesome prices, then look into TripOutside's tours & rentals.
Connection To Nature
It's hard to explain if you are uninitiated, but there is something rhythmic and peaceful about falling asleep with the sounds of nature. Car camping is a great way to reveal the beauty of being outside and bring out your 'wild' inner self. Listening to the sounds of birds, insects, a distant howl from a coyote, a running stream, or simply the breeze blowing through the surrounding trees can breathe life into your connection and association with the great outdoors.
Health Benefits
We could write a novel on the many benefits one receives from spending time outdoors. We'll assume, though, that you'd like to know about them in a more timely fashion, so check out some of the articles below for examples of the ways that camping can be good for you:
Hopefully, the above was enough to convince you why you should learn to camp, so let's continue our beginners' guide with some basics.
What Type Of Camping Is Right For You?
Backpacking
Fitting everything you need to survive into a backpack and then carrying it for many miles through rugged terrain won't be for everyone. The added challenge of grocery/meal planning and the fact that most backcountry campsites have no amenities make backpacking better suited for experienced campers. It is the best way to achieve privacy and connection to nature, however, so it may be worth the trouble if maximum self-sufficiency is what you desire. If this type of adventure sounds more like you then head over to our guide to backpacking for beginners.
Car Camping
Typically, defined as the camping most of us are familiar with at established campgrounds where you can park your car directly next to your campsite for easy unloading. Additional amenities, like running water, electricity, bathrooms and showers, also, provide a more enjoyable experience for those who want to enjoy being in nature but not sacrifice every element of comfort. We feel that car camping is the best way to learn for beginners, pick up good camping practices and test new gear before venturing into backcountry terrain and is the type we'll be focusing on today.
Further Reading: To really save money, did you know you can camp at certain locations free? Check out our guide to dispersed camping to learn more.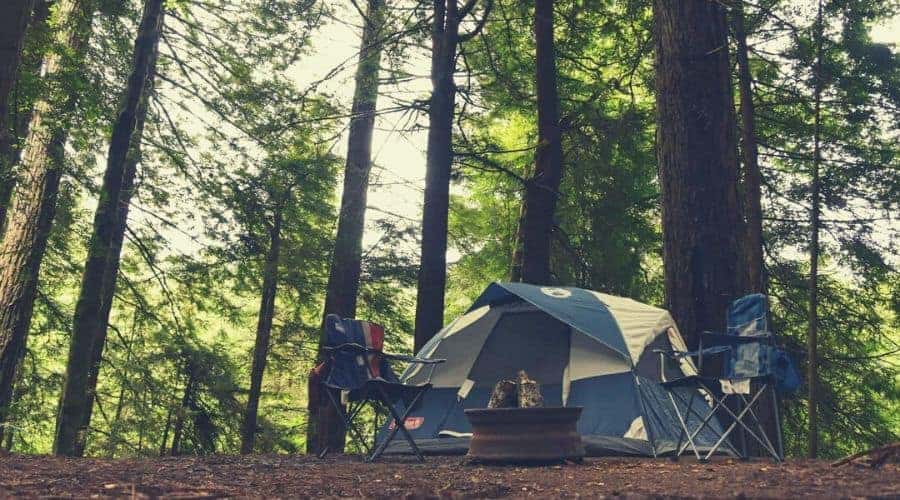 RV's
Recreational vehicles are growing in popularity, not just for their comforts, but as affordable ways to travel the country. Even non-campers are seeing the benefits of having a private apartment with you wherever you go.
Cabins
Ok, let's be honest. You will, probably, get some condescending stares from your car camping friends if you tell them that you went camping, only to stay in a cabin! With a bed, tv, and a kitchen, overnight stays in a cabin are a far cry from the simplicity and comfort sacrifices of traditional tent camping.
Glamping
Glamorous camping, or glamping, may be the fastest-growing segment within campgrounds across the country. As a way to overcome the traditional concerns with cleanliness and comfort that keeps many people from participating, campground owners are creating comfortable lodging options that blend the line between camping and staying in a hotel. Remember that Instagram post featuring an exotic-looking yurt, perched on a wooden platform, complete with furniture, lighting, and bug netting? Yep, that's glamping!
Once you've chosen your style of camping, let's continue our guide with a little camping preparation.
Camping For Beginners: Choosing A Campsite
Selecting the best site for your home away from home can be crucial to an enjoyable weekend at the campsite. We'd highly recommend that if you are a camping beginner, then keep it simple to start with and make your first car camping adventure close to home.
For longer stays, it will be even more important. Having to move all your equipment and gear to a better site, after previously being set up elsewhere, is never a fun task. Avoid the hassle and get it right the first time by following these key steps to selecting an excellent campsite.
Determine Your Trip Goals BEFORE You Pick A Campsite
Being honest with yourself about what you hope to get out of your time spent camping is one of the best ways to determine which site will work for you. Consider these factors and how they can affect where you choose to put up your tent:
Are you looking for maximum privacy and seclusion?
Or would you prefer to share the experience with others, making new friends?
How important is convenience to your camp experience?
Proximity to bathrooms, showers, sinks, potable (drinkable) water
What activities or experiences are you looking for and what is the best time of year to go. Are you looking for the fresh air & beautiful surroundings of the National Parks or some fishing time with your buddies?
What Are Your Size/Space Needs?
Many campgrounds limit the sites available to you based on your equipment (tent vs. camper van vs. RV). Knowing the dimensions of your tent or camper will help you select a campsite suitable for your needs.
Look For Level Ground
This may be the most important element of a good night's sleep. Look for gravel pads or grassy areas, which will be flat and comfortable to lay down. Also, consider the site's water drainage potential in case it rains.
Next up in our guide is some advice on basic camping gear.
Camping Essentials: Gear Advice
Camping Tent
Choosing a tent to suit your future adventures will, likely, be one of the first decisions you make on the path to becoming a camper. Consider how many people (and pets) will be sleeping inside it most nights to help you determine size. Larger, cabin-style tents are great for comfort and the ability to stand up once inside, however, they do take up considerable space during travel and have limited versatility away from campgrounds.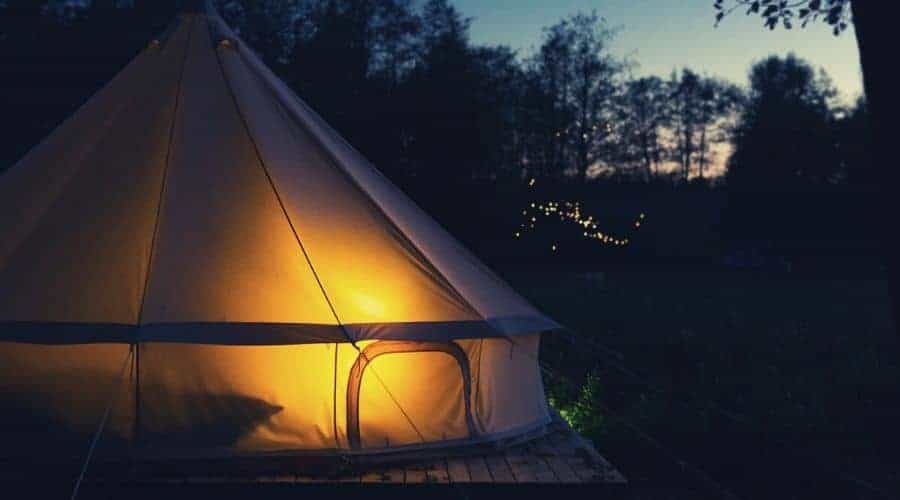 Whatever you decide, we recommend investing in a quality tent made by a respected manufacturer. Cheap tents, often, puncture easily and have poorly protected seams and zipper components. Check out our overview of the top-rated tents and brands to help decide which is the right product for you.
If you plan on cooking outdoors or are traveling in a larger group, taking an extra pop-up canopy can help provide shelter if the weather doesn't play along.
Sleeping Pad, Air Mattress, Or Cot
As with most camping equipment, you'll have to balance your desire for comfort with your available storage space. Blow-up air mattresses, like those commonly used for houseguests, can be a comfortable option. Keep in mind that they rely on electrical access to blow up and can be more susceptible to leaks and punctures than camping-specific designs.
An elevated camping cot may be ideal if you prefer to be up and off of the ground while sleeping, although they do lack some of the comfort seen in air pads and mattresses.
Thanks to the technology behind them, it's hard to go wrong with modern sleeping pads, like those by Therm-a-Rest or Exped. Sleeping pads are comfortable enough for car camping, but light enough for convenient travel or backpacking adventures.
Sleeping Bag
This is a great place to apply the 80% rule: It's a good idea to choose a sleeping bag, and temperature rating, that matches where you will be camping 80% of the time. Don't purchase a 0℉ cold weather sleeping bag anticipating one winter trip and then wind up miserably hot for the majority of your trips in spring, summer, and fall.
As your experience grows, you'll likely end up with multiple sleeping bags better suited to different environments to make sure you always get a good night´s sleep.
Further reading: Check out our guides to the best sleeping bags & sleeping bag liners.
Cooking Equipment
For most campers, a 2-burner, propane-powered stove will be more than enough to turn campground dinners into gourmet feasts. Look for pots/pans that clean up easily and retain even heat, which is often a challenge with lightweight, backpacking cookware.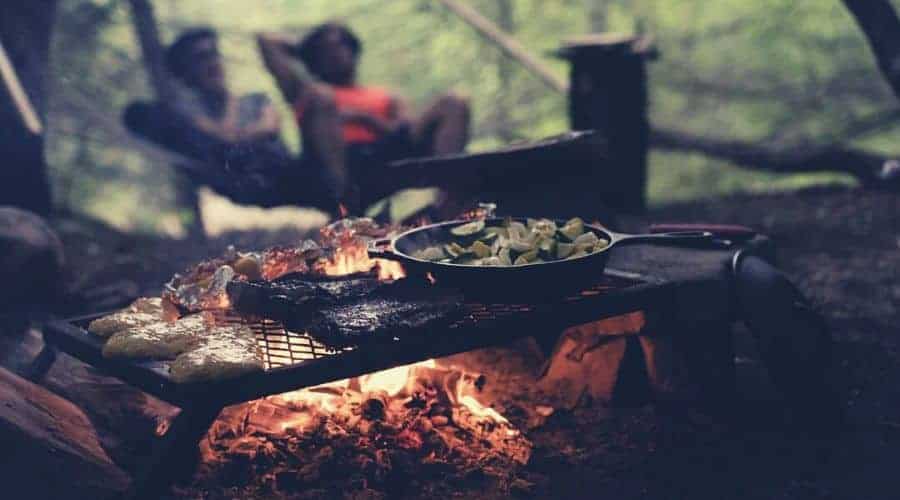 Stoves that feature piezo igniters make for quick and easy cooking, without the need to light a match. Also, look for features like integrated wind guards, convenient carry handles, and accessory hoses that allow your stove to run off of a traditional 5-gallon propane tank (like those seen with grills).
Toiletries
Whether you're in a cabin or a tent, your everyday essentials will be key to keeping you feeling clean and refreshed after days spent outside. We like to keep our toothbrush, toilet paper, toothpaste, contact lens solution, face wash, etc. in a separate stuff sack that is easy to grab when walking to a bathhouse.
Bags with multiple attachment points (we love our Patagonia Black Hole Cube) are great for hanging on door hooks. Organizational compartments, also, help reduce clutter.
Further reading: For more rustic campsites, learn how to dig a cathole latrine. Also, know the ins and outs of biodegradable soap for camping.
Extras
We'd also advise taking the following along with you:
Luxuries
For us, the following items may not, always, be classified as needs, but they are pretty darn essential to a good time.
Camp chairs – Hard to beat the feeling of leaning back after a long day of hiking and/or lots of time spent bending over tables, into tents, unpacking gear, etc.
A good book – Reading a book while cozy inside of your tent is a surprisingly simple joy (Consider a Kindle as a way to bring along lots of reading material without any bulk)
Camp pillow – Yes, you can shove your clothes into a sack to save the space a pillow takes up. No, it won't be as comfortable as an actual camp pillow!
Storage bins and/or gear duffels – organization is key when it comes to good camping
For those hot summer months, a portable tent fan can be an amazing investment.
Hey there beginner campers, almost there, lets's move our guide on to the main course – how to camp.
Packing, Arriving & Setting Up
Before You Leave
The final days before your first camping trip can be stressful. You're faced with wrapping up key deadlines from work and life, while, simultaneously, needing to prepare all your gear and clothing for the upcoming adventure. Despite the challenge, preparing for your first camping trip begins weeks before you leave.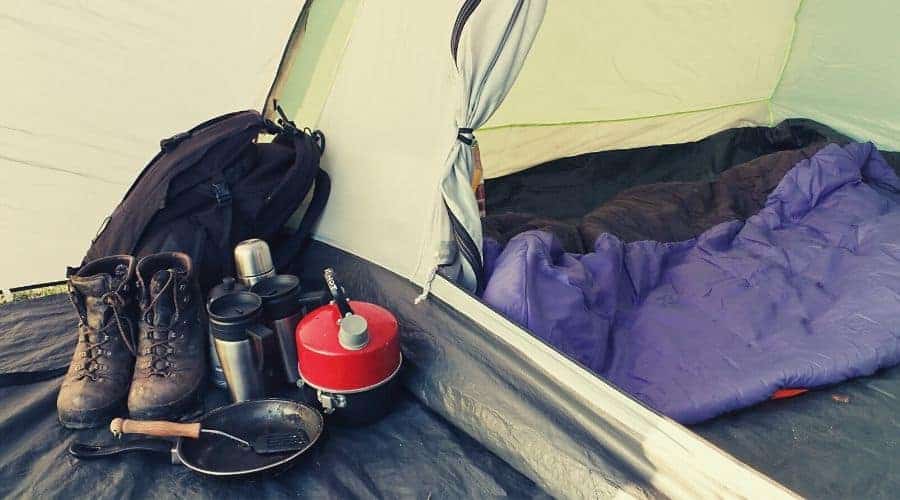 Early research will help in determining key aspects regarding your trip, like whether you need a reservation, available campground amenities (which may influence some of your gear & grocery selections), and fun things to do nearby. Here are a few other key steps that we always take to help us prepare for a camping trip:
Laying out gear on the floor – helps to visually confirm that we have what we need
Identify a meal plan and/or menu
Make a grocery list (mark which items can be bought in advance and which would be better to buy on the way or the day before leaving)
Utilize helpful gear checklists to highlight items you may not have thought about
Purchase or view necessary maps for hiking, biking, paddling, or other plans
Arriving At The Campsite
At most campgrounds, you will be required to stop at a registration office before continuing on to your site. If the campground allows it, make sure to explore all possible sites before selecting the one you'd like to camp at.
Be on the lookout for level ground (gravel tent pads are ideal if rain is expected) and proximity to other campers and amenities. Also, don't forget to check out the quality of smaller features within the site, like a fire ring or picnic table.
Setting Up Your Tent
Don't worry, setting up your campsite as a first-time camper doesn't need to happen at the speed of a Nascar pit crew! You'll find that as you continue to camp, you will pick up efficiencies that make the process less daunting. Browse some of our tips for making your first campsite setup a smooth operation:
Prioritize – Pitching your tent is, almost, always the most practical item to set up first. Don't get caught in a sudden shower with nowhere to go because you focused on the tablecloth and chairs first!
Be strategic with site layout – Where should the tent go? Where should the food area be? Will you still have room to park the car? Make sure to look for hazards in plain sight like dangling limbs above you, or ant mounds next to your tent door.
Laying down on your tent footprint is a great way to test the ground comfort of an area before fully erecting your tent
ALWAYS consider rain when camping – Is your tent site elevated? Do you see obvious ground runoffs that will fill with running water in the event of a storm? Keep in mind that grass and gravel will handle moisture better than compacted dirt. It's a great idea to check the weather forecast before you go & pack extra tarps if necessary.
Beginner's Guide To Camp Meal Planning
Planning campfire meals can be a frustrating task for the beginner camper (as well as the seasoned pro!), but it is one of the best ways to save money and create memorable moments. Time spent cooking and eating together, as a family, around the campfire is never wasted!
Remember that your meal options will be limited by the cookware that you bring, so be sure to research the best stoves if you plan to step into that camp chef role.
Planning
This sounds obvious, but start your planning by clearly identifying how many meals you need to make. Remember to factor in any plans to eat out into your meal planning. For us, a weekend camping trip (Friday afternoon- Sunday morning) will, typically, consist of two breakfasts, two snack/lunch options, and one dinner. We enjoy eating at a local restaurant one night, a great way to reduce your meal planning prep, while, also, getting to know the area.
Cooking
For simplicity, a deep-sided pot or saucepan will give you numerous meal options. Skillet cooking with a frying pan or griddle, however, opens up another level of gourmet camp cooking versatility (Nutella-stuffed french toast, blueberry pancakes, pizza, need we say more?).
If you are planning to cook over an open fire, make sure you know how to build a campfire safely, and understand the responsibilities that come with supervising it & extinguishing it completely.
Camping Adventures & Activities
Never fear the infamous 'What are we going to do?' question again! The possibilities are, almost, endless for what you can do while camping, but here are some of our favorites:
Day hiking (don't forget your hiking boots)
Bicycling
Waterfall adventures
Lake or pond swimming
Kayaking and Canoeing
Group campfires
Rock climbing (campgrounds are, often, the only lodging options near climbing sites)
Card games
Blisters Dice Game (created by an Appalachian Trail thru-hiker)
Sports
Plant identification (We like the Picture This-Plant ID app)
Geocaching
Reading
Crafts
Star-gazing (check out the Sky View app)
Practice your knot skills with our guide to camping knots.
Common First-Time Camping Mistakes To Avoid
​You don't start out an expert in anything, so be prepared for some frustrating (and comical!) trial and error as a new camper. From your first rainstorm to your first real meal cooked at the campsite, you will pick up on numerous intricacies that, ultimately, make the experience more enjoyable. Here are a few common mistakes that we've made ourselves, or watched others make, during their first trip camping.
An excessive amount of camping gear – Overpacking creates organizational nightmares, uncomfortable travel arrangements (best not to lose sight of your child amidst the pile of gear in the back seat!), and frustrating campsite set up clusters. Rather than buying everything that you think you might need in advance, wait until you've camped a few times and developed an actual need for something. Your opinions on necessary gear will, often, change after a few trips.
Cheap tent – Unless you enjoy soggy living quarters, poor puncture resistance, sticky zippers, and limited structural integrity, we suggest splurging a bit for a well-designed and quality manufactured tent. Not only will it provide a more comfortable experience, it is, likely, the more affordable option over the long term, as you won't need to replace it as frequently. Check out this article on caring for your tent to get the most out of your investment.
Improper disposal of grey water and food waste – If you're well-schooled in the principles of Leave No Trace, it can be a frustrating sight to watch newbie campers, carelessly, dumping their dishwater and food scraps in the trees behind their site, increasing the likelihood of animal encounters, and creating nasty sites for future campers. Follow the rules for proper disposal at every campground you visit. Most will have specific locations for dumping grey water, often sinks near a bathroom or at a gravel drainage site within the campground.