When planning for a camping trip, it's easy to forget about meal planning until you're standing 'round the campfire with your stomach growling! Sure, roasting hot dogs and marshmallows is great fun… until you've eaten them for dinner three nights in a row.
Worry not, we've got an easy solution to keep you and your camping companions from turning into a pack of ravenous grizzlies: prepared at home camping dinners!
Prepping and planning your food before you get to your campsite is an easy and hassle-free way to enjoy delicious and filling meals while far from your kitchen at home. Check out our 21 favorites and spend your time enjoying the great outdoors, not slaving over the stovetop!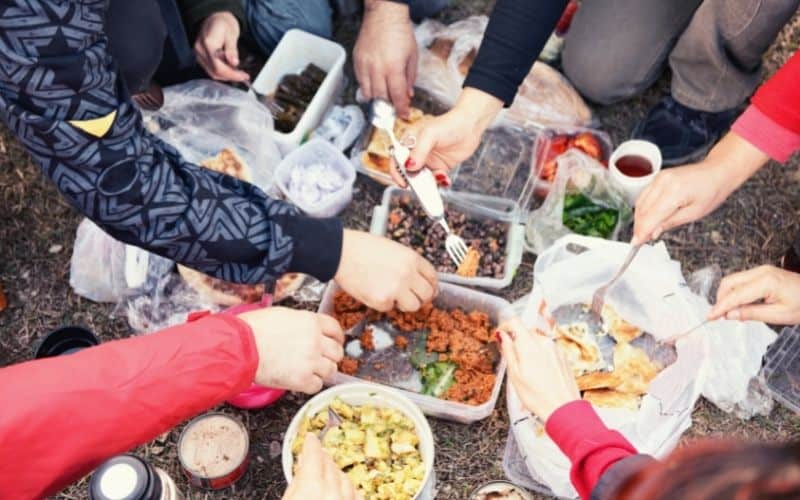 Camping Breakfast Recipes
1. Breakfast Burritos
Packed with protein and filled with yummy Southwest-inspired fillings, breakfast burritos are a portable and mess-free way to enjoy a hearty breakfast while at camp. Wrapping each burrito individually in a foil packet helps avoid mess and makes for easy reheating over a campfire. Just make sure you know how to roll them properly!
The best part is that burrito fillings are easy to customize to match the preferences of each of your campmates. Got some vegetarians or vegans in your midst? Just swap out the eggs for some black beans or scrambled tofu. Not a fan of rice? Leave it out or try another carb like sweet potatoes.
2. Make-Ahead Pancake Mix
Pancakes are the ultimate comfort food and a popular breakfast option for many campers. But did you know that making your own pancake mix is incredibly easy to do at home? It is less expensive too!
All you need is flour, baking soda, sugar, and salt. Just mix up your dry ingredients at home and add your wet ingredients right before cooking. Don't forget to bring non-perishable toppings like chocolate chips, raisins, or dried berries too. Store your maple syrup in a squeeze bottle for easy pouring.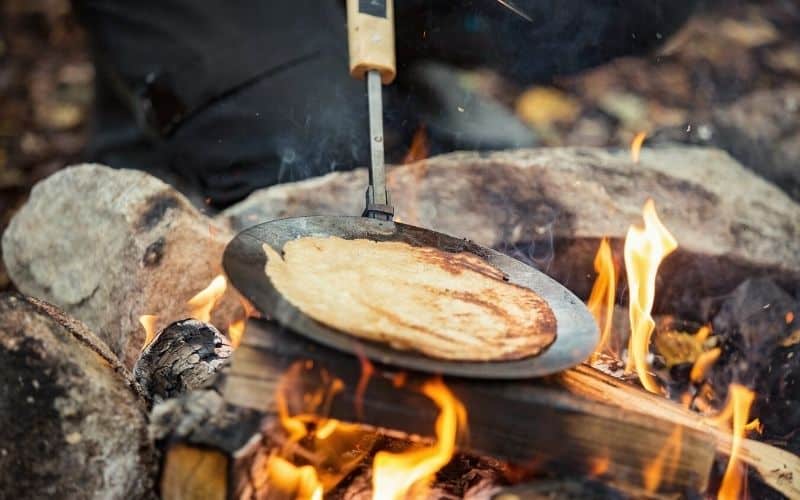 3. Egg Sandwiches
Cheap yet delicious egg sandwiches make a satisfying meal that's easy to prepare in bulk. You don't need a bunch of fancy ingredients to whip these up, either. You've probably got all the ingredients you need right in your pantry!
Slice English muffins in half (any old bread will work in a pinch) and fill them with any combination of eggs, meat, veggies, and cheese. To make things even more convenient, you can usually find sausage and egg patties pre-cooked in the frozen aisle. Wrap each sandwich in foil and thaw and reheat before chowing down.
4. Avocado Toast and Boiled Eggs
Avocado toast with boiled eggs is a protein-filled breakfast that packs a whole lot of flavor. Believe it or not, avocado toast feels like a fancy breakfast you can only enjoy at home, but it's actually quite an easy meal to prepare fireside!
Pre-boil your eggs at home to minimize prep time. At your camp, simply coat a cast-iron skillet with cooking spray or olive oil and toast your bread. Create the ultimate decadent camp meal by layering avocado, cream cheese, and your eggs on top of your toast.
5. Dutch Oven Banana Bread
What could be better than waking up to a slice of fresh banana bread? All you need to enjoy fresh banana bread campside is a dutch oven. It might seem complicated to cook bread over a campfire, but it's actually quite simple to whip up this tasty treat.
Start by pre-mixing all your dry ingredients at home and then adding the wet ones at your campsite right before baking. Pour your batter into a dutch oven lined with parchment paper. Bake for about 30 minutes and enjoy!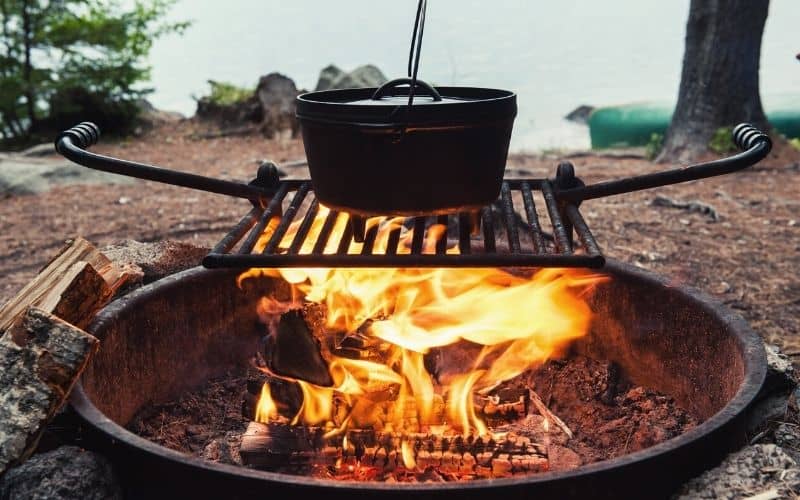 6. Overnight Oats
If you're recoiling in horror at the thought of eating "porridge", overnight oats will make you into a believer! Rolled oats are easy to transform into a tasty and nutritious breakfast by adding flavorful toppings, from classic nuts and seeds to chocolate or coconut shavings.
To get started, just grab some pint-sized mason jars and fill them halfway with rolled oats. Fill your jar with milk, whole or plant-based, or even water, until your oats are completely submerged. Load up the rest of your jar with whatever toppings your heart desires. If you want your oats a little sweeter, feel free to sneak some maple syrup or brown sugar in there.
Leave your oats on ice overnight and enjoy the next day! For some inspiration check out these overnight oats ideas.
Camping Lunch Recipes
7. Pigs in a Blanket
Roasting hot dogs 'round the campfire is a camping tradition, but if you're starting to grow tired of eating this old favorite, spice things up by making pigs in a blanket! All it takes is some store-bought crescent dough or puff pastry.
Get started by cutting a hot dog in half and wrapping each side with your pre-made dough. Mix things up by adding a layer of cream cheese, bacon, or shredded cheese. Roast your pigs in a blanket over a campfire for a new twist on this old favorite.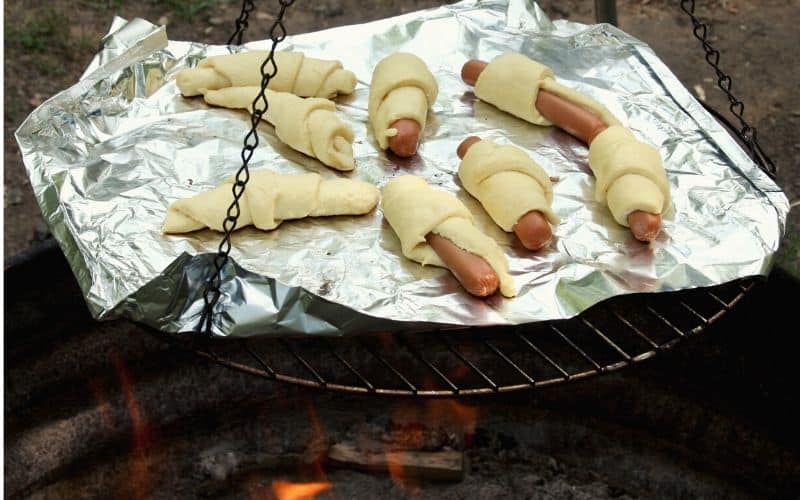 8. Tacos
Tacos are a simple pre-prepped camping snack that are ridiculously easy to prepare at home and just assemble while at camp. To streamline the process, pre-cook your meat, chop all your veg, and prepare your sauces before you arrive. At camp, all you need to do is grab a cast-iron skillet or a dutch oven and heat your tacos to achieve that melted, cheesy goodness we all love! 
9. Cold Pasta Salad
Camp cooking becomes a whole lot easier when you stick to classics like cold pasta salads. Pasta salad is not only super easy to make but it's the perfect lunch for campers because it's even better the day after it's made. 
Just cook some pasta, let it cool, and then add all your toppings like mayo, deli meats, veggies, and fresh herbs. Store your pasta salad in an icebox to keep it fresh before serving. Sure, you could just grab some pre-cooked pasta and heat it over the stove, but this way's far tastier and lets you leave the stove at home!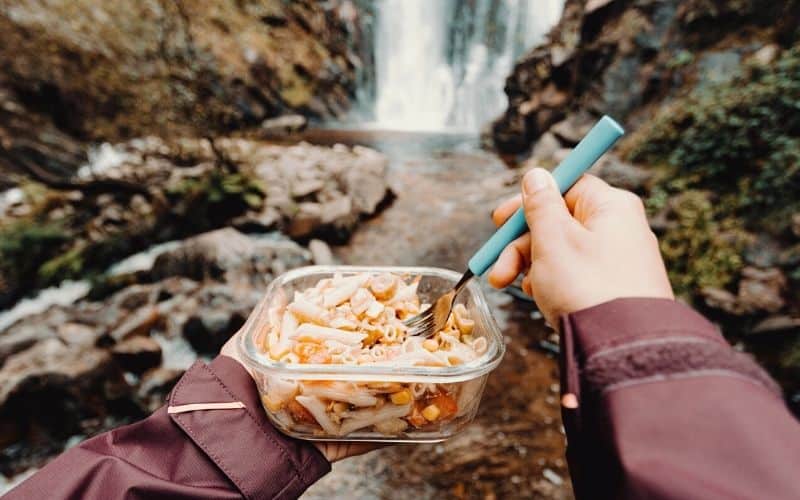 10. Mini Quiches
Easy to prepare and quick to reheat, your whole family will love these bite-sized mini quiches! All it takes to whip up this savory lunch is to whisk eggs in a bowl, add your favorite toppings like bacon or bell peppers, and fill up a muffin pan with the mixture. Pop them in the oven for roughly 15 minutes until the eggs are cooked through and then reheat at camp.
11. Peanut Butter Sandwiches
Believe it or not, you can turn a classic peanut butter sandwich into a decadent lunch! While there's nothing wrong with the classic peanut butter + jam combo, there are a few easy tweaks you can use to up your PB&J game. Add some apple, bacon, and pomegranate for an amazing combo that's both tart and sweet, or try making your sandwich with french toast instead of bread!
Camping Dinner Recipes
12. Skewered Beef, Chicken, or Veggies
Grilled skewers are the perfect make-ahead dinner for feeding large groups. Not only are they easy to prep and cook, but you can also customize your skewers to please a variety of palates by just swapping out the meat or veggies. 
Got some vegetarians or vegans in your crew? Just replace the meat with cubed and marinated tofu!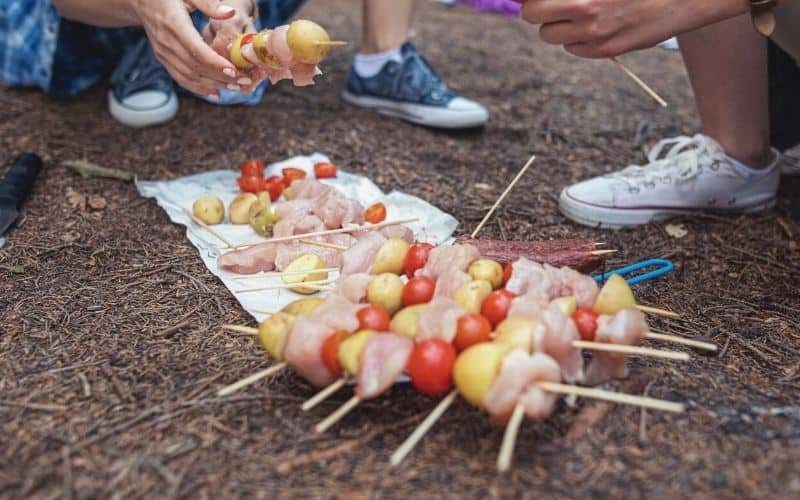 13. Chicken Enchiladas
Yes, you can enjoy this Tex-Mex favorite even while out in the sticks! Fill tortillas with Southwest and Mexican-inspired flavors like chicken, beans, and salsa, and then cover them in enchilada sauce. Go ahead and make them as mild or spicy as you like, just make sure to bring extra lime juice and sour cream to top off each enchilada.
When you're ready to eat, there are several ways to reheat your enchiladas. Just grease the bottom of a skillet or dutch oven and wait for the cheese to completely melt and the enchiladas to heat all the way through.
14. Chili Bowl
On a cold night, nothing beats hanging out around the campfire with a warm bowl of chili. While every chef has their own secret recipe, the trick to bringing out the best flavors is to use only fresh ingredients. For instance, try grinding your own chili powder for an explosion of flavor!
Bringing chili along on your next camping trip is as easy as pre-cooking it at home and then reheating campside. Or alternatively, try this campsite classic chili recipe. Don't forget to bring along some tortilla chips or cornbread for dipping!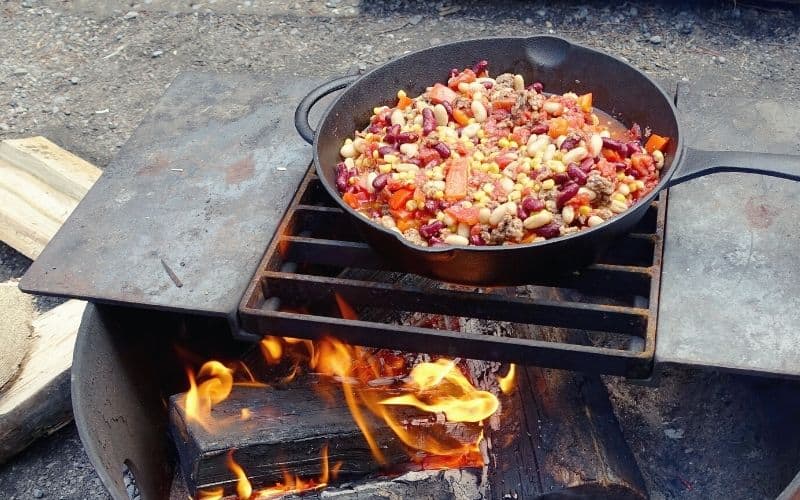 15. Mac N' Cheese
Everyone's beloved childhood favorite also makes the perfect pre-prepped camping meal. Easy, fast, and oh-so cheesy, mac n' cheese is ridiculously simple to prep before a trip and then store in a cooler. Just add up to three different kinds of cheese to cooked pasta, along with milk or half-and-half, until you get the desired consistency to your sauce.
Prep your pasta into individual mini pie tins for easy serving. Come dinnertime, just reheat each pie tin over a grill for 8–10 minutes until heated all the way through.
16. Beef Stew
Even the biggest appetites are no match for a bowl of hearty beef stew. Served with a salad and some fresh bread, a bowl of stew brings home-like comfort to any camping trip. You don't need to prepare it the night before your trip, either. Beef stew can be made ahead of time, frozen, and then simply heated up over the campfire!
17. Campfire Pizza Log
Making pizza ahead of time to enjoy while camping is a whole lot easier than you think. Rather than opt for the traditional round pies, choose a square pizza dough, add your toppings, then roll it up like a log. That way, you can wrap it in tin foil and freeze it for later. When you're finally fireside, just reheat the entire log on a cast-iron skillet or griddle. You can't go wrong with this crowd pleaser!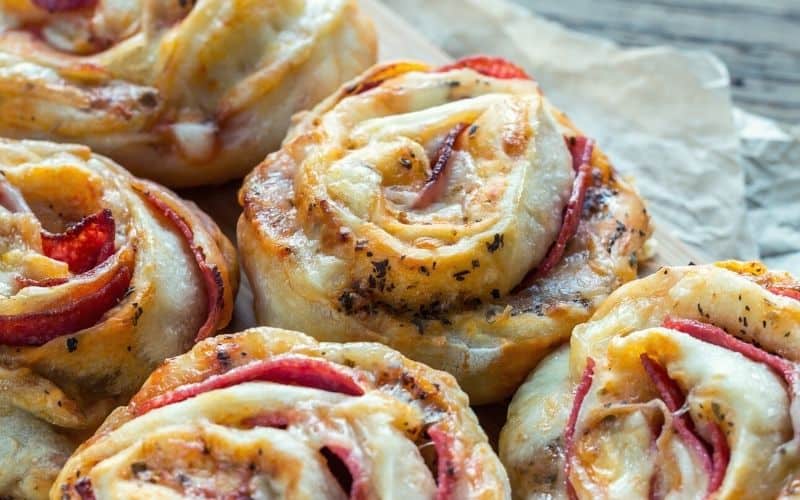 Camping Dessert Recipes
18. No-Bake S'mores Bars
For a fun spin on classic s'mores, try making some no-bake s'mores bars. Combining sweet, salty, and savory flavors, making s'more bars is as easy as mixing the ingredients and letting them set in the fridge before serving.
Just fill a baking dish with the usual s'mores suspects like mini-marshmallows, chocolate, and graham cracker pieces. Cool for 2 hours, cut into squares and keep them in a tub until serving.
19. Cinnamon Rolls
If you mix up a batch of cinnamon rolls and icing before your next camping trip, you'll have a mouth-watering dessert you can cook while camping! Once you've made your cinnamon rolls, it's as easy as keeping them on ice until it's time to cook them in a dutch oven right over your campfire.
To save even more time, feel free to use store-bought, pre-made cinnamon roll batter (we won't tell!).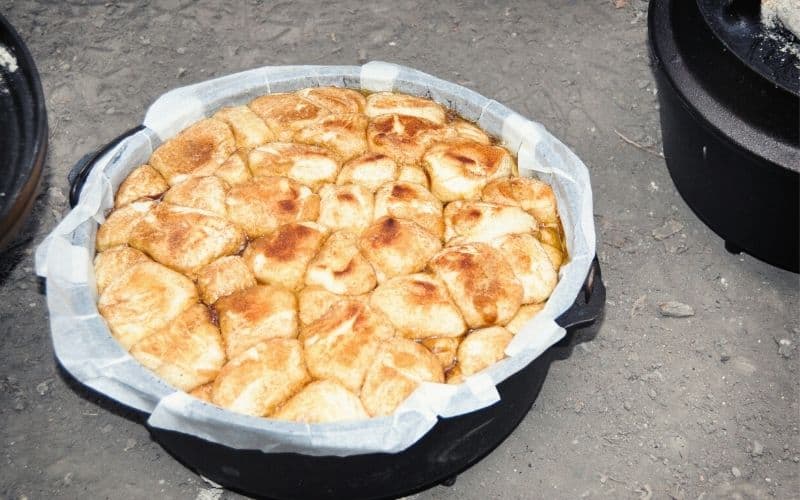 20. Oatmeal Energy Balls
These sweet treats not only taste delicious, but they double as a great hiking snack as well. Packed with filling and nutrient-dense ingredients, enjoy them while on the go for a burst of energy or after dinner for a sweet finish.
Just mix rolled oats and peanut butter until the dough holds its shape. Mix in all your favorite toppings like nuts, seeds, chocolate chips, or coconut flakes, then form the dough into balls and let them set in the fridge.
21. S'mores Nachos
It's no secret that campers love classic s'mores, but after a long day of outdoorsy fun you might not feel up to cleaning the dripping, gooey mess that always follows a s'mores feast.
With s'mores nachos, you get all the flavor of chocolatey, delicious s'mores, with none of the intense clean-up. Just line the bottom of a foil baking pan with graham crackers and add all your favorite toppings like marshmallows and chocolate. Cover with tin foil and cook over a grill or camp stove before serving.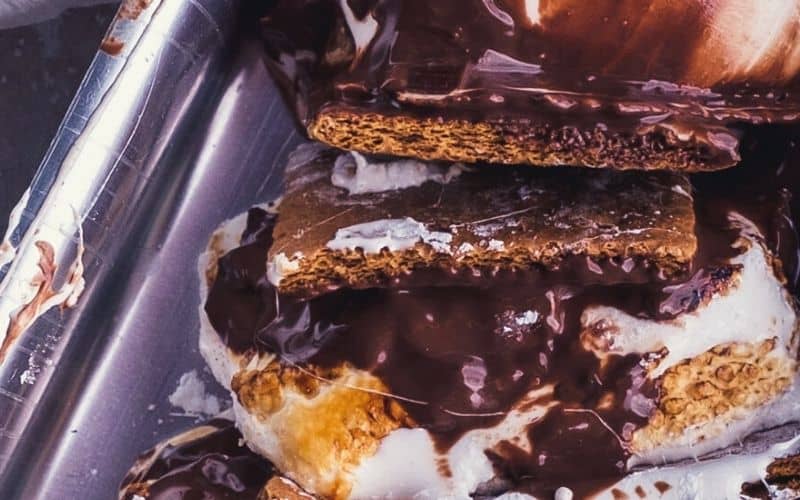 Further Food Prep Tips for Camping
Here are some general food prep tips to help you prepare for your next trip:
Do most of your meal prepping before you get to your campsite. Chop any fruit and veggies, pre-mix any dry ingredients, and prepare your spices for easy cooking at your camp.
Premake your meals and package each one in a foil packet for easy rehearing. It's much easier to heat food up than it is to cook from scratch.
Bring along your favorite spice mixes. The right spices will go a long way to fixing bland camping food!
Always bring extra snacks. You never know when a meal might be a miss or you'll be dealing with some extra-hungry campers.
Stock up on foil packets!
Make-Ahead Camping Meals: Bon Appetit!
We hope these 21 easy campsite meals have inspired you to try meal prepping before your next camping trip. After all, the less time spent cooking, the more time you have to enjoy your meals with your family and friends. 
Got any favorite make-ahead camping meals for camping that we missed? Be sure to let us know in the comments box below. And please feel free to share this list with any of your camper pals. Happy camping (and dining)!