Love camping but hate cooking? Then you need to try some of these delicious camp meal suggestions that don't require a fire or stove.
We're not talking about trail mix or canned soup either. We've created a list of our favorite no-cook camping meals that are sure to please even the pickiest of campers. From filling breakfasts to tasty desserts and snacks, you'll find something for all tastes and appetites.
So whether you're dealing with fire restrictions or it's too dang hot to cook, enjoy choosing from these fuss-free campsite meal ideas.
No-Cook Camping Breakfasts
1. Overnight Oats
Oats are nutritional powerhouses that contain a healthy balance between carbs and protein, so they'll provide plenty of energy for outdoor fun. Overnight oats make a filling breakfast that you can easily pre-make at home in mason jars. The night before you want to enjoy them, just add liquid like water or milk and stir.
Get creative with your toppings since the possibilities are practically endless! Add in mix-ins like fresh or dried fruit, chocolate chips, nuts, shredded coconut, or sesame seeds.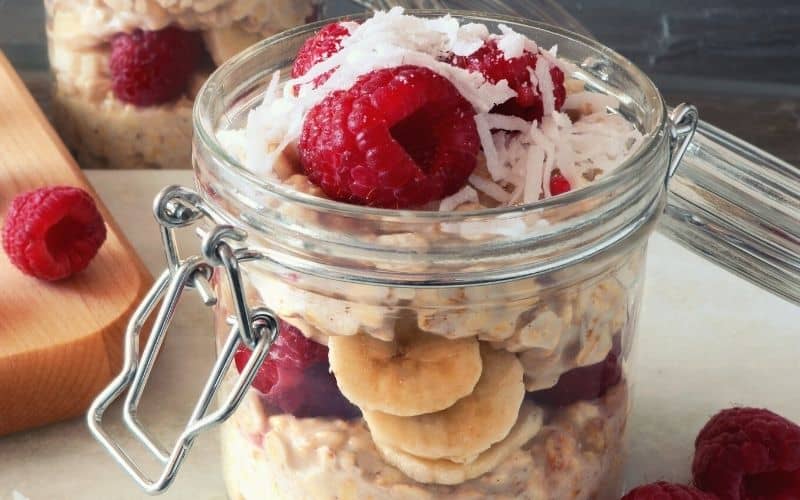 2. Boiled Eggs
Hard-boiled eggs are an excellent source of lean protein that will fill you up without packing in too many calories. If you get tired of eating them plain, start sneaking them into fresh salads, sandwiches, or pasta.
You can pre-boil your eggs at home for extra convenience. As long as you keep them refrigerated, a boiled egg will last up to 7 days in the fridge.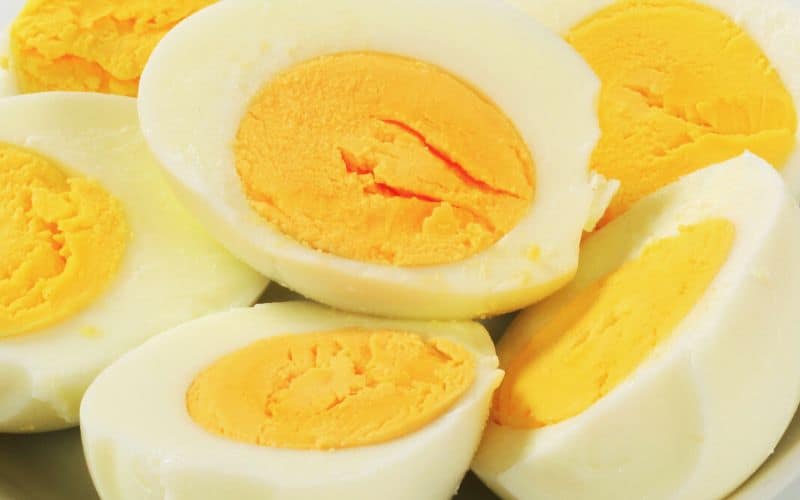 3. Egg Muffins
There's no reason you can't enjoy eggs at your no-cooking campsite, just make some egg muffins at home and bring them along! Grease a muffin tin and fill each cup with whisked eggs. Add toppings like sliced ham, cooked bacon, or fresh veggies. Cook for roughly 15 to 20 minutes until cooked through! They'll last about 3 days in the fridge.
4. Fruit Stuffed Wraps
Fill tortilla bread with fresh fruit for a nourishing breakfast or afternoon snack. Just make sure you assemble them right before eating to avoid your tortillas becoming soggy. Be sure to add some nut butters, greek yogurt, or cottage cheese to add a bit of protein to your meal.
Want to make them extra kid-friendly? Add some Nutella or chocolate chips!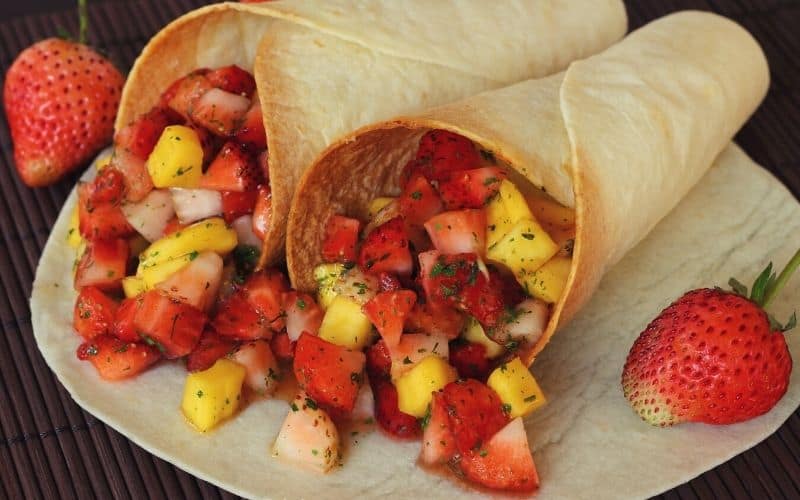 5. Make-Ahead Waffles or Pancakes
Making waffles or pancakes at your camp would require some cooking, so why not make them ahead of time instead? Once you're at your campsite, you can simply reheat them or enjoy them at room temperature.
As long as you keep them refrigerated, waffles or pancakes will last up to 2 days. Just don't forget your maple syrup (carry it in a squeeze bottle for extra convenience).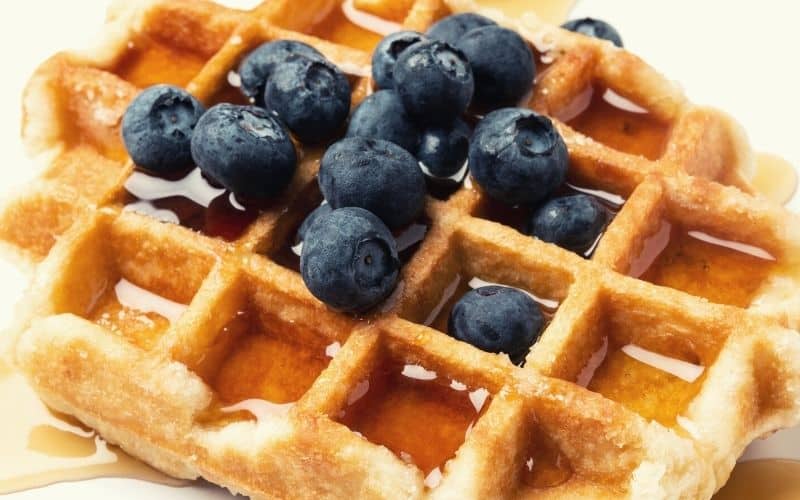 6. Fruit Salad
A bowl of fresh fruit is delicious and filling on its own, but with just a couple of tweaks you can turn some fruit into an amazing fruit salad. Mix colors, flavors, and textures to win extra points for taste and presentation. Add in extras like dried fruit, toasted nuts, orange juice, or extra brown sugar to enhance the flavor.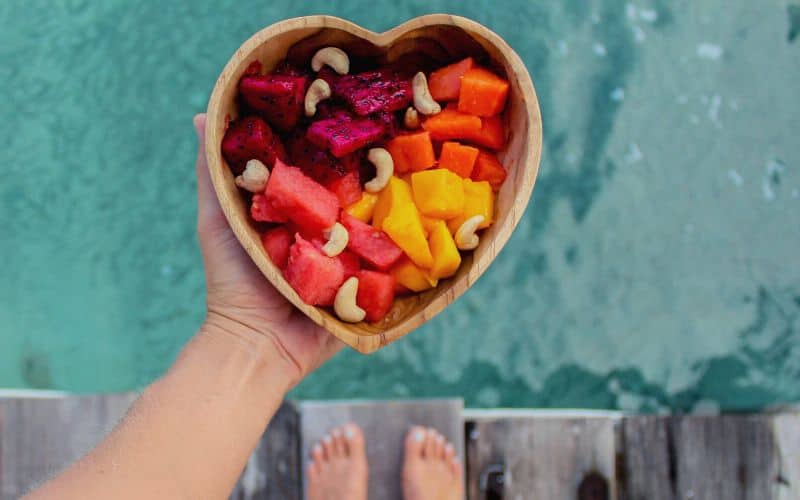 No-Cook Camping Lunches
7. Peanut Butter & Jelly Sandwiches
It's hard to go wrong with a classic PB&J. If you can, opt for whole wheat or rye bread as its higher fiber content will keep you fuller for longer. Throw in a banana or some sliced strawberries for a bit of variety.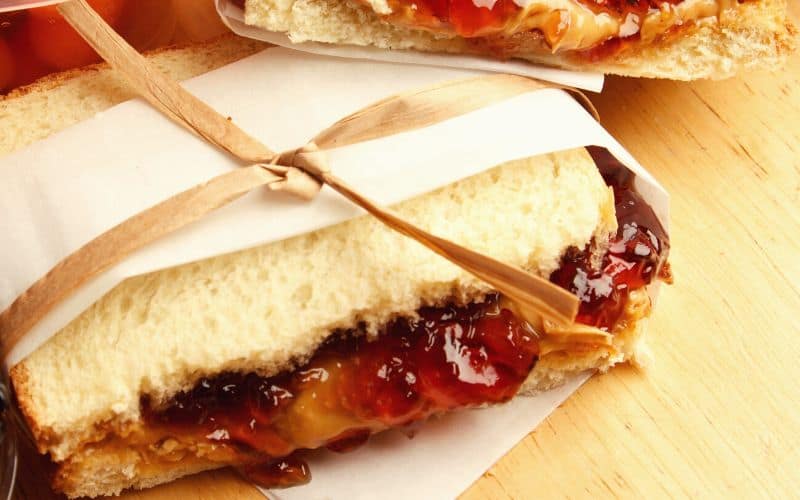 8. Cherry Tomato Caprese Salad
A Caprese salad is one of those meals that will impress your guests despite being ridiculously easy to make. In a bowl, combine halved cherry tomatoes, mozzarella pearls, olive oil, and fresh basil. If you can't find mozzarella pearls, just use fresh mozzarella and cut it into small pieces. You can also add in some balsamic vinegar (just don't tell your Italian friends about it!)
Let your salad sit at least 30 minutes before serving. This salad pairs well with other no-cook meals like cold-cut roll-ups or pesto pasta salad.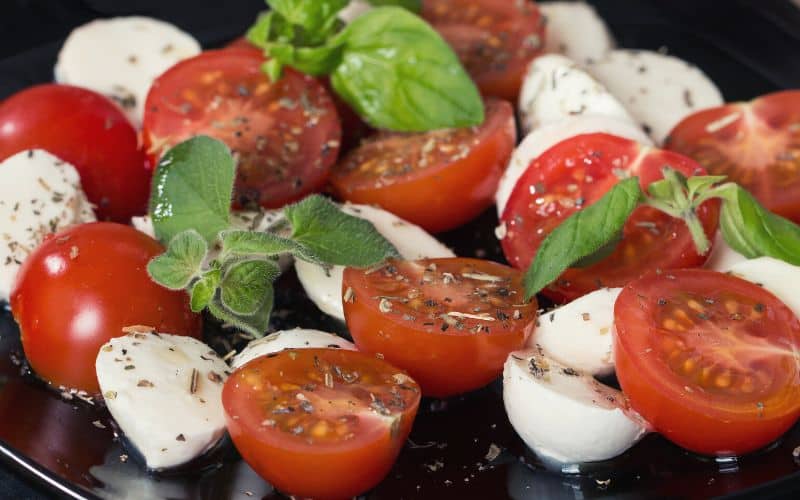 9. Tuna Salad
Pack some canned tuna, mayo, and mustard and you'll have all the fixings to make some tuna salad. Feel free to add in some diced celery or a hard-boiled egg. Eat your tuna salad with crackers or spread it on some sandwich bread. You can use the same recipe with canned chicken, too!
10. Guacamole and Chips
Avocados are a rich source of antioxidants and anti-inflammatory compounds. And it's easy to transform avocados into a no-cook, delicious meal. Make some guacamole and enjoy it with pita bread, corn chips, or crackers or enjoy some avocado toast with some sliced cheese and tomatoes.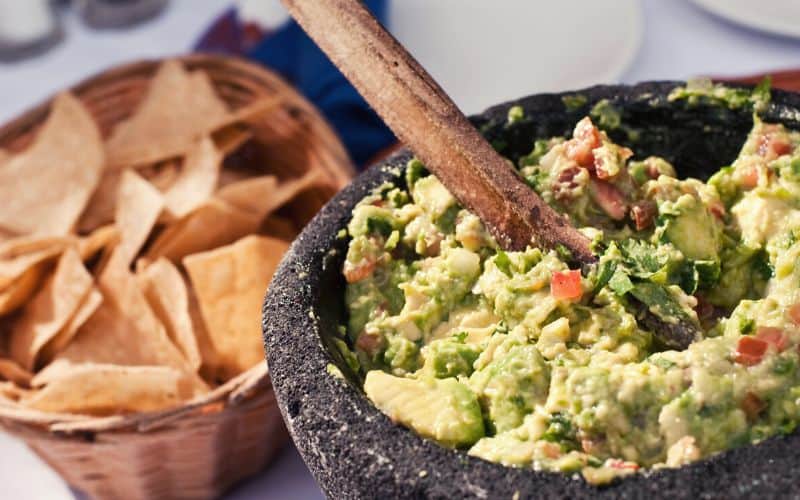 11. Smoked Salmon and Cream Cheese Bagel
Smoked salmon (or lox) on a bagel is one of those camping meals that feels decadent but takes very little time to prepare. Grab a toasted bagel, spread on some cream cheese, layer your smoked salmon and top off with chives if you have them.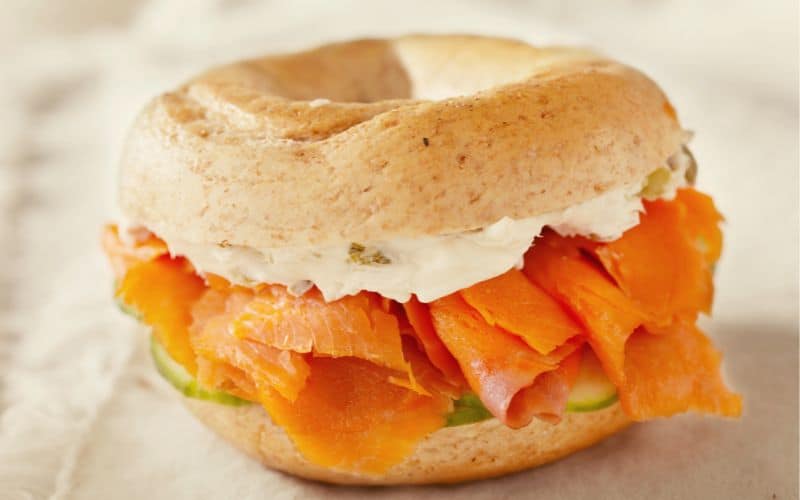 12. Mashed Chickpea Sandwiches
These sandwiches are vegan-friendly and jam-packed with nourishing ingredients. In a bowl, mash some chickpeas with a fork until they reach your desired consistency. Spread your mashed chickpeas on some sandwich bread and add other toppings like hummus, avocado, sliced tomatoes, mixed greens, and sprouts. Super healthy and delicious!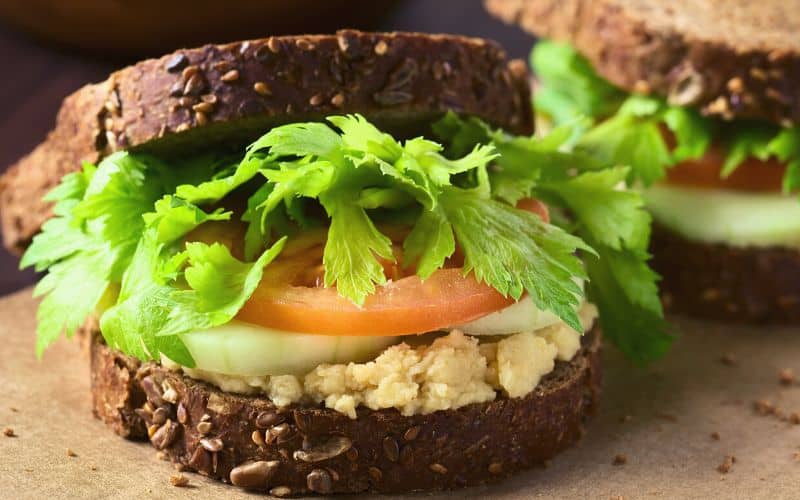 13. Cold Cut Roll-ups
When it comes to no need to cook camping meals, it doesn't get much easier than cold cut roll-ups. They're also a great choice if you need a filling lunch that you can eat cold.
You can make this low-carb, easy camping meal by filling deli slices with fillings such as feta cheese or sliced cheese, fresh veggies, and herbs, and then roll them up into little burritos.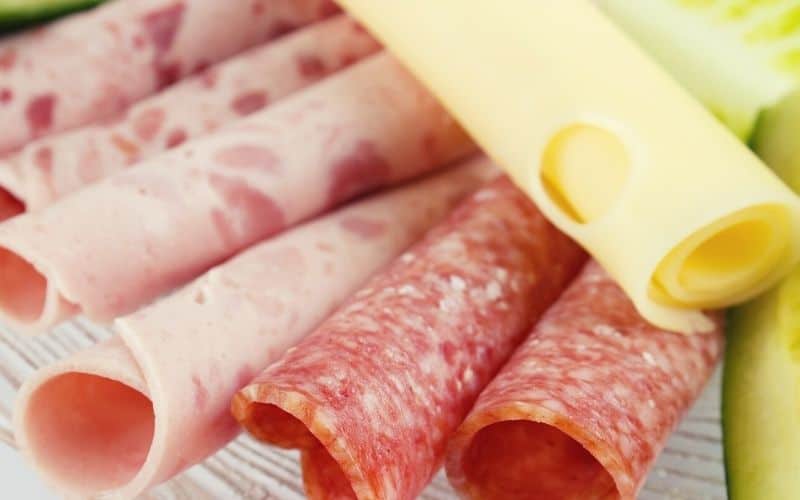 No-Cook Camping Dinners
14. Chicken or Beef Bowls
After a day filled with outdoor adventures, chicken or beef bowls make a tasty dinner that you can whip up in under 5 minutes if you precook all your ingredients. Just fill a bowl with a protein source like shredded chicken or beef, canned beans, or crumbled beef. Go wild with the toppings like veggies and grated cheese, and top off with salsa or taco seasoning for a boost of flavor.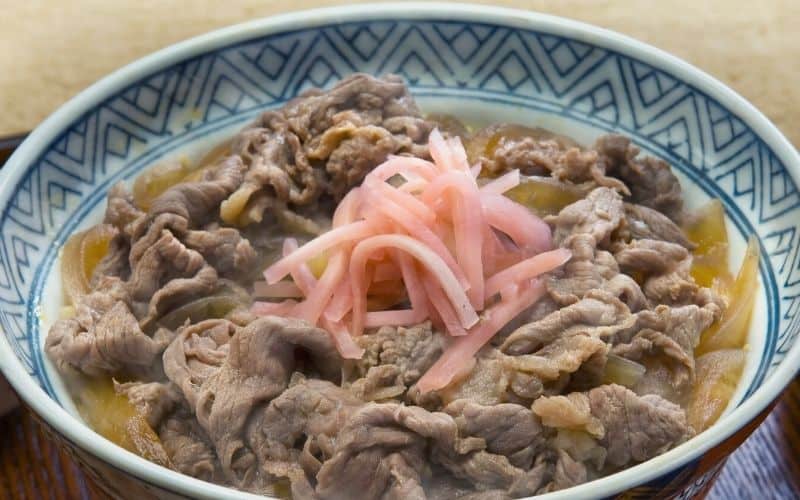 15. Pesto Pasta Salad
Pesto pasta salad is a versatile dinner that you can whip up in just ten minutes. If you don't want the hassle of cooking your pasta at your camp, just pre-make your pasta salad at home. That will give all the flavors in the pasta more time to meld! If pesto sauce isn't your thing, try making your pasta with dijon or Italian dressing instead.
16. Make-Ahead Six-Layer Salad
This potluck favorite also makes a tasty, make-ahead camping meal. In a glass bowl, layer anything you want from cooked pasta, precooked or rotisserie chicken, boiled eggs, chickpeas, shredded lettuce, or any other vegetables. Add your favorite dressing like Italian or dijon and pour it over the top. Let it sit overnight in the fridge to allow the flavors to meld.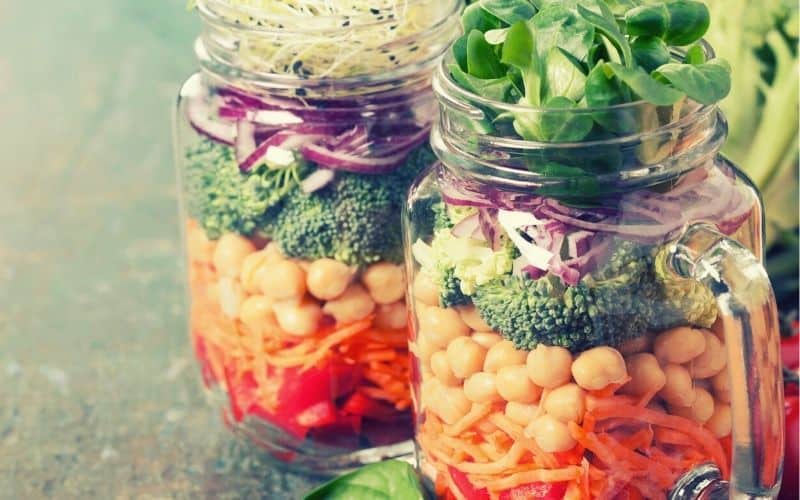 17. Charcuterie Board
Charcuterie is just a fancy name for a meat or cheese board. Lay out a variety of deli meats and cheese, along with some crackers or pita bread, and you'll have an instant crowd-pleaser. You can also add extras like grapes, summer sausage, dates, olives, or chutney to give your fellow campers some nice variety.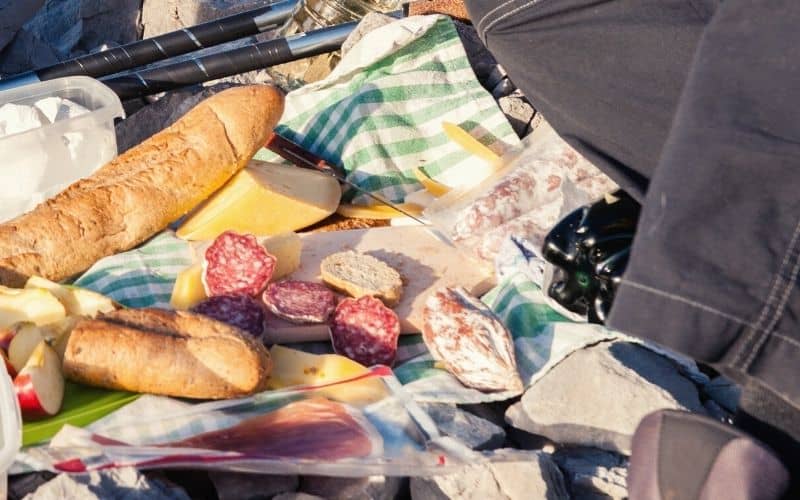 18. Ramen Noodles
If you have access to boiling water, you can turn any ol' pack of ramen noodles into a tasty and satisfying dinner. After you've thoroughly cooked your noodles, just add in some fresh ingredients like scallions, spinach, ginger, boiled eggs, or pre-cooked chicken. You'll be amazed at how adding just a few fresh instantly upgrades your ramen!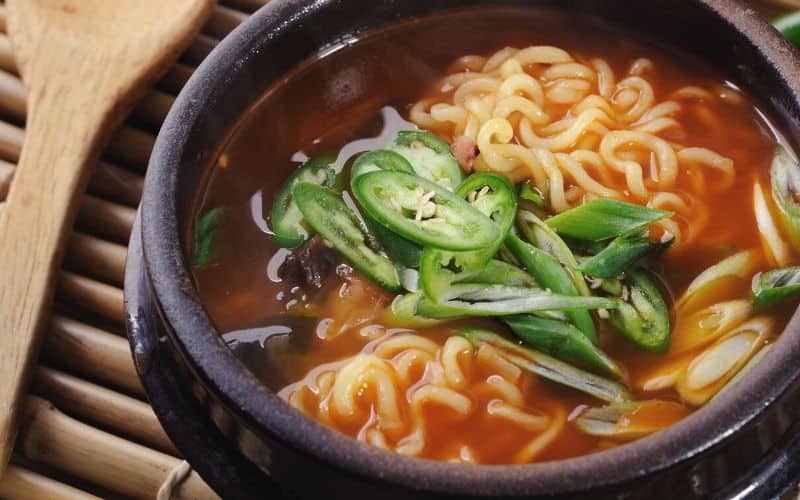 19. Southwest Salad
You can make a flavorful and healthy salad just using canned ingredients and extra spices. Combine a can of black or pinto beans, canned corn, drained diced tomatoes, jalapenos, and olive oil with spices like smoked paprika and garlic powder. If you have them on hand, feel free to add some fresh ingredients too like cooked meat, bell peppers, lettuce, or shredded cheese.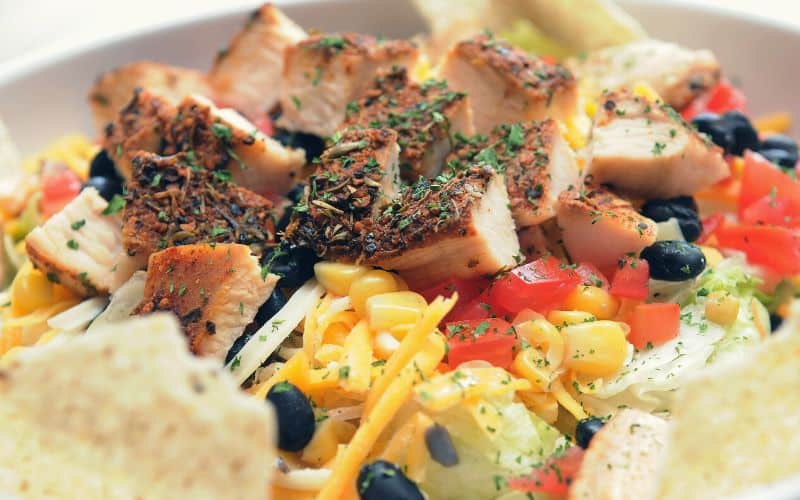 No-Cook Camping Desserts
20. Yogurt Parfaits
Looking for a tasty, yet healthy, dessert? Throw together yogurt parfaits! All you need is a small and tall container like a glass or mason jar. Take turns layering yogurt, jam, and toppings like granola until you reach the rim. If you want to up the protein, switch to Greek yogurt instead.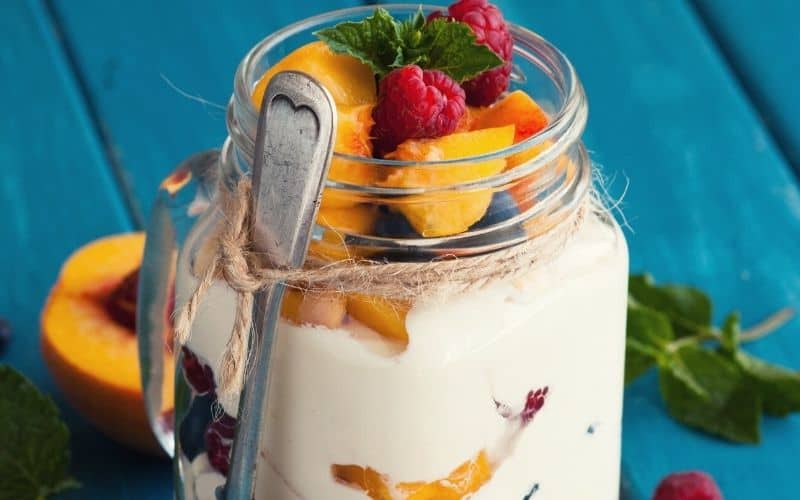 21. No-Bake Energy Bites
These small, bite-sized treats are actually loaded with a mix of protein, fiber, and healthy fats. They work double-duty as a lightweight and portable snack for hiking too.
Simply mix rolled oats, dried fruits, chocolate chips, nuts, or seeds with a binder like peanut butter and roll them into balls. If you've got a sweet tooth, add some brown sugar or honey. Let them refrigerate overnight before serving.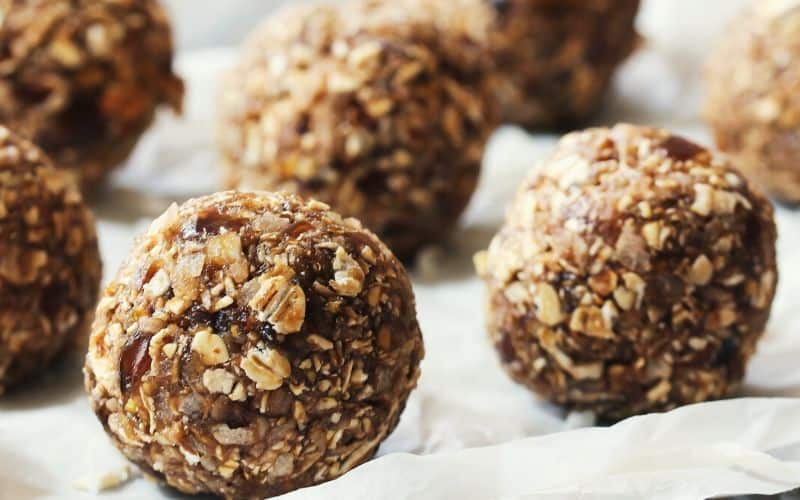 22. Nutella Fruit Dip
Fruit is delicious on its own, but if you want to impress your camping pals, you can easily make a decadent fruit dip with some Nutella and greek yogurt. Just mix both in equal parts and serve with sliced fruit like apple, bananas, and strawberries or salty options like pretzels. Another popular combo is to replace greek yogurt with peanut butter instead.
23. Bananas with Nut Butter
For a simple dessert you can prepare in just a couple of minutes, try bananas with nut butter. Just slice a banana in half and drizzle on some nut or seed butter (or Nutella if you're looking to splurge!) Add in some extra crunch by sprinkling on some ground nuts or granola.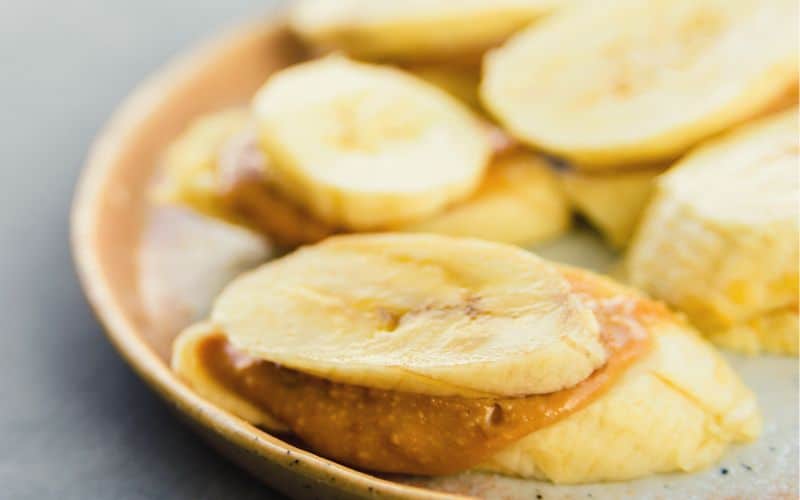 24. No-Bake Mini Cheesecakes
Yes, you can enjoy cheesecake at your campsite without baking! Simply fill the bottom of a small glass container with crushed graham crackers and refrigerate for 15 minutes. Blend cream cheese, condensed milk, vanilla, and lemon juice until soft and creamy and spoon in the mixture. Top with your favorite flavors like strawberries or blueberries and then serve cold!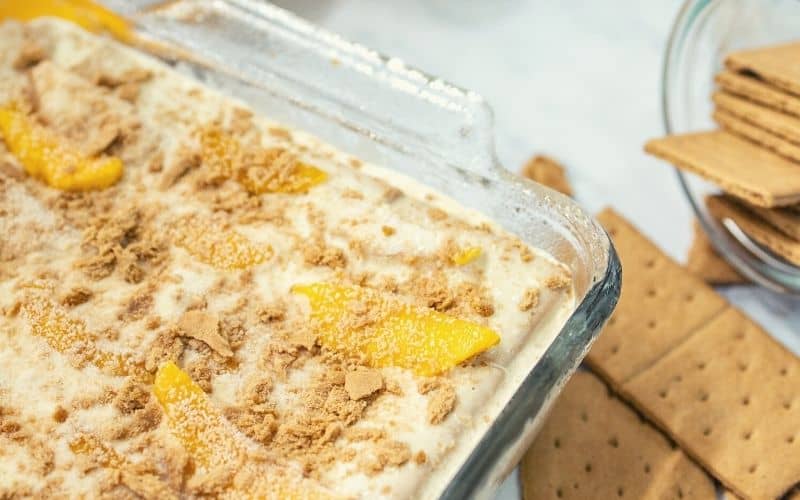 Camping Food Ideas – No Cooking Required!
So there you have 24 camping food ideas, no cooking required, that even novice cooks can whip up for their next camping trip. We hope this guide has shown you that you don't need a stove or a fire to enjoy delicious meals at camp.
Do you have more no-cook food ideas for a camping trip? Don't forget to tell us all about them in the comments below! Be sure to give us a follow on your socials too for more camping meal ideas. And if you'd like to share this post with your friends, please go ahead!