Next time you go camping, why not leave your cooler at home? Creating simple and healthy camping meals without refrigeration is easier than you might think!
To help you get started, we've created this handy suggestion guide full of camping trip meals and snacks where no refrigeration is necessary! We've included everything from nourishing breakfasts to tasty snacks to help you fight hunger and boost your energy levels.
Ready to ditch your cooler for good? Then read on for our favorite non-perishable food for camping.
Breakfast Ideas
1. Fresh Fruit
While many people keep fruit in the fridge, most fruits don't actually have to be refrigerated. Fresh fruits like apples, bananas, kiwis, watermelon, cantaloupe, and pineapple are all great choices. Just make sure you don't cut up your fruit beforehand and keep it in the shade as the sun will make it spoil faster.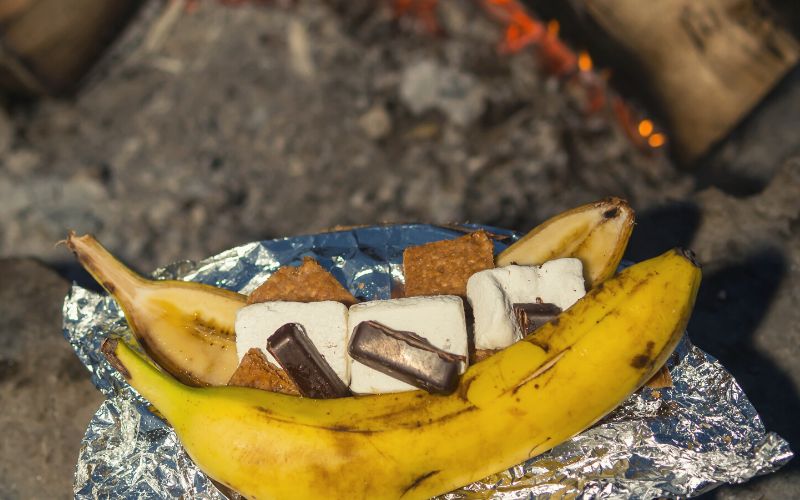 2. Canned Fruit
If cutting fruit seems like too much work (you're tired from hiking, we get it!) then bring along some canned fruit or fruit cups. Canned fruit is pre-prepped, mess-free, and shelf-stable. You can also use canned fruits in other recipes like topping pancakes or fruit cobbler.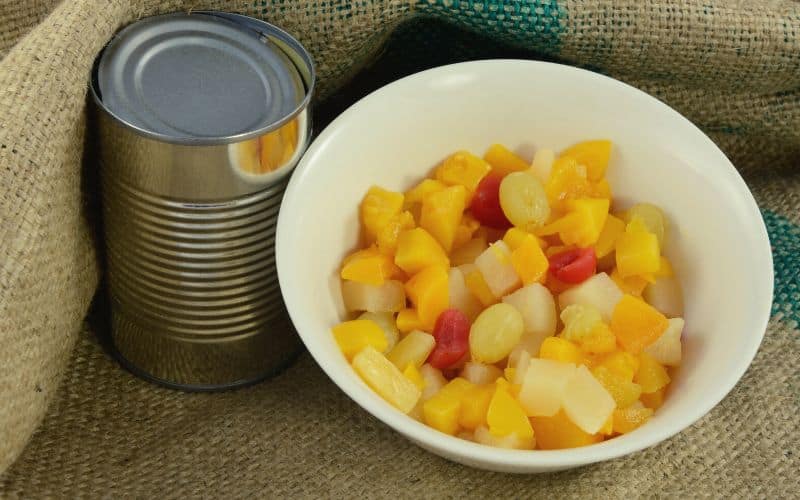 3. Dehydrated Fruit
Lightweight, healthy, and delicious to boot, dehydrated fruit makes the ultimate non-perishable food for camping trips. Make sure to bring along different flavors to avoid boredom.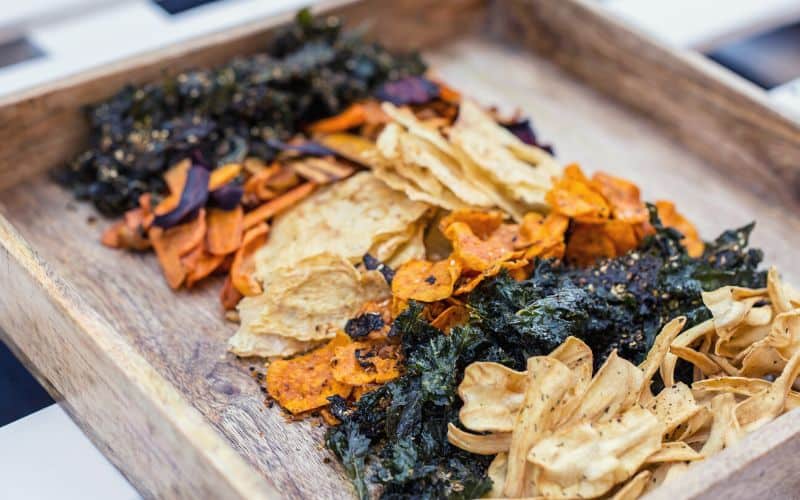 4. Pancakes
Bring along some pre-made pancake mix (or make your own) for an easy camping meal that requires no refrigeration. Just be sure to choose a brand that requires only water or bring some powdered milk. Don't forget to pack the maple syrup!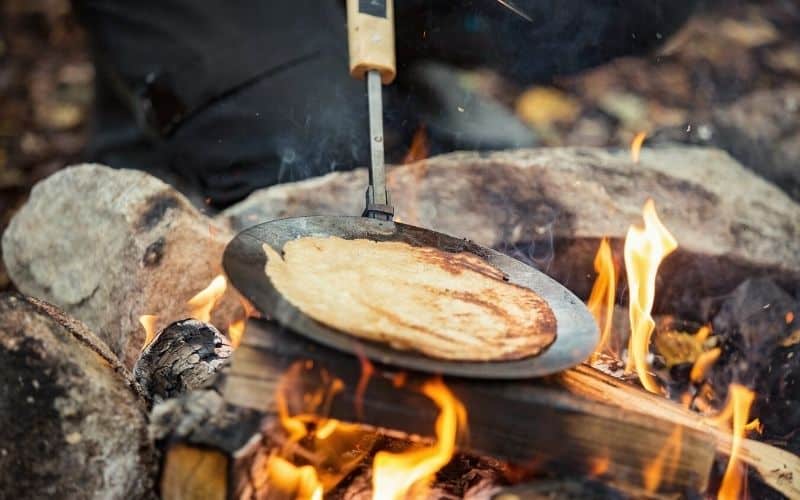 5. Grits
If you're hungry and in a hurry, it's hard to beat instant grits. Both delicious and filling, instant grits can be prepared in under 5 minutes and require only water. Don't forget optional toppings like mixed herbs or fresh veggies.
6. Oatmeal
Oatmeal is one of those classic, hot camping meals that's easy to make with just water. Plain oatmeal can get a little boring so pack along some other non-perishable toppings and mix-ins like fruit, chocolate chips, or raisins.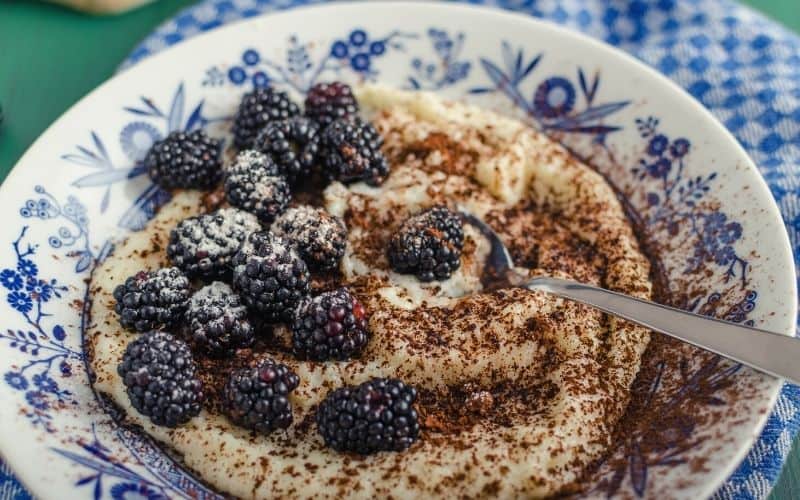 7. Other Cereals (with powdered milk)
Cereal is easy to enjoy at any no-fridge camp as long as you bring along some powdered milk. If you're with a group, you can also bring along a carton of shelf-stable almond or soy milk. Just make sure to use the whole carton as it must be refrigerated after opening.
8. Toast
Toast some bread over your stove and enjoy it with a number of toppings. Got a sweet tooth? Try jam and honey or cinnamon and banana. If you like your snacks savory, bring along some avocados or nut butters.
9. Jams and Honey
Pack along some jams and honey and you'll always have the perfect afternoon snack on hand. Jams and honey can be used to sweeten toast, sandwiches, cookies, or even coffee and tea.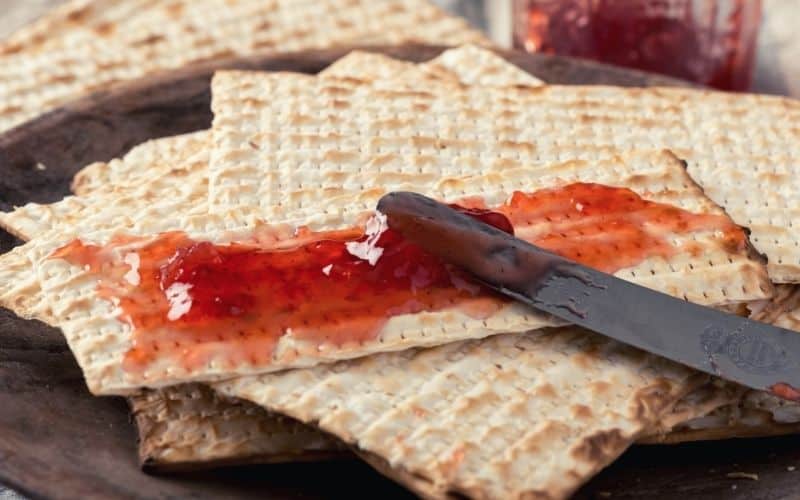 10. Bagels
Bagels are the ultimate no-refrigeration food for campers. They're delicious on their own or combined with many of the other items on our list like fruit, jams, honey, or peanut butter. Turn them into sandwiches or dip them into stews and chili, the possibilities are endless!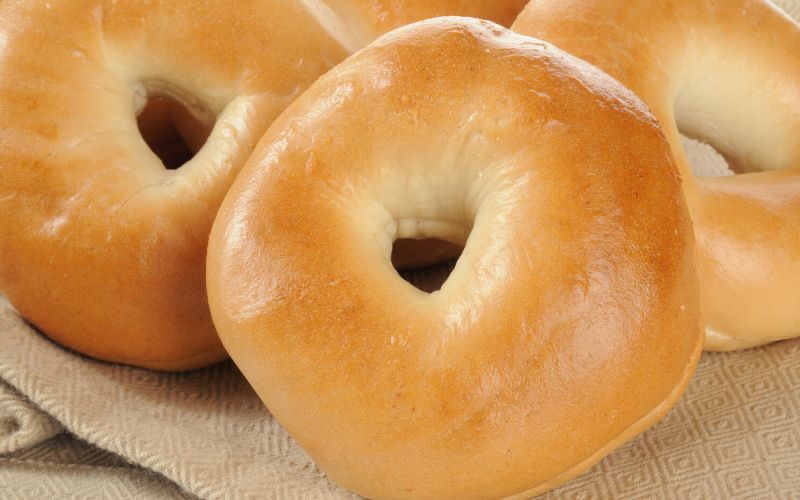 11. Pop-Tarts
If kids and college students can live on pop-tarts, so can you! Pop-tarts can easily be heated over a camping stove for a fun breakfast or afternoon snack. There are plenty of different flavors to choose from too.
12. Muffins
Looking for an easy breakfast idea? Stick to a classic like muffins. Buy them pre-packaged or make your own, either way, muffins make great snacks or a healthy breakfast.
13. Protein Shakes
Start your morning off right with a protein shake. Protein shakes make well-balanced snacks or meal replacements that will help fuel all your favorite outdoor activities.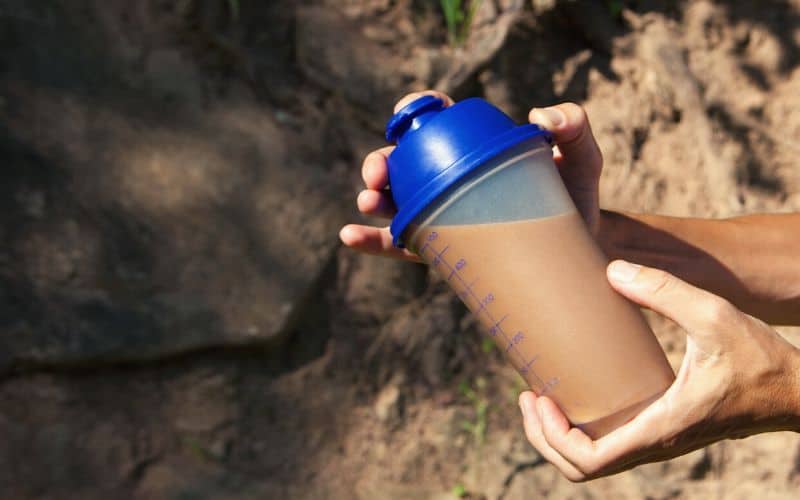 14. Pre-cooked Bacon and Powdered Eggs
Some of the best no-refrigeration camp foods are pre-cooked bacon and powdered eggs. Pre-cooked bacon will keep for a day while powdered eggs can be made whenever temptation strikes. Pair it with toast or a bagel for a complete breakfast.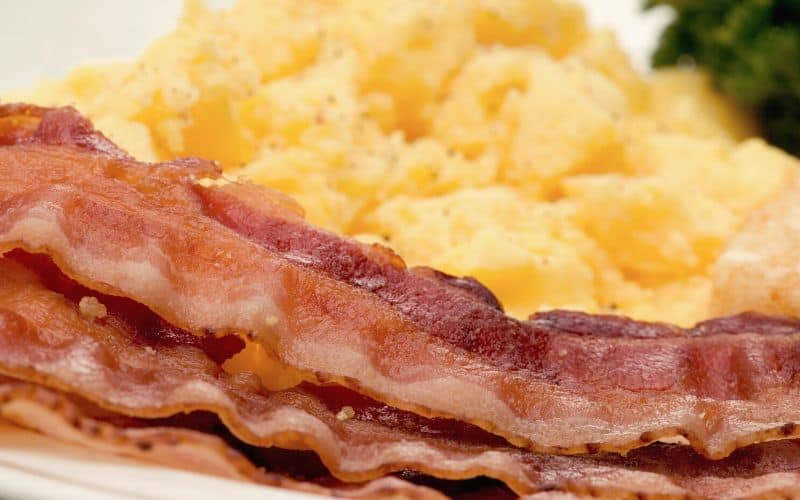 Lunch Ideas
15. Tortillas
Tortillas make a filling and versatile lunch that pair well with many other non-refrigerated foods. Mix and match any of the meats and veggies on our list to turn your tortillas into a healthy and satisfying launch.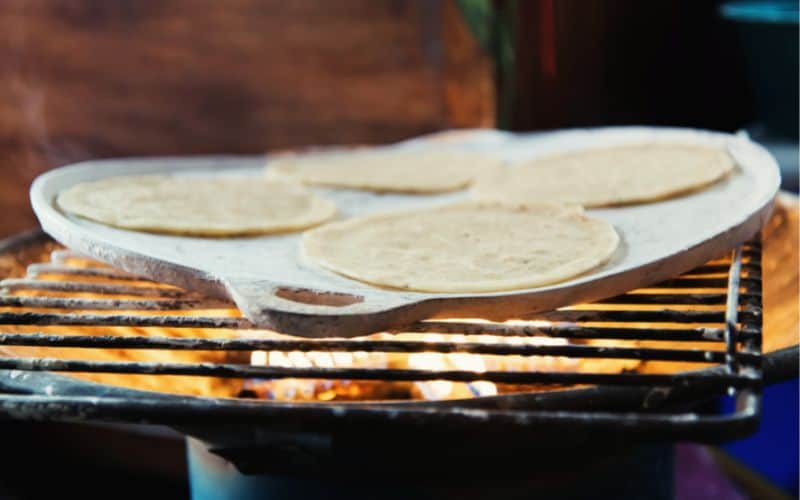 16. Instant Potatoes
On their own they might sound boring, but there are lots of ways to spice up instant potatoes and turn them into a healthy and nutritious lunch or side dish. Add spices, olive oil, fresh veggies, or canned meats to turn potatoes into a full meal.
17. Canned Beans
Canned beans are cheap and filling. You can easily spice up a regular can of beans by heating them up on your camp stove and adding some spices. For extra convenience, choose a ready-to-go option like baked beans.
18. Mac and Cheese
On your next camping trip, you can have lunch on the table in just under 10 minutes thanks to this childhood favorite. Simply cook the noodles, drain them, add the cheese packet, and then serve, no fridge required!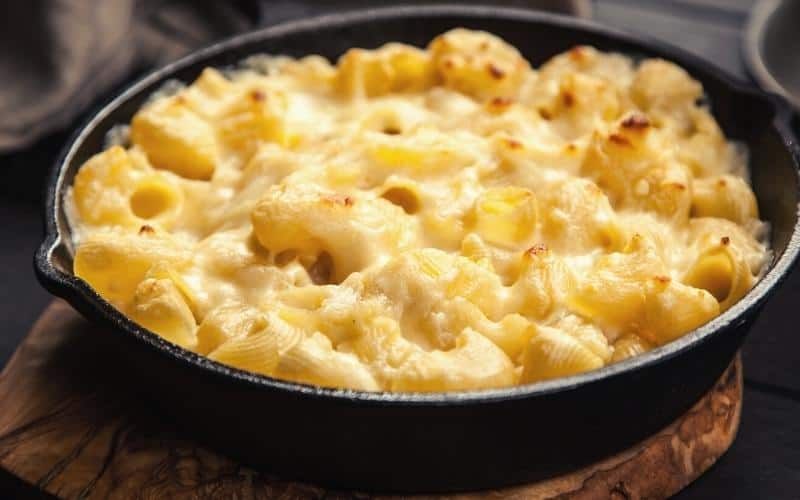 19. Canned Soup
It's hard to resist a bowl of warm soup, especially when cold-weather camping. Try choosing canned soups with a mix of protein and veggies for extra satiety. If you're backpacking or traveling light, skip canned foods and opt for soup packets instead.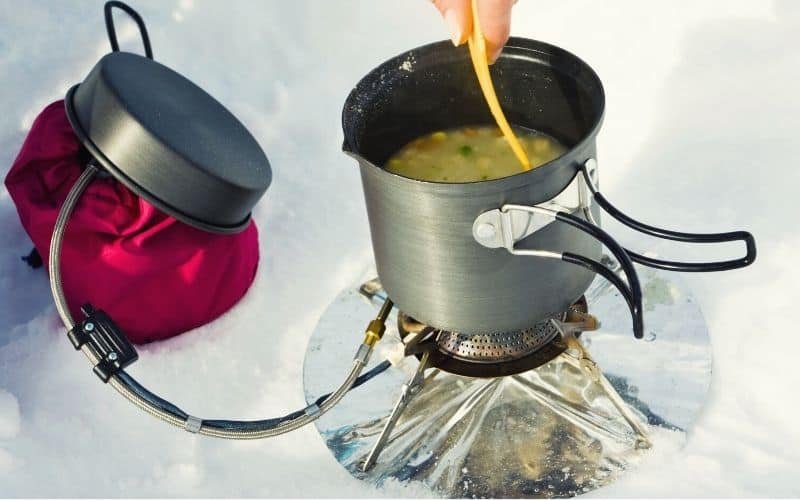 20. Peanut Butter and Roll-ups
Turn peanut butter, jam, and bread into tasty roll-ups. You can even use tortillas instead of sandwich bread and then heat them up over your stove for a warm and filling meal.
Dinner Ideas
21. Instant Noodles
Instant noodles are cheap, tasty, and only require hot water. Choose instant noodles that come in their own cup and you can skip the bowl. To spice things up, try adding canned veggies or meat to your noodles.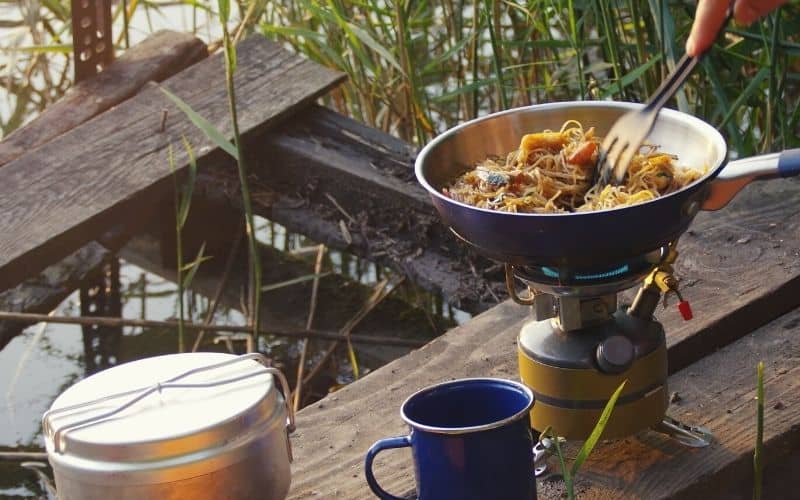 22. Cornbread
Cornbread is one of the best make-ahead camping meals because it's lightweight, versatile, and easy to make. Try a sweet version if you want a healthy breakfast idea or go savory and enjoy it with other camp dinners like baked beans, chili, or pasta.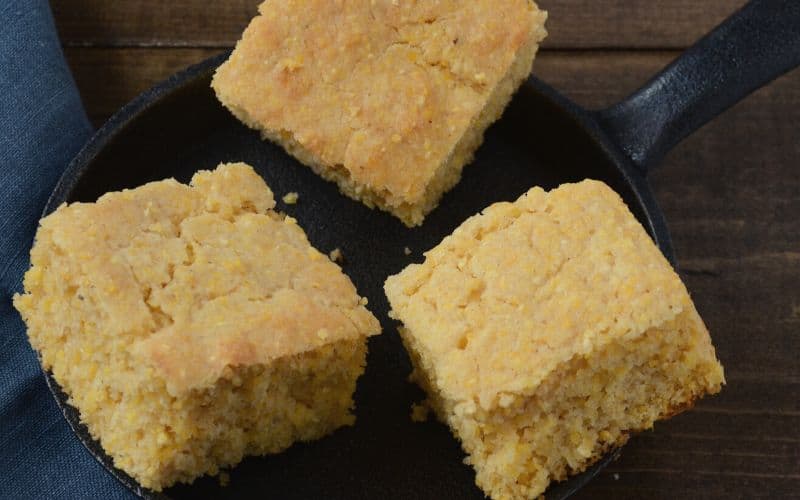 23. Rice
Rice is a great base to plan a healthy dinner around. Choose dry rice and let it cook slowly to draw flavor from your favorite ingredients or choose instant rice to save time. Just make sure you eat up any leftovers right away – rice must be refrigerated after cooking!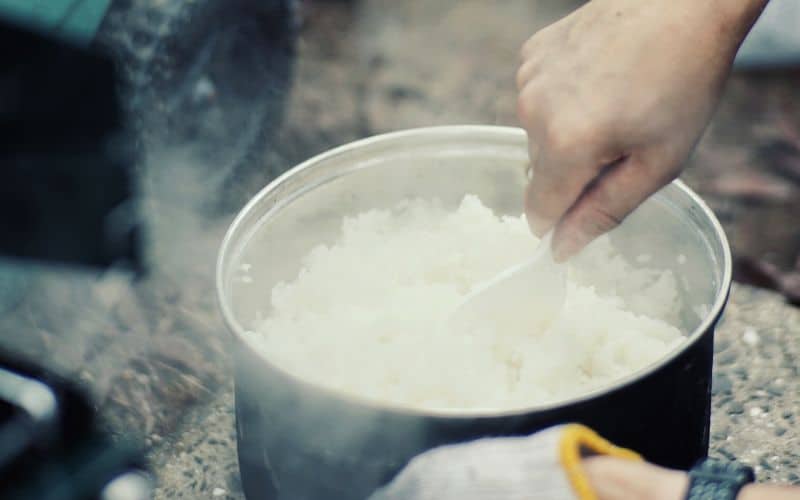 24. Canned Pasta
If you need to refuel after a long day of hiking or campsite activities, it's hard to beat a plate of pasta. While canned pasta might not be as tasty as the homemade variety, reliable favorites like canned spaghetti with tomato sauce will work in a pinch.
25. Canned Chili
Chili is a stick-to-your-ribs favorite that's perfect for nights when the mercury drops. Adding just a few small touches like fresh jalapenos or some extra spices will make a world of difference in terms of taste.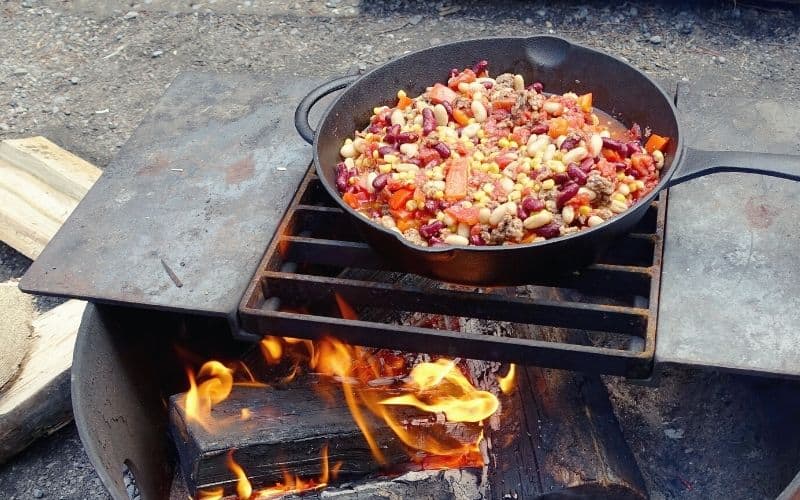 26. Summer Sausage
Summer sausage is a shelf-stable meat that's great for making rice and beans, as a sandwich filler, or eating plain as a snack. Just remember that it fares better in lower temperatures and should be eaten within a week of being opened.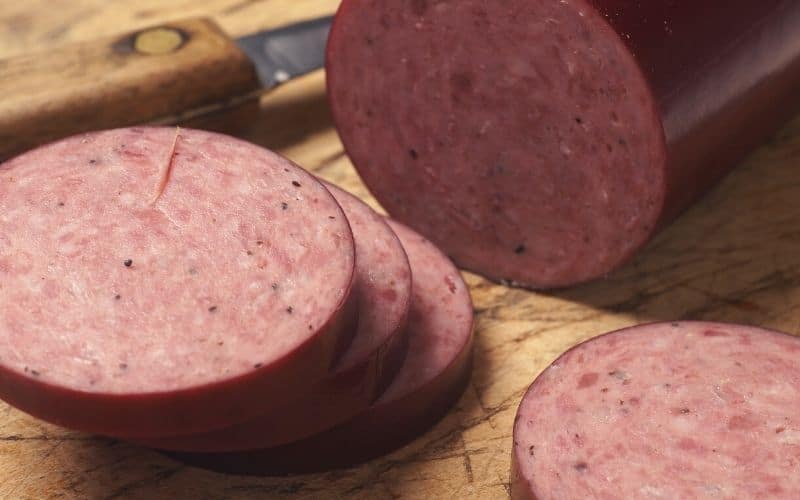 27. Dehydrated Meals
Dehydrated meals are popular amongst backpackers due to their light-weight and easy preparation. Most of them are surprisingly good too, although you might have to try a few different brands to find your favorite.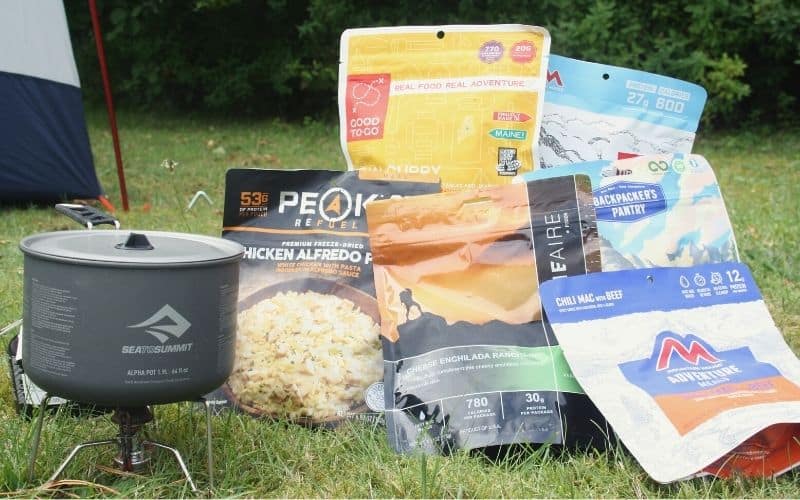 28. Fresh Vegetables
Fresh or canned vegetables are great both as a snack or added to a variety of other meals. Avoid vegetables you find in the refrigerators at your local grocery store and shop for veggies in the bins instead.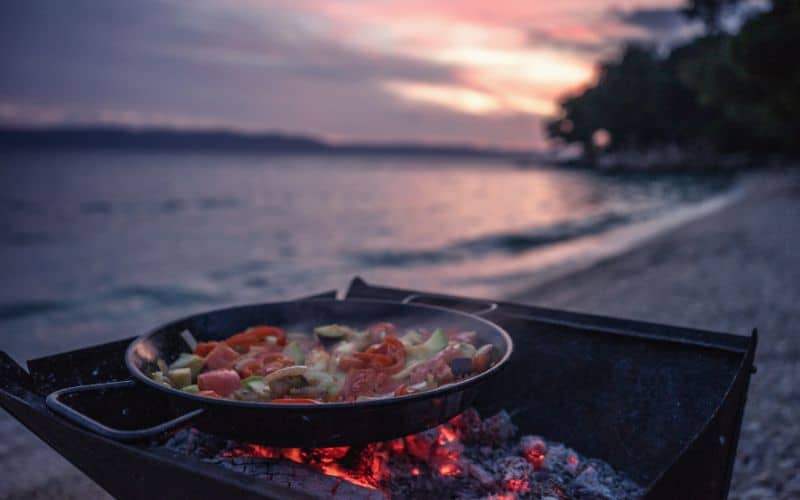 29. Spaghetti
Whipping up a pasta dish during your next trip is as easy as boiling some pasta and opening a jar of pre-made pasta sauce. You can also add extras like canned veggies or meat to add more depth to your dish.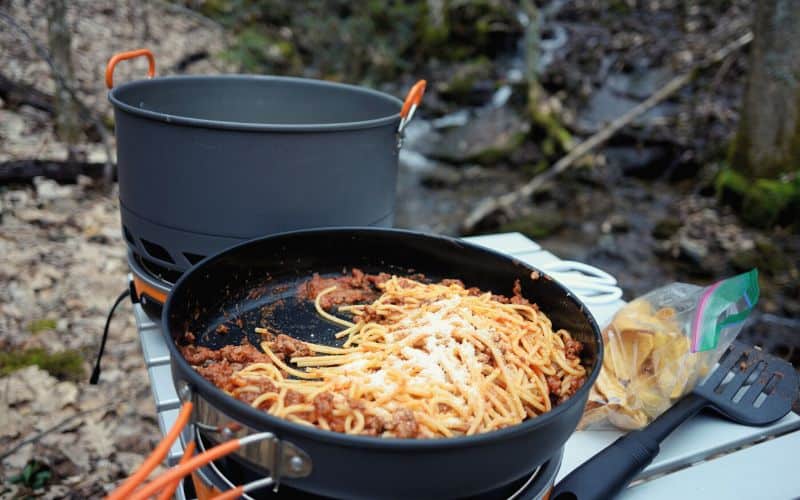 30. Canned Chicken or Canned Tuna
Add these to casseroles, sandwiches, soups, or salads for a boost of much-needed protein. If the weight of the cans worries you, choose tuna or chicken packets instead.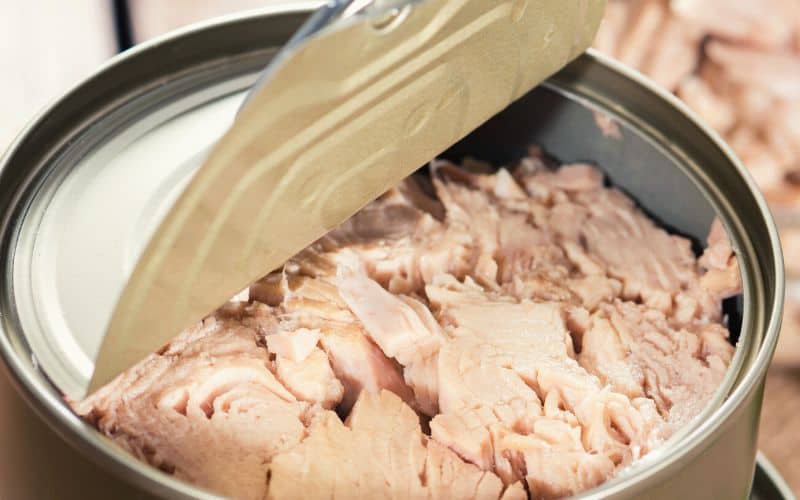 Camping Snacks
31. Marshmallows
Roasting marshmallows over an open fire is a classic tradition for campers. Regular marshmallows are best for roasting while mini marshmallows can be added to desserts and hot chocolate.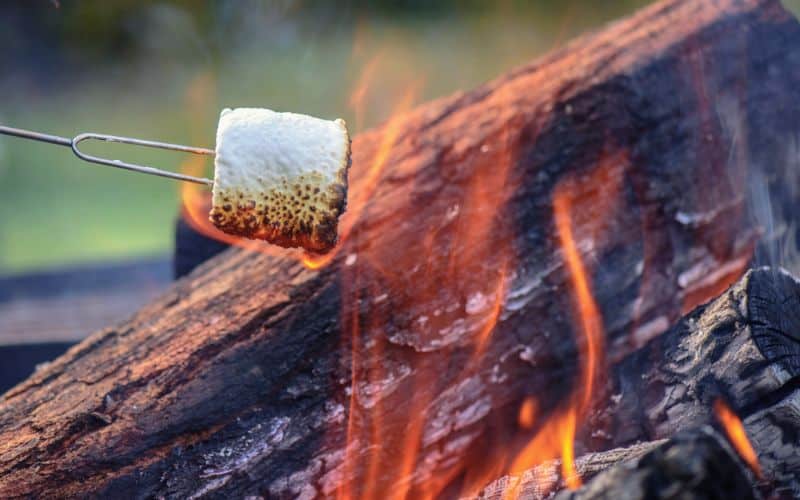 32. S'mores
What would evenings outside the tent be without this classic camping food? S'mores are made by turning graham crackers, marshmallows, and chocolate into mini sandwiches and then roasting them over a fire. Just make sure to keep the chocolate and marshmallows out of direct sunlight.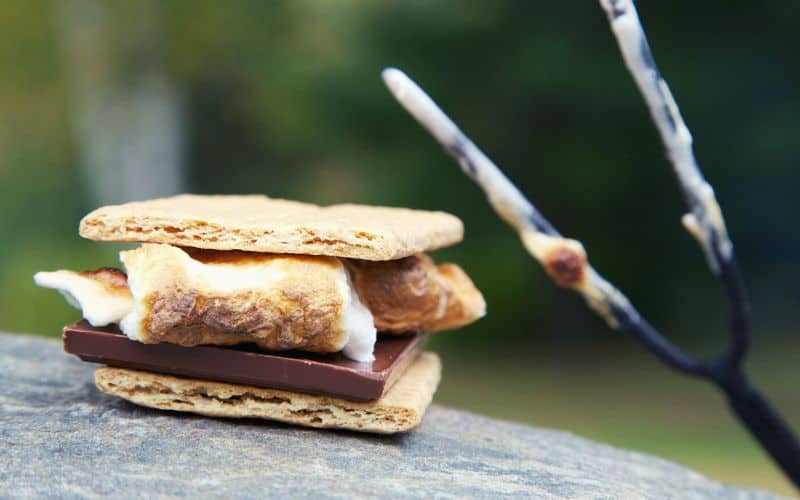 33. Hot Chocolate
If you're camping in cooler weather, nothing beats a good cup of hot chocolate. All you need is your stove and some hot water or powdered milk. Don't forget to pack some mini marshmallows!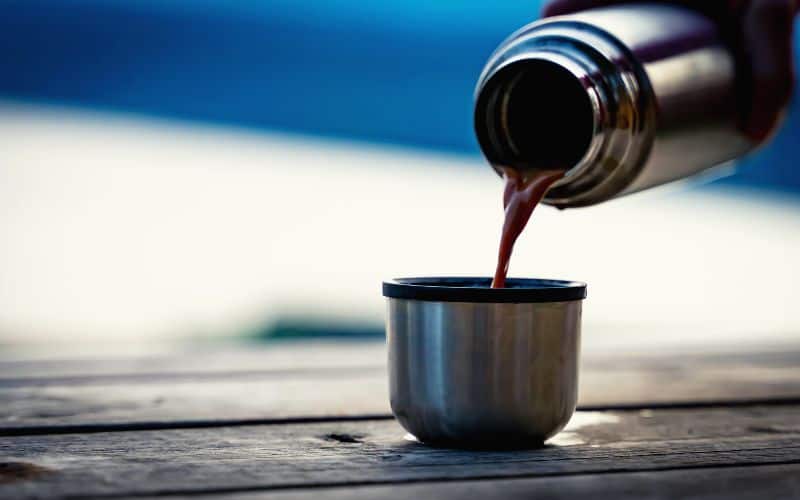 34. Nachos with Processed Cheese
Unlike regular cheese, processed cheese is shelf-stable and can be drizzled over a number of meals like nachos or chili. If you're making nachos, be sure to add fresh toppings for extra flavor like veggies, meat, or fresh chilis.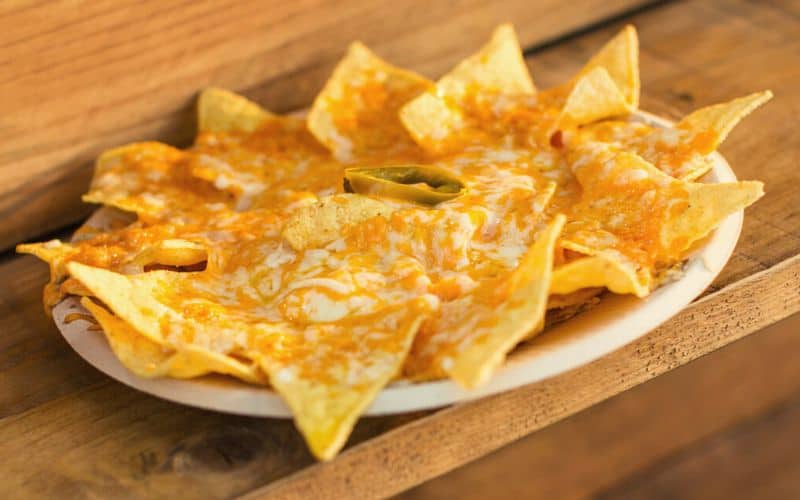 35. Nuts
Nuts are a high-protein snack that will help boost your energy levels after a long day of outdoor fun. If you love crunchy snacks, they're a much healthier alternative to potato chips.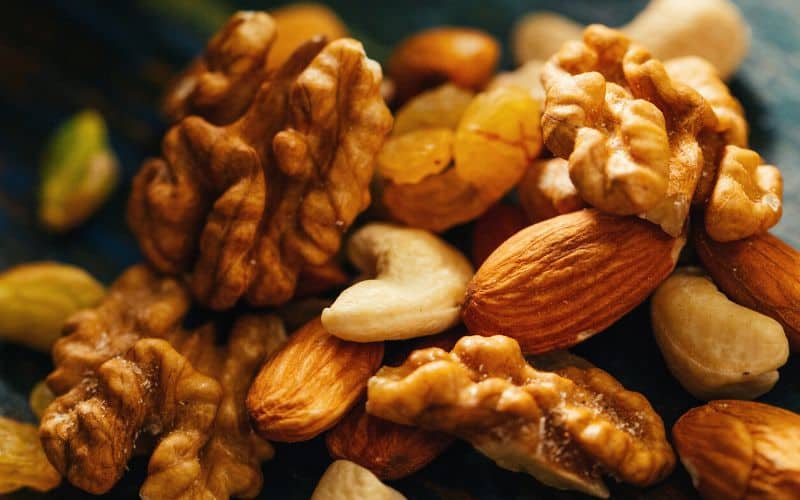 36. Dried Fruit
Campers with a sweet tooth will love snacking on dried fruits. While tasty, dried fruit does tend to be high in sugar, so go easy on your snacking to avoid crashing later. Consider dehydrating your own fruit to cut on costs.
37. Trail Mix
Trail mix is the ultimate hiking and camping food. Lightweight and portable, trail mix provides the perfect source of energy for strenuous activities. Purchase it pre-packaged for convenience or make your own to control the ingredients. Just make sure to get a healthy mix of both carbs and protein.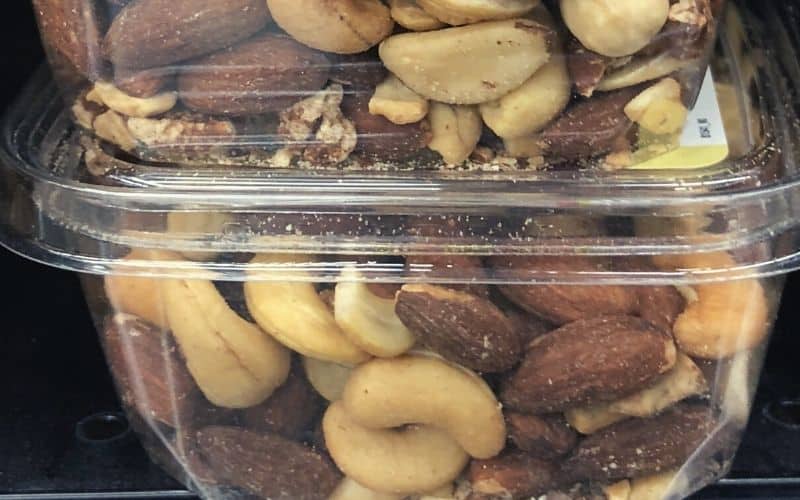 38. Cookies
Cookies make a tasty, non-perishable dessert or snack. Just make sure to keep the package out of direct sunlight…some cookies will melt!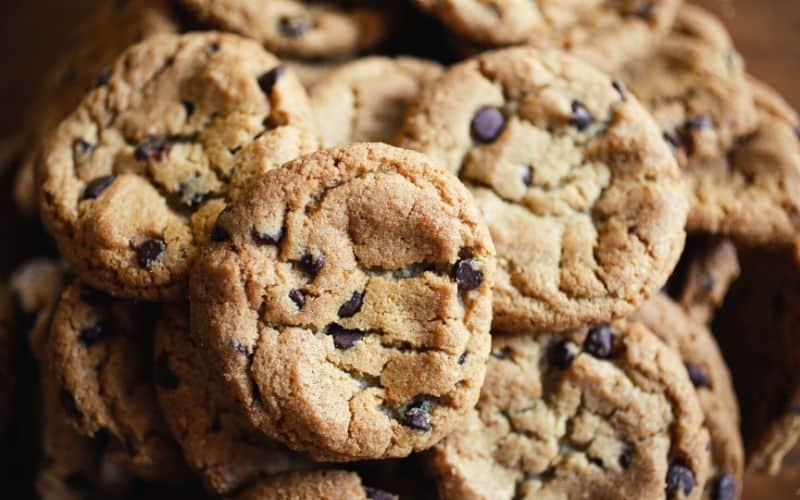 39. Popcorn or Chips
What could be better than enjoying a bag of freshly popped popcorn? You can find popcorn extension handles that will allow you to make your popcorn over an open fire from a safe distance. Chips are another great option for campers looking for salty snacks.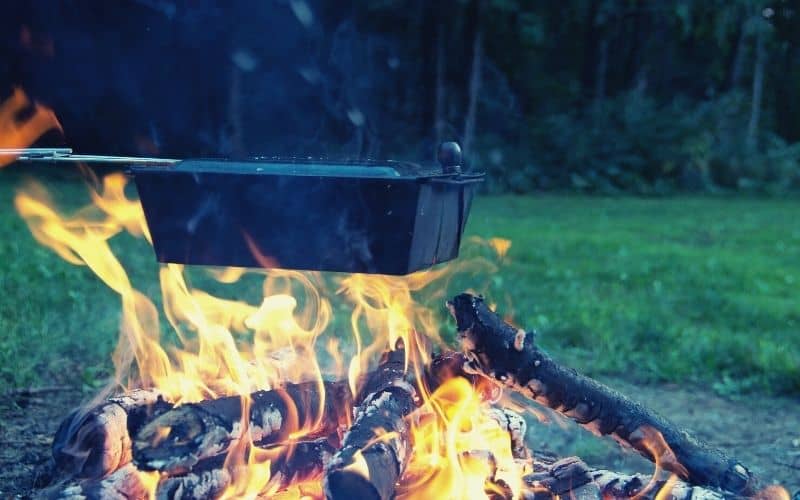 40. Banana Bread
When it comes to easy camping food, banana bread is at the top of the list. Banana bread is easy to prepare and it will keep for several days without refrigeration. Try pairing it with some almond or peanut butter – the protein will help keep you fuller, longer!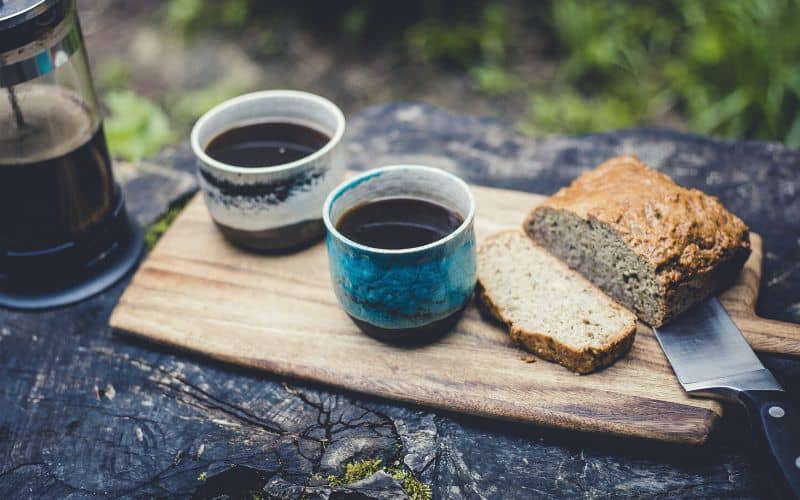 41. Granola Bars
Granola bars or energy bars make great desserts or snacks. Since oats digest more slowly than other forms of carbohydrates, granola bars make the ideal snack to consume before vigorous exercise like hiking. The minerals that oats contain like potassium and magnesium will help you recover faster too.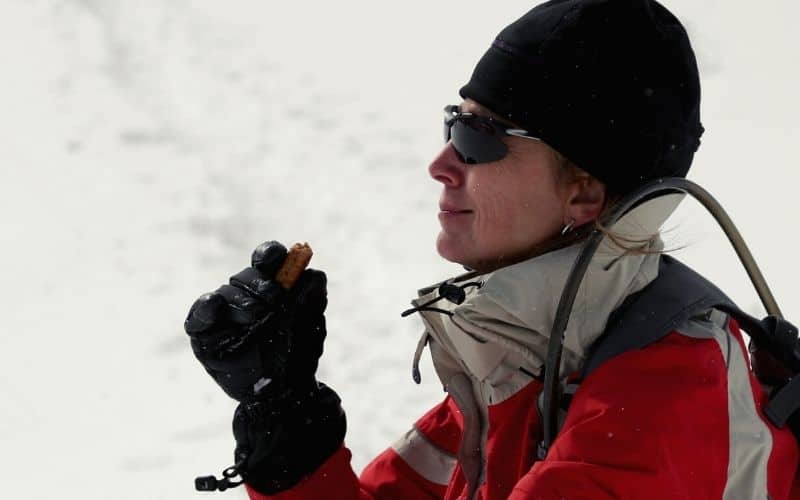 Camping Food Ideas (No Refrigeration Required) Bon Apetit!
There you have it. You can survive your trip to the sticks without a fridge after all!
We hope this guide to the best camping food ideas, no refrigeration required, has given you food for thought for easy meals you can make on your next camping trip.
If we missed any of your favorite no-fridge-required camping dishes, be sure to share them with us below. Don't forget to check back regularly for more food ideas and guides!