Whether you are a new or seasoned camper, chances are at one time or another you've pitched your tent, staked it down, and satisfied with a job done well enough, shoved the extra stakes and guy lines back in their stuff sack, and headed to your cooler.
And chances are, you've regretted that at least once.
While it takes a few extra moments, untangling your guy lines (aka "guylines") and using them to secure your shelter can make a huge difference to its livability and performance in both dry and wet weather. Read on to learn more about why these accessories are so important and how to use them like a pro.
What Are Guy Lines?
A guy line is a piece of cord or rope used to tie out and secure the rain fly on and away from the tent. Typically, tents will come with them, as well as extra stakes. Used together, you can create extra anchor points for added stability, ventilation, space, and protection from the elements.
Why Do They Matter?
1. Bolster Structural Stability
This one is perhaps the most important, and essential for non-freestanding tents. In heavy winds, you want to increase the stability of the pole structure – not just keep the rainfly taut.
On most tents, the rainfly can be attached to the poles with clips or velcro loops, which will be located on the pole seams on the underside of the fly. With these attached to the tent poles, you can then use the guyline loops on the outside of the fly to maintain tension in the pole structure. This prevents sagging and helps to keep the walls stable in strong winds.
2. Shed Rain & Snow
Winter snow loads can collapse your tent, and heavy rain can pool on tent walls, placing more water pressure on the fabric, which can cause it to leak.
By using the guy line loops near the bottom of the fly to create tension with a tent stake, and pegging out the higher guy lines, you'll pull the tent fly away from the inner tent wall and create taut, steep, and sag-free exterior walls. This helps to keep the inner tent dry by allowing the fly to shed water easily and creating space between it and the fly.
3. Increase Volume
Most tents have sections that, sans guy lines, will sag and deprive you of a few square feet of interior space. By using the guy lines on each side of the frame to pull the walls taut, you'll be reclaiming that square footage.
4. Curb Condensation
The rain fly keeps precipitation out, but it also limits the breathability from within. If you tighten the rain fly at all corners and attach guy lines to center stakes, you also increase the space between the body and fly. This allows for more airflow and reduces condensation.
How to Use Tent Guy Lines: Step-by-Step Instructions
1. Attach Your Guy Lines
Tie the guy line to the guy line loop, and attach the guyline tensioners if they have come loose. Make sure that you have enough cord length plus enough slack to reach the point where you intend to plant your stake. You should have enough line left over to tighten and tie off easily.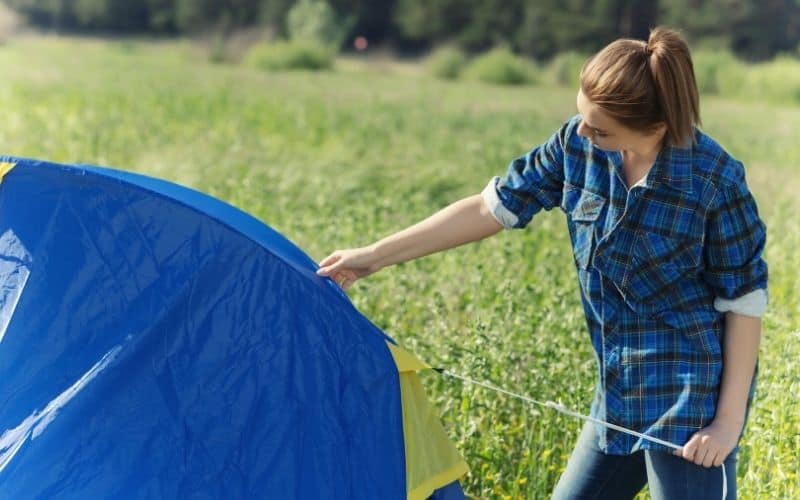 2. Stake or Peg Out Each Guy Line
Hammer or stomp the stake into the ground at a 45-degree angle facing away from your tent. Attach the loop of the guyline to the stake. If the ground is hard or you are out of stakes, tree roots, sticks, or a heavy rock can also be used as a tie-down point.
3. Adjust the Tension
Tighten the guy line to create taut walls, ideally tensioning each line incrementally so you have equal tension on each line.
Tensioners make it easy to adjust tension without tying knots. If your lines don't have tensioners, you can use a simple taut-line hitch or clove hitch to attach the line to the stake – both are easy to tie and adjust. Don't know these knots? Check out 12 Essential Camping Knots.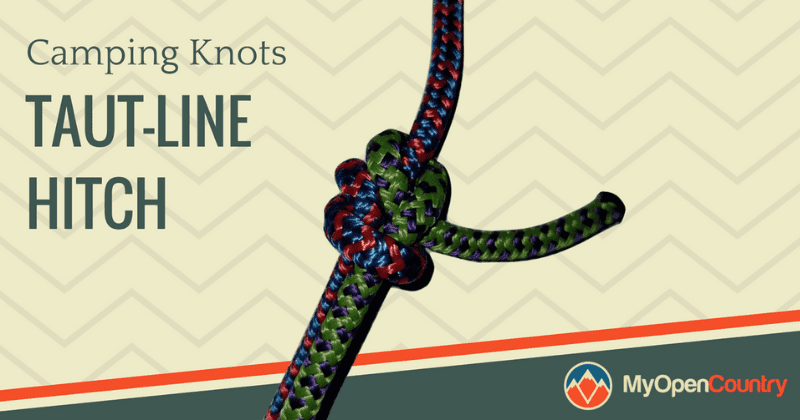 How to Make Your Own Guy Lines (or Spares)
Most camping tents come with guy line cord, tensioners, and stakes. If you need to purchase these items separately, there are a few key considerations.
Depending on the size of your tent, you'll need anywhere from 10-20 yards of paracord – around 1.5 mm thickness is best. Keep in mind the rope may easily blend in with the background, so bright neon colors and reflective tags are recommended to prevent tripping.
It is worth splurging on a few titanium or heavy-duty stakes. Often the ones included at purchase will bend at the first collision with an underground rock, and never properly drive into the ground again unless the soil is very soft.
Tensioners made of metal such as these will last a bit longer and are less likely to break than those made of plastic.
Happy Camping!
You may have gotten this far and been thinking "But what if the forecast is totally clear?"
There are, of course, situations where the guy lines matter more than others. After all, on a clear summer night at a favorite campground, we all love forgoing the rain fly for better stargazing. However, at higher elevations or in the wilderness, weather can be unpredictable and it's better to err on the side of caution.
How did you like our article? If you found it useful, let us know in the comments box below! And, as always, feel free to share this post with your friends so they know how to use tent guy lines as well!