Patagonia's Dual Aspect: On Paper
Before we get down to our first-hand review of the Patagonia Dual Aspect, let's take a quick look at the jacket's specs.
Type: Technical lightweight rain jacket
Weight: 1 lb. 1.6 oz
Waterproofing: 3-layer Patagonia H2No waterproof/breathable laminate plus a PFC-free, DWR finish
Best Use: Alpine climbing in harsh conditions
Patagonia dubs the DA a "technical shell built for alpine climbing in the harshest conditions" and "designed for freedom of movement in the mountains." But does it live up to the billing? Read on to find out!
The Dual Aspect: In the Field
In recent years, Patagonia's range of rain jackets has evolved at a rate that's hard to keep up with. From the workhorse, affordable Torrentshell to the "bombproof" Pluma, there's something in the brand's catalog for everyone. But just where does the Dual Aspect fit in?
Before we give our verdict, let's first take a look at how the DA performs in all of the most important metrics.
Waterproofing
As you'd expect from a jacket designed for alpine adventures in harsh conditions, the Dual Aspect's waterproofing is top-notch.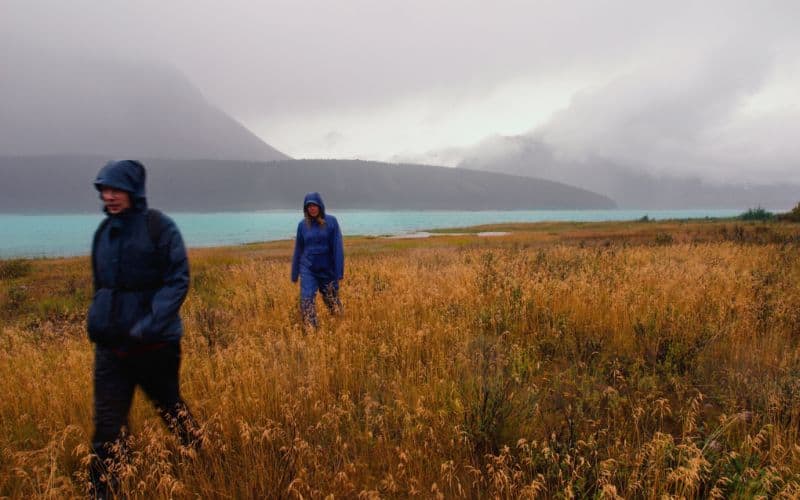 The DA is made with Patagonia's 3-layer H2No performance standard waterproof/breathable laminate plus a PFC-free DWR (durable water repellent) coating.
The brand's H2No performance standard is both a benchmark and a series of tests designed to assess waterproofness, breathability, and durability. 3-layer H2No garments are the toughest and most waterproof in the line, and in most cases are designed for use in the worst possible weather conditions.
How does this compare to Gore-Tex equivalents? The closest Gore-Tex equivalent is Gore-Tex Pro, which has a hydrostatic head (HH) of 28,000 mm and a moisture vapor transmission rate (MVTR) of 25,000 g/m2. By comparison, H2No 3-layer has a HH of 20,000 mm and a MVTR of 15,000 g/m2. 
For clarity, hydrostatic head refers to the fabric's degree of waterproofness and MVTR to its breathability. 20,000mm HH is plenty for most applications, and most in the field agree that the 28,000mm of Gore-Tex Pro is approaching overkill. With regard to MVTR, the DA's huge pit zips make up any difference.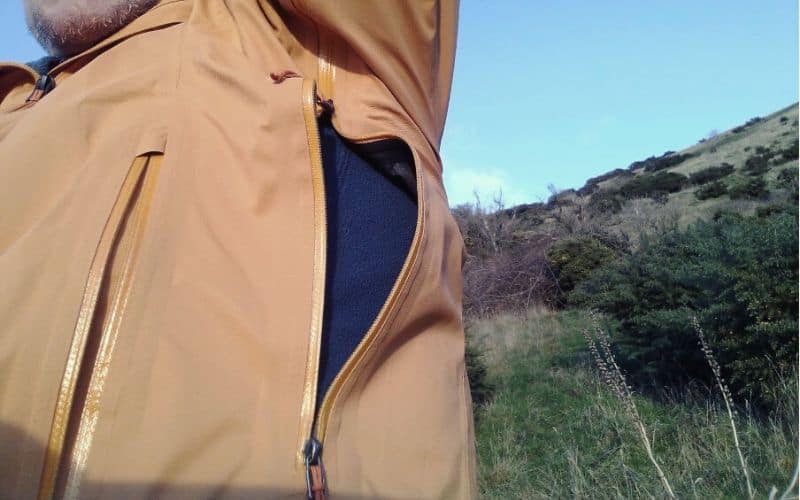 Fabric
The DA is made with 30-denier ECONYL recycled ripstop nylon with a jersey backer. While this makes it less burly than winter jackets like the Mammut Nordwand, it also means it has a much more mobile feel. And in any case, the material's ripstop construction means it's capable of dealing with even the gnarliest days out in the mountains.
Weight
At 1 lb. 1.6 ounces, the Dual Aspect falls into the "lightweight" class of alpine rain jackets, narrowly missing out on the "ultralight" designation awarded to models in the sub-one-pound range. As you might expect, however, lighter jackets invariably fall far short of what the DA offers in terms of waterproofing, features, and toughness. 
Packability
Compared to many alpine jackets, the Dual Aspect is highly compact when scrunched down (see image). This owes mainly to its 40-denier fabric, which is far thinner and more compactable than the 60–80-denier fabric typically used in alpine jackets.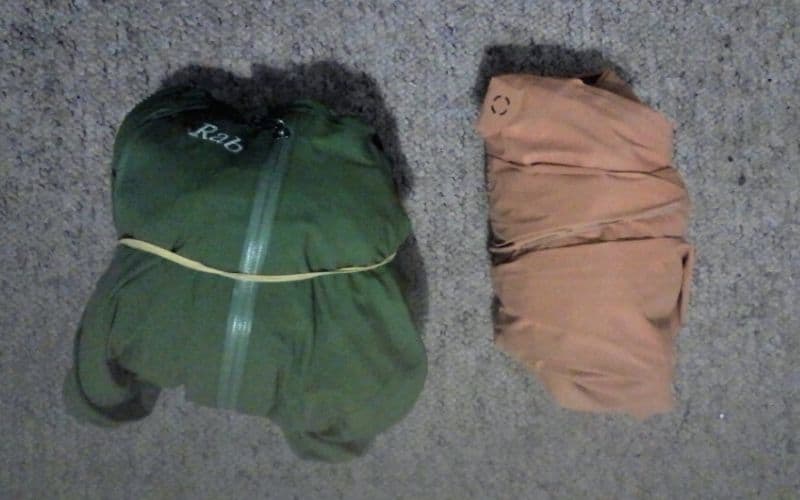 Comfort
The Dual Aspect Jacket is, in a few words, one of the most comfortable technical jackets we're ever worn. It isn't crinkly, isn't bulky, provides great freedom of movement, and its nylon ripstop face has a slick jersey backer that doesn't stick to lower layers and grate when you start sweating.
As mentioned, the fit is also more accommodating than many other jackets we've tried over the years. While it has a few alpine-specific touches, it wears just like a regular fit. The highly articulated underarm gussets give you great reach without lifting the hem of the jacket and exposing your lower back or midriff.
Eco and Ethical Credentials
As with almost all Patagonia Products, the Dual Aspect is a standout as regards ethical production and eco-friendliness.
It's made with 98% recycled materials, in 100% recycled nylon face fabric. It also has Fair Trade Certified sewing and PFC-free waterproofing.
Features
The feature set on this jacket is what sets it apart from the best of the rest. In short, there's a lot to love and very little to dislike.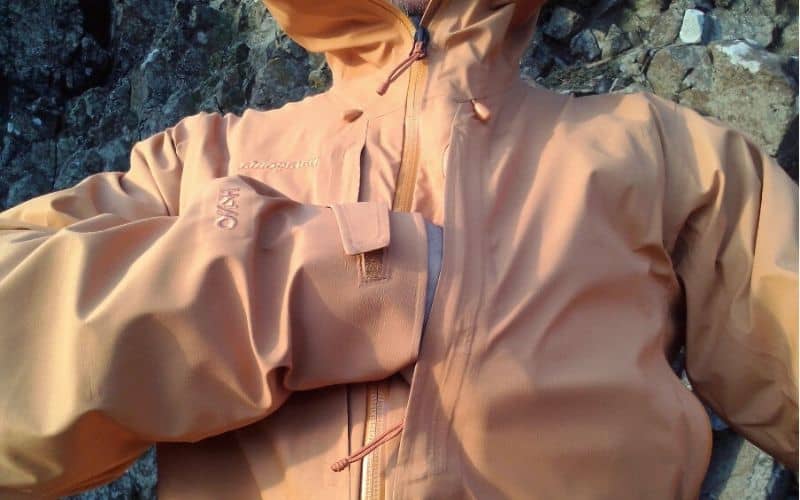 Pockets: The two chest pockets are huge and easy to open with gloves. Ditto the handwarmer pockets, which are also accessible above your pack waistbelt and harness.
Pit zips: Two-way pit zips let you ventilate and dump heat quickly when needed.
Hood: This is helmet-compatible and fully adjustable (two-way adjustment), with a single adjustment point at the back of the head and a dual-adjust drawcord at the neck. There's also a laminated visor in the reinforced brim that ensures good visibility in poor conditions.
RECCO® reflector: Embedded RECCO® reflectors can be used by search-and-rescue teams with RECCO detectors if you're buried in an avalanche.
Wrist closures: Low-profile cuffs with hook-and-loop closures provide tight wrist seals.
Drawcords: The stars of the show – these tighten the same way as other cords but have a push-button release that makes them far easier to use with gloves (and without them, for that matter).
Storm flaps: These run the length of each zipper on the inside, providing extra protection in the harshest conditions.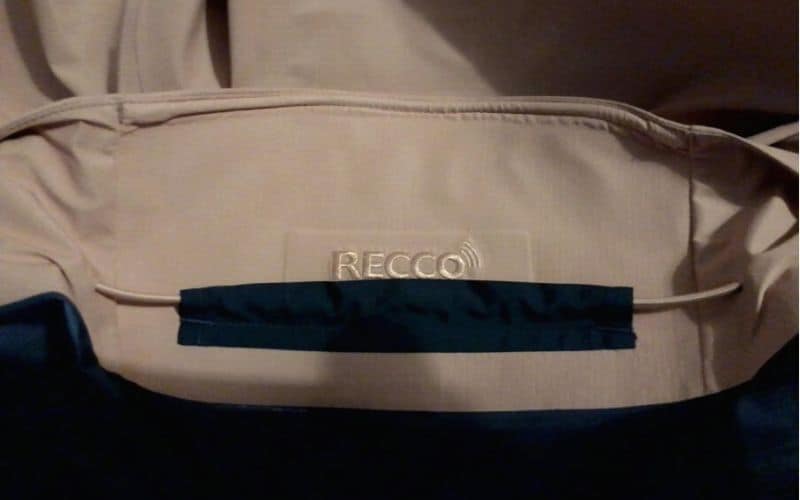 Sizing & Fit
The Dual Aspect runs pretty much true to size. In the large, the chest measurement is 42-44 inches, the sleeve measurement 35 inches, and the waist measurement 34-36 inches, pretty much par for the course across brands.
The fit is what we'd call "alpine comfort", which is essentially a streamlined but mobile alpine fit with plenty of room for movement. This is one of the jacket's most endearing features. While most performance-oriented alpine jackets these days have articulated arms and underarm gussets for freedom of movement, all too many can be a little too tight for larger-figured users.
There is one "quirk" worth mentioning. I did notice that the jacket is a little longer than others I've worn, even those with a "drop-seat" rear hem to protect your butt when sitting down. If you have a shorter torso, therefore, it will be best to try one on before buying.
Alternatives
Multiple alternatives came to mind when I was testing the Dual Aspect, but none more so than the Arc'teryx Beta AR.
On paper, there's very little to separate the two. The Beta AR is a fraction (1 oz.) lighter, but both boast a rugged build, have excellent mobility, offer full storm protection, and have an enviable feature set.
The Beta AR retails at a higher price and doesn't boast the same eco and ethical credentials as the Dual Aspect. However, its burlier Gore-Tex Pro materials inspire a little more confidence.
If forced to choose between the two, the Beta AR would maybe just edge it on performance but we'd happily stick with the Dual Aspect to save a healthy handful of dollars and have a more eco-friendly, responsibly made piece of outdoor gear.
Patagonia Dual Aspect Jacket Review: The Verdict
All this leads to the big question? Who is this jacket for?
The Patagonia DA is designed specifically for technical mountain pursuits, and this niche of the market is saturated with high-end, high-performing jackets. The DA, however, stands out in two ways: mobility and eco credentials.
This is among the most mobile technical jackets we've ever worn, which makes it one we'd reach for any time we're doing anything from scrambling to technical mountaineering. It's also one of the most ethically produced in the niche, boasting the kind of credentials that should make manufacturers of its closest competition blush.
In short, if mobility, environmental friendliness, and ethical production feature high on your list of priorities, it's well worth a punt.
If you have any questions about the Patagonia DA, drop us a line in the box below. And if you'd like to share this post with your friends, please do!