NYC may be known as 'the city that never sleeps', but the rest of New York state offers some amazing spots to catch some zzz's under the stars! From the 'Grand Canyon of the East' to Niagara Falls and the Catskills, New York is an Eden of outdoorsy adventure.
To help you enjoy the best of it, we've put together a list of our 15 New York favorites. Our list includes everything from remote and rustic NY campgrounds for peaceful getaways to fancier resorts with leisure facilities and other attractions for all the family.
1. North-South Lake Campground, Catskill Forest Preserve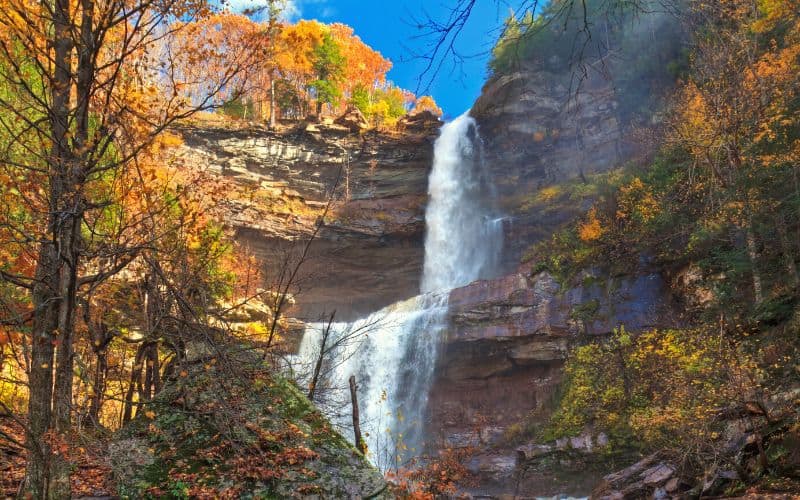 It's easy to see why the North-South Lake campground is one of the most popular camping spots near the Catskill Mountains. The area is filled to the brim with not only natural attractions but outdoorsy activities and historic sites as well.
Here, you can visit New York's biggest two-tier waterfall, Kaaterskills Falls, the former site of the historic Catskill Mountain House, or the weirdly-cool stone monument that is Alligator Rock.
North-South Lake Campground has 219 tent and trailer sites. Amenities include playgrounds, hot showers, flush toilets, and a boat launch. Near the camp, you'll find two lakes and two beaches as well.
RELATED READING: For more outdoor adventure check out our guide to the best hikes in New York.
2. Ausable Point Campground, Lake Champlain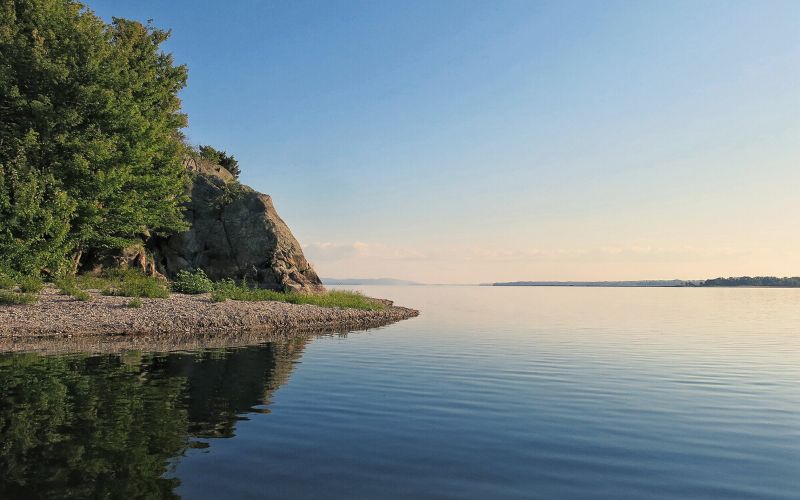 Find your sea legs and head to Ausable Point Campground! Here you can spend your days swimming, windsurfing, or boating and your nights sleeping lakeside along the picture-perfect Lake Champlain. On a clear day, you might be lucky enough to see battleship-shaped Garden Island across the lake!
With over 115 RV and tent sites, there's plenty of room. Every site features a picnic table and grill, and there's also a centrally located shower and bathroom facility. Nearby you'll find a sandy beach, boat launch, and a basketball court, all of which make this one of the best spots for family camping trips.
3. Yogi Bear's Jellystone Park Lazy River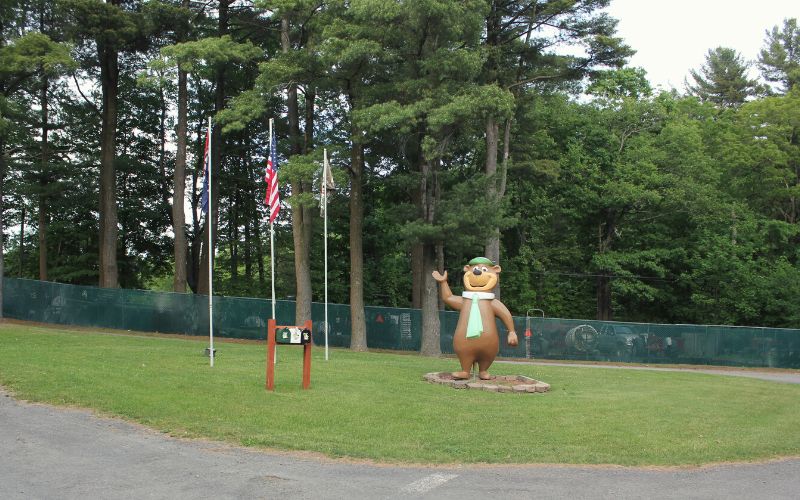 Good ol' family fun awaits you at Yogi Bear's Jellystone Park. Jam-packed with things to do and accommodation options, Yogi Park is one of the most popular RV parks in upstate New York. Fill your days with outdoorsy fun at the swimming pools, water park, lazy river, mini-golf course, or laser tag.
There are numerous ways to enjoy your stay. Choose from rustic tent camping spots, RV sites, or fully-equipped cabin and cottage rentals. The park features at-home comforts like a camp store, clean restrooms, laundry facilities, and even a farmer's market.
4. Swarty's Mohawk Campground, Cherry Valley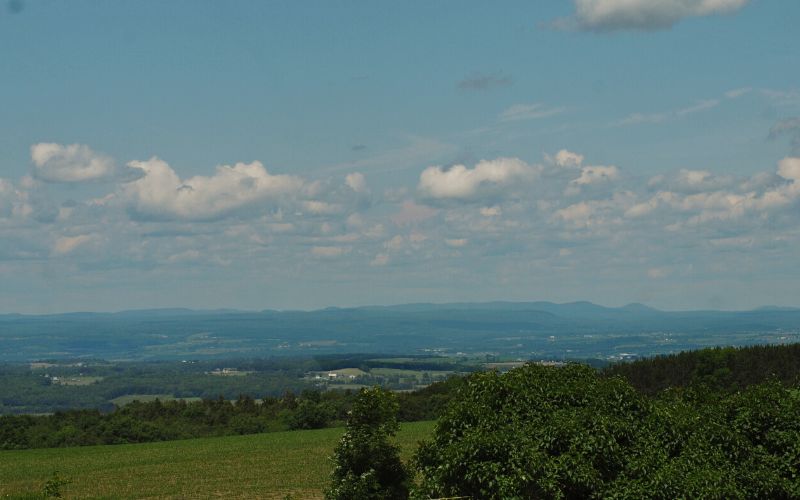 Hidden in the quaint Cherry Valley, Swarty's Mohawk Campground offers a peaceful spot to relax and get back to nature. A small but well-stocked pond will keep anglers busy while a nearby waterfall and ample greenery should appeal to adventure seekers.
The campground itself is small but well-equipped. You'll find 55 roomy campsites with electricity and water, along with cushy amenities like flush toilets, showers, and a swimming pool. Don't miss out on nearby attractions like the Herkimer Diamond Mines or the Cooperstown Baseball Hall of Fame.
5. Letchworth State Park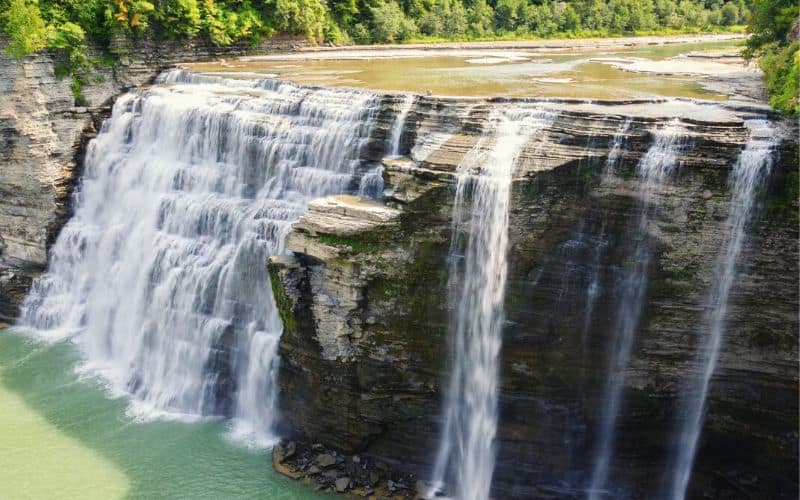 No list of the best campgrounds in New York could be complete without the "Grand Canyon of the East". 
Letchworth State Park is one of the most scenic natural wildlife areas in the Eastern US. The roaring Genesee River feeds the park's three major waterfalls while the lush, green forests that surround them are filled with numerous hiking trails. Explore the park in a number of ways, including whitewater rafting, horseback riding, canoeing, and even hot air balloon rides!
It doesn't get more comfortable than camping at Letchworth. The Letchworth State Park Campground offers a total of 269 reservable campsites and all the usual state park amenities like hot showers, restrooms, picnic shelters, and a dump station.
6. Harriman State Park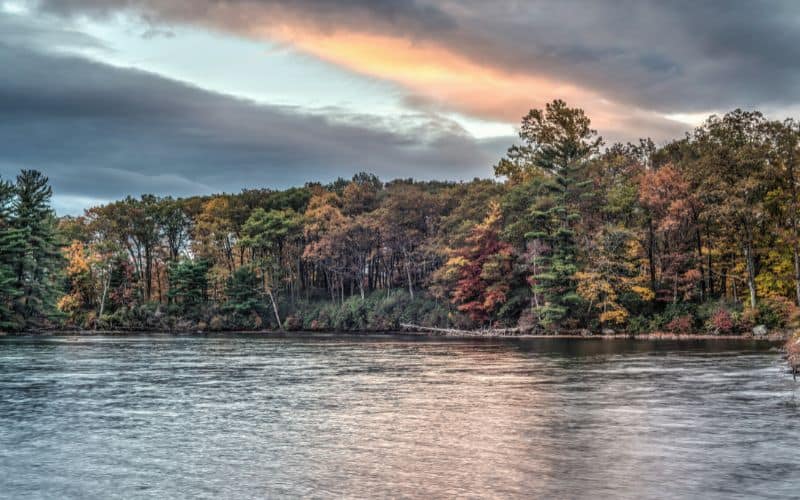 Harriman State Park features over 200 miles of hiking trails including everything from leisurely strolls to quad-busting all-day treks. If meandering in the forest isn't your thing, the park is also home to 31 lakes and two beaches. At less than an hour away from New York City, what more could a camper want?
Inside the park, you'll find the rustic Beaver Pond Campground. Tent sites are available along with RV spots up to 30ft.
7. Hither Hills State Park, Montauk, Long Island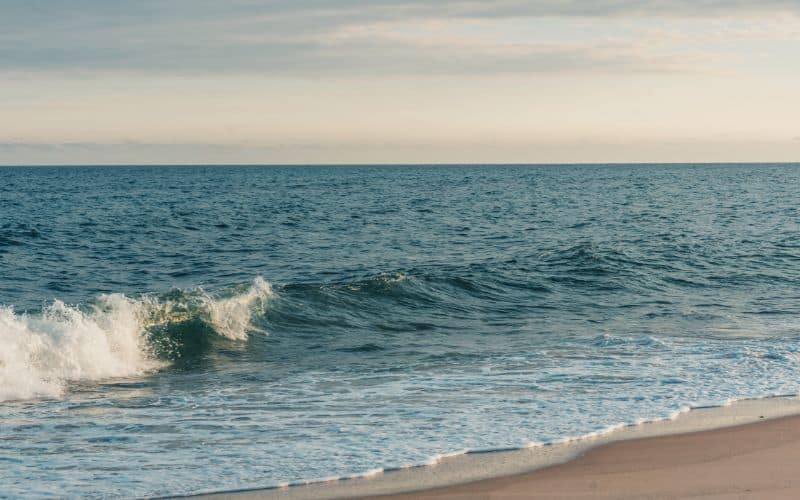 How does beachside camping just a quick jump from the bustling Montauk nightlife sound? Just off the southeastern coast of beautiful Long Island, the sandy beaches of the Hither Hills State Park offer countless opportunities for both relaxing R&R and fun in the sun. Fishing is permitted year-round and the mysterious "Walking Dunes" of Montauk are right next door.
Hither Hills Campground boasts 176 spacious and oceanside sites. Both tent and RV camping are accommodated with all the usual state park services and amenities. If you need a shady spot to hide from the sun, the diverse woodlands surrounding the camp offer ample opportunities for hiking and mountain biking.
8. Chenango Valley State Park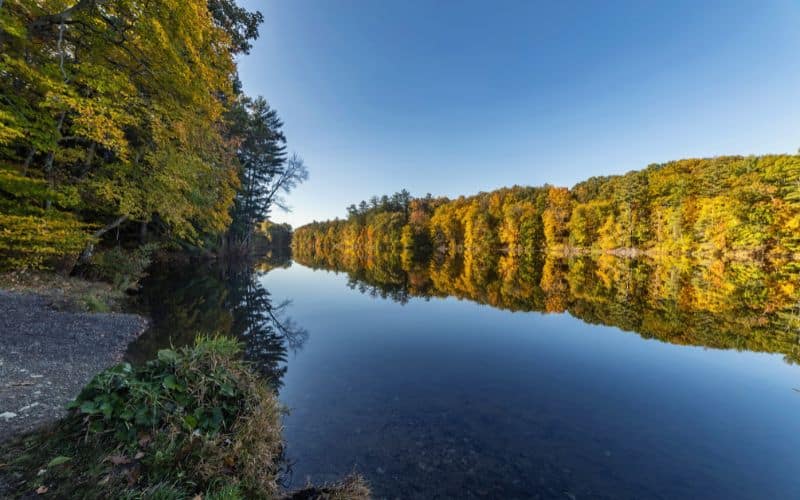 The two kettle lakes in the Chenango Valley State Park are a sight to behold. After a few ancient glaciers packed up and vacated the area, they left behind enough chunks of buried ice to form both lakes.
Hundreds of species of birds now call these glacial lakes home, including kingfishers, woodpeckers, and herons. Come for the bird watching, stay for the fishing. Chenango Lake is brimming with perch, trout, and bullheads.
Chenango Valley Campground has over 180 campsites and 24 cabin rentals. Kayak and canoe rentals are available along with all the usual state park amenities. Golf enthusiasts should check out the nearby 18-hole golf course.
9. Woodland Valley Campground, Catskill Forest Preserve
Tucked away at the base of Slide Mountain, one of the tallest mountains in the Catskills, Woodland Valley Campground offers some of the best hiking trails in all the Catskill Mountains. Once you've had your fill of meandering through the forest, try catching your dinner at the Woodland Valley stream. Just be prepared for black bear encounters!
The campground features 70 tent and RV sites and amenities like showers, restrooms, picnic areas, and a playground. Book early to snag one of the coveted spots right along the Woodland Valley stream!
10. Adirondack Gateway RV Resort & Campground, Gansevoort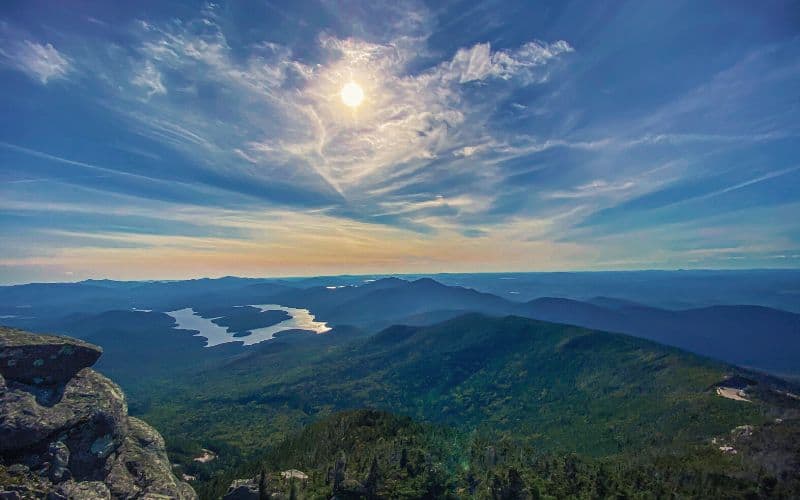 For those looking for a glamping experience, there are few RV resorts as fun and scenic as the Adirondack Gateway. This resort is located in the heart of New York and has a number of fun, family-friendly activities and facilities, including a swimming pool, playgrounds, pet areas, and a catch-and-release pond.
There are a number of ways to enjoy your stay. Full-hookup RV sites and tent camping are available. Those looking to enjoy the finer things in life can check out their premium cabin rentals.
11. Robert H. Treman State Park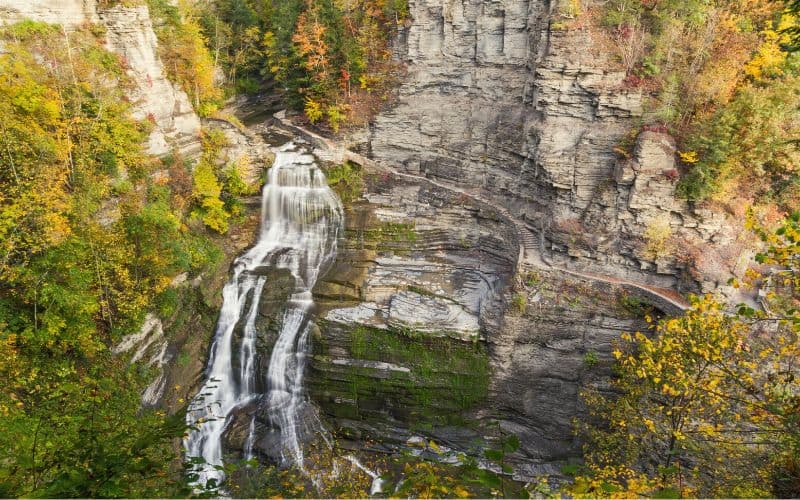 Don't let spooky names like Lucifer Falls and Devil's Kitchen fool you! Robert H. Treman State Park is home to some of the most beautiful and varied landscapes in all of New York's Finger Lakes Region. Park highlights include the Enfield Glen gorge, stunning waterfalls, and a popular natural swimming pool.
To get in on the fun, reserve your spot at the Robert H. Treman State Park Campground. The camp features both RV and tent camping, and cabin rentals. Amenities include showers, restrooms, and sheltered picnic areas.
12. Herkimer Diamond KOA Resort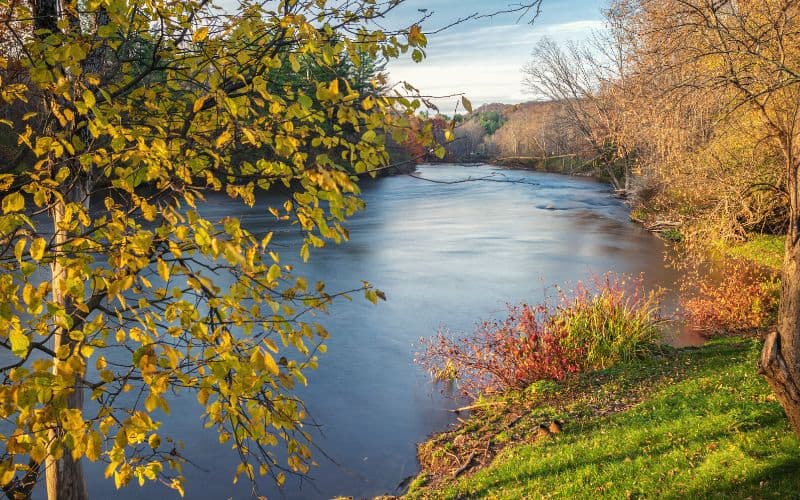 Live out your prospecting dreams hunting for diamonds at the Herkimer Diamond KOA resort. Once you've filled your pockets at the above-ground mine, go cray fishing or tubing in West Canada Creek or take a dip in the local swimming pool. Nearby marked hiking trails are also available for some outdoorsy adventure!
From glamping to tent camping, the Herkimer Diamond Resort has it all. Whichever you choose, you'll be camping in style thanks to a whole bunch of comfort- and convenience-enhancing amenities like a camp store, clean showers and restrooms, laundry facilities, and free Wi-Fi.
13. Watkins Glen State Park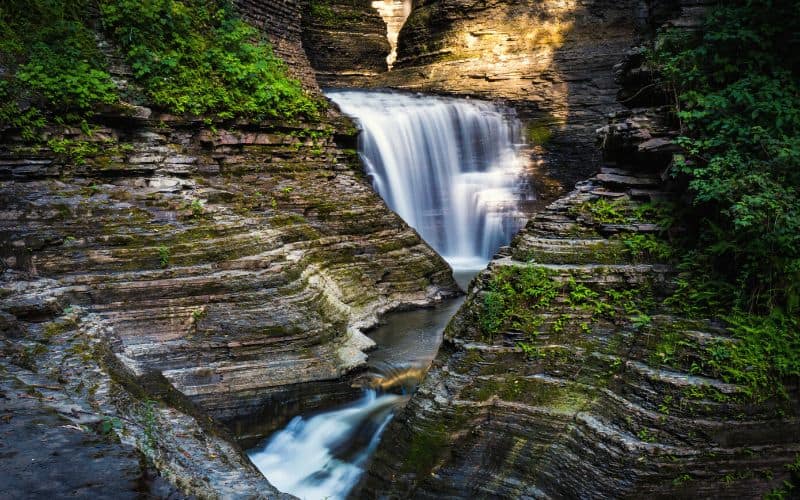 Just a short drive from New York City, Watkins Glen State Park is one of the most beautiful state parks in the entire Finger Lakes region. Explore gorgeous waterfalls, gorges, and towering cliffs, or head to Seneca Lake for a day of fishing. A vast network of hiking trails runs through the area, allowing you to hike over, through, and under several gorges and waterfalls.
There are a total of 7 campgrounds in Watkins Glen. While all the campgrounds are great, we'd recommend the Tuscarora Campground. Here you'll enjoy nearby access to all the park's best features while camping with all the amenities you need to enjoy your stay.
14. Fish Creek Pond Campground (near Cranberry Lake)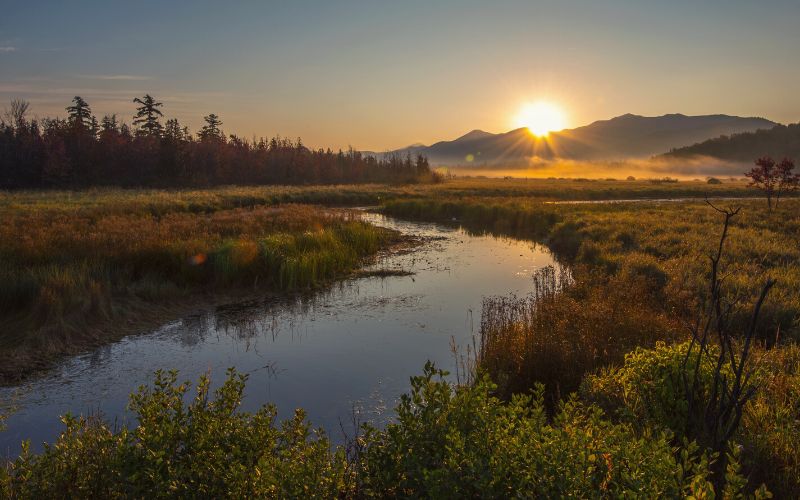 It's obvious what you'll be doing at Fish Creek Pond…a whole lotta fishin'! Both Fish Creek Pond and Square Pond offer anglers the opportunity to catch black bass, river trout, and other specimens. Several pristine rivers and ponds are open for boating, while the sandy shoreline of Fish Creek Pond offers the perfect spot to soak up some rays.
If that ain't enough fishing for you, you can make an easy day trip to Lake George or Saranac Lake.
At Fish Creek Pond Campground, most sites enjoy direct access to the water, and with a total of 355 sites available, that's a lot of sweet pond-side camping. The camp has a bunch of handy amenities too, including seasonal showers, flush toilets, and picnic areas.
15. Rollins Pond Campground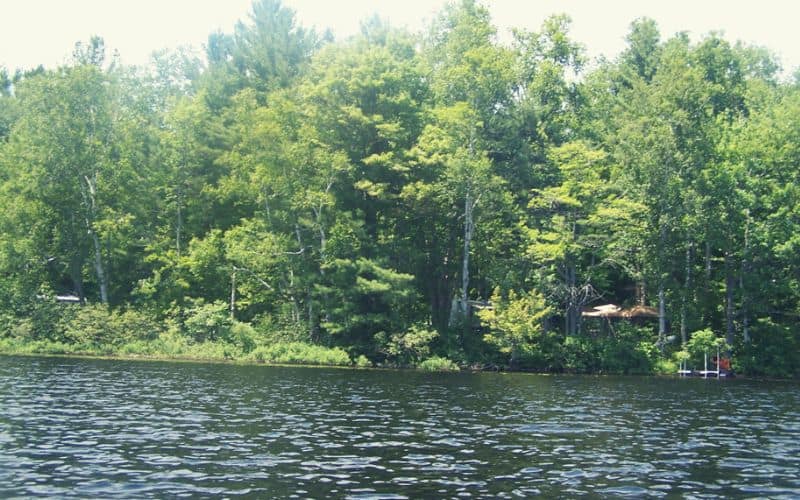 If Fish Creek seems too popular for you, Rollins Pond is a worthy alternative. The campgrounds here are more spacious and private, meaning you can enjoy the beauty of the Adirondacks all to yourself. Rollins Pond itself offers 442-acres of watery fun, while the nearby woods are filled with hiking trails.
Roughly 80% of the 285 campsites at the Rollins Pond Campground are located right along the shoreline, so book early to snag the best spots! Expect all the usual amenities like restrooms, showers, picnic areas, and a dump station.
Recommended Reading
For more outdoor adventure in New York check out the following guides:
Best Campgrounds in New York: Happy Camping!
With 179 state parks to visit, there's a whole lot more to New York than just big city livin'! Thanks to its wide variety of wild landscapes and wealth of both natural and historic monuments, New York state is a destination that every keen camper should have on their bucket list!
We hope our guide has helped you plan your next outdoor adventure in the Empire State. If we missed any of your favorites, don't hesitate to let us know in the comments box below. Feel free to share this with all your outdoorsy friends too!