From the scenic shores of Lake Erie to the deep, forested valleys of Cuyahoga Valley National Park, Ohio offers an amazing outdoor adventure for every type of camper. With backcountry, no-frill campsites, luxury cabin rentals, and everything in between, you'll find an Ohio campground that fits your specific camping needs.
Want to explore a fascinating cave network? Check out Hocking Hills for spelunking and overnight camping under the stars. Hoping to reel dinner in? For great fishing head out to either Clear Fork River or Kelleys Island State Park. And for you comfort-loving glampers, check out the fancy cabin rentals at Alum Creek Campground.
With so much to see and do in the Buckeye State, here's your chance to start checking off items from your bucket list. Our guide features 19 awesome spots all waiting to be explored on your next adventure.
1. Alum Creek Campground, Alum Creek State Park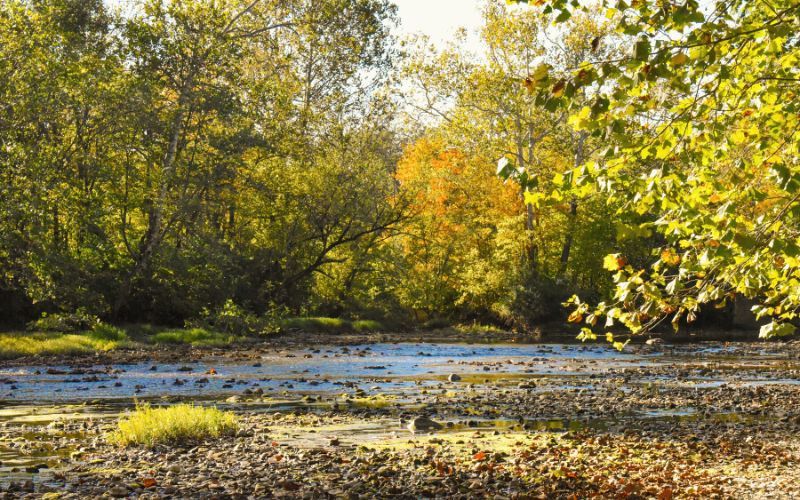 Located just minutes from the thriving city of Columbus, Alum Creek State Park is a welcome reprieve from the hustle and bustle of city life. With a sandy beachfront, gently rolling hills, and lots of woodland to explore, you'll find plenty to keep you occupied at Ohio's largest inland beach and surrounding forest.
Alum Creek Campground is one of the most popular campgrounds in Alum Creek State Park. With over 300 campsites to choose from, you can take your pick from sites with sun or shade, beachfront or wooded, and primitive or full-service. There are even rustic cabins available for rent.
Alum Creek offers both a beach and visitor-only boat launch ramp, along with boat and fishing equipment rentals. There's an infinite amount of fun to be had in the surrounding area, including swimming, fishing, hiking, mountain biking, horseback riding, and naturalist programs.
2. Great Seal State Park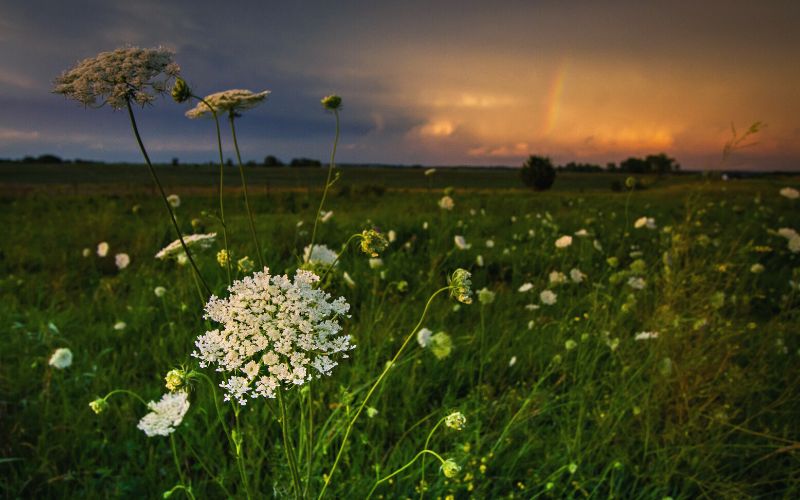 Don't miss out on this beautiful corner of the Appalachian Mountains. Located just north of the town of Chillicothe, Great Seal State Park is a 1,862-acre green space dedicated to many outdoor activities like camping, hiking, mountain biking, and hunting.
Once home to the historic Shawnee Nation, you'll even find the sandstone hills of Great Seal State Park depicted on the Great Seal of the State of Ohio. Conquer the park's hills and ridgelines on any of the over 17 miles of challenging trails or try your hand at fun recreational activities like horseback riding and disc golf.
Great Seal State Park Campground is a primitive campground with 15 non-electric sites. You'll find basic amenities like potable water and vault toilets, with some sites featuring horse picket lines. The Sugarloaf Amphitheater is nearby if you fancy a viewing of TECUMSEH!, Ohio's famous theatrical production in a beautiful, outdoor theater.
3. Findley State Park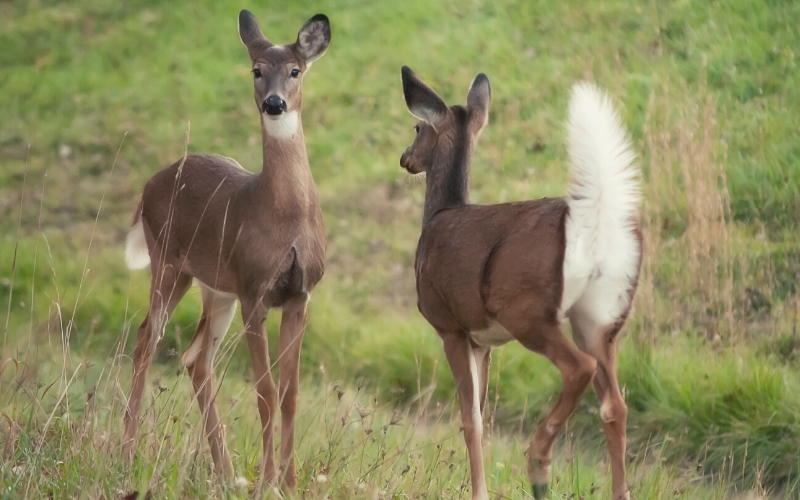 What was once a state forest is now the beautiful 838-acre Findley State Park. The park boasts an amazing variety of landscapes, including rich forests filled with hardwoods and pines, wildflower meadows, and peaceful lakes and streams.
Findley State Park offers plenty of opportunities for wildlife viewing. While this area of Ohio is normally known for its cows and cornfields, nestled within the heart of Findley Park is a forest oasis teeming with wildlife. White-tailed deer, foxes, beavers, and raccoons are just some of the critters you might encounter.
Findley State Park Campground offers both RV and tent camping. You'll enjoy all the usual state park amenities like showers, flush toilets, laundry facilities, and a dump station. There's plenty to keep you occupied around the camp, including a playground and recreation area. In the spring and summer seasons, a nature center and park store are also open for the season.
4. Barkcamp State Park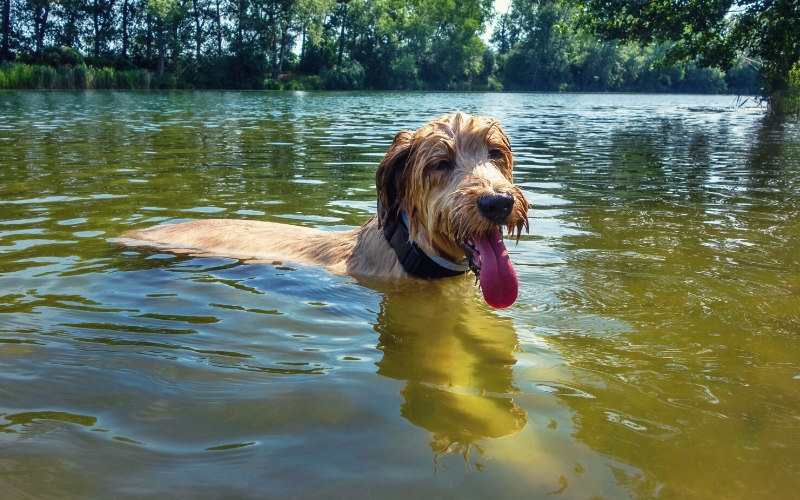 This public recreation area near the village of Belmont is the perfect backdrop for a camping trip. This part of the Appalachian foothills is filled with scenic sandstone hills, valleys, and old-growth forests, and is home to the vast Belmont Lake.
On top of the abundant wildlife that calls this park home, you'll find a whole lot of recreational activities to fill your days. Many hiking trails wind their way through the park, and you'll find everything from adventurous sports like archery to boating and swimming on the lake.
Barkcamp Campground is a cozy campground located in Barkcamp State Park. The campground features over 150 sites, including 15 full hook-up and tent-only sites. Both sunny and shaded sites are available, and the camp features all the usual amenities like hot showers, picnic tables, fire rings, and a dump station.
In addition to the RV and tent camping, you'll also find equestrian camping with 25 sites.
5. Shawnee State Park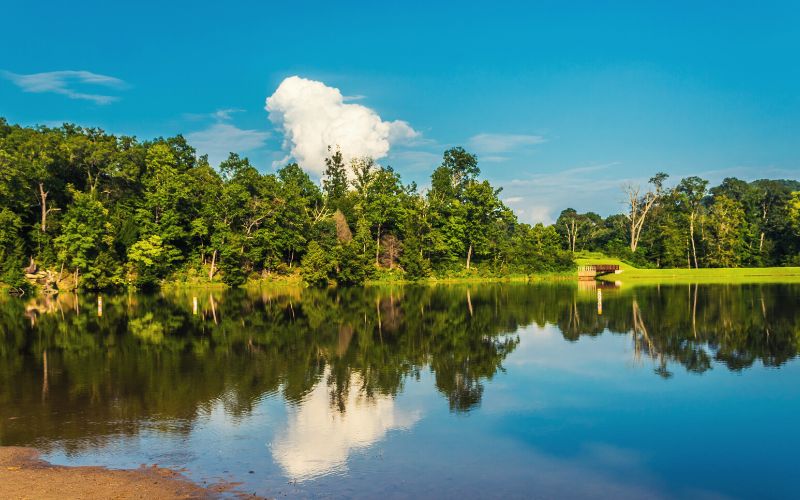 Near the Ohio River in Scioto County, nestled in the foothills of the Appalachian mountains, you'll find Shawnee State Park. This sprawling, 3,983-acre state park has something to please everyone, from anglers to hikers to winter sports lovers.
Catch your dinner on Shawnee Lake or just spend the day relaxing lakeside. The woodlands of Barkcamp are filled with wildlife if you'd rather spend the day hiking or mountain biking. If you visit in the winter, you'll find plenty of opportunities for snowshoeing, cross-country skiing, or snowmobiling.
Shawnee State Park offers two campgrounds. Turkey Creek Campground is located near Roosevelt Lake and offers plenty of comfort-enhancing amenities like a store, heated shower houses, miniature golf, a playground, and an amphitheater.
Several campsites are also available at Ohio River Campground and Marina. This smaller, but still spacious camp offers 12 electric sites, two of which are ADA accessible. You'll also find a store and marina with an adjacent fueling dock.
6. John Bryan State Park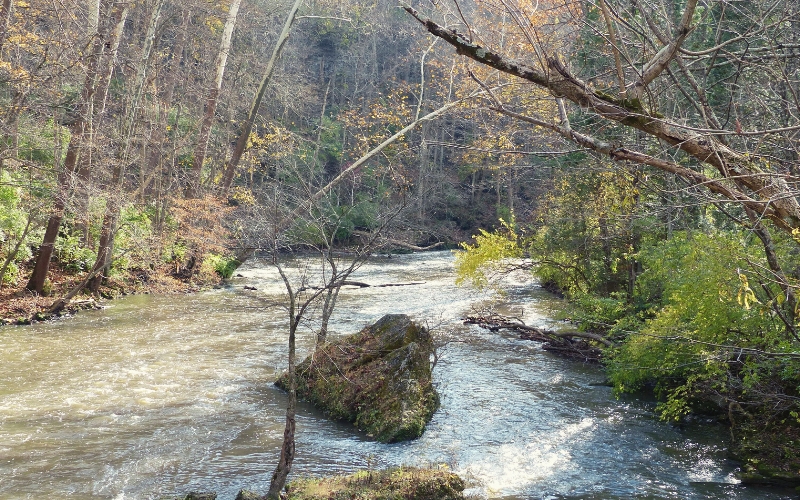 If you're looking for a place to pitch or park in western Ohio, don't miss out on John Bryan State Park. In this 752-acre park located in Green County, you'll encounter the Clifton Gorge, a spectacular limestone and dolomite feature designated as a National Natural Landmark.
There's no better place to relax or enjoy a picnic than the park's Little Miami River, famous for its canoeing. It's also a great spot for panfish and bass fishing, so don't forget your poles. If hanging out riverside isn't your thing, there are 11 hiking trails in the park for adventures on dry land.
There's no better way to enjoy this scenic park than at the John Bryan Campground. 52 tent and RV campsites await you, most of which are partly shaded. Pets are permitted on all sites and each is equipped with picnic tables and fire rings. You'll also find a showerhouse, drinking water, and a dump station around the camp.
7. Dillon State Park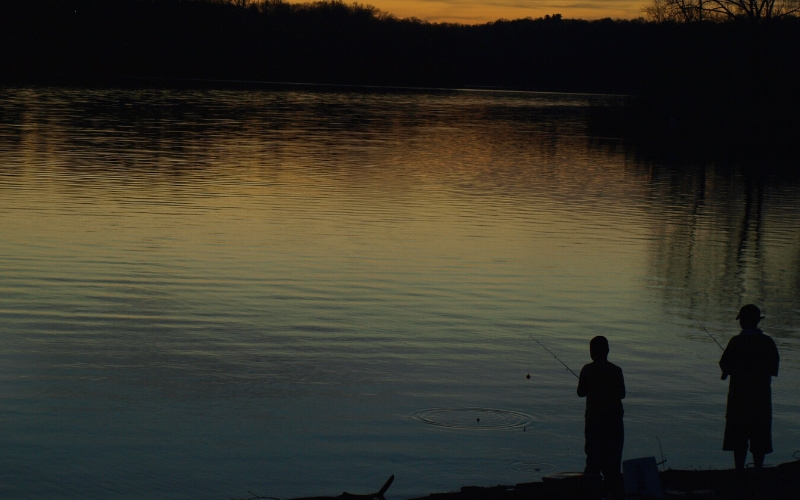 If you're looking to get back to nature, there's no better place to enjoy the great outdoors than Dillon State Park. This wonderful woodland is located near Zanesville in Muskingum County and features a little something for every outdoor enthusiast.
This scenic park offers 15 miles of bridle trails and 12 miles of hiking and biking trails, so there are plenty of opportunities to enjoy nature, your way. Just keep an eye out for the wild turkeys and ruffed grouse that are known to hang out on the trails! Several 18-hole golf courses are also found in the area in case you want to squeeze in a round or two.
Dillon Campground is a large family campground that features 25 tent and RV sites. If you're looking to glam it up, deluxe cabin rentals are also available. Dillon Lake, a beach, and numerous hiking trails are all just a short walk from the camp.
8. East Harbor State Park, Lake Erie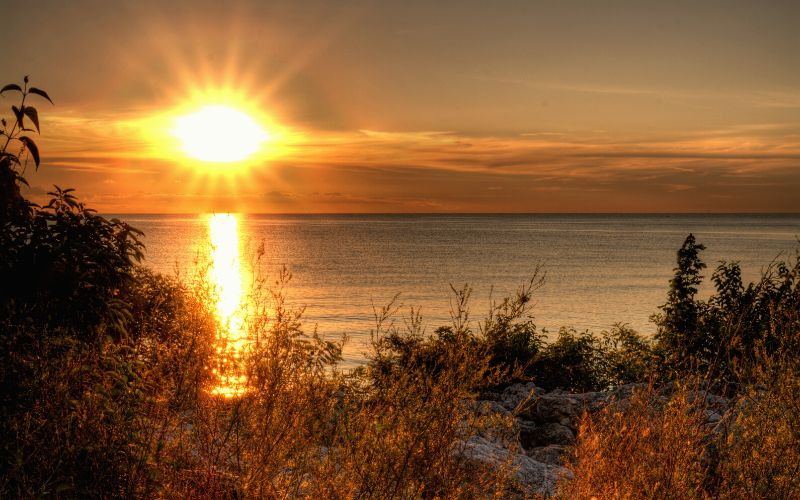 East Harbor Campground offers a way to experience Lake Erie like no other. Situated on a peninsula that stretches out towards the middle of the lake, you'll be lulled to sleep by the gentle waters of Lake Eerie at this peaceful campground.
East Harbor State Park lies on top of what was once the Great Black Swamp, so nature enthusiasts should prepare for some fantastic bird-watching. Spend the day on the lake boating or swimming, or push your legs to their limits on one of the shore-hugging trails where you'll also enjoy great views of the Lake Erie islands.
East Harbor is a popular family campground with over 350 sites and yurt rentals. These sites go fast in the peak season, so be sure to book in advance. Showers and flush toilets are available, as are a launch ramp and fish cleaning building.
9. Hocking Hills Adventures, Hocking Hills State Park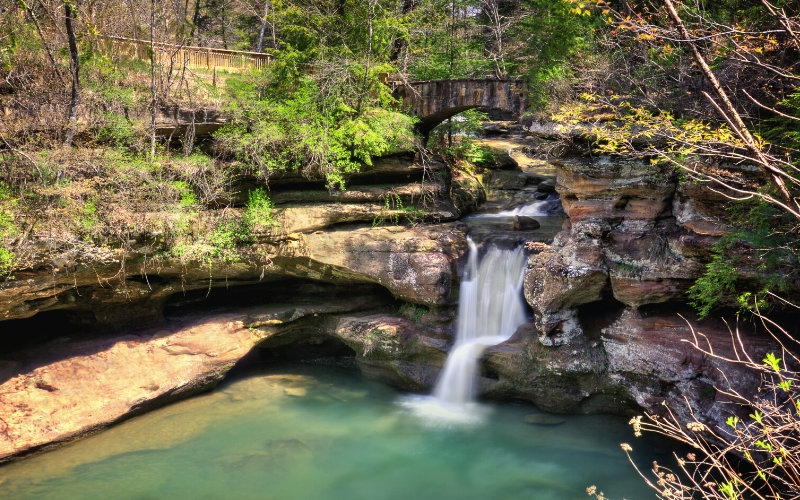 No trip to Ohio would be complete without a visit to the awe-inspiring Hocking Hills State Park. The park has received both international and national acclaim for its raw beauty and plentiful opportunities for adventure.
The hiking trails of Hocking Hills will take you through gorgeously picturesque landscapes like towering cliffs, waterfalls, misty pools, and shaded gorges. Old Man's Cave is the most popular spot in the park, so make sure you don't miss this 150-foot-tall and utterly fascinating gorge.
Hocking Hills Adventures is a family owned and run campground located in the heart of Hocking Hills. This 200-acre facility boasts not only big, spacious sites and rustic cabin rentals, but plenty of wild adventures as well. Enjoy canoeing, kayaking, or river tubing, or head to the fun center for go-karts, mini-golf, and a jump pad.
10. Logan / Hocking Hills KOA, Hocking Hills State Park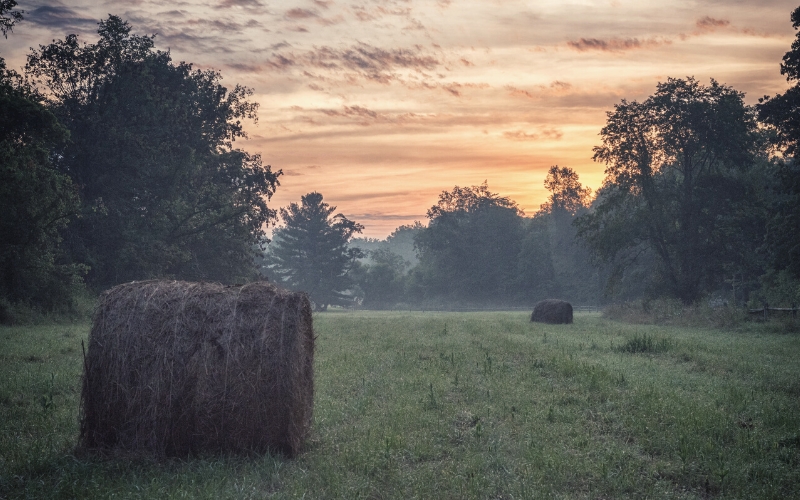 Thanks to its convenient location in the heart of Hocking Hills, the Logan / Hocking Hill KOA is the ideal base for visiting the park's best attractions.
Like most KOAs, Hocking Hills is jam-packed with family-friendly recreational activities for you to enjoy. Try gem-mining and gold panning, go for a dip in the spacious outdoor swimming pool, or keep your kids busy with any of the fun camping activities held throughout the year. Even your pup will love the off-leash dog park and playground.
This KOA site offers a number of ways to stay. Book a full hook-up or electric-only RV or tent site, or treat yourself to a deluxe cabin rental. The camp is filled with all the amenities you need to enjoy your stay, like Wi-Fi, a snack bar, heated bathhouses, laundry facilities, and more.
11. Lake Hope State Park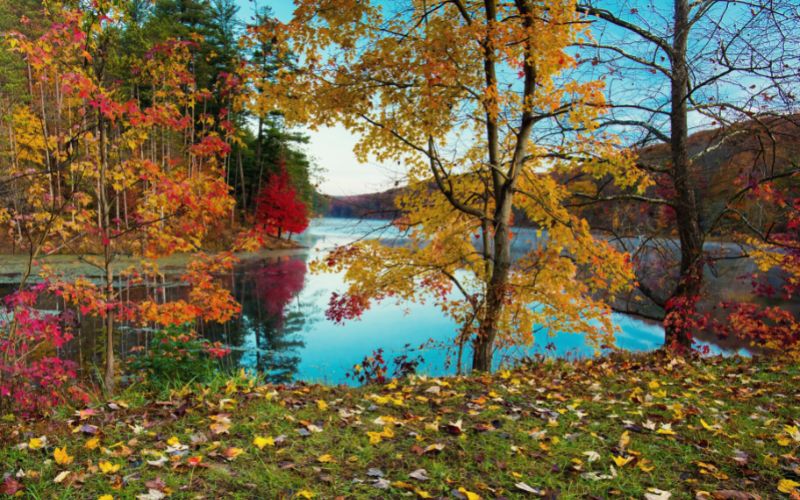 Lake Hope offers a charming and rustic getaway from the hustle and bustle of everyday life. The park is centered around 120-acre Lake Hope, so water enthusiasts can get their fill of swimming, boating, and fishing on the lake. Only non-motorized boats are allowed on the lake, so they'll be nothing to thwart your well-earned rest and relaxation.
For land lovers, 7 hiking and 8 biking trails weave their way through Zaleski State Forest, which surrounds the park. After you've worked up your appetite, head to the full-service restaurant for a refill. 
Lake Hope Campground features primarily non-electric sites in a wooded and shady area. Heated showerhouses, flush toilets, and laundry facilities are all at your disposal, as are two camper cabins available for rent.
12. Indian Lake State Park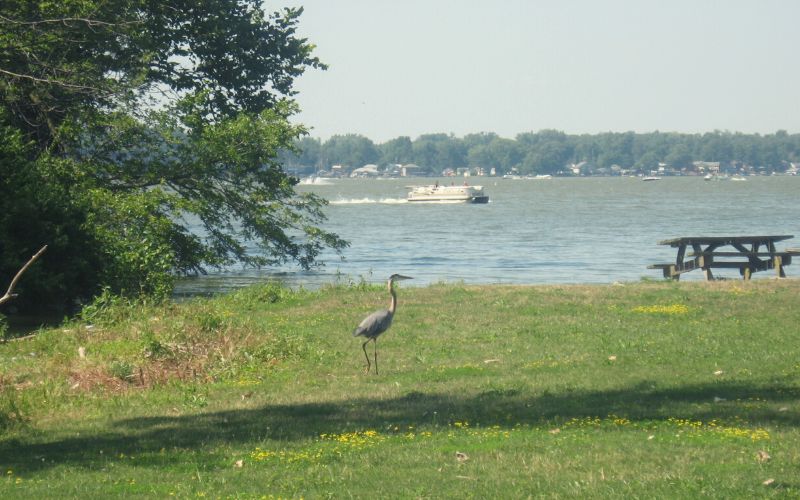 Indian Lake State Park is an 800-acre multi-use park centered around the majestic Indian Lake. The lake offers a variety of on-the-water activities like swimming, boating, fishing, and jet-skiing, and even winter sports like cross-country skiing and snowmobiling.
Bird watcher? If so, prepare to get your fill as Indian Lake State Park is located on a major aviation migratory route. The lake makes an important resting stop for Canadian geese, swans, egrets, and herons as they make their way north or south depending on the season.
With exclusive boating access facilities, Indian Lake Campground is the place to be for water sports enthusiasts. Boat campsites are available right next to the water, as are full hook-up and electric sites for all styles of camping. The campground provides visitors with shower houses, flush toilets, laundry facilities, and a camp store.
13. Mohican State Park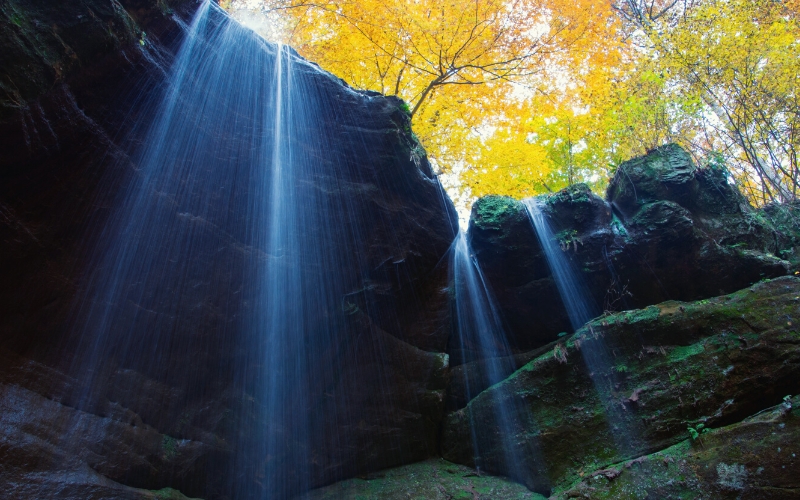 Head to the heart of Ohio's Amish country to explore one of Ohio's most beautiful and scenic regions. Mohican State Park offers some of Ohio's most stunning natural attractions, including the striking Clear Fork Gorge, Lyons Falls, and the rushing Mohican River.
Mohican State Park Campground offers plenty of camping styles to suit every taste. Both electric and non-electric sites are available, along with deluxe cabin rentals. Other camp facilities and amenities include showers, flush toilets, a swimming pool, and a camp store.
Near the campground, you'll find plenty to do and see. Be sure to check out the popular, 25-mile Mohican Mountain Bike Trail, a working grist mill, and an archery range.
14. Kelleys Island State Park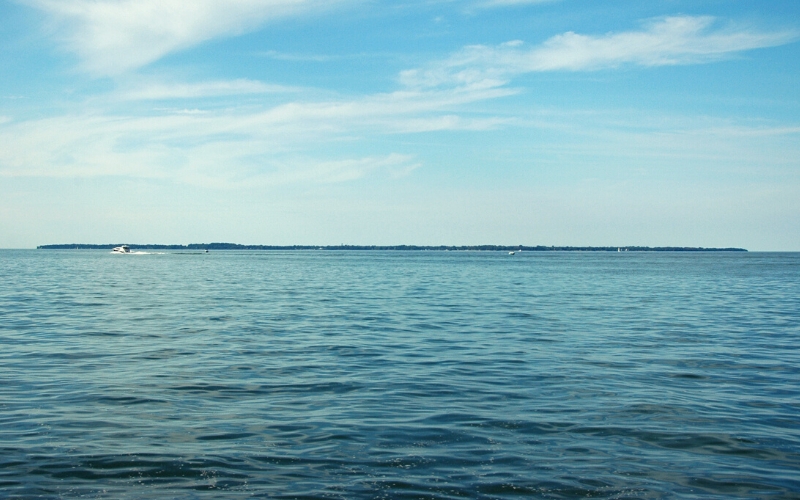 Imagine camping out in a yurt, on an island, in the middle of Lake Eerie… well, you can at the Emerald Isle! This pristine island located on majestic Lake Eerie offers an almost-magical camping experience for outdoor adventures.
To get to the Emerald Isle, you'll have to take a trip on the local ferry. Amongst the low cliffs and limestone shelves of the island, you'll find the Kelleys Island Campground. The camp offers both electric and non-electric sites, along with yurt and Sherman cabin rentals. The island also features two nature reserves, a stone pier for fishing, and plenty of hiking trails.
15. Bicentennial Campground (free camping)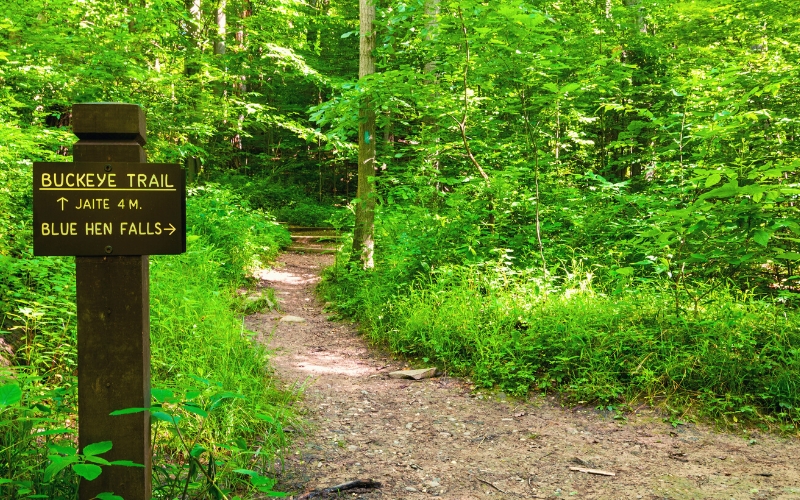 The American Electric Power ReCreation Land ("AEP") is one of the largest outdoor recreation areas in all of Ohio. This almost 60,000-acre former mining territory now offers a vibrant outdoor space for hiking, biking, fishing, hunting, horseback riding, and camping. While free, you will need a permit to camp here.
The Bicentennial Campground is a free-to-camp spot located on the edge of a peaceful lake. You won't find many fancy amenities – just benches, fire rings, and vaulted toilets – but what you will get is the chance to enjoy nature without the crowds found at some of the bigger campgrounds. The trailhead for the popular Buckeye Trail is also located near the camp.
16. Hidden Hollow Campground (free camping)
Just a half an hour drive west of Pittsburgh, Fernwood State Forest offers some of the best dispersed camping in northeastern Ohio. This ​​3,023-acre strip of forest land was once mined for coal but has now been reclaimed by both the state and Ohio's varied wildlife.
Hidden Hollow Campground is a hidden gem only the locals seem to know about. This rustic camping spot offers all the most basic amenities like vault toilets, fire rings, and picnic tables. There are also garbage cans available, so you won't have to pack out your waste. Do note, however, that there's a 14-day limit on free camping in the area.
17. Wayne National Forest (free camping)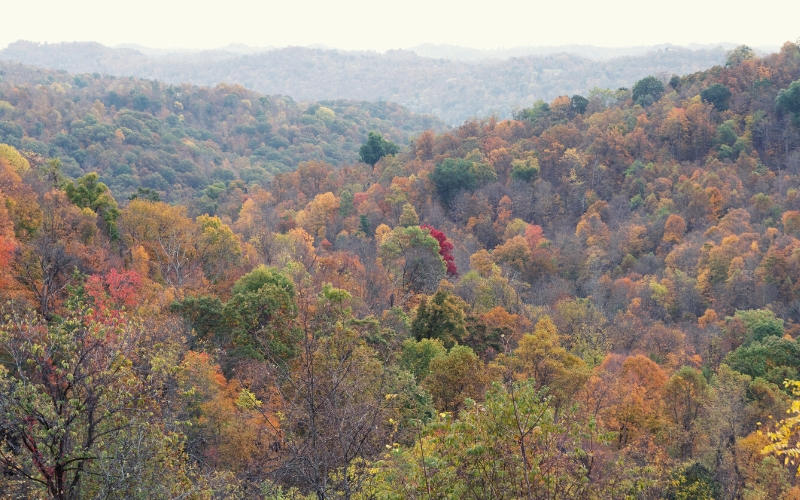 The West Virginia border of Ohio is hiding some of the best free camping in the state. There you'll find the Wayne National Forest, a hiker's paradise with over 300 miles of hiking, biking, and horseback riding trails.
In this massive 250,000-acre forest there are 4 free campgrounds: Oak Hill, Iron Ridge, Burr Oak Cove, and Stone Church Horse Camp. Oak Hill and Iron Ridge offer the most amenities, including electric hookups, flush toilets, and drinking water, and Oak Hill even has showers.
Bur Oak Cove and Stone Church Horse Camp are more primitive, with the latter offering not much more than a covered paddock, fire pit, and tent pad at each site.
18. Portage Lakes State Park
The many waters of Portage Lakes are steeped in Ohio history. An old Indian portage path once wound its way through the area connecting the Cuyahoga River with the southern Ohio River. Today, the wetlands of Portage Lakes State Park offer a variety of on-the-water recreational activities like birdwatching, swimming, and boating.
Portage Lakes Nimisila Campground is the perfect starting point for exploring all 411 acres of the Portage Lakes. The campground features both electric and non-electric sites nestled among the trees, along with hot showers, flush toilets, and a dump station. An on-site amphitheater hosts several events throughout the year.
19. Ridge Ranch Campground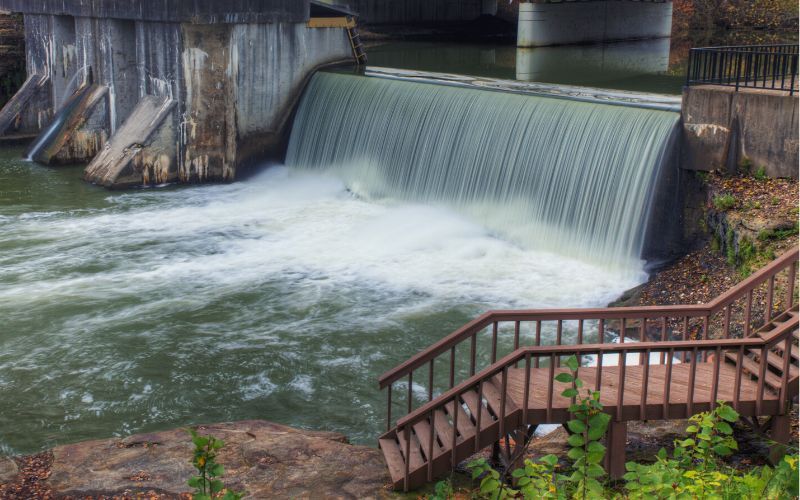 In the beautiful Newton Falls area of Ohio, just south of Lake Erie, you'll find this fun and family-oriented campground. Ridge Ranch Campground is a spacious camp located on the shores of a peaceful lake. This 76-acre campground offers both shaded and sunny sites, along with all the amenities you need to enjoy a comfortable stay.
A camp store offers both food and camping gear, a large swimming dock provides easy access to the lake, and there's even a large off-leash dog park for your four-legged camping friends. The camp plans fun activities all year long, from arts and crafts for kids to paddle boats and canoe rentals.
Not into tent camping? Try a cabin rental. Each cozy cabin is fully furnished with a porch overlooking the lake – perfect for relaxing after a long day of outdoor fun.
Best Camping in Ohio!
No matter where you travel in Ohio, plenty of natural wonders and amazing outdoor attractions await you. Whether you're looking for a relaxing lake to cast a line or a mountain peak to conquer, you'll find an Ohio campground on our list that has everything you're looking for.
What did you think about our guide to the best camping in Ohio? If we missed any gotta-camp-there spots or hidden gems, let us know all about them in the comments below.