It is true that the Prairie State is, indeed, prairie for the most part. However, one of the best-kept secrets about Illinois is its rich natural beauty paired with plentiful outdoor recreation.
If Illinois only calls to mind Lake Michigan, cornfields, Abraham Lincoln, and deep-dish pizza, let us expand your horizons.
From dense forests for hiking to pristine wetlands for birding and kayaking, we're here to school you on the must-see state parks, campsites, and unexpected landscapes that Illinois has to offer.
Northern Illinois
1. Starved Rock State Park and Matthiessen State Park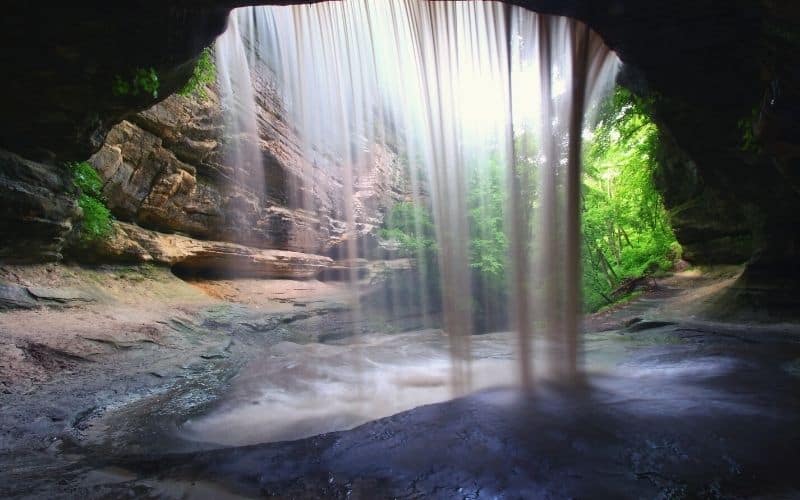 Type: RV and tent
Electric: Yes
Nearest town(s): Utica and Oglesby, 4 miles
One of the most popular recreation destinations in northern Illinois (hint: we recommend reserving early), Starved Rock State Park is most well known for its ancient sandstone rock formations carved by glacial water. The park has 130 campsites for RV or tent camping, 13 miles of trails, plentiful waterfalls, and opportunities for boating and fishing on the Illinois River.
Neighboring Matthiessen State Park to the south features 14 equestrian-only campsites and multi-use trails for hiking, horseback riding, and cross country skiing.
Each state park offers fascinating geology within an ecosystem full of abundant wildlife. Their proximity to one another makes for an epic weekend destination just 1.5 hours southwest of Chicago. Starved Rock State Park also has a visitor center, which is worth a stop to learn more about the ecology and history of the region.
RELATED READING: For more great outdoor adventures check out the best hiking in Illinois.
2. Chain O'Lakes State Park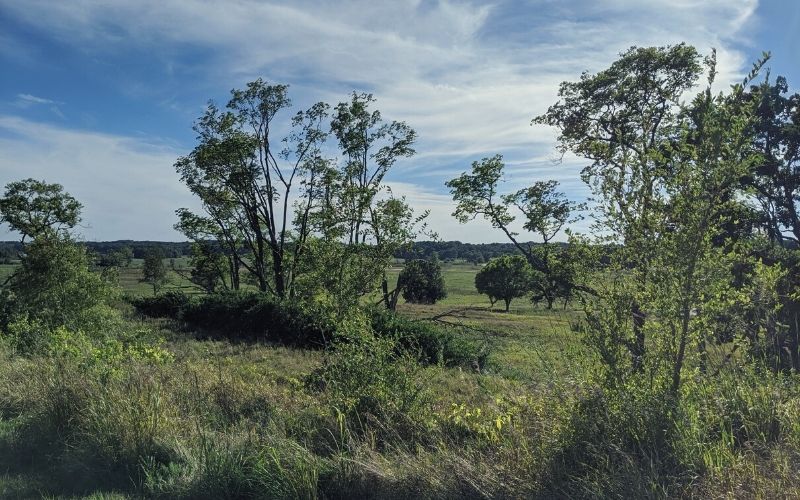 Type: RV and tent
Electric: Yes
Nearest town: Spring Grove, 5 miles
Calling all water-lovers! This state park is smack in the middle of Illinois' largest concentration of lakes and borders three – Grass, Marie, and Nippersink. With more than 6,000 acres of water and almost 500 miles of shoreline, Chain O'Lakes State Park is a midwest utopia for those who like to be on, in, or near water.
The lakes offer abundant opportunities for kayaking, canoeing, swimming, and fishing. Wildlife viewing and birdwatching are also popular, and the park office has a list of the 200 sighted bird species. The lakeside campground has more than 230 campsites, seven picnic areas, and six miles of trails for biking and hiking – plentiful fun for the whole family both on and off the water.
3. Kankakee River State Park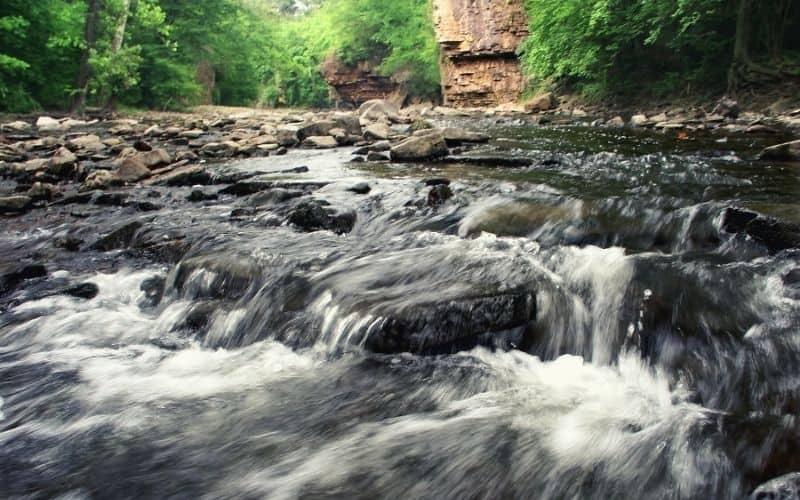 Type: RV and tent
Electric: Yes
Nearest town: Bourbonnais, 7 miles
Miles of trails stretch along both banks of the Kankakee River. These make this northern Illinois state park and its 110 sites at Potawatomi Campground an excellent nature escape for canoe enthusiasts, hikers, and bikers.
The smaller Chippewa Campground is temporarily closed, but when in operation offers more primitive camping (no showers, some electricity). An equestrian campground and group site round out the tent camping offerings of Kankakee River State Park.
Rich with abundant wildlife, this state park is popular for hunting during open season. The river is clear and clean, and anglers will find plenty of opportunities to catch smallmouth bass and pike. You'll never know Chicago is only an hour away!
4. Shabbona Lake State Recreation Area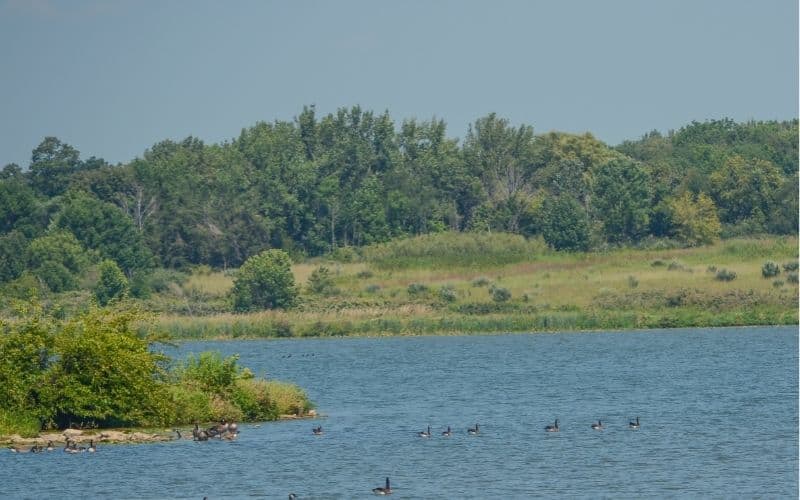 Type: RV and tent
Electric: Yes
Nearest town: Shabbona, 1 mile
If your favorite camping activity is heading out to fish, then you'll want to check out Shabbona Lake Recreation Area. The lake itself is stocked with more than ten kinds of fish and has been dubbed the "Muskie Capital of Illinois" thanks to its six state-record catches.
It's worth noting that while the fishing is epic, swimming in the lake is prohibited (and enforced). Not to worry, there are eight miles of scenic trails to appease those who did not come to fish.
The campground has 150 Class A premium sites, 90 of which can be reserved ahead of time and 60 of which are available on a first-come, first-served basis. The campground store offers added convenience should you forget s'mores fixings.
5. Castle Rock State Park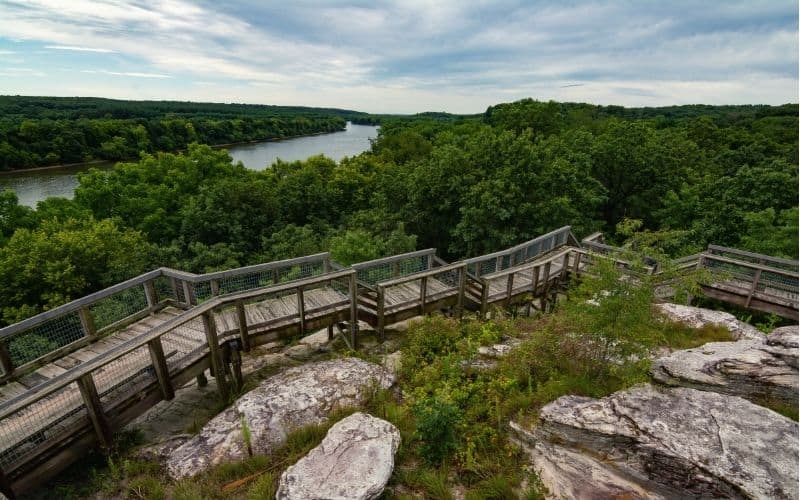 Type: Primitive camping, boat access only
Electric: No
Nearest town(s): Oregon, 5 miles
Located in the Rock River Hills region on the western shore of Rock River, Castle Rock State Park is known for its unique rock formations, ravines, and namesake sandstone bluff. The park has six miles of nature trails and a scenic overlook.
The state park has some primitive campsites in areas accessible only by boat or canoe, about two miles downriver. While it requires a bit more planning, it's totally worth it to enjoy a mini backcountry adventure on a beautiful river. Permits are required for these sites, and cannot be reserved ahead of time.
6. Rock Cut State Park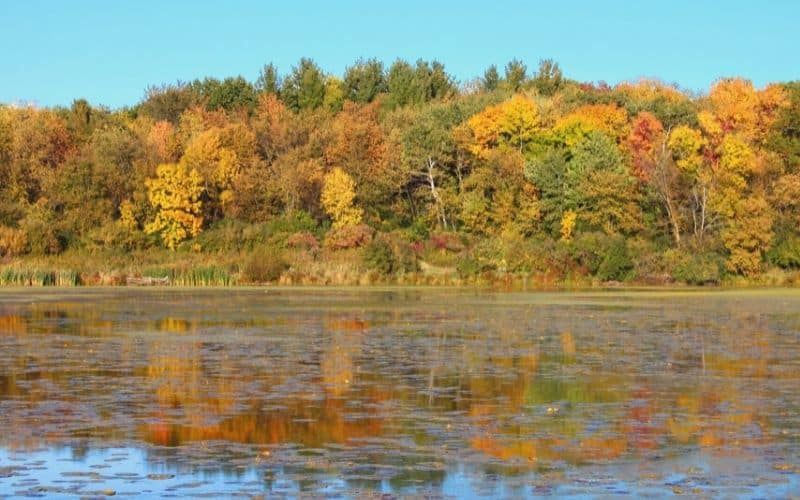 Type: RV and tent
Electric: Yes
Nearest town: Rockford, 5 miles
Located about as far north as you can go and still be in Illinois, Rock Cut State Park is just outside of Rockford, Illinois – yes, the home of the Rockford Peaches. If you know, you know.
The park has an abundance of recreation. In addition to the 270 campsites, you'll find 40 miles of hiking trails, 23 miles of mountain biking trails, and 14 miles of equestrian trails. Picnic areas are scattered throughout the park and the campground has a concession.
There are also two lakes in Rock Cut, Olson Lake, and Pierce Lake. Pierce has docks for motorized boats and can be used for fishing and boating. Olson has a beach and swimming area. Both lakes are popular for canoeing and kayaking, and there is a concession where you can rent paddleboats.
If these lakes are a little on the small side for your tastes, just over an hour's drive east you can access the shores of Lake Michigan at Illinois Beach State Park.
7. Mississippi Palisades State Park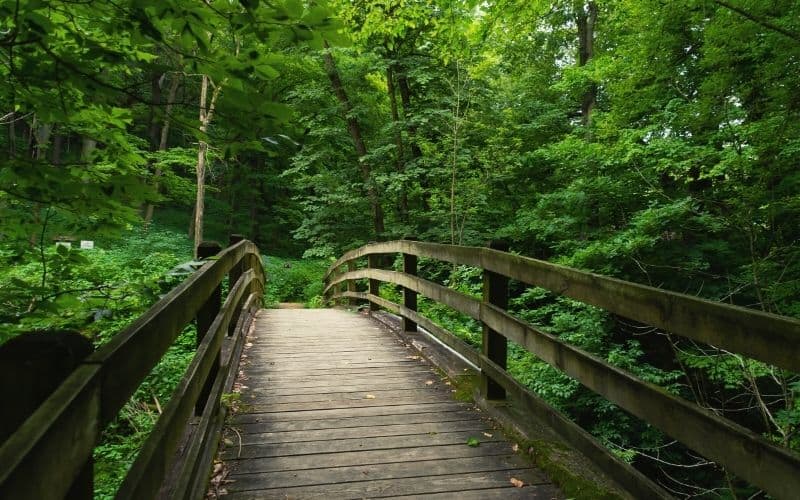 Type: RV and tent
Electric: Yes
Nearest town: Savanna, 4 miles
This northern Illinois state park offers year-round recreational activities, including hunting, rock climbing in specific areas, boat ramp access, cross country skiing, and ice fishing in the winter.
Nature lovers will enjoy the marked hiking trails and lookout points throughout the park, and anglers can head out to fish a wide variety of species. Boats with motors of any size are allowed on the river.
With all Mississippi Palisades has to offer, it's lucky it also has a large campground! Nearly 250 campsites are available, 110 of which have electric RV hookups available. Showers and restrooms are located in three different buildings. There are also two youth group camping areas available to reserve.
Central Illinois
8. Kickapoo State Recreation Area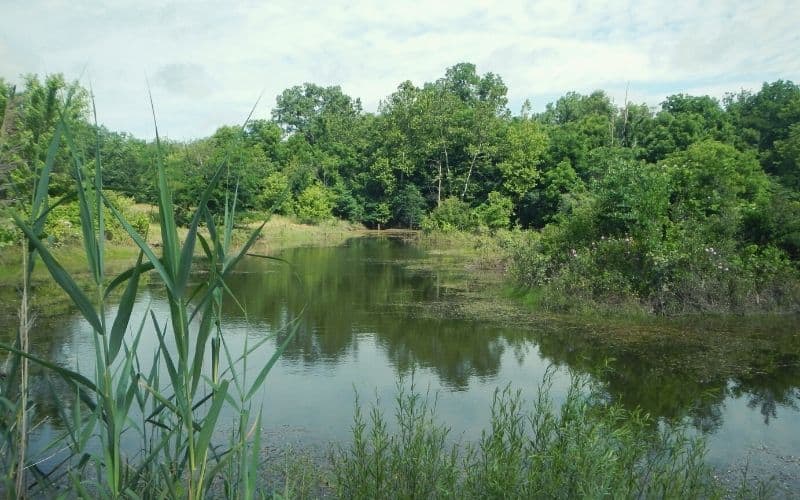 Type: RV and tent
Electric: Yes
Nearest town: Oakwood, 3 miles
How's this for a plot twist: in addition to camping, at Kickapoo State Recreation Area you can also scuba dive! The area is known for its water-based activities and with good reason. Kickapoo has access to the Middle Fork of the Vermilion River and features 22 natural lakes. Certified scuba divers can explore the clear water of Inland Sea and Sportsman's Lake.
Prefer to be on the water rather than in? There are plenty of opportunities for fishing and boating, and boat rentals are available. There is even a shuttle service for those who want to canoe a portion of the river. Birding enthusiasts will be delighted by the more than 100 documented species, including the great blue heron.
Campers will find 184 sites in addition to more secluded, walk-in sites for a primitive camping experience. Kickapoo is located within the Middle Fork State Fish and Wildlife Area, which has about 35 miles of hiking trails and 12 miles of mountain biking trails.
9. Pere Marquette State Park
Type: RV and tent
Electric: Yes
Nearest town: Grafton, 5 miles
The largest state park in Illinois, Pere Marquette State Park has 80 reservable Class A sites as well as a section of Class B sites available on a first-come, first-served basis.
Bring your bikes! The Sam Vadalabene Bike Trail runs from the park to the city of Alton, approximately 20 miles south. The entire trail is paved. You'll also find 12 miles of marked hiking trails, 20 miles of trails for horseback riding, and opportunities for fishing and boating on the Illinois and Mississippi Rivers.
Pere Marquette State Park is particularly unique for its abundance of birdlife. There are 230 documented species of birds here, and in the winter the area becomes a hotspot for bald eagle sightings.
10. Johnson Creek Recreation Area, Kinkaid Lake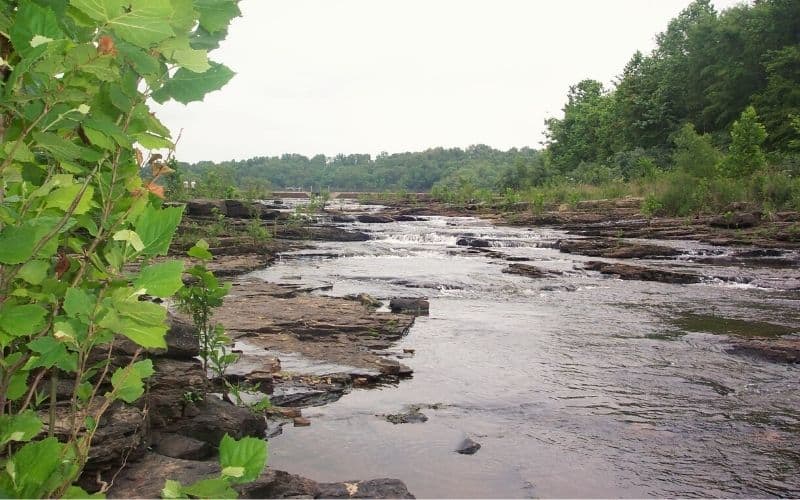 Type: Tent camping
Electric: No
Nearest town: Ava, 5 miles
Kinkaid Lake is one of the largest in Illinois, and a popular destination for many outdoor activities, including swimming, boating, and fishing.
In the northwest corner of Kinkaid Lake, the Johnson Creek Recreation Area has 20 tent camping sites that are first-come, first-served. Sites are large and fairly basic, with vault toilets, picnic tables, and fire rings. They also have hitching posts, and several equestrian and hiking trails leading from the campground to the extensive Kinkaid Lake trail system.
There are four boat ramps and a full-service marina – ample opportunities for fishing or just enjoying a day on the lake. Keep in mind there are no rentals here, so you do need to bring your own watercraft.
Southern Illinois
11. Eldon Hazlet State Recreation Area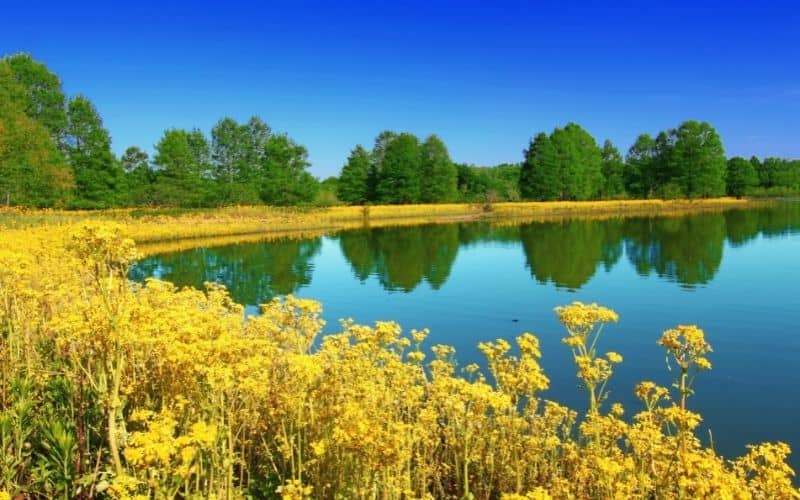 Type: RV and tent
Electric: Yes
Nearest town: Carlyle, 7 miles
One of the largest campgrounds in the Illinois state park system (and therefore, not quiet and remote, but fantastic for families!), Eldon Hazlet State Recreation Area has more than 350 campsites and 20 cottages.
Recreation abounds at this campground, and amenities include a playground, basketball and volleyball courts, and a large, zero-entry outdoor pool that reaches a maximum depth of 4.5 feet – ideal for those with young children. There is also a camp store that sells groceries and supplies, should you need a snack or activity to keep the kiddos happy.
Carlyle Lake is incredibly popular for sailing, and most weekends in the summer regional and national regattas are held here. In addition to fishing and hiking, outdoor enthusiasts enjoy water skiing, boating, and relaxing amid the natural beauty of the restored prairie and wetlands.
12. Ferne Clyffe State Park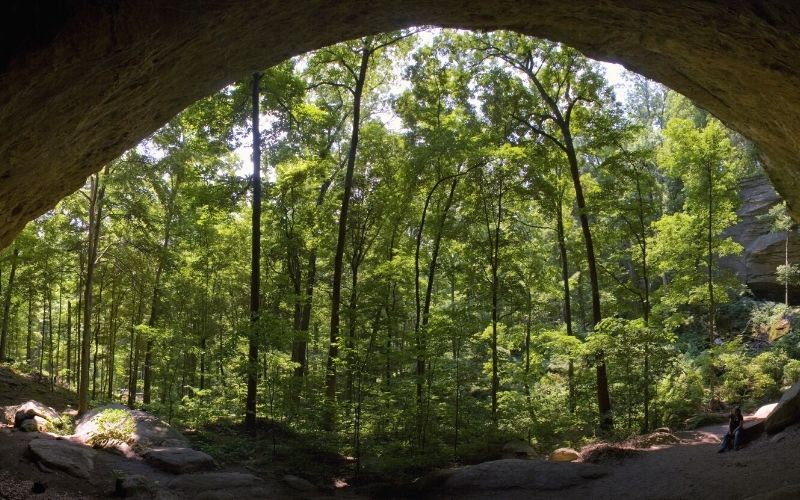 Type: RV and tent
Electric: Yes
Nearest town: Goreville, 2 miles
Named for – wait for it – an abundance of ferns, Ferne Clyffe State Park is home to a wide variety of plants in addition to numerous geological features.
In addition to a large Youth Group campground available for organized group camps, this state park has two campgrounds to choose from.
Deer Ridge Campground has Class A shaded tent sites and RV campsites that offer just about all the comforts of home, including showers, flush toilets, and electricity. For a more peaceful respite in nature, at Turkey Ridge Campground you'll find walk-in campsites with picnic tables and grills, with showers, drinking water, and toilets near the parking area.
Backpackers can get even further from the crowds, and hike in a half-mile from the Turkey Ridge Campground to wooded sites that are still well-equipped with showers, toilets, and grills – a great option for easing kids into a first-time backpacking experience.
13. Giant City State Park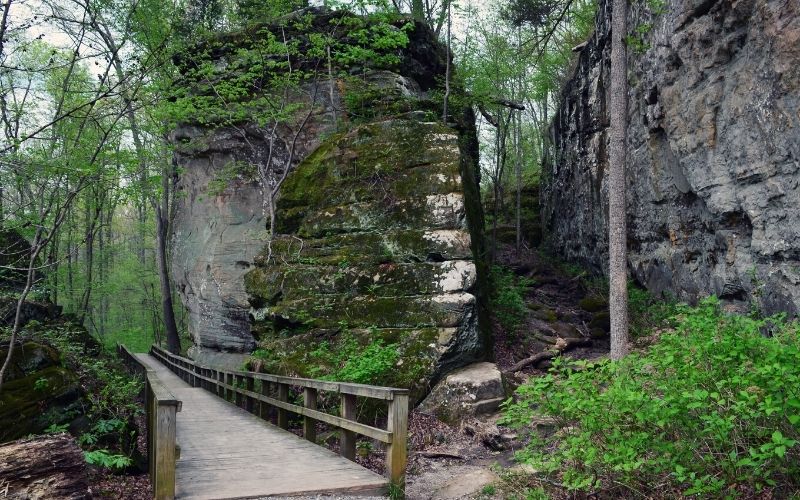 Type: RV and tent
Electric: Yes
Nearest town: Carbondale, 8 miles
Named for the massive sandstone bluffs formed more than 12,000 years ago, Giant City State Park offers a variety of camping options. There are 85 popular Class A sites available with full amenities including water, electricity, and showers. For a more intimate and rustic camping experience, there are also 14 walk-in sites.
The real gem of this park for backcountry enthusiasts is the Red Cedar Trail. This 6-mile hike on rugged terrain leads to the Red Cedar campsite, which requires pre-registration. Be aware of ticks, poison ivy, and copperhead snakes.
There are seven other trails to choose from, including the accessible and iconic Giant City Nature Trail. You may also enjoy fishing at one of the ponds in the park, or stop by the visitor center for interpretive displays to learn about the history and geology of the area.
14. Whittington Woods Campground
Type: RV camping
Electric: Yes
Nearest town: Whittington, 2 miles
This private RV park is located near many area attractions and is ideal for families and groups. Whittington Woods offers full RV hookups and rental cabins and is popular for its large wooded area, clean grounds, and friendly staff.
Onsite amenities include a playground, store, pavilion, and newly-renovated swimming pool. The campground connects to the 19-mile Rend Lake Bike Trail, offering easy access to get out and explore the waterfront.
15. Shawnee National Forest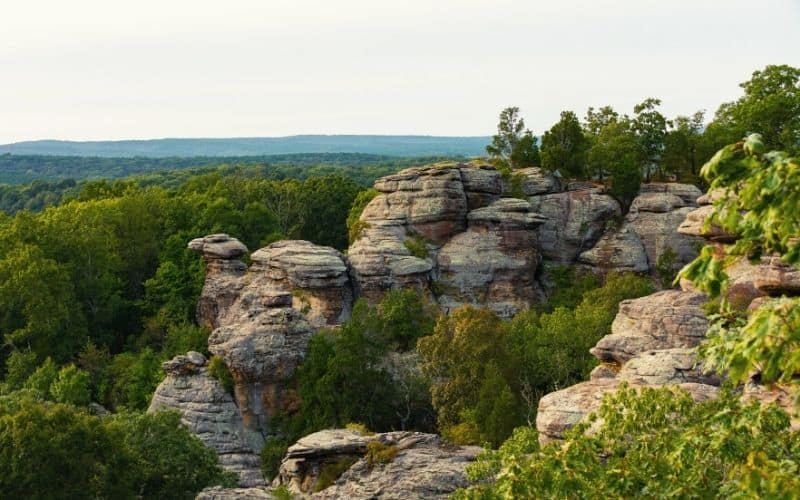 The Shawnee National Forest offers a wide range of some of the most beautiful camping in the state, including campgrounds, RV camping, primitive camping, and group campsites. Campgrounds within Shawnee that can accommodate RVs (up to 40 feet) are Oak Point, Tower Rock, and Camp Cadiz.
For tent camping, options are seemingly endless. There are nine campgrounds, six of which are in the Hidden Springs Ranger District (the larger, eastern side) and three of which are in the Mississippi Bluffs Ranger District to the west.
Some of the most popular and scenic areas to camp are in the dispersed camping areas, many of which are near beautiful hikes and scenic landmarks. These include the Jackson Falls Campground, Turkey Bayou Campground, and the highly-photographed Garden of the Gods Recreation Area. 
Frequently Asked Questions…
Where can I camp for free in Illinois?
There are not many options for free campsites in Illinois. Most primitive sites in state parks require permits and cost $5-$10 per night. In southern Illinois, you can find free camping in Shawnee National Forest.
Keep in mind, dispersed camping is only permitted in certain areas (such as Jackson Falls and Cedar Lake) and there are no amenities. Be prepared to practice Leave No Trace principles, and research the policies specific to each area before you go.
How much does it cost to camp at Illinois state parks?
Rates vary depending on the type of site.
For a premium Class A site at some state parks over a holiday like the Fourth of July weekend, expect to pay up to $35 per night, plus a one-time non-refundable reservation fee of $5. For walk-in primitive sites, expect to pay $6-$10 per night. Most sites are in the $15-$20 range. Discounts are available for Illinois residents who are senior citizens, disabled, or veterans.
Campsites at state parks can be reserved through the Illinois Department of Natural Resources reservation system. For private campgrounds and RV camping, you can contact the campground directly or visit reserveamerica.com.
Best Camping in Illinois!
Hopefully, our guide has inspired you to get out and explore a side of Illinois you didn't know existed! From the epic rock formations of the Garden of the Gods to the waterfalls and canyons of Starved Rock State Park, camping in the Prairie State offers unlimited possibilities for outdoor activities amid beautiful landscapes.
What are your favorite camping sites in the state? Drop us a line if we missed any! And if you'd like to share our list of the best camping in Illinois with your camper friends, share away!