A great backpack for day hikes is a piece of kit that every hiker needs to have, whether you're a peak bagger, all-day adventurer, or a mere Sunday stroller.
But, of the hundreds of hiking daypacks out there, which one is the best for your backcountry MO? Let's set off to search for the one daypack that would rule them all. In this post, we introduce you to the top 10 options on the market as well as our favorite overall.
Editors Choice
Osprey Talon (Tempest)
Over the years, the name Osprey has become nigh-on synonymous with "awesome" in the world of hiking and backpacking packs. And in the Talon/Tempest, that awesomeness is taken to a whole new level.
This daypack for hiking satisfies all of our non-negotiable criteria with room to spare. It's lightweight, as comfortable as they come, durable, and offers the kind of dialed-in compartmentalization and storage that puts your average briefcase or tactical backpack to shame.
We've used this pack on hot days, cold days, multi-pitch climbs, peak-bagging missions, and with both heavy and light loads. On every outing, it trumped every pack we've ever tried in the comfort stakes thanks to its ergonomic contouring, cushy shoulder and hip belt padding, and injection-molded foam back panel.
This pack's 22-liter capacity is also ideal for day hikes of any length. And unlike most packs of this size, this one makes great use of its space.
On the inside, there's enough room for extra layers, waterproofs, food, water, and a handful of other essentials. On the outside, there's a large, stretchy kangaroo stretch pocket, a duo of hipbelt pockets, a LidLock bike/climbing helmet attachment, a hydration sleeve, and a stow-on-the-Go trekking pole attachment that lets you pack away your poles without stopping.
Bottom line: A super-comfortable, uber-functional, and hard-wearing pack whose adjustability ensures it will be the perfect fit for hikers of all shapes and sizes.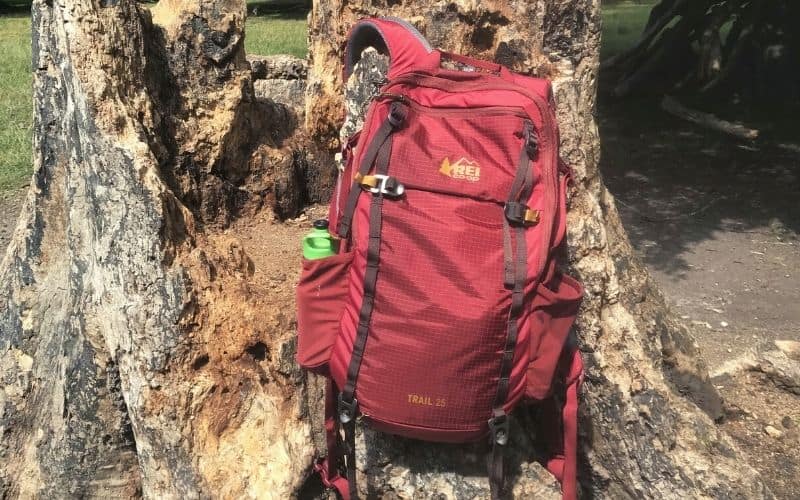 The Best Small Hiking Backpack: Quick Recommendations
Best Day Hiking Backpack Reviews
Osprey Talon 22 (Tempest 20)
Editors Choice
The Osprey Talon (Osprey Tempest for women) manages to combine great comfort and functionality while providing numerous torso sizes so you're almost guaranteed to find one that will fit your body like a glove. It's our favorite in all three of those categories making it an easy decision to award it as best hiking backpack overall.
The Talon and Tempest are the most comfortable hiking daypack we've ever had the pleasure of pulling on our backs. They have cushy padded shoulder straps and back panels, wide, padded hip belts, and a PE frame that provides all the support you need when lugging a heavier load.
Featuring multiple exterior pockets, a hydration sleeve, and attachment points for trekking poles, the Talon/Tempest also beats all other packs in terms of its organization.
Specs
Volume: 11-22-26-33-36-44-55L
Sizing: Men's – S/M (17-20") – L/XL (19-22"), Women's – XS/S (13-16") – S/M (17-20")
Hydration Reservoir: Compatible
Compartments: Main + 6 Pockets
Weight: 1 lb 14.6 oz
PROs

Hugely comfortable
Great array of pockets
Good ventilation
Multiple sizes

CONs

Bells & whistles add a bit of weight
Rain cover is a separate purchase
Bottom-Line: For overall comfort, organization, and sizing, the Osprey Talon/Tempest is the best day pack for hiking we've ever come across.
REI Co-op Flash 22
Best Budget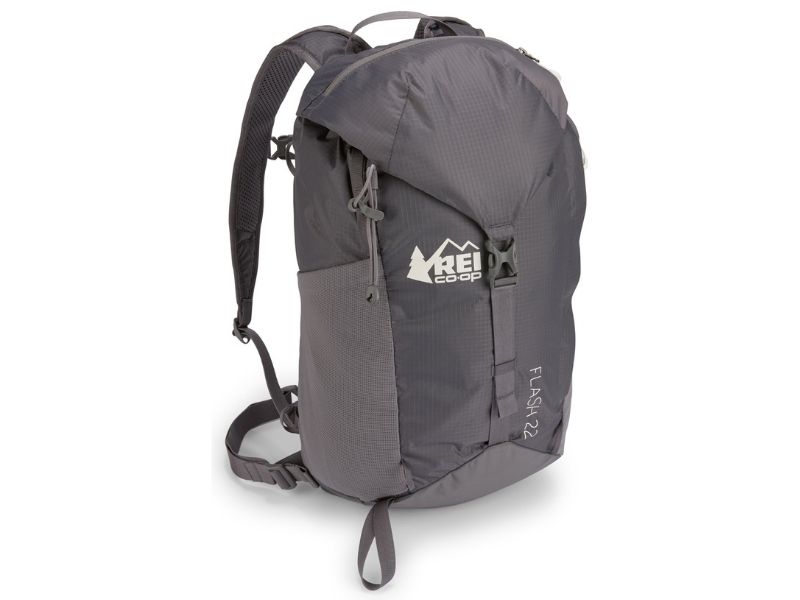 Looking for a reasonably comfortable day hikers bag that's capable of hauling moderately heavy loads without breaking either your back or the bank? If so, then the Flash 22 could well be the perfect pick for you.
This ultralight pack is available in several sizes (18L-55L), but we found that the 22L version offered more than enough space for even longer day hikes.
The Flash 22 also weighs only 13 ounces, making it the second lightest pack in our review after the Sea to Summit Ultra-Sil Nano (1 oz.). However, compared to the Ultra-Sil Nano the Flash 22 is a far more comfortable carry, especially with heavyish loads.
This pack lacks the beefy back panel and padded hip belt featured on models like the Osprey Talon 22 or REI Co-Op Traverse. However, the soft foam cushioning in the rear and mesh straps are sufficient to schlep a 15-pound load on shorter day hikers without feeling the pinch in your shoulders or the rub on your back.
This pack also has a decent feature set for such a light daypack backpack. It has an internal hydration sleeve, a duo of tool loops, stash side pockets, a removable hipbelt, and side compression straps that can also be used to lash gear to the pack's exterior.
Specs
Volume: 18-22-45-55L
Sizing: unisex (16-20")
Hydration Reservoir: Compatible
Compartments: Main + side mesh pockets
Weight: 13 ounces (22L)
PROs

Affordable hiking daypack
Ultralight
Compact

CONs

Doesn't offer a lot of support or comfort
Fewer organizational features
One size pack
Bottom-Line: If you're looking for minimalist packs for short hikes, the REI Co-Op Flash is a cheap option to pack all your essentials.
Gregory Citro 24 H20 (Juno 24 H20)
Best Hydration Daypack
If you're the kind of hiker who likes to get their fill of H2O on the go, the Gregory Citro 24 (Juno for the ladies) deserves a place somewhere very near the top of your shortlist.
This incredibly well-designed pack is a true ticker of boxes. In addition to its hydration-compatible design, it's also one of the most comfortable packs in our review, second only to the Osprey Stratos 24 for comfort.
The Citro and Juno have an alloy steel frame that provides additional load support without adding noticeably to the pack's weight – ideal for longer hikes with heftier loads. It also uses a VaporSpan ventilated suspension system and moisture-wicking mesh straps to help keep you dry when temps are high.
Storage-wise, this pack has a lot going on… In addition to the roomy main compartment, there's a 3L zippered hydration sleeve with a hanger, a total of 5 pockets, hip packers, a hood pocket, tool attachment loops, and even sunglass straps. All of this makes it second only to the REI Co-Op Traverse for organization, though the Citro/Juno weighs a whole 9 oz less.
Specs
Volume: 24-30-36L
Sizing: Men's (16-21"), Women's (14-19")
Hydration Reservoir: Comes with hydration bladder
Compartments: Main + 5 pockets
Weight: 2 lbs
PROs

Super comfortable and supportive
Great pocket organization
Includes hydration pack

CONs

Heavier backpack
One size fits all
Bottom-Line: The Gregory Citro/Juno goes toe to toe with the Osprey Talon and narrowly loses, but it may be the cheaper option if you need to purchase a hydration bladder too.
Deuter Speed Lite 20
Best Lightweight Daypack
Lightweight backpacks often make a few (or a lot of) compromises to cut down on heft. Not so the Deuter Speed Lite 20.
This pack weighs a tiny 1 lbs. 1 oz. and yet offers outstanding comfort levels – even with moderately heavy loads and on long days on the trail. These comfort levels come courtesy of plush V-shaped cushioning in the back panel and the padded, ergonomically shaped padded shoulder straps, both of which use breathable mesh to help keep things cool and sweat-free.
It also has a total of 4 pockets, a hydration well, and a large central compartment that can easily accommodate a few extra layers, waterproofs, eats, drinks, and other essentials.
While there are better options out there for carrying a heavier load or for longer hikes, like the Osprey Stratos or Talon, this one's perfect for day hikes when you're keen to travel fast and light.
The only downsides to this pack are the lack of padding on the hipbelt and the inability to adjust torso length. Other than that, it's a high scorer across the board.
Specs
Volume: 12-16-20-24-26-32L
Sizing: Men's + Women's
Hydration Reservoir: Compatible
Compartments: Main + 4 pockets
Weight: 1 lb 1 oz
PROs

Lightweight
Great Price
Comfortable pack for lighter loads

CONs

One size
The front stretch pocket isn't very functional
Bottom-Line: With its barely-there 17 oz weight and great price, the Speed Lite 20 is a great lightweight choice for short quick hikes or trips around town.
REI Co-op Trail 25 (Women's Trail 25)
Best Value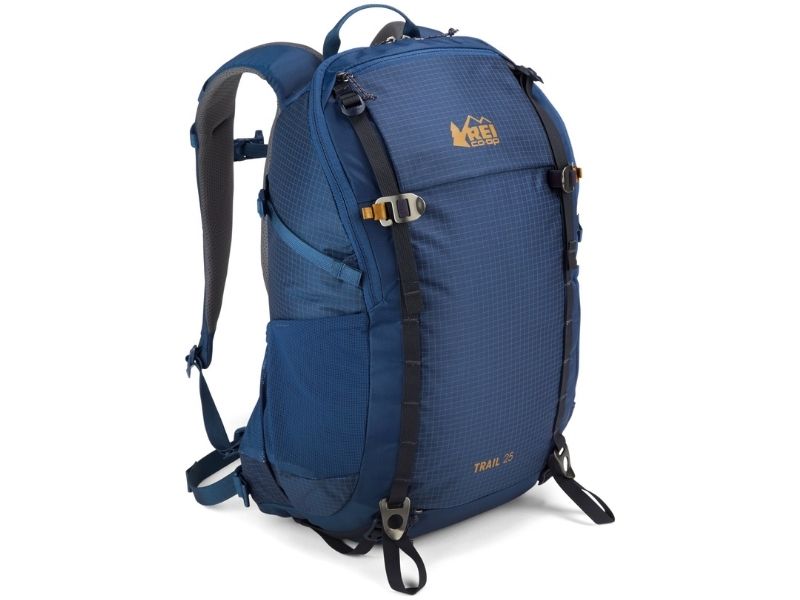 Since first hitting the market, this highly popular pack has earned plaudits galore from hikers everywhere, and it's not hard to see why.
Although at the heavier end of the scale, the Trail 25 offers a lot that makes carrying an extra few ounces well worth the effort. It is hydration compatible, has ample storage options, an HPDE internal frame for load support, and would have ranked in the top three most comfortable packs in our review if REI had only included a little padding in the hip belt.
The Trail has some of the beefiest back panel and shoulder strap padding in our review. This makes it a good pick for buyers who aren't huge fans of the mesh-only shoulder straps and minimalist padding used in packs like the Sea to Summit Ultra-Sil Nano or the Osprey Daylite, or who don't want to splurge on pricey options like the Gregory Citro or REI Co-Op Traverse.
While its 2-pound weight will likely put off the gram-counters, the Trail 25's a great option if you're more concerned with overall performance and functionality.
Specs
Volume: 25-40L
Sizing: Men's (17-19"), Women's (17-19")
Hydration Reservoir: Compatible
Compartments: Main + 5 pockets
Weight: 2 lbs
PROs

Affordable
Great organization
Durable

CONs

Heavy
No padding on hip belt
Doesn't vent well
Bottom-Line: The REI Trail 25 does a good job marrying functionality with a great price to produce a great value pick.
Osprey Stratos 24 (Sirrus 24)
Most Comfortable Daypack for Heavy Loads
One of the main drawbacks of almost any daypack is the inability to provide the comfort of a regular backpacking backpack when filled with a heavy load. With the Osprey Stratos and Sirrus, this is categorically not the case.
Weighing 2 lb. 12 oz., this is the heaviest pack in our review. However, there are a few very good reasons why the Stratos/Sirrus has been one of Osprey's top-selling packs for the best part of a decade.
Let's start with the pack's most notable USP – comfort. More than any other daypack we've tried, the Stratos/Sirrus makes light work of carrying heavy loads. It uses cushy padding on the shoulders, back panel, and hip belt, a LightWire internal frame for support, has adjustable torso length and uses an AirSpeed mesh suspension system for added airflow around the back of the pack.
The Stratos/Sirrus is also a winner on the organization front, boasting a total of five pockets, a hydration reservoir, hip belt pockets, and a pair of external gear loops. There's also an integrated rain cover and dual-zippered access to the main compartment, which makes it easier to load/unload than any other pack in our review.
While the Osprey Talon 22's lighter weight, comfort, and impressive feature set won it our vote as top daypack for hiking, this one's our go-to when hauling a little more heft.
Specs
Volume: 24 – 26 – 34 – 36 -50L
Sizing: Men's (18-22"), Women's (15-18")
Hydration Reservoir: Compatible
Compartments: Main + 5 pockets
Weight: 2 lbs 12 oz
PROs

Great support even with heavy loads
Best ventilation system in our review
Super comfortable

CONs

Heavy & Bulky
Compression straps are oddly placed over side water bottle pockets
Bottom-Line: The Stratos/Sirrus offers the best support and ventilation system of any packs we've come across giving it a higher than normal load-carrying capability.
Hyperlite Mountain Gear Daybreak
Best Waterproof Pack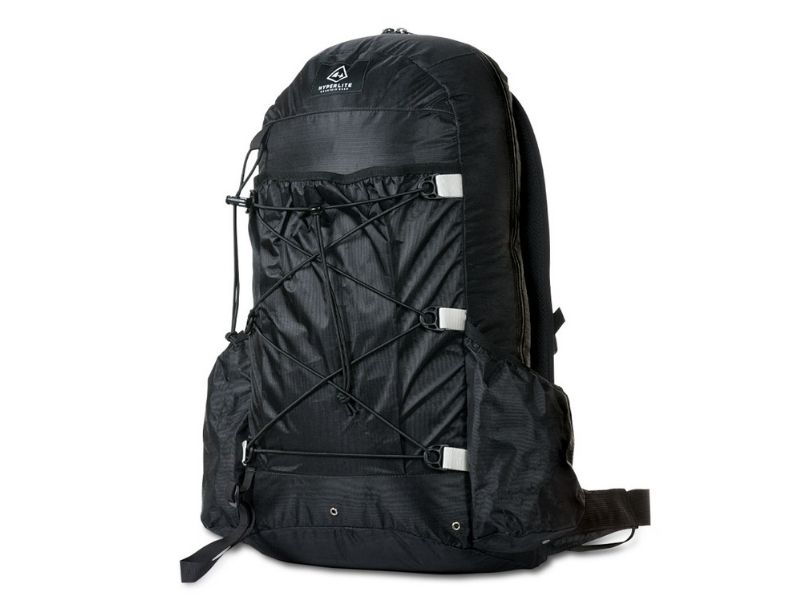 If you're not a fan of mucking around with detachable rain covers or anticipate spending a lot of your trail time in less-than-perfect conditions, then the Hyperlite Mountain Gear Daybreak's a great pick.
This pack makes a few compromises, granted. At just 17L, it's the smallest pack in our review. There's also little back panel padding to speak of, no hydration reservoir, and it's the most expensive pack on our list by a large margin.
So how did it earn its place as one of our top ten picks?
Well, although the Daybreak does have a few imperfections, there's also a lot to love.
For starters, this is one of the most rugged and durable packs in our review, using robust, hard-wearing materials that are more likely to survive extreme rough treatment on the trail than any other models featured in this guide.
Those materials are also highly water-resistant, meaning you can carry on hiking in wet weather without having to worry about the pack's contents or stopping to throw on a rain cover.
Comfort- and convenience-wise, the Daybreak is up there with the top performers in our review, the Osprey Talon, Gregory Citro, and Osprey Stratos. It has plenty of chunky cushioning in the back panel, straps, and hip belt, plenty of interior storage options, a padded laptop sleeve, and uses a clamshell design that provides easy access to all your pack's contents.
Specs
Volume: 17L
Sizing: S (15-17") – M (17-19") – L (19-21")
Hydration Reservoir: Not compatible
Compartments: Main compartment + 3
Weight: 1 lb 4 oz
PROs

DCF materials offer great waterproofing
Ultralight daypack
Durable and well built

CONs

Expensive
Lacks hydration sleeve
Small main compartment
Bottom-Line: If you want a low-weight daypack that handles inclement weather, then the Daybreak fits the bill.
Osprey Daylite Plus
Recommended
This simple, cheap, lightweight pack didn't quite do enough to earn any of our awards but offers such good all-around performance that we couldn't conscionably leave it off our list.
The Daylite weighs in at 1 lb. 5 oz. placing it firmly in the middle of the pack in regards to weight. It is, however, far cheaper than similarly sized packs like the Osprey Talon and Gregory Citro, and a little more comfortable for day-long use than featherweights like the REI Co-Op Flash 22 or Sea to Summit Ultra-Sil Nano.
The comfort upgrade of the Daylite as compared to other lightweight packs is owed to the use of highly breathable, mesh-covered AirScape foam and an EVA foam harness. While not as cushy as the padding on the Talon, Stratos, or REI Traverse, these features make the Daylite a highly comfortable carry whenever you're hauling under 12 lbs. of gear.
This pack also has a fairly impressive set of features boasting a total of five pockets, a hydration reservoir, a water-repellent DWR coating, a removable hip belt, and a panel-loading main compartment.
Specs
Volume: 20L
Sizing: Unisex
Hydration Reservoir: Compatible
Compartments: Main compartment + 5 pockets
Weight: 1 lb 5 oz
PROs

Lightweight
Price
Lots of pockets/compartments

CONs

Not very supportive
Lacks attachment points
Bottom-Line: A simple, cheap, and lightweight pack, the Osprey Daylite is a great option for short day hikes.
Sea to Summit Ultra-Sil
Best for Side Hikes
Weighing a tiny 1 oz., the Ultra Sil Nano is both the lightest daypack in our review by a long shot and the lightest pack we've ever tried.
The Nano is made with 15D siliconized nylon fabric that maximizes strength while minimizing weight. The manufacturers claim that this allows the pack to carry up to a 20kg load, but the lack of padding in the back or shoulders means we'd only recommend this one for carrying soft, light loads on shorter day hikes or side trips when basecamping.
Understandably, this pack doesn't boast the same kind of feature set, support, cushioning, durability, or compartmentalization as other packs in our review – or any feature set at all, for that matter. All you get is a simple, surprisingly sturdy little pack that scrunches down to a tiny little bundle and weighs less than your average glove.
Specs
Volume: 18L
Sizing: Unisex
Hydration Reservoir: Not compatible
Compartments: Main compartment only
Weight: 1 oz
PROs

Super lightweight
Tiny packed size
Very affordable
Comfy enough with lighter loads

CONs

Not very durable
Little comfort & no support
Main compartment only
Bottom-Line: Its light weight and tiny packed size make the Nano a great choice for side-hikes on longer backpacking trips where you don't want to haul your main backpacking pack.
REI Co-op Traverse 35
Best Larger Volume Pack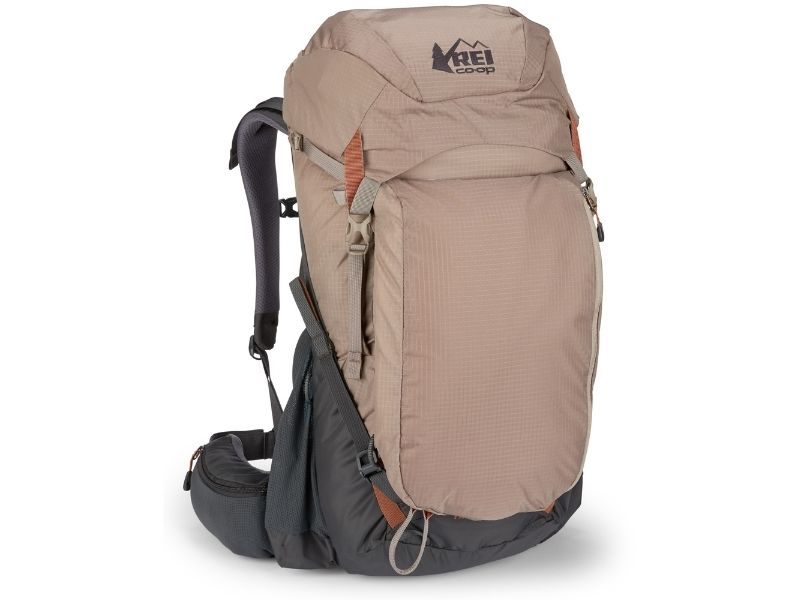 Bridging the gap between a pack for shorter trips and overnighters, the 32-liter REI Co-Op Traverse is the biggest and most versatile pack in our review.
Weighing 2. lbs 9 oz., this is the second heaviest pack on our list after the Osprey Stratos. Like the Stratos, it has an internal frame, plenty of padding on the shoulders, hip belt, and back panel, as well as an integrated rain cover and multiple interior compartments.
While the Stratos' adjustable frame might make it a more appealing option to some, others will be persuaded to plump for the Traverse for the extra 11 liters of storage space it offers. Otherwise, there's not a lot to separate the two.
The Traverse also has a handful of winning features that set it apart from the best of the rest. We particularly like the reassuringly tough ripstop fabric, the frontal kangaroo stash pocket, oversize pockets on the hip belt, its outstanding lumbar support, and the way the water bottle sleeves are tilted forward to provide easy access when you're on the move.
Specs
Volume: 32 – 60 L
Sizing: Men's – S (18") M (19") L (20"), Women's XS (16") S (17") M (18")
Hydration Reservoir: Compatible
Compartments: Main + 6 pockets
Weight: 2 lbs 9 oz
PROs

Comfortable
Great support
Great organization

CONs

Frame isn't adjustable
Large for most day hikes
Bottom-Line: If you need a little more volume for short overnight or gear-intensive hikes then you can't beat the price that the Traverse offers.
Buying Advice: Things to Consider When Buying a Hiking Daypack
Capacity: How Big Do You Need to Go?
The capacity of a daypack is measured in liters, and you'll find packs as small as 5L up to around 40L – there are packs bigger than this, but they're overkill for a day hike.
A smaller backpack will be sufficient if you only need to fit a few things, like clothes or food, although most of us need a little more space to carry other items like the 10 essentials. As such you'll typically see packs of around 20-30L being the most popular choice amongst day-hikers.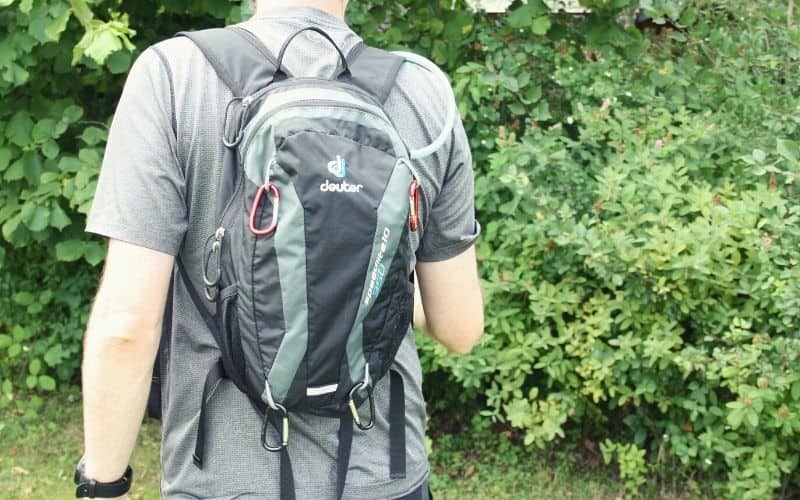 The capacities of the packs in our review ranged from 17 liters (Hyperlite Mountain Gear Daybreak) to 32 liters (REI Co-Op Traverse). All of the packs, except for the Sea to Summit Ultra-Sil Nano and Osprey Daylite Plus, are available in multiple sizes.
The larger bags we've reviewed are perfect for short ultralight backpacking trips or cold-weather adventures. If you're looking to go on a more casual day hike that requires less gear, then a bag around 25-liters is your best option and will see you through a variety of outdoor adventures.
The smaller packs have fewer pockets and may not be as organized in comparison to their bigger counterparts, but are more compressible for storage.
Below are some basic guidelines around planned use and capacity:
Under 10 liters: These are lightweight packs that can fit only a few bare essentials like your rain jacket, keys, and some snacks. Their slim profile and small capacity make them best suited to trail-running or very short hikes.
10-20 liters: These compact packs have a little more storage room and organization, allowing you to pack extra food, gear, and clothes. They're suitable for traveling or short-day hikes
20-30 liters: The sweet spot for day-hike backpacks. This should be sufficient room to fit your 10 essentials and a few extras like a camera or stove.
30-50 liters: If you're heading hiking in the winter, or are heading out mountaineering or climbing then a larger pack is ideal for the extra clothing and gear you'll need. These larger packs are also great for ultralight backpacking trips or parents who need to carry their kids' gear.
Fit and Sizing
There is nothing more frustrating than a backpack that doesn't fit. The pack should be the correct size for the length of your torso, and it must tighten around your shoulders and hips correctly in order to carry weight comfortably on long hikes.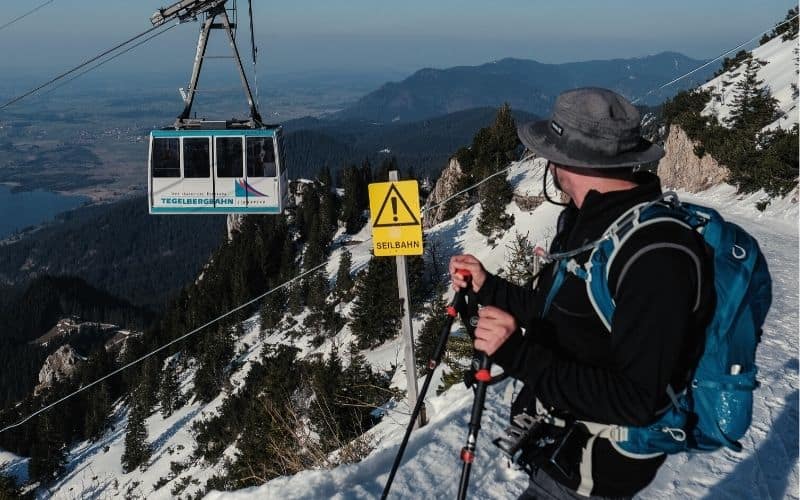 Some packs such as the Osprey Talon or the REI Co-Op Traverse are available in multiple lengths making it easier to find a better fit for your body.
What's the right size backpack for you? One that fits your torso! Ask someone to help measure the length of your torso by placing a measuring tape starting at your C7 vertebrae (base of your neck) down your spine to a point that is in line with the Iliac Crest (the bony bit at the top of your hips). Compare this measurement against the manufacturer's sizing chart and select the most suitable option.
To double-check you have the right size, put the bag on and position the hip belt one finger above the top of your hips, and check where the shoulder straps are sitting. If there is a gap then it means that pack is too big for you; if the point where the straps connect to the bag's body is more than a couple of inches down your back, it's too small.
Many bags such as the REI Co-Op Flash, Deuter Speed Lite, and Gregory Citro come in a single size. If you've got your eye on one of these "one-size-fits-all" bags, then it's still a good idea to know your torso length as manufacturers still typically give length ranges for these packs.
Knowing your torso length can help you decide between two packs or stop you from selecting a pack that will be unsuited to your physique.
A female's anatomical structure is different from a man's, so it only makes sense that packs designed for women are made with the shape of the female form in mind. Women's-specific versions are made with different measurements to accommodate for a shorter frame, smaller waist, narrower shoulders, and curvier hips than her male counterpart.
For simple casual use, a unisex pack is fine but for longer day hikes a women's model like the Osprey Tempest (Talon) or REI Co-Op Trail makes for a more comfortable adventure.
Comfort: Shoulder Straps & Hip Belt Padding
For the majority of hikers, comfort is one of the top priorities when choosing a daypack. A well-fitted daypack should distribute most of the pack's weight at two contact points – your shoulders and your hips.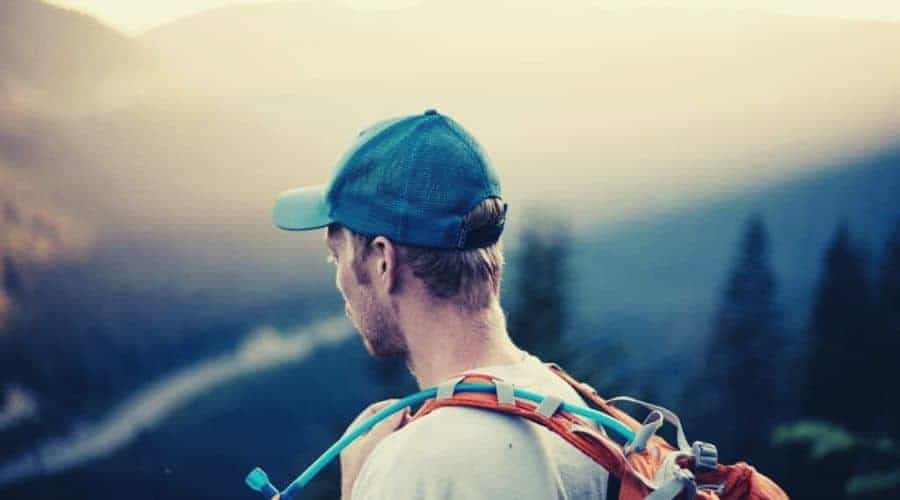 When looking at the shoulder straps, two things are important to check – the level of padding they provide and their shape.
The level of padding is a pretty straightforward check based on the material used and the thickness. Packs that use simple webbing such as the Sea to Summit Ultra-Sil Nano are much less comfortable than packs like the Osprey Stratos that have heavily padded straps.
Often overlooked, the shape of the straps can play a role in overall comfort. Many cheaper packs will use straight shoulder straps, while more expensive packs such as the Deuter Lite or the Osprey Talon will use S-shaped straps that are a better anatomical fit for your torso.
Pro-tip: When moving on uneven terrain make use of your pack's compression straps to hold your gear in place and prevent objects (and weight) from shifting around as you move.
Hip belts are intended to distribute some of the weight from your backpack onto your hips, ultimately relieving some of the pressure on your shoulders. While the majority of hiking daypacks have hip belts, their ability to relieve shoulder strain varies greatly.
For short day-hikes or trips where you intend to haul no more than 10-pounds of gear, then a pack with a thin webbing hip belt such as the Deuter Speed Lite or REI Co-Op Flash should be sufficient. However, once you get into longer treks with extra gear we would recommend investing in a pack with a padded hip belt such as the REI Co-Op Traverse or our top choice the REI Co-Op Talon.
Some models such as the Deuter Speed Lite allow you to remove the hip belt, which can be useful if you intend your pack to pull double-duty for use around town as well.
Most bags have a sternum strap that allows you to connect your shoulder straps. This not only helps to provide a more snug fit but also provides extra stability on those uneven hikes by preventing the weight in your pack from shifting unexpectedly. The best sternum straps are made with elasticity so they don't rigidly dig into your chest while you're moving around.
Support: Internal Frames & Back Panel
Larger capacity packs will have a metal or plastic internal frame. The design of the frame is crucial because it keeps the pack's shape when filled. It does this by creating a semi-rigid structure to prevent sagging which makes for more comfortable carrying and packing. Common designs are U-shaped, hoops, or sheet frames.
The majority of daypacks have a semi-rigid frame sheet giving the bag shape as well as a layer of foam or mesh on the back panel. However, frames are not mandatory and for many hikers merely add unnecessary weight.
Lower-capacity frameless packs may have a simple padded back panel. This can achieve a similar effect to a frame assuming you are carrying less than 10-15 lbs in weight. Some ultralight packs, such as the Sea to Summit Nano, may dispense with the padded back panel completely.
While this makes the pack lighter and more compressible, it also means you have to pack carefully to avoid your gear poking into your back.
Ventilation
When hiking with a pack, the one thing to be assured of is getting a sweaty back. Whether you are dripping in sweat or not will largely depend on the conditions of your hike. However, some packs do a better job than others of helping improve airflow and reduce dampness.
Almost all the packs we've featured add some form of a ventilated back panel and shoulder straps (usually with mesh padding), which will help a little bit. To really reduce back dampness, though, you need to reduce the contact area between the bag and your back.
There are a few designs like the Osprey Talon's Airscape which uses ribs of foam under a mesh panel – this allows air to flow between the ribs and reduces areas of direct contact between your back and the bag's main compartment.
The high-end solution is to have a suspended full-length mesh back panel that has a gap between it and the main compartment as seen on the Osprey Stratos. This allows even greater airflow and significantly reduces contact pressure on your back. The downside is higher cost, greater weight, and slightly reduced capacity.
Water Resistance
Daypacks are made to be water-resistant through the use of DWR coating, which allows them to survive light rain and shower-like conditions. However, if they're exposed to heavy rain for an extended period of time, then expect your bag to start leaking water, particularly through the seams and zippers.
Several of the bags on our list, such as the REI Co-Op Trail, the Gregory Citro, and the Osprey Stratos, come with an integrated or stashed rain cover. The majority of bags don't and many manufacturers produce rain covers that you'll need to purchase separately.
Pro-Tip: For a low-cost solution use a regular trash bag inside your pack to keep your gear dry.
Some of the best daypacks for hiking, such as the Hyperlite Daybreak, use Dyneema Composite Fabrics (DCF), which are as close as can be to being completely waterproof. However, be prepared to part with a significant wad of cash to own one of these.
Weight
Weight is often one of the most critical factors when choosing most outdoor gear. While selecting a lighter option for day hikes is a good idea, we would recommend evaluating your choice primarily on capacity and overall comfort.
Packs with a greater weight will include more features such as better shoulder straps, hip straps, and back padding/suspension systems in order to better distribute the weight. Ultralight day packs typically have less support but are cheaper and more compressible.
The upshot is that there is a pretty strong correlation between comfort and weight. Overall, more comfortable, more padded designs will add weight and be less compressible. If you plan on carrying heavier loads then the best hiking backpacks for you will have this heavier padding.
The lightest pack in our review is the Sea to Summit Ultra-Sil Nano, which weighs just 1 oz. The next lightest is the REI Co-Op Flash 22, which weighs 13 oz. The heaviest packs are the Osprey Stratos 24 (2 lbs. 12 oz.) and REI Co-Op Traverse 32 (2 lbs. 9 oz.), both of which have integrated rain covers and significantly more padding in the shoulder straps and back panel.
Internal and External Pockets and Compartments
Depending on the amount of gear you're taking and your personal preferences, having a variety of interior and exterior pockets and compartments can be useful for both easy access and storing items.
Different packs offer a variety of organizational features. These range from the ultrabasic – see the lightweight and simple Sea to Summit Nano which only has a single main compartment – to the Osprey Talon, which has hip belt pockets, internal pockets, external stretch mesh pockets, hydration sleeve, and attachments for trekking poles and ice axes.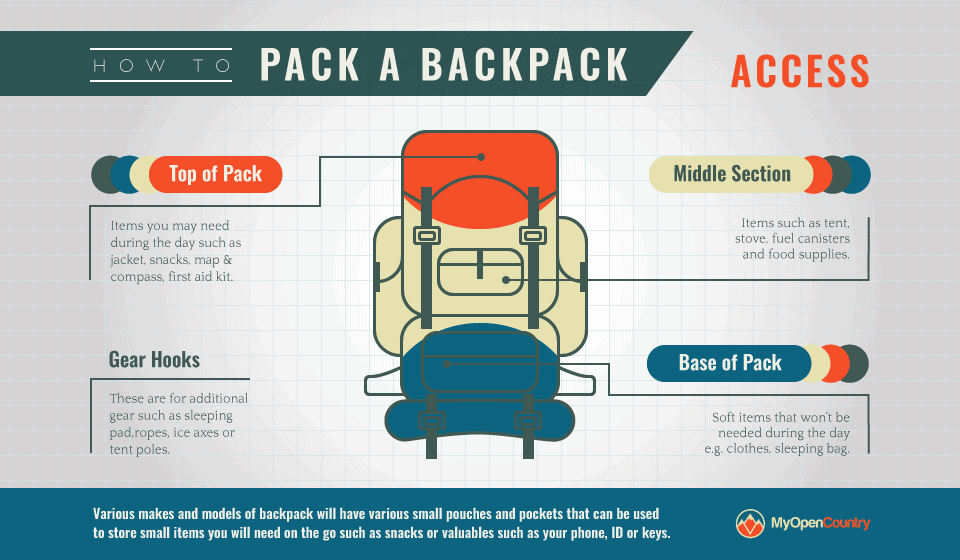 Hip Belt Pocket: Packs with padded hip belts will often have a zippered pocket here which is great for storing small items you'll want at hand such as snacks or your phone.
Top Panel Pocket: Zippered pocket great for storing important items like your keys and wallet or slightly larger handy items like headlamps or a first aid kit.
Large Stretch Mesh Pocket: Located on the front of the main compartment this is a great place to stuff wet rain jackets or pants rather than dumping them back in your back. They're also known as "shove-it" pockets.
Side Water Bottle Pockets: Located on the side of the pack, these external stash pockets are there to give you easy access to your water bottles.
Gear Loops: Extra loops, trekking pole holders and daisy chains are great for attaching extra gear like climbing helmets or trekking poles to the outside of your pack.
Compression Straps: While not actually extra pockets, compression straps help compress your pack, removing excess space and preventing your gear from shifting while you hike.
Hydration Reservoir Compatibility
Hydration compatibility simply means that the daypack has some way of storing a hydration bladder, either through an internal or external hydration sleeve next to the back panel. Most daypacks designed for hiking will have a hydration reservoir sleeve.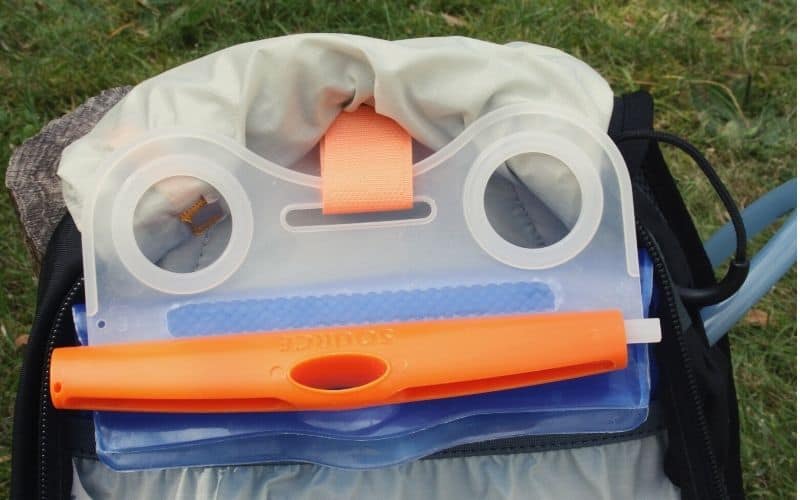 The reservoir slides into this sleeve and the hose is slipped through an opening either in the top or side of the bag. Many packs have a clip near the top of the bag to attach the reservoir so that they don't slump down to the bottom of the sleeve under their own weight.
Make sure to choose a reservoir best suited to the size of your backpack i.e. 2L will work better with smaller packs like the Flash 18 whereas you can accommodate a 3L bladder in a larger hydration pack like the Osprey Stratos.
Some packs like the Gregory Citro come with a hydration bladder, saving you a little bit of money and hassle from having to purchase the two separately.
Main Compartment Accessibility
Most hiking daypacks are top-loading, meaning you access your gear through an opening at the top of your bag. There are three types of closure systems for this: roll-top lids, zippers, and drawcords. Each of which has its advantages and drawbacks.
Roll-tops, as the name suggests, roll or fold down over a stiff material in the neck of the opening, and clip or hook tight. The main benefit of rolltops is the ability to compress your bag down to the exact volume of gear that the interior compartment contains.
Due to the lack of opening or zipper on a rolltop, there are fewer weak points for rain to leak in and makes for the most secure closure mechanism that is unlikely to open itself. The downside is you need to roll/unroll the closure each time you want in your pack, which is not as quick or easy as using a zippered or drawcord system.
Drawcords such as those used on the REI Co-Op Flash are simple, easy to use, and the most lightweight. However, there will always be a gap at the opening no matter how tight you cinch it closed, meaning it's more likely to leak through than zippers or rolltops. Depending on the quality of the drawcord they will, to varying degrees, slowly untighten themselves while you walk.
Zippers are the most common closure mechanism and they sit in the middle ground between roll-tops and drawcords striking a good balance between ease of use and security/waterproofness.
In addition to top-loaders, you'll see some packs such as the Deuter Speed Lite, Osprey Talon, and Hyperlite Daybreak referred to as panel-loaders. In these packs, the zippers extend further down allowing the entire front compartment to be zipped open for quick access to the top or bottom (or middle) of your pack.
These packs are heavier but useful when you're on a more gear-intensive trip and don't want to rummage around or unpack your bag to find the item you need.