Disclosure: My Open Country highlights products we hope you might find interesting. If you buy them, we get a small share of the sale revenue from our partners at no additional cost to you. This never drives our decision as to whether or not a product is featured or recommended.
In our opinion, the best hiking daypack on the market today is the Osprey Talon 22. This is the ideal daypack for any hiker. The Osprey Talon 22 is ultra-lightweight but does not skimp on storage compartments. This is a vital combination for any serious hiker. It comes in two different sizes which can accommodate different body sizes and provide maximum comfort. It features a unisex design and is available in a variety of different colors. There is a size and color to fit everybody's needs.
Not to mention how comfortable it is. The ventilated back pads lets your back breathe and reduces sweat. It also features adjustable waist straps and shoulder straps. Plus the multiple sizes make it easier for people of all shapes and sizes to carry. There is plenty of space to store all of your gear. There are more than four different compartments in which you can store and organize all of your necessary gear.
There are even zippered pouches on the waistband. This is perfect for storing the things you need at hand. This comfortable, lightweight, and spacious pack is the best day pack for hiking.
The Deuter Speed Lite 20 was only beaten out of first place by the Osprey Talon 22. This pack is a solid all-round performer, with a very lightweight but comfortable frame that ensures proper weight dispersion – the plastic frame can be removed (as can many of the straps) if you wish to lighten the pack further.
It's novel v-shaped pack design and clever compression straps that double as gear attachment points make a super versatile bag for everything from cross-country skiing to hiking to climbing.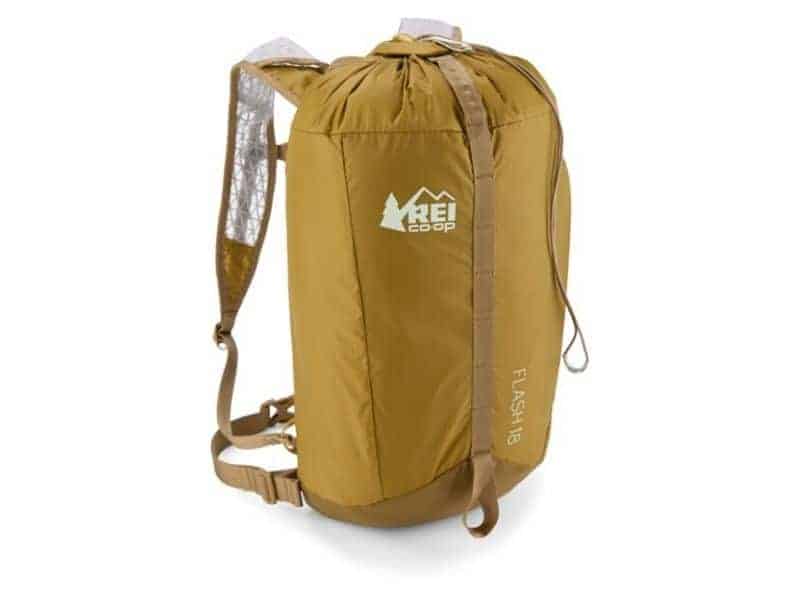 The REI Flash 18 is the lightest bag in our roundup, weighing in at a featherweight 10 ounces, and is priced lower than all its competitors. Hence, our award as the best budget daypack.
The lightweight (and price tag) does come at a price of fewer features, comfort, and versatility compared to the other bags we have tried. However, if you are looking for a cheap, no-frills backpack that gets the job done, then the REI Flash 18 could be just the ticket.
The Best Backpacks for Day Hiking
Looking for the Best Backpack for Day Hikes?
You're in the right place! In this guide, we will be covering the following:
Why you need a daypack for hiking
What you should consider when buying.
Reviews of the best daypacks for hiking on the market
Our unbiased recommendation on the best hiking day backpack
There is nothing more important for an outdoor adventurer than a solid daypack. A good daypack can make the difference between enjoyable day hikes and excruciating ones. If you are planning on buying a new daypack, you will want to check out our top eight picks for best backpacks for day hikes:
Osprey Stratos 36
Osprey Talon 22
Deuter Speed Lite 20
Osprey DayLite
REI Co-op Flash 22
REI Trail 25
Gregory Miwok 24
Patagonia Ascensionist 25L
What is the Difference Between the Best Day Packs and a Backpacking Backpack?
In general, daypacks are made for day hikes, runs, and climbs. These backpacks are lightweight and have a lower weight capacity than other packs, from 10-15 pounds. Daypacks usually do not have an internal frame.
Frame backpacks have aluminum or plastic frames either internally or externally. These packs were created for longer trips and can hold much more weight, more than 15 pounds. The frame helps to transfer the weight of the backpack so that it can be carried easily and without injury.
What Should I Look in the Best Day Hiking Packs?
Capacity
The size of daypacks can vary greatly, anywhere from 5 liters to 40 liters. Selecting the proper capacity for your backpack is all dependent on what you plan to use it for and what you need to put in it.
Most daypacks have the capacity to hold all the basics: water bottles, snacks, camera, a first aid kit, and other emergency supplies. We have found that most hikers prefer daypacks with a capacity of around 25 liters.
Fit & Weight
This is majorly important as an ill-fitting backpack can ruin any hike. Your fun day will quickly turn into torture. You do not want a backpack that is too heavy or that will fit uncomfortably. With a good backpack, most of the weight should fall on your waist, not your shoulders. Some features to look for are padded shoulder straps, ventilated back, and large padded hip belts. Remember that features can seem to make your life easier, but they also add weight. For a closer look on how to fit your daypack, keep reading!
Panel Loader Vs. Top Loader
With panel-loading daypacks, a U-shaped zipper is used to access the main compartment. The panel folds down like a flap when the daypack is completely opened. This type of opening makes it easier to organize and load. It also makes it easier to find things you have packed when you need them.
Top loading daypacks are usually lighter than panel loaders and have a more simplistic design. These packs are often closed with a drawstring, making them easy to overpack if need be. Often these packs have side compression straps which help to stabilize a bigger load. However, it can be a hassle to retrieve something from your pack if you need it.
There are a few daypacks that offer both a panel loading and top loading option if you prefer.
Features
Nowadays, there are tons of cool and helpful features that you can find on daypacks. Here are a few of the most useful ones:
Ventilation: This feature keeps air flowing to your back and reduces sweating.
Hydration Sleeve: Most daypacks will have a hydration sleeve where you can place a water reservoir and a hose portal for easy hydration.
Rain Cover: If the forecast call for rain, you will not want to be without a rain cover while on your hike. Water can seep into your pack through zippers and seams. A rain cover will prevent leakage and keep your gear dry.
Gear Attachment Points: These are the spots where you can attach gear to the outside of your pack. Some common gear attachment points include a daisy chain, hiking pole lash points, and other gear loops.
Pockets: Along with the main compartment, daypacks can have a number of internal and external pockets. This can include front pockets, exterior pockets (perfect for small things you want to reach quickly), and elasticized side water bottle pockets. Pockets help you to stay organized and easily find the things you need to.
Padded Hip Belt: Hip belts vary from backpack to backpack, some broad and cushy and others thin. If comfort is important to you or you plan on hauling a lot of stuff, consider a wider hip belt with more padding and support. If you are heading out on a short hike, you may even consider a pack with a removable hip belt.
Frame: Some high capacity daypacks contain internal frames made out of plastic or metal. If you need extra support on your hike, look for a pack with a frame.
How to Size and Fit Your Pack
Once you have chosen your perfect pack, the most important step is to make sure it fits correctly. For the highest level of comfort, most of the pack's weight should be sitting on or close to your hips. Most daypacks only come in one size, but it is still important to take into consideration.
Step 1. Measure Your Torso Length
Using a measuring tape, and possibly a buddy, measure the length from the C7 vertebrae at the base of your neck to the center point of your spine between the tops of your hip bones. This spot is called the iliac crest, and it is where you will be carrying most of your pack's weight. Compare this measurement to the measurements listed with each product.
Step 2. Measure Your Hip Belt Size
Your hip belt size is based on the circumference of your hips. Use your tape measure and wrap it around your waist approximately one inch lower than your iliac crest. This measurement is less important as most hip belts can be adjusted to fit a variety of sizes.
Step 3. Adjusting Your Pack
Once you have found your perfect daypack and checked the measurements, you must adjust it to ensure the best fit. Start by loosening all of the straps and placing the daypack on your back.
First, buckle and tighten your hip belt. Make sure that it hits your hips comfortably. Next, adjust the shoulder straps. The straps should hold the pack close to your body, but not bear any of the weight.
Some daypacks have load lifters that take the pressure off your shoulders and holds the pack to your back. These straps are located near your shoulders. Additionally, some daypacks have a sternum strap which must also be adjusted. They can be moved up and down the shoulder straps in order to find a comfortable position across your chest. This strap is designed to pull the shoulder straps inward for more comfort. Now you are packed, adjusted, and ready to hit the trail!
The Best Day Hike Packs Reviewed
Osprey Stratos 36
The Osprey Stratos 36 offers maximum ventilation and with breathable mesh and comfort foam for everyday use. The pack has a wide range of storage including room for a sleeping bag, hiking poles, rain packs, snacks and other small items, as well as ice picks for snowier regions.
This external frame pack comes in two different sizes: small/medium which can fit 34 liters and medium/large which can fit 36 liters. Made from Ripstop nylon and aluminum, it is a highly durable backpack making it the perfect gear for the average hiker.
Key Features
The Airspeed™ Suspension system combines a lightweight alloy frame with tensioned mesh panel to provide stability and support if you need to carry heavy loads.
Dual entry points to main pack; internal sleeve and hydration reservoir holder (not included).
Ergonomic shoulder and hip straps with ErgoPull™ closure with molded waffle foam at contact points for breathability.
Lots of "extras" – lower sleeping-bag compartment, integrated raincover, Stow-on-the-Go trekking-pole attachment point and single ice axe attachment loop and handle clip.
PROs

A variety of features including trekking pole attachments
Comes with a hydration pouch area, offers 6 plus compartments
Includes a rain cover
Possibly the most comfortable bag in the review.

CONs

One of the heavier hiking daypacks in this category
Bottom-Line: For the average hiker this is the perfect pack made from high-grade materials and offers a wide range of storage as well as comfortability.
Osprey Talon 22
Best Day Hiking Pack
The Osprey Talon 22 is a super light hiking unisex pack is perfect for the avid outdoorsman/woman. With increased durability and breathability as well as extra storage it is the ideal necessity for any hiker.
The Osprey Talon performs well across the board, particularly excelling in comfort thanks to its fully adjustable back that fits to your size in combination with the new AirScape™ accordion foam back panel and lumbar-hip-belt that helps to distribute the load evenly over the hips whilst allowing excellent ventilation.
It is positively stacked with awesome features from the Stow-on-the-Go™ trekking pole attachment, LidLock™ bike helmet attachment, single ice-axe attachment, and InsideOut™ compression straps.
Key Features
Lightweight Osprey AirScape™ back panel with moulded foam ridges covered in an airy mesh to provide excellent ventilation.
Adjustable torso allows daypack to conform to the size of the users back.
Hydration compartment stores bladder (sold separately).
Stretchy pocket for easy access/storage of regularly used gear such as helmets, cameras or jackets.
Panel-loading main compartment holds lunch, an extra layer of clothes and tools
PROs

Comfortable and well ventilated
Separate hydration pouch compartment
Adjustable
Lots of storage options

CONs

Mesh side pockets design could be improved
Bottom-Line: A great comfortable pack for multiple activity usage, built from dependable materials with plenty of storage options. Our pick as the best daypack for hiking.
Deuter Speed Lite 24
Best Lightweight Daypack
The Deuter Speed Lite 24 hiking daypack is perfect for daily hikers with a lot of gear. It has plenty of storage options including areas for extra clothes, hats and gloves, and hydration packs.
With a total weight over under 1 pound, adding any extra weight will not be strenuous due to its convenient removable internal frame. Its shoulder straps are made from a breathable fabric and are fully adjustable.
With a unique shape perfect for faster-paced hikers with side pockets for trail mix and other snacks, this pack is great for any range of hiking.
Key Features
Removable, lightweight plastic frame helps strengthen the pack and distribute the weight.
Padded breathable mesh back panel and contoured shoulder straps.
Hydration compatible design (reservoir sold separately ).
Unique V-shaped pack body aids in positioning weight more ergonomically.
4 Compartments plus external stretch mesh pockets.
Straps double as attachment points for hiking poles, ice axes or even skis!
PROs

Lightweight at only 1 lb 2 oz
Multiple compartments
Ventilated back panel
Exterior zippered pockets on the top of the pack
Super comfortable

CONs
Bottom-Line: A great daypack all around. It provides flexibility, comfort, and many storage options, as well as breathability, which is a must-have for any hike. Our best hiking day pack for those who like to travel lightweight
Osprey DayLite Plus
The Osprey Daylite Plus combines simplicity, comfort, and durability. Combined with mesh and nylon makes it the perfect hiking pack for hotter days as well harsher winters with its durability. Although it only comes in one size, and doesn't have many extra features like it's competitors, it only weighs 1 pound and has a very lightweight frame.
Key Features
Roomy main compartment with panel load access making it easy to locate your gear.
Added capacity when attached to other Osprey packs and travel bags.
Mesh organizer on the front pocket with key clip.
Storable mesh shoulder strap with integrated handle.
Interior hydration sleeve.
Back panel is mesh covered with slotted foam to help keep your back cool.
PROs

Very lightweight yet durable.
Quite comfortable and easily adjustable
Simple design
Can be attached to Osprey "AddOn" series backpacks.

CONs

Small capacity for standard day pack.
Narrow unpadded waist strap.
No external gear loops.
Bladder sleeve doesn't hold it's shape.
Bottom-Line: A simple, breathable and light pack makes it easy to pack everything you need for hiking or day trips. However, with it's smaller pack volume and lack of features it lacks some versatility and is not as well suited to longer hikes or trips where you may need an assortment of equipment.
REI Co-op Flash 22
Best Budget Daypack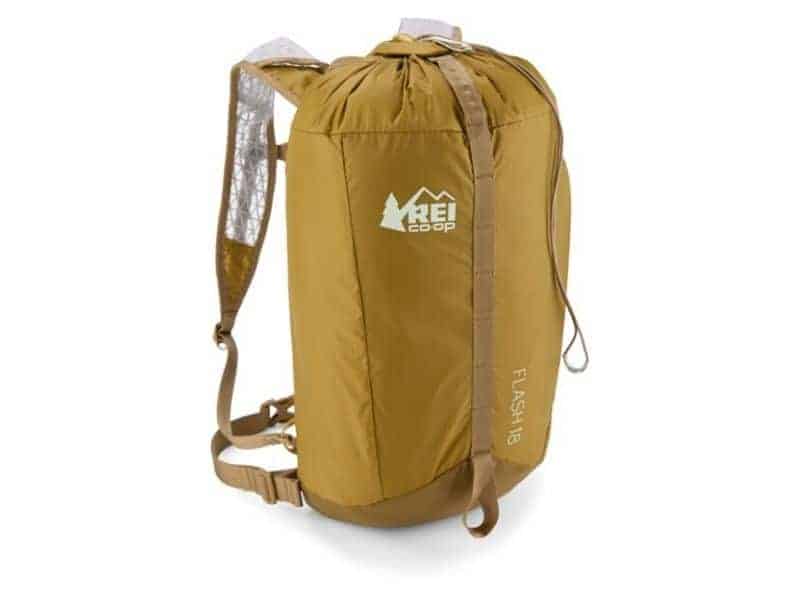 The affordable price and its unique shape makes the REI Co-op Flash 22 a popular backpack among new hikers. It comes with 1 main compartment with plenty of room for a hydration pack or tablet. With comfort foam inserts and detachable straps, it has plenty of customizable carrying options.
It also comes with many size pockets for smaller gear and an axe loop. Another interesting feature this backpack offers are its whistle buckles for emergency situations.
Key Features
Lightly padded back panel, which can be slipped out as a seating pad.
Sternum belt buckle doubles as a safety whistle
Lightly padded stretch-mesh shoulder straps are breathable and comfy
Internal sleeve and port for hydration bladder (not included).
Pack exterior has a zippered pocket and daisy chain with ice axe loop
PROs

Extremely Lightweight and minimalist design
Hydration pouch and axe loop for added functionality
Super reasonable price (cheapest in our review)

CONs

Thin straps making it less comfortable than other options
As a top loader, difficult to access items at the base of the pack
Bottom-Line: This pack is perfect for hikers who don't pack much. It only has one compartment for storage and only comes in one size option. It is also not available with frame option which leaves it with unfavorable support. However, it does come with many handy features such as an axe loop and adjustable straps. Overall out of all the best hiking daypacks, this one wins our award for budget pick.
REI Trail 25
With over 5 compartments, 25 liters of space, mesh side storage, and pole straps you can pack over a day's worth of gear for your camping needs into the REI Co-op Trail 25. Waist Belts can be removed or used with an REI Co-op Trail 2 waist pack.
The backpack weighs only over 1 pound and is made from Nylon for added durability. Specially designed for men, it fits a torso of 17 to 19 inches and a waist of 28 to 44 inches.
Key Features
Included rain cover stores in it's own zip pocket.
The U shaped panel allows easy access to gear and can be opened fully.
Padded and mesh-covered straps for comfort and ventilation.
Is hydration pack ready, with special internal pouch
Waistband can be removed, and replaced with the REI 2 Trail waistband (sold separately).
PROs

Reasonable quality and comfort for an affordable price
Large sidepockets

CONs

Pack doesn't lie flat against users back if it only partly full.
Hydration tube has nowhere to clip onto.
Bottom-Line: A great backpack for hiking essentials while not adding any unnecessary bulk or weight.
Gregory Miwok 24
The Gregory Miwok 24 is an excellent internal hiking pack with maximum storage space while keeping its lightweight profile. It includes space for a hydration pack as well as adjustable straps.
Externally there are sunglass loops and waist strap pockets for snacks on the go. It is made of a durable Ripstop nylon and an HDPE frame sheet. All storage is available from the top with internal gear storage organization.
Key Features
BioSync Active Trail Suspension adds comfort and shock absorption without adding significant weight.
Expandable front pocket for storing bulkier items such as bike helmets or jackets.
Multiple stashing points such as bike lights, sunglasses and trekking poles.
Dual mesh side water bottle pockets.
PROs

Mesh suspension system provides comfort and ventilation.
Lots of attachment features
The expandable front pocket for bulkier items

CONs

The added features and suspension system add some weight
One of the few bags not to have a hydration pocket
Bottom-Line: This bag offers great storage and comfort options for longer hiking treks. It allows a lot of space for gear and is very durable.
Patagonia Ascensionist 25L
The rugged-looking Patagonia Ascensionist 25 hiking pack offers a large storage option with plenty of attachments for other gear via daisy chains on the back. It can fit hikers with a 16 to 20-inch torso and a 28 to 42-inch waist. It is main from a durable Ripstop nylon material and has a top zippered lid for easy access. It is ultralight and is perfect for any hike.
Key Features
Lightweight, bomber, tear- and water-resistant nylon ripstop
Asymmetrical spindrift collar opens wide for easy packing; drawcord simultaneously cinches collar and closes lid for a secure seal.
Daisy chains on front and side panels for lashing additional gear
Zippered pocket on lid for easy access to small items
PROs

Daisy chain and ice pick attachments on back for multi uses
Streamlined shape makes it great for climbing
Light weight

CONs

Not as easy accessability as some of the panel loader designs
Not set up for hydration.
Top closure makes rope carry tricky
Bottom-Line: This great looking backpack for day hiking doesn't sabotage looks for storage. With over 25 liters of available space and daisy chains for other gear, this is a great climbing/summit bag.
Last update on 2021-03-04 / Affiliate links / Images from Amazon Product Advertising API