15 Best Hikes: Rocky Mountain National Park
Looking for the Best Hikes in Rocky Mountain National Park?
You're in the right place! In this guide, we will be covering the following:
Planning – where to park, directions and opening times
Our trail recommendations
What to bring
Visitors to Rocky Mountains National Park could be forgiven for being overwhelmed by the amount of choice on offer in terms of awesome hiking trails.
Whether you're looking for a serious adventure by bagging one of the park's lofty peaks or gentler day hikes to take on with the kids, RMNP boasts a simply vast array of some of the most outstanding hiking trails anywhere in the North America, if not the world.
To help you narrow down the options and find the best trail for you, we've selected fifteen of Rocky Mountain National Park's best trails for hikers of all fitness levels and levels of ability.
Do
Hundreds of miles of great trails
Spectacular views along the continental divide
Range of difficultly from easy to more strenuous trails
RELATED: For more National Park fun, check out our guide to the Black Canyon of the Gunnison Hiking Trails
Best Easy Hikes in Rocky Mountain National Park
1. Lake Helene and Two Rivers Lake
This 6.4-mile out-and-back hike is the perfect introduction to Rocky Mountain hiking for those who want to sample some of the area's highlights without putting in too much effort.
Although the 1,200-foot total ascent may seem a lot for an 'easy' hike, the trail is very well-maintained and signed, and never steep.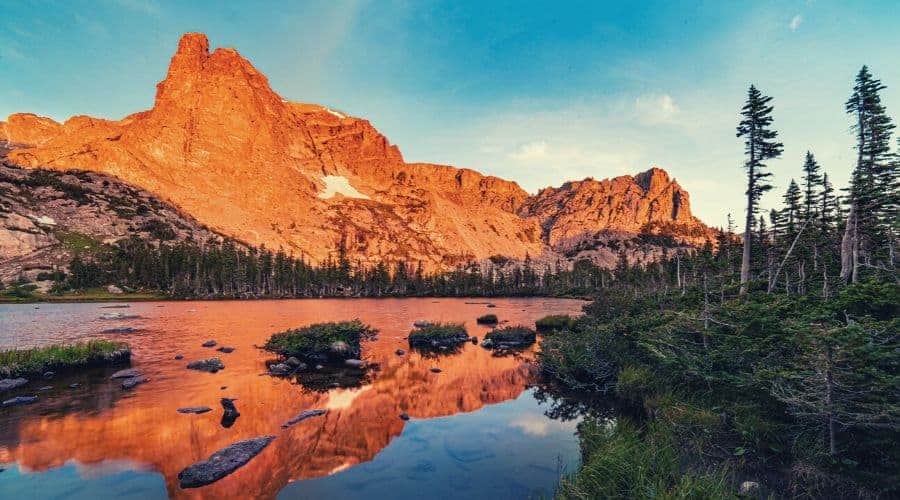 Some of the features you'll enjoy on this hike include a trio of stunning lakes, lush pine forest, a handful of pretty sub-alpine meadows, epic mountain views, and a surprising degree of solitude at the trail's end at Two Rivers Lake.
A mile from the trailhead at Glacier Gorge, this trail leaves behind the pine forest and climbs steadily west, offering up spectacular views of Longs Peak, Keyboard of the Winds, Pagoda Peak, and Chiefs Head Peak before easing up on the ascent in the final mile below Lake Helene.
Once there, the views of Notchtop Mountain, Knobtop Mountain, and Ptarmigan Point are nothing short of gobsmacking. However, just a short saunter from the lake's north end will take you to the equally impressive Two Rivers Lake, where you'll enjoy much the same views but far smaller crowds.
Information
Access from Bear Lake Trailhead at Glacier Gorge parking lot
Total ascent: 1,200 feet
6.4-mile out-and-back hike
2. Emerald Lake Trail
This hike is one of the most popular in the RNMP—and with good reason. Over the course of its 1.8 miles (one way), it serves up a visual feast every step of the way, including dense pine forests, alpine wildflowers, a trio of gorgeous alpine lakes, and the towering peaks of Hallett Peak, Longs Peak, and Flattop Mountain.
The trail starts at the Bear Lake Trailhead and is easy-going for the first 1.5 miles as it passes Nymph Lake and Dream Lake, before then climbing steadily to the water feature from which the trail takes its name, Emerald Lake (10,110 ft.)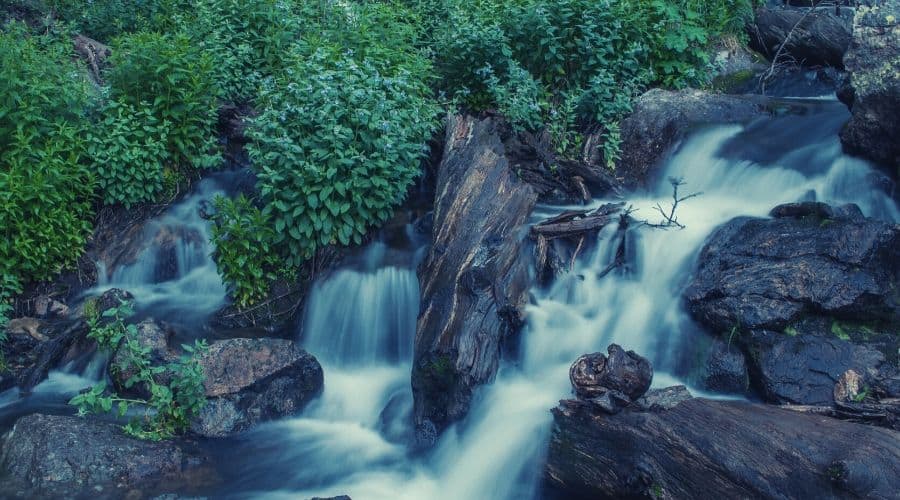 The small glacial bowl in which the lake is found forms an enclave as scenic as any other anywhere in the park. Ringed by pine forest and steep scree slopes, the lake's teal waters glisten below the giant, almost monolithic Hallett Peak on the left and the fang-like spires of the inappropriately named (from this angle, anyway) Flattop Mountain on the right.
In terms of effort-to-reward ratio, they don't come much better than this…
Information
Access via Bear Lake Road off Highway 36 or on the RMNP shuttle to Bear Lake Trailhead
Total ascent: 650 feet
3.6-mile out-and-back route
This trail is very popular: to avoid the crowds, start early
3. Alberta Falls
This short, scenic hike is ideal for those who want to get their kids out on the trails or who still have some gas in the tank after a day on one of the area's lengthier hikes but aren't yet ready to call it a day.
Beginning at the Glacier Gorge Trailhead, this hike wends gently upward alongside Chaos Creek through alternating pine forest and groves of stately aspen, whose fiery orange and yellow coloring in fall make the trail particularly worth hiking between late September and November.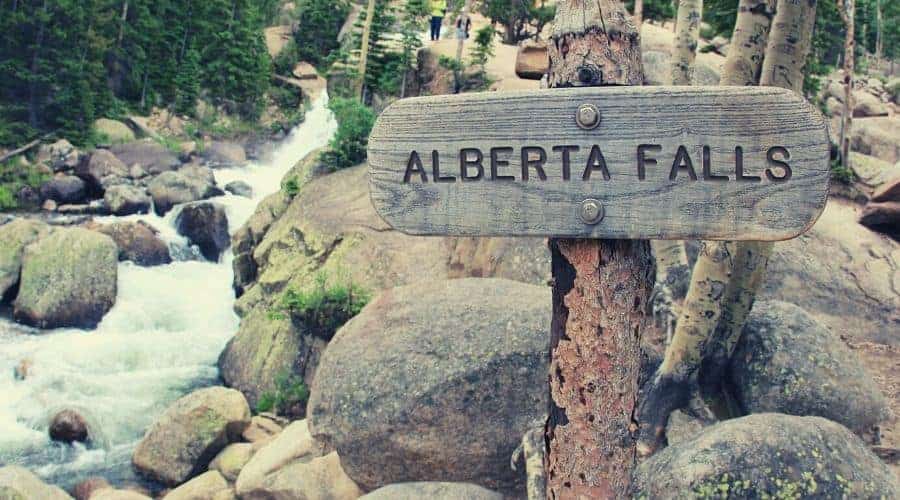 After just 0.9 miles, the very well-maintained and heavily trafficked trail arrives at Alberta Falls, a gushing 30-foot waterfall that crashes down between the rock walls of a small gorge. Around the falls there are plenty of spots to kick back, enjoy a relaxing picnic or beer, and for sunrise or sunset photoshoots—if you're lucky, an elk or two might even join you!
Information
Access from Glacier Gorge parking area
1.8-mile out-and-back hike
Total ascent: 200 feet
4. The Ute Trail
This short, relatively flat hike is the ideal choice for hikers who want to acclimatize and break themselves into Rocky Mountain hiking gently without compromising on views.
Formerly used by Arapaho and Ute Indians on their way between winter and summer hunting grounds on the Great Plains, this 4-mile trail starts off at the Ute Crossing Trailhead and crosses a broad swathe of alpine tundra on Tombstone Ridge on its way to the endpoint at Timberline Pass, offering utterly outstanding views of Forest Canyon, Longs Peak, the Continental Divide, Moraine Park, and Estes Park every step of the way.
In addition to all those views, the other highlight of this hike is the opportunity for sightings of wildlife, including ptarmigans, marmots, bighorn sheep, mountain goats, ravens, hawks, coyotes, and elk.
Information
Access via Ute Crossing Trailhead, 10 miles west of Deer Ridge Junction
Total ascent: 450 feet
4-mile out-and-back trail
Best Moderate Hikes in Rocky Mountain National Park
5. Bear Lake to Fern Lake Trailhead
This wonderfully scenic 9.2-mile, one-way hike can be taken on in either direction, but by making use of RMNP's very handy free shuttle service and doing it in reverse (as described), you'll be saving yourself a lot of ascent.
The highlights of this hike are almost too numerous to describe but include the chance for elk sightings, idyllic alpine meadows and lakes, and a simply vast array of towering rocky peaks, including Notchtop Mountain, Knobtop Mountain, Ptarmigan Point, Stones Peak, Little Matterhorn, and The Gable, all of which you'll find picturesquely reflected in the waters of either Fern Lake, Odessa Lake, or Lake Helene.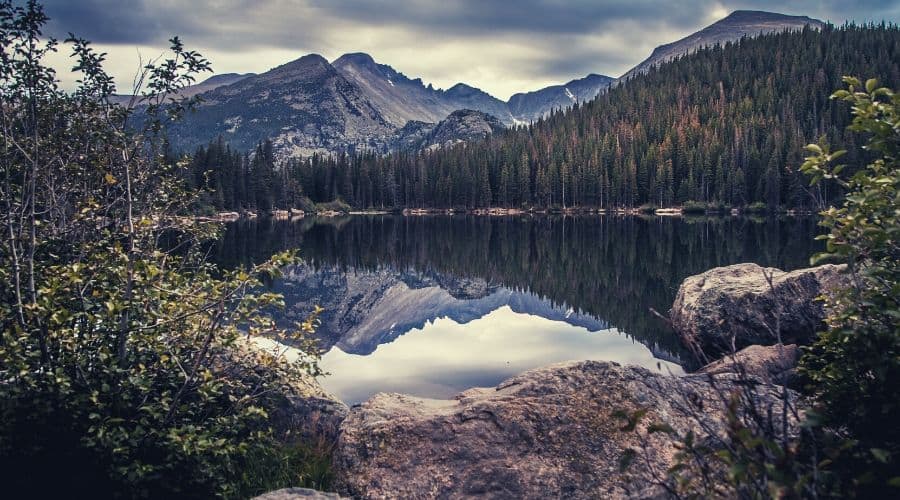 Bonus: by doing this trail as described, after 2.8 miles (just past Sourdough Backcountry Campsite) and a modest 1,200 feet of ascent, the rest of the trail is downhill, meaning you can soak up all those views without even working up a sweat!
Information
Access via Bear Lake Trailhead, 9 miles from the turn-off on Highway 36
The park's free shuttle buses operate late spring, summer, and early fall
Total ascent: 1,200 feet
9.2-mile out-and-back hike
6. Black Lake Trail
This hike starts off on one of the parks most heavily trafficked trails but soon escapes the crowds and carries you up into a high-mountain wonderland that includes an alpine meadow bedecked with vibrant alpine flowers, a duo of impressive waterfalls, three lakes, and amazing views of the surrounding peaks at the trail's far more peaceful endpoint.
From the Glacier Gorge Trailhead, this trail follows the route to Alberta Falls described above before climbing to Mills Lake, where a rocky strand affords sumptuous views over to the pointy peak of the 13,579-foot Chiefs Head Peak.
Following a short descent to Jewell Lake and a boardwalk crossing through marshland, the trail embarks on a series of steeper uphill sections that account for most of the hike's total 1,463 feet of ascent. As consolation for your struggles, however, you'll soon arrive at the gorgeous Ribbon Falls, just below your destination.
After an easy climb up the eastern flank of the waterfall, you'll catch your first glimpse of Black Lake, situated in wonderfully isolated glacial cirque with views of McHenry's Peak, Chiefs Head Peak, The Arrowhead, and The Spearhead—none of which are anything less than majestic.
Information
Access from Glacier Gorge parking area
Total ascent: 1,463 feet
9.4-mile out-and-back hike
7. Ypsilon Lake Trail
This less-trafficked trail is one for those happy to put in a decent amount of ascent in return for the reward of seriously impressive mountain views and solitude.
The trail sets off from the Lawn Lake Trailhead in the Horseshoe Park area just west of Estes Park and starts with a gentle ascent along Roaring River and through dense pine forest, with occasional views of Deer Mountain and Longs Peak.
After a few short, steeper climbs, the trail eventually eases off on its way to its high point at 10,750 feet. From there, a short descent takes you down to the exquisitely cute Chipmunk Lake, where you'll have exceptional views up to Ypsilon Mountain and Fairchild Mountain (13,502 ft.).
After another, steeper descent, the trail arrives at Ypsilon Lake, an ideal spot for lovers of solitude ringed by dozens of smaller social trails offering excellent views of Y-Mountain, Mt. Chiquita, and other giants in the Mummy Range.
Information
Access via Lawn Lake Trailhead, just west of Estes Park
Total ascent: 2,100 feet
9-mile out-and-back hike
8. Ouzel and Bluebird Lakes
This hike throws in a little bit of everything that any hiker with an appreciation for natural beauty (all of us, right?) could possibly ask for: a trio of cascading waterfalls, abundant wildflowers, a high chance of wildlife sightings, and two remote, largely unfrequented alpine lakes surrounded by giant granite mountains.
This 13.5-mile round trip includes 2,500 feet of ascent, so it's not one you'd be wise to try with a hangover or without decent fitness levels, but the hike's diverse terrain and relentlessly jaw-dropping views make every bit of effort well worthwhile.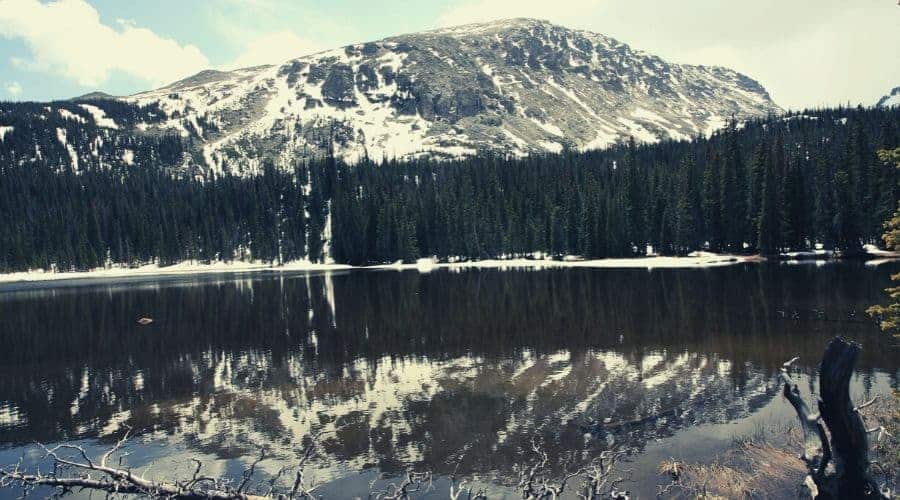 From the Wild Basin Trailhead, the trail sets off through dense forest and passes three scenic waterfalls: Copeland Falls, Calypso Cascades, and Ouzel Falls. After a short, steepish climb, it then crosses a short stretch of high desert dotted with cacti and backed by views of the giant Longs Peak and Mount Meeker.
After four miles, a fork in the trail gives you the choice of a short, easy half-mile hike to Ouzel Lake and a stiffer 2.5-mile climb to Bluebird Lake. While it may be tempting to choose only one of the two, the panorama of lofty peaks on display around each lake merits summoning the strength to visit both.
Information
Access via Wild Basin Trailhead (about a 30-minute drive from Lyons)
Total ascent: 2,500 feet
13.5-mile out-and-back hike
9. Ptarmigan Lake
For those with an appetite for the truly wild and with calves of steel (or who would like to acquire them in a single hike!), the 12-mile hike to Ptarmigan Lake deserves its place on your to-do list of RNMP adventures.
The trail to Ptarmigan Lake sets off on the Bear Lake Trail and continues for just under 4.5 miles to the top of Flattop Mountain, passing Dream Lake and Emerald Lake Overlooks, and enjoying exceptional views of Ptarmigan Point, Snowdrift Peak, the Mummy Range, Longs Peak, Hallett Peak and thee Tyndall Glacier Gorge along the way.
From the peak (12,324 ft.), the lake lies in a bowl-like saddle roughly 1.5 miles to the north, at 11,493 feet. There, you might not see many ptarmigans, but you will find yourself in one of the most secluded and scenic spots in the whole of RNMP.
Information
Access via the Bear Lake Trailhead
Total ascent: 3,850 feet
12-mile out-and-back hike
10. Mount Ida
With 360-degree views of the Mummy Range and dozens of RNMPs other giants, the relatively unfrequented, 12,880-foot Mount Ida offers one of the best viewpoints and most easily accessible high peaks in all of RMNP.
The trail begins at Poudre Lake and climbs gradually through dense pine and fir forest before reaching a broad expanse of alpine tundra at around 11,400 feet, where you'll have clear views of the Never Summer Mountains, Specimen Mountain, Shadow Mountain Lake, and eventually Mt. Ida herself.
From 12,250 feet onwards, the trail becomes less distinct, following sporadic cairns through a boulder field and talus on its way to the summit, where you'll be treated to expansive views of the Mummy Range, Terra Tomah Mountain, Mt. Julian, Cracktop Mountain, Longs Peak, Julian Lake, and the vibrant blue waters of Inkwell Lake and Azure Lake over 1,000 feet below.
Information
Access via Milner Pass
Total ascent: 2,122 feet
10-mile out-and-back hike
11. Sky Pond Trail via Glacier Gorge Trail
On paper, the hike to Sky Pond appears nothing out of the ordinary, with less than 1,800 feet of ascent and a moderate total mileage of 9 miles. But while this trail is easy-going for most of those 9 miles, it involves a very exposed, 120-foot scramble that must be done in both directions and so is not one for the faint-hearted.
One of the most endearing factors about this route, however, is its inclusion of so many highlights, from the impressive Alberta Falls, Icy Brooks waterfalls, and Timberline Falls to the almost heavenly Loch Vale, Sky Pond itself, and even that slightly scary scramble.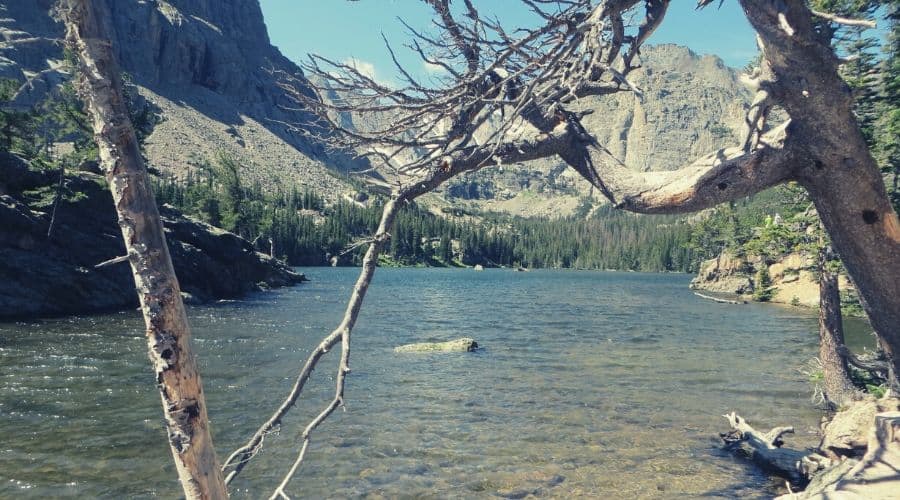 To reach Sky Pond, continue past Alberta Falls on the Glacier Creek Trail and make your way up past the North Longs Peak Trail Junction onto the Loch Vale Trail.
Past the wonderfully picturesque "loch"—where you'll enjoy stunning views of Taylor Peak, the Taylor Glacier, Thatchtop Mountain, The Sharkstooth, and Powell Peak—the aforementioned scramble begins up the side of Timberline Falls. Although the handholds are generous, we advise taking extreme care, particularly in wet conditions.
After 4.5 miles, you'll finally arrive at Sky Pond (10,900 ft.), a simply sublime alpine lake surrounded on three sides by towering granite spires and near-vertical cliffs.
Information
Access via Glacier Gorge Trailhead
Total ascent: 1,785 feet
9-mile out-and-back hike
Best Hard Hikes in Rocky Mountain National Park
12. Flattop Mountain and Hallett Peak
This hike follows the trail described for Ptarmigan Lake above, but instead of descending to the lake continues to take in two summits located smack bang in the middle of the Continental Divide.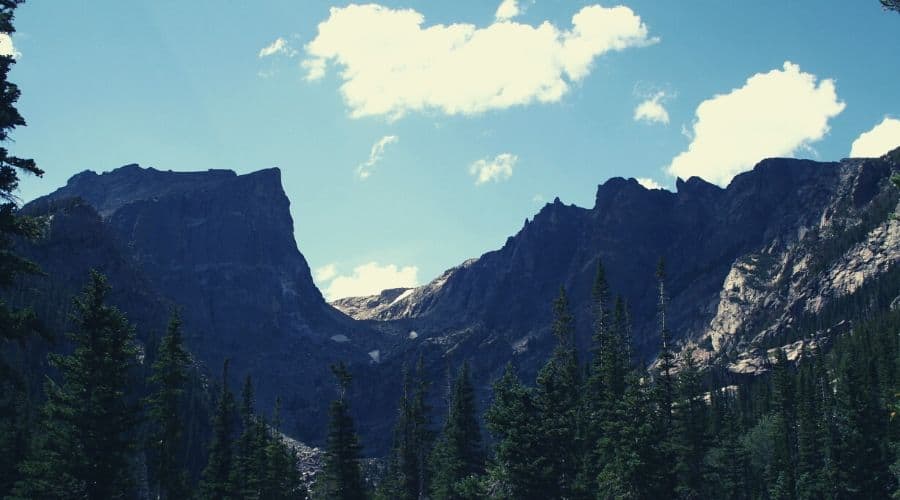 From the Bear Lake Trailhead, the trail starts off in pine forest before continuing up through a boulder field and aspen groves to the Bierstadt Moraine and eventually the steep mountain trail, on which you'll be treated to striking views of Longs Peak, Chiefs Head Peak, the Keyboard of the Winds, and the turquoise waters of the aptly named Dream Lake and Emerald Lake.
The wide summit of Flattop Mountain (12,324 ft.) offers views of the Mummy Range, Notchtop Mountain and the valley below that are so stupendous that it might be tempting to call it a day here, but doing so would be a grave mistake. Just over half a mile away, the pointy summit of Hallett Peak provides further gobsmacking panoramas and also the chance to tick another big summit (12,720 ft.) off your list while gazing at all the others yet to be added!
Information
Access via Glacier Gorge Trailhead off Highway 34
Total Ascent: 2,866 feet
8.5-mile out-and-back hike
13. Chasm Lake
This hike is ideal for those who don't fancy taking on the testy summit slopes of Longs Peak but want to enjoy views that are every bit as impressive.
This 8.5-mile out-and-back hike is fairly challenging and features over 2,500 feet of ascent, but avoids the airy passages encountered on Longs Peak, thus making it a better option for anyone who doesn't have a head for exposure or the legs for very steep ascents. It also, more to the point, ends in a giant glacial cirque at 9,400 feet that's as pretty as any you're ever likely to come across and you'd be loath to leave in any case!
Beginning at Longs Peak Trailhead, this trail wends its way through forest for the first few miles before climbing into scenic alpine tundra, where you'll catch your first glimpse of the mighty Longs Peak.
After passing Chasm Junction at just under 9,000 feet and the idyllic Chasm Meadows, the going gets a touch tougher and more exposed, with a short, lung-burster of an ascent taking you up the side of a waterfall below Chasm Lake.
When you finally reach the lake, the imposing bulk of Longs Peak will be bared in all its glory, reflected in the lake's crystal-clear waters—which are, we might add, provide the perfect tonic to burning calves and blistering feet!
Information
Access via Longs Peak Trailhead, 8.9 miles south of Estes Park on Colorado Highway 7
Total ascent: 2,570 feet
8.5-mile out-and-back hike
14. The Mummy Kill
For those of you with a slightly masochistic streak and not put off by a few tricky logistics, the "Mummy Marathon" might just present the ideal challenge in RNMP.
The objective of this hike is to summit all of the six main peaks in the Mummy Range in a oner, which means one heck of a long day (figure 12-16 hours, depending on your fitness levels) but also an almost unimaginable amount of epic mountain scenery.
Oh, and kudos…do this in a day and your hiking buddies will forevermore hold you in the highest esteem (and envy).
The six peaks summited on the hike are Mount Chapin (12,454 ft.), Mount Chiquita (13,069 ft.), Ypsilon Mountain (13,514 ft), Fairchild Mountain (13,502 ft.), Hagues Peak (13,560 ft.), and Mummy Mountain (13,425 ft.).
To do this hike, you'll need two vehicles, leaving one at your starting point at Lawn Lake and the other, for the return journey, at Chapin Pass Trailhead on Fall River Road.
From Lawn Lake Trailhead, the route follows a marked path to Mount Chapin, Mount Chiquita, and Ypsilon Mountain. Thereafter, the trail becomes less evident and in places almost non-existent, so good navigation skills are a must. The going is rarely easy and the terrain varies from rough ridge hiking at Class II and Class III to fairly stiff, exposed Class IV scrambling on Hagues Peak.
After reaching the peak of Mummy Mountain, don't be patting yourself on the back or celebrating just yet—a long slog through dense forest and an unexceptional 5-mile hike back to the car still await! Then, pat and celebrate away…you'll deserve it!
Information
Access via Lawn Lake Trailhead
Total ascent: 4,880 feet
16.7-mile one-way hike
Only attempt this route in good weather to avoid afternoon thunderstorms
15. Longs Peak (Keyhole Route)
The tallest and most iconic mountain in RMNP, Longs Peak (14,259 ft.) offers one of the most enjoyable and thrilling summit hikes in all of Colorado. If, that is, you have both a good head for heights and calves made of some kind of titanium-steel alloy.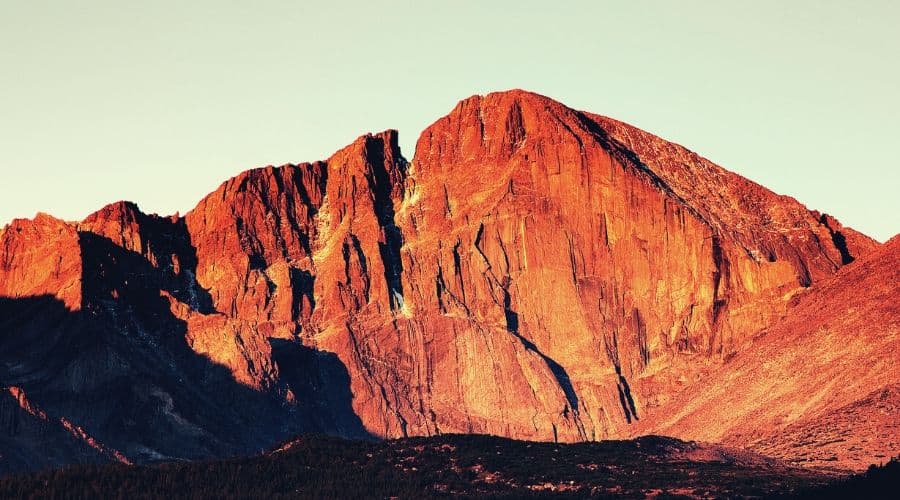 The route follows the same trail as described for Chasm Lake (above), before embarking on the ever-so-slightly infamous Keyhole Route. That infamy derives from the trail's distinct turn for the testy beyond Chasm Lake, with a series of airy, exposed traverses below and above huge cliff faces and semi-scrambles up the rock and boulder-strewn slabs below the summit.
No one would blame you for opting out and ending your day at Chasm Lake, but by taking on that final, challenging, and slightly scary final stretch you'll reap more than ample rewards, with the summit offering up uninterrupted, 360-degree views of just about every mountain in a fifty-mile radius!
Information
Access via Longs Peak Trailhead, 9 miles south of Estes Park on Highway 7
Total ascent: 5,100 feet
15-mile out-and-back hike
Bonus Hike: Lake Estes Trail
Those looking for a simple, easily accessible trail in the Rocky Mountain National Park area could do a lot worse than start their search with the Lake Estes Trail in RNMP's neighboring Estes Park.
This 3.8-mile loop is accessible year-round, suitable for hikers of all fitness levels, and is an ideal choice for parents looking to break their kids into hiking on something gentle before testing their mettle further afield.
'Easy,' however, doesn't mean 'boring'—not in the slightest. In addition to the potential for elk sightings along the way, this trail provides non-stop, uninterrupted views across the lake to the surrounding mountains. It's also paved, dog-friendly, and has toilets and picnic tables every half mile or so, making it perfect for a laid-back outing with all the family.
Information
Access via North Street Vain Avenue (Highway 36) on the lake's west side
Total ascent: 190 feet
3.8-mile loop hike
Finale
If you need more information then we suggest you contact the national park service visitor center for some more local knowledge. They can provide you with more great hiking suggestions and primo great views along the many miles of hiking trails in Rocky Mountain National Park.
Please feel free to share your own personal adventure below in the comments section – we'd love to hear about your hike in Rocky Mountain National Park.