Boasting staggering cliffs and stunning landscapes, there are few places in the world that compare to the Gunnison River Black Canyon.
With so many superb treks to choose from in this amazing park, determining which ones you want to hike isn't always easy. To get you started, we've created this guide to the top trails in Black Canyon of the Gunnison National Park.
Up next, we'll introduce you to the park's 8 best hikes. That way, you can make the most of your next venture into a canyon's out-of-this-world landscape.
The 8 Top Hikes In Black Canyon National Park
1. North Vista Trail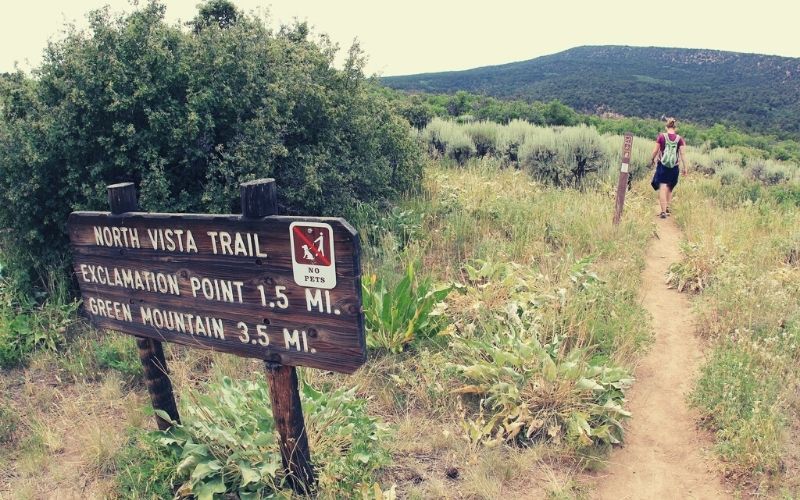 Type: Out-and-back
Length: 7 miles (1,169ft ascent)
Difficulty: Moderate
Access: Trailhead at the North Rim Ranger Station
When it comes to exceptional views of the canyon, it's hard to beat the North Vista Trail.
This 7-mile trek starts out at the North Rim Ranger Station and ventures up to some amazing Gunnison River overlooks. You'll then hike through woodlands as you make it to your first overlook—Exclamation Point.
After taking in the views, you'll climb to the summit of Green Mountain. Once there, you can marvel at the splendor of the North Rim of the Black Canyon as a reward for your efforts. And what a reward it is!
2. Warner Point Nature Trail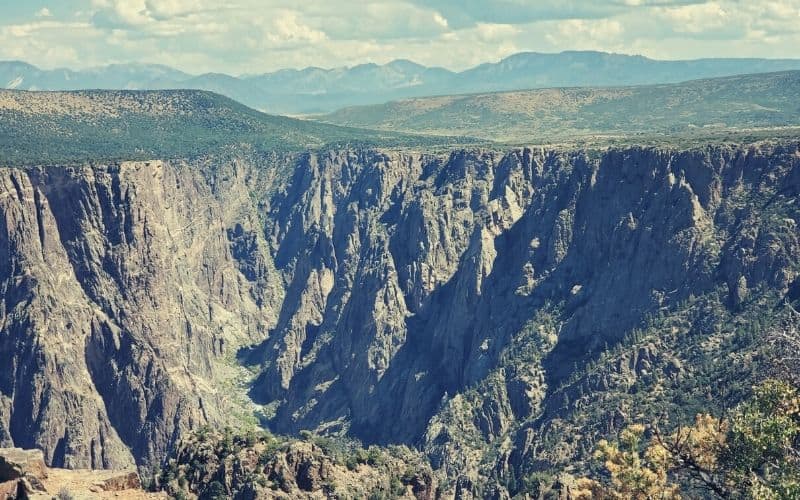 Type: Out-and-back
Length: 1.5 miles (140ft ascent)
Difficulty: Easy to moderate
Access: High Point Overlook on South Rim Road
Short and sweet, the Warner Point Nature Trail is a magnificent choice for hikers of all ability levels.
After departing from the trailhead area, this 0.75-mile one-way trek follows a casual path to the scenic Warner Point. Along the way, you'll get treated to sweeping views of the San Juan Range in the distance.
But, don't forget to pick up a trail guide from the national park service South Rim Visitor Center on the day of your hike. The nature trail guide offers insight into the natural features along the hike to help you learn more about this amazing landscape.
3. Red Rock Canyon Route
Type: Out-and-back
Length: 6.5 miles (1,320ft ascent)
Difficulty: Moderate to hard
Access: Parking area on Bostwick Park Road
Arguably the most popular backcountry destination in the park, the Red Rock Canyon is a must-visit for serious adventurers.
This trek into the inner canyon of the Gunnison River provides a chance to see some of the most spectacular views in the park. Although the hike is fairly steep and rough, it offers great access to some of Colorado's best mountain views and fly fishing opportunities.
Do keep in mind, though, that you'll need a permit to venture into this part of the park. There's a permit lottery each year to allocate a certain number of permits per day. However, you can occasionally get last-minute permits on the day before your hike by calling the South Rim Visitor Center.
4. Oak Flat Loop Trail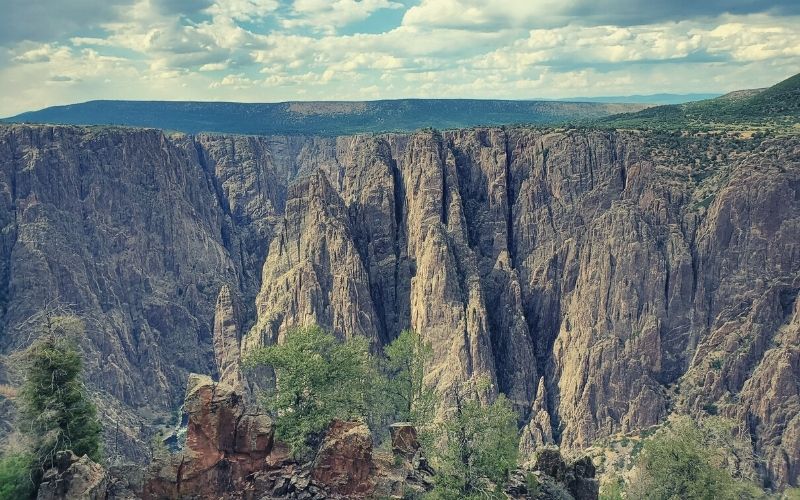 Type: Loop
Length: 2 miles (332ft ascent)
Difficulty: Moderate to hard
Access: South Rim Visitor Center parking area
A nice choice for keen hikers, the Oak Flat Loop offers a superb view of the river valley without the need to hike down the river itself.
Although this trek is just 2 miles long, it's surprisingly steep. It travels through dense scrub oak thickets and then meanders its way to a handful of wonderful viewpoints along the South Rim.
On the way, things can get a little airy and exposed, so take your time as you trek and be mindful of where you place your feet. However, also make sure you stop to take in some of those sumptuous views along the way!
5. Rim Rock Nature Trail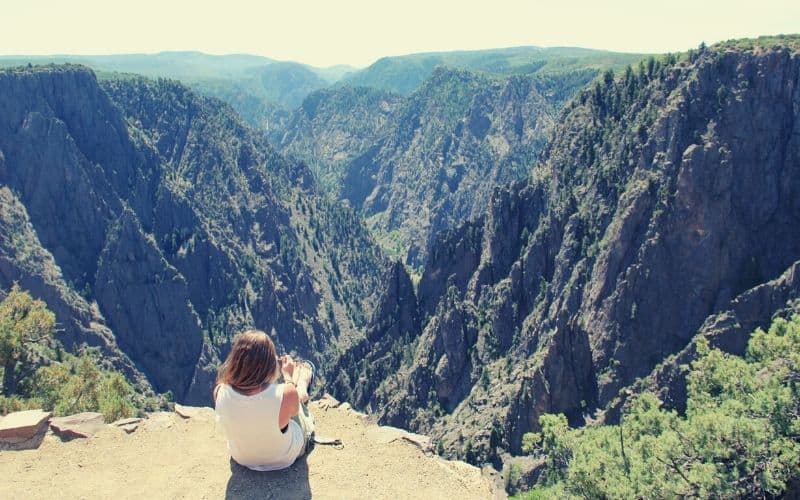 Type: Point-to-Point
Length: 2 miles (200ft ascent)
Difficulty: Easy
Access: South Rim Visitor Center parking area near the East Portal
This two-mile jaunt is perfect for folks who are short on time and keen not to stray too far from the park's South Rim. This point-to-point trail has a number of different starting points but is best done as a roundtrip from the visitor center.
On this trek, you'll walk along a relatively flat path for about a mile. Eventually, you'll come across famed overlooks like Tomichi Point, where you can see the steepness of the valley walls firsthand.
It's important to note, though, that this route is closed to dogs during the summer months to protect the local deer population. But, if you're visiting with your pup during the shoulder season, this is one of the best treks in the park for dogs and humans alike.
6. Gunnison Route
Type: Out-and-back
Length: 1.2 miles (1,577ft ascent)
Difficulty: Very Hard
Access: South Rim parking lot
More of a scramble than a trek, the Gunnison Route is a superb outing for the more experienced adventurers.
As one of the best access points to the river itself, this scramble starts on the Oak Flat Trail and then ventures down a steep slope to the valley below. The route is unmaintained, though, so be cautious, place your feet wisely as you scramble, and watch out for the odd sprig of poison ivy on the way.
Eventually, the path bottoms out at the river where there are some campsites available. Do note, however, that permits are required—even for day trips—into this part of the park.
7. Chasm View Nature Trail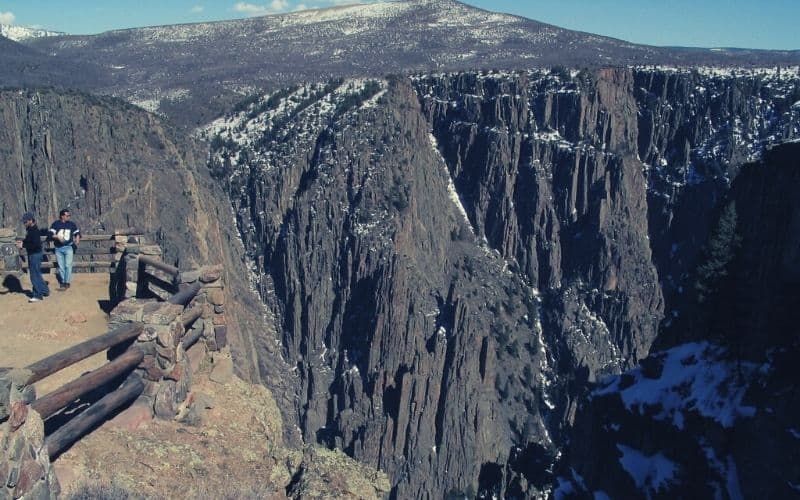 Type: Loop
Length: 0.5 miles (61ft ascent)
Difficulty: Easy
Access: North Rim Campground
If you're short on time and want to see everything the park has to offer, the short jaunt to Chasm View is a must-do.
Located at the end of the North Rim Campground Loop, this trek is a quick stroll with some breathtaking views. As you walk, you'll first see the Painted Wall before making your way toward Serpent Point. Soon enough, you'll find yourself at Chasm View itself, which offers some of the best views of the entire region.
Oh, and if you finish this trek and still want more adventure, consider checking out nearby Painted Wall View, Exclamation Point, or Cedar Point, too!
8. Pulpit Rock Overlook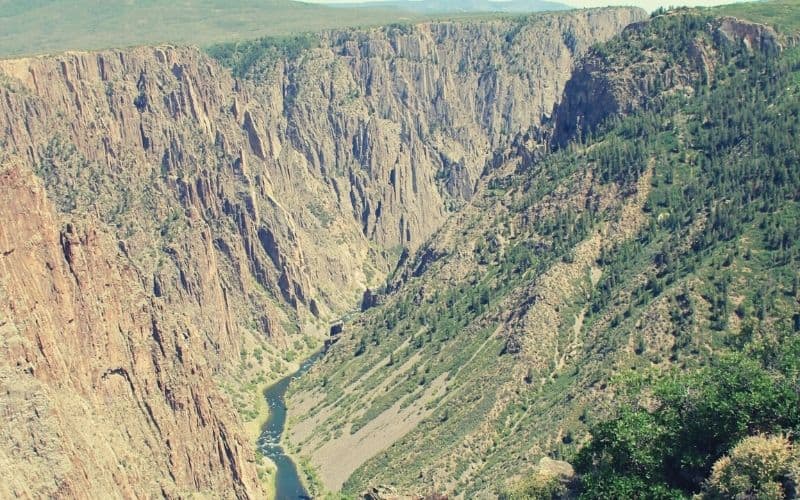 Type: Out-and-back
Length: 0.3 miles (10ft ascent)
Difficulty: Easy
Access: Trailhead on Rim Drive Road
For spectacular views without the crowds, this trek is hard to beat. Located right off of Rim Drive Road, you can pick up the short path to the Pulpit Overlook straight from the parking lot.
After a short jaunt, this path pops out at one of the most mind-blowing vistas in the valley. In fact, you can even look straight down from the trail and catch views of the river with relative ease.
When you're done with this short stroll, you can even continue down to other overlooks on the South Rim like Big Island or Devils Lookout.
Other Colorado Trip Ideas
Hiking Black Canyon of the Gunnison National Park: Adventure Awaits!
Any Black Canyon National Park hiking trip is sure to be a memorable expedition. Hopefully, our guide helped you figure out which of the park's many trails are best for your adventure style.
If you were lucky enough to check out any of these fantastic hikes during your visit, please let us know in the comments below! Plus, don't forget to share this article so your friends can plan their next trip, too.