Colorado, also known as the Centennial State, is located in the west of the U.S. The state takes in the northeastern part of the Colorado Plateau, most of the southern Rocky Mountains, and the western border of the Great Plains.
With such a diverse landscape, it's little wonder that Colorado is such a draw for those who love camping as a vacation option. Indeed, few other states can compare to Colorado! There's so much to do and see here, from the cathedral-like formations of the Garden of the Gods, the glorious views that you'll enjoy along the San Juan Skyway Scenic Byway, to the awe-inspiring majesty of the Rocky Mountain National Park, the Centennial State has it all.
Colorado has a mixture of free dispersed camping sites, paid developed camping grounds, and even some sites built for glamping devotees. Whether you enjoy the hustle and bustle of busy sites with water sports and kid's playgrounds or prefer to float in peace in a canoe across a tranquil lake bathed in the early morning sunlight, you'll find the best camping Colorado has to offer right here.
Our Pick Of The Top 10 Colorado Campgrounds
In this guide, we've picked out ten of the best campgrounds in Colorado for you to visit. Each one is slightly different, so why not plan a road trip across the state, taking in a selection of these stops along the way?
1. Piñon Flats Campground, Great Sand Dunes National Park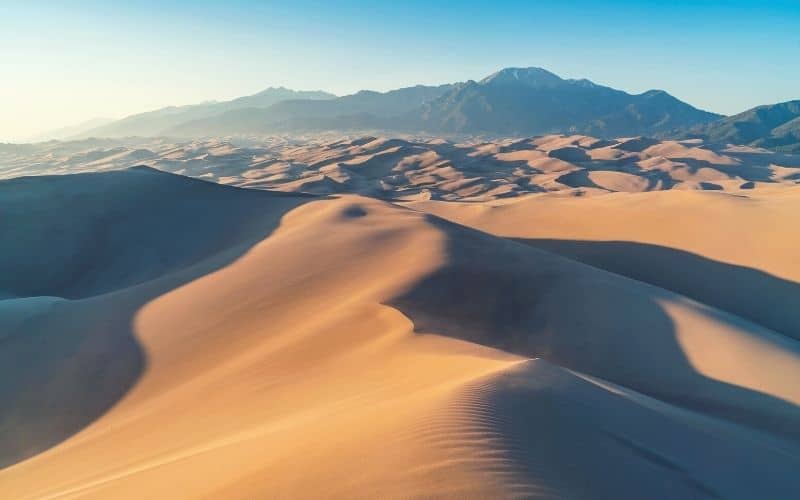 Piñon Flats is located in Mosca, situated in the Great Sand Dunes National Park.
The campground dates back 60 years and is designed in a series of loops whose outermost sites give you access directly to trails, leading to the famous sand dunes. The dunes are the tallest in North America, forming the centerpiece of the park's diverse landscape of wetlands, grasslands, alpine lakes, tundra, and forests of conifer and aspen.
When the sun goes down, you can take in the glorious spectacle of a starry sky on a clear, moonless night, or enjoy a surreal stroll across the dunes under the magical light of a blazing full moon. If you come here when the Medano Creek breaks through to flow above ground, you can enjoy some extraordinary mountain beach fun, splashing around icy clear shallows that appear at the bottom of the dunes.
RELATED: Best Hiking in Great Sand Dunes NP
The campground has 88 sites that accommodate tents and RVs up to 35 feet. Also, there are three group sites for tents only. For the best mountain views, choose a site at the north end of the loops. Note that the group loop offers three sites for dispersed camping.
If you plan on coming here from mid-May through mid-September, it's advisable to make a reservation, which you can do by calling 877-444-6777 or through recreation.gov. At the time of writing, single sites cost $20 per night.
2. Pearl Lake Campgrounds, Colorado (near Steamboat Springs)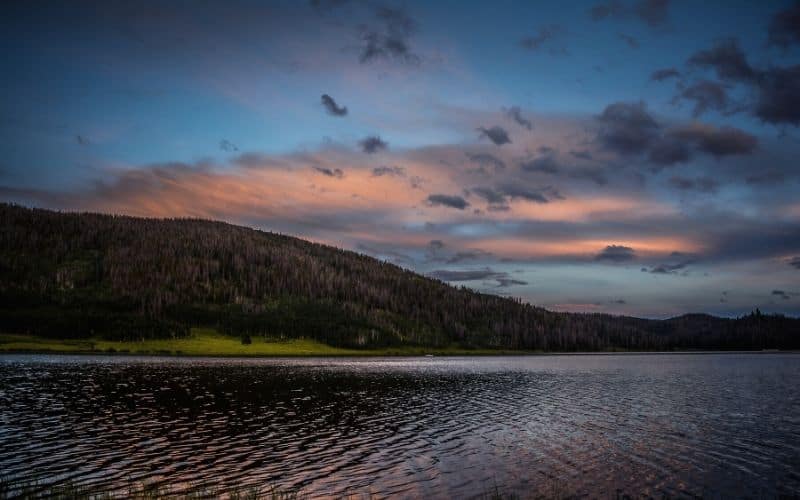 Pearl Lake State Park Campground is situated close to the town of Hahn's Peak, north of Steamboat Springs. The peaceful lake is named for Pearl Hartt, who was the wife of John Kelly Hartt, a pioneer sheep rancher.
The campground nestles in a narrow valley at the foot of Farewell Mountain and offers glorious scenery and first-class fishing. On summer mornings, you can emerge from your tent to the sound of huge trout leaping out of the water to catch insects, and as you cook your breakfast, you'll look up in awe at the snow-dusted mountain towering above.
The Pearl Lake campground is managed in conjunction with the larger Steamboat Lake grounds further north, but it's smaller and quieter here. The lower loop of the campground includes sites 24 to 38, which are lakeside pitches, and this area is consequently the most popular. The upper loop has sites 1 through 23 and is set on a gentle hill, only 200 yards from the lakeshore.
From here, you can hike a short trail that takes you to the dam, which connects with the six-mile Coulton Creek Forest Service trail. There's also a boat ramp at the southern tip of the lake. Note that motorized boats are not permitted on the lake, and wakeless boating only is allowed. Anglers must use either lures or flies and may only take two 18-inch trout per day.
The sites can accommodate tents or RVs up to 55 feet, and there are two yurts available by reservation only. Most of the sites are pull-through, but you should know that there are no hookups. One of the yurts and site 35 are wheelchair accessible. Although the park is open all year round, the campsites are closed during the winter, although you can still reserve the yurts.
Sites must be pre-booked and cost $18 per night. Yurts sleep six at the cost of $70 per night at the time of writing. Note that campers also need a vehicle pass ($7) or an Annual Parks Pass ($70).
3. Sun Outdoors rocky Mountain Campground, Granby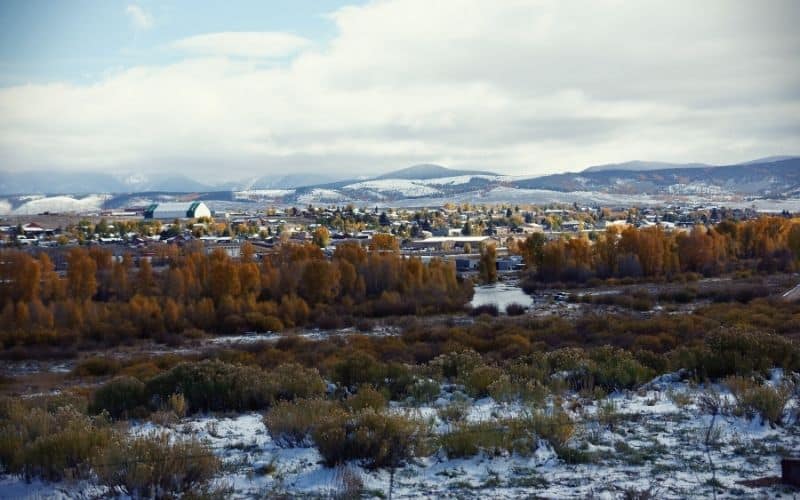 The Sun Outdoors Rocky Mountain Campground in Granby is a new facility described as a cabin rental, glamping, camping, and RV resort.
This is a large, sprawling site with 400 camping, RV, and vacation rental options. There's a zero-entry pool, onsite SUP, fishing, and kayaking on the Colorado River. At the end of the day, you can eat in one of the two restaurants. There's even a mini-bowling alley to keep the kids amused!
If you're looking for a family-friendly getaway with plenty of things to do onsite and is equipped with all the comforts of home, this could be the ideal vacation destination for you.
For more information on rates, availability, and more, check out the Sun Outdoors website or call Granby, at 888-886-2477. In our opinion, probably the best RV camping in Colorado.
4. May Queen Campground, Turquoise Lake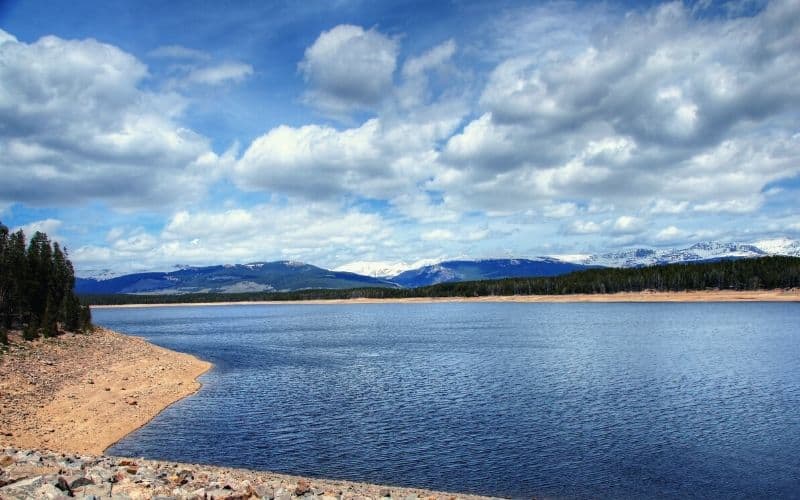 May Queen Campground is located at the western tip of picturesque Turquoise Lake. If you're looking for a peaceful, wilderness camping experience, this location could be perfect for you.
The campground is the only one at this end of the lake and is at an elevation of around 10,000 feet. From here, you can hike out into the wilderness areas of Mount Massive and Holy Cross or take the Colorado Trail, which passes conveniently right by the entrance to the campground.
Many visitors bring kayaks or canoes, which can be carried down to the lake. Note that the closest boat ramp is six miles away. The majority of the sites here are located well away from the road in a forested area. If you want maximum privacy and quiet, choose one of the walk-in sites.
Seventeen sites can accommodate RVs up to 32 feet and tents, but there are no hookups. Also, there are a dozen walk-in tent sites that are perfect for backpackers. You can reserve a site by calling 877-444-67777. At the time of writing, campsites at this location cost $20 per night.
5. Bear Lake Campground, West Of Yampa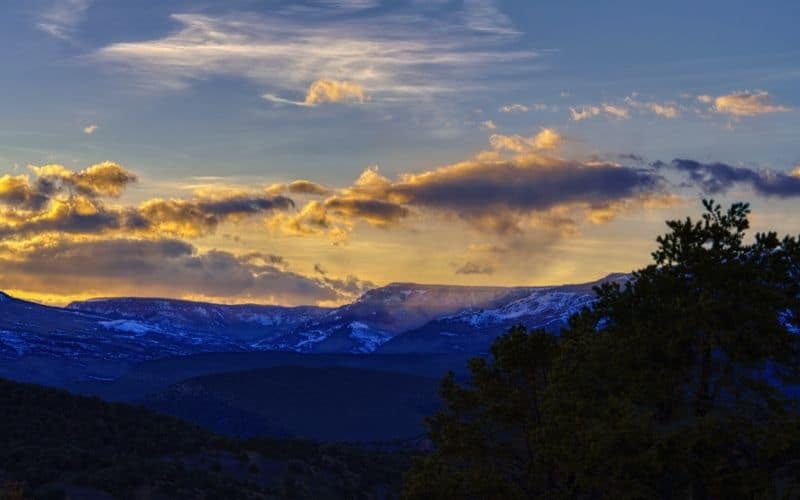 West of Yampa, you'll find the Bear Lake Campground.
The lake is situated in the Bear River Valley, close to the Flat Tops Wilderness Area, the second-largest wilderness in Colorado. The lake is enclosed by the towering, volcanic cliffs of the Flat Tops, while the valley is refreshingly lush with spruce, fir, and aspen.
Thanks to the Division of Wildlife and Medicine Bow-Routt National Forests' joint management efforts, the trout fishery here is excellent. On Yamcolo Reservoir, you'll find a boat ramp for larger vessels, while Bear Lake welcomes hand-powered and electric craft users.
For those who prefer to keep their feet on dry land, the Mandall Lakes Trail starts opposite the campground and takes you up to Flat Tops Plateau. A few more trails begin at the Stillwater Reservoir. The countryside here is peaceful, and the views are spectacular.
This is the most suitable campground in the valley for RVs and families, and it's divided into two loops. There are 43 sites for RVs up to 30 feet and for tents, one triple site, and two walk-in tent sites. You can't book in advance here, and there are no hookups. Sites cost from $10 to $30 per night – Call 970-638-4516 for more information.
6. Teal Campground, Pagosa Springs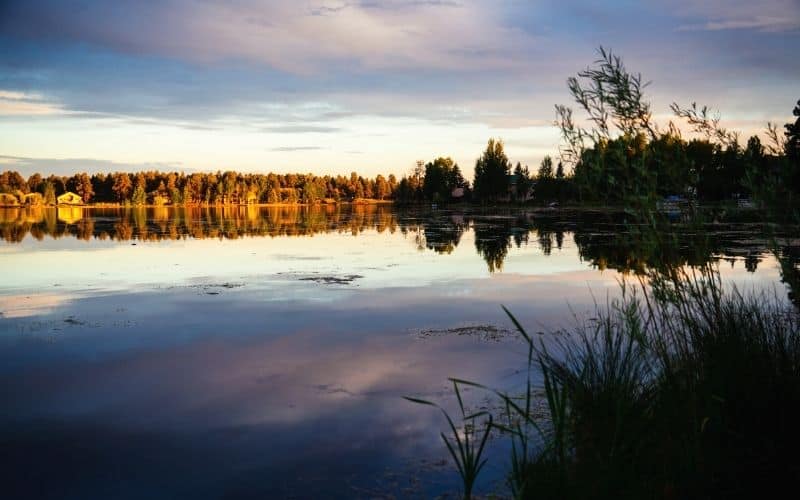 If you crave a campsite that gives you incredible mountain vistas, fantastic fishing, and glorious lakeside views, Teal Campground near Pagosa Springs could be just what you're looking for.
The campground is located on the Williams Creek Reservoir western shore, offering dramatic views of the spectacular San Juans that tower over the lake. To the north, are the peaks of Chief, Toner, and Cimarrona Peak, while Rock Mountain dominates the east. Behind the campgrounds, expansive aspen groves quiver in the breeze.
This location is fantastic for fishers and those who enjoy boating. The 343-acre reservoir offers exceptional fishing for kokanee salmon and trout during the early summer months, while kayaks, canoes, and small sailboats glide silently across the clear water. For those who enjoy hiking, a short drive takes you to the nearby Cimarrona and Williams Creek trailheads.
The campground has two loops. The left loop offers 11 sites near the lake, some of which look directly out over the water. The sites are quite close together and don't have a lot of shade, but you are permitted to pitch your tent among the small clusters of pines nearby if you want to. The right loop has just five sites, all of which have plenty of shade, great views, and offer more privacy.
There are no hookups here, and the site caters for tents and RVs up to 35 feet. For more information, call 970-264-2268.
7. Maroon Bells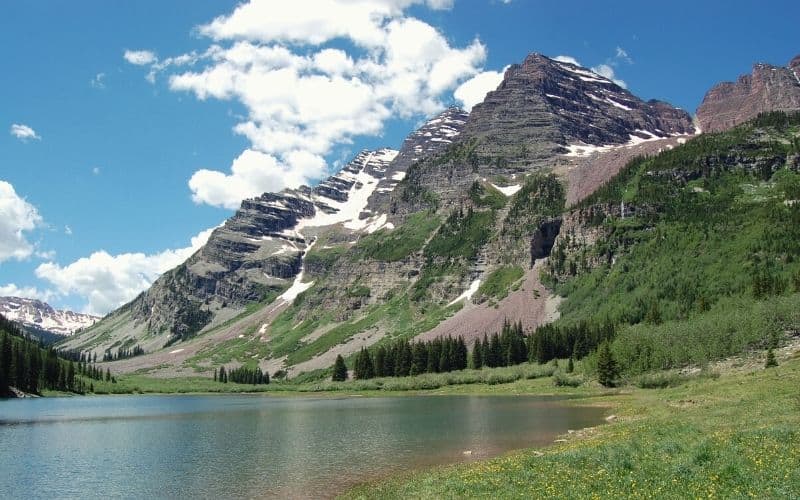 The Maroon Bells are one of the most famous settings in the whole of Colorado. These are two peaks, Maroon Peak and North Maroon Peak, that form part of the Elk Mountains on the border between Gunnison and Pitkin Counties, roughly 12 miles to the west of Aspen. Both the peaks are 14,000-foot elevations that draw visitors from all across the country and are among the most photographed mountains in North America.
Three campsites sit right below the mountain, all of which offer direct access to this beautiful wilderness environment, including stunning Maroon Lake. There is no room for RVs here, but backpackers and car campers will find ample space. Check out Silver Queen, Silver Bar, or Silver Bell campsite and choose your preferred location.
Although the facilities on offer are elementary, it's only a short hop into Aspen to stock up on supplies.
8. Angel Of Shavano Campground, Salida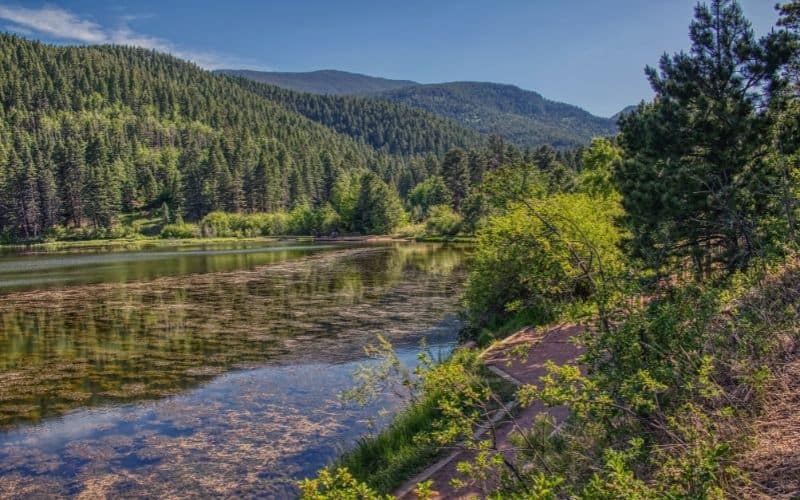 Angel of Shavano Campground is located close to Salida.
This is the ideal setting for those who want to get back to nature and escape the crowds when camping in Colorado. The campgrounds are located right inside the San Isabel National Forest. The national forest is densely-wooded, offering a truly memorable retreat where you can enjoy moments of precious solitude and tranquillity.
You can enjoy mountain biking or hiking along the 486-mile Colorado Trail, which runs right alongside the campground, and there's some excellent fishing to be had in the North Fork Reservoir.
There are 20 individual campsites, and, largely thanks to its remote location around three hours drive from Denver, the first-come-first-served campgrounds are very rarely crowded. That makes it relatively straightforward to reserve a spot. Drinking water and vault toilets are available during the summer months, and dogs are permitted, although Fido must remain leashed at all times.
Charges are $20 per site for overnight camping for two vehicles, plus a further $6 for a third vehicle. Day camping is charged at a rate of $7.
9. Moraine Park Campground, Rocky Mountains National Park
Moraine Park Campground is located in the Rocky Mountain National Park and is one of five excellent campsites in the National Park.
The views of the nearby mountain peaks that you'll enjoy from every site are breathtaking, and the area is a Mecca for wildlife spotting too. Here, you can see elk, mountain lions, moose, black bears, and long-horned sheep. For those who crave total peace, quiet, and seclusion, the campgrounds are open year-round, and a trip here during the winter months is truly magical.
Tent camping only is permitted here, and there are no hookups. Potable water is available, and there are vault toilet facilities provided for use year-round. Flush toilets are available for the summer months. For the summer season, reservations are recommended and may be made up to six months in advance.
RELATED: Rocky Mountain NP's Best Hiking Trails
10. Upper Slate Lake, White River National Forest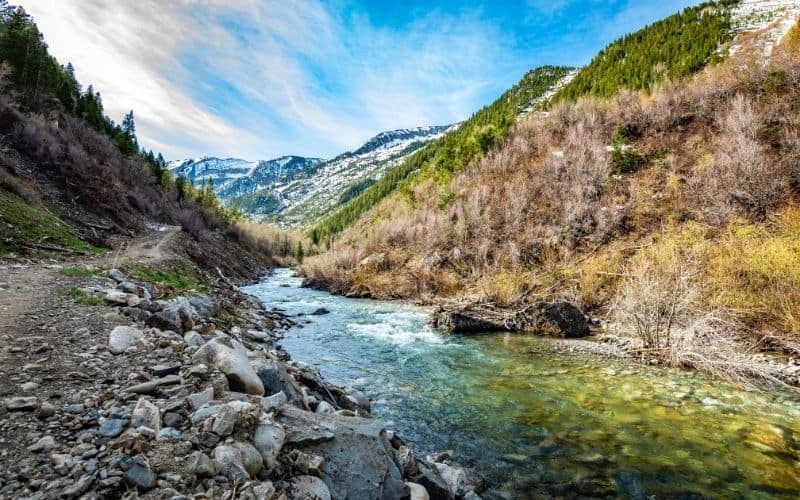 If you're into true, out-of-reach, wilderness camping, you'll love Upper Slate Lake in the White River National Forest and in our opinion offers the best tent camping in Colorado.
Located at an elevation of 10,800 feet, Upper Slate Lake is a quiet, crystal clear loch in one of the most beautiful settings you can imagine. Nestling among the peaks of the Gores, the jagged, imposing skyline that frames the lake is truly something to take your breath away. Although you're in Summit County here, this setting couldn't feel farther away from the ski resorts and jet-set lifestyle that you'll find there.
You reach this location on foot via a strenuous hike along the Rock Creek Trail and Gore Range Trail. The hike will take you up and down the Boulder Creek drainage, over another ridge, and then down a steep, long stretch of trail. Eventually, you'll wind up in a vast, open meadow, which makes a good campsite option unless you got an early start, in which case you might want to carry on walking up the steep trail that takes you past Slate Lake. One thousand feet of climbing later, you'll get to Upper Slate Lake. The whole hike is around 9.3 miles and 2,700 feet of elevation gain, but it does get you a few nights in absolute paradise.
While you're here, take a day's hike out to see the incredible waterfalls to the west of the lake.
RELATED READING: Best hikes in Colorado
The Best Camping in Colorado: In Summary
There are a multitude of great campsites in Colorado offering something for every outdoor enthusiast, whether you're into glamping, family camping with all the facilities you want right there on your doorstep, or hoofing it to the top of the world in search of blissful solitude.
Despite its popularity as a tourist destination, Colorado never feels crowded. So, pack your tent, grab your backpack, and reserve yourself your very own little piece of paradise this summer.
If you've enjoyed our guide to the best camping sites in Colorado, then share or comment below – and if you know a Colorado campsite we've missed then let us know too!