When traveling out in the backcountry, one of the ten essentials you should carry at all times is a good first aid box. 
Whether you're traversing mellow trails or out on challenging multi-day hikes in testier terrain, the number of ways you can do yourself harm is nigh-on endless. Blisters, chafing, cuts, scrapes, broken bones, allergic reactions, insect bites, sprains, and bruises are a mere few of the injuries or ailments that might befall you on the trail…
…and which can be treated lickety-split if you have a well-stocked backpacking first aid kit along for the trip.
We've put together a list of the 11 top kits for hiking and backpacking to help you find the ideal option for your needs. Our list includes kits for every group size and trip duration and caters to every budget.
Below are our recommendations, along with advice on how to pick your kit for hiking and backpacking, and how to treat common hiking ailments and injuries.
Editor's Choice
Adventure Medical Kits Ultralight Watertight 7
Whether you need a great first aid kit for day hikes, thru-hikes, or weekend camping trips, the Adventure Medical Kits Ultralight Watertight 7 is our ultimate top pick.
The AMK 7 is the most trail-ready kit we've ever laid our hands upon. It's lightweight, waterproof, compact, and has all the supplies you might need to treat the most common hiking injuries and ailments, including blisters, burns, cuts, sprains, and fractures. It also comes with common medications to treat things like headaches, tummy aches, inflammation, and allergies.
The AMK weighs under 7 ounces and measures 7.5 x 10 x 2 inches, so won't take up much room in your pack or weigh you down. We're also fans of the bright yellow carry case. This makes it easy to find in a backpack or locate in your tent at night. The fact it has sealed seams and a watertight zipper makes it all the more practical.
Bottom Line: An ultralight, high-quality kit with enough items for long weekend trips.
At a Glance: Quick Recommendations
Best First Aid Kits for Camping, Hiking & Backpacking Reviewed
Adventure Medical Kits Ultralight Watertight 7
Editor's Choice
In our pursuit of the best hiking first aid kit, we sought one with ample high-quality, hiking-specific supplies for 1–4 people for a 3–5-day adventure. We also wanted a trail-worthy carry case and package that wouldn't weigh us down or take up too much room in our backpack. The AMK ticks all of those boxes.
The AMK is fully waterproof, using siliconized nylon fabric, taped seams, and a water-resistant zipper in the outer bag as well as DryFlex bags to keep each of the items inside dry if you leave the zipper open. So even if you get caught in a downpour or the case accidentally gets submerged, the contents will remain dry and usable.
Inside, you'll find materials to care for wounds, blisters, burns, and small fractures, including adhesive bandages, tweezers, pre-cut moleskin, gauze, duct tape, alcohol swabs, ointments, and much more.
PROs

Bright yellow case is easy to locate
Ultralight
Comprehensive first aid kit supplies
Waterproof

CONs

The pre-cut moleskin is too small for most blisters
Bottom-Line: Lightweight, waterproof, well-stocked, and portable to boot. What more could you ask for? Hands down the best backpacking first aid kit out there.
Surviveware Small First Aid Kit
Best for Day Hikes
If you are looking for a small, compact kit for day hikes or overnight camping trips, then the Surviveware is a great option. It comes with over 100 basic first aid essentials but still weighs less than a pound. The case is also small enough to fit inside the lid of your backpack or even in a mesh water-bottle pocket.
The Surviveware case is made with strong, water-resistant polymer material. Inside you'll find all the essentials for treating cuts, scrapes, burns, and blisters including alcoholic and antiseptic wipes, gauze, bandages, splinter probes, sting relief wipes, and stainless steel scissors.
PROs

Internal organizer
Lifetime guarantee
Waterproof
Additional space for customization
Over 100 items

CONs
Bottom-Line: A lightweight, compact kit that's ideal for personal use or day hikes in small groups.
HART Outdoor Day Hike
Best Personal
Looking for a basic, lightweight kit to throw in and leave in your pack in case misfortune strikes on any of your outdoor adventures? If so, the Hart Outdoor Day Hike is a great choice.
This kit weighs just 3.5 ounces and measures a mere 5.5 x 4.5 x 1 inch, so can easily squeeze into a small interior pocket or the lid of your backpack. Despite this, it contains everything you could need for day hikes with a partner or small group.
This includes everything from medications like antacids, aspirin, ibuprofen, acetaminophen, and allergy relief medicine to wound cleansers, topical relief products, gauze, moleskin, and a wide selection of adhesive bandages.
While not as well-stocked as a medium-sized kit like the Adventure Medical Kits Ultralight Watertight 7, this one's a little lighter and a better pick for hikers who like everything to be tidy and well-organized.
All in all, the perfect mini-kit for day hikes or trail running!
PROs

Affordable
Ideal for day hikes
Labeled pockets and loops for organization
Quick Guide gives instructions to treat minor injuries
Contains medications, wound cleansers, topical relief products, gauze, moleskin, a wide selection of adhesive bandages, and more
List of first aid kit contents included

CONs

Not enough supplies for big groups or multi-day trips
Bottom-Line: A basic backcountry first aid kit that's ideal for solo hikers or hiking couples on day hikes.
Adventure Medical Kits Mountain Backpacker
Best for Group Hikes
The Adventure Medical Kits Mountain Backpacker is the perfect choice for group camping or multi-day backpacking excursions.
At 12 ounces, this is a little heavier than the winner of our review, the AMK 7, but contains extra supplies to cater to the (potential) needs of multiple group members. These supplies include bandages, gauze, medical tape, scissors, tweezers, after-bite relief creams, triple antibiotic ointment, and antibacterial pads.
The bag itself isn't waterproof but is burly enough to keep the contents safe and undamaged, and it has a handle on top to make it easy to carry when not stored in your backpack. Each pocket is also labeled so you can keep the contents organized, which makes it easier to quickly find what you need.
PROs

Fold-open design
Lightweight
Extra space allows you to create a custom kit
Zippered mesh pockets make it easy to locate items
Comes with instructions for basic first aid techniques

CONs
Bottom-Line: The perfect pick for camping families or backpacking couples.
First Aid Only Outdoor Kit
Best Value
With 205 pieces of medical kit and tools in total, the FAOK offers great bang for your buck.
The FAOK has a durable nylon case with a fold-open design for added convenience. Inside, a clear plastic liner and multiple pockets help with organization and make it easy to find items.
The assortment of items is impressive given its light weight and relatively low bulk. While not as high quality as the supplies included in pricier kits like the My Medic MyFak or AMK Ultralight 7, it does the job and there's enough there for group day-hikes or longer trips for individuals or couples.
The kit includes a first aid guide, vinyl gloves, sunblock, blister pads, insect sting relief pads, assorted bandages, gauze dressings, antiseptics creams, ointments for burn relief, and more.
PROs

Contains 205 items
Compact
Soft-sided, zippered case
Guide included
Clear pouches make it easy to locate items

CONs

No supplies to deal with a sprain
Bottom-Line: Ideal for camping, small groups of hikers, or long-distance solo hikes.
I Go First Aid Kit
Best Budget
The I Go First Aid Kit is a great kit for day hikers who do the occasional overnighter or hike in small groups.
The I Go contains 85 pieces of medical supplies including first aid essentials like gauze pads, varying shapes and sizes of bandages, medical tape, tweezers, and even an ice pack.
What we love most about the I Go, however, is the packaging. All of the above is housed in a hard carry case that keeps all your supplies clean, dry, and easily accessible. It also comes with a bright red exterior pouch that is easy to see in a backpack or inside your tent.
Despite including ample first aid supplies for a group of 4 hikers, the I Go weighs just 12 ounces and takes up very little room in your pack.
PROs

Lightweight and compact
Good variety of supplies
Plenty of space to add more essentials
Hard case
Water-resistant
See-through pouches make it easy to get what you need

CONs

No pain medication or ointment included
Bottom-Line: This affordable, lightweight kit is more user-friendly than most first aid kits and contains enough supplies for long weekends in the wilds.
Be Smart Get Prepared 326-Piece
Best for Car Camping
Heading to the backcountry for a longer stay? If so, the Be Smart Get Prepared 326-Piece is a shoo-in for your shortlist.
The BSGP meets the OSHA requirements for 100 people, so you'll have all the medical supplies you'd need for at least a month in the wilderness. The contents are housed in a robust plastic container that has burly latches, has an impact-resistant design, along with interior compartments that help keep everything organized and let you find what you need quickly.
Supplies include antiseptic and alcohol pads for cleaning wounds as well as salves and bandages to cover them up and help them heal. There are also supplies to treat burns, sprains, cuts, larger wounds, blisters, and even fractured fingers and limbs, along with common medications to help deal with pain, an upset stomach, and other ailments.
PROs

Impact-resistant design
Durable latches
The interior is well organized
Can be mounted on a wall
Meets or exceeds OSHA and ANSI guidelines
Tilting shelves make it easy to reach larger first aid items located under the top shelf
Wide variety of supplies

CONs
Bottom-Line: Contains everything you need for a long-term adventure, whether that be a week-long trip to the Grand Canyon or a six-month hike on the Appalachian Trail.
My Medic MyFak
Best for Basecamping and Expeditions
If you have a mountain expedition or multi-week camping trip in the pipeline or are just the type of camper for whom only the crème de la crème will do, the My Medic MyFak is ideal.
The MyFak isn't going to win any prizes for affordability, but it is, simply put, one of the top hiking first aid kitsout there. Not only does it contain everything you could need to deal with all kinds of hiking injuries and common medical conditions, but all of the supplies are of far higher quality than you'll find in almost any other option on our list.
The MyFak's case is made with nigh-on indestructible Cordura nylon. It has a heavy-duty handle for easy transportation, a rip-away velcro panel for easy access, and a shoulder strap for standalone use without a backpack.
Inside the pack, there are two separate levels with a near-exhaustive assortment of supplies. This non-standard feature helps to keep things tidy and makes finding equipment easy. There's also a detachable mesh pocket and D-rings and MOLLE-style straps to lash extra items to the pack's exterior.
At 2.1 pounds and measuring 5 x 6.5 x 7.5 inches, the MyFak is too heavy and bulky for backpackers, but its bountiful, high-quality supplies and organization make it ideal for car camping or extended stays at a basecamp.
PROs

FSA/HSA-approved
Heavy-duty case
Nearly exhaustive assortment of medical supplies
Higher-quality items than in other kits

CONs

Pricey!
Too heavy for backpackers
Bottom-Line: A serious pack designed for serious adventures.
Ready America 72-Hour Emergency Kit
Best Survival Kit
The Ready America 72-Hour is designed for two people to use in an emergency or evacuation. While overkill and a little too heavy for regular hiking or backpacking, it's still a good choice for basecamping, cabin stays, or RV camping trips.
This backpack comes with 25 essentials that will help see you to safety in the event of a power outage, natural disaster, or any other emergency. This includes bandages, cleaning pads, medical tape, tweezers, scissors, a light stick, emergency blanket, tissues, a CPR mask, medical gloves, water, and even some 2400-calorie food bars to replenish your energy.
All of this is stored in a bright red backpack that is easy to carry and has plenty of additional space you can use to store snacks and other medical essentials for long-term trips in the wild.
PROs

Enough extra space to store additional items
Enough emergency supplies for 72 hours
Includes 2 first aid kits with high-quality tools
Includes, food, water, shelter, firestarters, and other emergency supplies

CONs

Too heavy for backpackers
Overkill for most camping trips
Bottom-Line: A well-stocked and well-designed "bug out" bag that's the ideal kit for emergency situations.
VSSL First Aid Mini
Best Premium
The VSSL Mini is a little different from the other first aid kits on our list.
Instead of a fabric bag, the contents are housed in a military-grade aluminum cylinder measuring 6.75 x 2 inches. Inside the cylinder, there are four metal tins containing an impressive (and surprising) array of supplies. Each of these tins is also labeled and organizes the items into four categories – 'tools', 'clean-cut and cover', 'outdoor essentials', and 'trail marking'.
The VSSL Mini is more expensive than other kits on our list that have a similar number and array of items, so if you're simply looking for a stockpile of supplies, this isn't a good choice for you. If high-quality supplies, great organization, and an extra-robust, waterproof (and kinda cool-looking) case are your thing, however, it's well worth considering.
The only quibble we have with the VSSL Mini is that there's a lower quantity of some items. However, given its compactness and overall quality, it's hard to hate on it too much for this minor shortcoming.
PROs

Tough waterproof case
Compact
High-quality items
Great organization

CONs

Pricey!
Small quantities of some items
Bottom-Line: High-quality contents in a compact, well-organized, and ultra-secure carry case.
Adventure Medical Kits Adventure 2.0
Honorable Mention
The AMK Adventure 2.0 is, essentially, a streamlined and more portable version of the AMK Mountain Backpacker (above). While the Adventure 2.0 contains fewer supplies, it's around 10 ounces lighter, has a waterproof case, and takes up much less room in your backpack. These kit features make the 2.0 the better of the two for backpacking trips.
The Adventure 2.0 contains a wide array of medications to treat common injuries, sprains, pains, and inflammation, and all of the supplies are stored in handy, injury-specific pockets to lend the user a hand. There's also a manual to give you tips on how to use the supplies properly.
PROs

Lightweight (4 oz.)
Compact
Waterproof
Well-organized supplies
Plenty of space to add more medication

CONs

Only designed for a day hike/weekend trip for one or two people
Bottom-Line: The ideal choice for hikers and backpackers looking for a med kit they can throw in their pack and forget about until it's needed.
Hiking & Backpacking First Aid Kit Buyer's Guide
Common Backpacking and Hiking Ailments and Injuries
To find the ideal first aid kit for your next hiking, camping, or backpacking trip, it's advised to know a few things about injuries and ailments that might occur on the trail and the supplies you'll need to treat them.
Here are a few of the most common medical issues you might have to treat:
Blisters – Blisters are one of the most common injuries sustained by hikers. They occur as a result of friction between your skin and the fabric of your socks, boots, or shoes. The best way to treat a blister is with a moleskin and standard adhesive bandage, though you'll also need some antiseptic cream to avoid infection if the blister bursts.
Sunburn – For any hiker, spending hour upon hour exposed to the sun makes sunburn an inevitability without the right protection. Make sure you carry plenty of high-factor sun cream with you on any hike and pack a tube of aloe to soothe the skin after sunset.
Cuts & Scrapes – These are likely to occur as a result of falls and trips, or when you hike through bushes and rocky areas of the trail. In most cases, these can be treated with an antiseptic wipe, gauze, and adhesive bandage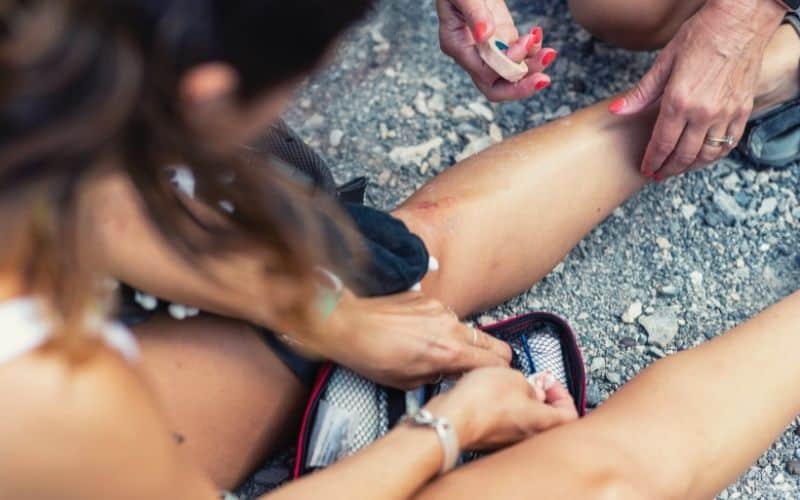 Itching – This can be caused by several things, such as chafing skin (how to prevent chafing), bug bites, or an allergic reaction. Calamine lotion can help soothe any itch, but the best way to prepare for an allergic reaction is to learn how to identify the different types of allergy-inducing flora and steer well clear of them.
Muscle Cramps – If you are not used to walking long distances for days at a time, your body may cramp up along the trail, especially if you don't take the time to stretch. Cramps also often occur as a result of dehydration, so be sure to pack plenty of water and some oral rehydration salts if out in hot temperatures.
Twisted Ankles – Even on well-maintained trails, there are sure to be plenty of rocks and exposed roots that could cause you to twist or sprain your ankle. If this happens, you should wrap the ankle in an elastic bandage, aka an "ACE wrap."
Further Related Reading
If you enjoyed this article, then please consider checking out some of our related guides:
What to Look for in the Best First Aid Kits for Hiking & Backpacking
What makes one first aid kit better for hikers and backpackers than another?
The answer to the above depends on where you plan to hike and the size of your group. Nevertheless, a few more general observations can be made about what makes any kit better suited to life on the trail than another.
First up, it must include enough supplies to treat the number of people in your group for the duration of your trip. While there's no telling how many injuries your group members will sustain, a good rule of thumb is to have one of each item required to treat common injuries or ailments per day.
Secondly, pay close attention to portability, i.e. how easy it is to carry. In most cases, there's a trade-off between weight savings and having ample supplies. However, some kits use burly, bulky, and heavy cases that might be overkill for your needs. The name of the game is finding a kit that has enough items without weighing you down excessively.
Thirdly, make sure the case containing your supplies is trail-worthy. This means it is both waterproof (or at least water-resistant) and robust enough not to spring holes and let your supplies get wet and/or dirty.
Unsure what items a backcountry med kit should contain? Let's take a look at some of the items that should be considered essential.
Essential First Aid Kit Items
Waterproof medical tape
Bandages that differ in size
Butterfly bandages
Gauze
Antiseptic wipes
Anti-inflammatory medication such as Ibuprofen
Anti-diarrhea medication, antacids, and laxatives
Eye drops
Electrolyte tablets to stay hydrated
Tweezers
Safety pins
Splints
Sterile pads
Antihistamine medication such as Benadryl
Antibacterial ointment
Optional Items
Liquid bandages
Aspirin
Aloe Vera
Rehydration salts
Calamine lotion
Moleskin
EpiPen (just in case)
Needle and thread
Trauma shears
For a more complete list check out our spreadsheet of suggested items below or our guide to creating your own first aid kit, which can be found here.
Types of Trips to Prepare For
When choosing a backpacking or hiking first aid kit, it's important to consider how long you will be out on the trail.
For day hikes alone or with one or two partners, we recommend a lightweight, basic kit like the HART Outdoor Day Hike or Surviveware kit.
For multi-day hikes, you'll need a larger kit like the Adventure Medical Kits Mountain Backpacker or the Adventure Medical Kits Ultralight Watertight 7. For a larger group, the First Aid Only Outdoor, Be Smart Get Prepared 326-Piece, or Adventure Medical Kits Adventure 2.0 are better options.
And for long-term, group car camping or hiking trips from a basecamp, we recommend choosing between the My Medic MyFak and Ready America 72-Hour.
It's also wise to do a little research into where you'll be hiking so you can customize your kit. Certain areas, for example, may be rife with poison oak, poison ivy, or mosquitos, so packing cortisone cream and antihistamines would be recommended for these trips.
On backpacking trips, you'll want to be prepared for any eventuality by bringing a full complement of supplies. On day hikes on well-maintained trails close to civilization, you can get away with carrying a smaller number of each essential item.
No matter which of the first aid kits you choose, we recommend taking an outdoor first aid or wilderness medicine (aka 'wilderness first aid') course that provides basic medical training in outdoor contexts. While most of the kits on our list come with basic instructions, these cannot replace medical training.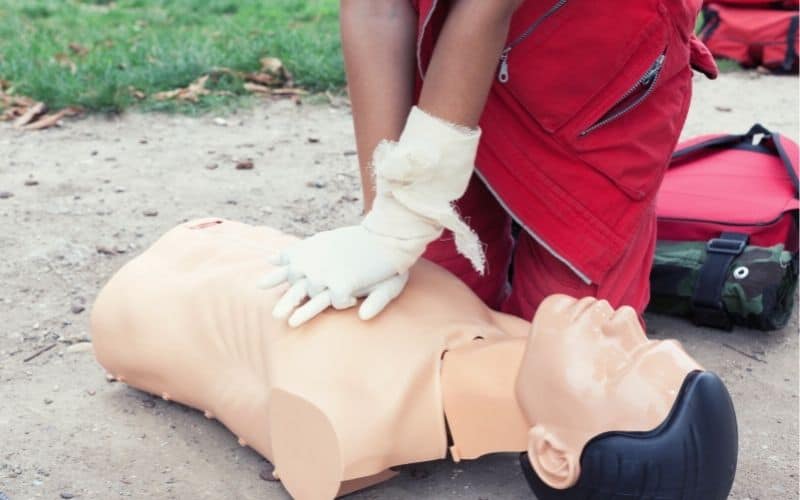 On top of the basic supplies provided, remember to pack any personal medications and use our spreadsheet to identify and add any items that aren't included.
Best Backpacking First Aid Kit: The Verdict
To sum up, here are our top picks per group size and trip type.
For backpackers or day hikers in small groups, our favorite is the Adventure Medical Kits Ultralight Watertight 7. The AMK 7 is lightweight, waterproof, and well-stocked with everything you need to treat the most common trail injuries and medical issues.
For day hikers, our top two picks are the I Go and HART Health Outdoor kits. Both of these kits are cheap but include ample supplies for solo hikers or couples. If you have a larger group, then the Surviveware Small First Aid Kit is a better choice.
For car camping, basecamping, or expeditions, we recommend the My Medic MyFak and Be Smart Get Prepared 326-Piece. The former is the preferred option for large groups on more serious adventures while the latter is a great option for family camping trips.
So, how did you like our post? If you have any questions or comments, please reach out in the comments box below. And please feel free to share this post with your friends!