Let's be real: Staying warm while hammocking ain't easy.
Sure, warm-weather hammock camping trips can be enjoyable affairs, but when the mercury drops, you best come prepared. If you want to be cozy at night while hammocking, that means you need a quality sleeping bag to protect you from the cold.
That said, with dozens of options to choose from, finding the right hammock quilt for your adventures can be a challenge. Since we want you to have a fantastic hammocking experience, we've created this guide to get you started.
Up next, we'll introduce you to 5 of the top hammock-specific sleeping bags on the market. Plus, we've even created a guide to help you choose the perfect model for your needs. Let's get to it!
Editor's Choice
Enlightened Equipment Revelation-H.E. Custom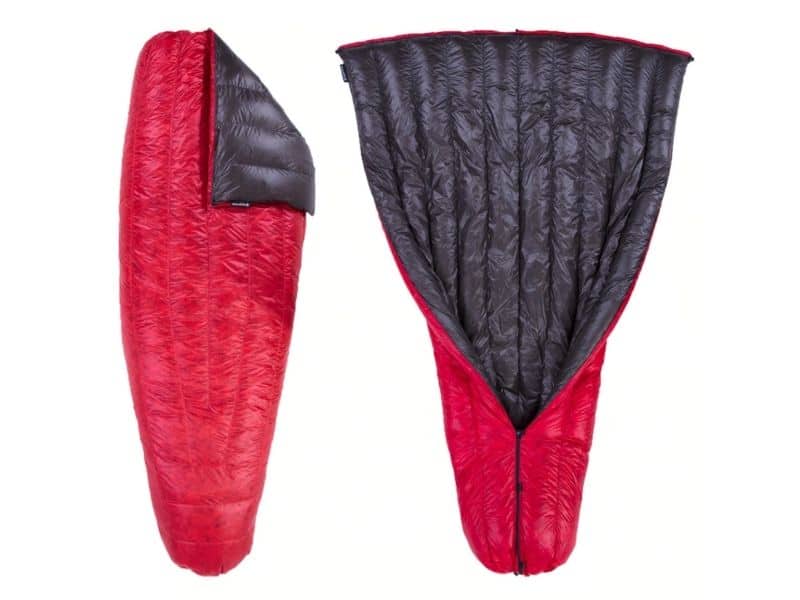 If you need the best sleeping bag for hammock camping, the Enlightened Equipment Revelation-H.E. Custom is what you're looking for.
Built with high-end down insulation and rugged fabrics, the Revelation-H.E. is a reliable choice for any expedition. Plus, it's one of the lightest and most packable options available for hammock camping.
Despite being somewhat pricey, there are few other models that can compete with the Revelation-H.E. in terms of quality and versatility. This makes it a fan-favorite for year-round hammocking adventures in any climate.
Bottom Line: If you can handle a higher sticker price, the Revelation-H.E. Custom is the quilt to have on any hammocking expedition.
RELATED: Check out our reviews of the top camping hammocks with bug nets
The Top Sleeping Bags For Hammock Camping: What To Look For
If you want to stay warm while hammocking, finding the right quilt or sleeping bag is essential. So, here are some of the most important features to consider as you shop.
Sleeping Bag vs Quilt
While we often use the terms interchangeably, sleeping bags and quilts aren't the same thing. In fact, most models designed for hammocking are really quilts. So, it's important that you understand the differences between these two pieces of gear before you buy.
Here's what you need to know:
Sleeping Bag
Sleeping bags are your general, all-purpose sleep solution for hammock and tent camping. That's because they are crafted to wrap completely around your body, insulating you on all sides.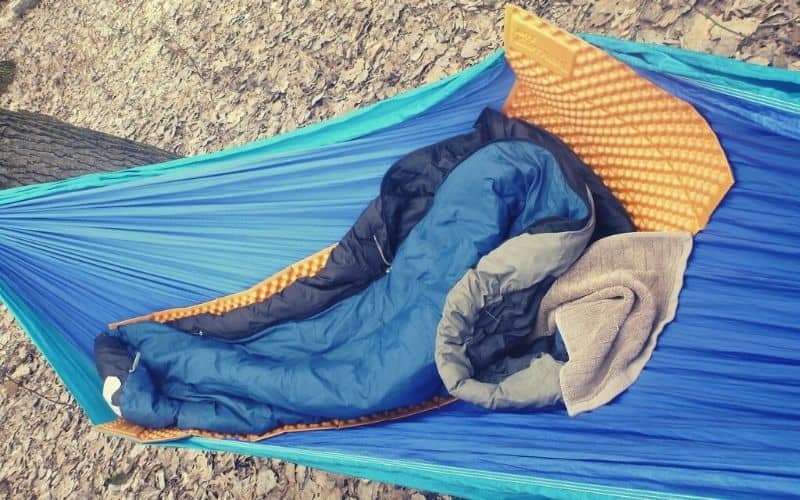 In general, they tend to be slightly heavier and bulkier than quilts because they cover your entire body. However, since a standard bag will insulate your whole body from top to bottom, they tend to be better for use in colder climates.
Since there are many more sleeping bags on the market, you can often get them for cheaper than their quilt counterparts.
RELATED: Our guide to the best hammock rain fly
Quilt
As the name suggests, camping quilts are very similar to the quilt you might snuggle up with at home. However, hammocking quilts are usually made with high-end down and synthetic insulation rather than the cloth you'd find on more traditional quilts.
The key advantage to quilts is that they only cover the top of your body. So, when you're snoozing in your hammock, your quilt simply lays on top of you. In doing so, quilts provide protection from the cold air above you as you sleep in your hammock.
Now, you might be wondering why someone would only want insulation on one side of their body when they could get full-body insulation from a sleeping bag.
Well, the idea is that much of the insulation on the underside of a sleeping bag gets compressed while we snooze. As a result, all that insulating material is just dead weight that drags us down on the trail but doesn't keep us warm at night.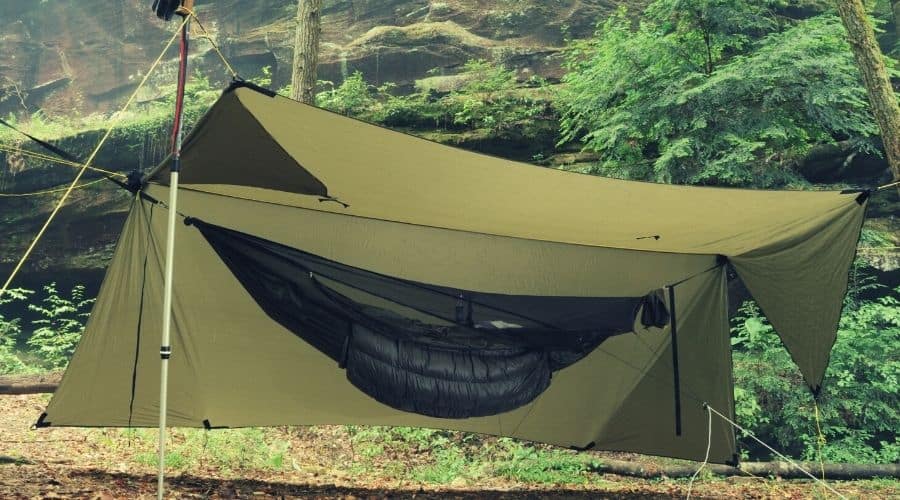 Therefore, quilts try to combat this issue by focusing solely on insulating you from above. Since you can always use sleeping pads to insulate yourself from below, using a quilt helps you save weight and bulk in your pack compared to a bag.
The downside to using a quilt is that they often aren't as warm as a traditional sleeping bag. Furthermore, most quilts are produced by small, "cottage" gear manufacturers, which means they can be quite expensive.
Temperature Rating
All sleeping bags and quilts have a temperature rating. These ratings provide you with a rough estimate of the ideal temperature conditions for a given piece of gear.
However, the specific rating that's right for your needs depends greatly on the conditions that you think you'll experience while camping. In general, it's best to get a bag that's at least 10ºF (6ºC) warmer than the coldest temps you might face at night.
That being said, it's worth keeping in mind that these ratings are guidelines, not hard-and-fast rules. Technically, outdoor gear with temperature ratings is assessed using a test that follows the ISO 23537 standard.
But, this standard simply measures a sleeping bag's ability to retain warmth in a controlled environment.
As a result, the comfort rating you see listed on your gear is a rough estimate and shouldn't be trusted as gospel truth. Instead, be conservative with your gear and opt for a quilt or sleeping bag that's warmer than you think you might need. On a chilly night, you'll be happy that you did.
Down vs Synthetic Insulation
One of the biggest decisions you'll have to make when searching for a hammocking quilt or sleeping bag is whether or not you want a down or synthetically insulated model. While both types of insulation are popular among hammockers, the one you choose will depend on your personal camping style.
In particular, down is a great choice if light-and-fast adventures are your thing. That's because down offers the best warmth-to-weight ratio on the market. It's also highly compressible and packable, so it's the perfect thing for a lightweight hammock-based adventure.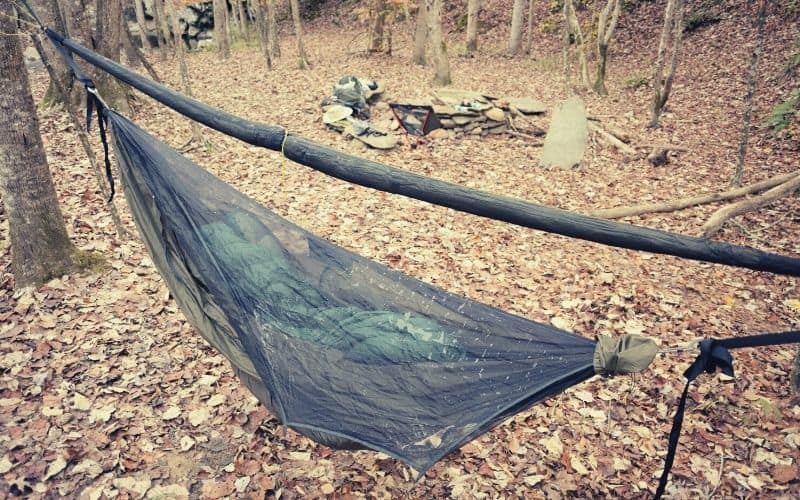 The major drawback to down is that it offers no insulating value when wet. Moreover, down is pretty darn pricey. This is especially true if you opt for high fill power down (e.g., 800 or 900 fill) sleeping bag, which, if shoplifting ain't your thing, will cost you some serious dime.
Thankfully, if down doesn't seem right for you, there is another option: synthetic insulation.
Synthetic is made from spun and wound polyester fibers, which are designed to mimic the insulating qualities of down. Its main advantage is that it provides warmth when wet, which makes it a huge improvement over down. Oh, and it doesn't hurt, either, that synthetic insulation tends to be a much more affordable choice.
Nevertheless, synthetic just doesn't compare with down when it comes to weight savings and packability. Furthermore, synthetic tends to wear out faster than down over time.
Moral of the story? If weight savings are your chief concern, down is hard to beat. Otherwise, synthetic is an affordable option for use in any environment.
Best Sleeping Bag for Hammock Camping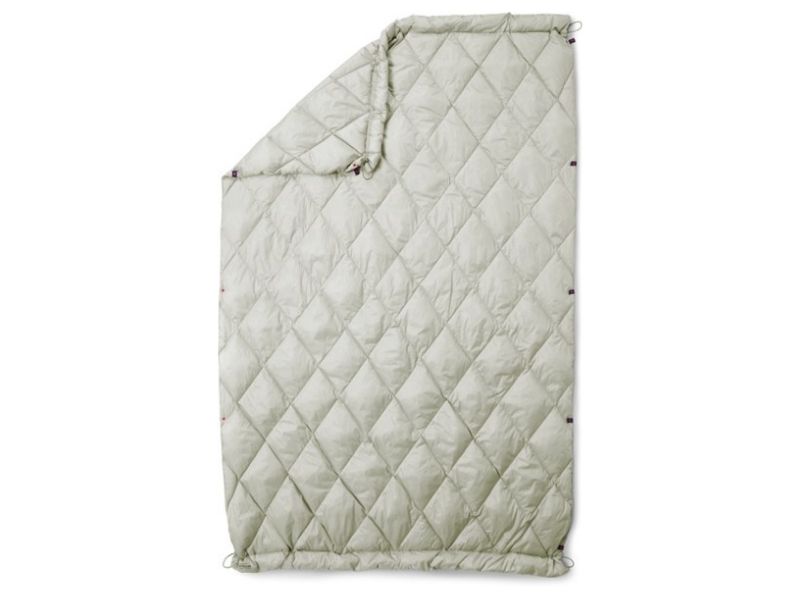 Kammok Bobcat Trail Quilt
Best for Versatility
When it comes to versatility and functionality on the trail, the Kammok Bobcat Trail Quilt is a solid option.
Crafted with water-resistant 600 fill DownTek insulation, the Bobcat Trail is an excellent choice for use in wet and cold weather. Plus, since this down is treated with PFC-free water repellent, it can retain its loft and keep you warm, even when wet.
At the same time, Kammock crafted this hammock top quilt with a set of integrated straps. These straps help the Bobcat Trail stay connected to your hammock sleeping pad to seal out the cold as you snooze.
With an overall temperature rating of 45ºF (7ºC), this quilt is a nice choice for summertime adventures. It even comes with its own conversion kit so you can transform it into an underquilt on particularly chilly nights.
Finally, the Bobcat Trail comes with its own water-repellent stuff sack for simplified travel on the trail. The entire set-up is even protected under Kammock's lifetime warranty so you can be confident in what you buy.
It is worth noting, though, that 600-fill down isn't very compressible. So, this bag isn't ideal for ultralight trips or thru-hiking. However, for summertime backpacking where comfort and warmth are key, it's hard to go wrong with the Bobcat Trail.
PROs

Made with DownTek for water-resistance
Integrated straps for attachment to a sleeping pad
Can convert into a hammock underquilt for added warmth
Relatively affordable for a down bag
Comes with a lifetime warranty

CONs

45ºF (7ºC) temperature rating isn't suitable for winter conditions
600 fill down isn't very compressible
Bottom-Line: The Kammok Bobcat Trail Quilt is a sure bet for hammock campers that need a versatile 3-season sleep system in the mountains.
OneTigris Featherlite Ultralight Quilt
Best Value
Perfect for hammock campers on a budget, the OneTigris Featherlite Ultralight Quilt is an amazing addition to any hammock sleep system.
Featuring a 20D ripstop nylon shell, this model from OneTigris is a heavy-duty choice for regular hammockers. The interior of this 3-season bag is even made with a soft polyester ripstop lining for added comfort at night.
It also offers a thick layer of 180g/m2 synthetic fill to trap in your body heat for extra warmth, even in damp conditions. With a temperature rating of 41ºF (5ºC), this quilt is best for 3-season use. At the same time, it has a 6.5-foot length, which makes it an ideal choice for campers over 6 feet tall.
If that wasn't enough, OneTigris also designed this model with an expandable foot box. As a result, it can be used both as a top quilt while hammocking and as a regular sleeping bag while tent camping.
Nevertheless, one of our concerns with this quilt is that its 180g/m2 synthetic insulation isn't particularly compressible. Furthermore, despite its name, the Featherlite Ultralight is fairly heavy. But, if cutting costs is a priority, this model is tough to beat.
PROs

Affordable price point
Durable 20D ripstop nylon shell fabric
Synthetic fill insulation is great for wet environments
Longer length is ideal for tall campers
Expandable foot box makes it suitable for tent-based adventures, too

CONs

Synthetic fill isn't very compressible
Heavy pack weight (2lb 3.2oz) for a summerweight model
Bottom-Line: If affordability is your chief concern, the warmth and durability of the OneTigris Featherlite Ultralight Quilt make it worthy of your consideration.
Eagles Nest Outfitters Spark TopQuilt
Best for 3-Season Camping
Dreaming of summertime hammocking adventures? The Eagles Nest Outfitters Spark TopQuilt might be just what you're looking for.
One of the highest-rated 3-season models on the market, the Spark is made from 160g recycled synthetic insulation for warmth on chilly summer nights. It also boasts a dual-layer quilted construction that's designed to minimize cold spots in your hammock pod in temperatures down to 40ºF (4ºC).
Meanwhile, the extended length of the Spark means that it's big enough for campers over 6 feet tall. Additionally, it features a convertible toe box design that allows it to be used either as a quilt, blanket, or sleeping bag.
Oh, and as an added benefit, the entire Spark TopQuilt is made from bluesign-approved and recycled fabrics. That means you can enjoy your hammocking adventures without compromising your values or the environment.
Although the Spark is a superb choice, it does have its drawbacks. In particular, it's worth noting that ENO's warranty only lasts for 2 years, which is a bit short compared to the competition. This model is also somewhat bulky for a 3-season sleeping bag, so keep that in mind as you shop.
PROs

Made from 160g recycled synthetic fill
All materials are bluesign-approved
Longer length is ideal for taller campers
Dual-layer construction helps eliminate cold spots
Convertible toe box can also serve as a traditional sleeping bag

CONs

Relatively bulky packed size
ENO's warranty is limited to just 2 years
Bottom-Line: Made specifically to keep you warm at night in 3-season conditions, the ENO Spark TopQuilt is one of the best sleeping bags for hammock camping on the market.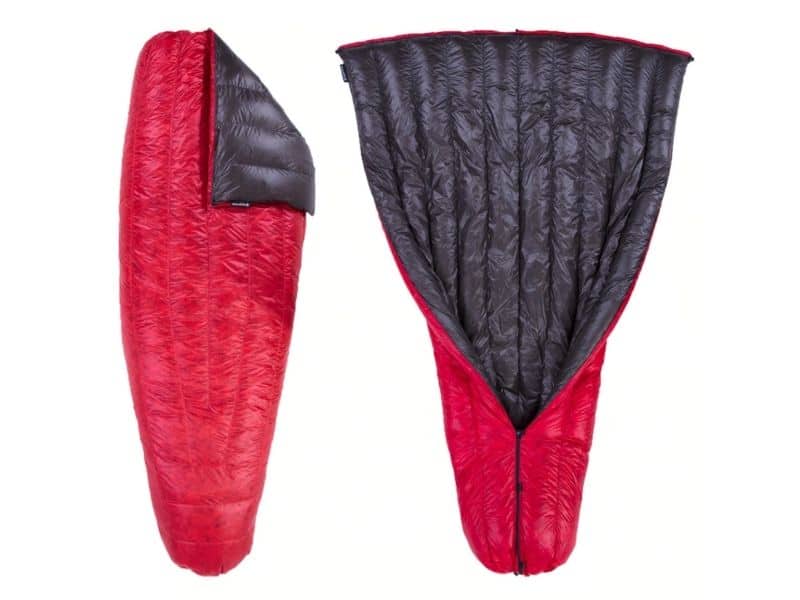 Enlightened Equipment Revelation-H.E. Custom Sleeping Bag
Editor's Choice
Our number one pick for the best sleeping bag for hammock camping, the Enlightened Equipment Revelation-H.E. Custom is a high-quality model for campers that won't settle for second best.
Unlike many of the other options on the market, this quilt is designed to be fully customized to meet your needs. With the Revelation-H.E., you have a choice of temperature ratings from 0º to 50ºF (-17ºC to 10ºC), making it a perfect choice for either warm- or cold-weather camping.
Furthermore, with this model, Enlightened Equipment lets you choose what down fill power you want in your bag. You can opt for a more economical 850-fill or a premium 950-fill insulation for ultralight adventures.
Feature-wise, the Revelation-H.E. doesn't disappoint. It's made with Responsible Down Standard-certified fill to lessen your impact on the environment. Moreover, the bag has a DWR-treated nylon shell for enhanced water-resistance.
Plus, Enlightened Equipment specifically engineered this quilt-cum-sleeping-bag with weight savings in mind. To do so, they included only the most functional of features, like a built-in drawcord to seal out cold drafts for added warmth.
Overall, while the Revelation-H.E. isn't the most affordable bag available, when it comes to quality, it's hard to top.
PROs

Fully customizable design
Uses only Responsible Down Standard-certified down insulation
Ultralight design for remote adventures
Drawcord can be used to trap in body heat

CONs

One of the more expensive quilts for hammock camping
Bottom-Line: Whether you want a super-warm bag for 4-season use or a compact bag for ultralight hiking, the Enlightened Equipment Revelation-H.E. Custom is a wonderful choice.
Outdoor Vitals Summit Sleeping Bag
Best Bag for 4-Season Camping
Last but not least, if 4-season camping is your "bag", the Outdoor Vitals Summit is one of the best hammock sleeping bags to have on your gear list.
Specifically designed for cold-weather pursuits, the Summit Sleeping Bag comes in a wide range of warmth ratings down to -15ºF (-26ºC). Furthermore, Outdoor Vitals engineered this model out of 800 fill power StormLoft down for maximum packability.
To ensure that you stay warm in cold temps, the Summit mummy sleeping bag also boasts full baffling around the shoulders. This helps to prevent insulation from clumping up, thereby minimizing cold spots that affect your warmth at night.
For wintery climates, the down insulation in this mummy-style sleeping bag features a DWR treatment for water-resistance. The Summit bag is also made from a high-quality DWR-treated ripstop polyester fabric, making it ideal for use in wet terrain.
That being said, high-end four-season models like the Outdoor Vitals Summit don't come cheap. But, if you're willing to invest in quality gear for your hammocking adventures, this is one sleeping bag that ought to be on your radar.
PROs

Made with water-resistant StormLoft down
Durable 10D ripstop polyester shell fabric
Full baffling to eliminate cold spots
Available in temperature ratings down to -15ºF (-26ºC)
Lightweight and highly compressible

CONs

Fairly pricey
Mummy-style construction is a bit bulkier than a quilt
Bottom-Line: When winter hammock camping trips are your go-to, it's hard to imagine a better mummy-style bag than the Outdoor Vitals Summit Sleeping Bag.