A high-quality sleeping pad is one of the most important items of outdoor gear you can have. The perfect sleeping pad will not only shave a few valuable ounces off your backpack weight, but it will also help to keep you warm, comfortable and to enjoy a good night's sleep.
To help you find the best sleeping mat for your camping adventures, we've created a list of our top eleven picks for 2023. We've also included a detailed buyer's guide that will provide all the info you need to make the right choice. Whether you're looking for a lightweight inflatable sleeping pad, a backpacking air mattress, or a beefy, insulated model for cold-weather camping, our guide to our favorite sleeping pads has got you covered!
Editors Choice
Therm-a-rest NeoAir XLite
The Therm-a-rest NeoAir XLite beats the competition to be our top pick for the best sleeping pad due to its great across-the-board stats.
With an R-value of 4.2, yet weighing a sleek 12.5 ounces, it has one of the best warmth-to-weight ratios of all the pads we've reviewed. This makes it a great choice for 3-season backpacking adventures.
Furthermore, the Therm-a-Rest's new Winglock Valve design and the included pump sack make setup quick and easy. Whilst the 2.5" thick horizontal baffles create a comfortable and supportive sleeping platform.
If we're going to be picky, the NeoAir Xlite is one of the noisier air pads we tested, and care should be taken with the 30D ripstop HT nylon.
Bottom-line: The Therm-a-rest NeoAir XLite narrowly beats runner-up NEMO Tensor to win the top prize with its great warmth-to-weight, packability, and overall comfort.
At A Glance: Sleeping Pad Quick Recommendations
Best Sleeping Pads: Our Top 11 Picks
The best backpacking pads for sleeping protect you from the hard ground, keep your body insulated & pack down small and light. There are a wide variety of different types of sleeping pads to suit any preference or budget. It's important that you get the best possible sleep while on an outdoor adventure so we've put together our top picks below.
Therm-a-Rest NeoAir UberLite
Best Ultralight
For those of an ultralight persuasion, the Therm-a-Rest NeoAir Uberlite warrants your attention. It is the lightest sleeping pad we tested, weighing an insane 8.8 ounces (250g). Combined with a packed size that's not much larger than a regular soda can (3.6" x 6") and you've got a great lightweight pad for long backpacking trips.
Despite the tiny weight, the Uberlite is a comfortable sleeping pad thanks to its 2.5" thickness and the support offered by the horizontal baffle structure. It's easy to inflate with Therm-a-Rest's new Winglock valve design and the included pump sack.
The reduced weight and size does come at a cost in the form of warmth and durability. With an R-value of 2.3, this mat doesn't do much to retain body heat and is for summer adventures only. To shave off weight the fabric is a 15D nylon, the thinnest we've encountered, which made checking for sharp objects a priority when setting up camp. It does come with a repair kit and you always have Therm-a-Rest's lifetime warranty to back you up.
Category: Air
Shape: Mummy
R-Value: 2.3
Weight (regular): 8.8 oz (250g)
Thickness: 2.5 "
PROs

Ultralight at 8.8 ounces
Tiny packed size
Great comfort & support
Quietest NeoAir model

CONs

Not great in low temperatures
Thin materials
Bottom-Line: If you need an ultra-lightweight sleeping pad for some summer backpacking, then the 8.8 ounce Therm-a-Rest NeoAir Uberlite is our top pick.
Therm-A-Rest NeoAir XLite
Editors Choice
We try not to be biased by specs before we get our hands on a product, but we're only human. The Therm-a-Rest however did not disappoint and lived up to its excellent across-the-board specifications earning it the top title of best backpacking sleeping pad on our list.
While the NeoAir Xlite is nearly 50% heavier than the Uberlite, it still sits pretty as the second lightest inflatable pad on our list at 12.5 oz (360g). This extra weight results in a higher R-value of 4.2 making it second only to the NeoAir Xtherm in terms of Warmth-to-Weight ratio.
It features the same baffled internal structure and 2.5" thickness you see on other inflatable Therm-a-Rest pads – all of them are extremely comfortable and support all the right areas.
While not the most durable pad on our list, the 30D rip HT nylon is a step up from the Uberlite and provides ample protection, as long as you are careful with clearing your sleeping area.
A common complaint against Therm-a-Rest pads is that they are noisy, and the NeoAir Xlite is probably the worst offender in their NeoAir line of products. The noise does diminish over time but if you're a light sleeper then be warned.
Category: Air
Shape: Mummy
R-Value: 4.2
Weight (regular): 12.5 oz (360g)
Thickness: 2.5"
PROs

Great Warmth-to-Weight
Lightweight at only 12.5 oz
Comfortable & supportive
Great all-rounder

CONs

Noise can be annoying
Expensive
Bottom-Line: The Therm-a-Rest NeoAir Xlite wins the best backpacking sleeping pad award with great metrics across the board.
NEMO Tensor Insulated
Runner Up
The NEMO Tensor was a strong contender for the top spot, and if you're looking for a thicker, cheaper, and quieter option than the Xlite then the Tensor may be a better fit for you.
The Tensor is 3" thick, making it one of the thicker options on our list. This helps provide more comfort and prevent contact with the floor, particularly for side sleepers. Despite the thicker cushioning, it weighs in at a reasonable 1 lb 1 ounce and has one of the smallest pack sizes on our list at 0.9 liters.
It's not the lightest, compared to the NeoAir Xlite (4 ounces lighter) and the NeoAir Uberlite (9 ounces lighter) but still well within the realms of "lightweight".
In addition to its comfort, the Tensor has the best valve/pump sack setup we came across. The Vortex™ pump sack easily connects to the Laylow™ zero-profile valve and will quickly inflate.
To help reduce the weight, yet provide the extra thickness, NEMO has chosen to go with a 20D PU polyester fabric which means it's not as durable as most of the other pads on our list.
Category: Air
Shape: Mummy/Rectangular
R-Value: 3.5
Weight (regular): 1 lb 1 oz (490g)
Packed vol: 0.9 liters
Thickness: 3"
PROs

Small pack size & lightweight (490g)
Thick (3") and comfortable
Easy to set up with Vortex™ pump sack
Reasonable price for a top-end model
Quiet

CONs

Thinner more delicate material
Heavier than Xlite
Not as warm as Xlite
Bottom-Line: If you're a side sleeper or want a little more cushioning and comfort on the trail at the expense of carrying a few extra ounces, then the NEMO Tensor is a great cheaper alternative to our top pick, the Therm-a-Rest NeoAir Xlite.
Therm-A-Rest NeoAir XTherm
Best Warmth-to-Weight
Therm-a-Rest once again takes home the gold for best winter pad & the best warmth-to-weight ratio with the NeoAir Xtherm. The ThermaCapture™ reflective lining and the Triangular Core Matrix™ construction help the Xtherm achieve a lofty 6.9 R-value whilst the weight is kept below a pound (15 ounces to be precise). This makes the Xtherm lighter than our runner-up, the NEMO Tensor, but packing nearly double the R-value (Tensor has an R-value of 3.2 compared to the XTherm's 6.9).
The Xtherm also uses some of the thickest weave materials we saw with the base consisting of 70D Nylon (with a 30D rip HT nylon top cover) making it one of the more durable pads around.
This 4-season pad packs down to a reasonable 9" x 4" which beats out many of the 2- and 3-season pads we reviewed – however, doesn't quite compete with the top 3-season pads like the Tensor and the Xlite.
It comprises the same insulated baffle and horizontal cell design as its contemporaries in the NeoAir line. All of these pads pack 2.5" of thickness and are widely touted for being comfortable sleeping pads. However, like the Xlite and Uberlite, the Xtherm does suffer from being noisy.
The biggest drawback to the WTherm is that for most trips the R-value is overkill, and for most backpackers, you can find a more suitable (3-season) pad for a cheaper price.
Category: Air
Shape: Mummy
R-Value: 6.9
Weight (regular): 15 oz (430g)
Thickness: 2.5"
PROs

Incredible Warmth-to-Weight ratio
Great weight & packed size for a 4-season pad
70D bottom material adds durability

CONs

Overkill for most trips
Price
Bottom-Line: Backpackers looking for a great winter option will struggle to find a better warmth-to-weight ratio than with the Therm-a-Rest NeoAir Xtherm.
NEMO Switchback
Best Closed Cell Foam Pad
There is no better closed-cell foam pad on the market right now than the NEMO Switchback. It is thicker and packs down substantially smaller than its nearest competitor, the Therm-a-Rest Z-lite Sol (which didn't make our list), and we found it to hold up to wear and tear on the trail better too.
The Switchback comprises closed-cell foam with a low-emissivity thermal reflective film to bring the R-Value up to a respectable value of 2. While at just 0.9" thick it's not the most comfortable of pads despite its dual foam density design – but if you're after a foam pad, comfort is not your most pressing concern.
The folding panel design weighs 10.5 ounces (300g) and packs down to 20" x 5" x 4", making it more suitable to attach to the outside of the pack. As mentioned above though, this is still a smaller pack size than many other foam sleeping pads, reducing the risk of snagging or bumping it off passing branches.
The downsides of the Switchback are common to all foam pads — they simply can't compete with inflatable pads for comfort & it is only suited for summer trips (as a primary pad).
Category: Closed Cell Foam
Shape: Rectangular
R-Value: 2
Weight (regular): 10.5 oz (300g)
Thickness: 0.9"
PROs

Great, affordable price
Durable
Easy to Use
Can be used as a camp sit pad

CONs

Not very comfortable
Summer use only (as a primary pad)
Large pack size means it needs to be strapped to your pack
Bottom-Line: If you're traveling fast & light and want a cheap closed-cell foam option then the NEMO Switchback is our pick for the top foam sleeping pad.
Klymit Static V2
Best Budget
The Klymit Static V2 is not a star performer in any metric, but it is one of the best sleeping pads we've come across at such a low price point — making it our top budget pick.
Comfort-wise the unique V-shape baffles and 2.5" thick air chambers do a decent job of supporting your body, particularly at the key pressure points around the shoulders and hips.
Klymit also has added side rails to prevent you from slipping sideways off mid-slumber.
The V-shape baffles, while unique, are not as comfortable as the horizontal baffles found on the NeoAir line and the difference in thickness can be felt as compared to the NEMO Tensor or the Big Agnes Q-Core SLX. If you're a side sleeper then the baffles may not keep you from bottoming out.
The pad's outer fabric is made from 30D/75D polyester (top/bottom respectively) and after some testing (including by our resident 3-year-old backpacker in training) we found it to be the most durable air pad to make our shortlist.
Despite the heavier materials the Static V2 weighs a very respectable 1 lb (454g) and packs down to 3" x 8". The main drawback for the V2 is its low R-value of only 1.3, making it only suitable for milder nights in the summer.
Category: Air
Shape: Rectangular
R-Value: 1.3
Weight (regular): 1 lb (454g)
Thickness: 2.5"
PROs

Great value
Wider than most regular pads
Durable air pad

CONs

Low R-value
Older valve design
Can bottom out when moving
Bottom-Line: If you need a cheap and durable pad for the occasional backpacking or car camping trip during the summer, then the Klymit Static V2 is a great budget-friendly sleeping pad. 
Sea to Summit UltraLight Insulated
Sea to Summit has a reputation for producing comfortable inflatable sleeping pads, and the Ultralight Insulated is no exception. The 2 " thick cushioning provided by the single layer of airsprung cells™ provides great comfort for the weight and despite the apparent lack of thickness (the NeoAir line are 2.5" thick and Big Agnes's sleeping pads are over 3.25" thick).
It weighs in at a respectable 1 lb 1 oz, sticking it firmly in the middle of the pack, but has a bulkier packed volume of 3.1 L making it the largest (packed) inflatable option on our list.
With a 3.1 R-Value, it's on the cusp of being suitable for shoulder season trips, however, we'd recommend a warmer model if you sleep cold and are expecting chillier spring or fall nights.
Overall, the Sea to Summit Ultralight Insulated is a respectable offering but there are better options available if you are willing to part with a little bit more cash e.g. the RRP of the NEMO Tensor is only marginally higher but is a much better option all around.
Category: Air
Shape: Mummy
R-Value: 3.1
Weight (regular): 1 lb 0.9 oz (480g)
Thickness: 2"
PROs

Very comfortable
One of the more durable pads
Good valve system
Affordable

CONs

Not a stand out in any category
Large packed size
Bottom-Line: The Sea to Summit Ultralight Insulated is a thin, but comfortable pad that is in the running thanks to its lower price point compared to other premium air pads but doesn't stand out in any one category.
Big Agnes Insulated Q-Core SLX
Best for Side Sleepers
Setting up the Big Agnes Insulated Q-Core SLX instantly our first impression was how thick it is compared to other pads. Measuring 3.5 " thick with 4.25 " side rails, the offset I-Beam construction of this inflatable sleeping pad provides sufficient cushion to keep even the heaviest of side sleepers happy.
As with the Sea to Summit Ultralight Insulated, the SLX has a respectable 3.2 R-Value which should see you through the summer season but may not be sufficient for 3-season adventures, particularly if you sleep cold. The Q-Core SLX does come in a Deluxe version, which has an improved 4.3 R-value, but will add an extra 7 ounces to your backpack.
A great feature of all Big Agnes inflatable sleeping pads is the variety in sizing that is available. There are three different lengths on offer (66", 72" or 27") and widths (20", 25" or 40") — the widest of which is into double pad territory for couples.
Where the SLX slips behind the competition is its middle-of-the-road weight at 1 lb 2 ounces. This isn't terrible, but combined with an R-Value of 3.2 this means it's one of the poorer warmth-to-weight inflatable sleeping pads on our list.
Category: Air
Shape: Rectangular
R-Value: 3.2
Weight (regular): 1 lb 2 oz (510g)
Thickness: 3.5" (4.25" rails)
PROs

Thick and comfortable
Rails help keep you centered
Available in multiple sizes
Good packed size

CONs

Lower Warmth-to-Weight
Middle of the road weight
Bottom-Line: Thanks to its thick sleeping platform, the Big Agnes Insulated Q-Core SLX is one of the most comfortable sleeping mats, and the best sleeping pad for side sleepers, in our tests.
Sea to Summit Comfort Plus Insulated
Most Comfortable
When it comes to the most comfortable sleeping pads then the clear winner falls to the Sea to Summit Comfort Plus Insulated. The 2.5" thick sleeping platform is certainly not the thickest on our list, but it's the two separate layers of airsprung cells™ that take sleeping pad comfort to a whole other level.
You do pay a weight penalty for this extra comfort with it weighing 1 lb 13.8 ounces, making it 13 ounces heavier than the S2S Ultralight Insulated which only contains a single layer of the same technology.
The extra weight does also mean some extra insulation, and the Comfort Plus insulated has a respectable R-Value of 4. However, when looking at warmth-to-weight, this does mean it's one of the poorer performing pads on our list.
It also has the largest pack volume (at 2.9 liters), making it nearly double the size of the Big Agnes Insulated Q-Core SLX which has similar levels of comfort.
Category: Air
Shape: Mummy
R-Value: 4
Weight (regular): 1 lb 13.8 oz (854g)
Thickness: 2.5"
Packed Volume: 2.9 liters
PROs

Very comfortable
Quieter than the competition
Warm
Stable & supportive

CONs
Bottom-Line: Thanks to its two separate layers of airsprung cells™ the Sea to Summit Comfort Plus Insulated tops our list for sleeping pad comfort but it is heavy and bulky to boot. Would advise it is more suited for shorter trips or as a car camping/backpacking pad hybrid.
Big Agnes Insulated Air Core Ultra
Best Value
If you are looking for a great mat at a reasonable price, then the Big Agnes Insulated Air Core Ultra is worth a look. The Air Core Ultra is around half the price of the top premium pads.
Whilst not quite as thick as the SLX at 3.25 " (3.5 " on the side rails), its I-beam baffle construction offers a stable and comfortable sleeping platform. Combine that with a 4.5 R-value and you've got a comfortable and warm model that will see you through most of the year and at a great price.
Like all Big Agnes pads, the Air Core Ultra comes in 3 different lengths and 3 different widths making it easy to find the right sleeping pad dimensions to suit your body and your sleeping style.
At a weight of 1 lb 6 oz, it's heavier than its competitors (bar the Comfort Plus) but does pack down to a reasonable 1.6 liters pack volume.
Category: Air
Shape: Rectangular
R-Value: 4.5
Weight (regular): 1 lb 6 oz (626g)
Thickness: 3.25" (3.5" rails)
Pack Volume: 1.6 liters
PROs

Very affordable
Good thickness and side rails
Great R-value
Packs small
Variety of size options

CONs

Heavy
Vertical baffles not as comfortable as box/horizontal ones
Bottom-Line: If you don't have the budget for one of the premium pads, then the Big Agnes Air Core Ultra is a comfortable and warm option that won't break the bank.
Therm-a-Rest ProLite Plus
Best Self-Inflating Pad
For those wanting a little more reliability than an air pad, but more comfort than foam can offer, then we'd recommend the classic Therm-a-Rest ProLite Plus. The ProLite Plus uses 50D mini-hex ripstop polyester making it one of the most durable on the list, but even if you did get a puncture the 1.5" of diagonal cut foam will ensure you're never sleeping on the floor.
Therm-a-Rest's classic & popular self-inflating design was recently updated with the addition of their new Winglock valve technology making it even easier to find the right firmness by adding/removing air. At 1.5" thick though, it is not going to be the most comfortable of pads to sleep on when compared to options such as the SLX or Comfort Plus.
The ProLite Plus stacks up with an R-Value of 3.2 making it a good choice for all but the chilliest of shoulder-season camping. While at an incredible 16 ounces, it is one of the lightest self-inflating pads available.
The downside to owning a self-inflating pad is of course the trade-off you'll make with packed size. At 6.5 liters when packed, it's going to take up a lot of room in your backpack and is not that much smaller than the foam NEMO Switchback.
Category: Self-Inflating
Shape: Mummy
R-Value: 3.2
Weight (regular): 1 lb (454g)
Thickness: 1.5"
PROs

Price
Self-inflating
Durability

CONs

Thickness
weight & packed size
Bottom-Line: If you need durability but want more comfort than foam, the classic Therm-a-Rest ProLite Plus is the best self-inflating pad on the market.
Backpacking Sleeping Pad Buying Advice
Sleeping Pad Types
Air Pads
Air pads work like inflatable mattresses but are refined to suit the demands of life on the trail. They are lightweight, easy to inflate and deflate, and durable enough for long backpacking trips. For these reasons, air sleeping pads are one of the most popular choices for backpackers.
Air Pads Pros:
Lightweight: Inflatable sleeping pads are often between 1/2 to 1 pound in weight
Packed Size: Packing down to the size of a nalgene bottle (or smaller) is the norm, making it easy to store them in your backpack
Comfort: Provide the most thickness, and the firmness can be customized by releasing or adding air
Air Pads Cons:
Overnight Deflation: Slow punctures and poor valve design can mean a loss of air overnight. The result? The feeling of bottoming out when you move.
Noise: Certain pads/brands are worse than others, but movement can result in an annoying crinkly/crackly noise.
Expensive: Most air pads are upwards of $150 or more.
Durability: Be wary of sharp sticks & rocks around the campsite which could lead to punctures.
Mold: Using lung power to inflate your pad introduces moisture from your breath, which can degrade its performance or result in mold issues.
Self Inflating Sleeping Pads
Self-inflating sleeping pads use a combination of open-cell foam and space for the pad to inflate with air. The first self-inflating mattresses were introduced to the market by Therm-a-Rest in 1972. A common sight a decade ago, their popularity has diminished somewhat. However, for backpackers looking for a combination of durability and comfort, then self-inflating pads are the way to go.
Self-Inflating Pad Pros:
Durability: Self-inflating pads are more puncture resistant and offer some padding if it deflates
Insulation: Thanks to the combination of closed-cell foam & air, they have R-values suitable for 3-season backpacking
Comfort: Not as comfortable as an inflatable pad, but thanks to the closed foam, more comfortable than a deflated inflatable pad.
Self-Inflating Pad Cons:
Packed Size & Weight: The foam adds weight and bulk, making them heavier and bigger than air pads when packed down
Thickness: Side-sleepers may not find them the most comfortable as they are thinner than air pads
Closed Cell-Foam Pads
Closed-cell foam sleeping pads, as the name suggests, are made of closed foam cells. Closed-cell foam pads are a popular choice for thru-hikers because of their versatility and lightweight design.
Closed Cell Foam Pros:
Durability: Closed-cell foam is puncture-resistant, durable, & weatherproof
Lightweight: Normal to weigh less than a pound, and even less if you opt for one that only covers your torso
Closed Cell Foam Cons:
Comfort: The least comfortable option of the three due to their "rigidness" and lack of thickness
Insulation: Thinner, with less insulation, closed-cell foam pads have low R-values making them only suitable as your primary pad for summer trips
Packed Size: These pads fold down, rather than pack and have the largest packed size. As a result, it's necessary to strap them to the outside of your pack.
Pro-Tip: Closed cell-foam pads are great secondary pads for winter camping. Slip one under your main pad to add extra insulation for a warmer night's sleep.
Sleeping Pad R-Value: How Much Insulation Do You Need?
The primary function of a sleeping pad is to provide a layer of insulation between your body and the cold ground. When combined with your sleeping bag you should stay warm through the night. Sleeping pad R-values are the industry's measure of how much insulation a pad provides, and should be considered together with the comfort rating of your sleeping bag.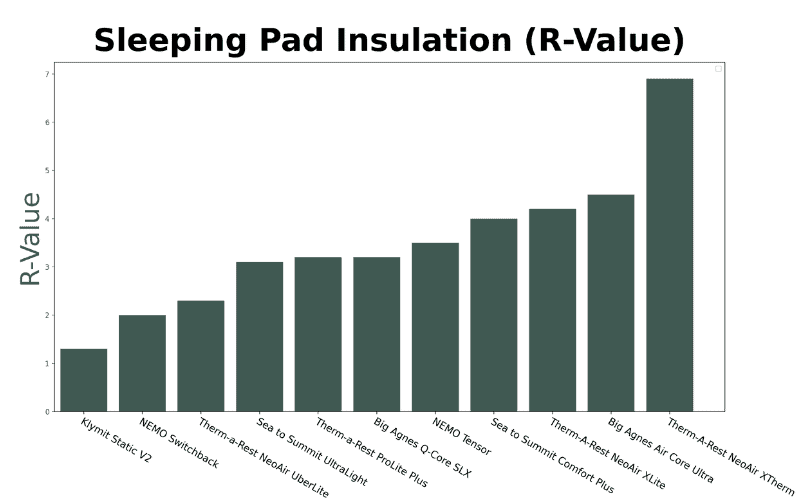 The higher the R-Value number, the more insulation the pad will provide against the cold. In our review sleeping pads range from the Klymit V2 with an R-value of 1.3 suitable only for warm-weather backpacking, to the Therm-a-Rest NeoAir Xtherm with an impressive 6.9 R.value rating.
Why is a sleeping bag on its own not enough? A warm sleeping bag loses much of its effectiveness as the bottom insulation is compressed under you by your body weight. This compression reduces the loft and with it your bag's ability to stay warm on the underside.
Unlike the EN ratings for sleeping bags, R-values don't instantly "translate" into a temperature but we would recommend the following values:
Summer backpacking: 1 to 3
3-Season backpacking: 3 to 5
Winter camping in snow: 5+
The values above are a rough rule of thumb and should be used in combination with sleeping bags rated for the worst weather conditions you expect to face. If you are a cold sleeper then we would recommend you get a pad with a higher r-value.
One thing to note is that R-values "stack" i.e. placing multiple pads on top of each other is the equivalent of adding their R-values together. If you go backpacking all year, rather than buying an expensive pad for each season, you can opt for a good 3-season option & purchase a cheaper pad to slip underneath. Many backpackers opt for a foam mat together with an inflatable pad.
A word of caution. Always prioritize warmth over weight, and select a pad that will do its primary function well.
Talk to any backpacker about sleeping pads for camping, and warmth to weight is a term that will crop up. Ever obsessed with weight reduction, warmth-to-weight indicates how efficient a pad is at keeping you warm for its overall weight.
The overall leader in this sub-category is the Therm-a-Rest NeoAir Xtherm, which with the warmest R-Value of 6.9 is also an impressive 15 ounces.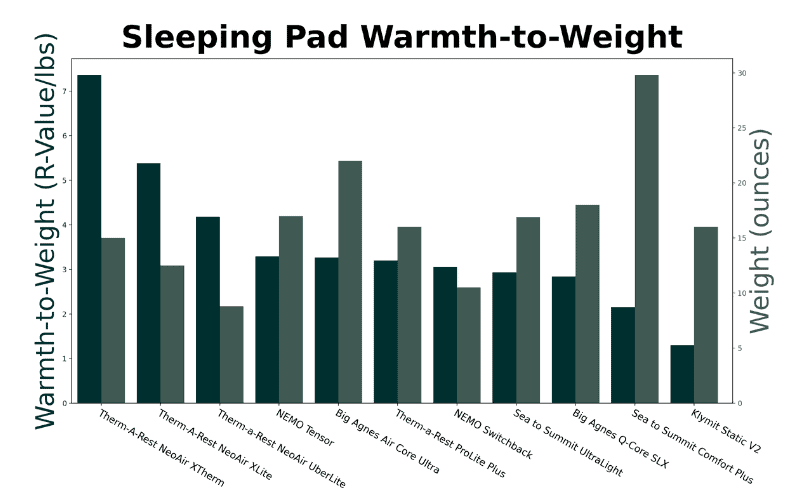 Some new sleeping pads are rated based on a new standardized ATSM International test. The test gives more accurate and reliable ratings, although, unfortunately, it is not commonplace yet.
The test involves sandwiching the pads between a hot plate and a cold plate, which mimics your warm body, and the cold ground.
For the pad to stay at a consistent 35 degrees Celcius, testers measure how much energy the top plate uses. The less energy used to keep the pad at 35c, the more insulated it is.
Thickness and Comfort
Thickness and comfort are important, but there is a balance to be struck against weight. While the design of backpacking sleeping pads is constantly improving, they are less plush and thinner than a heavier camping mattress.
It's important to find one that is thick enough to suit your sleeping style without "bottoming out" (coming into contact with the ground through the pad). You'll find your hips and shoulders are the biggest pressure points, and selecting a pad that is too thin may result in an uncomfortable and sleepless night.
This is particularly true for side sleepers, as side sleeping puts a higher amount of weight around the hips and shoulders, whereas back sleeping more evenly distributes your weight. If you sleep on your side, then you should consider a thicker option to ensure a comfortable night's rest.
Sleeping pads range from around an inch up to 3.5 inches in thickness, with air pads providing the thickest and most comfortable sleep. The Big Agnes Insulated Q-Core SLX is the thickest model in our review at 3.5″ making it a great option for side-sleepers. Although thinner at 2.5″, we found the Sea to Summit Comfort Plus Insulated provided excellent levels of comfort thanks to the two layers of air-sprung cells incorporated into its design.
Another consideration if you are a light sleeper, or shift about a lot during the night. is that air pads will make some noise. Some models such as the Therm-a-Rest NeoAir Xlite are particularly noisy, although as the materials "wear in" the noise will reduce over time.
Dimensions and Shape
The required dimensions will largely be determined by your height and weight — although there are some exceptions given below. Most sleeping pad models are available in two or three sizes:
Small: Typically 66″ long and 20 to 25 inches wide.
Regular: can be anywhere from 72 to 80 inches long and 20 to 25 inches wide.
Large: 77-80 inches long and 25 inches wide.
Knowing your height will help you select the right length of pad, but when it comes to the width it will come down to your sleep style & how restless you are. Back sleepers prefer a wider option to help keep their arms from sliding off. If you shift a lot in your sleep then a wider pad, particularly one that has rails (slightly thicker outer beams), will help keep you off the ground during the night.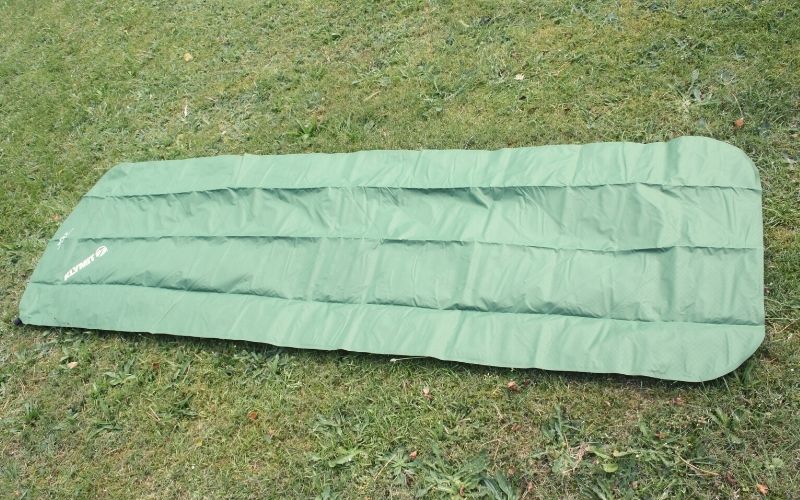 Also available are torso sleeping pads that are around half the length of regular pads. These pads only cover your upper body so are less comfortable than the full-length ones. The major benefit is the weight reduction of your sleep system.
A few double sleeping pads are available for couples — many of the Big Agnes models come in a doublewide option (40″ wide). However, these pads are heavy to carry and have a large packed size. As a result, many couples prefer to bring two sleeping pads as it allows each pad to suit its sleeper & allows you to split the carried weight
Backpacking sleeping pads come in two different shapes — rectangular pads and mummy pads. Rectangular pads are more spacious and comfortable. Mummy pads taper towards the feet to cut weight. Again, we'd recommend side-sleepers opt for the rectangular pad.
Weight & Packed Size
As one of the four heaviest items in your pack, choosing a lightweight sleeping pad is a common priority for backpackers. However, before rushing out to buy the lightest model in our review we'd caution you to consider your nighttime comfort as well. A few more ounces on your back during the day may well be worth the weight if it ensures you get a restful night's sleep.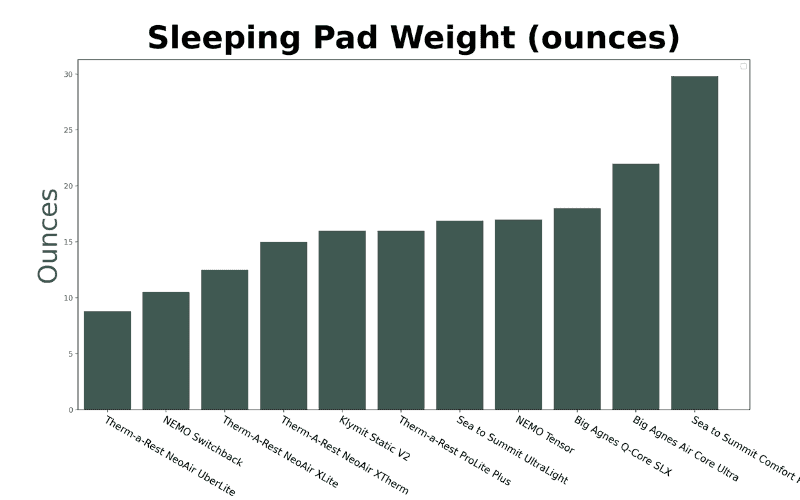 The backpacking sleeping pads we reviewed range from the lightweight Therm-a-Rest NeoAir Uberlite at 8.8 oz up to the heavy (but comfortable) Sea to Summit Comfort Plus Insulated, weighing in at nearly 40 ounces. However, most sleeping pads sit in the 12 – 18 ounce range offering a respectable balance of weight, warmth, and comfort. Including our overall winner, the Therm-a-Rest NeoAir XLite weighing a respectable 12.5 ounces.
While weight gets most of the attention, don't overlook the sleeping pads packed size (or volume). The packed size will depend on the type of insulation, fabric thickness, and type of pad.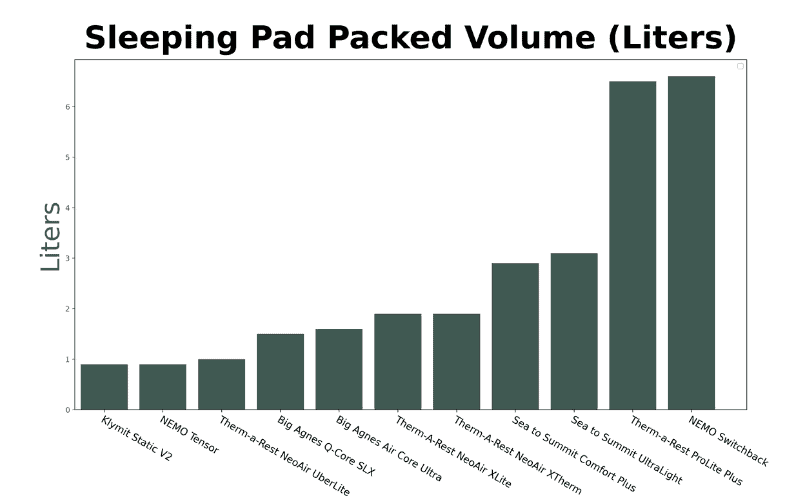 Lightly insulated air pads are the most compact with some capable of compressing down to the size of a soda can. This makes air pads a great choice for ultralighters looking to save weight & packing space.
Packed size can pose an issue for self-inflating or closed-cell foam pads. Most closed-cell sleeping pads will need to be strapped to the outside of your pack.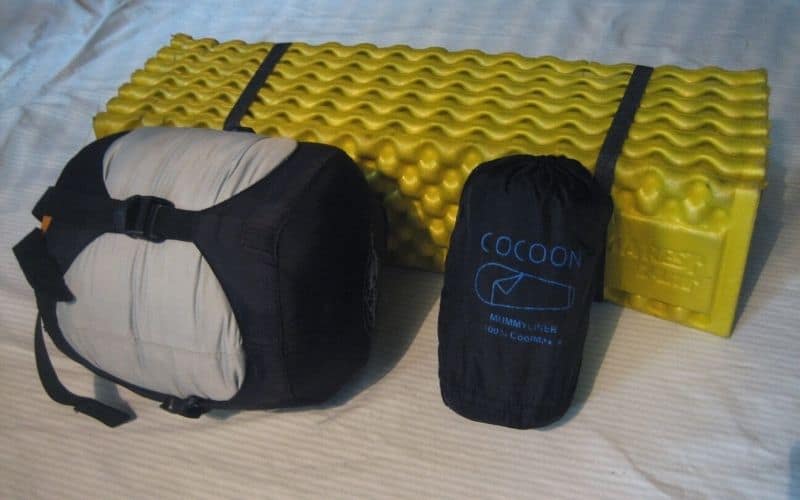 Self-inflating sleeping pads have similar issues but constantly improving designs mean some like the Therm-a-Rest ProLite Plus are still compact enough to slip into a backpack.
Durability (Denier)
Denier is the most common measure of durability in the outdoor gear world. The denier of fabric is a measure of the weight of the individual fibers, with higher deniers representing heavier weights. While not 1-to-1 when comparing different materials, a reasonable rule of thumb is to assume a higher denier equals a more durable fabric.
Finding the perfect balance between weight and durability is crucial.
Lower-denier fabrics are more prone to durability issues in the wilderness. So if you plan to choose an ultralight low denier option, you will need a greater understanding of how to care for and repair your gear in the field.
Our top pick as the best ultralight sleeping pad, the Therm-a-Rest NeoAir Uberlite achieves its low weight by using 15D nylon. Our budget pick, the Klymit V2 is also our most durable, with a 75D polyester fabric used for the bottom layer.
Inflation and Deflation: Valve Types
Traditional sleeping pad valves open and close by twisting and pushing a plastic valve on the mat. These are inefficient as the valve is completely open while inflating, which makes it easier for air to escape in between breaths. In addition, they take some time to deflate and their upright profile takes up pack space.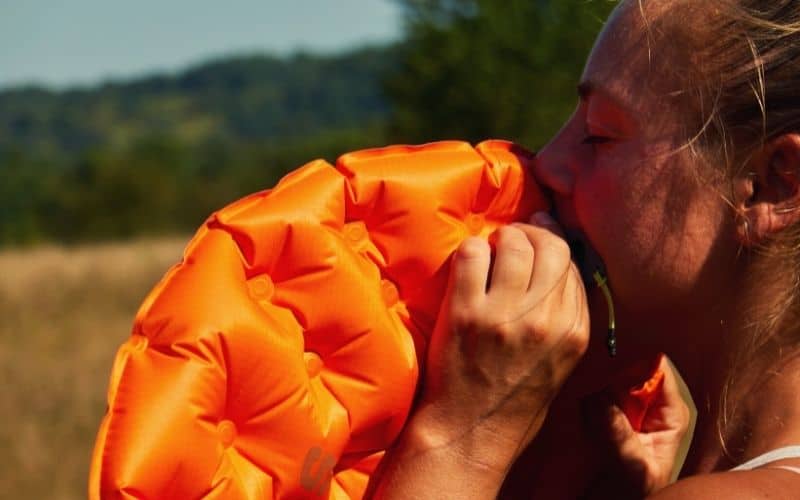 In newer designs, manufacturers have opted to use flat valves to address this issue. Flat valves have a slimmer profile, making them easier to pack. This valve design has two dedicated openings, one for inflation and one for deflation. This is coupled with a flap that maximizes air retention during pumping.
Therm-a-Rest is the leader in sleep pad innovation, and in Spring 2020 released their new WingLock valve™. This valve offers one-way inflation with no air loss between breaths, although we find it's not as fast to inflate as a flat valve. To deflate the pad you turn both the cap and the cap "wings". It's a great sturdy design and is replaceable if it breaks.
While you can inflate your pad using lung power it's much simpler to inflate with pump sacks. Many pump sacks are now manufactured to double up as a stuff sack, and some can be used as a dry bag.
Not only will a pump sack give your lungs some respite, but it also helps prevent moisture (from your breath) from getting into the pad. This is important for two reasons:
Adding moisture can result in bacteria or mold growing inside your pad.
During winter trips where moisture will reduce R-Value.
Women's-Specific Sleeping Pads
While women can use unisex sleeping pads, several manufacturers have gone one step further and offer female-specific sleeping pads. These pads offer several improvements for female backpackers.
Shorter: A shorter length helps to reduce unneeded extra weight
Improved comfort: Adjusted the foam design around the hips to provide greater comfort at one of the main contact points
Improved Warmth: Women are known to sleep cold compared to men — which is why female versions may offer improved R-value compared to the unisex version
Caring for Backpacking Sleeping Pads
Sleeping pads can be one of the most delicate pieces of your backpacking gear, but with proper care & repair, they can last a long time. How best to care for your pad largely depends on its type.
When you return from the trail, always unroll a self-inflating pad and open the valve. If it is stored compressed, the foam will become too dense and inhibit its ability to self-inflate. Unfortunately, unrolled, these camping pads are quite large but many backpackers hide them under a bed or couch when not in use.
Pro-tip: Always take a sleeping pad patch repair kit if you backpack with an air pad. Going without one can mean an uncomfortable night sleeping directly on the campsite floor. Learn how to repair a sleeping pad with our guide.
Closed-cell foam sleeping pads, while durable, should also be unrolled if they're the rollable type. Also ensure you don't leave any heavy objects directly on top of them while they're in storage.
Air pad storage is by far the simplest – take the air out of the pad and put it in a storage bag to prevent punctures. On the trail, however, inflatable pads are the most delicate type of camping mat.
Always check your sleeping area for rocks, sticks, etc, and pack a small repair kit in case a puncture occurs. Most air pads come with a repair kit, but packing some tenacious tape costs little additional weight, but provides you with peace of mind.