Whether you're road-tripping or car camping, kitting your vehicle out with a great tent is one of the most convenient ways to do overnighters in the wilds.
There are dozens of good SUV tents on the market, but why settle for 'good' when you can have great?
To help find the ideal model for you we've put together a list of our 7 favorite SUV camping tents. Our list includes everything from budget tents to top-end waterproof tents, as well as our pick for this year's best of the best.
If you still aren't sure how to choose, scroll down to our detailed buying advice which will provide all the info you need to make the right choice.
Editor's Choice
KingCamp Melfi Plus
The KingCamp Melfi Plus is one of the most spacious SUV tents on our list, measuring 15 x 9 feet if you include the screen room. This means it offers 135 square feet of floor space, more than enough room for 9 adult sleepers.
The sheer size of the Melfi Plus does, of course, make it a little heavy (37.3 lbs.), but it's easy to set up if you have two or more people doing the pitching. The added weight also helps keep it anchored down in strong winds.
One of the most lovable features of this tent is the screen room which is perfect for enjoying the great outdoors while safely enclosed inside a no-see-um mesh bug net. We also found this addition to boost overall livability by reducing "cabin fever" that can arise when spending all your time in one room (i.e. the tent portion or sleep area).
Unlike most tents on our list, the Mulfi Plus is also capable of keeping you dry in a deluge thanks to its full-coverage rainfly and 3,000mm hydrostatic head rating.
Bottom Line: A sturdy, well-made, waterproof tent that provides plenty of room for all the family plus gear.
At a Glance: Quick Recommendations
Best SUV Tents: Our Top 7 Picks
KingCamp Melfi Plus
Editor's Choice
Size: 81 sq. ft. ⸱ Height: 7 ft. 6 in. ⸱ Weight: 37.7 lbs. ⸱ Season: 3 ⸱ Waterproofing: 3,000 mm flysheet
When searching for this year's best SUV tent, we wanted a model that was waterproof, easy to set up, durable, roomy, and full of value-adding features. This, folks, is the KingCamp Melfi Plus in a nutshell.
The Melfi Plus measures 15 x 9 feet (including the screen room) and stands over 7.5 feet tall. This means it can accommodate 5 adult sleepers in the main sleeping space and squeeze in another four if the screen room is used as an "overflow" sleeping area. If not needed for more sleepers, then that extra space is great for evening drinks and games of cards!
Despite its size, the Melfi Plus weighs just 36 pounds, so it's lightweight compared to similar tents like the Napier Outdoors.
Size aside, the Melfi Plus has a lot to offer. Its heavy-duty, 190T, 3,000mm hydrostatic head polyester fabric is both durable and highly waterproof, so it's suitable for 3-season use and is truly built to last. The double doors can also be extended to create two large awnings under which you can store extra gear or kick back in the shade on sunny days.
PROs

Roomy
Huge screen room can be attached to the front or the side
Waterproof rating of 3,000mm
Fire-retardant fabric
Two doors with large awnings
Easy setup

CONs

Fiberglass poles will splinter if stored incorrectly
Setup instructions are minimal and unclear
Bottom-Line: A spacious, waterproof tent that offers just a little more quality than its top competitors.
Napier Backroadz SUV Tent
Runner Up
Size: 100 sq. ft. ⸱ Height: 7 ft.  ⸱ Weight: 25 lbs. ⸱ Season: 3 ⸱ Waterproofing: –
In recent years, Napier has become one of the leading manufacturers of SUV tents. After trying out their hugely popular Backroadz SUV tent, it's easy to see why.
The Backroadz offers a generous 100 square feet of floor space and has a peak height of just over 7 feet. This makes it roomy enough for 6 adults plus gear and has enough headroom for even the tallest of campers. While there's no vestibule, there's plenty of extra room for gear if occupied by only 5 or 6 sleepers. And, of course, there's always the cargo space of your vehicle.
While the Backroadz isn't as waterproof as the Melfi Plus, it's equally robust and durable and uses a full-coverage rainfly with an opening at the front. This design boosts airflow and prevents condensation in wet conditions whilst allowing you to shed the fly for added ventilation in warmer weather.
PROs

Roomy (100 sq. ft.)
Peak height (over 7')
Universal vehicle sleeve fits all CUVs, SUVs, and minivans
Full-coverage, waterproof rainfly
1 large door and 3 large mesh windows
Relatively lightweight (27 lbs.)

CONs
Bottom-Line: A well-made, versatile 6-person tent that fits all CUVs, SUVs, and minivans.
Napier Outdoors Sportz Family SUV Tent
Best for Livability
Size: 81 sq. ft. ⸱ Height: 7 ft. ⸱ Weight: 30 lbs. ⸱ Season: 3 ⸱ Waterproofing: 1,200 mm
The Napier Sportz Family SUV tent is a great all-around, three-season tent that gives ample space for up to nine people. It measures 15 x 9′ (including the screen room) and is over seven feet tall, so you can easily stand and walk around inside.
This tent weighs 53 pounds, so it's cumbersome and requires two people to set it up, but for some, all that extra space will be worth the additional weight.
We would recommend this one for almost any type of weather, except for heavy rain. Although it does have taped seams and a 1200mm waterproof rating, its use of a partial-coverage rainfly means you're sure to spring a leak in anything other than light showers.
PROs

One-year warranty
Has a gear loft, lantern holder, and mesh pockets
Two doors and three windows
Main sleeping area can accommodate 5 sleepers
Huge screen room can accommodate 4 sleepers

CONs

Tends to leak in heavy rain
Heavy and awkward to set up
Bottom-Line: Not ideal in bad weather, but great for summer camping in a large group.
Rightline Gear SUV Tent
Honorable Mention
Size: 57.6 sq. ft. ⸱ Height: 7 ft. 2 in. ⸱ Weight: 20 lbs. ⸱ Season: 3 – 4 ⸱ Waterproofing: 2,000 mm
This three-season tent measures 8 x 8 feet and has a center height of just over 7 feet. While the manufacturers suggest that it can accommodate up to four people with two more in your cargo area, this wouldn't leave much room for gear. As there's no vestibule or screened room, we'd recommend a max occupancy of 3 under the "canvas" and 2 in the cargo.
Although the listed capacity is ambitious, this is still a high-quality tent. The tent walls and rainfly are made of 68D polyester with a 2,000mm PU waterproof rating. While the rainfly offers only partial coverage, a slight awning ensures the body will remain dry unless the wind is blowing the rain sideways. The bucket floor also has a 2,000mm waterproof rating.
PROs

Glow-in-the-dark zipper pulls
One-year manufacturer's warranty
Lightweight (19 lbs.)
Waterproof

CONs

Only has two small mesh pockets
Only one door and one window
Included stakes are flimsy
Bottom-Line: A pricey but high-performing 4-person shelter.
North East Harbor Universal SUV Camping Tent
Best Value
Size: 64 sq. ft. ⸱ Height: 6 ft. ⸱ Weight: – ⸱ Season: – ⸱ Waterproofing: 1,200 mm
Want an affordable SUV tent that outperforms several of its pricier competitors? If so, the NEH Universal is well worth considering.
This NEH Univeral's 8' x 8' dimensions and 7.2' center height make it plenty roomy for four adult campers. Add on space for two more in your cargo area, and you'll have room for six sleepers.
Like the Rightline Gear model, the NEH Universal's rainfly offers only partial coverage, but its decent waterproof rating (1,200mm) and large awnings mean it will keep you dry in light to moderate rain showers.
What we love about the Universal is that it works just as well as a standard tent. This versatility could save you a small fortune on a second tent and gives you the option of camping at dispersed backcountry sites if you feel like venturing farther from the roadside.
PROs

Easy to pitch
Two huge doors
Universal fit
Great ventilation
Can be used as a stand-alone tent when not attached to SUV

CONs

Not as rugged as the KingCamp Melfi Plus or Napier Backroadz
Bottom-Line: An affordable option that works just as well as a standard stand-alone tent as it does an SUV tent.
DAC Explorer 2 SUV & Minivan Tent
Best Budget
Size: 72.25 sq. ft. ⸱ Height: – ⸱ Weight: 5 lbs. ⸱ Season: 4 ⸱ Waterproofing: –
If you're a solo camper or a camping couple looking for a basic backcountry shelter to attach to your vehicle, the DAC Explorer might be just what you need.
Unlike other tents on our list, the Explorer relies on the roof of your vehicle to provide most of the sheltered sleeping space. It fits over the trunk door of your vehicle to form a water-tight seal, whilst also extending coverage by an extra few feet.
The pole-free design of the Explorer makes it an absolute breeze to set up. All you do is pull it over the trunk door, attach a duo of bungee cords to the vehicle's underframe, then hop in!
The Explorer's door panels can also be closed for privacy, or tied back to maximize ventilation. When tied back, a no-see-um insect screen keeps your skin safe from airborne biters.
PROs

Sets up in roughly 1 minute
Weighs just 5 lbs.
Waterproof
No-see-um big mesh

CONs

Provides no added capacity to the cargo space of your vehicle
Bottom-Line: Well worth the modest investment!
Napier Sportz Dome-to-Go SUV Tent
Best 4-Person
Size: 72.25 sq. ft. ⸱ Height: 6 ft. 5 in. ⸱ Weight: 31 lbs. ⸱ Season: 3 ⸱ Waterproofing: –
The Sportz Dome-To-Go is the ideal choice for smaller families or camping couples who like a little extra space.
This tent's dome-style design means it performs well in wet and blustery weather. The steep, curved walls shed water quickly and their curvature provides added stability when things get blowy.
The Dome-to-Go fits nearly all hatchbacks and small CUVs and can be attached to your vehicle in around 10-15 minutes. Inside, you'll have 72.25 square feet of living or sleeping space, meaning you could accommodate up to 6 campers if two sleep in the vehicle's cargo area.
The Dome-to-Go also has a full-coverage rainfly, so is suitable for 3-season use. In the summer months, its two large doors and 3 large no-see-um mesh windows help to keep things cool.
For further brownie points, the Dome-to-Go SUV tent features a duo of large gear pockets. You get an oversized gear loft and a huge extendable awning that creates an exterior space shelter for lounging or gear storage.
PROs

72.25 square feet of floor space
6' 6" peak height
Fits all CUVs and SUVs
Full-coverage rainfly

CONs
Bottom-Line: A spacious, 3-season shelter with great features.
How to Choose the Right SUV Tent
Before buying, here are the main factors to consider:
Type of SUV Tent
The most popular types of SUV tents are:
Truck tents – Fit to pick-up truck beds
Hatchback tents – Use the hatchback of the vehicle as a support structure
Roof tents – Attach to the roof rack of your vehicle
Out of the three types, hatchback tents are the most popular, mainly because they're more affordable and easier to set up. For those reasons these are the tents we've focused on in this guide.
Tent Seasonality
2-season? 3-season? 4-season? Like traditional tents, the seasonality of your SUV tent indicates how well it will perform in different weather conditions.
2-season tents are the least weather-resistant of the bunch but typically offer better ventilation on account of using a partial-coverage rainfly. As such, these are more suited for fair-weather camping in summer or warmer days in the shoulder seasons.
3-season tents are the most versatile. These tents usually have a full-coverage rainfly and are waterproof enough to resist sustained rainfall. Because these tents have a removable fly, you can use them sans fly on dry nights in summer months or with the fly on wet nights in spring and fall.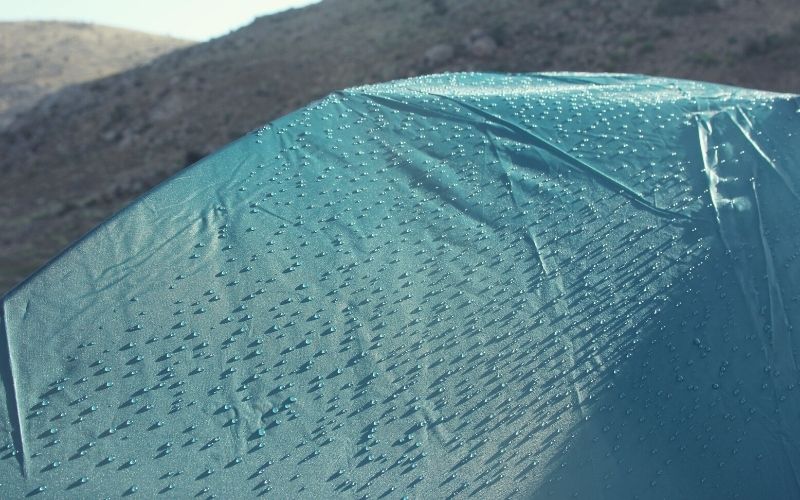 4-season tents exist under a bit of a misnomer. While the name suggests they are suitable for use in all 4 seasons of the year, they're actually geared towards use in winter only.
Size
It goes without saying that you need a tent big enough for all the family to hang out and sleep in, and to accommodate all of your gear.
The sleeping capacity stated by manufacturers, however, should be taken with a pinch of salt. For starters, many are apt to include the cargo space of your vehicle in the capacity, dubbing their products "4-person" tents when in fact the tent portion can only accommodate 2 or 3 sleepers. Some are also prone to underestimate how much space an adult sleeper really needs.
The best way to avoid selling yourself short on sleeping space is to find the tent's floor plan, where the overall square footage should be stated. Given that each adult sleeper needs around 14 square feet of space, divide the total square footage by 14 and you'll have a better idea of how many campers you can squeeze in.
Example: 100 square feet ÷ 14 = 7.1. So, a model with 100 square feet of floor space can accommodate 7 sleepers or 6 plus gear. Bear in mind, however, that the beauty of an SUV tent is that 1 or 2 more sleepers can sleep in the cargo/trunk area of your vehicle or you can stash your gear in there to save space inside the tent.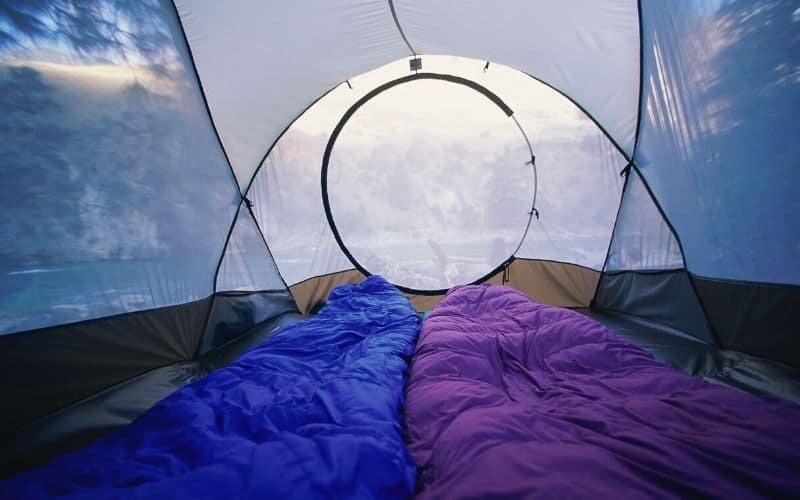 Also bear in mind that not all SUV tents are compatible with all SUVs. Before buying, make sure the product in question is either 'universal' or that the tent opening will fit your hatchback door.
Need an extra-roomy tent? If so, we recommend the Napier Outdoors Sportz Family SUV Tent, which offers 135 square feet of space inside the tent portion alone.
Quality
Indicators of high-quality construction include things like taped seams, aluminum poles, a high waterproof rating, bathtub floors, covered zippers that zip easily, high-denier (thick) fabrics, and protective fabric coatings like PU.
Warranty
Some tents come with excellent warranties. A good warranty can help you rest assured that the manufacturer has you covered in case of defects. It also shows good faith in the quality of the tent on the manufacturer's part. After all, a tent is an investment – you don't want to have to buy a new one every few seasons!
Tent Fabric
The thickness and thread count of the fabric used in your tent is the main determinant of durability.
Fabric thickness is measured in denier (D), and the thread count is shown in product specifications by a 'T'. If durability is a concern, your tent's fabric should be on the high end of the spectrum, which means over 20D for the rainfly and body. While thread counts are less frequently stated, anything over 150T is a safe bet.
Price
In many cases, the price of a tent is a good indicator of quality, but there are often exceptions to this rule. The North East Harbor Universal, for example, is a bit of a steal, matching most of its pricier competitors in every important metric.
Features like awnings, screen rooms, and even gear lofts can also drive up the cost of a tent. As such, it's prudent to decide what your priorities are before drawing up a shortlist. Do you want a pricey tent with all the bells and whistles or a more basic, solid performer that simply covers the important bases?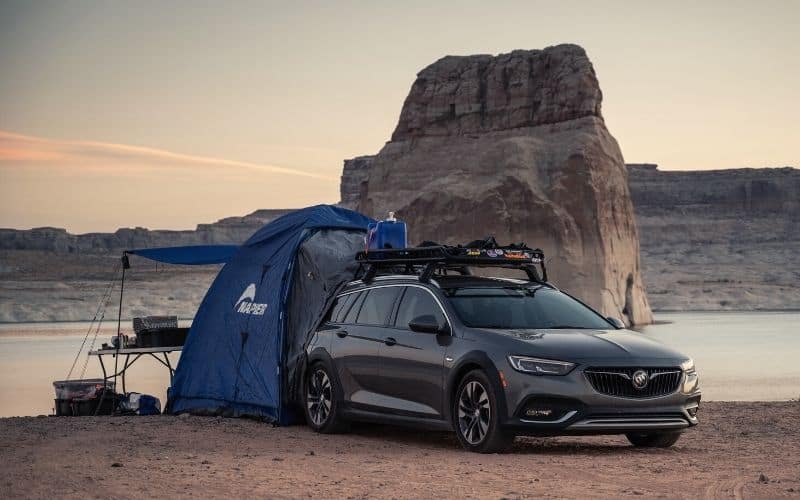 Which Tent Wins?: The Verdict
Our favorite SUV tent out there (by a long way) is the KingCamp Melfi Plus. The MelfiPlus performs well in all weather conditions, is extra-spacious, and boasts a wealth of features that boost comfort and convenience.
If the Melfi is a little too pricey for your budget, the North East Harbor Universal is a solid alternative. While it isn't the top performer in wet weather, its huge interior and versatility make it ideal for summer camping trips with the whole family.
So, how did you like our post? If you have any thoughts or questions, drop us a line in the comments box below. And please feel free to share this post with your friends!